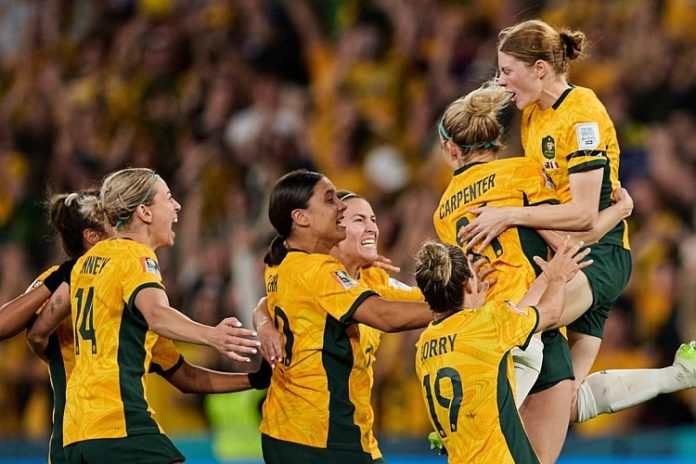 ★ The Sports Examiner: Chronicling the key competitive, economic and political forces shaping elite sport and the Olympic Movement.★
★ We need you! Our 29 donors have covered 66% of our summer fund-raising goal. Please help if you can. ★
★ To get The Sports Examiner by e-mail: sign up here! ★
≡ THE 5-RING CIRCUS ≡
1. World Cup final four is set: Sweden-Spain, Australia-England
2. McLaughlin-Levrone withdraws from Worlds over "knee issue"
3. AIU suspends Suriname's Asinga (9.89) for doping!
4. U.S. challenged, but beats no. 1 Spain, 98-88, in Malaga
5. Australia's Rinehart paying A$3 million in bonuses for four sports
● After almost a month, the 2023 FIFA Women's World Cup is now down to Australia, England, Spain and Sweden, with the semifinals coming on Tuesday and Wednesday. The quarterfinals were dramatic and the stadiums full, with the 32-team tournament setting a total attendance record already.
● Track & field superstar Sydney McLaughlin-Levrone of the U.S. has ended her season and withdrawn from the World Athletics Championships to deal with a "minor knee issue." She ran in just four meets this year, but prefers to train for 2024. Once again, only the Olympics matters.
● The Athletics Integrity Unit announced a provisional doping suspension of Isaam Asinga, the Florida high school sensation from Suriname, which set a World U-20 Record of 9.89 last month. He has asked for his second sample to be tested quickly, so he can compete at the Worlds if negative.
● The U.S. men's national team, continuing to prepare for the FIBA World Cup later this month, won a tense game with reigning World Champion Spain in Malaga, 98-88, fighting off a Spanish rally in the second half with tough defense.
● Billionaire Gina Rinehart has pledged A$3 million to Australian medal winners in four sports – including swimming – for medals in the world championships, Olympic Games or Paralympic Games, in 2023 and 2024, in a purely private initiative. Wow!
● World Championships: Cycling (3: Evenepoel and Kopecky star on roads; Shriever and Mahieu take BMX titles; Ferrand-Prevot finishes sweep in Mountain Bike) = Sailing (quadrennial Worlds underway at The Hague) = Sport Climbing (Garnbret and Schubert win Combineds) = Volleyball (U.S. wins FIVB girls World U-19!) ●
● Panorama: PanAm Sports (Carlos, Ashe, Evans, Leonard among top 75) = Artistic Swimming (Brazil wins two at PanAm Champs) = Athletics (two more Kenyan doping suspensions) = Canoe-Kayak (Queiroz and Vincent star at NorAm Sprint champs) = Golf (U.S.'s Vu takes Women's British Open) = Volleyball (Argentina wins women's Pan American Cup) = Wrestling (Maroulis takes U.S. women's 57 kg slot for Worlds) ●
1.
World Cup final four is set: Sweden-Spain, Australia-England
Europe came within a penalty kick of sweeping all four semifinal spots at the 2023 FIFA Women's World Cup, but ended up with three of four, and all of the four having never won a Women's World Cup before.
The drama was unrelenting:
● Sweden 2, Japan 1 ● World no. 3 Sweden, coming off its penalty shoot-out win over the United States, was somehow the underdog to Japan in Auckland (NZL). The Japanese side had been masterful on its four wins, playing with the ball and counter-attacking when without it.
But the Swedes, tenacious as usual, went up 1-0 in the 32nd when defender Magdalena Eriksson was in the box, firing shots at the Japanese goal that were blocked by a wall of defenders. Her first shot was blocked, then a second, then she hit a third, weak shot, which got by defender Saki Kumagai, was loose and slammed into the goal by Swedish defender Amanda Ilestedt for a 1-0 lead.
The first half ended that way, with almost even possession and both sides getting some chances, but only the one goal. Early in the second, a Sweden corner ended up with a Ilestedt header that glanced off the extended arm of Japanese midfielder Fuka Nagano in front of the goal, called a penalty for a hand-ball.
Midfielder Filippa Angeldal sent her penalty into the left side of the net cleanly in the 51st, and up two goals, Sweden was on its way.
It got interesting in the 74th as substitute striker Reko Ueki dribbled into the box and was brought down by Swedish substitute midfielder Madelen Janogy and called for a penalty. But Ueki's shot hit the crossbar, rebounded and Ueki headed it over the goal in the 76th!
Then, in the 87th, a free kick from 25 yards out by forward Aoba Fujino hit the crossbar again, then the left post and bounced back into the field of play, just a foot from the goal line, and was cleared.
Finally, Japan got on the board seconds later on a shot by sub forward Kiko Seike that Eriksson could not clear in front of the goal and was scored by midfielder Honoka Hayashi, also in the 87th.
But it ended that way and Sweden, by a narrow margin, moved on. Each side had 50% of possession and the Swedes had a 15-11 edge on shots.
● Australia 0, France 0 (Australia wins 7-6 on penalties) ● In front of a full house of 49,461 in Brisbane, the Matildas and France fought to a scoreless tie through 120 minutes and had to go to penalties.
There were chances, as French defender Maelle Lakrar missed an open net, sending a deflected shot over the top in the 12th minute. With French keeper Pauline Peyraud-Magnin out of position, Australian striker Mary Fowler's shot was brilliantly saved by defender Elisa de Almeida in the 41st.
Australian midfielder Hayley Raso's drive from the top of the box in the 56th looked promising, but was punched away by Peyraud-Magnin. No goals; both sides had 50% of possession and the French had a modest 21-15 shots edge. Now it was on penalties.
The longest shoot-out in Women's World Cup history had 10 rounds, with both sides scoring on three of their first four and both missing their fifth. In sudden death, both sides made three straight and then both France's Kenza Dali and Australia's Claire Hunt had their shots saved.
In round 10, tied at six, Vicki Becho hit the left post and missed, leaving it to Australia's Cortnee Vine to score with a shot to the right corner to sent Australia on to the semis. It's the furthest Australia has ever been in this tournament.
● England 2, Colombia 1 ● A full house of 75,784 at Stadium Australia in Sydney saw the underdog Colombians shock everyone with a goal in the 44th minute as midfielder Leicy Santos sent a chip from the right edge of the box that climbed just over English keeper Mary Earps' hands and into the net.
Surely that would be the only goal of the half, but at 45+6 – seconds before halftime – a header from English midfielder Lucy Bronze found the feet of striker Alessia Russo, whose shot was stopped by Colombian keeper Catalina Perez, but not controlled, was touched by defender Jorelyn Carabali and striker Lauren Hemp slammed the loose ball into the goal for an unimaginable 1-1 tie.
In the 63rd, English midfielder Georgia Stanway played a neat through-ball from 30 yards out that got to Russo at the right side of the box and in excellent shooting position. She right-footed a liner which skipped past Perez as the keeper was coming out to cut down the angle and ended up in the left corner of the net for the 2-1 winner.
Midfielder Lorena Durango had a promising drive punched away by Earps in the 71st, but England largely had control of the game, with 61% possession. The Colombians produced 15 shots to 10, but with only three on target.
England played without star forward Lauren James, who was suspended for the quarterfinals and semifinals for stomping on the back of Nigeria's Michelle Alozie in their round-of-16 match. She could return for the final if England gets that far.
Even with the French loss, Europe is again showing its strength with three of the four semifinalists for the second Women's World Cup in a row. It had three in the first Women's World Cup in 1991 (12-team tournament), two in 1995-2003-07-11-15 and three in 2019. There have been two all-European finals, in 1995 (Norway beat Germany) and 2003 (Germany beat Sweden).
Spain and Sweden will play on Tuesday and Australia and England on Wednesday.
¶
With sellouts of the semifinals and finals – two of the four being played at the 75,784-capacity Stadium Australia in Sydney – the tournament could end up with a record total of about 1.975 million total spectators, or about 30,860 per match, which would be no. 3 all-time:
● 37,944 in 1999 (hosted in the U.S.)
● 37,218 in 2007 (China)
● 30,860? in 2023 (Australia and New Zealand) ~ projection
● 26,428 in 2011 (Germany)
● 26,029 in 2015 (Canada)
FIFA had targeted attendance of 1.5 million for the tournament – expanded to 64 matches with 32 teams instead of 24 – and will see a new record attendance for a Women's World Cup, far surpassing the 2015 edition in Canada that drew 1,353,506 for 52 matches.
2.
McLaughlin-Levrone withdraws from Worlds over "knee issue"
Once again, only the Olympics matters.
Last Friday, U.S. track & field superstar Sydney McLaughlin-Levrone withdrew from the World Athletics Championships that begin this Saturday in Hungary, announcing the change on Instagram:
"I am sad to share that I must withdraw from this year's World Championship meet in Budapest. After consulting with my doctors and coaches, I need to take care of a minor knee issue so that I can be fully healthy for next year's Paris Olympics. I look forward to seeing everyone back on the track soon!"
Coach Bobby Kersee told the Los Angeles Times that McLaughlin-Levrone's season is over, but that she will continue with conditioning and strength work and does not need surgery. The decision to end her season came Thursday, in order to ensure no further injury would derail her preparations for the 2024 Olympic season.
If healthy, McLaughlin-Levone would have been the favorite to win the women's 400 m in Budapest, worth $70,000 in prize money, plus another $20,000 for a leg on the winning U.S. women's 4×400 m team. If she was able to continue with her plan to compete in the 400 m hurdles in the Van Damme Memorial Diamond League meet in Brussels – against Dutch star Femke Bol – she could have won another $10,000 to win or $8,000 for second, and if qualified for the Diamond League final in Eugene, could have won $30,000 for first prize. That's a potential $130,000 in prize money she won't win. She finished 2023 having run in four meets: a 60 m indoor race in February and 400 m races in Paris (FRA) and Randalls Island, New York in June and the U.S. Nationals in July. Her 48.74 win at the USATF meet moved her to no. 2 all-time U.S. and no. 10 all-time.
Lynna Irby-Jackson, the fourth-place finisher at the U.S. championships, will replace McLaughlin-Levrone in the women's 400 m. She has a seasonal best of 50.11, no. 13 on the world list, and was a semi-finalist at last year's Worlds in Eugene. She won a 4×400 m relay gold with the U.S. in Tokyo in 2021.
As for Olympic and World women's 800 m gold medalist Athing Mu, who also trains with Kersee, a decision on her situation for Budapest will be made next week.
3.
AIU suspends Suriname's Asinga (9.89) for doping!
Also on Friday, the Athletics Integrity Unit announced:
"The AIU has provisionally suspended Issamade Asinga (Suriname) for the presence/use of a Prohibited Substance (GW1516)."
This is a shocker, as Asinga, 18, and still in high school at the Montverde Academy in Florida, had emerged as a true contender at the Worlds in the men's 100 m off of his 9.89 World Junior Record to win the South American Championships in Sao Paulo (BRA) on 28 July. He also won the 200 m in a lifetime best of 2019.
Asinga has not been in hiding, however, posting on Instagram:
"As you may have read, the AlU has charged me and provisionally suspended me for an alleged anti-doping violation related to a urine sample I provided out of competition at my home on July 18th.
"During the high school season, I agreed to be a part of the registered testing pool, as I recognized I was having a historic season. I have been tested before, and after this alleged offense. On June 10th I ran 10.02 wind legal, and a wind aided 9.83. The AlU tested me at home the next day, and that result is negative. I then competed at a World Athletics [Continental Tour] Gold Level meet 2 weeks later in New York (June 24).
"The sample in question is July 18th. I was tested a week later at the South American Championships (July 28th), where I set a World U20 Record. With the AlU's assistance, the Rio laboratory in Brazil, expedited an analysis of my sample which also came back negative last night (August 10th).
"To clarify, the alleged amount found in my urine sample is 0.2 nanograms per ml (0.0000002mg/ml). For context, a single grain of salt is approximately 58,500 nanograms (0.0585mg). All my supplements are NSF and BSCG batch tested for WADA banned substances.
"I respect the AlU's processes, and I will continue to comply, as we work to find out what has happened. My team and I are aware that the next generation of track stars is looking up to me, and I would never intentionally let them down. The AIU has agreed to test my B sample, before the World Championships next week. Until that time, I will remain steadfast and wait."
According to the U.S. Anti-Doping Agency:
"GW1516 is known by many names, including cardarine and endurobol, as well as various iterations of the initials and numbers (e.g., GW501516). Often advertised as a selective androgen receptor modulator (SARM), GW1516 is actually a peroxisome proliferated-activated receptor d(PPARd) agonist and is prohibited under S4.5 Metabolic Modulators on the World Anti-Doping Agency (WADA) Prohibited List.
"Substances in this category modify how the body metabolizes fat and GW1516 was originally synthesized and evaluated for the treatment of obesity, diabetes, and other disorders caused by metabolic problems."
Stay tuned.
4.
U.S. challenged, but beats no. 1 Spain, 98-88, in Malaga
It was only an exhibition on the way to the FIBA World Cup, but there was interest in the match-up between reigning World Champion and no. 1-ranked Spain and the no. 2-ranked U.S. in Malaga, Spain. And it was intense.
The U.S. shot 64% in the first half, including 4-6 from the three-point line, for a 55-45 lead, led by Knicks guard Jalen Brunson's 16 points.
But Spain stole the ball off the opening pass of the third quarter and started a run of nine straight points in 2:35 to close to 55-54. They took the lead at 65-64 with 3:20 to go on two free throws by Grizzlies forward Santi Aldama and widened it to 68-64 after a Rudy Fernandez triple.
But the U.S. fought back and got the lead back at 71-69 on floater by Lakers guard Austin Reaves and a 9-1 run finished at 73-69 on Orlando forward Paolo Bachero's three. Another Spanish three and the fourth started at 73-72, as Spain got back into it with a 27-18 quarter.
In the fourth, the American defense tightened and turnovers and better passing led to an 86-79 lead thanks to threes from Nets swingman Mikal Bridges and Reaves. Spain found fewer and fewer holes in the U.S. defense, and turnovers led to a layin for Grizzlies center Jaren Jackson Jr. for a 90-82 lead that grew to 95-84 with 2:30 left.
Suddenly, the U.S. was in control of the game, driving through the Spanish defense and making plays off turnovers for a 97-84 lead with 2:00 to play, off a 24-12 surge in the first eight minutes of the quarter. The final was 98-88, with Brunson leading all scorers with 21 points on 9-9 shooting from the floor. Jackson Jr. had 14 and led the U.S. with five rebounds, and Bridges had 12. Aldama had 14 to lead Spain. The U.S. shot 66.6% from the field.
This was another growing experience for a young U.S. team playing its third game together, but showed a reassuring willingness on defense and to share the ball on offense. The Americans will play three more exhibitions, in Abu Dhabi (UAE) against Greece on Friday (18th) and Germany on Sunday (20th).
The U.S. World Cup experience will begin on 28 August in Manila (PHI) against New Zealand.
¶
In their first game in Malaga, the U.S. men crushed Slovenia – playing without Mavericks star Luka Doncic – in Malaga on Saturday, 92-62, behind 15 points from shooting guard Anthony Edwards (Timberwolves), 11 from Brunson and 10 each from guards Reaves and Tyrese Halliburton (Pacers).
The U.S. shot 49% from the field to 37% for Slovenia and had a 47-33 rebounding edge.
5.
Australia's Rinehart announces A$3 million
in bonuses for four sports
Australian mining billionaire Gina Rinehart of Hancock Prospecting announced a new, personal funding commitment in which she will pay A$3 million (about $1.949 million U.S.) to medal winners in world championships, Olympic and Paralympic Games in 2023 and 2024 in artistic swimming, swimming, rowing and volleyball. (A$1 = $0.65 U.S.)
This is a purely personal initiative by Rinehart, reportedly Australia's richest individual, who has provided funding of A$60 million to Australian athletes over the past decade, and will provide A$1.5 million in funds for each year.
Swimming World Magazine reported that in the case of the just-completed swimming portion of the World Aquatics Championships in Fukuoka (JPN), Rinehart is paying Australian medal winners the same amount – but in Australian dollars – that World Aquatics paid as prize money in U.S. dollars. So that's A$20,000 for a gold medal, A$15,000 for silver and A$10,000 for bronze, plus A$30,000 for a world record.
Australia's sensational performance of 25 medals (13-7-5) earned the athletes another A$590,000. The report said Mollie O'Callaghan, winner of the women's 100–200 m Freestyles and three relays – four in world-record times – will receive A$111,250 from the fund to go along with the $111,250 (U.S.) she won from World Aquatics.
And Rinehart's program will pay an unheard-of sum of A$445,000 to Australian Para-swimming athletes, who won 30 medals (9-7-14) at the recent Worlds in Manchester (GBR)!
≡ WORLD CHAMPIONSHIPS ≡
● Cycling ● The massive 2023 World Cycling Championships, with 13 disciplines all together in Glasgow (GBR) finished on Sunday, with the popular road races finishing in Glasgow and the Individual Time Trials in Stirling.
On Friday, the men's 47.8 km Individual Time Trial was a showcase for Belgian star Remco Evenepoel, the 2022 World Road Champion, who finally won the Time Trial after a silver in 2019 and bronzes in 2021 and 2022.
It was not going to be easy, especially against 2020-21 Filippo Ganna (ITA), who already had won the Individual Pursuit gold on the track in Glasgow. Ganna started 74th out of 78 riders and put down a solid 55:31.51 time, but Evenepoel, starting 76th as last year's bronze medalist, was clearly better, finishing in 55:19.23, thanks to his fast finish in the final 4 km.
The surprise was Britain's Joshua Tarling, 19, the 2022 World Junior Champion in this event, who scored the bronze medal at 56:07.43, ahead of American Brandon McNulty (56:46.14). Defending champ Thomas Foss (NOR) was 11th in 57:23.89.
Sunday's Women's Road Race was on a 154.1 km course with an early climb, and ending with six laps of 14.3 km finishing circuit in and around Glasgow. Belgium's Lotte Kopecky, who won the Elimination and Points Race golds in track cycling, attacked with 5.6 km to go and raced away for a hat trick, finishing in 4:02:12. She finished seven seconds up on Tour de France Femmes winner Demi Vollering (NED) and Cecile Uttrup Ludwig (DEN); Lauren Stephens was the top American, in 18th (+4:34).
Kopecky moved up from second in 2022 and now owns seven Worlds golds at age 27.
¶
Britain's Bethany Shriever repeated her 2021 Worlds triumph in the women's BMX Racing final, getting the best start and maintaining the lead all the way to the finish. She won by daylight in 36.577, ahead of 2018 World Champion Laura Smulders (NED: 36.957) and two-time World Champion Alise Willoughby of the U.S. (37.336).
Willoughby, 32, is amazing, having won her first Worlds medal in 2010 and now winning her sixth in 2023 (2-1-3).
France swept the men's final, with Romain Mahieu leading Arthur Pilard and Joris Daudet to the finish line, in 33.189, 33.331 and 33.543. It's the first Worlds medals for Mathieu and Pilard, but the eighth for Daudet, who was World Champion in 2011 and 2016. Mathieu took control on the first corner and was never headed.
It's the first sweep by any nation in this event since 1997, when the U.S. won all three medals in the second UCI BMX championship!
¶
French star Pauline Ferrand-Prevot followed up on her win in the Mountain Bike Cross Country Short Track event with her fifth World Championship win in the Cross Country Olympic event on Saturday.
She was in second place at the end of the first lap and then took over, leading the rest of the way and winning in 1:24:14 in the six-lap race. She was a full 1:14 ahead of teammate (and 2022 European Champion) Loana Lecomte (FRA: 1:25:28) and 11:27 up on Puck Pieterse of the Netherlands, who was second in the Short Track race. Gwen Gibson of the U.S. was eighth in 1:28:31.
The men's title went to Tokyo Olympic champ Tom Pidcock (GBR), who was third in the Short Track race, and finished the eight-lap race in 1:22:09, taking the lead on the fifth lap and winning by 19 seconds over Short Track winner Sam Gaze (NZL: 1:22:28). The iconic Nino Schurter (SUI) – a 10-time World Champion in this race – won the bronze (1:22:43) for his 26th career Worlds medal.
Dutch star Mathieu van der Poel, trying to win a Worlds golds in Mountain Bike to go along with his 2023 Road Race gold and five World Cyclo-Cross wins, crashed out on the first lap and did not return.
● Sailing ● The once-every-four-years World Sailing Championships have begun off The Hague (NED) and will continue through the 20th, in eight of the Olympic classes.
You can follow the racing from the official results site here.
● Sport Climbing ● Slovenia's Olympic champ Janja Garnbret won her second event of the IFSC World Championships in Bern (SUI), taking the women's Boulder + Lead combined title and qualifying to defend her Olympic title in Paris.
The format of the Olympic climbing events has changed for 2024; instead of a combined event for all three disciplines, Speed will be separate and Boulder and Lead will be combined. Garnbret led the qualifying, had the top score in the semifinal (175.0) and scored 177.0 in the final to win easily over Austria's 2018 Lead World champ Jessica Pilz (157.1) and Japan's Lead winner, Ai Mori (140.6). Americans Brooke Raboutou and Anastasia Sanders finished 4-8, scoring 137.8 and 69.7, respectively, in the final.
It's Garnbret's eighth career Worlds gold.
Austrian Jakob Schubert, already the 2023 Lead winner and the Tokyo bronze medalist, took the men's Combined title for his sixth career Worlds gold. Only fifth in the semifinal, he scored 183.6 in the final, ahead of American Olympian Colin Duffy (160.7) and Japan's two-time World Bouldering Champion Tomoa Narasaki (156.7).
● Volleyball ● The United States girls U-19 team won the FIVB Girls U-19 World Championship in Osijek (CRO), coming from 0-2 down to win in five sets: 20-25, 23-25, 25-23, 25-16 and 15-10. The U.S. finished undefeated a 9-0.
Outsider hitter Abby Vander Waal was named Most Valuable and Teraya Sigler, the other American Outside Hitter, was named to the all-tournament team. Italy defeated Japan, 3-2, for the bronze medal.
France won its first title in the FIVB Boys World U-19s, beating Iran, 3-1 in the final (25-22, 16-25, 25-18, 25-21). South Korea beat the U.S., 3-1, in the bronze-medal match (25-18, 25-19, 21-25, 25-23); it's still the best-ever finish for the U.S. in this tournament.
≡ PANORAMA ≡
● PanAm Sports ● The PanAm Sports series on its 75 greatest performers during its history continued with 1968-77, beginning with – no surprise – American sprint star John Carlos for 1968, the bronze medalist in the Mexico City Olympic 200 m, who – with gold medalist teammate Tommie Smith – raised his fist during the medal ceremony and was promptly banned for the Games.
What's not as well remembered is that Carlos won the 1967 Pan American Games 200 m in Winnipeg, in 20.5.
Three other Americans were honored for this decade, including UCLA's NCAA champion, 1967 Pan Am Games bronze medalist and Doubles gold medalist Arthur Ashe, for 1968. He gained later fame as a civil rights activist and won five Grand Slam titles in Singles and Doubles.
Lee Evans was selected for 1970, after his win at Mexico City in 1968 in the men's 400 m in world-record time of 43.86, and a leg on the men's 4×400 m relay that also set a world mark of 2:56.16. Sugar Ray Leonard was selected for 1974, a year in advance of his 1975 PanAm Games gold medal in the light welterweight division of boxing, prior to his Olympic title in Montreal in 1976.
● Artistic Swimming ● Brazil captured two events at the Pan American Championships held in Ft. Lauderdale, Florida, with Julia Soares taking the women's Solo Technical at 193.0033 and Laura Miccuci and Gabriela Teixeira winning the Duet Technical with 202.6100.
The U.S. got a win in the women's Solo Free from Ana Martinez (145.5188).
● Athletics ● More Kenyan distance running doping positives, with the Athletics Integrity Unit announcing Friday the provisional suspensions of Agnes Barsosio, a 2:20:59 women's marathoner from 2017 who won the 2022 Nairobi Marathon, and Rodgers Kwemoi, a Tokyo Olympian and fourth in the men's 10,000 m at the 2019 World Championships. He has a best of 26:55.36 from the 2019 Worlds.
Both were suspended for "the use of a Prohibited Substance/Method," based on a review of their Athlete Biological Passport.
● Canoe-Kayak ● Seven-time World Champion Isaquias Queiroz and six-time World Champion Katie Vincent were the stars of the COPAC Pan American Sprint Championships in Halifax, Canada, winning two events each.
Queriroz of Brazil, the Tokyo Olympic C-1 1,000 m gold medalist, won the C-1 500 m in 1:49.6 and then turned back Cuba Serguey Torres, a Tokyo C-2 1,000 m gold winner, in the C-1 1,000 m final, 4:06.6 to 4:09.7.
Vincent, a triple gold medalist at the 2022 Worlds, won the C-1 200 m in 46.5 and doubled back to win the C-1 500 m in 2:05.0.
Americans Jonas Ecker and Aaron Small won the K-2 500 m in 1:30.1 for the only U.S. win on the Olympic event schedule.
● Golf ● American Lilia Vu shot a five-under-par 67 to win the Women's British Open at Walton Heath Golf Club in Surrey (ENG).
Former UCLA All-American Vu, 25, shot par 72 in round one, but then moved up to fifth after a 68 in the second and was tied for the lead with England's Charley Hull after three rounds after a 67 on Saturday. But she birdied holes 2, 9, 10 and 12 to move to -13 and sailed in with six birdies and one bogey for another 67 and a final total of 274.
Hill ballooned to 73 on the final round, but finished second (280), ahead of three Koreans: Jiyai Shin in third (281), and Amy Yang and Hyo Joo Kim, tied for fourth (282). Americans Allisen Corpuz, Ally Ewing and Angel Yin tied for sixth at 284.
It's Vu's third LPGA win of the year – the first LPGA Tour wins of her career – and includes two majors, after she won the Chevron in April.
● Volleyball ● At the NORCECA women's Pan American Cup in Ponce (PUR), Argentina defeated Puerto Rico in five sets – 25-17, 25-22, 23-25, 19-25, 15-6 – to win the title. Both teams were only 2-2, but sailed through the playoffs to get to the final.
After losing to Argentina in four sets in the semis, the U.S. won the bronze medal over the Dominican Republic, 25-22, 25-20, 21-25, 27-25.
● Wrestling ● Rio 2016 Olympic champ and three-time World Champion Helen Maroulis is headed back to the Worlds after winning a special Final X wrestle-off at 57 kg against Xochitl Mota-Pettis, in Colorado Springs, Colorado on Saturday.
Maroulis won the first match by a 10-0 technical fall and then won by pinfall in 2:12 of the second for a 2-0 sweep and a place on the American team for the UWW Worlds in Belgrade (SRB) next month.
The match was scheduled earlier, but Maroulis asked for a delay in view of injury concerns. Maroulis won the 57 kg world title in 2021 and was runner-up last year.
¶
You can receive our exclusive TSX Report by e-mail by clicking here. You can also refer a friend by clicking here, and can donate here to keep this site going.
For our updated, 787-event International Sports Calendar (no. 3) for 2023 and beyond, by date and by sport, click here!