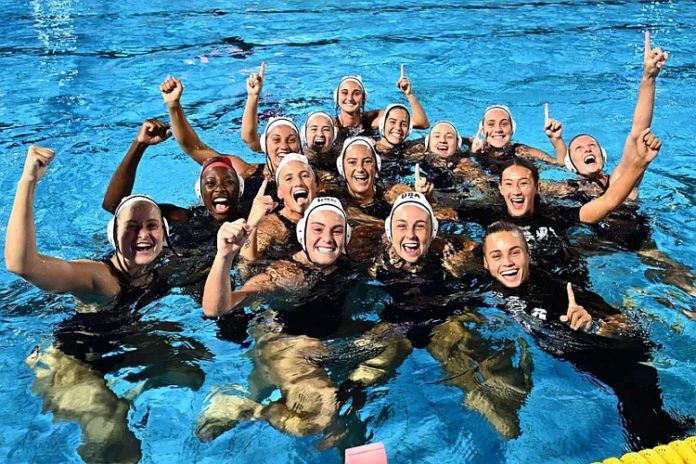 ★ The Sports Examiner: Surveying, monitoring and explaining the key competitive, economic and political forces shaping elite sport and the Olympic Movement. This site is free, with donations gratefully accepted to help with costs. Comments? Click here. ★
★ Tell your friends to sign up for free The Sports Examiner e-mails now, just in time for session-by-session coverage of the World Athletics Championships coming 15-24 July. ★
≡ THE 5-RING CIRCUS ≡
1. U.S. dynasty uninterrupted: women's water polo wins Worlds again
2. FINA Worlds end with China's diving sweep, U.S. tops in medals
3. NBC to cancel low-performing Olympic Channel on 30 September
4. U.S. U-20 men reach first Olympic tournament since 2008!
5. Massive Olympic memorabilia auction features 36 torches!
Water polo isn't one of the most popular sports in the U.S., but that has not stopped the U.S. women's national team, which won its fourth straight World Championships gold in Budapest to go along with the last three Olympic titles, with a 9-7 win over Hungary. The hastily-arranged 2022 FINA Worlds were a success, with 130,000 in attendance, a record 45 medals by the U.S. swimmers and China's second sweep of every event in diving. Less happy is NBC's cancellation of its cable Olympic Channel: Home of Team USA in September; this was supposed to be the catalyst for year-round visibility for Olympic sports. But the U.S. men's U-20 team qualified for the Paris 2024 Olympic field for the first time since 2008, and a mega-auction of Olympic torches, medals (six from Ryan Lochte) and memorabilia is ongoing.
1.
U.S. dynasty uninterrupted:
women's water polo wins Worlds again
Three-time defending Olympic victors and three-time defending World Champions, the United States women's water polo team defeated Hungary in front of a raucous house of 6,000-plus at the Hajos National Swimming Stadium in Budapest, 9-7, to win a fourth straight FINA World Championships title on Saturday.
Maddie Musselman scored five of the nine goals, as the American women led after one period by 2-1, at halftime by 4-3 and then by 7-4 at the end of three quarters. Hungary scored three times in the final period and closed to 8-7, but Musselman's penalty shot with 49 seconds left made the final 9-7. Ryann Neushul scored three times for the U.S. and Maggie Steffens added one; Greta Gurisatti led Hungary with three scores.
The win was all the sweeter as Hungary had defeated the U.S. in Olympic pool play, 10-9, in Tokyo last year. Said U.S. coach Adam Krikorian:
"We never played in such circumstances, anything similar to that. In the first quarter it was like 'this is incredible, I can't hear myself thinking, my players can't hear me…' It was amazing, this is the Mecca of water polo, a world champion place. I was thinking, with all honesty, it doesn't matter if we win or lose, it is an honor to be part of this. This result is a huge shot for [coach Attila Biro's] team and I'm jealous to see this kind of support his team enjoys, to see how the Hungarians love water polo."
Musselman was named the Most Valuable Player of the final and ended up no. 3 in scoring for the tournament with 20 goals. Stephanie Haralabidis tied for fourth with 18. Keeper Ashleigh Johnson was selected as the Most Valuable Goalkeeper.
The U.S. outscored its six opponents by 94-33 during the tournament and won its seventh FINA World Championship and fourth straight, previously in 2003-07-09-15-17-19 and now 2022.
Since Krikorian came from UCLA in 2009 to coach the women's team, the American women have won all three Olympic golds and five Worlds in seven tries. In the unbroken streak of major tournament wins from 2015-22, the U.S. women have a combined Olympic and Worlds record of 36-2.
This is a dynasty, and the core of the team should be primed for another world title run in 2023 in Fukuoka and in Paris at the 2024 Olympic Games. Of the seven players who logged 20 minutes or more in the final, Musselman is 24, Haralabidis is 27, Johnson is 27 and Steffens is 29. Neuschul is just 22, Rachel Fattal, 28 and Kaleigh Gilchrist is 30. Not going anywhere.
2.
FINA Worlds end with China's diving sweep,
U.S. tops in medals
A FINA World Aquatics Championships that looked like it might not happen instead ended Sunday with a show of Chinese diving power and the United States overpowering all other nations on the medal table.
With all 74 events completed, the U.S. ended with 49 medals (18-14-17), with 45 coming in a record-setting swimming performance. China was second with 28 medals (18-2-8), including 17 in diving, and Italy was third overall with 22 (9-7-6).
China completed a clean sweep of the diving events, winning all 13 and four more medals besides for a total of 17, followed by Britain with six and the U.S. and Canada with three each. Tokyo silver medalist Jian Yang repeated as World Champion in the men's 10 m Platform and Yiwen Chen won the women's 3 m Springboard. Qian Ren and Yu Duan won the Mixed Synchronized 10 m Platform with Americans Delaney Schnell and Carson Tyler third and Chen and Yani Chang won the women's 3 m Synchro event.
China also swept the diving in 2011 (10-for-10) and came close a couple of other times; the U.S. won all four golds way back at the 1982 Worlds, with Greg Louganis sweeping the men's titles.
The men's water polo title went to Spain in a 15-14 thriller over Italy, in a 6-5 penalty shoot-out after the Italians came back from a 6-3 halftime deficit to tie the match at 9-9 in the final period. Greece won the bronze-medal match from Croatia, 9-7; the U.S. finished sixth.
The U.S. swimmers posted a dominant performance, winning a record total of 45 medals (17-12-16) to 17 for Australia (6-9-2) and 11 for Canada (3-4-4), but left some of the swimming intelligentsia unimpressed as multiple Australian and British stars opted for the Commonwealth Games and/or European Championships coming up this month. The U.S. lost Caeleb Dressel to a medical condition after only a couple of days.
So how good was the swimming Budapest compared to, say, the Tokyo Olympic Games? Good, but not quite as good.
In the individual events contested in both, the men's winning times were better in seven of 14 events in Budapest, but in only four of 14 among the women. That means 11 of the 28 events (39%) were faster in Budapest. If you add in the non-Olympic events and compare them with the 2019 Worlds in Korea, four of six were better in Budapest, so the combined total of 15 of 34 (44%).
If we go back to the 2019 Worlds in Gwangju for all 34 individual events (including the 50 m sprints in Back, Breast and Fly), the men were better in 2022 in eight of 17 events and the women were better in 11 of 17, or 19 of 34 combined (56%).
Budapest was not quite as good – on the clock – as Tokyo, with much less fanfare, and better in more than half of the races vs. the 2019 Worlds.
As for 2022 itself, the Worlds produced world-leading times in 13 of 17 men's events and eight of 17 women's events, or 21 of 34 total (62%). Let's see what happens at the Commonwealth Games and Europeans, but Budapest 2022 was an outstanding Worlds that included three world records (vs. six in Tokyo).
American Freestyle star Katie Ledecky led all swimmers with four golds, but the top multi-medalists stars, with six each, were Australia's Mollie O'Callaghan (3-3-0) and American Torri Huske (3-0-3). Four Americans won five each: Ryan Murphy (2-2-1), Claire Curzan (2-0-3), Erika Brown (2-0-3) and Michael Andrew (1-2-2).
There were prizes, too, with the top eight swimmers receiving $20,000-15,000-10,000-6,000-5,000-4,000-3,000-2,000, so Ledecky won $60,000 plus a share of the 4×200 m Free Relay in which six U.S. swimmers participated, including the prelims. The same pay scale applied to artistic swimming (except for the team events, which got more), diving and open-water swimming. Water polo teams received $80,000-70,000-60,000-50,000-40,000-30,000-20,000-10,000. In all, the prize pool totaled $5.72 million.
FINA announced that more than 130,000 spectators watched the competitions, with more than 2,000 athletes from 180 countries participating. With the between-Olympic Games rhythm still wrecked by Covid-19 and the postponement of Tokyo 2020, there will be a 2023 World Aquatics Championship in Fukuoka, Japan from 14-30 July.
3.
NBC to cancel low-performing Olympic Channel
on 30 September
It was supposed to be the means by which Olympic athletes and Olympic sports would be noted, promoted and celebrated all year round. That was when NBC's cable Olympic Channel: Home of Team USA debuted in 2017.
On Friday, NBCUniversal announced that it will be ending the channel on 30 September, with a spokesperson telling The Hollywood Reporter:
"In order to best reach our target audiences, we are reevaluating our programming distribution strategy regarding the content that currently airs on Olympic Channel: Home of Team USA with our partners at the IOC and USOPC. We will be announcing our exciting new plans for Olympic content in the fall."
This follows the closure of NBCSN at the end of 2021, with much of the content moved to the Peacock subscription streaming service, USA Network and CNBC on evenings and weekends.
Truth be told, the Olympic Channel: Home of the Team USA had little impact. It was available in 47 million homes at the end of 2021 vs. 80 million for USA Network. Programs on the Olympic Channel were rarely (if ever) rated by Nielsen with 200,000 or more viewers for any program. This was true of the recent FINA World Championships in swimming, where the U.S. team set a record with 45 total medals … but none of the daily broadcasts on the Olympic Channel rated within the top 150 shows on cable on any day.
It was an experiment that failed. And that's not a good thing for the Olympic Movement in the U.S.
4.
U.S. U-20 men reach first Olympic tournament since 2008!
The U.S. men's U-20 team capped a brilliant tournament with a 6-0 shutout of first-time-finalist Dominican Republic in the final of the CONCACAF men's U-20 Championship at San Pedro Sula, Honduras on Sunday evening.
The game opened slowly, but the Americans took a 1-0 lead on a Tyler Wolf goal in the 18th minute and then added a second in the 37th minute from striker Paxten Aaronson and third by Noah Allen in the 39th. The 3-0 lead was doubled in the second half with scores from Jack McGlynn (53rd), Aaronson (55th) and Niko Tsakiris (61st). The U.S. enjoyed 52% of the possession, but piled up an 18-5 edge in shots.
The true impact of the U.S. finish is that the finalists qualified for the Paris 2024 Games – a U-23 tournament with some added older players – the first time the U.S. men will compete in the Games since Beijing 2008!
The Americans defeated St. Kitts & Nevis (10-0), drew 2-2 with Canada and beat Cuba, 3-0, in group play, then skipped past Nicaragua (5-0), Costa Rica (2-0) and Honduras (3-0) in the playoffs before facing the Dominicans. Aaronson led all scorers in the tournament with seven goals and Quinn Sullivan had six, including all three vs. Cuba.
Aaronson won the Golden Ball Award as the top player, Golden Boot as top scorer and U.S. keeper Chris Brady took the Golden Glove. The U.S. outscored its opponents 31-2 in its six games and pitched shutouts in five of them.
It's the third straight title for the U.S. in this tournament, after wins in 2017 and 2018. Besides the Olympic berth, the U.S., Dominican Republic and semifinalists Guatemala and Honduras all qualified for the 2023 FIFA U-20 World Cup in Indonesia next May.
5.
Massive Olympic memorabilia auction features 36 torches!
Medals, pins, torches and many more items are now up for sale in a 341-item Olympic Memorabilia auction by RR Auctions through 21 July. The program includes a stunning 36 Olympic torches, from summer Games in 1936, 1948, 1960, 1964, 1968, 1972, 1976, 1980, 1984, 1988, 1992, 1996, 2000, 2004, 2008, 2012, 2016 and Winter Games in 1956, 1972, 1976, 1984, 1988, 1992, 1998, 2002, 2006, 2014, 2018, 2022. The Innsbruck 1976 Winter torch is expected to bring $20,000, the highest projected price of the group.
There are 32 lots of Olympic medals on auction, including six medals from U.S. swimming star Ryan Lochte, who won 12 medals in all (6-3-3) from 2004-16. Up for auction, to support the Jorge Nation Foundation, which funds vacations for seriously ill children:
● 2004 Athens silver from the 200 m Medley (estimated at $10,000);
● 2008 Beijing bronzes from the 200 m and 400 m Medley ($12,000);
● 2012 London silver from the 200 m Medley and 4×100 m Freestyle Relay, and bronze from the 200 m Backstroke ($60,000).
He's holding on to his six golds. The other medals expected to bring high prices include a 1924 Chamonix gold ($50,000 estimate) 2020 Tokyo gold ($50,000), and a 2006 Turin Winter Games gold ($40,000) and silver ($25,000).
There are also all kinds of pins, medallions, publications and lots more, with the auction ending on Thursday, 21 July.
≡ PANORAMA ≡
● Mediterranean Games ● Did you know that the XIX Mediterranean Games are ongoing in Oran, Algeria? OK, you do now! The 3,390-athlete, 26-nation event is especially noteworthy this year for the first appearance in a multi-sport event by entrants from Vatican City.
The Vatican is not a recognized nation in the International Committee of the Mediterranean Games (ICMG), but Sara Carnicelli ran as a guest the women's Half Marathon, finishing in 1:17:21, ninth out of 12 entries. It's a start.
● Athletics ● Remember Wilfried Happio, the French 400 m hurdler who was attacked before his national championship race in Caen and then – with a patch over his eye, covered by a headband worn diagonally across his face – won with a lifetime best of 48.57?
Le Parisien reported that there is more to the story. Turns out the attacker, apparently also an accredited athlete for the meet, was the brother of a woman – a triple jumper – who has now filed a sexual assault charge against Happio for actions dating back to October 2021. The matter is ongoing; the French Athletics Federation had no comment as it had not been officially informed of the complaint. Oh boy.
● Basketball ● Two-time Olympic gold medalist Brittney Griner's trial on "drug smuggling" charges began Friday in Moscow, with the hearing lasting three hours before being continued to 7 July. U.S. Charge d'Affaires Elizabeth Rood attended the hearing and said Griner was doing "as well as can be expected."
● Cycling ● The opening stages of the 109th Tour de France held in Denmark concluded on Sunday, with Belgians Wout van Aert and Yves Lampaert (+0.07) sitting 1-2 in the overall standings with the event heading to France. Defending champ Tadej Pogacar (SLO) stands third (+0:14).
The racing opened with Belgium scoring a 1-2 in the 13.2 km time trial in Copenhagen with Lampaert winning in 15:17 and van Aert in 15:22. Pogacar was third at 15:24. The crash-filled second stage ended with Fabio Jakobsen (NED) stealing the win from van Aert with a late sprint in 4:34:34, with the first smash-up with 22 km left, then Lampaert was part of a pile-up with 19 km left and another, major crash just past the Great Belt Bridge amid strong winds with just 2.8 km left that spared only the top riders. On Sunday, Dylan Groenewegen (NED) won a bunch sprint from van Aert and Jasper Philipsen (both BEL) on the flat, 182 km course from Vejle to Sonderborg.
In Italy, the 10-stage Giro Donne – the top women's race of the year – home favorite Elisa Balsamo (ITA) won Stage 1 from Dutch star Marianne Vos in a sprint, then Vos and Charlotte Kool (NED) were 1-2 over Balsamo in Stage 2. When racing resuming Monday, Balsamo leads Vos by 0:06 and Australia's Georgia Baker by 0:12.
● Fencing ● USA Fencing has gone through considerable upheaval in recent months, with eight-year Executive Director Kris Ekeren leaving last September and the federation's Board removing elected Chair Peter Burchard last October and substituting Treasurer David Arias.
Now, an impressive hire with former USA Weightlifting chief Phil Andrews (GBR) selected as fencing's chief executive as of 16 August. In more than six years as the head of the weightlifting federation, Andrews saw significant increases in competitive success, athlete funding, coaching education and the international standing of the U.S. federation. He now takes over a federation which has enjoyed wide success in the piste, but need to raise its public profile.
● Figure Skating ● "This season, too, I want to do my best and aim even higher still." That comment on the Japanese Skating Federation Web site from two-time Olympic men's figure skating champion Yuzuru Hanyu, 27, of Japan is the first concrete indication that, despite injury setbacks over the last two seasons, he intends to continue competing. There has been speculation that he would retire, but perhaps not?
● Football ● With the FIFA World Cup coming up quickly in November and guaranteed controversy over offside calls, FIFA announced Friday that it will introduce a "semi-automated" system to warn officials of offside infractions. Using 12 tracking cameras, 29 data points on each player and a sensor inside the ball:
"By combining the limb- and ball-tracking data and applying artificial intelligence, the new technology provides an automated offside alert to the video match officials inside the video operation room whenever the ball is received by an attacker who was in an offside position at the moment the ball was played by a team-mate. Before informing the on-field referee, the video match officials validate the proposed decision by manually checking the automatically selected kick point and the automatically created offside line, which is based on the calculated positions of the players' limbs. This process happens within a few seconds and means that offside decisions can be made faster and more accurately." The system has worked well at test events over the past year, but the World Cup will be the ultimate test.
¶
You can receive our exclusive TSX Report by e-mail by clicking here. You can also refer a friend by clicking here, and can donate here to keep this site going.
For our updated, 620-event International Sports Calendar for 2022 and beyond, by date and by sport, click here!