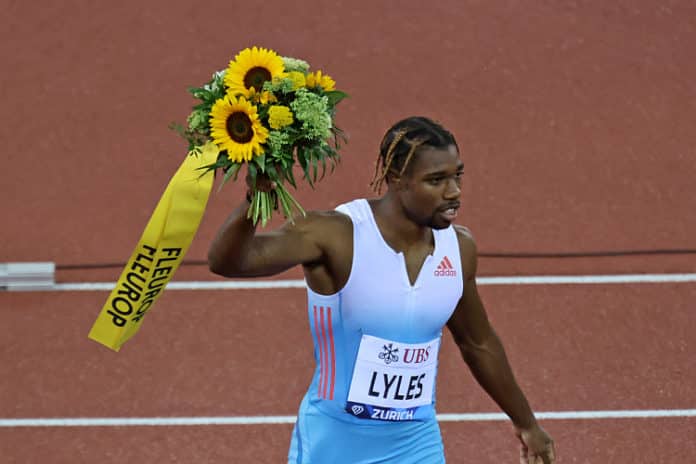 ★ The Sports Examiner: Surveying, monitoring and explaining the key competitive, economic and political forces shaping elite sport and the Olympic Movement. ★
★ To get The Sports Examiner by e-mail: sign up here! ★
≡ THE 5-RING CIRCUS ≡
1. Diamond League wins for Bromell, Lyles, Holloway, Allman & Winger in Zurich
2. IOC reiterates "grave concerns" over Int'l Boxing Association
3. IOC says Russian status remains unchanged
4. John Hancock to end 37-year sponsorship of Boston Marathon
5. Evenepoel closing in on La Vuelta title with Stage 18 win
The conclusion of the Diamond League season in Zurich saw five U.S. wins from sprinters Trayvon Bromell and Noah Lyles, hurdler Grant Holloway and women's throws stars Valarie Allman and Kara Winger, plus world-leading marks in three events, the men's 800 m and 1,500 m and women's 400 m. The International Olympic Committee's Executive Board met on Thursday and sent a stern letter of disappointment to the International Boxing Association, further dimming its chances to be on the LA28 sports program, and set the stage for suspensions of National Olympic Committees in Guatemala and India. The current sanctions situation for Russia (and Belarus) remains unchanged. The John Hancock insurance firm decided to end its sponsorship of the Boston Marathon after the 2023 race, after 37 years; it was one of the early leaders in the 1980s sports sponsorship explosion. At the Vuelta a Espana, Belgium's Remco Evenepoel won Stage 18 and strengthened his grip on a possible overall victory on Sunday in Madrid.
1.
Diamond League wins for Bromell, Lyles, Holloway, Allman & Winger in Zurich
The 2022 Diamond League season came to a spectacular close at the legendary Stadion Letzigrund with the Weltklasse Zurich meet on Thursday, with three world-leading performances and five wins by American athletes. The world leaders:
● Men/800 m: 1:43.26, Emmanuel Korir (KEN)
● Men/1,500 m: 3:29.02, Jakob Ingebrigtsen (NOR)
● Women/400 m: 48.99, Marileidy Paulino (DOM)
In the men's sprints, it was American Trayvon Bromell who got out best and could not be caught, winning in 9.94 (wind: 0.3 m/s), well ahead of Yohan Blake (JAM: 10.05) and Aaron Brown (CAN: 10.06). American Kyree King was seventh in 10.18.
American star Noah Lyles closed the program with another brilliant 200 m, steaming around the turn and running away with the race in 19.52 (-0.6), his sixth time at 19.62 or better this season! Brown and Alexander Ogando (DOM) were tight for second and third (both in 20.02) with Americans Erriyon Knighton and Kenny Bednarek fading to 4-5, both in 20.20.
Evergreen Kirani James (GRN), still just 30, won the men's 400 m in an impressive 44.26, with Americans Bryce Deadmon and Vernon Norwood just behind in 44.47 and 44.66.
Both the men's 800 m and 1,500 m produced world-leading marks. Canada's Marco Arop came into the final straight as the leader and looking like the winner, but Olympic and World champ Emmanuel Korir (KEN) attacked and got to the lead only in the last 5 m, winning in 1:43.26, with Arop at 1:43.38. American Bryce Hoppel was fifth in 1:44.77.
Norway's Jakob Ingebrigtsen, the Olympic champ, found himself in the lead at the 1,500 m bell, being stalked by familiar foe, 2019 World Champion Timothy Cheruiyot (KEN). But no one could match Ingebrigtsen's fitness and he pulled away over the final 120 m to win in a world-leading 3:29.02. Cheruiyot was a clear second in 3:30.27 and Olli Hoare (AUS: 3:30.59) was third.
The three "hurdles" races showcased the 2022 World Champions. American Grant Holloway stormed out of the blocks and won the 110 m hurdles in 13.02 (-1.0), ahead of a fast-closing Rasheed Broadbell (JAM: 13.06). American Trey Cunningham was fifth in 13.30. Brazil's Alison Dos Santos left no doubt in the 400 m hurdles, taking over by mid-race and winning in 46.98, his third sub-47 race of the year, with Americans Khallifah Rosser (47.76) and C.J. Allen (48.21) second and third. And Morocco's Soufiane El Bakkali was in total control of the Steeple, winning in 8:07.67, ahead of a fast-closing Getnet Wale (ETH: 8:08.56) and Abraham Kibiwot (KEN: 8:08.61).
Jamaica continued to own the women's sprints, as Shelly-Ann Fraser-Pryce got out first and won by daylight in the women's 100 m over teammate Shericka Jackson, 10.65-10.81 (-0.8). Americans Aleia Hobbs, TeeTee Terry and Sha'Carri Richardson finished 5-6-7 in 11.03-11.10-11.13. Jackson was totally in charge in the 200 m, storming the turn and taking a big lead to win in 21.80 (-0.9), more than a half-second up on Americans Gabby Thomas, Tamara Clark and Jenna Prandini, in 22.38-22.42-22.45.
The continuing rise of Dominican star Marileidy Paulino was shown by her world-leading win in the 400 m in 48.99, way ahead of countrywoman Fiordaliza Cofil (49.93). Worlds silver winner Paulino is only the 12th woman ever to break the 49-second barrier and just the fifth this century.
Worlds bronze medalist Mary Moraa of Kenya found herself in front on the backstraight of the women's 800 m and made the most of it, extending her edge in the home straight and winning impressively in 1:57.63, ahead of a late rush by Jamaican Natoya Goule (1:57.85) and American Sage Hurta (1:58.47). Fellow Kenyan star Faith Kipyegon – the two-time Olympic champ – underlined her dominance with a 4:00.04 win in the 1,500 m, taking off on the final lap and not seriously challenged. Ireland's Ciara Mageean ran strongly down the straight and got second in 4:01.68. Americans Heather MacLean and Cory McGee were 7-8 in 4:02.90 and 4:04.63.
The stars were out in the women's hurdles as well. World Champion and world-record setter Tobi Amusan (NGR) overpowered an excellent field from the start and won the 100 m hurdles in a fast 12.29 (-0.3), the equal-18th fastest mark ever and no. 10 this century. American Tia Jones continued a late-season surge in second (12.40), with Olympic champ Jasmine Camacho-Quinn fourth (12.49) and Americans Nia Ali and Keni Harrison in sixth and eighth (12.67 and 13.02).
Dutch star Femke Bol overtook Rio Olympic champ Dalilah Muhammad of the U.S. by midway in the 400 m hurdles and won in 53.03 – a time only Bol and Sydney McLaughlin have beaten this season – with Gianna Woodruff (PAN) second in 53.72, as Muhammad faded to fourth (53.83). Ethiopia's Werkuha Getachew was strongest in the final half-lap to win the Steeple in 9:03.57 from Winfred Yavi (BRN: 9:04.47), with American Emma Coburn seventh in 9:20.00.
The women's high jump was decided at 1.97 m (6-5 1/2) with Ukraine's World Indoor Champion Yaroslava Mahuchikh clearing on her second try, while teammate Iryna Gerashchenko finished second from her first-time clearance at 1.94 m (6-4 1/4).
The men's vault really got going at 5.81 m (19-0 3/4) with Mondo Duplantis (SWE) over right away and joined by Norway's Sondre Guttormsen on his second attempt, France's 2012 Olympic champ Renaud Lavillenie and Tokyo silver winner Chris Nilsen (USA). Guttormsen got a lifetime best of 5.86 m (19-2 3/4) and that earned him second place as Nilsen and Lavillenie both failed at 5.91 m (19-4 3/4) to settle at 3-4. Duplantis made 5.91 m on his first try and then asked for 6.07 m (19-11), which he cleared on his second attempt, but went no higher.
The long jumps were an intertwined men's and women's event, alternating round by round. Serbia's Ivana Vuleta took charge of the women's event right away, jumping 6.97 m (22-10 1/2) in the first round and won easily. Swede Khaddi Sagnia managed 6.55 m (21-6) for second and American Quanesha Burks got out to 6.54 m (21-5 1/2) in the sixth round to get third.
Greece's Olympic champ Miltiadis Tentoglu reached 8.14 m (26-8 1/2) in the men's competition in the second round, but it was American Marquis Dendy – the 2016 World Indoor Champion, wearing a stylish bucket hat – taking the lead at 8.16 m (26-9 1/4) in round four! Tentoglu responded, re-taking the lead at 8.33 m (27-4), then Dendy improved to 8.18 m (26-10) in the final round, but it wasn't enough. But Tentoglu wanted to make a statement and powered out to 8.42 m (27-7 1/2) on his final jump for the winning mark, his no. 3 jump of the year.
In the triple jumps, Cuba's Andy Diaz boomed his first-round jump out to a lifetime best of 17.70 m (58-1) and no one could catch him. World Champion Pedro Pablo Pichardo (POR) also had his best mark in the first round at 17.63 m (57-10 1/4) and finished second. Women's Olympic and World Champion Yulimar Rojas (VEN) fouled on her first try, but reached 15.28 m (50-1 3/4) in the second and won easily with her eighth-best jump of the year. Ukraine's Maryna Bekh-Romanchuk claimed second at 14.96 m (49-1) and American Tori Franklin finished fourth at 14.75 m (48-4 3/4).
The discus competitions saw men's World Champion Kristjian Ceh (SLO) and Olympic gold medalist Valarie Allman of the U.S. take the early leads at 64.42 m (211-4) and 66.23 m (217-3), respectively. Ceh lost the lead to Lukas Weisshaidinger (AUT) in round five at 65.70 m (215-7), but took it back immediately at 66.75 m (219-0) and then finished with a best of 67.10 m (220-2). American Sam Mattis finished fourth at 65.24 m (214-0).
Allman improved to 67.77 m (222-4) in round three, and while two-time Olympic champ Sandra Perkovic (SLO) got close at 67.31 m (220-10) in round five, she finished second. American Laulaga Tausaga was sixth at 58.90 m (193-3).
The amazing Kara Winger, the Worlds silver medalist and American record holder – who has said she will retire at the end of the season – had the women's javelin lead at 63.81 m (209-4) in the second round, ahead of World Champion Kelsey-Lee Barber (AUS: 63.72 m/209-1). Then Winger poured it on, adding to the lead at 64.98 m (213-2), the no. 5 throw of her career! Retire at 36? Really? When she is automatically qualified for the 2023 Worlds?
India's Olympic champ Neeraj Chopra grabbed control of the men's spear, reaching 88.44 m (290-2) in round two, ahead of Tokyo silver medalist Jakub Vadlejch (CZE: 86.94 m/288-6) and that's the way it finished. American Curtis Thompson was fourth at 82.10 m (269-4).
The winners of each event took home $30,000 in prize money, with the lower places earning $12,000-7,000-4,000-2,500-2,000-1,500-1,000 through eighth. Most of the winners will get a direct entry into the 2023 World Championships, except in situations where the Diamond League champ comes from the same country as the 2022 World Champion (to be resolved later).
(Thanks to statistician Jed Brickner for a correction to yesterday's post: Joe Kovacs' throw of 23.23 m (76-2 3/4) made him the no. 2 performer in history, but with the no. 3 throw ever, behind Ryan Crouser's 23.37 m (76-8 1/4) and 23.30 m (76-5 1/2), both in 2021.)
2.
IOC reiterates "grave concerns" over Int'l Boxing Association
The International Olympic Committee's Executive Board completed the first of a two-day meeting on Thursday, delivering some stern warnings to the International Boxing Association and to the National Olympic Committees of Guatemala and India.
On boxing, the IOC sent a stern letter to the IBA, which ended with:
"Boxing is currently not included in the sports programme of the Olympic Games Los Angeles 2028. Considering the absence of a real evolution, the IOC Executive Board is not in a position to reverse this decision and will continue to monitor with grave concerns IBA's governance."
The letter reiterated the IOC's continuing concerns over governance and finance. In specific, the IBA's termination of its reform advisory committee and the weakening of its formal headquarters functions in Lausanne in favor of a "Presidential office in Moscow" were noted as negatives as well as
'[A]ccording to the information available, the IBA has not been able to find new sources of income to mitigate its dependency from a Russian State-owned company [Gazprom]. Furthermore, the IOC Executive Board noted that this situation is exacerbated by the fact that IBA is dependent from a Russian State-owned bank's branch located in Switzerland which is currently restricted in operation due to sanctions in place."
The IOC's view is that IBA's actions "aggravate the most serious concerns of the IOC Executive Board." The outcome of the upcoming Congress in Armenia on 25 September, which could include a re-vote for President, "will be thoroughly assessed."
A qualification system for boxing for Paris 2024 was set up, rejecting the IBA's proposal and using the results of the 2023 Asian Games, European Games, Pacific Games, Pan American Games and an African competition to be designated, and two worldwide qualifiers in 2024.
That's boxing. On the other at-issue federations, IOC Sports Director Kit McConnell (NZL) said that discussions are continuing with the newly-elected leadership of the International Weightlifting Federation and with the Union Internationale de Pentathlon Moderne. On the UIPM, McConnell made it clear that the IOC is waiting on the federation's proposal for a different fifth discipline for 2028 and is well aware of the internal dissension among the sport's elite athletes about the decision to remove riding.
As regards continuing governance crises with two National Olympic Committees:
● The Executive Board suspended the National Olympic Committee of Guatemala as of 15 October, as the country's courts have suspended some of the NOC's election rules, in violation of the Olympic Charter's requirement of sports autonomy.
The five-week delay was set in hopes of settling the dispute with the government in advance of the 24-sport Central American Games, to be contested in Guatemala and Costa Rica beginning on 27 October 2022. The Guatemalan NOC and the government are expected to meet shortly on the issue, with the IOC looking for a solution by 25 September.
● The Indian Olympic Association is also dealing with election issues, and was previously suspended for similar problems from 2012-14. So a "final warning" was issued, with the Executive Board asking for a resolution by its next meeting in December, and orchestrating a meeting "with all parties concerned" in Lausanne later in September.
However, with the 2023 IOC Session to be held in Mumbai, the Executive Board postponed it to a date to be determined in September or October, instead of next May or June, and could be relocated elsewhere.
This impacts the ongoing discussions concerning the selection of a site for the 2030 Olympic Winter Games, which was to be voted on at the Mumbai Session. It is possible that the delay due to India's internal issues could help the fledgling bid in Vancouver, which has been behind the bids from Salt Lake City and Sapporo.
For Paris 2024, venue changes already announced were confirmed for boxing and fencing in the modern pentathlon (North Paris Arena), for shooting (French National Shooting Centre) and the Main Press Center (Palais de Congres). The contentious fight over the preliminary basketball site continues.
Reports on future Games were received by the Executive Board, with the continuing turmoil over the management of Milan Cortina 2026 being monitored. The Los Angeles 2028 Coordination Commission is scheduled to visit the city for an in-person look from 13-15 September.
A potentially important new working group has been created to continue the Tokyo 2020 concept of streamlining the costs and operations of the Olympic Games, dubbed the "Games Optimisation Group" and chaired by Zimbabwean IOC member (and Olympic swimming champ) Kirsty Coventry.
3.
IOC says Russian status remains unchanged
IOC spokesman Mark Adams (GBR) noted that the situation with Russia (and Belarus) has not changed, and gave one of the clearest statements of the IOC's position to date:
"The sanctions are against those responsible for the war, the Russian government; they remain in place. This means, in particular … no Russian flag or colors, no Russian anthem, no Russian identity at sporting events and also the International Federations should not hold events in Russia.
"With regard to the protective measures, which we recommended to the Olympic Movement, we have explained many times that we are in a dilemma. We did decide on the protective measures because the IOC had to realize that governments were starting to interfere in the responsibility of sports organizations by deciding who would be allowed to participate in international sports competitions, and by putting pressure on their athletes, [National Olympic Committees] and national federations.
"This obviously jeopardizes the integrity and fairness of international competitions, jeopardizes the autonomy of sports organizations, without which there can be no truly global sport. So to protect the integrity of the competitions, and to protect international sport from full politicalization, we had to take some protective measures.
"We had to take these measures reluctantly because, as I said, in an unsolvable dilemma. On the one hand, we cannot fully live up to our humanitarian mission, which is to unite the entire world in peaceful competition. On the other hand, the only way to protect this mission for the future was to recommend the non-participation of athletes just because of their nationality.
"We are, obviously, closely monitoring and will continue to closely monitor the situation."
Sports Director McConnell further noted:
"Our recommendations regarding Russia are related to the integrity of sports competitions and protecting that integrity. We have not, in any way, recommended the sanctioning of the Russian Olympic Committee, Russian national federations or Russian officeholders."
Adams explained that the IOC's assistance fund for Ukrainian athletes and sports organization has now expanded to $7.5 million.
4.
John Hancock to end 37-year sponsorship of Boston Marathon
"Our contract with the Boston Athletic Association is expiring in 2023, and after careful review, we have chosen not to renew our principal sponsorship of the Boston Marathon after next year's race.
"Our business has changed so much over the nearly four decades of our sponsorship; we have grown in size and scale and are more globally aligned than ever before. As our organization evolves and we double down on opportunities to help customers live longer, healthier lives through our John Hancock Vitality program, our partnerships must also evolve."
That from a letter to the staff by Marianne Harrison, the chief executive of Boston-based insurer John Hancock, announcing the end of a partnership that lasted for 37 years, back to 1986. Hancock was in the forefront of sports sponsorship in the marketing explosion that followed the 1984 Olympic Games in Los Angeles and was deeply involved in running for many years.
The Boston Athletic Association, which owns the race, issued a statement; in part:
"At the B.A.A., our commitment to expanding events and creating more running opportunities has never been greater. We're excited to find our next Boston Marathon principal sponsor, and look forward to partnering with an organization who shares our passion for athletic excellence, community engagement, and growing the Boston Marathon to new heights."
John Hancock has been steadily scaling back its sports sponsorships, ending its 30-year relationship with the Boston Red Sox in July.
Although 37 years is a long partnership, it's not a record. For example, in 2019, USA Swimming announced a multi-year extension with Phillips 66, which began sponsoring the federation back in 1973!
5.
Evenepoel closing in on La Vuelta title with Stage 18 win
The best to protect your lead at the head of the 77th La Vuelta a Espana is to win the stage. And that's exactly what Belgium's Remco Evenepoel did on Thursday, out-sprinting chief rival Enric Mas (ESP) to the line at the top of the 1,163 m Alto de Piornal.
Thursday's 192 km route was flat for the first half, but featured three major climbs to the finish, with the final ascent of 13.3 km the decisive stretch. Mas attacked with 10 km remaining, but was reeled in by the Belgian. Dutch rider Robert Gesink was in the lead with just 1,000 m to go when Mas attacked once again, but Evenepoel struck back hard and managed to get to the line first, with Mas and Gesink both two seconds back.
With two more climbing stages left before the final-day ride into Madrid, Evenepoel had a lead of 2:07 on Mas and 5:14 on Juan Ayuso (ESP). If the 22-year-old Evenepoel can hang on, he will be the first Belgian winner since Freddy Maertens, way back in 1977.
≡ WORLD CHAMPIONSHIPS ≡
● Volleyball ● The semifinals are set for the 20th edition of the FIVB men's World Championship in Poland, with defending champion Poland (5-0) to face Brazil (5-0) and 4-1 Slovenia playing 5-0 Italy.
In Thursday's quarterfinals, the Poles took a 2-0 lead on the U.S., winning by 25-20 and 27-25. But the Americans fought back and tied to match with set wins of 25-21 and 25-21. But the home team, playing in Gliwice, managed a 15-12 fifth set win to advance.
Brazil had an easier time with Argentina, winning 3-1, but only after dropping the first set.
The semis will be played on Saturday and the medal matches on Sunday, all at the 11,036-capacity Spodek Arena in Katowice.
≡ PANORAMA ≡
● Pan American Games ● In view of receding interest in the Pan American Games as a stand-alone championship in recent editions – in part due to the lack of prize money vs. other events – the regional confederation Pan Am Sports made a strategic move to emphasize the role of the Games as an Olympic qualifying competition as a way to ensure strong participation by the best athletes in the hemisphere.
That effort has gone into overdrive for 2023, as 33 disciplines across 22 sports will offer either direct qualification (in 15 sports) or points toward qualifying marks or world rankings on which Olympic selection will be based (in 7 sports). This is up from 25 disciplines at the Lima 2019 Games.
This also applies to the Paralympic Games, with 15 (of 18) disciplines offering qualifying opportunities; six sports will provide direct qualifying from the ParaPan American Games.
The Santiago 2023 Pan Ams are expected to include more than 7,000 athletes and 2,000 para-athletes from the 41 countries of the Americas, competing in 39 sports (61 disciplines) and 17 para-sports (18 disciplines). The Games will be held late next year, from 20 October to 5 November.
● World Anti-Doping Agency ● WADA announced the appointments of 13 members of the WADA Athlete Council, including five from the IOC or International Paralympic Committee Athlete Commissions and eight elected by the Athlete Commissions of International Federations.
The IOC/IPC appointments include Finland's Emma Terho, 40, currently the head of the IOC's Athletes' Commission, whose profile in international sport had been steadily increasing.
Among the International Federation reps is American Clare Egan, 34, nominated by the International Biathlon Union and a two-time Olympian in 2018 and 2022. She retired after the 2021-22 season.
● Athletics ● Thursday's Diamond League Final in Zurich was shown on NBC's Peacock streaming service live, but will be shown on CNBC on Saturday at noon Eastern time.
However, Sunday's Fifth Avenue Mile from New York will be shown live on NBC beginning at noon, with the women's elite race at 12:30 p.m. and the men's race at 12:45.
● Basketball ● The U.S. men's team barely got past Puerto Rico, 85-84, to advance to the semifinals of the FIBA AmeriCup in Recife, Brazil.
The game was tied, 42-42, at the half and the U.S. had a tenuous 64-60 lead after three quarters. In the fourth, a three-pointer by guard Norris Cole gave the U.S. an 82-76 edge with 2:05 left, but the game was tied at 82-82 with 0:09 to play. A Cole free throw made it 83-82 for the U.S., but ex-LSU star Tremont Waters got a layin with six seconds left to put Puerto Rico in front, 84-83.
Out of a timeout, Cole took over, dribbling from 25 feet out, down the left side of the lane and muscling up an in-the-paint, 8-ft. floater which swished through the net with just 1.4 seconds left for the win and the 85-84 final. Cole led all scorers with 20 points on 8-11 shooting, with guard Jeremy Pargo scoring 15.
The U.S. will meet undefeated Argentina in the semis, a 76-53 winner over Venezuela, on Saturday (10th).
● Diving ● "It's with great contentment and excitement, I close this chapter and move on to the next. You always hear people say you'll know when it's time to hang it up and I never really believed that. I do now. I took my final dive at Olympic Trials in 2021 and the following months were rough. But ever since that dive, not once have I had a feeling of 'I need to get back in'."
That's American diving star David Boudia, 33, announcing his retirement in an Instagram post, concluding a brilliant career that included three Olympic Games in Beijing, London and Rio, where he won gold in 2012 on the 10 m Platform and a bronze in the 10 m Synchro, and a silver (10 m Synchro) and bronze (10 m Platform) in 2016.
He won five World Championships medals (0-4-1) between 2007 and 2015, including individual Platform silvers in 2011-13-15.
Boudia is hardly leaving the sport, however:
"As many of you know, I am coaching along side Adam Soldati at Purdue University and I couldn't be more eager to continue to learn from one of the best. I look forward to continuing to be immersed in the diving world as a coach and see what the next chapter holds. Eyes set for Paris 2024, just in a new role!"
¶
You can receive our exclusive TSX Report by e-mail by clicking here. You can also refer a friend by clicking here, and can donate here to keep this site going.
For our updated, 620-event International Sports Calendar for 2022 and beyond, by date and by sport, click here!