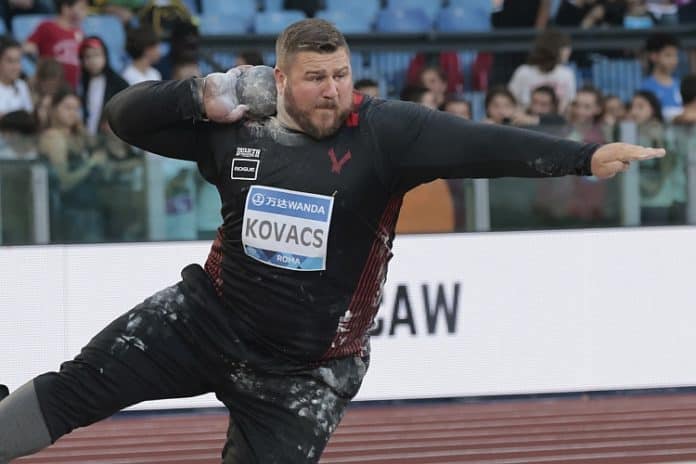 ★ The Sports Examiner: Surveying, monitoring and explaining the key competitive, economic and political forces shaping elite sport and the Olympic Movement. ★
★ To get The Sports Examiner by e-mail: sign up here! ★
≡ THE 5-RING CIRCUS ≡
1. Kovacs explodes to 76-2 3/4 for Diamond League winner in Zurich
2. "Olympic Dividend" rescues World Athletics' finances
3. More arrests in Tokyo 2020 sponsor bribery scandal
4. Russian Olympic chief sees hopeful signs of re-engagement
5. Evenepoel might be set for La Vuelta win as Roglic crashes out
The first day of the Diamond League final in Zurich saw two-time World Champion Joe Kovacs of the U.S. author the second-longest throw in history at 23.23 m (76-2 3/4) to out-last fellow American Ryan Crouser and win the $30,000 first prize. The meet concludes on Thursday. World Athletics released its annual financial report and noted the $39.48 million "Olympic Dividend" from the International Olympic Committee from the television rights sales to the Tokyo 2020 Games from moves its reserves from approximately $30 million to about $71 million. Tokyo prosecutors arrested more people in connection with the Tokyo 2020 sponsor bribery scandal, which now extends to three companies and a possible fourth used as a go-between. The Russian Olympic Committee's President sees positive signs for the eventual reinstatement of his country's athletes, but with an uncertain timeframe in advance of the Paris 2024 Olympic Games. At the Vuelta a Espana, three-time defending champion Primoz Roglic crashed at the finish of the 16th stage, possibly clearing the way for for Belgium's Remco Evenepoel to win the race on Sunday in Madrid.
1.
Kovacs explodes to 76-2 3/4 for Diamond League winner
in Zurich
/Updated/"I had so many throws this year over 22.80 m [74-9 3/4]. So I feel like I was building and building. It feels good to finally click the box and be a 23 m shot putter.
"There is a bigger throw left in there. So it feels good to walk away from a PR and I want more, but it is also exciting because I know the level is getting better and better."
That was two-time World Champion Joe Kovacs of the U.S. following his monstrous win during the first day of the Diamond League final at the Weltklasse Zurich meet, held against the shore of Lake Zurich at the venerable Sechselautenplatz.
Admission was free and both the temporary grandstands and the infield were full of people, even under threatening weather conditions that eventually turned to rain.
But the men's and women's shot final, with just six competitors each, was held with a novelty format of alternating rounds. The two giants of the men's shot, world-record holder and Olympic and World Champion Ryan Crouser (USA) and Kovacs were both ready to go, each reaching  a stirring 22.67 m (74-4 1/2) in the first round.
Kovacs found a tight rotation in round two and got full extension and knew he had done something special, raising his arms in triumph while the ball was in the air. It landed at 23.23 m (76-2 3/4), making him the no. 2 performer of all time (no. 3 throw) and the world leader for 2022.
Crouser, who has been recovering from Covid, was game and got out to 22.74 m (74-7 1/4) in round three, but could do no more. Kovacs settled for silver at the Worlds, but has now won six meets in a row, two in a row from Crouser (after 14 straight losses) and took the Diamond League title and the $30,000 first prize. The future? Said Kovacs:
"I know that Ryan will throw further so I will have to throw even further next year.
"My wife [Ashley] is pregnant with twins. So I expect to get enough sleep to open up the season and be in a good shape. You do not want to go backwards. If you have a level you want to stay at that level. Now with a throw of 23, my goal for next year is to be able to achieve 23.50 m [77-1 1/4]." That would be a world record!
The U.S. completed a sweep of the shot with World Champion Chase Ealey extending an unbeaten outdoor season – 11 straight – with a dominant win at 20.19 m (66-3), well in front of Canadian Sarah Mitton (19.56 m/64-2 1/4).
The odd configuration included a partially-banked, almost trapezoidal-shaped, three-lane track of 516 m in length, making the men's and women's 5,000 m races technically road events, plus space for the men's high jump and women's vault.
The high jump included Olympic co-champs Mutaz Essa Barshim (QAT) and Gianmarco Tamberi (ITA), but it was American JuVaughn Harrison who made most of the noise. He equaled his seasonal best of 2.30 m (7-6 1/2) with ease, then cleared 2.32 m (7-7 1/4) on his first try, requiring Tamberi to go higher to win. He did, clearing 2.34 m (7-8) on his second try and while Harrison cleared on his third, neither could go higher and Tamberi was the winner on misses. Barshim had an off day and made only 2.18 m (7-1 3/4).
Australia's Worlds bronze winner Nina Kennedy mastered the conditions best in the women's vault, clearing 4.76 m (15-7 1/4) on her first try, while American and Worlds silver medalist Sandi Morris made it on her third, and then scraped over 4.81 m (15-9 1/4) while Morris missed all three times and settled for second.
The men's and women's 5,000 m races were similar: a hot pace left small pack racing for the tape. In the women's race, American Alicia Monson had a tenuous lead over five others at the bell, but was quickly passed by World Champion Gudaf Tsegay (ETH), with silver medalist Beatrice Chebet (KEN) in hot pursuit. As they came into the final straight from under the pedestrian bridge to the infield, Chenet accelerated away and won in 14:31.03, with teammate Margaret Kipkemboi second (14:31.52) and Tsegay third (14:32.11); Monson finished sixth in 14:37.22.
The men's race was run in a downpour, with some slick footing on the track and Worlds silver winner Jacob Krop stepped off early. Once again there was a lead pack, with Olympic 10,000 m fourth-placer Berihu Aregawi (ETH) in the lead over four others before the sprinting started. Kenya's Nicholas Kipkorir – fourth in the Tokyo 5,000 m – attacked on the final straight and ran clear of the field to win in 12:59.05, followed by South Sudan's Dominic Lobalu (12:59.40). American Grant Fisher appeared to have lost contact at the bell, but worked his way back to third in 13:00.56; Aregawi ended up fifth in 13:03.18.
Said Kovacs of the unusual format:
"I think it is really fun. As a shot putter I want to thank World Athletics for using us because we do not need too much space. So any time you need street competitions or more competitions we are excited to be part of it. Especially if you tell us to use a little bit more chalk."
The final 26 events of the Diamond League final come on Thursday from 1-4 p.m. Eastern time, to be shown live on NBC's Peacock streaming service. A five-hour highlights program of the two days airs on CNBC on Saturday at noon Eastern time.
(Thanks to statistician Jed Brickner for noting Kovacs's throw as no. 3 ever behind Crouser's 23.37 m and 23.30 m, both in 2021.)
2.
"Olympic Dividend" rescues World Athletics' finances
More good news for World Athletics, which released its 2021 annual report and accompanying financial report on Tuesday. While its other revenues remained steady, the "Olympic Dividend" from the International Olympic Committee for Athletics' share of Olympic television rights sales came in at $39.478 million, the most of any federation and nearly doubled the organization's reserves.
Where its reserves were down to $30.94 million at the end of 2020 – from $73.78 million at the end of 2017 – the IOC's payment and good control of expenses allowed a surplus of $29.77 million for 2021 and total reserves of $60.71 million. Much better.
(Looked at another way, without the Tokyo Olympic money, World Athletics would have lost $8.32 million for 2021.)
World Athletics' regular income is primarily from television rights ($14.725 worldwide) and sponsorships ($8.5 million worldwide, $4.5 million from Japan and $5.7 million in profit-sharing), plus track certification fees ($1.42 million) and penalties and reimbursements from the Russian Federation ($1.53 million). All together, revenue totaled $38.241 million, up 9.4% from 2020.
Expenses were $52.648 million, primarily on competition support ($23.54 million) and legal and compliance costs ($13.14 million), including the Athletics Integrity Unit ($8.80 million).
3.
More arrests in Tokyo 2020 sponsor bribery scandal
Payments of ¥76 million (~$526,635 U.S.) were made by the Kadokawa publishing house to a consulting firm operated by former Dentsu staff member Kazukama Fukami, who may have asked Tokyo 2020 Executive Board member Haroyuki Takahashi – a former Dentsu senior managing director – for assistance in securing a sponsorship role for Kodakawa with the Tokyo 2020 organizing committee.
Tokyo prosecutors "re-arrested" Takahashi on the new inquiry, as well as Fukami and two others associated with Kodakawa, which secured a sponsorship in the publishing sector in April 2019.
On Monday, the offices of Daiko Advertising were searched, in Osaka and Tokyo, for evidence relating to a ¥26 million payment (~$180,165) to Fukami's consulting firm. Some ¥10 million (or about $69,294) may have been used to bribe Takahashi to push for Daiko to be used by the organizing committee for sponsorship-related work.
Confused? Essentially, the prosecutors are indicating bribery connections – so far – with three companies:
● Business suit retailer Aoki Holdings paid Takahashi – alleged to have significant influence over the sponsor selection process – to help it become a sponsor (which it did).
● Kadokawa Publishing paid Fukami's firm to help it become a sponsor as well, with Fukami allegedly paying Takahashi for help with the organizing committee.
● Daiko Advertising also paid Fukami's firm, with some of the money going to Takahashi to help Daiko get some sponsorship-related work from Tokyo 2020.
All of these are allegations, but the scandal continues to expand, as do the arrests, now totaling seven men.
4.
Russian Olympic chief sees hopeful signs of re-engagement
Russian Olympic Committee President Stanislav Pozdnyakov told Russian media that continuing pressure to reinstate Russian (and Belarusian) athletes is being applied and that he sees breakthroughs coming.
While Russian and Belarusian athletes have mostly been banned, or allowed to compete as neutrals, since Russia's February invasion of Ukraine, Russian delegates have been invited to the Association of National Olympic Committees (ANOC) General Assembly in South Korea in October. He sees this as important:
"A thesis of the political neutrality of the Olympic Movement was subjected to a certain pressure. I believe that on the whole it was a result of some kind of a mass media war against Russia.
"Nonetheless, our voice is heard and one of the bold indications about it that the ROC received an invitation to attend the General Assembly Meeting of the Association of National Olympic Committees.
"ANOC is made up of 206 National Olympic Committees including the representation of international sports federations, and it offers a good platform for discussions as well as for the settlement of disagreements, which emerged through no fault of ours.
"A common sense should prevail, but the question is when it may happen … sports federations around the globe assumed a rather adequate stance compared to federations located Europe."
Pozdnyakov noted a special, ongoing focus is on the beginning of the qualifying cycle for sports ahead of the Paris 2024 Games:
"The most important thing is to get started with the Olympic qualifiers. It is our priority and we are working in this direction. I have nothing to say about the so-called 'point of no return' because each sport has its own regulations regarding the qualifiers. This is why the phrase 'the point of no return' has nothing to do with the current situation.
"We will keep insisting on the full-fledged participation of all our athletes in the [2024 Olympics] qualifying tournaments and all of our diplomatic efforts are aimed at this.
"Diplomacy is about silence and this is why we are not making loud statements in the near future."
A Russian government memorandum posted Monday and noted to be endorsed by Russian President Vladimir Putin, included:
"Russia's full-fledged participation in Olympic tournaments and its disciplines should not be dependent on a conjectural policy of certain countries and biased approaches on behalf of representatives of sports international organizations.
"It is important to keep protecting the rights of Russian athletes and to thwart attempts of their discrimination."
Thus far, the IOC has not budged from its February stance that Russian and Belarusian athletes should not be allowed to participate in international competitions.
5.
Evenepoel might be set for La Vuelta win as Roglic crashes out
Tuesday's flat, 189.4 ride from Sanlucar de Barrameda to Tomares did not appear to be a deciding stage at this year's La Vuelta a Espana, but then one of the most dangerous places to be in cycling is in a group during a final sprint.
Denmark's Mads Pedersen won his second race in Tuesday's 16th stage, but not before a wild turn of events that changed everything. Three-time defending champ Primoz Roglic (SLO) attacked with 3 km left, trying to close the gap on leader Remco Evenepoel (BEL), with the Belgian suffering a punctured tire and Roglic racing on. Evenepoel got a replacement bike and as Roglic was passed by Pedersen, Pascal Ackermann (GER), Danny Van Poppel (NED) and Fred Wright (GBR) to the finish, he appeared to get tangled with Wright and fell heavily to the pavement with 100 m to the line.
Bleeding, he got up and finished, but could not continue in the race and withdrew. Meanwhile, the "3 km rule" which forgives mechanical failures during the final segment of a race saved Evenepoel, who finished 97th, but lost no time vs. Roglic or third–place Enric Mas (ESP).
Thus, Evenepoel started Wednesday's fairly flat, 162.3 km stage still 2:01 up on Mas, his only serious remaining challenger. Colombian star Rigoberto Uran, the London 2012 Olympic road race winner, won a final sprint over Quentin Pacher (FRA) and Jesus Herrada (ESP: +0:02), with Evenepoel and Mas finishing in the same time in 14th and 15th.
That leaves the three climbing stages on Thursday, Friday and Saturday to see if Mas can inflict enough damage to take over the race, which finishes Sunday in Madrid.
≡ WORLD CHAMPIONSHIPS ≡
● Volleyball ● The 20th edition of the FIVB men's World Championship is into the quarterfinals now in Gliwice (POL) and Ljubljana (SLO), with the home teams still in contention.
The quarterfinals in Ljubljana pitted second-seed Slovenia and no. 10 Ukraine and no. 3 Italy and no. 6 France. The Slovenians advanced with a 3-1 win to move to 4-1 for the tournament, while in a battle of undefeateds, Italy came from behind to win, 3-2 and is now 5-0.
On Thursday in Gliwice, defending champ and no. 1 seed Poland (4-0) will play the U.S. (No. 8: 3-1), while no. 5 Brazil (4-0) faces Argentina (no. 13: 2-2). The semifinals are on the 10th and the medal matches on the 11th, all in Katowice (POL).
≡ PANORAMA ≡
● World University Games ● According to an online newsletter circulated for the Chungcheong Megacity bid by the InsideTheGames.biz Web site, "Only Chungcheong is ready" as per an interview with bid committee Secretary General Yoon-suk Kim:
"The Ministry of Economy and Finance of the Republic of Korea approved the Chungcheong Megacity 2027 WUG bid after deliberation by the International Event Review Committee.
"The approval means that the central Korean Government has recognised the necessity and appropriateness of hosting the 2027 Summer World University Games in Chungcheong and that the 2027 Games will become an official project carried out by the Korean Government if we are awarded the Games," said the secretary general of 2027CMBC, Yoon-suk Kim.
"It also signifies that all domestic approval processes, which have been carried out since April last year, are finally ended."
"The Korean Government approved approximately €440 million [~$439.67 million U.S. today] for the 2027 WUG.
"From this, 80 per cent of the budget comes from central and local Governments, with the remaining 20 per cent sourced from sponsors and Games profits, including ticket sales and participation fees."
Kim added:
"What determines the stability of a mega-scale international event organisation is money. To put it straightforwardly, no money, no Games."
This is a shot at the North Carolina 2027 bid, which utilizes existing facilities at multiple universities in the greater Raleigh-Durham area and expects to raise its own funds outside of a $25 million start-up grant from the State of North Carolina. And Kim did not fail to remind readers of the visa issues faced at international events in the U.S. in 2022:
"Unfortunately, there are many cases where athletes had to withdraw their participation from Games due to visa issues. Chungcheong and Korea are ready to help and encourage the participation of athletes from many countries across the globe, and connect students around the world through sport."
Kim is trying for a knock-out blow here, but his comments actually only raise questions. First, why should a World University Games cost almost $440 million to put on? The newsletter notes that road improvements and the building of a Games Village will be separately funded "as part of a national project." The Chungcheong Web site describes the project as: "It will be a low-cost, high-efficiency WUG …" Really? Is that what they told the Korean government? Kim said:
"With this final approval from the Ministry of Economy and Finance, we can say that all preparations for the 2027 WUG are complete." Before they have been awarded the event? Then why do they need all that money?
The North Carolina bid, using existing facilities, is projected at a total cost of $100 million. Can it really cost more than four times as much in Korea?
Moreover, the newsletter makes much of Korea's successful 2015 hosting of the Universiade in Gwangju. So why give another WUG to Korea within 12 years when the U.S. is a huge potential market for the International University Sports Federation (FISU), especially given the popularity of collegiate sport in the U.S.?
FISU will have to answer these questions and decide on the site of 2027 WUG in November and could decide to select both the 2027 and 2029 hosts and give both bids a victory.
● Athletics ● NBC owns the rights to the Wanda Diamond League meets in the U.S. and has decided to show them live on its Peacock subscription streaming service, and only show tape-delayed coverage on its over-the-air and cable channels.
Nonetheless, the Memorial Van Damme meet from Brussels (BEL), held on Friday, 2 September, obtained a one-day-delayed viewing audience of 739,000 on NBC on Saturday (3rd), airing at 3 p.m. Eastern time. Pretty good for a meet that had been over for more than a day.
● Basketball ● The U.S. men concluded group-stage play in the FIBA AmeriCup regional championship with a dominant, 101-49 win over Venezuela, playing the second half on Tuesday after being rained out (!) of the Geraldao Arena in Recife (BRA) at halftime on Saturday.
The American squad, made up of G League and foreign-league players, got 19 points from guard Craig Sword and 15 from sub guard Anthony Lamb.
The win meant that the U.S., Mexico and Venezuela all ended with 2-1 records in Group C, but with the Americans scoring the most combined points in the three games, they placed first. That means the U.S. will next play Puerto Rico (2-1) on Thursday in the quarterfinals and with a win, either Argentina (3-0) or Venezuela in the semis on Saturday. The medal matches are on Sunday.
● Boxing ● The forthcoming re-run of the International Boxing Association's election for President is heating up as challenger Boris van der Vorst (NED), President of the Dutch Boxing Association, has asked incumbent Umar Kremlev (RUS) to a debate, communicated via Twitter:
"Umar, I know a nice boxing gym in Lausanne. You and me, we sit face to face, go live & take questions from National Federations, boxers, coaches & media. We ask each other a few important questions as well.
"Let's do this. Choose a date, I am ready.
"The International boxing family needs this, since the proposed Congress Agenda does not offer any clear chance to discuss the current affairs in our sport and there is too little time left until National Federations get to choose the next IBA President."
The IBA's special electoral congress is scheduled for 25 September, in Yerevan (ARM).
● Football ● FIFA announced its "reimagined" FIFA Fan Festival for the Qatar 2022 World Cup, opening on 20 November, to include:
● "Live broadcasts of every match on giant screens, with views of Doha's futuristic skyline in the background
● "Concerts starring top global and local music acts and live works by internationally acclaimed performance artists
● "A food court offering unique culinary experiences featuring local cuisine and international delicacies
● "Unique football matches with FIFA Legends, in addition to interactive physical and digital football gaming stations for fans of all ages
● "Innovative sponsor activations, as well as an official FIFA Store with licensed FIFA World Cup products"
The event will be open on all 29 days of the tournament at the Al Bidda Park in Doha and some of the programming will be available on the FIFA+ online platform.
Of note is the forward-looking concept of the program, designed to be licensed to "allow new and existing stakeholders to stage satellite events in major cities across the globe." A similar program is already being readied for the 2023 Women's World Cup in Australia and New Zealand, but in nine cities that will host matches.
¶
The U.S. women concluded their two-match friendly series with Nigeria with a tight, 2-1 win in Washington, D.C. on Tuesday.
The Americans dominated possession, 65-35% and had a 16-5 edge on shots. Nigeria didn't help themselves with an own goal in the 24th minute, as defender Blessing Demehin tried to clear a cross into the box by striker Mallory Pugh, but deflected it into her own net for the only goal of the first half.
Nigeria got even in the 50th minute, ending an 880-minute U.S. shutout streak, as Uchenna Kanu dribbled down the left side and scored past U.S. keeper Casey Murphy on a left-to-right shot into the top right corner of the net. The winning goal came in the 66th minute on a diving header from Rose Lavelle from six yards out that hit the post, but landed behind the goal line.
The victory extended the U.S. women's unbeaten streak in home matches to 71 (64-0-7) across five years, with their 13th consecutive win.
The prior Saturday friendly vs. Nigeria, a much more comfortable, 4-0 win, was seen by 474,000 on the FOX network, a reasonably good audience for a meaningless game.
● Tennis ● Remember Peng Shuai?
The Chinese star, who was missing prior to the Beijing 2022 Olympic Winter Games and then re-surfaced after making a sexual harassment allegation against a former Chinese Vice Premier, was the cause of the Women's Tennis Association to cancel its tournaments in China in 2022.
On Tuesday:
"The WTA announced Tuesday that Fort Worth, Texas, will host the 2022 season-ending WTA Finals from Oct. 31-Nov. 7. The year-end finale, featuring the Top 8 singles players and doubles teams in the Race to the WTA Finals, will be held at the state-of-the-art Dickies Arena, with the event thereafter due to return to Shenzhen, China, in cooperation with long-term partner Gemdale."
The WTA signed a long-term deal to held the WTA Finals in Shenzhen from 2019 to 2028, with the 2019 tournament held there, but not since. Covid canceled the 2020 event and the 2021 tournament was moved to Guadalajara (MEX) due to Covid; now the 2022 tournament will be held in the U.S., for the first time since 2005.
It will be interesting to see if the tournament is held in China in 2023; the WTA's position has been that Peng's allegations (since retracted) must be fully investigated.
¶
You can receive our exclusive TSX Report by e-mail by clicking here. You can also refer a friend by clicking here, and can donate here to keep this site going.
For our updated, 620-event International Sports Calendar for 2022 and beyond, by date and by sport, click here!