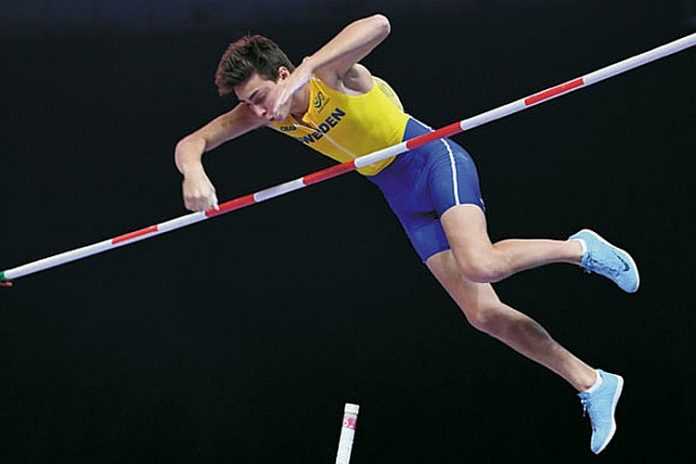 ★ The Sports Examiner: Chronicling the key competitive, economic and political forces shaping elite sport and the Olympic Movement.★
★ To get The Sports Examiner by e-mail: sign up here! ★
≡ THE 5-RING CIRCUS ≡
1. Four candidates to bid for 2027 FIFA Women's World Cup
2. Jackson 10.82, Andersen 261-10 among weekend world leads
3. L.A. Grand Prix tickets now on sale for 26-27 May
4. Beijing will bid for the 2027 World Athletics Championships
5. Sports Minister assures Israel OK for World Beach Games
FIFA announced that the Women's World Cup for 2027 received four bids, including a joint effort by Mexico and the U.S. A lengthy process of review will commence, with three to be shortlisted for a final vote in 2024. There were world-leading performances in six track & field events over the weekend, with Jamaican Shericka Jackson taking the women's 100 m lead at 10.82 and women's hammer world champ Brooke Andersen of the U.S. moving to no. 3 all-time at 79.80 m (261-10). The first announcement of entries and ticket sales for the L.A. Grand Prix at UCLA's Drake Stadium surfaced on Monday, with stars such as Mondo Duplantis, Ryan Crouser and Valarie Allman scheduled to compete. Tickets are available in discounted packages for the Friday Distance Classic, Saturday Grand Prix and the Saturday evening music show. Beijing signaled it is a candidate for the 2027 World Athletics Championships, an event it hosted in 2015. There has been interest in placing the event in Africa, but the Chinese bid will be a formidable one, slated for the famous Bird's Nest Stadium. The Indonesian minister for Youth and Sports said there will be no more "polemic" statements against Israel's participation in this summer's ANOC World Beach Games in Bali and the ANOC Secretary General assessed the statements as "noise."
● Panorama: Beijing 2022 (Valieva appeals cases joined into one) = Paris 2024 (116 boats already reserved for opening ceremony) = Russia (2: rower, two swimmers seeking new national affiliations; archery fed ready to compete now!) = Anti-Doping (new, upper-arm blood collection device at Boston Marathon) = Athletics (London Marathon organizers may help cash-strapped UK Athletics) = Wrestling (Sydney gold star Gardner, 51, returns for U.S. Open!) ●
1.
Four candidates to bid for 2027 FIFA Women's World Cup
FIFA announced that it had received for letter of intent to bid for the 2027 FIFA Women's World Cup, including:
● Belgium-Germany-Netherlands
● Brazil
● Mexico and the United States
● South Africa
Per the announcement:
"FIFA will now send the Bidding Agreement – a document necessary to ensure that the key principles of the bidding process are observed – to the interested MAs, which will have until 19 May 2023 to return it and confirm their involvement. …
"The appointment of the host(s) is due to be made by the FIFA Congress via public voting on 17 May 2024."
U.S. Soccer further explained:
"FIFA will establish a Bid Evaluation Task Force to evaluate all bids submitted for the tournament. The composition of the Bid Evaluation Task Force will be approved by the FIFA Council following confirmation of the bidding member associations. The FIFA Council will select up to three bids with the FIFA Congress then appointing the host(s) through an open vote."
The requirements for the bid require at least 10 stadiums to be offered, but without specific minimums for seating.
Just two of the bidding countries have hosted the Women's World Cup previously: the U.S. in 1999 and 2003, and Germany in 2011. Brazil, of course, has hosted the men's World Cup as recently as 2014 and South Africa hosted the World Cup in 2010, the first time it was held in Africa.
The 2023 FIFA Women's World Cup will be held in Australia and New Zealand from 20 July to 20 August.
2.
Jackson 10.82, Andersen 261-10 among weekend world leads
There was a lot of action over the weekend on the track and in the streets with world-leading outdoor marks in six events:
● In Cape Town (RSA), Ryan Mphahlele won the men's 1,500 m in 3:32.90, a lifetime best and the best in the world outdoors this year.
● Argentina's Federico Bruno won the men's 5,000 m at the Payton Jordan Invitational at Stanford in 13:11.57, a national record and the outdoor world leader for 2023.
● Jamaican star Shericka Jackson, the World 100 m runner-up in 2022, took the world lead at the Velocity Fest 13 in Kingston, Jamaica at 10.82 (wind -0.1 m/s). She took over from American Aleia Hobbs, who ran 10.86 (+1.9) earlier in the day, ahead of Tamari Davis (10.91).
● Venezuela's Joselyn Brea won the women's 5,000 m at the Payton Jordan meet in 15:05.56, also an outdoor world leader.
● At the South Carolina Open in Columbia, two-time U.S. Olympian Keturah Orji took the outdoor world lead at 14.36 m (47-1 1/2).
● At the Virginia Challenge in Charlottesville, 2022 World Champion Brooke Andersen reached 79.80 m (261-10), moving to no. 3 all-time and no. 2 all-time in U.S. history. She threw a world-leading 78.90 m (258-10) on her second throw before unloading the big one in the fifth round. She then threw 79.72 m (261-6) in the final round, the no. 4 throw all-time U.S.
Back on 16 April, former American Alex Rose (now throwing for Samoa) hit a world-leading discus throw that has been variously reported as 70.39 m (230-11) or 70.42 m (231-0) in what was apparently a wind tunnel in Ramona, Oklahoma. Wow.
¶
On the roads, there was some hot race walking at the Japanese Championships in Wajima on 16 April, with Tomohiro Noda, ninth at the 2022 Worlds, winning the men's 35 km in 2:23:13, moving him to no. 3 all-time.
China's five-time World 20 km Champion, Hong Liu, won the women's 35 km in 2:38:42 competing as a guest, the no. 2 performance of all time.
¶
In addition to the fabulous 2:01:25 London win by Kenyan Kelvin Kiptum, there was excellent marathoning in Hamburg (GER) by Kenyan Bernard Koech, winning in 2:04:09, ahead of countryman Joshua Belet (2:04:33). In Vienna (AUT), Kenyan Samwel Nyamae won in 2:05:08, beating fellow Kenyan Bethwei Yegon (2:06:57).
Dorcas Tuitoek won the women's race n Hamburg in 2:20:09, just ahead of Tiruye Mesfin (ETH: 2:20:18).
3.
L.A. Grand Prix tickets now on sale for 26-27 May
The first athlete announcements are out for the L.A. Grand Prix meet being staged by USA Track & Field at UCLA's Drake Stadium on 26-27 May, with tickets now on sale. The athletes advertised to compete include (U.S. unless otherwise indicated):
● Men/Sprints: Former World 100 m champ Christian Coleman, World 400 m champ Michael Norman, Olympic 200 m silver medalist Kenny Bednarek
● Men/1,500 m: World Champion Jake Wightman
● Men/Hurdles: Olympic 400 m hurdles silver medalist Rai Benjamin, World 400 m hurdles bronze medalist Trevor Bassitt
● Men/Pole Vault: Olympic and World Champion Mondo Duplantis (SWE)
● Men/Shot Put: Olympic and World Champion Ryan Crouser, former World Champion Joe Kovacs
● Women/Sprints: Olympic 200 m bronze medalist Gabby Thomas, World 400 m silver medalist Marileidy Paulino (DOM), two-time U.S. national champion Aleia Hobbs
● Women/100 m hurdles: Olympic champ Jasmine Camacho-Quinn (PUR), World champ and world-record holder Tobi Amusan (NGR), former world-record holder Keni Harrison
● Women/Pole Vault: Olympic champ Katie Moon, 3-time World silver winner Sandi Morris
● Women/Discus: Olympic champ Valarie Allman
The specific events and time schedule has not been released, and, of course, the small type says "athlete roster subject to change."
There are actually two meets, with the "USATF Distance Classic" slated for Friday, 26 May at 2 p.m. and the "USATF Grand Prix" on Saturday at noon. There is a "Legends Jam" concert at the adjacent L.A. Tennis Center at 6 p.m. on Saturday.
Tickets are now on sale at varying price levels, currently at discounted prices:
● $40: General Admission Bundle for all three events
● $110: Family (4) General Admission Bundle for all three events
● $33: General Admission for the USATF Grand Prix only
Regular prices are $20 for the Distance Classic, $36 for the Grand Prix and $25 for the concert.
● $165: Platinum Bundle for all three events (trackside seats)
● $80: Gold bundle for all three events (excellent seats)
● $55: Silver bundle for all three events (good seats)
The Platinum and Gold packages include an athlete meet-and-greet and a souvenir program. Regular prices are $35-30-25 for the Distance Classic (Premium-Gold-Silver) and $200-90-50 for the Grand Prix.
A major meet of this type has not been held at UCLA since 1990, the final year of the Jack in the Box Invitational, originally known as the Pepsi Invitational, promoted by the late Al Franken. Entertainment giant AEG held two world-class, nationally-televised invitationals at the then-new Home Depot Center (now Dignity Health Sports Park) in nearby Carson in 2003 and 2004, with the meet sold to adidas in advance of the 2005 edition, which operated it for two more years, in 2006 and 2007.
4.
Beijing will bid for the 2027 World Athletics Championships
The Chinese Athletic Association announced that Beijing will apply to be the host of the 2027 World Athletics Championships.
This would be the second time for the Worlds in Beijing if successful; it was held there in 2015, using the Bird's Nest Stadium built for the 2008 Olympic Games. Only Helsinki (FIN) has hosted twice so far, in 1983 and 2005, with Tokyo (JPN) set to be the second, in 1991 and 2025. Budapest (HUN) will host the 2023 Worlds.
Tokyo was selected over Singapore and Nairobi (KEN) in view of the new National Stadium that was built in advance of the 2020 Olympic Games, finally held in 2021. There has been considerable talk about having a World Athletics Championships in Africa, but the federation was clear that stadium upgrades will be needed to hold the meet in Nairobi as suggested.
Beyond the 2008 Olympic Games and 2015 Worlds, Beijing has not been a frequent site for major international meets and no Diamond League meets have ever been held there. The Diamond League schedule for 2023 had Shanghai and Shenzhen listed, with Shanghai now dropped.
5.
Sports Minister assures Israel OK for World Beach Games
"That's all right, one thousand percent enthusiasm, no polemic."
So said the Indonesian Youth and Sports Minister on Saturday, as reported by Tempo.co, which explained:
"The Minister of Youth and Sports (Menpora) Dito Ariotedjo ensured that there would be no more polemics regarding Israel's participation in the 2023 ANOC World Beach Games (AWBG) in Bali. He guaranteed the safety of the Israeli contingent after meeting Bali Governor Wayan Koster and Chair of the Indonesian Olympic Committee Raha Sapta Oktohari."
Koster has repeatedly said that he will not allow Israel to compete and his refusal to allow the Israeli men's U-20 football team to compete in Bali forced FIFA to remove next month's FIFA men's U-20 World Cup to Argentina!
Association of National Olympic Committee (ANOC) Secretary General Gunilla Lindberg of Sweden also dismissed concerns, telling reporters at the Oceania National Olympic Committees meeting in Brisbane (AUS):
"They have a new Sports Minister and he has gone out saying that everybody who has qualified is welcome and so has the President of the country.
"This Governor made noise in the media but so far we have not been approached at all so we continue to prepare as if nothing is happening and hopefully nothing is happening."
The ANOC World Beach Games in Bali is scheduled to be held from 5-12 August 2023.
≡ PANORAMA ≡
● Olympic Winter Games 2022: Beijing ● As expected, the Court of Arbitration for Sport confirmed to the Russian news agency TASS that the appeals of the World Anti-Doping Agency, International Skating Union and the Russian Anti-Doping Agency against the decision of the Disciplinary Anti-Doping Committee of RUSADA will be considered as a single action.
No timeline has been given, and the matter is not listed on the latest calendar of CAS hearings.
● Olympic Games 2024: Paris ● A total of 160 boats are expected to be used for the unique opening of the Paris 2024 Olympic Games over 6 km of the Seine River through the middle of the city. With about 15 months to go, the organizing committee announced that 116 boats had already been reserved.
Commitments have come from 42 companies that have boats working on the river, and additional help will come from regional tour operator Batorama, which works outside of the Paris area.
● Russia ● A small number of Russian athletes are now claiming citizenship in other countries in view of the continuing restrictions in many sports.
The Russian news agency TASS reported that rower Hanna Prakatsen, 30, announced her transfer to Uzbekistan. Originally from Belarus, she changed allegiance to Russia in 2016 and won the 2020 Olympic silver in women's Single Sculls in Tokyo.
Said Alexei Scirin, President of the Russian Rowing Federation:
"[Hanna Prakatsen] intends to play for the national team of Uzbekistan. Of course, her departure for our team is a serious loss, but every athlete is free to choose his own destiny. Now our top athletes are having a difficult time, it is very difficult to find motivation in the conditions of suspension."
Last week, distance freestyler Anastasia Kirpichnikova announced her intention to transfer to France, and backstroker Mark Nikolaev to Australia. Said All-Russian Swimming Federation chief Vladimir Salnikov:
"Their decision was not a big surprise. Kirpichnikova has been living in France for a long time, and Nikolaev in Australia. They expressed their desire to change sports citizenship, the All-Russian Swimming Federation does not see any problems with this. We have no claims against athletes, we do not consider this a betrayal."
Kirpichnikova won the 400-800-1,500 m European short-course titles in 2021 and a World Short-Course silver in the 800 m Free in 2021. Backstroker Nikolaev, who competed for Grand Canyon University in the U.S., has been a medal winner in the Russian championships and competed in the International Swimming League.
¶
Although World Archery announced only that it would "explore a timeline for the return of these athletes under strict conditions of eligibility," the Russian Archery Federation is ready to go.
RAF president Vladimir Yesheev told TASS:
"We expected this decision and are now waiting for an official letter from the international federation asking us to send them the lists of the national team: who works where, who studies, who is a soldier.
"The nearest event at which our team can have time to perform will be the World Cup in Shanghai, which starts on May 18. We are starting work on preparing documents and obtaining visas."
Really? That might be a little quick.
● Anti-Doping ● Fascinating advance in blood collection announced by the Athletics Integrity Unit and the U.S. Anti-Doping Agency, which used a new device to more easily obtain samples at the Boston Marathon:
"The Tasso Button sticks to the skin with a light adhesive. When the button is pressed, a vacuum forms and a lancet pricks the surface of the skin. The vacuum draws blood out of the capillaries and into a compatible container attached to the bottom of the Tasso Button. …
"Some people refer to Tasso Devices as a needle-free system since it does not use a hollow venipuncture needle to enter a vein."
The U.S.-made devices collect blood from the upper arm. The USADA announcement noted it was well received:
"The needle-free device collects approximately 500 microliters of blood, which is six times less than a standard blood draw. Participation in the trial was voluntary during pre-competition testing and was widely welcomed by athletes, leading to an 80 percent voluntary participation rate and the successful collection of the target number [90+] of required samples."
● Athletics ● The operator of the highly-successful London Marathon has said it will assist the financially-struggling UK Athletics national federation with its events. Race Director Hugh Brasher said:
"We have a responsibility to the sport and absolutely we are talking to UK Athletics about how we can help.
"I'm not going to go into what it might be or what it might not be. It is a very early stage of conversations. This isn't just us. There are other ones looking at it."
One concern is for the scheduled Diamond League meet in London on 23 July, considered exceptionally costly to stage.
● Wrestling ● Comebacks are one thing, but this?
Sydney 2000 star Rulon Gardner, who shocked everyone with a stunning, gold-medal upset of Russia's three-time Olympic champ Alexander Karelin to win the 130 kg Greco-Roman gold, has entered the 2023 U.S. Open, coming up this week in Las Vegas.
Now 51, Gardner also won the 2001 World Championship gold in that class and came back from a fearful snowmobile accident to win a bronze in the Greco 120 kg class in 2004. He toyed with a comeback in 2012, but did not wrestle at the Olympic Trials.
Also back on the mats will be Tokyo Freestyle 125 kg gold medalist Gable Steveson, now a member of WWE, but returning to chase a chance to defend his title in Paris in 2024. He has received the top seed for the U.S. Open in his class.
¶
You can receive our exclusive TSX Report by e-mail by clicking here. You can also refer a friend by clicking here, and can donate here to keep this site going.
For our updated, 651-event International Sports Calendar (no. 2) for 2023 and beyond, by date and by sport, click here!