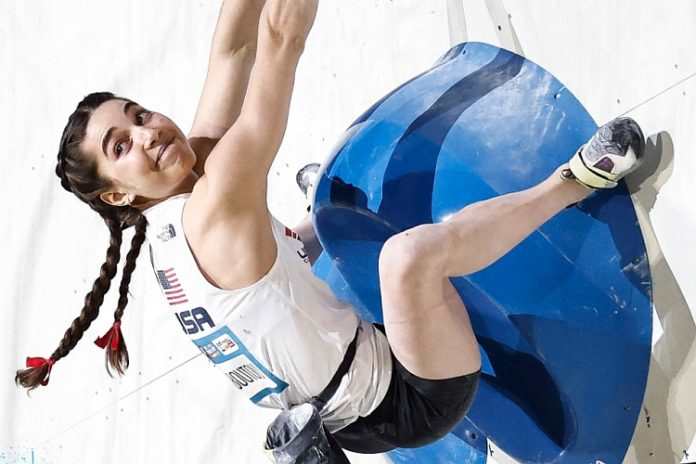 ★ The Sports Examiner: Chronicling the key competitive, economic and political forces shaping elite sport and the Olympic Movement.★
★ To get The Sports Examiner by e-mail: sign up here! ★
≡ THE 5-RING CIRCUS ≡
1. Poll: strong Swedish support for low-cost, no-build 2030 Games
2. New poll shows drop in enthusiasm for Brisbane 2032 Games
3. Suspended sentences in first Tokyo 2020 sponsorship bribery cases
4. Russian teen swim star Chikunova crushes 200 m Breast world record
5. Rare Grenoble '68 torch brings $200,000 at auction
The possible Swedish bid for the 2030 Olympic Winter Games is looking a lot better after a comprehensive poll showing 74% for a project with no new venue construction and no use of public money. A poll in Queensland, Australia is showing a drop in enthusiasm for the 2032 Brisbane Games, with 59% "not that excited" at this point, likely due in part to reports of major cost increases in the government's signature renovation of the Gabba stadium and the surrounding district. Russian teenager Evgeniia Chikunova destroyed the world record in the women's 200 m Breaststroke on the final night of the Russian national championships, lowering the mark from 2:18.95 (in 2021) to a stunning 2:17.55. Wow. A large auction of Olympic memorabilia saw a torch from the 1968 Grenoble Olympic Winter Games – one of only 33 made – sell for $200,000!
● Panorama: Munich 1972 (Germany forms commission to revisit Munich Massacre) = Paris 2024 (four million applicants for second-round ticket sale) = Alpine Skiing (1994 U.S. Olympian Nobis dies in Utah jail) = Archery (2: U.S. wins Mixed Team title at World Cup; World Archery to allow Russian re-entry after study) = Athletics (2: Kiptum 2:01:25, Hassan 2:18:33 win London Marathon; Black groups complain of being blocked off at Boston Marathon cheer zone) = Cycling (3: Evenepoel and Vollering win Liege-Bastogne-Liege; Pan American road champs; Richardson and Archibald star at third track Nations Cup) = Football (FIFA U-20 World Cup draw) = Golf (Vu wins first major at Chevron) = Gymnastics (Nikolova takes Rhythmic All-Around in Baku) = Sport Climbing (U.S.'s Raboutou wins World Cup opener) = Swimming (Grimes doubles in U.S. Open-Water Champs) = Table Tennis (Wang and Wang earn WTT Champions wins) = Water Polo (Dutch top U.S. women in World Cup Div. I) = Weightlifting (World records for Nasar at Euro Champs) ●
1.
Poll: strong Swedish support for low-cost, no-build 2030 Games
Sweden has won 166 Olympic Winter Games medals, but never hosted a Winter Games, losing a bid for the 2026 Winter Games to Milan-Cortina in 2019. But it may now be the favorite for 2030.
A new poll by Kantar Public, released by the Swedish Olympic Committee (SOK) showed new enthusiasm for a Winter Games in Sweden … if it is held without public funding and using only existing venues.
The survey was of good size, with "roughly 3,300 interviews" between 4-12 April. It found:
● 66% said Sweden should bid for 2030, with 21% against and 11% undecided.
● 74% said they were in favor of a Games with no new venues; 18% were against, 8% undecided.
● 74% said they favored a Games with no public spending; 16% were against; 9% undecided.
● 80% had a high opinion of Sweden as an organizer of major championship events; 10% said no and 10% were undecided.
● 89% thought Sweden could organize a good Winter Games, regardless of their view towards the Olympics and Paralympics themselves. 6% thought not, 4% were undecided.
It's a very good survey for a Swedish bid, far better than the 55% positive responses that the IOC saw from its poll in front of the bid for the 2026 Winter Games, won by Milan Cortina.
Next?
"Further status updates regarding the preliminary study will be provided in connection with [Swedish Paralympic Committee] annual meeting on 13 May and around the National Sports Meeting 26-28 May. The feasibility study must be completed by July 1 at the latest."
Fraser Bullock, the chief executive of the Salt Lake City-Utah Committee for the Games bid, told the Deseret News that the poll was good news for its bid as well:
"We are hoping there is a strong, viable host for 2030, which would allow us to focus exclusively on our bid for 2034, our preferred choice. Sweden, or perhaps another bidder, could be a great 2030 host."
There is talk of a Swiss bid for 2030 and the other, announced 2030 bids are all floundering, in Vancouver (CAN) and Sapporo (JPN). The Japanese may move their bid to 2034 in view of the continuing news of Tokyo 2020 scandals and Vancouver has not been able to secure government funding support, necessary for their project.
The IOC has indicated it will select a 2030 host in 2024 and might be open to a selection for 2034 at the same time as well.
2.
New poll shows drop in enthusiasm for Brisbane 2032 Games
The 2032 Brisbane Games are still nine years off, but the bloom is at least a little off the rose according to a new poll of Queensland residents.
SkyNews Australia reported Sunday on a YouGov poll that showed 59% of respondents "not that excited" about the 2032 Games, vs. 34% who were somewhat or very excited and 7% who were not sure.
A big part of that response might be from cost concerns. Asked about their confidence that the event will be held on time and on budget, 25% were fairly or very confident, 17% did not know and 58% were not confident about cost containment.
Observed: This should not be a total surprise, since all the noise in recent months has been about how expensive the remodel of the Gabba Stadium and the surrounding district will be, moving up from a loosely-projected A$1 billion to A$1.7 billion or more. (A$1 = $0.67 U.S.)
Queensland's brilliant bid effort took advantage of the International Olympic Committee's new "dialogue" approach and offered a detailed, tailored bid using mostly existing facilities that was so good it was an easy selection. The opportunities that the Games can bring are nowhere in the headlines and for now, the in-formation Olympic organizing committee has been quiet.
This is similar to the approach of the Los Angeles 2028 organizers, who have funded – with monies advanced by the IOC – a $160 million youth-sports program through 2028, but have been otherwise reserved. Whether this approach will work for Brisbane is yet to be seen, especially in a country where high enthusiasm is often the norm.
3.
Suspended sentences in first Tokyo 2020 sponsorship bribery cases
A Tokyo court handed down the first sentences in the Tokyo 2020 Olympic sponsorship bribery scandal, handing out jail terms of more than a year to all three defendants, but suspending the sentences. Three men from Aoki Holdings, a large business-suit retailer with hundreds of stores throughout Japan, were sentenced:
● Former Chair Hironori Aoki, 84, sentenced to 2 1/2 years, with the sentence suspended for four years.
● Former Vice Chair Takahisa Aoki, 77, sentenced to 18 months; sentence suspended three years.
● Former Executive Director Katsuhisa Ueda, 41, sentenced to one year; sentence suspended three years.
The ruling found that Aoki Holdings paid Tokyo 2020 Executive Committee member Haruyuki Takahashi, 79, a bribe of ¥28 million (about $209,000 U.S.) to help obtain a lower-level sponsorship with the organizing committee, allow them to sell suits with the Olympic logo on them. Per Kyodo News:
"The ruling was the first in a series of bribery cases involving Takahashi, who has been charged with accepting bribes from Aoki and others in return for helping companies to be selected as Olympic sponsors or marketing agents. …
"According to the ruling, the former officials approached Takahashi to ensure that their company was selected as an Olympic sponsor and quickly got a contract that included the rights for providing the uniforms for the Japanese team's athletes."
Takahashi has been arrested four times on bribery charges with the total well over $1 million in all. He was actually paid ¥51 million in bribes by Aoki (~$380,129 U.S.) beginning in 2019 but was only charged with ¥28 million due to statute of limitations issues. He is yet to come to trial; he has said that he received payments, but that they were compensation for legitimate consulting work.
4.
Russian teen swim star Chikunova crushes 200 m Breast world record
South Africa's Tatjana Schoenmaker became the first to break the 2:19 barrier in the women's 200 m Breaststroke with her Tokyo Olympic triumph in 2:18:95. Her mark was shattered at the Russian National Championships in Kazan on Friday, where teen Evgeniia Chikunova blistered the final 100 m to finish in 2:17.55!
Chikunova, 18, improved her lifetime best from 2:20.41 from 2022 and became the first to break 2:18. She had been on fire during the meet already, winning in the 50 Breast in a lifetime best of 30.54 and then taking the 100 m Breast in another lifetime best of 1:04.92, moving to no. 7 all-time.
Her prior claim to fame was a silver in the 200 m Breast in the 2021 Short-Course Worlds.
Although Russian and Belarusian athletes are not allowed by World Aquatics to compete internationally, they are eligible to set world records, provided the rules are followed, including post-event drug testing.
This is starting out as a pretty hot season in the pool, as Chikunova's mark is the fourth long-course world record in 2023, after Canadian Summer McIntosh's sensational 400 m Free (3:56.08) and 400 m Medley (4:25.87) swims and Australia's Kaylee McKeown in the 200 m Back (2:03.14).
5.
Rare Grenoble '68 torch brings $200,000 at auction
The star attraction of the Ingrid O'Neil Olympic Memorabilia auction 94 that closed Saturday was an ultra-rare, 1968 Olympic Winter Games torch used in Grenoble, France.
The exceptional rarity of this item is that only 33 were made and that's all there were to support some 5,000 torchbearers who carried it through France and into the opening ceremony on 6 February 1968. The opening price was set at $200,000 and was met. Wow!
There were seven other items that went for $10,000 or more:
● $35,000: 1994 Lillehammer Olympic Winter torch
● $28,000: 1972 Sapporo Olympic Winter torch
● $20,000: 1956 Cortina Olympic Winter torch
● $18,000: 2002 Salt Lake City Olympic Winter bronze medal
● $15,000: 1928 St. Moritz Olympic Winter silver medal
● $15,000: 1968 Grenoble Olympic Winter gold medal
● $12,000: 1964 Innsbruck Olympic Winter gold medal
Also of note was a Lake Placid 1932 Olympic Winter Games participation medal sold for $6,000. A magnificent bust of Nike from the 1896 Athens Games, presented to foreign gold medalists, and only the second known of its type, was up for $95,000, but did not sell.
Maybe the most unusual item was a pair of ashtrays with a raised center in the form of a sombrero, made as a promotional item (by someone) for the 1932 Olympic Games in Los Angeles! The pair went for $90.
≡ PANORAMA ≡
● Olympic Games 1972: Munich ● German Interior Minister Nancy Faeser announced an eight-member commission to inquire into the circumstances and aftermath of the massacre of 11 Israeli team members during the 1972 Olympic Games:
"We can never undo the immeasurable suffering which the family members of the victims of the 1972 Munich Olympics attack have experienced. The attack has left deep wounds. It is shameful that agonising questions were left unresolved for far too long. For too many years, there was a lack of understanding or reappraisal of the events, transparency about them or acceptance of responsibility for them.
"We as the current Federal Government are keenly aware of this, and it has informed our actions, especially when it comes to supporting the family members and finally conducting a thorough reappraisal of what happened. To this end, today I appointed a commission of eight superb and internationally renowned researchers.
"The commission will also rigorously examine the period before and after the attacks. It is particularly important to me for their work to also thoroughly address the treatment of the family members after the attack as well as issues related to the culture of remembrance. Because we want to learn from this history, and we must learn from it. We must treat people whose lives have been dramatically altered by attacks with greater empathy and support."
Reuters reported that "The project is part of a larger government approach to seek reconciliation with the families affected, including a compensation offer of 28 million euros ($30.67 million)."
● Olympic Games 2024: Paris ● The Paris 2024 organizers announced Friday that four million applicants filed for a time slot to purchase tickets in the second round of sales beginning 11 May.
The first round of sales "packs" saw 3.25 million tickets told, with 1.3 million tickets hoped to be sold in the next round.
● Alpine Skiing ● Jeremy Nobis, 52, a 1994 U.S. Olympian in the Giant Slalom (ninth) and Slalom (did not finish), died on Wednesday (19th) in his Iron County Jail cell in Cedar City, Utah.
He was arrested in 2019 for a rollover crash and had a blood-alcohol content of 0.42, but was released from jail three days later. He failed to appear in an online hearing in 2021 and was jailed on 11 February 2023 and was awaiting sentencing after a guilty plea to drunk driving in March. A statement from officials said that foul play was not suspected, but is being investigated.
● Archery ● The first leg of the Hyundai Archery World Cup was held in Antalya (TUR), with two first-time Recurve winners in Moldova's Dan Olaru and Britain's Penny Healey.
Olaru, a two-time Olympian in 2012 and 2020, faced France's Rio 2016 silver medalist Jean-Charles Valladont in the men final, the first time a Moldovan archer had reached a World Cup championship match. Olaru won the first and third ends, Valladont the second and they tied, 29-29 in the fourth and 28-28 in the fifth for a 6-4 win for Olaru.
Dhiraj Bommadevara (IND) defeated Ilfat Abdullin (KAZ), 7-3, for the bronze medal.
Healey, just 18, sailed through her final with a 6-0 win over German Elena Idensen, while China's Qixuan An took the bronze by 7-3 over Laura van der Winkel (NED). Said the winner, "I will be honest, I was so nervous. My legs were shaking and so were my arms but having [coach] Nicky Hunt in the box singing and dancing with me helped a lot."
China won the men's team title, 5-4, over India, and Mexico breezed to a 6-0 over China in the women's team event.
The U.S. pair of Olympic medalist and former World Champion Brady Ellison and 2021 Worlds runner-up Casey Kaufhold won the Mixed Team title, 5-3, over Yi-Ching Chiu and Chih-Chun Tang of Chinese Taipei.
¶
World Archery announced Friday that its executive board took the first steps towards re-entry by Russian and Belarusian athletes to international competition:
"The board expressed its support and agreed to explore a timeline for the return of these athletes under strict conditions of eligibility, permitting only the reintegration of individuals able to prove neutrality through an independent review process. Further information on this procedure will be provided to delegates at the next World Archery Congress. …
"A working group, which will include independent representation, will be established to develop and implement the timeline for this procedure."
No timeline was given for the review process, or when Russian and Belarusian athletes might be able to compete again.
● Athletics ● Kenya's Kelvin Kiptum and Dutch star Sifan Hassan won Sunday's London Marathon in dramatic fashion, but in very different circumstances.
Kiptum, 23, is now a star to be reckoned with, having won his marathon debut in Valencia (ESP) last December in a sensational 2:01:53, making him the no. 3 performer of all time. He did better in his second try.
He led a group of eight at the halfway mark in a speedy 1:01:40, trailed by two-time New York Marathon winner Geoffrey Kamworor (KEN), 2019 Worlds bronze medalist Amos Kipruto (KEN), 2022 World Champion Tamirat Tola (ETH) and more.
But Kiptum ran away after 30 km and had an enormous, 28-second lead by the 35 km mark and won by almost three minutes (!) in a sensational 2:01:25, the no. 2 performance of all time, behind only fellow Kenyan Eliud Kipchoge's world mark of 2:01:09 from 2022 in Berlin.
Kiptum ran the second half of the race in a startling 59:45! Kamworor was second in a lifetime best – by a full minute – of 2:04:23 and wasn't close. Tola was third (2:04:59), his sixth-fastest marathon ever. British star Mo Farah, running what he says is his last London Marathon, finished ninth in 2:10:28, with Frank Lara the top American in 11th at 2:13:29.
Hassan, 30, the Tokyo Olympic 5,000 m and 10,000 m winner, was running her first marathon and had a crazy race, thinking she would stop after about 20 km due to a hip problem that left her 12 seconds behind the leaders. She was 10 seconds back at the half, then fell back again, trailing by 28 seconds at 25 km. But she was just three seconds down by 30 km after a 16:03 5 km split, then was 14 seconds back at 35 km (16:33), but was in the lead group at 40 km after a 17:02 split.
If Hassan is close near the end, she will run you down and that's what happened in the final meters, as she sprinted away to win in 2:18:33, ahead of Alemu Megertu (ETH: 2:18:37) and Tokyo Olympic champ Peres Jepchirchir (KEN: 2:18:38). Susanna Sullivan was the top American at 2:24:27 for 10th. Hassan's time places her no. 4 on the 2023 world list.
¶
During Monday's Boston Marathon, police in Newton, Massachusetts were called to a location in the 21st mile after the race organizers "alerted them to spectators crossing the rope barrier and 'impeding' runners on the course."
The officers formed a line with bicycles between the spectators and the runners on the course, blocking the view from a cheer zone of predominantly Black spectators, including from the Pioneers Run Crew and TrailblazHers Run Co.
Boston Athletic Association chief executive Jack Fleming said in a statement that he met with both groups on Wednesday and
"They expressed to us their deep concerns that they were not given the chance to enjoy the day and celebrate their friends, families and all participants as they approached Heartbreak Hill – that is on us.
"It is our job, and we need to do better to create an environment that is welcoming and supportive of the BIPOC communities at the marathon."
More meetings are to be scheduled with the Pioneers and TrailblazHers and city officials, including the police.
● Cycling ● Last year, Dutch star Remco Evenepoel won the famed Liege-Bastogne-Liege – which dates back to 1892 – with a 14 km solo to the finish, leaving the field 48 seconds back.
On Sunday, he defended his title in the 109th edition of Liege Bastogne-Liege with an even more powerful attack, storming away with 30 km left and riding all alone at the finish of the hilly, 258.1 km course in 6:15:49.
More than a minute later came Tom Pidcock (GBR) and Santiago Buitrago (COL), both 1:06 back, then Ben Healy (IRL: +1:08).
Still just 23, Evenepoel won the seven-stage UAE Tour in February, was second at the seven-stage Volta Ciclista a Catalunya in March and now a second Liege-Bastogne-Liege title. Next up will be the Giro d'Italia.
Slovenian star (and race favorite) Tadej Pogacar, the two-time Tour de France winner and the 2021 Liege-Bastogne-Liege winner, suffered a crash at the 85 km mark, fell heavily and suffered a broken left wrist, which will require surgery.
In the women's Liege-Bastogne-Liege over 148.2 km, it was Dutch star Demi Vollering facing off against Italy's Elisa Longo Borghini in a final sprint, both finishing in 3:50:47 and Vollering winning her third straight race and fifth on the season. In her six Women's World Tour events in 2023, she has won four, been second once and 17th once. It's her second Liege-Bastogne-Liege title, after winning in 2021.
The two broke free of the rest of the field with 13.3 km remaining; Marlen Reusser (SUI) captured third, 22 seconds back, outsprinting three others.
¶
At the Pan American Championships in Panama City (PAN), American Skylar Schneider led a mass sprint to the finish line in the women's road race, winning the flat, 102.4 km ride in 2:48:08. The first 25 riders received the same time; Canadian Alison Jackson was second, with Catalina Soto (CHI) third.
It was the first win for the U.S. since Tina Mayolo-Pic in 2007!
The men's race of 204.8 km was won by Canada's Pier-Andre Cote in 4:47:53, out-sprinting German Tivani (ARG), Charles-Etienne Chretien (CAN), Eric Fagundez (URU) and Ecuador's Byron Guama.
¶
At the Track Nations Cup III in Milton (CAN), Australian star Matthew Richardson and Britain's Kate Archibald won two golds and three medals each to lead the field.
Richardson, the 2022 Commonwealth Games Sprint gold medalist, won the men's Team Sprint and the Keirin, then finished third in the Sprint, won by Trinidad & Tobago's Nicolas Paul. Paul also won a bronze in the Keirin.
France's Donavan Grondin won the Scratch Race, Matthijs Buchli (NED) took the Elimination Race and the Madison went to Ivo Alves Oliveira and Iuri Leitao of Portugal.
Archibald, the Tokyo 2020 gold medalist in the women's Madison with Laura Kenny, teamed with Neah Evans for a Madison silver this time, but won the women's Team Pursuit and took the women's Omnium. Italian star Elisa Balsamo finished second in the Omnium, ahead of American Jennifer Valente, the Tokyo 2020 gold medalist.
Balsamo won a bronze with Martina Fidanza in the Madison, while Valente won a silver in the Elimination Race, behind Norway's Anita Stenberg.
Canada's Olympic Sprint champ Kelsey Mitchell won her specialty, while Alessa-Catriona Propster took the women's Keirin, with Colombia's Martha Bayona Pineda second in both. Belgians Shari Bossuyt and Lotte Kopecky won the women's Madison.
● Football ● With the tournament now relocated from Indonesia to Argentina, the FIFA men's U-20 World Cup draw was held on Friday in Zurich (SUI), with the U.S. team slotted into Group B. The six groups:
● A: Argentina (host), Guatemala, New Zealand, Uzbekistan
● B: Ecuador, Fiji, Slovakia, United States
● C: Colombia, Israel, Japan, Senegal
● D: Brazil, Dominican Republic, Italy, Nigeria
● E: England, Iraq, Tunisia, Uruguay
● F: France, Gambia, Honduras, South Korea
The American men will open play on 20 May vs. Ecuador in San Juan, then play Fiji on the 23rd and Slovakia on the 26th. The top two teams in each group, plus the four best-ranked third-place teams will advance to the round of 16 playoffs.
● Golf ● At The Chevron Championship at The Woodlands, Texas, the first LPGA major of 2023, saw an all-American playoff with Lilia Vu winning with a birdie on the first extra hole over Angel Yin.
Both finished at 278 for four rounds (-10), with Vu shooting a four-under 68 to move up from 11th to first on Sunday and forcing the extra hole. Yin and Allisen Corpuz had the three-round lead at 206 (-10), but Corpuz shot 74 to finish in a tie for fourth while Yin shot 72 and tied for the lead with Vu.
Vu, 25, was a star at UCLA and joined the pro tour in 2019. She scored her first win in January at the LPGA Thailand and now her first major.
There was a three-way tie for third between Amy Yang (KOR), Swiss Albane Valenzuela and Megan Khang of the U.S. at -9 (207).
● Gymnastics ● The annual Rhythmic World Cup in Baku (AZE) for the AGF Trophy saw the second win of the season for Bulgarian star Stiliana Nikolova, 17, the 2022 Worlds bronze medalist.
She led the All-Around competition in Hoop, Clubs and Ribbon (and an eighth in Ball) to total 133.800 points to 129.700 for current World Champion Sofia Raffaelli of Italy. Bulgarian teammate Eva Brezalieva was third (126.300) for her first A-A medal of this season. American Eva Griskenas was 21st with 115.200 points.
Nikolova went on to take three of the four apparatus finals, winning Clubs (34.150), Hoop (34.650, with Rafaelli second at 34.400) and Ribbon (31.300, with Brezalieva second at 31.100). Germany's Darja Varfolomeev won on Ball (33.150), ahead of Brezalieva (32.950).
● Sport Climbing ● Breakthrough win for American Brooke Raboutou, 22, at the season-opening IFSC World Cup in Hachioji (JPN), taking the Bouldering title for her first World Cup gold.
Raboutou had won three World Cup silvers, but hadn't scored an international win since the 2018 World Youth Championships in Moscow (RUS). She finished fifth at the Tokyo Olympic combined climbing event, and dominated the final, reaching three tops and four zones.
German Hannah Meul managed one top and three zones for second, with Matsufuji Anon (JPN: 0 tops, 3 zones). Said Raboutou:
"It hasn't really sunk in. I knew I had one when I topped the last boulder, but even then, I was like 'are you sure?'. Most of all I just feel thankful and really happy with my climbing today."
France's Mejdi Schalck won his second career World Cup gold in the men's Bouldering final, claiming two tops and three zones to one top and three zones for Belgium's Hannes van Duysen, who won his country's first-ever World Cup medal!
● Swimming ● Teen star Katie Grimes defended her 10 km title in the USA Swimming National Open Water Championships in Sarasota, Florida and will compete in the World Aquatics Championships in Fukuoka (JPN) in July.
Friday's 10 km race, held on a 2 km rectangular course, saw Grimes claim a 15-second win over 19-year-old Mariah Denigan, 1:58:08 to 1:58:23, with 16-year-old Claire Weinstein third in 1:58:24 and 2017 Worlds 5 km open-water gold medalist Ashley Twichell fourth (1:58:25).
Grimes and Denigan both competed in the 2022 Worlds 10 km open-water, with Grimes fifth and Denigan 15th.
Spain's Carlos Garach, 18, the men's 10 km race, just edging Brennan Gravley, 1:51:05.68 to 1:51:05.78. Brother Dylan Gravley was third in 1:51:07.77, comfortably ahead of Joey Tepper (1:51:11.02). Brennan Gravley qualifies for the Fukuoka Worlds as the top U.S. finisher; a second selection will be made later.
In Sunday's 5 km races, contested over a 1.66 km rectangular course, Gravley defended his 2022 men's title in 55:10.65 to 55:12.21 for Taishini Minamide of Japan, with Ivan Puskovitch third, just 1/100th behind. Garach finished fourth (55:12.96).
Grimes won again for a 5k/10k sweep, this time just a couple of seconds ahead of Angela Martinez of Spain, 58:37.95 to 58:39.99, with Denigan third in 58:42.49.
● Table Tennis ● The WTT Champions Macao in China, the second in the 2023 series, saw all-Chinese finals in both the men's and women's singles events. And youth was served.
In the men's final, defending Macao champion Chuqin Wang, 22, shut down two-time Olympic gold medalist Long Ma – now 34 – in four straight sets, 12-10, 11-1, 11-8, 11-7.
The women's final saw 2021 World Champion Manyu Wang, 24, come from behind to edge 2019 Worlds silver winner Meng Chen, 29, 4-2, winning the final three sets: 11-13, 11-7, 8-11, 12-10, 11-9, 11-8.
● Water Polo ● In the second round of the World Aquatics Women's World Cup Division I in Athens (GRE), the U.S. women – reigning Olympic and World Champions – finished second to the Netherlands and will be seeded second at the World Cup Super Final in Long Beach, California (USA) in June.
The Dutch won their group (A) in the first round with a 3-0 record, while the U.S. won Group B with a 2-1 mark, losing to Spain on a penalty shoot-out. In Athens, the U.S. beat Hungary (10-8) and Italy (10-6) while the Dutch sailed past Italy (16-10) and edged Hungary, 12-11.
In their final game, the Dutch got out to a 3-2 lead at the quarter and 7-4 at the half, with the U.S. closing to 9-7 after three and 9-8 in the fourth, but couldn't score again. Maddie Musselman had three scores for the U.S. and Bente Rogge led the Netherlands with three.
In Group 2 in Athens, Spain (3-0) and Greece (1-2) advanced to the Super Final as the top two finishers.
● Weightlifting ● Armenia was the big winner at the European Weightlifting Championships in Yerevan (ARM), with four wins, but the big news was a world record in the men's 89 kg class.
Bulgarian teen sensation Karlos Nasar – 18 – the 2021 World Champion at 81 kg, claimed his first combined-weight world mark, lifting 174 kg in the Snatch (a World Junior Record) and then a world-record 221 kg in the Clean & Jerk for a combined 395 kg, breaking the 2022 total of 392 kg by Italy's Antonino Pizzolato, also at the European Championships.
Armenia's Andranik Karapetyan was a distant second with a combined total of 374 kg.
Georgian superstar Lasha Talakhadze won the +109 kg class for his seventh straight European super-heavy title, lifting a combined 474 kg.
¶
You can receive our exclusive TSX Report by e-mail by clicking here. You can also refer a friend by clicking here, and can donate here to keep this site going.
For our updated, 651-event International Sports Calendar (no. 2) for 2023 and beyond, by date and by sport, click here!