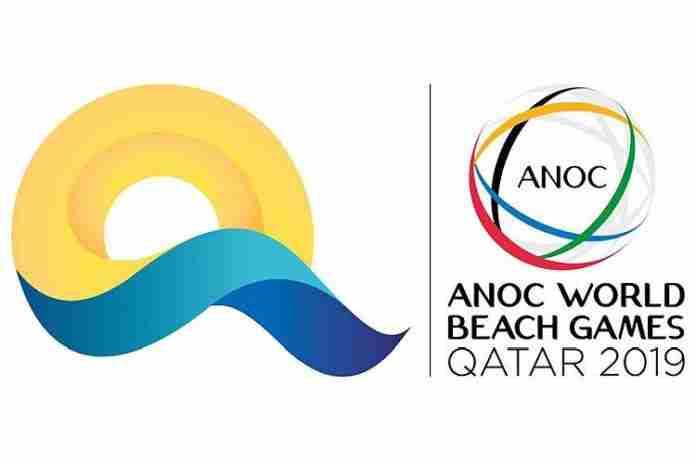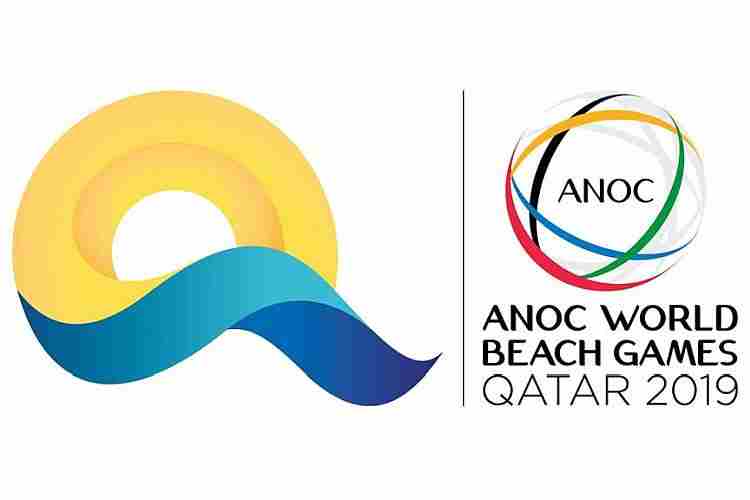 ≡ TSX REPORT ~ 24 October 2019 ≡
● LANE ONE ● What was all the fuss about the World Beach Games, anyway? 
Although a major topic of discussion in the Olympic world, the World Beach Games in Doha, Qatar came and went rather quietly last week.
Other than the 1,200-plus athletes from 97 countries, not many folks noticed. Even the group behind the event, the Association of National Olympic Committees, didn't say much about it. And there certainly weren't very many spectators, except for the last of the five days, when the home Qataris faced off against the U.S. men for the 4×4 Beach Volleyball title (and lost).
So was this a success or a failure? The same question can be asked about the World Urban Games, held earlier this year in Budapest, Hungary. It had many more spectators, but none of them paid to get in; everything was free.
So the events were paid for by government funds, or through sponsors of government-controlled companies, as in Qatar. Is this a good idea? Is this sustainable? Are multi-sport festivals meaningful beyond providing more athletes more chances to compete in an exotic locale far from home? Is that a responsible use of money?
The Doha hosts deserve considerable credit for many things they did well, but there are questions to be answered before anyone gets excited about future editions. More here.
● GAMES OF THE XXXIII OLYMPIAD ● Paris 2024's Art Deco-inspired logo revealed
The Paris 2024 organizing committee revealed its formal logo for the Games of the XXXIII Olympiad, showing off an Art Deco-tinged white flame against a golden background on a half-moon foundation of the lips and chin of the historic French figure of Marianne.
The logo was issued with both a white and black background and, for the first time, will be identical for both the Olympic and Paralympic Games.
Good? Bad? There was plenty of chatter both ways, but the true value of this artwork won't be known until it begins to be used more directly and to fulfill more functions. It has considerable potential in that its structure allows for almost infinite uses of color, also a feature of the original Art Deco movement that originated in France in the 1920s.
● DOPING ● Ganus expects substantial sanctions for Russia in view of data manipulation
The head of the Russian Anti-Doping Agency, Yury Ganus, told Agence France Presse that he expects severe sanctions as a result of the manipulation of data provided to the World Anti-Doping Agency in January.
"Russia's Olympic squad will be prevented from participating fully in the Olympic Games in Tokyo…. I think that this will also happen at the [2022 Winter] Games in China," he said. Ganus also expects – in the best-case scenario – that specific Russian athletes will be allowed to compete as was done for the 2018 Winter Games in PyeongChang.
He also anticipates Russia being restricted from holding future international events, fines and other sanctions. He added that "We need to get rid of the idea that the West is trying to put pressure on us" and that Russia needs "new heads of the sporting organizations," including a new Minister of Sports. Wow! More here.
● PARALYMPICS ● Record revenue year for the Int'l Paralympic Committee
The International Paralympic Committee published its 2018 annual report last week, showing a record revenue year with about $26.9 (U.S.) coming in. Of this, only $5.6 million was from grants and extraordinary items, including from the International Olympic Committee.
Expenses were just about the same as revenues, but this included about $3.5 million sent to reserves. The IPC now has 118 people employed, mostly in its headquarters in Bonn (GER).
The most impressive part of the report was the growth over just the last 10 years: from about $7.1 million in 2008 to $26.9 million last year, an increase of 279%! More here.
● ALPINE SKIING ● FIS World Cup starts – as usual – in Soelden this weekend
The famed Soelden ski runs on the Rettenbach Glacier will be the site, for the 20th straight year, of the opening races in the annual FIS Alpine World Cup. A Giant Slalom is planned for Saturday – for women – and Sunday for the men.
The men's story is the retirement of eight-time World Cup winner Marcel Hirscher (AUT), leaving Norway's Henrik Kristoffersen and France's Alexis Pinturault as leading candidates for the seasonal title. The women's division is all about American Mikaela Shiffrin (pictured), trying for her fourth consecutive seasonal title. At just 24, she already has 60 career World Cup wins.
But she will be challenged this weekend by G-S stars Tessa Worley (FRA), Viktoria Rebensburg (GER) and Slovenia's Petra Vlhova. More here.
● ATHLETICS ● Diamond League schedule announced; Nike shoe controversy and Flanagan retires
It's been less than three weeks since the close of the IAAF World Championships in Doha (QAT), but there's still a lot going on:
● The schedule for the 2020 Diamond League was announced, with 15 total meets from mid-April through mid-September, with a one-day final at Weltklasse Zurich.
● The nominees for the men's and women's Athlete of the Year were announced, with fan voting available on social networks for the next couple of weeks.
● The IAAF has a study underway to review the Nike Vaporfly shoe series. Introduced in 2017, unreleased versions of these ultra-light and springy shoes were worn by Kenyans Eliud Kipchoge in his sub-two hour marathon time trial and Brigid Kosgei in her world-record 2:14:04 win at the Chicago Marathon. The technical group will be examining whether the shoes conform to the current rules, or if new rules are required; its report is due by year-end.
Shalane Flanagan (pictured), one of the finest distance runners in American history, announced her retirement on Instagram last Monday, further revealing that she will be working as a coach with the Bowerman Track Club.
One of the stars in the American distance-running renaissance, she won the Olympic 10,000 m bronze in 2008 (later upgraded to silver), competed in the Olympic marathons in 2012-16 and famously won the 2017 New York City Marathon at age 36. More here.
● FIGURE SKATING ● Second Grand Prix stop features Japan's Hanyu at Skate Canada Int'l
Japan's two-time Olympic champion Yuzuru Hanyu is the star attraction at the second stage of the ISU Grand Prix, this time in Kelowna, British Columbia for the annual Skate Canada International.
However, many eyes will be watching Russian Evgenia Medvedeva, two-time World Champion who finished "only" third at the 2019 World Championships. She moved to Canada to work with star coach Brian Orser after her Olympic silver medal in 2018. Progress?
Americans Madison Hubbell and Zachary Donohue are favorites again in the Ice Dance event after winning at Skate America last week. More here.
● FOOTBALL ● FIFA publishes record viewership totals for 2019 Women's World Cup
The viewing study for the FIFA Women's World Cup in France in June and July was completed and published by FIFA, showing a record total of 1.12 billion viewers who watched at least one minute of the tournament somewhere!
That's a huge 30% increase over the 764.0 million who watched some part of the 2015 Women's World Cup in Canada.
For those who watched 20 minute or more – not even a half of one game – the numbers go down to 540.7 million viewers this year, a 64.7% increase from 2015. So interest increased.
How does this compare to the men's World Cup? It's not close. The 2018 FIFA World Cup in Russia had a total viewing audience of 3.57 billion, with an average live-match audience of 190.5 million. In 2019, the Women's World Cup average match audience was 17.3 million. More here.
U.S. scoring star Alex Morgan and husband Servando Carrasco announced her pregnancy, with the baby due in April 2020. That's about three months prior to the 2020 Olympic tournament in Tokyo, so it's not clear if she will be able to compete there. More here.
● JUDO ● Disciplinary Commission confirms suspension of Iran in Saeid Mollaei affair
Despite the insistence of the Iran Judo Federation that it never happened, the International Judo Federation Disciplinary Commission confirmed that 2018 World 81 kg Champion Saeid Mollaei (pictured below) was instructed to not even contest his semifinal match at this year's World Championships in order to keep from meeting eventual winner Sagi Muki (ISR) in the final.
Citing not only the IJF rules and the Olympic Charter, but also a written commitment in May that Iran would not continue its long-held pattern of discriminatory tactics against Israeli judoka, the Disciplinary Commission confirmed the suspension of the Iran Judo Federation until "gives strong guarantees and prove that they will respect the IJF Statutes and accept that their athletes fight against Israeli athletes …"
That could be a long time. Iran has 21 days to appeal the judgement to the Court of Arbitration for Sport. More here.
● THIS WEEK ● Previews of the Badminton World Tour French Open, the Abu Dhabi Grand Slam in Judo and the final IFSC World Cup event in Sport Climbing here.
Also in Climbing, the IFSC confirmed a Speed world record for Indonesia's Aries Susanti Rahayu from last weekend's Xiamen Open. She became the first woman to break the seven-second barrier, clocking 6.995 to climb the 15 m wall in the final!