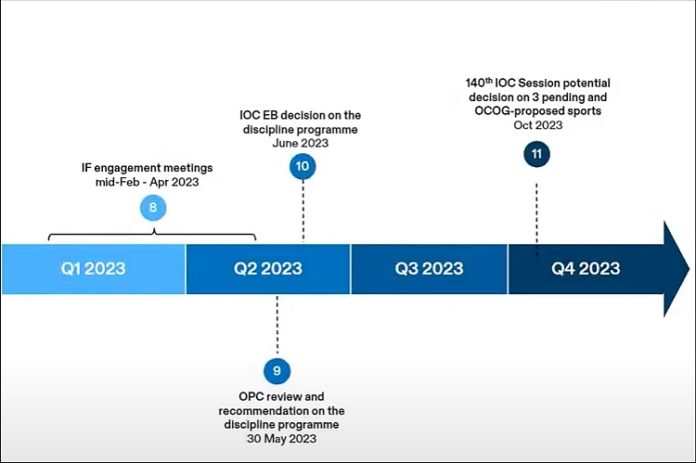 ★ The Sports Examiner: Chronicling the key competitive, economic and political forces shaping elite sport and the Olympic Movement.★
★ Friends: It's that time again. If you would like to support our coverage, please donate here. Your enthusiasm is the reason this site continues. Thank you. ★
★ To get The Sports Examiner by e-mail: sign up here! ★
≡ THE 5-RING CIRCUS ≡
1. ASOIF asks IOC for $596 million-plus from Paris TV revenue
2. IOC's McConnell: LA28 sports program decisions in October
3. No plans for ASOIF-led common declaration on Russia and Belarus
4. Badminton now reconsidering Russian, Belarusian re-entry
5. Middling TV audience for USATF's L.A. Grand Prix
The Association of Summer Olympic International Federations (ASOIF) held its 2023 General Assembly in Lausanne, with issues of considerable interest. The group approved a distribution format for Olympic television revenues from Paris 2024, but resolved to ask for more money from the International Olympic Committee: at least $596 million, up from $540 million for Rio and Tokyo. The IOC's sports director indicated that decisions on boxing, modern pentathlon and weightlifting for 2028, and any added sports requested by the LA28 organizers would be made at the 140th IOC Session in India in October. An opening speech by IOC chief Thomas Bach thanked ASOIF for its support of the IOC's position on Russian and Belarusian re-entry, with ASOIF head Francesco Ricci Bitti noting that a "harmonized" approach across all federations was not possible. The Badminton World Federation decided Monday to look into possible re-entry of Russia and Belarus, with further discussion at its World Championships in August. The USATF L.A. Grand Prix meet last Saturday from UCLA drew an NBC average audience of 777,000, better than the Bermuda Grand Prix the week before, but short of the three NBC-televised indoor meets in February.
● World Championships: Football (Nigeria upsets Argentina in FIFA men's U-20 World Cup round of 16) = Taekwondo (Nickolas takes first U.S. men's Worlds medal in 14 years!) ●
● Panorama: Paris 2024 (no plastic; Coca-Cola to offer reusable glass bottles) = Transgender (new idea for classification: the pelvis) = Boxing (USA Boxing gets two-year, $800,000 grant) = Tennis (Djokovic comments on Kosovo bring request for IOC review) ●
1.
ASOIF asks IOC for $596 million-plus from Paris TV revenue
"So my aim, before I step down, would be to at least enforce what was in place 12 years ago. We never had enough money [before], so the project is based on $596 [million] total, means that this is the minimum money to achieve what we decide 12 years ago, without going down, with any federation should not go down with the money. …
"So this is the proposal of the scheme where we should start; it's not any binding decision. The story will start with this, not the end. The end, I will keep you informed."
That's Association of Summer Olympic International Federations (ASOIF) President Francesco Ricci Bitti (ITA), the former 16-year head of the International Tennis Federation and ASOIF head since 2013, explaining to Wednesday's ASOIF General Assembly in Lausanne (SUI) a proposal for the distribution of the federation's share of the television rights fees received by the International Olympic Committee for the Paris 2024 Olympic Games.
These funds are a major source of revenue for these federations and while the actual amount to be distributed is up to the IOC, how it will be distributed is up to the federations to decide.
The current distribution scheme has three sports in Group A (aquatics, athletics, gymnastics), then five in Group B, eight in Group C, nine in Group D and three in Group E (28 total). While the scheme was not revealed publicly, it was approved as the ASOIF's opening position with the IOC.
Ricci Bitti noted that the situation was good through London 2012, with significant increases in amounts to federations, but:
"After London, unfortunately, the negotiation has been come more and more difficult and extremely difficult in Tokyo. … The IOC has been, perhaps, too tough with us."
The numbers demonstrate the reason for the unhappiness:
IOC TV revenue by quadrennial (Summer and Winter):
● 2000: $1.845 billion (Sydney)
● 2004: $2.232 billion (Athens: +21.0%)
● 2008: $2.570 billion (Beijing: +15.1%)
● 2012: $3.850 billion (London: +49.85%)
● 2016: $4.157 billion (Rio: +8.0%)
● 2020: $4.543 billion (Tokyo: +9.3%)
● 2024: more!
IOC share provided to ASOIF:
● 2000: $190 million (10.3% of the TV rights total)
● 2004: $257 million (11.5%)
● 2008: $297 million (11.6%)
● 2012: $520 million (13.5%)
● 2016: $540 million (13.0%)
● 2020: $540 million (11.9%)
● 2024: $596 million or more requested
Federation shares by group for Rio and Tokyo:
● Group A: $31.36 to $39.48 million (3 federations)
● Group B: $24.34 million (5 IFs)
● Group C: $17.31 million (8 IFs)
● Group D: $15.14 million (9 IFs)
● Group E: $12.98 million (3 IFs)
So while the IOC's television revenue has continued to rise for Rio and Tokyo, the federations received only a small increase from 2012 to 2016 and then none for 2020 (2021).
A significant increase is expected for Paris 2024 as the $7.65 billion contract extension for NBC for six Games from 2024-32, signed in 2014, comes into effect.
Said World Athletics President Sebastian Coe (GBR):
"As profits increase, there has to be a recognition that the proceeds of growth are recognized within the key element within the Olympic Movement with the delivery of the Games."
Ricci Bitti also noted that the distribution formula has gotten more complex as what he called the "sliding door" for sports has been implemented, with some on the program for a single Games and then moving off. He emphasized that ASOIF is trying to implement its 2013 agreement with prior IOC chief Jacques Rogge (BEL) to accommodate three federations in Group A and share funds more equally with everyone else, especially those in groups C-D-E.
The next step will be the negotiations with the IOC on the amount to be provided, which, as Ricci Bitti repeatedly noted, is within the IOC's purview.
2.
IOC's McConnell: LA28 sports program decisions in October
The IOC Sports Director, Kit McConnell (NZL) made a presentation to the federations which highlighted the continuing cost reductions sought by the IOC and the Paris 2024 organizers. These include a reduction – by more than 500 – of the number of sports technical officials and a narrowing of training venue availability based on the sports schedule and team arrival patterns.
Also, the IOC will take over the entry process for the Games in Paris – rather than the organizing committee – and going forward, which will be of great interest to the federations.
He also spoke in detail about the sports program for the 2028 Olympic Games in Los Angeles, which will, for the most part, be decided this year:
"We're going through a key step and a new step in the process, the finalization of the disciplines in the existing 28 sports … which will culminate in June with decisions by the IOC Executive Board, and that goal – again – is designed to give certainty for everyone: certainty for the OCOG in terms of going forward with the master plan, certainty for you in terms of the direction, and certainty for your athletes, in terms of that certainty going into the final year before Paris knowing what will be in the program at the discipline level, and equally for the NOCs, and everyone else involved. …
"Disciplines to be confirmed, as you know, in June, then in terms of the other timelines: final decisions in terms of the pending sports on our side – let's say boxing, modern pentathlon and weightlifting – and any OCOG-proposed sports by the time of the Session in Mumbai in October. And in terms of the event program and athlete quotas, they will be finalized either at the end of 2024 or the very start of 2025."
The slide behind McConnell showed the projected timetable:
● Q2 2023: "[Olympic Program Commission] review and recommendation on the discipline programme 30 May 2023″
● Q2 2023: "IOC [Executive Board] decision on the discipline programme June 2023″
● Q4 2023: "140th IOC Session potential decision on 3 pending and OCOG-proposed sports Oct 2023"
This means that McConnell expects no decision on boxing, modern pentathlon and weightlifting at the 20-22 June Executive Board meeting. There is no Executive Board meeting scheduled until just prior to the IOC Session in Mumbai (IND) from 15-17 October, although one could be called at any time.
The decision on the actual program of events and quotas-per-sport will not come until after a debrief following the Paris 2024 Games, to consider what was seen there and what changes could or should be made.
3.
No plans for ASOIF-led common declaration on Russia and Belarus
International Olympic Committee President Thomas Bach (GER) delivered comments at the opening of the ASOIF meeting, marking the 40th anniversary of the organization, created at the invitation of then-IOC President Juan Antonio Samaranch.
In his five-page address, Bach returned once again to his theme on Russian and Belarusian athletes, and the IOC's 28 March recommendation to allow "neutral" individual athletes to compete:
"Everybody knows that such an extremely complex political problem cannot have an easy solution. Only populists pretend to have easy solutions for the most complex problems in the world. This complex situation also presents one or the other challenge for you, when it comes to applying the recommendations and strict conditions.
"But many of you have proven that it can be done. Many IFs have organised international sport events and even world championships, applying the recommendations and very successfully delivering these competitions. And you are doing so against the backdrop of the many naysayers who want to make people believe that it would never work. …
"The overwhelming majority of the international community understands this challenging situation for sport and supports our middle-ground approach."
Ricci Bitti also addressed the Russian and Belarusian situation, referring to the IOC's 28 March policy statement:
"[B]ased on this recommendation, we start working on the federations, helping them, supporting them in the implementation, and possibly the harmonization; very difficult because of the specificity of each federation.
"So, basically I believe and repeat what the President said, the aim has been achieved. So, the vast majority of the federations have approached the problem. It has not been solved; in many cases, we still have clarifications on implementation because each sport is different, and we respect the position of all our member federations.
"But, in general, our organization are to [put up] bridge and not wall, and the world, as Thomas said, is very universal for us because we are an international organization, so we have to be universal, to be open, and we have to prepare the future, in case, hopefully, the situation is going to change.
"So this is our very practical and pragmatic view, so this approach and the support that we gave to the IOC trial to re-open the door to neutral athletes of these countries."
And he noted that when the IOC finally decides what to do about Russian and Belarus for Paris 2024, it will have the benefit of "all this experience made by our member federations."
In March, the IOC had urged the possibility of a common declaration, neutrality pledge or verification process to be developed for the summer-sport federations through ASOIF and for winter sports through its association (AIOWF), but this was glaringly absent from Ricci Bitti's comments and he acknowledged the impossibility of "harmonization."
So each federation will go it alone, and the responses have been all over the spectrum, and apparently will continue to be.
4.
Badminton now reconsidering Russian, Belarusian re-entry
The Badminton World Federation announced it will now consider possible procedures for re-entry of Russian and Belarusian athletes, after a Monday meeting of the BWF Council.
Neither country has any impact in the sport and neither has ever won a World Championships medal. The Council statement included:
"[A] regulative and operational framework to allow athletes with Russian and Belarusian passports to compete as individual neutral athletes has been commissioned to be presented to Council at its next meeting in August.
"Such a framework shall follow the IOC's eligibility criteria for participation and aim to ensure a safe and peaceful competition environment for all athletes.
"BWF Council will then deliberate on the merits of the principles, framework and timeline to potentially lift the suspension of Russian and Belarussian athletes."
The August meeting will be in Copenhagen (DEN) in conjunction with the 2023 World Championships.
This is a change of position from its 20 April statement, maintaining its suspension of Russian and Belarusian players over concerns on player safety, noting:
"However, in sight of risks to players and events that could arise by re-opening participation, plus steps to seek more clarity on IOC's complex criteria for allowing participation, and any such repercussions this may have, including conditions related to Olympic qualification and potential participation in Paris 2024, BWF is not convinced there is satisfactory justification to lift the suspensions on Russian and Belarussian players and officials at this time."
5.
Middling TV audience for USATF's L.A. Grand Prix
Nielsen audience figures for over-the-air and cable television sports programs are in and Saturday's first-time L.A. Grand Prix at Drake Stadium in Los Angeles drew a good, but not great audience of 777,000 on NBC on an otherwise light sports afternoon.
There was no single outstanding event on the day and the track meet was second in its time period – 1-3 p.m. Pacific time (4-6 p.m. Eastern) – to the PGA Tour's Charles Schwab Challenge tournament in Ft. Worth, Texas, which averaged 1.272 million on CBS and began an hour earlier.
The 777,000 audience was up from 636,000 for the USATF Bermuda Classic meet the week before, but well short of the viewership for the better-known indoor meets in February. Those included the 866,000 for the New Balance Indoor Grand Prix in Boston on 4 February, 972,000 for the Millrose Games in New York on 11 February and 954,000 for the USATF Indoor Nationals in Albuquerque on 18 February.
On a year-over-year basis, the 2022 Prefontaine Classic in Eugene – a much better-known meet – was held on the same weekend and drew 977,000 on NBC, also on Saturday, on 28 May last year.
≡ WORLD CHAMPIONSHIPS ≡
● Football ● At the FIFA men's U-20 World Cup in Argentina, four more elimination matches were held on Wednesday, with Brazil, Italy, Colombia and Nigeria advancing to the quarterfinals.
The Brazilians handled Tunisia, 4-1, with a 2-0 halftime lead and then two goals in stoppage time at 90+1 and 90+10 before giving up a (really) late goal at 90+13. Colombia had no trouble with Slovakia in a 5-1 win with Oscar Cortes and Tomas Angel both scoring twice.
Italy and England were tied, 1-1, at half and played deep into the second half with no further scoring, but a penalty by Cesare Casadei in the 87th minute proved to be the difference.
The upset came in the day's final match, as undefeated Argentina (3-0) was handled by Nigeria, 2-0, on second-half goals by Ibrahim Muhammad in the 61st and Rilwanu Sarki at 90+1.
The last round-of-16 games feature Gambia vs. Uruguay, with the winner to play the U.S. On Sunday, and Ecuador and South Korea, with the survivor to face Nigeria.
● Taekwondo ● The World Taekwondo Championships in Baku (AZE) continue, with the U.S. getting its first medal, a silver, in the men's 80 kg class.
Carl Nickolas, the two-time Pan American champ, won his first four matches in two-round sweeps, then faced similarly-successful 2019 World Champion Simone Alessio of Italy in the final. The first period was a 0-0 tie, given to Alessio on criteria, and Alessio managed a tight, 2-1 win in the second round to earn the 80 kg gold, the second of his career.
It was the first Worlds medal for the U.S. men since 2009!
At 87 kg, Sang-hyun Kang won Korea's second gold of the tournament, beating Ivan Sapina (CRO) in the final, 6-5, 9-7. Belarusian Artsiom Plonis won a bronze.
The only women's final on Wednesday was at 49 kg, with Turkey's Merve Dincel, the 2022 European Champion, winning her first Worlds medal, a gold over Thai star Panipak Wongpattanakit, the 2020 Tokyo Olympic champ and 2019 Worlds winner, 0-0, 4-2, 11-4.
The tournament continues through Sunday.
≡ PANORAMA ≡
● Olympic Games 2024: Paris ● The latest sustainability showcase for Paris 2024 comes from Paris Mayor Anne Hidalgo. In a Wednesday announcement:
"Visitors to temporary Olympics competition sites in the French capital will be admitted only without plastic bottles. Coca-Cola, TOP Sponsor of the Olympic Games, will distribute its products in re-usable glass bottles and more than 200 soda fountains, which will be redeployed after the games."
No mention of crowd control for the fountains or plans to keep people from using glass bottles as weapons, however.
● Transgender ● OK, here's the newest idea on a solution, from Dennis Shavelson of The Foot Centering Institute of the U.S., published in the online journal, Research and Investigations in Sports Medicine: "The Use of The Male vs Female Pelvis to Assist in Certifying Eligibility for Competition in Female Sports."
Shavelson notes, "The aim of this correspondence is to merely suggest a theoretical answer to consider as a solution to the benefit of all involved that may reduce the political charged milieu that exists with a possible solution."
He suggests that an exam could be developed "to determine the eligibility of each potential athlete as male or female." One more opinion to consider.
● Boxing ● USA Boxing, which has broken away from the International Boxing Association, got a financial boost from a two-year, $800,000 grant – via the U.S. Olympic & Paralympic Foundation – from the Daniels Fund, established in 2000 by cable television pioneer Bill Daniels to support projects in Colorado, New Mexico, Utah and Wyoming.
Daniels, who passed away in 2000, was a Golden Gloves fighter himself. The announcement explained:
"The two-year grant will fund performance enhancement for USA Boxing's elite teams, coaching education programming, and greater access to camps and competitions for USA Boxing's youth and junior-level athletes."
The gifts bring Daniels Fund contributions to the Foundation to $2.65 million since 2004.
● Tennis ● Superstar Serbian player Novak Djokovic has stirred up a new international trauma with his post-match marking on a television camera in Serbian, "Kosovo is the heart of Serbia. Stop the violence" after his first-round victory at the French Open in Paris on Monday.
Djokovic's father was born in what is now Kosovo, which declared independence from Serbia in 2008 and was recognized as an independent state by the International Olympic Committee in 2014.
Violence broke out over a boycott of April elections in the country's north, followed by clashes between ethnic Serbs and Kosovo police and U.N. peacekeepers over the weekend.
The Kosovo National Olympic Committee, which has been fighting refusals by some countries to admit them for competitions, posted a statement by Ismet Krasniqi on Tuesday which asked IOC President Bach for assistance:
● "As President of the Kosovo Olympic Committee, I have an obligation to raise my concerns and kindly ask you to react on behalf of the International Olympic Committee, as these messages and actions are dangerous for the future of sport if unpunished."
● "I respectfully urge that IOC reacts within its framework and requests to the [International Tennis Federation] to follow the principles regulated by the Olympic Charter and investigate on this matter by opening a disciplinary proceeding against the athlete."
● "Regardless of the fact that Novak Djokovic is one of the best tennis players in the world, such reiterated behaviour cannot be tolerated as it sets a dangerous precedent that sport can be used as a platform for political messages, agendas and propaganda."
The French Tennis Federation said it no comment since there are no Grand Slam rules limiting player speech.
After his second-round win on Wednesday, Djokovic autographed the lens and drew a smiley face, and told reporters afterwards, "I have no more comment on that. I said what I needed to say."
¶
You can receive our exclusive TSX Report by e-mail by clicking here. You can also refer a friend by clicking here, and can donate here to keep this site going.
For our updated, 651-event International Sports Calendar (no. 2) for 2023 and beyond, by date and by sport, click here!