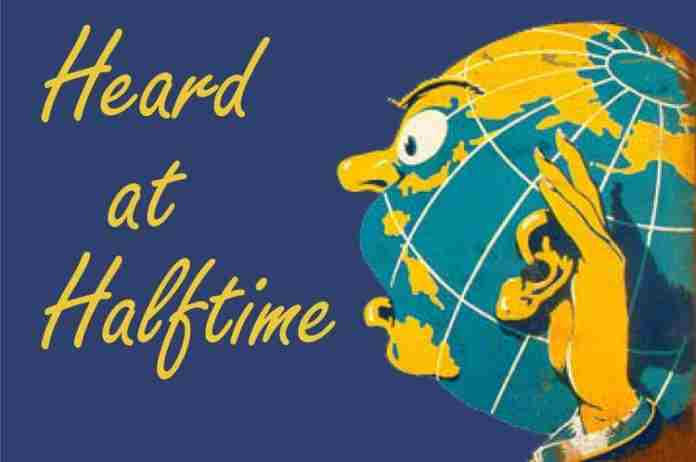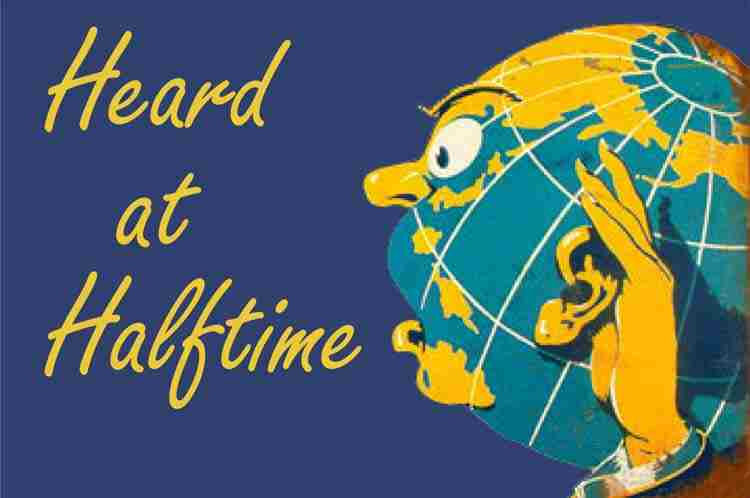 ★ The Sports Examiner: Surveying, monitoring and explaining the key competitive, economic and political forces shaping elite sport and the Olympic Movement. ★
Thank you to our 23 donors, who have covered 33% of our summer funding goal for operating costs. Can you help? Please donate here. Comments? Click here.
★ To get The Sports Examiner by e-mail: sign up here! ★
≡ THE 5-RING CIRCUS ≡
1. Saudi sports ambitions growing despite "sportswashing" criticism
2. Manuel joins growing pro stars roster at Arizona State
3. U.S. viewers like women's gymnastics, but less in 2022 than in 2021
4. Women's triathlon gets 41st NCAA school with Arizona
5. Roglic takes lead at La Vuelta after terrific Stage 4 win
Despite wide concerns about repression, Saudi Arabia is aggressively looking to establish itself as a sports hosting and tourism destination, up to and including the FIFA World Cup and a future Olympic Games. America's best women's swimming sprinter, Simone Manuel, has been quiet since the Tokyo Games, but has re-emerged as part of the growing – and impressive – pro training group in Tempe, Arizona under Michael Phelps' old coach, Bob Bowman. The USA Gymnastics Artistic nationals drew a nice TV audience on NBC for its final women's session, but only a fraction of the size of that for the 2021 Olympic Trials. Thanks to a long campaign by USA Triathlon, women's tri is on the way to becoming an NCAA championship sport in the next couple of years, with the University of Arizona announcing its will field a varsity team in fall 2023. At the Vuelta a Espana, three-time defending champ Primoz Roglic of Slovenia showed he is going to be hard to de-throne with an impressive attack on the final climb of Stage 4 and took over the race lead.
1.
Saudi sports ambitions growing despite "sportswashing" criticism
More and more events are being staged in the Middle East and Saudi Arabia is in overdrive, trying to bring high-profile sports programs, well beyond its controversial LIV Golf project.
"Our main focus now is the 2034 [Asian Games in Riyadh]," said Sports Minister Prince Abdulaziz bin Turki Al-Faisal in an interview with Agence France Presse on Sunday.
"We're open to discuss with the [International Olympic Committee] about [the Olympic Games] for the future. I think Saudi Arabia has showcased that we can host such events.
"Definitely, the Olympics would be an ultimate goal for us … But we're open to that and I think we can."
But that is not all:
● On Sunday, FIFA President Gianni Infantino (SUI) was a guest of Crown Prince Mohammed bin Salman Al Saud at the heavyweight boxing match in Jeddah, where Oleksandr Usyk (UKR) upset Britain's Anthony Joshua.
InsideWorldFootball.com reported, "It is understood that Saudi Arabia wants to host the 2030 World Cup with Egypt proposing to team up with Saudi Arabia and Greece to stage the global finals."
The Saudis have bid to host the 2027 Asian Cup, the continental football championship tournament.
● Last Friday (19th), International Boxing Association President Umar Kremlev (RUS) visited the Saudi Arabian Boxing Federation, with its President, Abdullah Hamad Al Harbi, expressing interest in hosting both continental and World Championships. A youth boxing academy is being considered.
Said Kremlev, "Saudi Arabia has a great experience in the organization of big sports events. We are looking forward to seeing boxing tournaments in the country in the future."
● In addition to the massive Asian Games in 2034, Saudi Arabia is apparently the only bidder for the smaller but still complex 2029 Asian Winter Games, to be allocated in October.
All of this interest follows the success of other Middle Eastern hosts of major events, especially Dubai in the United Arab Emirates and Doha, Qatar, site of the 2019 World Athletics Championships and the forthcoming host of the 2022 FIFA World Cup.
Critics of the Saudi regime and especially its human-rights record decry the sports outreach as a way to deflect attention from harsh governance, limited freedom of expression and rights issues – known as "sportswashing" – but Saudi officials explain it's part of a formal diversification plan away from energy, instituted in 2016.
"We're progressing, we're moving towards a better society, we're moving towards a better quality of life, a better country, for the future," said the sports minister. "And the facts show that hosting these events benefit our people and benefit these changes that are happening and benefits living in Saudi."
Britain's The Guardian reported on a 2021 study, noting "Saudi Arabia has spent at least $1.5bn on high-profile international sporting events in a bid to bolster its reputation" through events in auto racing, boxing, chess, football, golf, horse racing, tennis and others. The story referenced the national "Vision2030″ plan, but pointed out:
"[T]he plan, touted as a watershed that will transform the Kingdom socially as well as economically, was followed by a broad crackdown on dissent, including the arrest of feminist activists and religious clerics."
Lucy Rae (GBR), a director of the Grant Liberty human-rights group, accused Saudi Arabia of "committing human rights abuses on an industrial scale.
"The world's leading sports stars might not have asked to be part of a cynical marketing plan to distract the world from the brutality – but that's what is happening."
The Saudi plan for the future has suffered bumps in the road. Sports Minister Abdulaziz told AFP that the furor over the LIV Golf project, funded by Saudi Arabia's Public Investment Fund, was unexpected. His view: "I think that if there's a benefit for the sport, then why not, whoever does it."
2.
Manuel joins growing pro stars roster at Arizona State
Although he will forever be known as the coach of swimming icon Michael Phelps, the winner of the most Olympic medals in history, Bob Bowman is suddenly once again perhaps the hottest swim coach in America.
The head coach at Arizona State from April 2015, Bowman, 57, enters his eighth season at ASU after a sixth-place finish in the men's NCAA Championships in 2022 with four-event star Leon Marchand (FRA) leading the squad.
But beyond his collegiate squad, Bowman is also now coaching multiple star professionals, with Rio 2016 two-time Olympic gold medalist Simone Manuel, 26, the latest to head to Tempe. Bowman's pro roster also includes:
● Ryan Held (27), Rio 2016 4×100 m Free gold medalist
● Chase Kalisz (28), Tokyo 400 m Medley champ
● Jay Litherland (26), Tokyo 400 m Medley silver medalist
● Sierra Schmidt (24), 6th-8th-7th at '21 U.S. Olympic Trials 400-800-1,500 m Frees
● Regan Smith (20), 2019 World 200 m Back champ, 2022 World 100 m Back champ
● Olivia Smoliga (27), 2019 World 50 m Back Champion
Manuel essentially disappeared after the 2021 season, making the U.S. team in the 50 m Free and reaching the Olympic semis, then winning a bronze on the U.S. 4×100 m Freestyle relay. That's a far cry from her four medals (2-2-0) in Rio in 2016 or her stunning 16 World Championships medals (11-3-2) from 2013-19. She announced her move to Tempe on Instagram on Monday.
In addition, French star Marchand (20) only completed his freshman season at ASU in 2021-22 and burst into prominence at the Budapest World Championships last June, winning the 200 and 400 m medleys – which Kalisz won in 2017 – plus a silver in the 200 m Butterfly.
With the exceptions of Smith (20), the rest of the pros now training with Bowman are getting up in years for swimmers and are looking for perhaps a final surge in their training with Paris 2024 coming fast.
3.
U.S. viewers like women's gymnastics,
but less in 2022 than in 2021
The USA Gymnastics Artistic national championships in Tampa Bay drew good television audiences last Sunday for both men and women.
The final day of the women's competition was shown live on NBC and had the no. 10 audience of the week, with an average audience of 1.539 million for the session that began at 7 p.m. Eastern time. The men's final day – held on Saturday – was shown live on CNBC, but the audience was not reported, meaning it was less than 200,000.
However, a Sunday replay of the men's session shown on NBC drew 642,000, quite respectable.
The women's TV audience, of course, pales in comparison to the 2021 Olympic Trials a year ago, where the two women's broadcasts averaged 5.287 million on NBC. The men's replay show on NBC did better than the one live Olympic Trials show on NBCSN last year, which drew 461,000. Being on cable is great; being on the network is a lot better.
4.
Women's triathlon gets 41st NCAA school with Arizona
Women's triathlon is on its way to being an NCAA Championship sport, having reached the 40-school plateau in February with the addition of Cal Poly Humboldt. But the project, begun by USA Triathlon back in 2008, is continuing to grow with the University of Arizona announcing it will begin competition in the sport in the fall of 2023.
This raises the number of NCAA schools offering the sport to 41, but with 12 now at the Division I level, including Arizona State, the University of San Francisco and Texas Christian. The collegiate format uses the "sprint" distances of a 750 m swim, 20 km bike phase and 5 km run.
Triathlon is slotted as a fall sport; its current format includes two national qualifiers and a national collegiate championship in November. There are several further administrative steps before the sport has a full-fledged NCAA championship, "including committee, council, divisional and budget approvals." This is a major boost to women's triathlon in the U.S., assuming – of course – that the NCAA structure remains intact.
5.
Roglic takes lead at La Vuelta after terrific Stage 4 win
Slovenian star Primoz Roglic has won the last three editions of the famed Vuelta a Espana and no one has ever won four in a row. He's going to be hard to beat.
With the race now back in Spain after spending the first three stages in the Netherlands, Roglic showed his formidable talents with a brilliant surge on the final climb to Laguardia in the Basque Country to win Stage 4.
His time of 3:31:05 was the same as given to Denmark's Mads Pedersen, who finished second for the third stage in a row! But Roglic attacked beautifully on the final incline with 800 m remaining and took the race lead by 13 seconds over American Sepp Kuss and 26 seconds over Britain's Ethan Hayter and Tao Geoghegan Hart and France's Pavel Sivakov.
Roglic, 32, won his 10th career stage at La Vuelta, and might be able to break the race open this week, with three climbing stages coming on Thursday, Saturday and Sunday in the mountains of northwest Spain. Given his form so far in 2022, no one would be surprised.
≡ PANORAMA ≡
● Pan American Games 2023: Santiago ● The XIX Pan American Games will take place in Santiago, Chile beginning 20 October next year and the call for volunteers has now begun.
The organizing committee is looking for 17,000 volunteers to help with the Games, expected to include 7,000 athletes from 41 countries to compete in 412 events in 39 sports. The Parapan American Games will have about 2,000 athletes contesting 17 sports.
The call for 17,000 volunteer staff compares with about 3,300 volunteers for the 2022 World Games in Birmingham, Alabama (3,600 athletes in 30 sports) and about 14,000 for the 2022 Commonwealth Games in Birmingham, England (5,054 athletes in 20 sports).
The Olympic Games is at an entirely different level. The first full-on use of volunteer staff was sat the 1984 Olympic Games in Los Angeles – with 33,500 – but the total was more than 80,000 for the Tokyo 2020 Games, including those recruited to help as city guides for the Tokyo Metropolitan Government.
● National Olympic Committees ● A temporary reprieve for the Indian Olympic Association, which is still in charge of its own affairs … for now.
The Indian Supreme Court issued an order on Monday that extends the status quo for four weeks, instead of turning the IOA's operations over to a Committee of Administrators. The IOA has run afoul of the national Sports Code but not moving toward elections in the aftermath of the resignation of former chief Narinder Batra.
The International Olympic Committee, which selected Mumbai as the site for its 2023 Session next May, will have its Executive Board review the India situation at its September meeting.
● Athletics ● Sad news of the passing of former discus world-record holder John Powell, on 19 August in Las Vegas, Nevada, at 75. The obituary stated that he died after a long illness.
Intense and impressive to watch, the San Jose State grad was one of the world's best throwers from 1972 to 1987. Powell was fourth at the 1972 Munich Games, an Olympic bronze medalist at the 1976 Montreal Games and in 1984 in Los Angeles. A seven-time U.S. champion, he set a world record of 69.08 m (226-8) on 4 May 1975 in Long Beach, California and won the Worlds silver in Rome in 1987.
A San Jose policeman by profession, he never lost his love of the throws and was a devoted coach at camps and at Stanford University from 1981-90. He is survived by his wife Wally Powell, his daughter Julie Powell, and grandchildren Maddie and Tyler McGivern.
¶
The European Athletics Championships in Munich was great, but it wasn't perfect. On Saturday, after the British team won the men's 4×400 m in an impressive 2:59.35, they arrived for the medal ceremony … only no anthem was played, due to a technical issue. Per The Mirror:
"The runners were seen looking around in confusion before the fans were asked to applaud, with officials explaining they were unable to play the anthem."
BBC announcer Gabby Logan made light of the situation, telling viewers, "Talk about milking the moment. Very un-German like, the precision engineering or whatever equipment has failed them there. Bit disappointed there wasn't an Alexa or something, or a phone, or something they could use to enjoy the moment. Hopefully they're enjoying the attention anyway."
● Cycling ● British track cyclist Dan Bigham earned a silver medal in the Team Pursuit at the recent Commonwealth Games in Birmingham as a member of the English team, but now owns a world record by himself.
Last Friday (19th), he set a new standard for the one hour, covering 55.548 km (34.52 miles) at the Tissot Velodrome in Grenchen (SUI). He broke Belgian star Victor Campanaerts' 2019 mark of 55.089 km with room to spare. Said Bigham:
"I guess you've never got it until you've ridden the [250 m] laps. That's the scary thing. You're on pace but you still have to cover the distance. I had a bit of a wobbly in my head just after the halfway mark, like 'how am I going to ride 16s for the next half hour?' In my head I wanted 55.5 km so put another 48 metres on it, I am pretty pleased with that!"
● Football ● More on India, the country's Supreme Court returned control of the All India Football Federation, and away from the High Court-appointed Committee of Administrators, on Monday. Elections are scheduled for early September and if the rules are properly followed and a properly-elected Board is seated, the FIFA Women's U-17 World Cup could remain in India for its scheduled dates in October.
● Ice Hockey ● International Ice Hockey Federation chief Luc Tardif (FRA) confirmed the continuing ban on Russia and Belarus from IIHF tournament in view of the invasion of Ukraine. At a news conference near the end of the men's World Junior Championship in Edmonton (CAN), Tardif noted:
"We do it year by year. For the 2022/2023 season they are not going to play. …
"When the war started, the solidarity of the IIHF family was fantastic. Hundreds of players had the chance to go and play in other countries in Europe with the support of many national ice hockey associations. The NHL and NHLPA also participated with equipment support, the IOC helped. We helped the [Ukraine] men's senior and U18 national teams to go and train abroad and be able to participate in our tournaments. We had to organize buses from the border, find places where they can play, find places to live for the players and their families. Most of them are still abroad and we don't know when they can return. When I look at everything that was done, I'm proud to be the IIHF President. …
"We are financially still alive and what is important is to keep our activities alive. We sometimes played in a bubble because of Covid, we have to play without Russia because of the war and we cannot do anything about it. When there's a pandemic and a war many things change, teams cannot travel that easily."
● Weightlifting ● USA Weightlifting announced that U.S. Anti-Doping Agency Chief Operating Officer Matt Sicchio will take over as the federation's chief executive in October. He has previously worked with the U.S. Soccer Federation and has a deep background in insurance and risk management. It's another strong statement by USAW in its commitment against doping in a sport whose survival on the Olympic program depends on anti-doping control and better governance.
¶
You can receive our exclusive TSX Report by e-mail by clicking here. You can also refer a friend by clicking here, and can donate here to keep this site going.
For our updated, 620-event International Sports Calendar for 2022 and beyond, by date and by sport, click here!