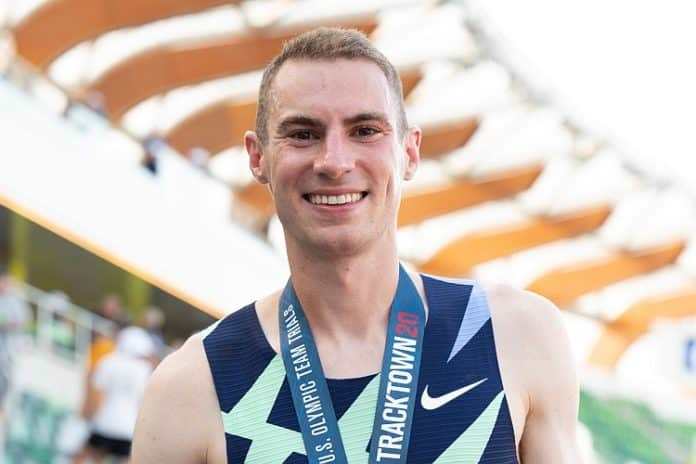 ★ The Sports Examiner: Chronicling the key competitive, economic and political forces shaping elite sport and the Olympic Movement.★
★ To get The Sports Examiner by e-mail: sign up here! ★
≡ THE 5-RING CIRCUS ≡
1. Russian Olympic chief says declarations are "absolutely unacceptable"
2. Van der Vorst calls out IBA pressure tactics against boxers
3. Murphy, Johnson slam L.A. Grand Prix, pre and post
4. WADA's 2020 violations report: doping less than 1%
5. More than 700 detained in Indian wrestling protest
In response to the latest demand for athletes to sign a "neutrality declaration" concerning Russia's invasion of Ukraine, the head of the Russian Olympic Committee again stated any such declaration is "absolutely unacceptable." Boris van der Vorst, who is ending his term as Dutch boxing federation chief to help get the new World Boxing group going, criticized the International Boxing Association for pressuring federations and boxers not to compete at the sixth Eindhoven Cup, which concluded Monday. Of the 25 federations who initially entered, 17 eventually sent fighters. Olympic medal winner Clayton Murphy had a good day on the track at the L.A. Grand Prix at UCLA last Saturday, winning the men's 800 m, but was highly critical of the meet before and after on promotion, visibility and fan interaction. Olympic superstar Michael Johnson opined that the meet was promoted as a game-changer, but was "a perfect example of all the current problems." The World Anti-Doping Agency published the violations report for the Covid pandemic year of 2020, showing the number of doping problems down, but the same countries and sports at the top of the lists anyway. In India, hundreds of wrestlers and fans are protesting the continued term in office of the head of the national federation over sexual harassment allegations, with hundreds interned by police on Sunday.
● Panorama: Aquatics (federation moving from Lausanne to Budapest) = Athletics (2: Bol gets 400H world lead; two more old Russian doping positives) = Canoe-Kayak (Poland wins six at Poznan Sprint World Cup) = Gymnastics (Penev wins home World Challenge Cup on return) ●
1.
Russian Olympic chief says declarations are "absolutely unacceptable"
The International Weightlifting Federation has allowed 13 Belarusian athletes to return to competition at the IWF Havana Grand Prix beginning 8 June and an early qualifying competition for the Paris 2024 Olympic Games, after signing a special declaration of their neutrality in the Russian invasion of Ukraine.
But Russian athletes will not sign and therefore will not compete.
Last week, Russian Olympic Committee President Stanislav Pozdnyakov posted on the Telegram messaging service:
"Today we held a meeting of the executive committee of the Russian Olympic Committee, exchanged views with colleagues on our common urgent tasks. The main one is to restore justice, including not only returning athletes to international arenas, to the Olympic Games, but with a flag, an anthem and other attributes of the team Russia.
"The meeting participants expressed a unified position on the inadmissibility of Russian athletes signing any declarations or other statements of a political nature that contradict the legislation of the Russian Federation. For us, this is absolutely unacceptable."
So what is it that they won't sign?
The IWF posted both its "neutrality" policy and the declaration publicly. The policy includes:
● "Athletes who are or become contracted or are or become in any way connected to the Russian or Belarussian military or national security agencies and/or entities, whether public or private, providing services in support of the war in Ukraine, and/or are in any way personally engaged in the conduct, support or promotion of the war in Ukraine are not eligible to participate in IWF competitions."
● "Athletes who have declared or at any time declare support to the war in any way, form or occasion or through any mean, including without limitation social media, are not eligible to participate in IWF competitions."
The declaration, in pertinent part, says:
"5. I undertake to continue to abstain from expressing any support to the war and will immediately and voluntarily notify any relevant change in my activities that occurs after the date of this declaration.
"6. I undertake to duly and fully cooperate with any process of verification performed pursuant to art. 3 of the Policy. I understand and accept that adverse inferences may be drawn from failure to fully cooperate with the verification process, notably through refusal to answer and/or to provide evidence."
Pozdnyakov added in his Telegram post:
"We will continue to support those of our athletes who have been illegally and unreasonably restricted from participating in international competitions over the past 15 months. We will work individually with our sports federations on the inadmissibility of accepting any proposals from international organizations that contradict the Olympic Charter."
His hardened position is being backed up by the Russian government. Dmitry Svishchev, chairman of the State Duma Committee on Physical Culture and Sports:
"Athletes should play sports and not sign dubious declarations.
"Athletes should not be involved in politics. Our athletes should be allowed without any additional conditions. And not a single one of our athletes will sign any documents or papers against their country."
Another leading voice against the International Olympic Committee's concept of a neutral status is Elena Vyalbe, head of the Russian Ski Racing Federation:
"I am also categorically against performing in a neutral status. In this situation, you need to perform exclusively with the flag and the anthem."
The Vice-President of the All-Russian Volleyball Federation, Gennady Shipulin, echoed doubts about going to Paris as well:
"I can't say whether we will participate in the Olympics or not.
"People should play there, be proud of their country, their anthem and flag. … I don't know if it's worth going in this status. Maybe I can come up with something alternative, a more significant competition, but this is the opinion of specialists, including the great coaches."
The 2013 World Sabre Champion, 36-year-old Veniamin Reshetnikov, told the Russian news agency TASS:
"My career is almost over, the 2024 Games are the last chance to go and win an Olympic medal.
"But I understand that it doesn't make any sense, because the IOC has discredited [itself] with its terms. The Olympic Charter clearly states that the competition is a struggle between athletes, not between countries, and as a result we are being terrorized on all fronts.
"The neutral status, in my opinion, is a formality, which is organized by the International Olympic Committee together with the International Fencing Federation, because the conditions imposed are practically impossible. I didn't have high hopes that we would be allowed there. …
"There are many opinions about the current situation, but I would not divide everything into black and white. If it were possible to soften the conditions put forward, to allow the flag, then why not go? We decided not to go. I wouldn't go on these terms myself, even though the dream of any athlete is to win an Olympic medal. However, the conditions put forward are unfair."
Tokyo Olympic high jump champ Mariya Lasitskene, 30, told TASS after her second-place finish at the Russian championships:
"My international career is over. Everything has already been decided, no matter what we do, they are not waiting for us there. I don't have any hopes, I'm just not ready to finish my career yet, so I want to jump."
2.
Van der Vorst calls out IBA pressure tactics against boxers
The sixth Eindhoven Cup boxing tournament has concluded, but not without considerable controversy.
As the open war between the International Boxing Association and an expanding group of breakaway federations escalates, retiring Dutch boxing federation chief Boris van der Vorst tweeted last week at the opening:
● "It is an honor to extend a warm welcome to the teams participating in the 6th edition of the Eindhoven Box Cup. It is especially important to do that when the sanctioned international boxing association has gone so low as to threaten not only NFs but coaches & boxers directly"
● "The IBA has attempted to sabotage another competition that they have not contributed anything to. They literally made boxers cry by threatening them with suspensions in case they step into the ring in Eindhoven. Many received these threats when they were already here."
● "After all blood, sweat and tears to get ready & having spent money to make their way to [Eindhoven]. This is unacceptable harassment that will require a severe response, but only after the end of competition. Boxing starts tomorrow!"
● "I would like this edition of the Eindhoven Box Cup to be the platform that unites nations, boxing clubs & individuals interacting with respect & expressing true passion for boxing. We must not allow external noise to deter us from celebrating our sport."
● "The Eindhoven Box Cup does not accept the culture of intimidation & fear cultivated within the sanctioned IF. I thank the boxers & coaches from 17 nations that defied the harassment. I appreciate the resilience & devotion of the [technical directorate] & everyone involved in the organization."
Some 25 countries registered for the tournament, but eight withdrew, leaving 17. Van der Vorst noted on Monday:
"Teams compete here despite all of the destructive efforts of the sanctioned international boxing association. Boxing does not belong to any international governing body by right. It is a privilege to lead the noble art worldwide & it has to be consistently earned."
The IBA, for its part, is requesting sanctions of its Boxing Independent Integrity Unit against anyone involved in the new World Boxing group, as it noted in a 25 May statement:
"On 22 May, the IBA suspended seven National Federations, including the Dutch Boxing Federation, for various breaches of the IBA Constitution and Regulations, which deprives all of them of all membership benefits, including hosting of international competitions."
Van der Vorst, who ran for the IBA Presidency once and was denied a second chance, is retiring as the head of the Dutch federation and will now work for the development of World Boxing as an alternative to the IBA.
3.
Murphy, Johnson slam L.A. Grand Prix, pre and post
One of the big winners at the USATF L.A. Grand Prix at UCLA's Drake Stadium on Saturday was Rio Olympic 800 m bronze medal winner Clayton Murphy, who won his race in 1:44.75, fastest in the U.S. this season and no. 4 on the year list.
But he wasn't happy with the meet as a whole and said so on Twitter. Back on 16 May, when Sydney McLaughlin-Levrone announced that she would not be running after being promoted as the top attraction at the meet, he posted:
● "I'm gonna say it for many athletes who might be thinking this: 99% of athletes don't have the luxury to not race and still make a living… In a meet that you are the main attraction, to pull out post ticket sales and fans making plans to attend is a huge disappointment"
● "If your injured say it, if your [sic] not ready to race cause of an injury, that's part of it. Our sport is struggling, and athletes are struggling. Faces of the sport who can help propel it forward continue to drop the ball There's a select few who seem to really care about it"
In response to one fan who said he bought a ticket for the meet just to see McLaughlin-Levrone, Murphy offered to personally refund their money! Really.
On Friday, he posted:
"So the 800m tomorrow at the LA Grand Prix has been moved out of the [NBC] TV window, there is not even a live stream to watch. So imagine being a professional athlete competing at the biggest meet in your home country and no way for anyone to watch you…
"Oh and the 800 is a GOLD LEVEL PREMIER EVENT according to the meet that had moved it out of a 90 min tv window"
After the meet, he added:
"Just slapping a meet in a big city doesn't help track grow…it takes a lot more than that."
One poster replied: "It has to be an event bring acts out to perform fan interaction guest host. And promote the meet during other major sporting events (nba playoffs)"
Murphy's retort:
"ZERO Fan and athlete interaction at the meet was organized by the meet that I saw, I created some by going over to the stands after the race concluded."
Atlanta 1996 icon Michael Johnson was also not impressed:
"This meet was initially announced as a game changer for the sport. The highlight of that announcement was a music festival, but included no plans to address the obvious problems of the sport. For that reason my expectation for the meet was that it would be no game changer but actually more of the same.
"3 months prior to the meet a headline music artist few people were familiar with was announced but nothing at all about athletes or matchups.
"Some big name athletes were eventually announced but quickly pulled out.
"Few major matchups, few big names, athlete complaints, poor date planning. How does an organization plan for a meet to be a game changer, but instead end up with the meet actually being a perfect example of all the current problems?
"This is not easy but it becomes harder when you make a big announcement about a game changer and you didn't change anything."
That's the opinion of two people in the sport. Another report card will come later this week when the NBC audience for the meet is available from Nielsen. Stay tuned.
4.
WADA's 2020 violations report: doping less than 1%
It has taken a while, but the World Anti-Doping Agency published its "Anti-Doping Rules Violation" report for 2020, a year severely impacted by the Covid-19 pandemic.
With competitions canceled everywhere, it's no surprise that both testing and violations were down substantially:
● Tests in 2019: 278,047
● Tests in 2020: 149,758
● Tests in 2021: 241,430
● Adverse findings in 2019: 2,701 (0.97%)
● Adverse findings in 2020: 1,007 (0.67%)
● Violations in 2019: 1,914 (0.69%)
● Violations in 2020: 910 (0.61%)
The "Adverse Findings" total shows the number of tests which come back with indications of a violations. Some of these are discarded for various reasons, including Therapeutic Use Exemptions.
So, the number of tests and violations were way down, but the nations and sports involved were once again familiar:
● Most Violations by Nation:
1. 135, Russia
2. 59, India
3. 57, U.S.
4. 47, Italy
5. 39, Ukraine
6. 25, China
7. 23, Brazil and France
9. 22, Kazakhstan
10. 21, Romania
● Most Violations by Sport:
1. 107, Athletics
2. 94, Cycling
3. 89, Weightlifting
4. 83, Powerlifting
5. 77. Bodybuilding
6. 74, Mixed Martial Arts
7. 67, Football
8. 44, Wrestling
9. 26, Aquatics
10. 25, Boxing
When confining the data to Olympic sports, the outcome is somewhat better:
● Summer Olympic sports: 114,840 tests, 418 violations (0.36%) with 49 pending
● Winter Olympic sports: 13,817 tests, 19 violations (0.13%) with one pending
The distribution of violations in some sports was fascinating. In athletics, the largest number of violations was among distance runners (26), followed by sprinters (23) and then throwers (11).
Also in athletics, the non-analytical violations – investigations and intelligence findings – totaled 63, with 28 of those from Russia and nine from Kenya.
By country, Russia had 71 non-analytic violations cases (out of 238 total), with Italy second at 17 and the U.S. third at 13.
The U.S. violations (57) came in weightlifting (16), athletics (11) and then cycling, Para-athletics and wrestling at four each.
Due to the pandemic, 2020 was an odd year and the issues with the Russian state doping program from 2011-15 were still being sorted out. Let's hope that the reporting for 2021 and 2022 come much more quickly to allow a comparison of how the global testing re-start in 2022 is doing.
5.
More than 700 detained in Indian wrestling protest
Protests against the head of the Wrestling Federation of India are intensifying, with 700 protesters arrested on Sunday in New Delhi, insisting on action against Brij Bhushan Sharan Singh over sexual harassment issues.
The protesters included Tokyo Olympic silver medalist Ravi Kumar (men's Freestyle 57 kg) and bronze medalist Bajrang Punia (65 kg), and were reported as being held in custody for several hours and charged with rioting, then released in the evening.
This round of protests began on 23 April and was held on Sunday near the newly-inaugurated Parliament Building. A police reported noted:
"Despite repeatedly telling protesters, they didn't adhere to the requests. They went ahead, jumped the first barricades and pushed police and reached the second barricade line where again the police personnel tried to stop them but they continued pushing police and also they pushed away barricades.
"They continued sloganeering and started running towards us. More force came there and with great difficulty managed to overpower and detain them. While trying to stop them, protesters manhandled and assaulted police."
About 15 police officers were treated for injuries; protester tents at the famed Jantar Mantar astronomical observation site in New Delhi were removed by the police. A statement from the Delhi Police further explained:
"If the wrestlers give an application for sit-in protest again in the future, they will be permitted for the same at a suitable place other than Jantar Mantar."
The protest has now reached beyond the wrestlers and community and farming leaders from the Haryana state which surrounds Delhi on three sides are now pledging support; community leader Satbir Pehalwan said:
"We will intensify their agitation and if required, we will block Delhi from all sides. If action is not taken against Brij Bhushan Sharan Singh, we will stop supply of vegetables and milk, besides blocking all roads in Haryana."
Singh, elected six times as a Member of Parliament, has been the head of wrestling in India for almost 10 years. He has been accused – and denies – harassment allegations by two of India's top female wrestlers Vinesh Phogat, a two-time Worlds Freestyle bronze medalist at 53 kg, and Sakshi Malik, the 2016 Rio women's 58 kg Freestyle bronze winner.
≡ PANORAMA ≡
● ANOC World Beach Games ● Organizing multi-sport events isn't easy. The Association of National Olympic Committees (ANOC) announced Monday that the 2023 World Beach Games in Bali (INA) was dropping 3×3 basketball:
"The Local Organising Committee (LOC) was forced to look for an alternative sporting venue for 3×3 Basketball from the previously confirmed venue due to inflated rental costs imposed by the venue operator.
"However, due to these budgetary concerns and limited time available to find an alternative venue, it is with regret that ANOC accepted the decision and request of the LOC."
● Aquatics ● Multiple reports on the signing of an understanding between the Hungarian government and World Aquatics to move the federation headquarters from Lausanne – where it has been since 1986 – to Budapest, where it will join the International Judo Federation, also located there.
Budapest has been a hot spot for aquatics, especially with the construction of the Duna Arena in 2017 and host to the World Aquatics Championships in 2017 and 2022, the 2020 European Championships, International Swimming League meets in 2019 and 2021 and the World Junior Swimming Championships in 2019. It will also host the World 25 m Championships in 2024 and the full Worlds again in 2027.
No terms of the agreement were announced, but special tax status and access to infrastructure may be assumed. The deal is something of a surprise, since the federation – then known as FINA – opened a two-story, 43,000 sq. ft. headquarters in Lausanne in 2018, purchased and renovated at a cost of about CHF 20 million (about $22.11 million U.S. today).
A report in Hungary noted that the federation made assurances that at least half of the future headquarters staff will be Hungarian.
● Athletics ● Dutch star Femke Bol continued her undefeated 2023 season with her first 400 m hurdles race of the year, a world-leading 53.12 in Oordegem (BEL), winning by more than two seconds.
Bol has now run seven individual events this season, six indoors and last Saturday, winning them all, not to mention her last five from 2022, in the 200 m (indoors), 400 m (in and out), 400 m hurdles and 500 m (indoors).
¶
The Athletics Integrity Unit announced two more sanctions on Russian athletes from Moscow Laboratory data and the Global Sport Solutions reports: Vasiliy Kharlamov, the 2011 World University Games decathlon winner unseen in a meet since 2013, and Soslan Tsirikhov, a shot putter who last competed in 2016, but won the World University Games title in 2009.
Kharlamov got a four-year ban from 25 May 2023, but had his results annulled from October 2012 to May 2023. Tsirikhov got a two-year ban from the same date and his results from 2012-17 were wiped out. It's his second doping sanction.
● Canoe-Kayak ● Homestanding Poland racked up six wins to lead the medal table at the ICF Sprint World Cup in Poznan that concluded on Sunday.
The team of Martyna Klatt and Helena Wisniewska won the women's K2 200 m final in 38.95, then doubled back to take the K2 500 m final in 1:44.62. The World Champion K4 500 m women's team won its race easily in 1:33.37 and Katarzyna Kolodziejczyk won the women's K1 200 m for four of the team's six wins.
The Polish men won the C4 500 m final in 1:36.16 and the Mixed C2 500 m team of Amelia Braun and Juliusz Kitewski struck gold in 1:57.85. The Poles won 12 medals in all (6-4-2).
Ukraine was a close second with 11 (3-4-2), with wins from reigning World 500-1,000 m Champion Lludmyla Luzan in the C1 200 m (47.65) and C1 500 m in 2:12.92. The Ukrainian men won the K4 500 m final.
Portugal's four-time World Champion Fernando Pimenta was especially busy, with silver medals in the men's K1 500 m and K1 1,000 m, and a win with Teresa Portela in the Mixed K2 500 m (1:42.33) for three medals on the day.
Czech World Champions Martin Fuksa (C1 1,000 m in 4:02.56) and Josef Dostal (K1 500 m in 1:41.55) both won their events. Denmark's two-time World Champion Emma Jorgensen won the women's K1 500 m in 1:53.57.
● Gymnastics ● The FIG Artistic World Challenge Cup in Varna (BUL) marked the return of a native son, from the U.S.: Eddie Penev.
Born in Bulgaria, he moved to the U.S. at age three, but represented Bulgaria from 2007-11. He changed to the U.S. in 2011, but changed back this year at age 32, and won the Floor Exercise at 14.366, over Botond Molnar (HUN: 13.833).
Armenian star Artur Davtyan, the 2022 World Vault Champion, won his specialty at 14.800, ahead of Norway's Sebastian Sponevik (14.300), and teammate Artur Avetisyan took the Rings gold at 14.700, with Davtyan third (14.066).
Albania's Matvei Petrov won on Pommel Horse (14.800), beating Abdulla Azimov (UZB: 14.500), with Davtyan third again (14.233). Rasuljon Abdurakhimov (UZB) took the Parallel Bars at 14.233, winning on criteria from Yordan Aleksandrov (also 14.233). Norway's Sofus Heggemsnes was tops on the Horizontal Bar at 13.833.
The women's events were won by Tijana Korent (CRO: 13.050) on Vault; former European Champion Zsofia Kovacs (HUN: 14.166) on the Uneven Bars and teammate Bettina Lili Czifra on Beam (13.466); with France's Silane Mielle winning on Floor (12.933).
¶
You can receive our exclusive TSX Report by e-mail by clicking here. You can also refer a friend by clicking here, and can donate here to keep this site going.
For our updated, 651-event International Sports Calendar (no. 2) for 2023 and beyond, by date and by sport, click here!