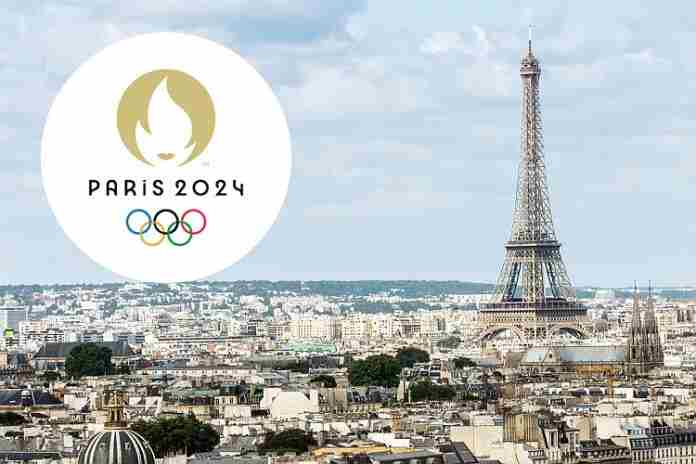 ★ The Sports Examiner: Surveying, monitoring and explaining the key competitive, economic and political forces shaping elite sport and the Olympic Movement. This site is free to view, with donations gratefully accepted to support our operating costs.
Comments? Click here. ★
★ Tell your friends to sign up for The Sports Examiner e-mails now, just in time for session-by-session coverage of the World Athletics Championships
coming Friday! ★
≡ THE 5-RING CIRCUS ≡
1. The new obsession: will Russia compete in Paris '24?
2. Vingegaard displaces Pogacar as Tour de France leader
3. London 2012 800 m silver winner Amos hit for doping
4. A moment in the life of an unsponsored athlete
5. Visa issues dogging athletes trying to get to Eugene
Former World Anti-Doping Agency head and IOC member Craig Reedie spoke openly about Russia not competing in Paris in 2024 as qualification event entry is closed to their athletes. At the Tour de France, two-time champ Tadej Pogacar was supplanted, somewhat unexpectedly, by 2021 runner-up Jonas Vingegaard, but with 10 stages to go. At the Athletics Worlds coming up, 800 m star Nijel Amos was suspended for doping and more than a dozen athletes may miss the event due to U.S. visa issues. U.S. sprinter Marybeth Sant-Price needs a sponsor and tried to get Lululemon interested via Twitter!
1.
The new obsession: will Russia compete in Paris '24?
Close observes of the Russian situation within international sport are now openly questioning whether the continuing Russian war on Ukraine will eliminate Russian and Belarusian athletes from the 2024 Olympic Games in Paris.
The most explicit explanation came from International Olympic Committee Honorary Member Craig Reedie (GBR), a power player for a quarter-century and the former head of the World Anti-Doping Agency when it suspended Russia for its state-sponsored doping program from 2011-15.
Making the rounds with British media on Monday to promote his autobiography, Reedie said:
"A decision is going to have to be taken on what happens to each of these two countries, and my guess is that the general feeling would be that they should not qualify.
"Most people are struggling with how we could achieve some degree of representation, but at the moment, there is no clear way to do it. Therefore, you maintain the status quo."
The IOC asked international federations not to allow Russian or Belarusian athletes to compete in their sports and most have done so, although cycling, judo and tennis have allowed to participate as neutrals.
"So there's a real issue for the federations, who have a clear instruction which they've agreed to that they won't invite Russians and Belarusians to take part in events.
"On the face of it, it's unlikely that anybody would qualify other than those three sports which don't do it that way. And will they be able to qualify [from those three sports]? I'm not sure."
The clock is beginning to tick against Russia and Belarus as the qualifying events for Paris 2024 are beginning in earnest in the fourth quarter of 2022 and then in 2023. However, some sports such as swimming and track & field qualify according to performances and those deadlines go well into 2024.
Russian Wrestling Federation head Mikhail Mamiashvili told the Russian news agency TASS, "I am ready to admit that the formation of this position is unprecedented pressure on international federations.
"Olympic selection in wrestling will begin with the 2023 World Championship, it was planned in Krasnoyarsk, and so far everything is on standby. But what kind of selection can there be if the best team in the world is absent? Wood is cut, chips fly."
The same from Russian Fencing Federation chief Ilgar Mammadov: "Reedie creates public opinion so that we are not allowed to the Games. Today, he; tomorrow, another; the day after tomorrow, the third; this is just the beginning. They understand that the Olympic qualification will begin at different times, with us, in the spring of 2023. And they do [so] so that by this time we will not return."
2.
Vingegaard displaces Pogacar as Tour de France leader
Two-time defending champion Tadej Pogacar of Slovenia had looked just invincible in the opening half of the 109th Tour de France. He won stages 6 and 7 and had worn the famed yellow jersey for five straight stages.
But he had some difficulty in Tuesday's Stage 10 triple climb in the Alps, as the contenders finished 8:54 back of winner Magnus Cort (DEN) and Pogacar's lead was sliced to 11 seconds over Lennart Kamna (GER) with 2021 runner-up Jonas Vingegaard (DEN) still 39 seconds back.
On Wednesday, it got tougher, on the nasty, 151.7 km ride from Albertville to the top of the Col du Granon, with half the route consumed with a 61 km climb from 493 m to 2,630 m at the Col du Galibier, then down and finally a 12 km, 1,061 m rise to the finish. And Vingegaard was ready, taking charge with an attack on the last 4 km that earned him the victory in 4:18:02, 59 seconds up on Colombian climber Nairo Quintana.
Pogacar could not respond and finished seventh, 2:51 behind the winner and fell to third place, with France's Romain Bardet a full 2:16 behind the leader now and Pogacar +2:22. Britain's 2018 Tour winner Geraint Thomas is fourth (+2:26) with Quintana fifth (+2:37).
This was Vingegaard's first career Tour de France stage win and he has a big lead, but with 10 stages to go, including four more mountain stages, starting with Thursday's triple climb, 165.1 km ride from Briancon to L'Alpe de Huez. This was the breakthrough that Vingegaard has been looking for, but can he maintain his advantage in the Alps, and then the Pyrenees next week?
3.
London 2012 800 m silver winner Amos hit for doping
Botswana's Nijel Amos has been among the best men's 800 m runners in the world since his brilliant, 1:41.73 silver-medal performance at the London 2012 Games, ranking no. 3 all-time.
After being the world leader in 2021 at 1:42.91 and with a seasonal best of 1:44.92, he was ready to run for a medal again at the World Athletics Championships in Eugene, but was provisionally suspended by the Athletics Integrity Unit on Tuesday (12th).
Amos tested positive on 4 June from an out-of-competition test for "Metabolites of GW1516, a substance that is prohibited under the 2022 WADA Prohibited List as a metabolic modulator. Substances in this category modify how the body metabolizes fat and GW1516 was originally synthesized and evaluated for the treatment of obesity, diabetes and other disorders caused by metabolic problems. GW1516 is not an approved substance for human use and WADA has advised of its health risks for athletes."
Amos was in Eugene "and a provisional suspension is mandatory following an adverse analytical finding for such substance under the World Athletics Anti-Doping Rules." He also had to abandon the 2019 Worlds in Doha (QAT) due to injury, and was eighth at the Tokyo Games after being advanced following a pile-up with American Isaiah Jewett in the semis. Now he'll be – at best – a spectator in Eugene.
4.
A moment in the life of an unsponsored athlete
Damian Warner, Canada's Olympic Champion in the decathlon, announced on Twitter on Tuesday his new sponsorship agreement with apparel brand Lululemon:
"It's official. I couldn't be happier to announce that I'll be wearing @lululemon from here on out.
"The gear – and the team – are providing all the support I need both on and off the track. Stoked to see what we'll achieve with this partnership. Let's get started!"
Five and a half hours later, American sprinter Marybeth Sant-Price tweeted:
"Hey @lululemon, I'm a professional track and field sprinter. I have an indoor world championship bronze medal & a pr of 10.95 in the 100m. I'm currently unsigned and would love the opportunity to represent you!!"
This set off a storm of replies, including, but not limited to:
● "10.95 100m and you're willing to settle for a third-tier apparel company like
@lululemon? Heck, @ChampionUSA could easily make you a better offer. Surprised neither
@ASICSamerica nor @PUMARunning haven't made offers. Maybe what you really need is a good agent (try @TrackDiddy)."
● "These are endorsement contracts, it's not like the NBA or NFL. Companies need to get a return on their investment and, yes, it's subjective. They have budgets that are typically set in October- November for the following year. Track & Field needs better agents and more prize money."
● World 110 m hurdles champ Grant Holloway: "I had the opportunity to meet @mb4_price this March & she is nothing but the definition of an individual who is hardworking & dedicated to her craft. Any company will be lucky to have her a part of their team."
Sant-Price replied to Holloway, "I appreciate this to no end! It's been a wild, discouraging at times, crazy journey. Waiting (and working) for my moment."
To some silly replies that criticized Lululemon, Atlanta 1996 star Michael Johnson tweeted:
"Very successful company expands its involvement in this sponsor desperate sport. Athlete reaches out via Twitter asks company to sign her too. People in track start shaming the company on Twitter. This is NOT the way!"
But Lululemon didn't help, responding minutes later to Sant-Price:
"We love the hustle – both on and off the track. That said, we're unable to accept NCAA athletes into our programming at this time. Be sure to hit us up when you graduate though!"
Replied Sant-Price:
"I am a professional athlete. No longer in the NCAA. I was injured in college and told to completely retire from the sport. I came back after 3 years of being out and got a WORLD championship medal and am currently one the top US 100m sprinters."
Lululemon did better, responding:
"That's awesome to hear – send us a DM to chat more about what opportunities might be available for you."
Nothing is easy. Nothing.
5.
Visa issues dogging athletes trying to get to Eugene
Kenya's Ferdinand Omanyala, no. 3 on the world men's 100 m list for 2022 and South Africa's Luxolo Adams, no. 5 on the world 200 m list, are among multiple athletes who may not make it to the World Athletics Championships in Eugene due to visa issues for entry into the United States.
Omanyala wrote on Instagram Wednesday, "I haven't travelled to Oregon yet and the 100m is in two days." He joins a reported 10 South African athletes who have visa issues, including Adams, Clarence Munyai (10.04/20.33 in 2022), Zakhiti Nene (44.92 400 m), Sokwa Zazini (49.17 400H), women's sprinter Carina Horn (11.07) and others.
On Wednesday, it was reported that Syria's Majd Eddin Ghazal, the 2017 Worlds high jump bronze winner – and Syria's only entrant this year – has withdrawn due to visa problems.
It's not a good look for the U.S., for the Eugene organizers or World Athletics.
≡ PANORAMA ≡
● Commonwealth Games ● The XXII Commonwealth Games in Birmingham (ENG) will open on 28 July, but Northern Ireland (and former British) sprinter Leon Reid has been refused entry after a "security risk assessment."
Reid, 27, was convicted in February for allowing his apartment to be used in the production of crack cocaine. He received a suspended sentence and 220 hours of community service.
Reid had been selected to run the 200 m (20.82 this year), was a Tokyo Olympian and competed in the 2014 and 2018 Commonwealth Games. According to Northern Ireland officials:
"Commonwealth Games NI is currently seeking clarity on any potential appeal mechanism, and the athlete has been offered well-being support as he deals with this news."
● Aquatics ● The first FINA World Championships was held in 1973 and held two, three or even up to five years apart before starting a two-year cycle in 2001. Thanks to Covid and the massive chaos it has caused in the worldwide sports schedule, it will now hold three Worlds in 21 months.
Tuesday's announcement that a Worlds will be held – for the first time – in an Olympic year, in Doha (QAT) from 2-18 February, places three in consecutive years:
● 2022: 18 June to 3 July in Budapest (HUN)
● 2023: 14-30 July in Fukuoka (JPN)
● 2024: 2-18 February in Doha (QAT)
The original schedule had Fukuoka hosting the 2021 Worlds, pushed aside by the postponement of the Tokyo Olympic Games. Covid killed a 2022 Worlds in Fukuoka, but Budapest stepped in and Fukuoka was handed a 2023 Worlds, which was the year that Doha was supposed to host.
The next Worlds is also in doubt, as it was handed to Kazan (RUS) – host in 2015 – but with the Russian invasion of Ukraine, who knows? Back to Budapest again?
● Basketball ● Philadelphia 76ers star center Joel Embiid, born in Cameroon, received French citizenship last week, potentially clearing the way for him to compete with the French team at the Paris 2024 Olympic Games. France defeated the U.S. in group play in Tokyo and lost a tight, 87-82 gold medal game last summer; Embiid could be a difference-maker.
● eSports ● Russia has announced a "Games of the Future" to be held in Kazan in 2024, featuring "new disciplines using modern technologies, digital environment and physical activity. The format of the competition involves the use of the latest developments in the field of e-sports, robotics, augmented and virtual reality, information technology and artificial intelligence."
Teams from clubs from 16 countries are expected to be invited, but will not be "national teams." A first test of the concept comes on 21 September in "football combined (EA FIFA + futsal), basketball (EA NBA + 3v3 basketball), drone racing (DCL The Game simulator + drone piloting) and Beat Saber – VR rhythm game."
A project to watch carefully.
● Weightlifting ● Another doping sanction, this time handed down by the Russian Anti-Doping Agency to Gennady Muratov, now 35, the 2015 European Championships 105 kg bronze medalist, extending his ban from 2024 to 2028.
He was originally suspended from September 2021 to May 2024, but was penalized again for "prohibited participation during the period of Ineligibility."
¶
You can receive our exclusive TSX Report by e-mail by clicking here. You can also refer a friend by clicking here, and can donate here to keep this site going.
For our updated, 620-event International Sports Calendar for 2022 and beyond, by date and by sport, click here!