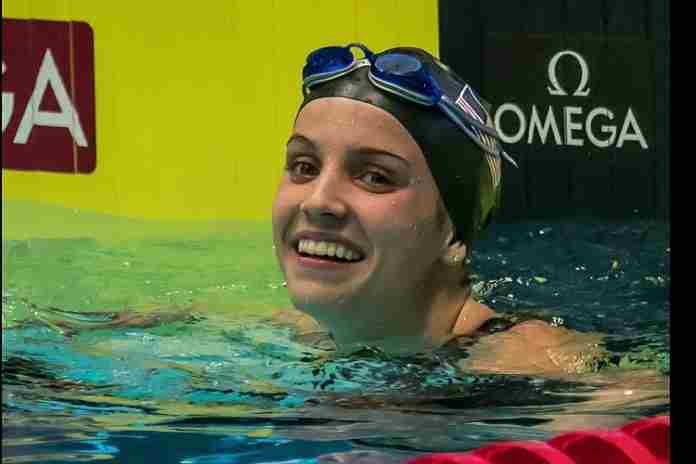 ★ The Sports Examiner: Chronicling the key competitive, economic and political forces shaping elite sport and the Olympic Movement.★
★ Friends: If you would like to support our coverage, please donate here. Your enthusiasm is the reason this site continues. Thank you. ★
★ To get The Sports Examiner by e-mail: sign up here! ★
≡ THE 5-RING CIRCUS ≡
1. Regan Smith crushes American 200 m Fly record
2. Rio Olympic Pentathlon champ Lesun OK with neutral status
3. Russian NOC will continue to lobby IOC for changes
4. IBA report to IOC: you're the problem, not us
5. Under-appreciated sprint star Jim Hines passes at 76
Four-time Worlds gold medalist Regan Smith was on fire at the Sun Devil Open swim meet in Arizona last weekend, crushing the American Record in the 200 m Butterfly and moving to no. 4 all-time. She's now the U.S. leader in five events this season; could she try for the 2023 Worlds in all five? Russia's Rio 2016 Modern Pentathlon gold medalist says competing as "neutrals" in Paris should not worry anyone, since in 20 years they will be remembered as Russians. But he would also like to see an alternative to the Olympic Games. The Russian Olympic Committee continues to lobby the International Olympic Committee to drop any requirement for declarations or other statements by athletes for neutrality purposes; an 18-year-old road cyclist was declared ineligible, apparently for social-media statements about Russia's war against Ukraine. His father says his account was hacked. The International Boxing Association's 400-page submittal to the IOC was seen by Reuters, which reported that the overarching theme was that the problem with Olympic boxing is the IOC, not the IBA. Jim Hines, the first man to run the 100 m under 10 seconds – with automatic timing – passed away on Saturday, but leaves memories of being the greatest sprinter in the world in 1968, when excitement about sprinting was at its peak.
● Panorama: Paris 2024 (Court of Auditors still worried about finances) = Athletics (4: Kenya anti-doping suspends 20!; Hassan's amazing 10,000/1,500 back-to-back double!; Mu didn't know she was entered in Music City 1,500; AIU warns on IV therapy violations) = Football (New Zealand slow to warm up to Women's World Cup tickets) = Swimming (2: top swimmers on Insta; Chalmers now also working in construction … for mental health) = Wrestling (no medals thrown into the Ganges yet, but a hunger strike may be coming) ●
1.
Regan Smith crushes American 200 m Fly record
The amazing Regan Smith, still just 21 and a past world-record setter in the Backstroke, collected another record with a superb 2:03.87 American Record win in the 200 m Butterfly at the Sun Devil Open in Tempe, Arizona on Sunday.
She crushed a good field that included two-time Tokyo Olympic bronze medalist Hali Flickinger, who finished second in 2:07.37. Smith's time removed one of the last "supersuit" American records, Mary DeScenza's 2:04.14 from the 2009 World Championships in Rome, and took the world lead for 2023.
It also moved Smith to no. 4 all-time (and the no. 4 performance all-time), and no. 2 behind China's Yufei Zhang (2:03.86 in Tokyo in 2021) for performances in textile suits.
With the U.S. Nationals (and World Championships trials) coming up at the end of the month in Indianapolis, the question is which events will she contest? She leads the U.S. list this season in a startling five events:
● 100 m Back: 57.83, no. 1 worldwide
● 200 m Back: 2:04.76, no. 2 worldwide
● 100 m Fly: 56.60, no. 3 worldwide
● 200 m Fly: 2:03.87, no. 1 worldwide
● 200 m Medley: 2:08.48, no. 4 worldwide
That 200 m Medley performance also came at the Sun Devil Open – she's now no. 4 all-time U.S. – and she took the 100 m Back (world leader!) and 100 m Fly events, in addition to the 200 m Fly record.
Smith set world records in the 100 m Back at the 2019 World Championships with a relay lead-off leg of 57.57, and in the 200 m Back at 2:03.35 in her semifinal; these have been broken since and she ranks no. 2 all-time in both. She won the Olympic bronze in the 100 m Back in Tokyo and silver in the 200 m Back.
In Indianapolis, the schedule appears to be in her favor: the 200 m Fly is on day 1, the 200 m Back is on day 2, the 100 m Fly is on day 3, the 100 m Back on day 4 and the 200 m Medley on day 5.
At the Worlds in Fukuoka in July, the situation is not as good. The 100 m Fly and 200 m Medley finals are both on day 2 (maybe 90 minutes apart), the 100 m Back on day 3, the 200 m Fly on day 5, and the 200 m Back on day 7. But there are also the Mixed 4×100 m Medley on day 4 and the women's 4×100 m Medley on day 8. That would be 14 swims in eight days, assuming she does not participate in the heats of the relays.
That's a heavy load. Will she try for the whole handful?
2.
Rio Olympic Pentathlon champ Lesun OK with neutral status
"I think that the Russians should agree to the condition to compete at the Olympic Games in a neutral status. Whether we have our own flag or not, the entire world elite still knows where the athlete came from. And all these undercover games around the flag and the anthem is a second matter."
That's Russian Aleksander Lesun, 34, a two-time World Champion in Modern Pentathlon and the Rio 2016 Olympic gold medalist. He told the Russian news agency TASS that, in the long term, Russian athletes will be remembered as Russians:
"Understand, the age of an athlete is short, and in 20 years no one will remember what flag we competed with at the Olympics. The strongest athletes come every four years to the most important start in their lives, with which nothing compares.
"I hope that Russian athletes will be allowed to the Olympic Games. After all, these competitions are very dependent on television, which wants to broadcast the show. And without the Russians, who are leaders in many sports, this show will not be the same. Therefore, I think that somehow our athletes will be allowed, but the long process of waiting, of course, is very annoying.
"I am very sorry that the world Olympic movement is step by step moving away from the principles of its founder Pierre de Coubertin. And then in the current situation, why not try to organize alternative Olympic Games? A sports project will not be launched immediately, but if there is a desire, backed by serious administrative and financial resources, it would be possible to start implementing an alternative Olympics."
"The IOC would feel the competition and would start taking some action itself. And if 30-40 countries participate in the new project, then how can the IOC then remove them from their starts? But at the moment there is no alternative to today's Olympic Games."
Lesun was also puzzled by the composition of the neutrality review panel appointed by the Union Internationale de Pentathlon Moderne, which includes three-time Olympian Aya Medany (EGY), Ana Ruth Orellana (GUA), Sungjoo Park (KOR), Nishanthe Piyasena (SRI) and Dr. Harald Vervaecke (BEL).
"This is a very strange commission," said Lesun. "The only person from it who left his mark on the pentathlon is the Egyptian Aya Medany, and the rest of the people I don't know at all. The commission includes the president of the Sri Lanka Pentathlon Federation, but is there pentathlon there? I don't understand how these people can decide whether or not to allow Russian athletes.
"But, on the other hand, I'm a little optimistic about all this. Let's see how it all ends."
Lesun was clear that even if Russians are re-admitted, it won't be easy to return:
"If our athletes are now allowed to compete in international competitions, then in the first tournaments it will not be easy for us to fight on equal terms with world leaders. We will have physical and psychological problems. This is my opinion, and I admit that I could be wrong."
"Still, the competition is not the same at internal starts, there is no motivation in the training process either. In the same fencing, it's worth a lot to resist different schools, and at home we know each other as flaky."
Vyacheslav Aminov, the head of the Federation of Modern Pentathlon of Russia, continued the party line in his message to TASS:
"I believe that justice and fair sport will prevail. It is clear that our suspension is far-fetched. It seems to me that patience is already running out inside the world of sports itself, other countries understand the secondary importance of tournaments without the participation of Russians and Belarusians in them.
"All the strongest athletes without exception should have the opportunity to compete at the same World Championships. And the absence of Russians and Belarusians casts doubt on the results of the competitions. I believe that everyone understands this and wants full compliance with the Olympic Charter. We are in dialogue with the president of the international federation, but he cannot ignore the instructions given to him by the International Olympic Committee."
Neither Lesun or Aminov made reference to the upcoming change in the sport to remove riding and insert obstacle-course racing. The UIPM will essentially debut its new format at three championship events for young athletes:
● UIPM World U-17 Championships: 12-16 July in Alexandria (EGY)
● UIPM World U-19 Championships: 26-30 July in Istanbul (TUR)
● UIPM World Junior Championships: 12-17 September in Druskininkai (LTU)
Observed: Lesun is quite right that regardless of the conditions, if a Russian or Belarusian athlete wins a medal, everyone will know exactly where they came from. And the Russian and Belarusian governments will make sure of that with celebrations after their return from the Games. Anyone who thinks otherwise should be immediately scheduled for tests for doping, especially for hallucinogenics.
3.
Russian NOC will continue to lobby IOC for changes
"We continue to conduct a dialogue with our colleagues from Lausanne and try to convey our position that their recommendations and approaches are unacceptable and illegitimate.
"Of course, they harm the Olympic Movement not only in Russia, but also in the world."
That's Russian Olympic Committee chief Stanislav Pozdnyakov, speaking to reporters last Friday.
"If we look at the recommendations of the International Olympic Committee, we will see that they contain political demands that are absolutely unacceptable. It says that athletes have no right to represent either their national federations or their National Olympic Committee."
These references are also to the requirement for Russian and Belarusian athletes who would be allowed to compete as neutrals being required to sign a declaration that, at the least, they do not support the Russian war against Ukraine.
In the context of possible Russian participation in the 2023 Asian Games in Hangzhou (CHN) in September, Pozdnyakov explained:
"In this area, even some hypothetical possibility of some kind of organized performance at these competitions will look rather strange.
"I can't say anything more until the ROC receives an invitation to this event. It makes no sense to discuss this issue in detail."
The Russian Olympic Committee had hinted that it could issue its own regulations on competing in international events, but did not do so at its last meeting and none is scheduled until October.
¶
Pozdnyakov's issues were reinforced by the decision of the Union Cycliste Internationale to add Savelii Laptev, 18, a road cyclist with the Astana Development team, to its listed of ineligible athletes on Monday.
His father, Grigory Laptev, thinks the suspension is a mistake:
"I consider the sanctions against Savelii some kind of misunderstanding. On June 2, he competed in Italy, and after the race he received a letter from the UCI, which said that the UCI had information that Savelii allegedly liked posts on social networks regarding the political situation. Savelii has already sent a letter to the UCI, in which he explained that he had nothing to do with this. I don't understand how this could happen, probably his account was hacked.
"As far as I understand, the proceedings are underway, but for Savelii and the whole team, the letter that came on Friday about the impossibility of confirming the neutral status caused great surprise. He has no starts planned for the next 10 days, so it's hard for me to say whether he can continue to continue to ride for Astana."
The UCI already declared 2021 Worlds 500 m Time Trials silver medalist Anastasiia Voinova and Tokyo Olympic Madison bronze winner Maria Novolodskaya ineligible, along with Paralympian Alexey Obydennov.
4.
IBA report to IOC: you're the problem, not us
Reuters obtained a copy of the 400-page submittal by the International Boxing Association to the International Olympic Committee announced on 5 May, but reported that it simply continued the organization's continuing criticism.
Excerpts noted by Reuters included (as reported):
● "IBA did not find in the IOC Correspondence of 6 April 2023 any link to a specific rule of law that has been breached by IBA to be in the situation of potential withdrawal of the IOC's recognition, but merely mention of an alleged unwillingness to cooperate."
● "IBA is of the opinion that it successfully met the criteria mentioned in the roadmap."
● "IBA settled all debts of the previous management. Concern on Gazprom [sponsorship] has no basis since Gazprom sponsorship agreement expired on 31 December 2022, and it has not been extended."
● "In addition, it is false statement by the IOC that no information on diversify of the IBA revenues has been provided by IBA.
"IBA keeps working on diversification of its incomes. In particular, we significantly increased our incomes from the licensing program, TV and marketing rights, and hosting the competitions."
● "Only this year IBA offered many times to enter into dialogue, however, all these requests have been disrespectfully ignored.
"IBA seeks acknowledgment of the extraordinary work done under the new management and requests a collaboration… in order to have the event run at the highest level."
Further, the IBA report echoed a familiar theme: the boxing federation's problems were all caused when C.K. Wu (TPE) was its elected head (then known as AIBA), and that the IOC is partly at fault:
"It is necessary to remind that CK Wu at that time was an IOC member, and it is completely wrong that IBA bears full responsibility for the wrongdoings of the IOC member.
"It is hard to believe that the IOC was not aware of the problems in the International Federation led by the IOC member, especially, most of these problems were directly connected with the Olympic Games and its qualifying tournament."
And, of course, the IBA's view of the IOC's potential future actions is:
"Withdrawal of the IBA's full recognition by the IOC will be not justified, fair and legally correct decision."
The IOC's Executive Board is expected to review the IBA situation at its upcoming Executive Board meetings from 20-22 June, but any removal of the IBA as the designated governing body for Olympic boxing can only be made at the IOC Session in Mumbai (IND) in October.
Observed: IBA President Umar Kremlev (RUS) has consistently touted his federation as "open and transparent," but has strangely not made the IOC submittal publicly available. But the Reuters report shows that his federation does not want to grasp the reality, that the IOC OWNS the Olympic Games and can do as it pleases with the event and how it is run, in accordance with its own rules.
While the IOC has said that it will decide at the Mumbai Session whether to reinstate boxing, modern pentathlon and weightlifting into the Los Angeles 2028 program, its Executive Board is free to make a recommendation on one or all three of the sports at its upcoming June meeting.
And in the case of the IBA, it might very well do so, and the federation will likely not be happy about it. This is, in part, wrapped up with the emerging, rival World Boxing group, to which the U.S. and Switzerland have said they will join, and which has Board members from Germany, Great Britain, the Netherlands, the Philippines, New Zealand, Sweden and the U.S.
The IOC need not be in a hurry, either. It is – as the IBA noted and criticized – running the Olympic qualifying process for Paris 2024 and will operate the Olympic tournament next year, just as it did in Tokyo in 2021. If the sport is maintained for 2028, qualifying won't start until 2027 and the IOC can wait – if it chooses – to name a new federation for boxing for 2-3 years.
5.
Under-appreciated sprint star Jim Hines passes at 76
The double gold medalist in the 100 m and 4×100 m at the 1968 Mexico City Olympic Games and the first man to conclusively run under 10 seconds, American star Jim Hines, died on Saturday at age 76.
Hines won everlasting glory at the Olympics, but was the world's top sprinter in both 1967 and 1968, ranked no. 1 by Track & Field News in both years. Running for Texas Southern, Hines won the NAIA title in 1967 (9.6 for 100 yards) and the AAU nationals (9.3) and was the co-world leader at 100 yards (9.1, equaling the world record) and 100 m (10.0, equaling the world record).
In '68, Hines lost two early meets to rival Charlie Greene, as well as the AAU nationals in Sacramento, with both in a wind-aided 10.0. But Hines won his semi in 9.9 (10.03 automatic), the first time anyone had broken the 10-second barrier with legal wind (which Greene equaled in the next semi). Now the world-record holder, he won the Final Olympic Trials in 10.0 and headed to Mexico City.
Aided by Mexico City's altitude, Hines got a good start in the final, but only came to the lead in the second half of the race, passing U.S. super-starter Mel Pender and then Greene, getting to the line in another 9.9, equaling his own world record. The electric timer on the field read 9.90, but the photo adjusted the final mark to 9.95, the first man to – for sure – break the 10-second barrier.
Nothing can top an Olympic 100 m gold, but Hines was even better on the anchor of the men's 4×100 m. Don Potts wrote for Track & Field News:
"At the final takeover, Cuba was off in front, about five feet ahead of Hines. East Germany, anchored by Harald Eggers, had nearly a yard on the US while France's Roger Bambuck was about a foot-and-a-half back of Hines. The [Ronnie Ray] Smith-Hines pass was near perfect and the now-proclaimed world's fastest human was off well. Hines, running his last race, blew by Eggers and then [Enrique] Figuerola and won going away.
"It was an impressive burst of speed, and Jim said he was running faster than he had in the 100. One watch caught him in 8.2, which if correct is the fastest ever. As he flew through the tape, the jubilant Hines threw the baton high and into the stands. Once again a world record had been set as the electrical timer read 38.2."
(The automatic time was 38.24.)
Hines was drafted as a wide receiver by the Miami Dolphins of the NFL and he played 10 games there in 1969 and one for Kansas City in 1970. After his athletic career, he worked with kids in Houston, and his achievements have been more and more highly respected over time.
His 9.95 world record was not surpassed for 15 years, until Calvin Smith of the U.S. ran 9.93 – also at altitude – in 1983. Although his achievements came 55 years ago, Hines was the world's greatest sprinter at a time when sprinting was at one of its highest points ever.
≡ PANORAMA ≡
● Olympic Games 2024: Paris ● The French Court of Auditors, dour about the economics of the Paris 2024 Games from the start, were reported to continue their worries about the organizing committee's budget, according to a report in Le Monde.
"Many uncertainties and risks remain" was the verdict according to the story, emphasizing:
"While the level of resources retained seems plausible, substantial uncertainties remain, in particular for domestic partnerships."
Paris 2024 has shown steady progress in attracting domestic sponsors, but so far only a handful at the top level, although there is constant chatter of one or two more still to come in.
The outlook was better on controlling expenses, with the reporting urging that "it is essential to follow precisely the realization of the savings retained and to ensure their effectiveness," and advising "a continuous and systematic effort to seek new optimizations."
● Athletics ● An alarming report from Kenya, where the Anti-Doping Agency of Kenya is reported to have suspended 20 athletes for varying doping violations, including new star sprinter Samwel Imeta, the second Kenyan ever to break 10 seconds for the 100 m – under any conditions – with his wind-aided 9.94 in Nairobi in February.
The Nation explained that ADAK had suspended 20 in January in track & field, football, judo and bodybuilding. The new batch of 20 comes from track & field (15), basketball (1), rugby (1) and bodybuilding (1), with two not specified.
Imeta tested positive for steroids in a sample taken at the meet in February.
The suspensions come as the Kenyan government has added significant funding to ADAK to allow it to clean up rampant doping issues in the country, which if unchecked, could land Kenya on suspension by World Athletics. ADAK officials warned that with increased testing and vigilance, doping incidents would rise as cheaters are exposed, before finally receding. They are. 
¶
More on double Olympic champ Sifan Hassan (NED) and her back-to-back 10,000 m and 1,500 m wins at the FBK Games in Hengelo over the weekend. She took the world lead in the women's 10,000 in 29:37.80 on Saturday evening, then came back to win the 1,500 in 3:58.12 on Sunday, to move to no. 8 on the world list for 2023.
How good is this? Statman Jon Mulkeen (GBR) tweeted that she's only the third woman ever with 1,500 m and 10,000 m bests under 4:00 and 30:00, and that neither China's Junxia Wang (3:51.92/29:31.78 in 1993) or Ethiopian Gudaf Tsegay (3:54.01/29:39.42 in 2021) did it on consecutive days!
¶
Angst among fans who attended or watched USATF's L.A. Grand Prix at UCLA's Drake Stadium and did not see double Olympic champs Sydney McLaughlin-Levrone or Athing Mu has been high. And then there was this from a Citius Mag interview with Mu at the Music City Track Carnival in Nashville over the weekend:
"I honestly did know I was listed, to be honest, but I think just this week we had really great training and after our Friday run and workout, we just thought, it's not really, you know, our legs are too heavy to be really going out there, but the girls did amazing. …
"I feel I'm getting more and more into the 1,500 as days go by, so it's just nice to watch it and see where the girls are at."
Mu was listed as a "Did Not Start" on the meet results site; she hasn't run anywhere since winning the Worlds 800 m last July in Eugene. She was never entered – or even promised – for the L.A. Grand Prix, although she trains at UCLA, but some people thought she was. Atlanta 1996 icon Michael Johnson tweeted after the Nashville meet:
"She didn't know she was entered. This after being entered in the LA meet and then pulled out [sic]. I don't know what it means. But for some reason it concerns me for her and the sport."
Paul Doyle, the founder of the American Track League of which the Nashville meet is a part, tweeted in reply:
"For clarity, Athing Mu was never entered in the meet. She was coming with her team as a spectator. Someone decided to put her on the startlist in case she decided last minute that she wanted to run."
Because of her Worlds win in 2022, Mu has a direct entry into the 2023 Worlds in Budapest. She may or may not run at the U.S. Nationals in Eugene. Who knows?
¶
In view of four-month suspensions of American sprinter Tamara Clark and Jamaica's Rushelle Burton, the Athletics Integrity Unit issued a warning about the rising popularity of "intravenous drip therapy." In specific:
"Both athletes admitted to each receiving an IV infusion 'of more than 100mL in a twelve-hour period' on 25 January 2023. This constituted an Anti-Doping Rule Violation (ADRV) under World Athletics Anti-Doping Rule 2.2: use or attempted use by an athlete of a Prohibited Substance or a Prohibited Method. …
"IV infusions or injections have been on the WADA List of Prohibited Substances and Methods since 2005 and are the supply of fluid and/or prescribed medication by drip or push directly into a vein. In 2021, they were re-classified from 'NonSpecified Methods' to 'Specified Methods' after WADA deemed them to be methods which are more likely to be consumed or used by an athlete for a purpose other than the enhancement of sport performance."
● Football ● The FIFA Women's World Cup in Australia and New Zealand opens on 20 July, with FIFA making another 250,000 tickets available for the 64 matches, including some with obstructed views, at a 50% discount.
Some 930,000 tickets have been sold so far, but only 220,000 in New Zealand, which has 29 of the 64 matches. Jane Patterson, the chief operating officer for the New Zealand side of the event, said in a radio interview last week:
"If anything is keeping me awake at night, it's ensuring that New Zealanders maximise this opportunity. … We've priced tickets to be affordable, starting at NZ$20 (US$12) for adults and $10 for children; cheaper than going to the movies."
She was optimistic, that "Kiwis will get behind this global event."
Broadcasting rights sales have been made in 155 countries, but there is still no resolution to the impasse between FIFA and broadcasters in France, Germany, Great Britain, Italy and Spain.
● Swimming ● The ever-enterprising SwimSwam.com compiled a list of the top active swimmers on Instagram, starting with Australian pop singer Cody Simpson, who represented his country at the 2022 Commonwealth Games:
1. 5.0 million: Cody Simpson (AUS)
2. 804,000: Yusra Mardini (GER; 2016 IOC Refugee Team)
3. 645,000: Caeleb Dressel (USA)
4. 610,000: Adam Peaty (GBR)
5. 579,000: Katie Ledecky (USA)
Paralympic swimmers Jamal Hill of the U.S. (379,000) and Anastasia Pagonis (338,000) rank eighth and 10th, respectively. The only other American in the top 20 was Rio women's 100 m Free co-champ Simone Manuel (224,000).
¶
Rio 2016 men's 100 m Freestyle gold medalist Kyle Chalmers of Australia was only 18 when he struck Olympic gold and he had a high profile in his home country ever since. His Tokyo silver and two relay bronzes were impressive, but he said in a radio interview last week that he has been finding new ways to maintain a healthy outlook, at 24:
"For me, I'm laboring on a building site two days a week, which is just something away from the pool for my mental health – something different, different stimulus, different dudes.
"I'm absolutely loving that, and reconnecting with those friends and family members that I haven't had a heap to do with over the period. Obviously swimming is a massively intense sport where we train 50 hours a week, 50 weeks of the year. So the hours I'm not in the pool, I'm kind of at home sleeping and napping and preparing for the next training session. Or I'm interstate — last year I think I only spent eight weeks in Adelaide."
So far, so good. Chalmers ranks third in the world in the 100 m Free at 47.69 from mid-May.
● Wrestling ● Protests are continuing in India over sexual harassment allegations against ex-Wrestling Federation of India chief Brij Bhushan Singh, with another large demonstration by wrestlers and hundreds of supporters on Sunday (4th) in New Delhi.
Last week, Olympic stars Sakshi Malik (2016 Olympic bronze: women's 58 kg Freestyle) and Bajrang Punia (2020 Olympic bronze: men's 65 kg Freestyle and 2019 and 2022 Worlds women's 53 kg bronze winner Vinesh Phogat threatened to throw their medals into the Ganges River in protest, but relented in the face of popular opposition. They have threatened a hunger strike, with community leaders asking for the arrest of Singh by Friday (9th).
¶
You can receive our exclusive TSX Report by e-mail by clicking here. You can also refer a friend by clicking here, and can donate here to keep this site going.
For our updated, 651-event International Sports Calendar (no. 2) for 2023 and beyond, by date and by sport, click here!