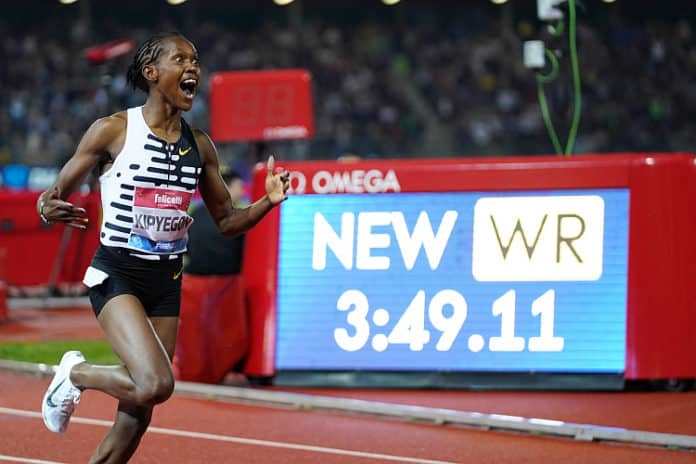 ★ The Sports Examiner: Chronicling the key competitive, economic and political forces shaping elite sport and the Olympic Movement.★
★ Friends: If you would like to support our coverage, please donate here. Your enthusiasm is the reason this site continues. Thank you. ★
★ To get The Sports Examiner by e-mail: sign up here! ★
≡ THE 5-RING CIRCUS ≡
1. Kipyegon runs 3:49.11 world 1,500 m record in Florence!
2. Lightfoot scores U.S. vault record; Hassan on fire in Hengelo
3. Modern Pentathlon: on the way up, in, or out for 2028?
4. Brisbane 2032 legacy survey: make the future better
5. NHL's Stanley Cup not going to Russia
A spectacular run by two-time Olympic 1,500 m champion Faith Kipyegon at the Diamond League meet in Florence yielded a 3:49.11 world record, taking almost a second off the prior standard of 3:50.07. The meet had three other world-leading marks and six wins by U.S. stars, including Fred Kerley in the men's 100 m. The weekend continued hot, with KC Lightfoot raising the American men's vault record to 6.07 m (19-11) in Nashville on Saturday, then losing the world lead to Sweden's all-conquering Mondo Duplantis at the FBK Games in Hengelo on Sunday. Also in Hengelo, Dutch distance star Sifan Hassan took the world lead in the women's 10,000 m on Saturday and came back and won the women's 1,500 m on Sunday! In Jamaica, U.S. sprint star Noah Lyles grabbed the world 200 m lead at 19.67. Left off the program for the LA28 Olympic Games, the sport of modern pentathlon has been at odds with itself over the deletion of riding and inclusion of obstacle-course racing. The sport got some good news from the ASOIF meeting last week on possible payments from the Paris 2024 television rights, and the head of its athlete committee is optimistic about being added in for 2028. But a founder of the Pentathlon United athlete activist group thinks the sport is in grave danger of not being included in Los Angeles. The Queensland government, looking ahead to the 2032 Olympic and Paralympic Games and beyond, asked residents for their thoughts on the legacy of the Games effort and received 14,000+ replies. Its report shows that people want to see the Games get the government to do what it should be doing anyway. The National Hockey League said that the Stanley Cup will not be going to Russia this year, even though there are Russian players on both the Vegas Golden Knights and Florida Panthers, now playing in the finals.
● World Championships: Basketball 3×3 (U.S. women, Serbian men win World Cup) = Football (Israel shocks Brazil, Uruguay beats U.S. in FIFA men's U-20) = Taekwondo (Russian "neutrals" lead all medal winners at Worlds) ●
● Panorama: Artistic Swimming (Japan's Inui stars in World Cup Super Final) = Badminton (three wins for Korea in Thailand Open) = Beach Volleyball (Mol-Sorum win again as U.S. gets two medals in Ostrava) = Canoe-Kayak (Fox takes 41st World Cup Slalom win) = Cycling (Shriever sweeps first two BMX World Cups of 2023) = Fencing (U.S. women take team title at Foil World Cup) = Football (Mexico beats U.S., 2-1, in CONCACAF women's U-20) = Gymnastics (Godwin, Meszaros win two at World Challenge Cup) = Judo (Russian leads Dushanbe Grand Prix with 11 medals) = Modern Pentathlon (Micheli and Shaban take World Cup Finals) = Sailing (Dutch score four wins at Allianz Regatta) = Sport Climbing (Bertone and Lee score first World Cup Boulder wins) ●
1.
Kipyegon runs 3:49.11 world 1,500 m record in Florence!
There was nothing else left to achieve for Kenyan great Faith Kipyegon. At 29, she is a two-time Olympic 1,500 m champ, a two-time 1,500 m World Champion and a three-time Diamond League winner at the distance.
Only the world record remained, the 3:50.07 mark held by Ginzebe Dibaba (ETH) from 2015, and Kipyegon took it apart with a brilliant 3:49.11 run at Friday's Golden Gala Pietro Mennea Diamond League meet in Florence, Italy.
The pace was hot from the start, with Kipyegon passing 400 m in 62.8 and 800 m in 2:04.1 (61.3). Only Britain's Laura Muir attempted to stay close, but Kipyegon was 10 m up by 900 m.
The lead was 25 m by 1,200 m, with Kipyegon at 3:05.2 (61.2) and then charging hard to the finish. The clock stopped at 3:49.11, smashing Dibaba's mark with a 58.9 last 400 m, and breaking 3:50! Sensational. Said Kipyegon:
"When I crossed the finish line, I knew I broke the world record because I had a good finish and felt very, very strong at the end. I knew everything was possible. After 1000, when the pace maker went out, I just pushed myself towards the finish line.
"This was really important because this was something I was still missing in my career … I was not expecting this but because of the fans and atmosphere it was possible and they pushed me to the finish. In the last 200 m, I did not know it was going to be the world record, but I was really pushing myself and I felt that the rest of the field was far behind."
She was right. Muir was a distant second in 3:57.09 and Jessica Hull scored an Australian record with her lifetime best of 3:57.29 in third. American Josette Andrews was seventh at 4:01.39, ahead of Cory McGee (4:01.45). The entire field mobbed Kipyegon at the finish line, a wonderful tribute to a superb, historic performance.
The final event of the night overshadowed an interesting meet that included three other world-leading marks:
● Men/5,000 m: 12:52.09, Mohamed Katir (ESP)
● Women/Steeple: 9:00.71, Sembo Almayew (ETH)
● Women/400 m hurdles: 52.43, Femke Bol (NED)
Katir broke away from four others in the final 200 m, barely beating Ethiopian star Yomif Kejelcha, who finished second in 12:52.12, followed by Guatemala's Luis Grijalva, who set a national record of 12:52.97. World-record holder Joshua Cheptegei was fourth (12:53.81), and Americans Woody Kincaid and Joe Klecker were 6-7 in 12:54.40 and 12:55.16. Grant Fisher of the U.S. was 11th in 12:56.99 as the top 13 broke 13 minutes.
In the women's Steeple, Almayew, 18, was in front for good by 2,400 m and ran away from the field to win by 9:00.71 to 9:04.07 from Jackline Chepkoech (KEN), with Zerfe Wondemagegn (ETH) third in 9:04.61. American Courtney Wayment was eighth in 9:11.41 and Emma Coburn was 12th in 9:18.17.
Bol crushed a good field, running away on the far turn and fighting off a charge from American Shamier Little, second in 53.38, with heptathlon star Anna Hall with a personal b4est of 54.42.
The U.S. had a big night, with six wins. Fred Kerley won the men's 100 m in 9.94 (wind 0.0), ahead of Ferdinand Omanyala (KEN: 10.05) and Trayvon Bromell (USA: 10.09). Teen star Erriyon Knighton stormed down the straight to won the 200 m in 19.89 (0.0) over Jereem Richards (TTO: 20.28). Grant Holloway held on to win the 110 m hurdles in 13.04 (-0.2) with Swiss star Jason Joseph second (13.10) and Devon Allen and Jamal Britt of the U.S. following in 13.19 and 13.26. JuVaughn Harrison won the high jump at 2.32 m (7-7 1/4), over Sang-hyeok Woo (KOR: 2.30 m/7-6 1/2).
Olympic and World Champion Katie Moon won the women's vault at 4.71 m (15-5 1/2) over Tina Sutej (SLO) on misses and Olympic winner Valarie Allman exploded on her fifth throw for a 65.96 m (216-5) to 65.91 m (216-3) win over World Champion Bin Feng (CHN).
Marie-Josee Ta Lou (CIV), who skipped the final at the L.A. Grand Prix, won the women's 100 m in 10.97 (-0.4). Italian Larissa Iapichino scored an upset in the long jump at 6.79 m (22-3 1/2), over Tara Davis-Woodhall of the U.S. (6.74 m/22-1 1/2).
Cuba's Andy Diaz won the men's triple jump with a lifetime best of 17.75 m (58-3).
2.
Lightfoot scores U.S. vault record; Hassan on fire in Hengelo
In a busy weekend of track & field, more major impacts were made at the Music City Track Carnival in the U.S., the Racers Grand Prix in Jamaica and the FBK Games in The Netherlands, including more world-leading performances:
● Men/200 m: 19.67, Noah Lyles (USA)
● Men/Pole Vault: 6.07 m (19-11), KC Lightfoot (USA)
● Men/Pole Vault: 6.11 m (20-0 1/2), Mondo Duplantis (SWE)
● Women/10,000 m: 29:37.80, Sifan Hassan (NED)
Lightfoot highlighted the Music City Track Carnival in Nashville, winning the competition at 5.80 m (19-0 1/4), then going on to clear 5.92 m (19-5) on his second try and 6.00 m (19-8 1/4) on his first. He asked for the bar to go to 6.07 m (19-11) for an American Record, one centimeter higher than Sam Kendricks (6.06 m/19-10 1/2).
No problem; over on his second try, snaking over the bar with 3-4 more inches of hip height, to move to no. 4 all-time, behind Duplantis (SWE: 6.21 m/20-4 1/2), Renaud Lavillenie (FRA: 6.16 mi/20-2 1/2i) and Sergey Bubka (UKR: 6.15 mi/20-2i).
That wasn't the only mark of note, as Shawnti Jackson, the 18-year-old daughter of 400 m hurdles star Bershawn Jackson – won the women's 100 m in 10.89 (+0.9), a lifetime best and tied for third-best in the U.S. this season.
At the Saturday evening session of the Fanny-Blankers-Koen Games in Hengelo, Hassan pulled away from Kenyan Grace Nawowuna on the final lap, finishing with the no. 7 performance of all-time in 29:37.80. Nawowuna, 19, finished in 29:47.42, now the no. 8 performer in history.
Said Hassan, who won the London Marathon on 23 April, said "I'm very happy with the time. The last three laps, I felt very amazing."
But she wasn't done. Hassan came back on Sunday to race the women's 1,500 m and sprinted away from Kenyan Nelly Chepchirchir in the final 200 m to win in 3:58.12 to 3:58.96. Wow.
Duplantis, fully aware of Lightfoot's vault, put his name back on top of the year list by clearing 6.11 m (20-0 1/2) on his first try and then had three misses at a world record of 6.23 m (20-5 1/4).
Dutch star Bol, who won the women's 400 m hurdles in Florence on Friday, won the 400 m in front of home fans on Sunday in 50.11, despite stiff winds, moving to no. 4 on the 2023 world list. American Wadeline Jonathas was second at 51.74.
U.S. athletes scored wins in the men's 110 m hurdles by Grant Holloway (13.03, wind +0.4 m/s), ahead of Devon Allen (13.12); in the 400 m hurdles by C.J. Allen (48.24), Nia Ali in the women's 100 m hurdles (12.61; +0.2) and Maggie Ewen in the women's shot (19.61 m/64-4).
After winning the high jump in Florence, Harrison was in the Hengelo long jump, finishing third at 8.07 m (26-5 3/4), behind the surprising 8.24 m (27-0 1/2) lifetime best from Italian Mattia Furlani.
Ukraine's women's high jump World Champion Yaroslava Mahuchikh continued her undefeated season with her 13th straight win, at 2.00 m (6-6 3/4).
At the Racers Grand Prix in Kingston (JAM), World Champion Lyles of the U.S. was in his favored lane seven for the men's 200 m, burst around the turn and stormed home to the win in 19.67 (+0.3), best in the world this season. Zharnel Hughes (GBR) was second in 20.14.
Christian Coleman of the U.S. won the men's 100 m in 10.03 (-0.3), while South Africa's world-record holder in the 400 m, Wayde van Niekerk, won the men's 400 m in 44.21, his second-best time of the season.
Women's Worlds 200 m champ Shericka Jackson thrilled the home crowd with a season's best in the 100 m in 10.78 (+1.6), to move to equal-second on the year list. Anthonique Strachan (BAH) was a strong second in 10.99.
3.
Modern Pentathlon: on the way up, in, or out for 2028?
/Updated/The Union Internationale de Pentathlon Moderne (UIPM) announced Sunday that it received good news from last week's meeting of the Association of Summer Olympic International Federations that it has been moved from the fifth (lowest) tier of federations to the fourth tier, to join at least nine others for the proposed distribution of television rights fees paid to the International Olympic Committee for the Paris 2024 Olympic Games.
No document demonstrating this has been made available by ASOIF or the UIPM, but it is in line with the approach expressed at the meeting to condense the number of groups for distribution as much as possible. For Tokyo 2020, the UIPM received $12.98 million and the fourth-tier federations received $15.14 million; the ASOIF is asking the IOC for at least 10% more for Paris 2024.
UIPM Athletes Committee Chair Yasser Hefny (EGY) was equally upbeat about the sport's chance to be included in the Los Angeles 2028 Olympic program, telling GamesBids.com:
"UIPM is working closely with the International Olympic Committee (IOC) to make some big changes that are in-line with Olympic Agenda 2020+5.
"And so far, the IOC's feedback has been very positive. I know that UIPM has a strong feeling that the inclusion of Obstacle will not only meet the necessary criteria but add value to make the Olympic Games more accessible, dynamic and popular for young people everywhere. …
"I am excited to see it provide a massive boost to the popularity of Modern Pentathlon. Its broadcast-friendly format that has already proven to have global appeal to younger fans, commercial partners, and host countries."
Hefny also addressed the ongoing split between the federation and the Pentathlon United athlete group, explaining:
"As someone who is very close with our community of athletes, I understand that change can often be uncomfortable and uncertain.
"However, I know that change is in the DNA of our sport, and that is why we have been proactive in addressing any concerns that athletes may have through open dialogue."
That is not what you will hear from a Pentathlon United founder, Sydney Olympic bronze medalist Kate Allenby (GBR). In an in-depth interview last week, she was gloomy about the sport's prospects going forward:
"We've spoken to various sources, close to the Programme Commission and within the Olympic Movement, and nobody's really had anything positive to say.
"This is it, that Obstacle nowhere near fits inclusion on its own merits, and that seems to be an issue. If Obstacle met the inclusion criteria , they'd be trying to get it into the Olympics in its own right. But it doesn't and the messages we've been getting have been consistent, that the IOC don't want sports coming in through the back door."
In December 2021, the IOC approved 28 sports for the LA28 program, not including boxing, modern pentathlon and weightlifting. As regards Modern Pentathlon, the instructions included:
"The UIPM must finalise its proposal for the replacement of horse riding and the overall competition format, and demonstrate a significant reduction in cost and complexity and an improvement across the areas of safety, accessibility, universality and appeal for young people and the general public."
Allenby further explained:
"We've heard that the Programme Commission are not recommending anything on Modern Pentathlon on the basis that they haven't seen a competition [with Obstacle included]."
/Updated/The first championship-level events with Obstacle included are scheduled to be the World U-17 Championships in Egypt and World U-19 Championships in Turkey, both in July, and the World Junior Championships in Lithuania in September; no senior-level events are including Obstacle now since the focus is on qualifying for Paris 2024, where riding will still be included. Allenby continued:
"That gives Pentathlon no chance to prove the new sport [before the vote at the IOC Session in Mumbai in October]. They can't prove the inclusion criteria through a junior championship. The inclusion criteria is accessibility, additional audience, spectators.
"I think that's how they're going to get rid of Modern Pentathlon. I don't think the IOC are going to re-include it."
Pentathlon United has been pushing the UIPM to retain riding and reform the format and care for the horses, and has been trying to meet with the federation, only to be turned away. The most recent circumstance was at last weekend's World Cup Final in Ankara (TUR), where the UIPM proposed a meeting, then postponed it until the World Championships in Bath (GBR) in August.
Allenby does not see how, if the IOC applies the criteria it specified, that the sport can be included for 2028:
"They [UIPM] won't suddenly get more revenue or TV numbers or suddenly charge up the digital rankings between now and Mumbai. If they [IOC] wanted to include it, they could. It seems very clear they're not sold on the idea of Obstacle."
4.
Brisbane 2032 legacy survey: make the future better
The Queensland Government undertook a series of public forums and surveys to ask about the legacy of the Brisbane 2032 Olympic and Paralympic Games to the state and to Australia in general. It published a summary of its findings in "Elevate 2042: Creating sustainable benefits from the Brisbane 2032 Olympic and Paralympic Games."
The report said more than 14,000 responses were received, either from in-persons forums or online, with four major themes heard consistently:
(1) Sport, Health and Social Inclusion
(2) A Better Future for our Environment
(3) Connecting Regionally and Globally
(4) Economy, Jobs and Innovation
The disclaimer at the bottom of every page cautioned:
"This paper provides an overview of the key consistent themes and ideas we have heard through the engagement process to date, including the Hopes and Dreams Survey and the Brisbane 2032 Legacy Forum. This is not the Brisbane 2032 Legacy Plan or government policy."
In other words, the themes are as far as one can go in terms of consensus. From there, there are lots of ideas, but no concrete plans as yet. But at the Legacy Forum, priorities were requested; the most popular concepts:
Sport, Health and Social Inclusion
● 28.2% Sport and Physical Activity
● 27.9% Diversity, Equity and Inclusion
● 18.0% Community Spirit, Connections and Lifestyle
● 17.4% Health and Wellbeing
A Better Future for our Environment
● 34.5% Environment and Biodiversity
● 18.1% Circular Economy
● 17.2% Climate Positive
● 15.5% Energy and Water
Connecting Regionally and Globally
● 40.4% Active and Public Transportation
● 21.4% Urban Transformation, Places and Precincts
● 14.3% Tourism and Global Trade
● 14.3% City and Regional Impact
Economy, Jobs and Innovation
● 23.3% Emerging Industries, Jobs and Skills
● 19.8% Economic Development and Investment
● 16.7% Industry and Business Capability
● 15.9% Business and Talent Attraction
The paper asks readers to add their own ideas, for the nine years remaining until the 2032 Games, and for the period to 2042, 10 years after the Games.
Observed: This is a fascinating document, in that it contains no goals or projects specifically related to the 2032 events. It's completely about what Queensland should be like, with or without an Olympic Games.
The exercise supports the conclusion that the Olympic Games continues to be – for governments anyway – only incidentally, or even trivially, a sporting event, but a major, worldwide spectacle that offers leverage for at-home public policy initiatives.
What item on the lists above is something related to a big sporting event? None. All are public policy dreams that are costly, complex and require patience, perseverance and extraordinary insight and leadership. Those are attributes that any great athlete will have, but not necessarily so of public officials.
It will be worthwhile to see what kind of legacy programs are actually adopted in the name of Brisbane 2032. At least for the government of Queensland, any of the survey's primary legacies should be things that it should be doing anyway.
IOC President Thomas Bach (GER) regularly talks about putting sport at the service of humanity, but the Queensland survey shows that the value of the Olympic Movement may actually be to get public policy advancements using sport as an excuse.
Just ask the progressives in Qatar.
5.
NHL's Stanley Cup not going to Russia
One of the now-cherished traditions of the National Hockey League is the unique ritual of allowing each player on the championship team to have the Stanley Cup in their possession for 24 hours, apparently formalized in 1995.
That's not going to happen this year for at least one player on the winning team.
The Stanley Cup Finals began Saturday with the Vegas Golden Knights winning the opener, 5-2, over the Florida Panthers, both of which have a Russian player on the roster.
Florida star goalkeeper Sergei Bobrovsky and Las Vegas forward Ivan Barbashev were both asked about it by reporters last Friday:
"It's not the good point to talk about right now," said Bobrovsky, who was in goal for game one. "Right now we (are) focusing on hockey. It's not about politics or what's going on anywhere. It's a big hockey celebration, Stanley Cup Final. I've never been in that spot before, and I want to enjoy this opportunity and enjoy this atmosphere."
Barbashev – who had an assist in Vegas' first-game win – was well aware of the situation and explained:
"To be honest, I don't really care. I haven't really thought about it. I don't think the Cup is gonna go to Russia because it didn't make it there last year. It is what it is, so I'm not really thinking about it."
NHL Deputy Commissioner Bill Daly told reporters last week:
"We made both clubs aware. The Cup isn't going to Russia or Belarus. We may owe a Cup trip in the future. That can happen just like we've done with the pandemic, but it's not happening this summer."
When the Russian invasion started in February 2022, the NHL cut off its business ties in Russia and its announcement also included:
"We also remain concerned about the well-being of the players from Russia, who play in the NHL on behalf of their NHL Clubs, and not on behalf of Russia. We understand they and their families are being placed in an extremely difficult position."
The Stanley Cup has been in Russia with winning players previously, as recently as 2021. But not in 2023.
≡ WORLD CHAMPIONSHIPS ≡
● Basketball ● The eighth FIBA 3×3 World Cup was held in Vienna (AUT) saw the U.S. women win their third title, but first since 2014 and first medal wince 2016 with a 16-12 win over France in the final.
The U.S. squad of Cameron Brink, Cierra Burdick, Linnae Harper and Louisville/LSU star Hailey Van Lith finished second in Pool C, but then dispatched Japan (22-17), Austria (21-17), and undefeated China (20-12) to get to the final. The French were also 3-1 in pool play, then beat Italy, Canada, and Australia to play for the title.
The game as tied at three, but the U.S. edged ahead slowly and had a 10-4 edge with 3:34 to play. The Americans were up, 12-8, with 1:40 to play, but got three points from Van Lith and one from Burdick to go up, 16-8, and cruise home ay 16-12. Van Lith and Burdick each had seven, with Harper and Brink getting one each.
Australia's Marina Whittle was the scoring leader at 70; Brink was named Most Valuable Player. The U.S. women broke through after four World Cups without making the medal round. The French won at least a bronze for the fourth straight tournament.
In the men's tournament, the U.S., Serbia and the Netherlands all went 4-0 in pool play. The very experienced Americans – Canyon Barry, Jimmer Fredette, Kareem Maddox and Dylan Travis – edged France in the quarterfinals by 21-19, then got by Brazil, 21-17, and landed in the final against five-time winner Serbia, which defeated Latvia, 21-18, in its semi.
The final was close throughout, tied at 10, and at 14, but the U.S. edged ahead, 19-15 on five straight points by Fredette. But the Americans did not score in the final 4:17 and after tying the game at 19, Strahinja Stojacic put Serbia up for good, 20-19, and Mihailo Vasic scored with 3:07 to play to finish the 21-19 win.
It's Serbia's second straight men's title and sixth overall out of eight World Cups; the U.S. won its third medal and second silver. Fredette led all scorers in the tournament with 59.
● Football ● Complete shock at the FIFA men's U-20 World Cup in Argentina, as Israel came from behind to edge Brazil, 3-2, in extra time and advance to the semifinals.
The game was scoreless at half, but Marcos Leonardo scored for Brazil in the 56th, only to have Anan Khalaili tie it in the 60th. Regulation time ended that way, but just a minute into added time, Matheus Nascimento put Brazil up 2-1 in the 91st, but again the Israelis tied it at 2-2 in the 93rd on a Hamza Shibli score.
Then, the Israelis pulled ahead, 3-2, on a Dor Turgeman goal at 105+3, in stoppage time at the end of the first extra period. Israel missed on two penalty shots in the second extra period, but would not concede a goal and moves on to the semifinals.
Remember, this is the Israeli team that the Indonesian government tried to keep out of the tournament, which resulted in it being moved to Argentina!
In Saturday's other quarterfinal, Italy handled Colombia, 3-1, with Cesare Casadei scoring in the 9th minute and Tommaso Baldanzi in the 38th for a 2-0 halftime lead that proved too much to overcome.
The Italians will face South Korea, which out-lasted Nigeria, 1-0, in extra time on a 95th-minute goal from Seol-hyeon Choi.
On Sunday, the U.S. men came in with a 4-0 record and a 10-0 goals-against mark, but lost to Uruguay, 2-0. Anderson Duarte scored the only goal of the first half in the 21st minute for Uruguay and then Joshua Wynder was charged with an own goal in the 56th.
The U.S. had more possession, but shots were 11-10 for Uruguay and the U.S. offense could not solve the defense and had just three shots that were actually on goal.
The semis will be played on the 8th in La Plata with the medal matches on the 11th.
● Taekwondo ● The 26th World Taekwondo Championships finished in Baku (AZE), with South Korea and Turkey winning three classes each, but Russia topping the medal table with seven total (1-1-5).
Turkey followed with six (3-0-3) as did Croatia (2-1-3) and the Koreans (3-1-0) were one of four teams with four.
In the men's 54 kg class (Finweight), Korea's Tae-joon Park won his first Worlds medal, defeating Hugo Arillo (ESP) in the final, 7-0, 6-3. In the 74 kg final, Marko Golubic also won a first Worlds medal – a gold – by defeating 2022 Worlds bronze medalist Stefan Takov (SRB), by 4-3, 6-9, 8-8 (criteria).
The heavyweight (+87 kg) title went to Rio 2016 80 kg gold medalist Cheikh Sallah Cisse (CIV) for his first World Championships medal, defeating defending champ Carlos Sansores of Mexico, 2-1, 2-1.
The lightest women's class, 46 kg, saw defending champion Lena Stojkovic (CRO) take a second straight gold over first-time medalist Kamonchanok Seeken (THA), 4-14, 12-11, 6-4.
Russian "neutral" Liliia Khuzina won the 62 kg class, 6-2, 8-6, over Brazil's 2019 Worlds runner-up, Caroline Santos. Iran's Nahid Kiani, the 2022 Asian Champion, won at 53 kg, defeating Ju Zuo (CHN) in the final, by 14-0, 11-7.
≡ PANORAMA ≡
● Artistic Swimming ● Double World Champion Yukiko Inui of Japan dominated the World Cup Super Final in Oviedo (ESP) with convincing wins in her specialties.
She won the Solo Technical by almost 29 points over Iris Tio Casas (ESP), 268.4217 to 239.9299, then took the Solo Free by more than 33 over Tio Casas, 252.2895 to 219.1000.
Tio Casas came back for gold, however, in the Duet Technical with Alisa Ozhogina Ozhogin, winning by 255.4066 to 242.4900 over France's Anastasia Bayandina and Eve Planeix. Ukrainian sisters Maryna and Vladyslava Aleksiiva finished third (242.0541).
Israel's Shelly Bobritsky and Ariel Nassee won the Duet Free, over the Aleksiiva sisters, 225.7915 to 217.1771.
Spain also won the Mixed Duet Technical with Emma Garcia and Dennis Gonzalez (237.6534), and China's Wentao Cheng and Haoyu Shi won the Mixed Duet Free (226.3228) with Gonzalez and Mireia Hernandez second (204.3894).
And the Spanish, with Tio Casas and Garcia, won the Mixed Team Technical (278.2350) and was second to Israel in the Mixed Team Free (256.1375 to 247.8666).
Spain's Fernando Diaz won the men's Solo Technical (224.8233) and Filippo Pelati (ITA, 16) took the men's Solo Free (178.8417).
● Badminton ● Korea was the big winner at the Thailand Open in Bangkok with three victories, but the home side also got a victory.
In the women's Singles, Se Young An (KOR) beat Bing Jiao He (CHN), 21-10, 21-19 and Korea's So Yeong Kim and Hee Yong Kong (KOR) won the women's Doubles over Benyapa Aimsaard and Nuntakarn Aimsaard (THA), 21-13, 21-17.
Won Ho Kim and Na Eun Jeong (KOR) took the Mixed Doubles title in an upset in a ight battle over Dechapol Puavaranukroh and Sapsiree Taerattanachai (THA), 11-21, 21-19, 22-20.
Thailand got a win in the men's Singles, with Kunlavut Vitidsarn (THA) prevailing over Cheuk Yiu Lee (KOR), 21-12, 21-10.
The men's Doubles was a win for Wei Keng Liang and Chang Wang (CHN) over Muhammad Fikri and Bagas Maulana (INA), 21-10, 21-15.
● Beach Volleyball ● Two medals for the U.S. at the Beach Pro Tour Elite 16 in Ostrava (CZE), and wins for two of the top duos in the sport.
Olympic and World Champion Anders Mol and Christian Sorum (NOR) showed their class once more, winning their second Elite 16 tournament of the season with a 21-15, 19-21, 15-12 victory against Tokyo bronze winners Cherif Younousse and Ahmed Tijan (QAT). Mol and Sorum have now appeared in the final of all four Elite 16 tournaments this season (2-2).
In a surprise, Americans Miles Partain and Andrew Benesh earned their second medal together on the Beach Pro Tour, defeating Czech stars Ondrej Perusic and David Schweiner (CZE), 21-14, 21-17.
The women's final was a come-from-behind win for World Champions Ana Patricia Ramos and Duda Lisboa (BRA) over Americans Terese Cannon and Sarah Sponcil, 17-21, 21-14, 15-12. It's the third medal of the season for the Brazilians (1-1-1) this season, while Cannon and Sponcil scored their second medal this season (0-1-1) and fourth career on the FIVB beach circuit (0-2-2).
In the third-place match, Melissa Humana-Paredes and Brandie Wilkerson (CAN) got past Nina Brunner and Tanja Huberli (SUI), 21-16, 21-14.
● Canoe-Kayak ● Australian star Jessica Fox is now 28 and in her 14th international season, but showed no signs of slowing down at World Cup I for the Slalom racers, in Augsburg (GER).
She won the women's Canoe final in 105.04 seconds, with no penalties, ahead of Angele Hug of France (111.55/0) and Elena Lilik (112.10, two penalties). It's Fox's 41st career World Cup win, to go along with her Tokyo Olympic gold in 2021.
Lilik, the 2021 C-1 World Champion, won the K-1 final, for her first World Cup gold, in 101.66 (0 penalties), beating Stefanie Horn (ITA: 105.95/2) and Viktoria Wolffhardt (AUT: 106.14/0). Horn scored her fourth career World Cup medal (1-1-2).
The men's K-1 was a win for Giovanni de Gennaro (ITA) in 90.71 (0), his fifth career World Cup gold in the event. Britain's Joseph Clarke (93.69/2) – the Rio 2016 gold medalist – finished second with two-time Olympic bronze medalist Hannes Aigner (GER: 93.74/0) third.
German star Saderis Tasiadis, the 2022 World Champion, with the C-1 in 98.25 (0), well ahead of Slovakia's nine-time C-1 Team World Champion, Matej Benus (101.33/0) and Czech Jiri Prskavec (101.44/0), the Tokyo Olympic K-1 winner.
Sunday's "Kayak Cross" competition (formerly known as "extreme") saw wins for Italy's Horn in the women's final and 2021 Worlds K-1 Team gold winner Benjamin Renia (FRA) for the men.
● Cycling ● The 2023 BMX World Cup, rounds 1-2 were in Sakarya (TUR), with Britain's Tokyo women's Olympic gold medalist collecting two more wins.
Britain's Beth Shriever, the Tokyo Olympic gold medalist, won a tight women's first race, winning in 36.519 over 2022 Worlds runner-up Zoe Classens (SUI: 36.976) and the U.S.'s two-time World Champion Alise Willoughby (37.035). It was even tighter on Sunday, but Shriever completed the double, beating Willoughby, 36.493-36.845, with 2018 World Champion Laura Smulders (NED: 37.010) third.
Tokyo Olympian Romain Mahieu (FRA) conquered the field in the first men's race, finishing in 32.626 to beat two-time Pan American champ Diego Arboleda (COL: 33.001) and two-time World Champion Joris Daudet (FRA: 33.243). But Daudet came back to lead a French 1-2 with Mahieu on Sunday, 32.766 to 33.019, with Izaac Kennedy (AUS: 33.223) third.
● Fencing ● The U.S. women collected a victory at the women's Foil World Cup in Tbilisi (GEO), with Lauren Scruggs, Maia Weintraub, Jackie Dubrovich and Olympic champ Lee Kiefer taking the Team title with a 45-41 win over Italy in the final.
Italy's Martina Favaretto, 21, won her second World Cup title of the season, stopping Germany's Anne Sauer, 15-4 in the final.
● Football ● The U.S. and Mexico met for the fourth straight time in the final of the CONCACAF women's U-20 Championship in the Dominican Republic.
The U.S. women, two-time defending champions in this tournament, slid past Costa Rica, 2-1, in their semifinals to earn a place at the 2024 FIFA women's U-20 World Cup, as did Mexico, which defeated Canada, also by 2-1.
In the final, the game was scoreless until the 71st minute when Mailin Orozco put Mexico up by 1-0, only to be tied by the U.S. in the 80th on a Onyeka Gamero score. The winner came eight minutes later for Mexico's Fatima Servin, giving the Mexicans a 2-1 victory and their second title in this tournament.
The U.S. is now 4-2 against Mexico in prior finals, accounting for half of the gold-medal matches all-time.
● Gymnastics ● The second stop on the FIG Artistic World Challenge Cup tour was in Tel Aviv (ISR) for the first time, with Commonwealth Games All-Around and Vault champ Georgia Godwin (AUS) the star.
She was busy, taking the Vault at 13.200 from Csenge Bacskay (HUN: 13.150) and then finishing second on the Uneven Bars to 2020 European bronze medalist Barbara Mokosova (SVK), 13.300 to 12.867. On Sunday, she won on Floor (13.567) just ahead of France's Morgane Osyssek-Reimer (13.367). France's 2016 European Beam runner-up Marine Boyer took the Beam win at 13.567, well clear of second-place Ana Perez (ESP).
European Championships Floor runner-up Krisztofer Meszaros (HUN) opened the men's events with a win on Floor with a 14.550 score to 13.850 for Nicolas Mir (ESP). Meszaros picked up a silver in the Pommel Horse final at 13.950, behind Israel's Eyal Indig (14.150). Austria's Vinzenz Hoeck, the 2020 European silver winner, won on Rings at 14.600, with Nestor Abad second for Spain (14.000).
Meszaros collected a third medal with a win on Vault (13.750) over teammate Botond Molnar (13.725), and a fourth with a silver on the Parallel Bars (14.200) behind Turkey's Ahmet Onder (14.350). Spain's Abad won the Horizontal Bar for his second medal (13.800), over Israel's Alexander Myakinin (13.600).
The third World Challenge Cup – before a long break – comes next week in Osijek (CRO).
● Judo ● The IJF World Tour was in Tajikistan for the Dushanbe Grand Prix, with a solid showing for the home team, but a very strong one by Russian fighters.
There were three "neutral" winners from Russia on Saturday, with Ramazan Andulaev winning the men's 60 kg class, Makhmadbek Makhmadbekov taking the 73 kg division and Alesya Kuznetsova winning the women's 52 kg class.
On Sunday, Matvey Kanikovskiy won at 100 kg over fellow Russian Niiaz Bilalov and Tokyo bronze medalist Tamerlan Bashaev – whose Wikipedia page shows him as a Senior Sergeant in the Russian Armed Forces – won at +100 kg.
Russian judoka won 11 total medals: seven for men and four for women, even though the "AIN" classification wasn't shown on the medal standings page.
Tajik winners included Obid Dzhebov in the men's 66 kg group and an all-Tajik final in the men's 81 kg, with Somon Makhmadbekov defeating Shodmon Rizoev in the final. Komronshokh Ustopiriyon claimed his fourth career Grand Prix win at 90 kg.
Germany's 2021 World Junior women's 78 kg Champion Anna Olek defeated Tokyo bronze winner Anna-Maria Wagner (also GER) in the 78 kg final.
This event did not draw exceptional fields – only 315 competitors from 40 countries – although France's Margaux Pinot, the 2019 Wolds bronze medalist at 70 kg, won her class.
● Modern Pentathlon ● Two furious finishes marked the UIPM World Cup Final in Ankara (TUR), with wins for Mohanad Shaban (EGY) and Elena Micheli of Italy.
The women's final came first, with 2022 World Champion Micheli starting second, 12 seconds behind France's Marie Oteiza, the 2018 Worlds bronze medalist. But after Oteiza had some trouble on the range, Micheli and third-starter Karolina Krenkova (CZE) moved up to lead the field.
Micheli shot better and finished with the ninth-fastest Laser Run of 12:13.90, while Krenkova faded. But the onrushing Ilke Ozyuksel (TUR) had the no. 2 Laser Run of 11:41.90 and made up almost all her 47-second start deficit and missed the tape by three seconds, finishing second overall, 1,377 to 1,374. Oteiza held on for third (1,373).
After a three-hour delay due to heavy rain, the men's final finally commenced, with Egypt's Shaban – fourth, first and second in the three World Cups this season – taking a 10-second lead into the Laser Run over Olympic champ Joe Choong (GBR), and 11 seconds ahead of Woo-jin Park (KOR).
The course was slick and Shaban fell early in the race, but shot very well and was stride-for-stride with Choong right to the finish and managed to get to the line first for an unlikely upset victory, his second of the season. Choong's 10:36.60 on the course proved to be third-fastest overall, but Shaban was close enough at 10:44.61 and got the win, 1,496 to 1,494.
Mexico's Emiliano Hernandez edged Csaba Bohm (HUN) for the bronze, 1,476 to 1,475, maintaining his two-second edge in the Laser Run start, 0:27 to 0:29.
Korea's Sun-woo Kim and Woong-tae Jun won the Mixed Relay, building a lead with wins in fencing and swimming and starting the Laser Run with a 31-second edge over Egypt and 44 seconds on France. While the Koreans were only seventh-fastest on the course, they won comfortably, totaling 1,359 points to 1,338 for Christopher Patte and Rebecca Castaudi of France. Hungary's Balazs Szep and Blanka Bauer came up for third with the fastest Laser-Run of the day, scoring 1,332, with Egypt fourth (1,326).
● Sailing ● The World Sailing World Cup Allianz Regatta, with competition in six of the 10 Olympic classes, concluded off of Amsterdam (NED), with the home team impressive with victories in four classes.
In the 49er class, two-time World Champions Bart Lambriex and Floris van der Werken wrapped up the title before the medal race, finishing with nine wins and a net point total of just 24.0 points. Australians Thomas Needham and Joel Turner were a clear second with 66.0 net points.
Duko Bos (NED) won the men's Laser class, taking four wins and scoring a net of 15.0 points. Finn Valtteri Uusitalo was second with six top-three finishes and 26.0 points.
The Dutch scored again in the women's Laser Radial, with Maxime Jonker scoring five wins in the first 12 races, and ending with 17.0 net points. German Julia Buesselberg had six top-three finishes and was second (30.0).
The men's IQ Foil sailing saw a 1-2 Dutch finish for Luuc Vanopzeeland (34.0) and Huig-Jan Tak (56.0). Vanopzeeland had six wins and three seconds in 16 races, to three wins for Tak.
France swept the Formula Kite classes, with Jessie Kampman taking three wins in the medal series to finish ahead of Annelous Lammerts (NED), while Axel Mazzella took the men's title from Conner Bainbridge (GBR) and Qibin Huang (CHN).
● Sport Climbing ● A major upset at the IFSC Boulder World Cup in Prague (CZE), with France's Oriane Bertone winning over Olympic champ Janja Garnbret (SLO), the 2018 and 2019 World Bouldering Champion!
Garnbret was the leader through the semifinals, but in the final, Bertone made three tops in four tries and four zones in five, while Garnbret also claimed three tops (but in six tries) and four zones in seven. Flavy Cohaut of France took the bronze (2T3Z ~ 6/12). For Bertone, 18, it's her first win and third medal (1-2-0) in her four starts this season and she now has six career World Cup podiums.
The men's final saw Korea's Doh-yun Lee score his first career World Cup win, reaching four tops and four zones in just five tries each, compared to 2014 World Champion Adam Ondra (CZE), who reached four tops, but in 13 tries and four zones, in nine.
Mejdi Schalck (FRA) finished third at 3T3Z ~ 3/6. Lee, 20, earned his second career World Cup medal.
¶
You can receive our exclusive TSX Report by e-mail by clicking here. You can also refer a friend by clicking here, and can donate here to keep this site going.
For our updated, 651-event International Sports Calendar (no. 2) for 2023 and beyond, by date and by sport, click here!