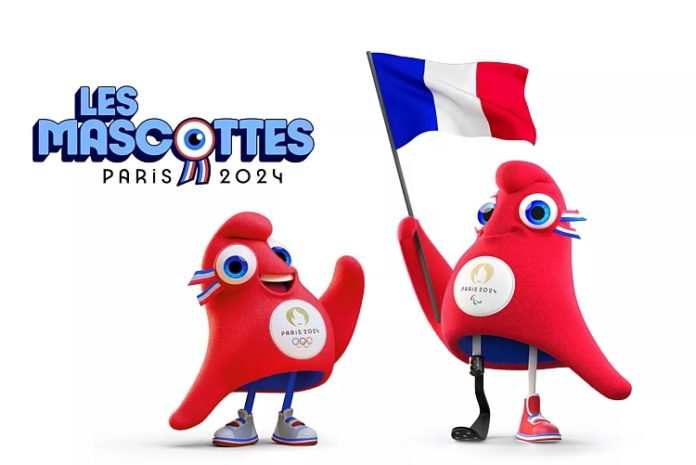 ★ The Sports Examiner: Surveying, monitoring and explaining the key competitive, economic and political forces shaping elite sport and the Olympic Movement. ★
★ Want TheSportsExaminer.com insights for your team? Yes! Click here for info on speaking, research and consulting from editor Rich Perelman. ★
★ To get The Sports Examiner by e-mail: sign up here! ★
≡ THE 5-RING CIRCUS ≡
1. Paris 2024 introduces mostly-red Phrygian caps as mascots
2. Modern Pentathlon approves obstacle racing to replace riding
3. FISU chooses Korea's Chungcheong over North Carolina for 2027 WUG
4. Smith and Pugh score to give U.S. women 2-1 win over Germany
5. Trio of Olympic medals stolen from U.S. volleyballer's home
The Paris 2024 organizing committee unveiled its mascots on Monday, a take on the iconic Phyrgian cap in mostly red, with the same style of character used for both the Olympic and Paralympic editions. At the Union Internationale de Pentathlon Moderne online Congress, the addition of obstacle course racing was approved, allowing the UIPM to propose it as a new discipline for the 2028 Olympic Games, of which the sport is not currently a part. The International University Sports Federation (FISU) selected Korea's Chungcheong Megacity bid over North Carolina in the U.S. for the 2027 World University Games. The U.S. Women's National Team defeated third-ranked Germany, 2-1, in their second friendly in four days on Sunday, ending a three-game losing streak on second-half goals by Mallory Pugh and Sophia Smith. A burglary in Orange County, California resulted in three Olympic medals being stolen from the home of a U.S. volleyball Olympian and the public is requested to forward any leads.
1.
Paris 2024 introduces mostly-red Phrygian caps as mascots
"The Phrygian cap is a symbol of liberty. Since it is familiar to us and appears on our stamps and the pediments of our town halls, it also represents French identity and spirit."
Paris 2024 President Tony Estanguet introduced the organizing committee's mascots on Monday, the Olympic Phryges, a take on the Phrygian cap which developed in Roman times as a symbol of freedom and became an important symbol during the French Revolution.
The "Olympic Phyrge" and the "Paralympic Phyrge" took the typical red Phyrge cap and transformed it into a cartoon character with decided possibilities to appeal to children, to be used on signage and especially for pins, toys and other merchandise. Although mostly red, France's other national colors – blue and white – are incorporated in the eyes, teeth, legs and shoes. The Paralympic Phyrge has a prosthetic blade for a right leg and "Paris 2024″ is spelled out in braille on the visible underside of the blade.
Paris 2024 Brand Director Julie Matikhine explained the development process:
"At the very beginning, the idea of the Phrygian cap emerged as a concept without any real shape. Then at that point, we said OK, what is this Phrygian cap going to look like? We got character designers to start working on it, graphic designers, on a collaborative project involving in-house designers and character designers whose job it was to bring the characters to life and give them a personality.
"It's a laborious job. Every detail counts, every line, every look, every position, every expression took us hours of work. You will notice as you get to know these mascots that there are over 71 sporting poses. The mascots are staged in an environment, in a sporting pose and each of these positions requires an expression, an attitude that is as close as possible to a real athlete's. It was a long and exciting process involving federations, sports directors, design departments and we interviewed athletes to approve these expressions and the inner energy that they channel in each of the poses, to end up with what you are seeing today."
The introductory graphics show the Phyrges individually and in small and large groups – think of the Minions in the "Despicable Me" movie series – already in sport and non-sport poses. The design also allows easy costuming for live events of all kinds.
As a show of inclusion, the mascots are essentially the same for the Olympic and Paralympic Games. A "mascot tour" is now planned to introduce the characters, first in France and then elsewhere.
2.
Modern Pentathlon approves obstacle racing to replace riding
A boisterous and tense 72nd Congress of the Union Internationale de Pentathlon Moderne was held online on Saturday and Sunday, with a contentious discussion prior to a vote on replacing the riding discipline with obstacle course racing.
The UIPM announcement reported that the motion to change the disciplines in the sport (article 2.1) – by adding obstacle – was passed with 69 votes in favor, 11 against and three abstentions. This was 83% of the delegates who voted, and 71% of the delegates present, representing a clear majority.
The discussion was hardly as clear-cut, with the InsideTheGames site reporting UIPM Vice President (and International Olympic Committee member) Juan Antonio Samaranch, Jr. (ESP) telling the delegates:
"If we do not approve this we have zero chance of continuing in the Games. However if we do approve this proposal at least we will have a fighting chance to keep our sport in the Olympic Games. …
"It's not a guarantee that we will be successful. But I do guarantee that our sport will never see another Olympic Games after Paris if we choose to remain the same. …
"Right now we are not relevant – we are dead last in every metric the IOC is interested in."
Former International Olympic Committee marketing director Michael Payne (IRL), who participated on an advisory panel considering fifth-discipline options, advised the delegates to adopt the obstacle option:
"The IOC and LA28 need to understand where Modern Pentathlon and UIPM family stands on sincere, genuine change.
"At the moment, they don't think you will be able to get your act together and they will just move on without Modern Pentathlon."
The Pentathlon United athletes group, which has fought to retain a reformed riding discipline, was not allowed to speak at the Congress and tweeted after the Saturday session:
"The General Assembly have voted against the will of the athletes who have desperately battled bravely to defend their sport."
UIPM President Klaus Schormann (GER) said after the announcement, "Proposals will now be sent to the IOC Programme Commission and Sport Department." The IOC has indicated that the decision on the Los Angeles 2028 program will be determined in the third quarter of 2023.
Another motion which was passed set term limits of 12 years for Executive Board members and another 12 years for a UIPM President, to be instituted as of 1 January 2025. Schormann was elected for an eighth term as President in 2021.
On Sunday, Schormann survived a vote of no confidence, with 13 voting to remove him, 55 in favor of retaining him and 20 abstentions.
3.
FISU choose Korea's Chungcheong over
North Carolina for 2027 WUG
The International University Sports Federation (FISU) selected Korea's Chungcheong Megacity as the host for the 2027 World University Games over North Carolina from the U.S. by a 14-7 vote.
Meeting in Brussels (BEL), the FISU Executive Committee gave South Korea the Universiade for a third time, after it hosted in Daegu in 2003 and Gwangju in 2015. The Korean government has promised funding of €440 million (about $455.9 million) for the Chungcheong project, with 10 sites to be built, nine of which are government projects.
The Korean bid foresees 18 sports being held at 31 sites. FISU Acting President Leonz Eder (SUI) said, "Chungcheong 2027 has the potential to be a very special FISU World University Games, making a lasting contribution to university sport."
The North Carolina bid emphasized the large number of colleges and universities in the area to host the Games, and the enormous potential for FISU in the U.S., where it is hardly known. Said Eder:
"While FISU could only name one host for the 2027 FISU World University Games today, FISU is deeply grateful to both candidates for their commitment to international university sport.
"While Chungcheong is today's choice for 2027, we would be delighted to have North Carolina as a host for the FISU World University Games in the future at the first available opportunity. FISU would like to thank both candidates for their professionalism and for the sporting way in which they have conducted themselves throughout the process."
The next World University Games is scheduled for 2023, in Chengdu (CHN), followed by Rhine-Ruhr (GER) in 2025 and now Korea in 2027. The next scheduled Games would be in 2029. The event has been held in the Americas four times, with the last in Buffalo (USA) in 1993; the award to Korea will see the 11th Universiade held in Asia, including eight of the 13 held or attributed this century.
4.
Smith and Pugh score to give U.S. women 2-1 win over Germany
Speed kills and the no. 1-ranked U.S. Women's National Team concluded its 2022 schedule in Harrison, New Jersey against no. 3 Germany with a 2-1 win thanks to the breakaway running of its front line.
The first half was mostly controlled by the Germans, who had 54% of the possession and got the only goal. A long cross by forward Svenja Huth from the right side found defender Sophia Kleinherne on the other side of the box in the 18th minute, and although her shot was blocked, the rebound rolled to Jule Brand, who left-footed it past U.S. keeper Alyssa Naeher for a 1-0 lead.
Both sides got five shots in the first half, with the U.S. applying more pressure in the last 15 minutes, especially from speedy strikers Mallory Pugh and Sophia Smith.
The second half saw more open play from the start, with both sides getting multiple chances. German forward Lina Magull found herself one-on-one against U.S. keeper Naeher in the 53rd minute, but Naeher came out and made the save.
The U.S. counterattack came immediately, with midfielder Rose Lavelle finding Smith in the middle of the box, who dribbled closer, eluded two German defenders and popped the ball past substitute German keeper Almuth Schult to tie the match at 1-1 in the 54th.
Another counterattack led to a second U.S. goal, with forward Alexandra Popp sending a good chance wide of the net in the 56th minute, then midfielder Andi Sullivan of the U.S. sending a long ball ahead to Pugh against two defenders. She sped past both and then sent a left-footer past Schult for a 2-1 lead, still in the 56th minute.
The Germans did poorly against a high press from the U.S., turning the ball over repeatedly, and Pugh got a breakaway in the 77th minute, but Schult made the save; Pugh sent the rebound back to Lavelle, who shot wide with Schult out of the goal. That was the last strong scoring chance and the game ended 2-1.
The American women staved off a fourth loss in a row, which had never happened in program history, and ended on a positive note for 2022. Germany ended with 59% of the possession, but while the shots were 15-15, the U.S. had the better chances and made the most of them.
Observed: Despite the three losses in its final four games of the year, the U.S. team played creditably against no. 4 England, no. 8 Spain and no. 3 Germany with a roster that may look very different for the 2023 World Cup, with mainstays such as Sam Mewis, Julie Ertz, Kelley O'Hara, Tierna Davidson and others possibly available. When they return and how the team cohesion develops over the first half of 2023 will determine the American chances for a third straight World Cup title.
5.
Trio of Olympic medals stolen from U.S. volleyballer's home
A Tokyo 2020 gold, London 2012 silver and a Rio 2016 bronze medal in women's volleyball were stolen during a Laguna Hills, California burglary on 29 October and only publicly reported last week.
According to the Orange County Sheriff's Department, an unknown burglar broke into the former player's home and removed a safe in an upstairs room, which happened to contain the medals.
U.S. Olympic women's coach Karch Kiraly (USA), himself a three-time Olympic gold medalist in the sport, told KCBS Los Angeles:
"You think of someone who steals a bag of stuff and they find a medal inside, well what can they do with it? They can't do anything because as soon as they try to sell it to somebody else it gives away a lot of information. So, it's either hang on to it for 100 years or throw it away — or maybe turn it in to help a rockstar person who has been a rockstar volleyball player."
Only two U.S. volleyball players won silver-bronze-gold medals in the last three Games: star hitter Jordan Larson and middle blocker Foluke (Akinradewo) Gunderson. Information about the burglary should be given to the Orange County Sheriff's Department at (949) 425-1900.
This is the second time this year that a U.S. volleyball player has lost a medal. In July, setter Jordyn Poulter had her Tokyo 2020 gold medal stolen from her car. It was eventually recovered after the thief left it in a plastic bag outside an Anaheim barber shop; a suspect was arrested.
≡ WORLD CHAMPIONSHIPS ≡
● Cycling ● The 2022 UCI World Urban Championships were held in Abu Dhabi (UAE), with American star Hannah Roberts winning her fourth world title in BMX Freestyle Park.
Roberts, the Tokyo 2020 silver medalist, scored only 47.20 on her first run and stood 10th going into the second round. But her 87.20 score was easily the best of the day and gave her another World Urban Championships gold to go with her 2017, 2019 and 2021 victories. Tokyo bronze medalist Nikita Ducarroz (SUI) was second at 84.70 and first-round leader Iveta Miculycova (CZE) finished third at 83.20. Americans Perris Benegas and Angie Marino finished seventh and ninth.
Japan's Rim Nakamura, fifth in Tokyo, won the men's Freestyle Park with a sensational first-round effort that scored 93.80 and essentially ended the competition. He was challenged by American Justin Dowell, the 2018 World Champion, who scored 91.50 two riders later, but he could not improve in the second round. France's Anthony Jeanjean scored 91.20 in the second round to claim the bronze, with fourth going to Marcus Christopher of the U.S., who had a best of 90.26.
● Rugby ● New Zealand, the dominant force in women's rugby, defended its 2017 Rugby Women's World Cup title with a tight, 34-31 win over England in the final of the 2021 edition – played in 2022 – in Auckland, New Zealand.
The English had a 26-19 halftime lead, but was down to 14 players as Lydia Thompson was red-carded in the 18th minute. But Stacey Fluhler got a try in the 41st minute and Krystal Murray in the 49th to put the home team up 29-26. England's Amy Cokayne got her third try of the final in the 54th minute for a 31-29 lead, but New Zealand's Ayesha Leti-L'iga scored the game winner in the 71st minute for the 34-31 final.
In the bronze-medal match, France out-classed Canada by 36-0. It's the third straight bronze for the French women, seven of nine all-time and France's eighth appearance in the bronze-medal match in nine editions of the Women's World Cup.
As for the Black Ferns, they have not only won two Women's World Cups in a row, but six of the last seven and six of the nine Women's World Cups in history. The next edition comes in 2025 in England.
≡ PANORAMA ≡
● Olympic Games 2032: Brisbane ● There was quite a stir last week as new Australian Prime Minister Anthony Albanese rejected the pledge made by predecessor Scott Morrison for the federal government to split the cost of Olympic infrastructure spending with Queensland.
More details came Friday during a hearing of the Senate Rural and Regional Affairs and Transport Legislation Committee, as David Hallinan, Deputy Secretary of the Department of Infrastructure, explained:
"I think a fair way of describing this is the former government made a fairly public statement about a 50-50 funding arrangement for the games, but it was subject to a whole range of terms and conditions that would need to be negotiated with the Queensland government, which is why it's presented as a risk in the budget papers rather than a condition or a financing arrangement."
He was seconded by Department Secretary Jim Betts:
"I think the position of the government reflects a view that we are now at a stage where we would like to begin discussions with the Queensland government about the extent of the investment required to support sporting infrastructure and transport infrastructure and potentially other infrastructure as well, which may be managed by other parts of government. Rather than writing a blank cheque for 50 per cent of whatever the outcome is, we would like to have a discussion about what the infrastructure should be and what a worthwhile Commonwealth contribution should be. Those are the discussions which are just beginning to kick off now."
Observed: For those who say politics and sport are not related, here's where they are … without a doubt.
● U.S. Olympic & Paralympic Committee ● Tokyo 2020 Paralympian Parker Egbert filed suit on Friday (11th) against Tokyo 2020 teammate Robert Griswold, 25, alleging sexual abuse, and that the USOPC and the U.S. Center for SafeSport were negligent.
Egbert, who is 19 and autistic, qualified for the Tokyo 2020 Paralympic Games as a swimmer (100-200 m Free, 100 m Back), was paired with Griswold, who suffers from cerebral palsy and was a two-time Paralympian himself (2016 and 2020) and won two Tokyo golds in the 100 Back and 100 m Fly (category S8).
The complaint alleges that "USOPC assigned Griswold to be a supervisor of Plaintiff, despite the fact that Griswold was a peer team member on the swim team rather than an adult supervisor and had no training or qualifications to serve as a supervisor. It was also during this time in Tokyo that Griswold began his sexual assaults on Plaintiff" and that "between June of 2021 and August of 2022, Griswold repeatedly subjected Plaintiff to violent abuse and rape."
The complaint also states: "Remarkably, Defendant USOPC and Defendant U.S. Center for SafeSport allowed Griswold to supervise and share a bedroom with Plaintiff without any oversight, despite the fact that USOPC and SafeSport had received reports that Griswold was sexually assaulting other teammates."
Sixteen claims for relief were made against Griswold for assault and battery and invasion of privacy, and for negligence, emotional distress, fraud and conspiracy against both the USOPC and SafeSport.
USOPC spokesman Jon Mason told the Colorado Springs Gazette:
"The allegations brought forth by the complaint filed today are extremely concerning and we take them very seriously.
"We've made the decision to place two staff members on administrative leave and have also stopped the work of several contractors with U.S. Paralympics Swimming. We're also continuing our investigation of the allegations to help us determine the facts, and we are committed to taking appropriate action."
The suit was filed in the U.S. District Court for the District of Colorado.
● Basketball ● The U.S. men's national team of G League players and free agents lost to Brazil, 94-79, in the FIBA Americas qualification tournament for the 2023 FIBA World Cup, in Washington D.C.
Even with the loss, the Americans still lead Group B with a 7-2 record and will play an important game against Colombia on Monday, also in Washington.
The Brazilians started fast, up 30-21 at the quarter and then 58-34 at the half. The U.S. won the final two quarters, but could only close the gap slightly. Forward Bruno Caboclo scored 24 for Brazil on 9-13 shooting, and guard Georginho De Paula had 18 on 5-6 from the floor and 5-5 free throws.
Guard Langston Galloway had 14 for the U.S., which was out-shot by 54.1-41.9% and out-rebounded, 40-32.
The top three teams from Group B will qualify for the World Cup and the U.S. now sits at 7-2, with Brazil and Mexico at 6-3, with three games to play. Colombia (3-6) is next and with a win, the U.S. would be 8-2 and if Puerto Rico defeats Uruguay on Monday, the U.S. would clinch a top-three finish in the group and a trip to the 2023 World Cup, being hosted by Indonesia, Japan and the Philippines.
● Beach Volleyball ● The penultimate Volleyball World Pro Beach Tour Elite 16 tournament of the year was in Uberlandia (BRA), with the home teams dominating the action and taking five of the six medals available.
The women's final saw 2022 World Champions Duda Lisboa and Ana Patricia Ramos (BRA) win a tight match from countrywomen Andressa Cavancanti and Vitoria de Souza, 21-17, 27-29, 15-11. The all-Brazilian bronze-medal match had Carol Salgado and Barbara Seixas de Freitas defeating Taiana Lima and Hegelie dos Santos, 21-19, 17-21, 15-13.
The all-Brazilian men's final was won by George Wanderley and Andre Stein over Pedro Solberg and Arthur Lanci, 28-30, 21-15, 15-11. Olympic champs Anders Mol and Christian Sorum (NOR) won the bronze medal over Renato de Carvalho and Vitor Felipe (BRA), 21-19, 19-21, 15-10.
● Fencing ● A busy weekend of FIE World Cup competitions, with five World Cups, in all three weapons, held in four different countries!
The men's Epee tournament in Berne (SUI) saw a first-ever World Cup gold for 22-year-old Hungarian Tibor Andrasfi, who edged Colombian John Rodriguez in the final by 12-11; France won the team event over Korea. The women's Epee in Tallinn (EST) saw Italy's Alberta Santuccio, 28, also win her first World Cup gold and her fourth career World Cup medal with a 15-11 final over Marie-Florence Candassamy (FRA). Italy also won the Team final over Ukraine, 33-28.
In Bonn (GER), the men's Foil was an upset victory for 23-year-old Kyosuke Matsuyama (JPN), who bested Italy's 2021 World Champion, Alessio Foconi, by 15-11. The men's team title wentr to the U.S. squad of Alexander Massialas, Nick Itkin and Gerek Meinhardt defeated Italy in the final, 45-40.
A combined men's and women's Sabre World Cup was held in Algiers (ALG), with Georgian Sandro Bazadze, the 2022 Worlds bronze medalist, stopping Luigi Samele (ITA) in the men's final, 15-13. Spain's Lucia Martin-Portugues won the women's title, 15-12, over Michela Battiston (ITA). Korea won the men's team final and France took the women's team title.
● Figure Skating ● World Pairs Champions Alexa Knierim and Brandon Frazier of the U.S. won both the Short Program and Free Skate on the way to a solid win at the ISU Grand Prix in Sheffield (GBR) known as the MK John Wilson Trophy.
Knierim and Frazier scored 205.85 to easily top the standings, ahead of Sara Conti and Niccolo Macci (ITA: 184.19) with fellow Americans Katie McBeath and Nathan Bartholomay sixth (147.29).
Italy's Daniel Grassl won the men's competition, moving from second after the Short Program to win with 264.35 points, for his (and Italy's) first Grand Prix victory and second career medal. That was almost 10 points clear of Latvia's Deniss Vasiljevs; Americans Jimmy Ma and Tomoki Hiwatashi finished seventh (214.47) and ninth (188.73).
American Isabeau Levito was second after the women's Short Program, just 0.17 behind Japan's Mai Mihara, but Mihara won the Free Skate as well for her first ISU World Cup title, scoring 217.43 to 215.74 (a lifetime best) for Levito. Fellow American Bradie Tennell had a difficult skate, placing 10th in the Short Program and 12th in the Free Skate and finished 12th (153.19).
Two-time European Championships bronze medalists Charlene Guignard and Marco Fabbri won their second straight ISU Grand Prix gold, scoring 213.74 to out-distance Lilah Fear and Lewis Gibson (GBR: 205.56). Americans Christina Carrera and Anthony Ponomarenko finished fourth (187.42) and the brother-sister combo of Oona Brown (18) and Gage Brown (20) were seventh (173.74).
● Football ● "Today we received a message from FIFA that the training shirt we had thought the players should train in, which says 'Human Rights For All' on the stomach, has been rejected for technical reasons, and we are sorry about that."
That's Danish Football Union director Jakob Jensen, speaking to the Dutch outlet DR Sporten last week, adding that other national federations had asked for permission for similar messaging, but had all been refused. He added:
"We are of the opinion that the message Human Rights for All is universal and is not a political call, but it should be something that all people can support." However, FIFA's World Cup regulations state:
"It is prohibited to display political, religious or personal messages as well as slogans of any kind in any language or form by players and officials on their playing or team uniforms, equipment (including bags, beverage containers, medical bags, etc.) or body."
● Ice Hockey ● "Over the last year, the NHL and NHLPA have been working on plans to conduct the next World Cup of Hockey, the premier international best-on-best hockey tournament in February 2024.
"Unfortunately, in the current environment it is not feasible to hold the World Cup of Hockey at that time. We continue to plan for the next World Cup of Hockey, hopefully in February 2025."
Friday's announcement from the National Hockey League and the NHL Players' Association was a disappointment to those who wanted to see the national-team event continue, after last being held in 2016. The issue of Russian participation was one issue, but not the only one that ended up postponing the event.
● Short Track ● Korea's Ji-won Park and Canada's Courtney Sauralt each won two individual events at the ISU Four Continents Championships at the Olympic Oval in Kearns, Utah (USA).
Park, already with two World Cup wins coming into the meet, took the men's 1,000 m and 1,500 m in speedy times of 1:27.548 and 2:16.409. He led a 1-2 for Korea in the 1,500 with Kyung-hwan Hong (2:16.471) close behind. Canada's Beijing 2022 bronze medalist Steven Dubois won the 500 m title at 40.316 over Andrew Heo of the U.S. (40.687). Dubois picked up a second gold in the 5,000 m relay.
Sauralt, a five-time Worlds medal winner, actually won three golds, taking the 1,000 m in 2:18.615 over China's Li Gong (1:28.840) and then the 1,500 m in 2:25.614, ahead of American Kristen Santos-Griswold (2:25.708). Sauralt was also on the winning Canadian team for the women's 3,000 m relay.
In the 500 m final, Korea's two-time Olympic relay gold medalist Suk-hee Shim won in 42.273, but with Santos-Griswold right behind in 43.302. Santos-Griswold won three bronzes in the first two ISU World Cup meets and continues her move to the top echelon with two silvers.
China won the 2,000 m Mixed Relay, with the U.S. second with Heo, Marcus Howard, Santos-Griswold and Corinne Stoddard.
● Speed Skating ● The ISU World Cup opened with the first of six events, in Stavanger (NOR), with a new American star-in-the-making in 18-year-old Jordan Stolz.
A Beijing 2022 Olympian, he finished 13th in the 500 m and 14th in the 1,000 m, but over the weekend scored his first two World Cup wins. He first took the 1,500 m on Friday by almost two seconds in a track record 1:44.891 and on Sunday won the 1,000 m in 1:08.73, ahead of Beijing silver medalist Laurent Dubreuil (1:09.22)!
Japan's Yuma Murakami won the men's 500 m in 34.708, ahead of Dubreuil (34.750), and Beijing silver winner Patrick Roest (NED) took the 5,000 m in 6:20.651, just ahead of Beijing 10,000 m bronze medalist Davide Giotto (ITA: 6:21.512). Germany's Felix Rijhnen won the Mass start in 8:03.98.
Dutch star Jutta Leerdam, a five-time Worlds medalist, won the women's 1,000 m in 1:15.61, ahead of Korea's Min-sun Kim (1:15.82), but Kim took the 500 m in 37.553 to 38.080 for Leerdam. Olympic champ Erin Jackson of the U.S. was eighth (38.302) in the 500 m and 13th in the 1,000 m; teammate Kimi Goetz was fifth in the 1,000 m (1:17.15).
Olympic silver medalist Miho Takagi won the women's 1,500 m in 1:56.556, ahead of Norway's Ragne Wiklund (1:57.495), but Wiklund took the 3,000 m in 4:02.119, beating Olympic champ Irene Schouten (NED: 4:05.017). Canada's Beijing silver winner Ivan Blondin won the Mass Start in 8:58.72, ahead of Marijke Groenewoud (8:58.80) and Schouten (8:59.05), with American Mia Kilburg fifth (8:59.59).
● Swimming ● Italian distance star Gregorio Paltrinieri completed a pretty spectacular 2022 by adding another trophy to his collection with a victory in the fifth and final leg of the FINA Marathon World Series, in Eilat (ISR).
It took a final sprint for Paltrinieri to win the 10 km race in 1:46:41.8, just ahead of France's Marc-Antoine Oliver (1:46:43.4) and David Betlehem (HUN: 1:46:44.2). Hungarian star Kristof Rasovszky finished fourth in 1:46:45.4 and he and Paltrinieri tied for the seasonal title with 2,400 points. That adds to Paltrinieri's golds at the FINA World Championships in the 10 km Open Water and the men's 1,500 m Freestyle from earlier in the season.
The women's series title was clearly going to go to Brazil's Ana Marcela Cunha, who won for the sixth time, after 2010–12-14-18-21. She finished a surprise second in Eilat, however, to Australia's Chelsea Gubecka, 1:56:19.8 to 1:56:23.6, with German Leonie Beck third in 1:56:25.3.
Cunha, the Tokyo Olympic champ in the 10 km Open Water, took the seasonal title with 2,900 points to 2,700 for Rio Olympic champ Sharon van Rouwendaal (NED).
¶
You can receive our exclusive TSX Report by e-mail by clicking here. You can also refer a friend by clicking here, and can donate here to keep this site going.
For our updated, 951-event International Sports Calendar for 2022-23 and beyond, by date and by sport, click here!