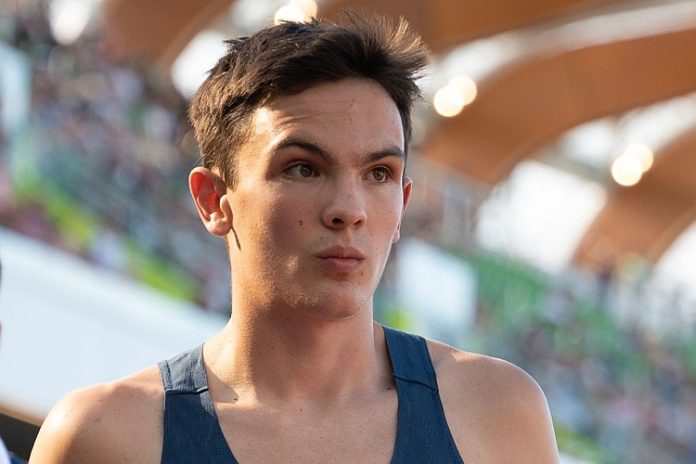 ★ The Sports Examiner: Chronicling the key competitive, economic and political forces shaping elite sport and the Olympic Movement.★
★ To get The Sports Examiner by e-mail: sign up here! ★
≡ THE 5-RING CIRCUS ≡
1. Paralympics agrees to allow Russian and Belarusian "neutrals"
2. Upset wins, records for Kessler, Welteji in Road Worlds miles
3. Japan, U.S. lead men's gymnastics Worlds qualifying
4. USOPC's Hirshland on power of sport in international relations
5. Athens' Olympic Stadium closed due to upper tier support
● The International Paralympic Committee's General Assembly narrowly refused to fully suspend the national committees in Russian and Belarus late last week, but voted to partially suspend them, allowing Russian and Belarusian "neutral" athletes to compete at Paris 2024. It's a major win for International Olympic Committee chief Thomas Bach, as the IPC had previously barred Russian and Belarusian participation completely.
● American Hobbs Kessler and Ethiopian Diribe Welteji won upset victories and set world records in the World Athletics Road Running Championships mile events in Riga, Latvia on Sunday. Kenya and Ethiopia otherwise dominated the event, with Beatrice Chebet (KEN) and Hagos Gebrhiwet (ETH) winning the 5 km races, and Kenyans Peres Jepchirchir and Sabastian Sawe taking the Half Marathon titles.
● At the FIG World Championships in artistic gymnastics, Japan led the men's qualifying, with the U.S. second, clinching a place for the American men at the Paris 2024 Olympic Games. U.S. men advanced to the finals in the All-Around (2) and in five of the six apparatus finals. American superstar Simone Biles was superb in the women's qualifying and the U.S. had a big lead in the team qualifying through three of 10 competition groups, with the last seven coming on Monday.
● U.S. Olympic & Paralympic Committee chief exec Sarah Hirshland was a panelist at an all-star panel discussion at Duke University on sport and international relations, noting that "Sport has a very, very powerful way to drive common purpose."
● The Olympic Stadium built for the 2004 Olympic Games was closed due to concerning tests reports on the support systems for the upper deck and the roof. More tests are to come; some football matches have been moved.
● World Championships: Rowing (U.S. mixed quad sculls win Beach Sprint Worlds) = Rugby (England first World Cup quarterfinal qualifier) ●
● Panorama: International Olympic Committee (Climate Action Award winners include U.S. distance star Blankenship) = Paris 2024 (2: Seine booksellers meet with police on 2024 issues; bedbugs now a problem?) = Asian Games (2: China continues to dominate; South Korean winners get military exemptions) = Pan American Games (Pan American Flame lit in Mexico) = Beach Volleyball (Ana Patricia and Duda Lisboa win again) = Cycling (Sarrou holds off Schurter in Snowshoe) = Football (eight federations say they won't compete against Russian U-17s) = Swimming (13 inducted into Int'l Swimming Hall of Fame) ●
1.
Paralympics agrees to allow Russian and Belarusian "neutrals"
The International Paralympic Committee's General Assembly, meeting in Manana, Bahrain, narrowly decided not to fully suspend the national committees of Russia and Belarus, and agreed to allow Russian and Belarusian athletes to compete as "neutrals" at the 2024 Paralympic Games in Paris. Per the IPC announcement on Friday:
● "Prior to the IPC General Assembly's decisions on partial suspension, IPC members first considered the full suspension of both NPCs. IPC members voted 74-65 (with 13 abstentions) against a motion to fully suspend NPC Russia, while the vote against fully suspending NPC Belarus was 74-56 (with 15 abstentions)."
● "IPC members voted 90-56 in favour of a motion to partially suspend NPC Russia (with six members abstaining), while 79-57 voted to partially suspend NPC Belarus (with nine members abstaining). For a motion to be passed, a 50%+ 1 result of all votes cast was required."
● "As a result of the General Assembly's decision all NPC Russia and NPC Belarus's membership rights are suspended for two years (subject to reassessment at the next ordinary General Assembly) with the exception that their athletes (and related support personnel) will be eligible to participate in an individual and neutral capacity (this means no teams) in the Paralympic Games and World and Regional Championships and sanctioned competitions in the six sports for which the IPC acts as international federation. In each case, this is subject to athletes and support personnel meeting such conditions of participation set by the IPC Governing Board. These conditions will be published in due course."
IPC President Andrew Parsons (BRA) said: "In reaching its decision, the IPC General Assembly was presented with evidence from the IPC, NPC Russia, and NPC Belarus, before a lengthy discussion took place. This provided an opportunity for IPC members to share their views on this subject.
"As this was a decision taken by the IPC General Assembly, I expect all IPC members to fully respect it. With the decision now behind us, I hope the focus as we lead-up to the Paris 2024 Paralympic Games can now be very much on sport and the performances of Para athletes."
Ukrainian Presidential adviser Mykhailo Podolyak, reacting to this and the announcement by UEFA that Russian U-17 teams would be able to compete in its tournaments as neutrals; tweeted bitterly:
"Permitting participation of Russians in the Paralympic Games and youth football competitions, not expelling #Russia from international institutions and organizations, not issuing arrest warrants in any jurisdiction for high-ranking officials for involvement in mass crimes, permitting international companies to trade with Russia – all of this, firstly, prolongs the war, and secondly, provokes Russia to increase the levels of mass violence in #Ukraine in order to exert pressure on global elites and force them to agree to the right of Russia to disregard international laws."
Women's wheelchair basketball captain Mareike Muller's statement for the National Paralympic Committee of Germany included:
"We have no understanding that athletes from Russia and Belarus will be eligible to compete again in the future. This is eyewash. Our situation is no different than last year; there is still horror, suffering and deaths every day as a result of Russia's invasion of Ukraine, which violates international law. Anyone who takes peace seriously and believes in sport as a peace movement cannot allow warmongering nations to take part in international games. …
"We are left with the bitter realization that our position has not found a majority and that our values are obviously not compatible with the values in other parts of the world. The votes, but especially the debates, clearly show a rift in the Paralympic movement."
The Russian Paralympic Committee President, Pavel Rozhkov, may contest the partial suspension:
"Due to the partial suspension, the RPC loses all its rights as an IPC member, but its athletes have the right to participate in an individual and neutral capacity in the 2024 Paralympic Games in Paris. The RPC is considering possible avenues of recourse and will continue to seek the full restoration of its legal rights and the rights of Russian Paralympic athletes.
"The Russian Paralympic Committee believes that the decision to allow athletes to compete only in a neutral status is unfair, this is discrimination against Russian athletes on the basis of nationality. It puts them in an unequal position compared to athletes from other countries. At the same time, refuse athletes to demonstrate that they come from a particular country, or to be able to celebrate victory while their country's anthem is played, is to deprive them of their right to their national identity."
Observed: This is a significant win for International Olympic Committee President Thomas Bach (GER), who has campaigned relentlessly to allow Russian and Belarusian "neutrals" – which the IOC has not fully defined – to be allowed to compete in international events. Now the IPC has voted to allow Russian and Belarusian "neutrals" – meeting as-yet-undefined criteria – at the 2024 Paris Paralympic Games prior to the IOC making a decision on the matter; this strengthens Bach's hand for the IOC's decision, expected in early 2024.
As for the IPC, Parsons' comment that the decision is "now behind us" is much more of a hope. As long as Russia continues its war in Ukraine – and for a long time after – the issue of Russia as an international pariah for many nations is not at all settled.
2.
Upset wins, records for Kessler, Welteji in Road Worlds miles
The inaugural World Athletics Road Running Championships in Riga (LAT) was full of surprises, but none more so than in the road miles.
The men's mile had 35 starters and almost everyone was still in contention at 1,000 m, with South Africa's Ryan Mphahlele leading. Americans Sam Prakel – the world-record holder at 4:01.21 from April – and Hobbs Kessler were right in the thick of the action, and as Mphahlele faded, it was Kessler who sprinted hard with less than 200 m to go and led the parade to the finish, with Callum Elson (GBR) and Prakel chasing.
But Kessler got to the line first in a world-record time of 3:56.13, chased by Elson (3:56.41), Prakel (3:56.43), Mael Gouyette (FRA: 3:56.47) and Kiran Lumb (CAN: 3:56.98). Mphahlele had to settle for seventh in 3:57.35.
The women's mile was expected to be a showcase for Kenyan star Faith Kipyegon, who had set the world record for the track mile earlier this year. And she moved smartly out from the start, leading a breakaway pack of four, with Worlds 1,500 m runner-up Diribe Welteji (ETH), 2022 World Indoor 800 m silver medalist Freweyni Hailu (ETH) and Kenyan teammate Nelly Chepchirchir – fifth at the Worlds 1,500 m – close.
Kipyegon and Welteji ran ahead and as the finish line neared, it was Welteji who had the devastating kick to take an upset win and the world road-mile record at 4:20.98, shattering the 4:27.97 April mark by Nikki Hiltz of the U.S.
Hailu came on late and passed the fading Kipyegon for second, 4:23.06 to 4:24.13, with Chepchirchir fourth (4:31.18) and Australian Jessica Hull well back in fifth at 4:32.45. Addy Wiley was the top American in ninth at 4:36.03, with Helen Schlachtenhaufen 17th in 4:40.28.
¶
The men's 5 km race shaped up as a race between Ethiopia and Kenya, with familiar stars Yomif Kejelcha – a two-time World Indoor 3,000 m winner – and Hagos Gebrhiwet (both ETH) leading Nicholas Kipkorir and Cornelius Kemboi (both KEN) at 3,000 m. The Kenyans were dropped by 4,000 m and it was Gebrhiwet who had the best finish to win in 12:59 to 13:02 for Kejelcha.
It's the first individual Worlds gold for Gebrhiwet, 29, who won the 2013 Worlds 5,000 m silver. Kipkorir, who was fourth in the Tokyo Olympic 5,000 m, took the bronze in 13:16, with Eritrea's Dawit Seare coming up for fourth (13:21) with Kenboi (13.24) fifth.
Olin Hacker was the top American, in 14th (13:36), followed by Ahmed Muhumed in 22nd at 14:22.
Seven women were in the lead pack of the women's 5,000 m by the 3,000 m mark, and six were in contention with 1,000 m to go, but the best finish belonged to Kenya's Beatrice Chebet, the Worlds 5,000 m bronze winner, who sailed away from Ethiopia's Ejgayehu Taye and Medina Eisa and Kenyan teammate Lilian Rengeruk, winning in 14:35.
Rengeruk, 10th in the Budapest Worlds 5,000 m, came up for second in 14:39. Just ahead of Taye (14:40) and Eisa (14:41). Americans Weini Kelati was seventh in 15:10, and Fiona O'Keefe was 11th in 15:40.
¶
The men's Half Marathon was decided very late, with 13 in the lead group at 15 km and 10 within striking distance at 20 km. Kenyan Daniel Ebenyo was leading, but teammate Sabastian Sawe had the best finish by far, running away with the win in 59:10, with Ebenyo at 59:14 and Samwel Mailu completing the Kenyan sweep at 59:14. Ethiopia's Jemal Yimer Mekonnen stayed in fourth at 59:22 and France's Jimmy Gressier came up for fifth in 59:46.
The last medal sweep in this event was also by Kenya, in 1997. Abbabiya Simbassa was the top American finisher, in 25th at 1:01:28, and Futsum Zienaselassie was 33rd at 1:01:49. Jacob Thomson was 36th (1:02:26) and Reed Fischer was 53rd (1:03:56).
Kenya struck again in the women's Half, with a group of eight well ahead by 10 km, seven by 15 km and only five by the 20 km mark, with Tokyo Olympic marathon champ Peres Jepchirchir in the lead and moving away with teammate Margaret Kipkemboi, the 2022 Worlds 10,000 m bronze winner.
Jepchirchir ran hard to the finish and won by just a second in 1:07:25 to 1:07.26, with the Kenyan sweep completed with Catherine Amanang'ole in third (1:07:34). Ethiopia's Tsigie Gereselama finished fourth (1:07:50).
Molly Grabill was the top U.S. finisher, in 13th (1:09:53), trailed by Sarah Pagano (29: 1:11:37), and Amber Zimmerman (32: 1:12:26).
It's the third World Half Marathon title for Jepchirchir – also in 2016 and 2020 – and she will race the New York City Marathon next.
3.
Japan, U.S. lead men's gymnastics Worlds qualifying
The U.S. men's artistic gymnastics team punched its ticket to the Paris 2024 Olympic Games with a second-place finish in the qualifying phase of the FIG Artistic World Championships in Antwerp (BEL) on Sunday.
China, Japan and Great Britain had already qualified as the top three teams from the 2022 Worlds, but the American team was second in the standings after Sunday's qualifying, trailing Japan by 258.228 to 254.628, with Britain third (254.193).
In the individual All-Around standings, Japan took the top three places, with Kenta Chiba (85.799), Tokyo Olympic Team silver medalist Kazuma Kaya (85.598) and defending World Champion Daiki Hashimoto (85.432). The rules specify that only two per country can advance, but Hashimoto will be able to defend his title as the Japanese teams said that he will replace Kaya for the All-Around final.
The U.S. qualified Fred Richard in sixth place (83.566) and Asher Hong in eighth (83.165) for the A-A final later this week.
In the apparatus qualifying, Israel's Olympic champ Artem Dolgopyat led on Floor at 15.100, with Richard second (14.600), and advancing to the individual final. Olympic Pommel Horse champion Max Whitlock (GBR) led the qualifying at 15.266, with American Khoi Young right behind at 15.066, and defending World Champion Rhys McClenaghan third (14.933). Olympic Rings gold medalist Yang Liu (CHN) topped the qualifying at 15.200, with three-time Worlds winner Eleftherios Petrounias second (14.900; Yul Moldauer was the top American in 15th (14.000).
Defending World Champion Artur Davtyan led on Vault at 15.033, with Ukraine's Igor Radivilov next (14.766) and three Americans at 5-6-7: Paul Juda (14.666), Young (14.583) and Hong (14.516); Hong will not advance to the final due to the two-per-country limit.
Olympic silver winner Lukas Dauser (GER) led on the Parallel Bars at 15.300, with Ilia Kovtun (UKR: 15.233) close behind; Moldauer was fourth (14.966) and Hong was sixth (14.833) and both advanced to the final. Hashimoto, the Olympic champ on the Horizontal Bar, led the qualifying at 15.000, ahead of Milad Karimi (KAZ: 14.600), with Juda sixth (14.166).
The men's Team final will be on Tuesday (3rd).
¶
The first three women's groups – of 10 – also had qualifying on Sunday, with the U.S. way in front, scoring a staggering 171.395, the most since 2019, the last time Simone Biles was on the American team. Great Britain was second at 166.130, ahead of Italy (162.230).
By comparison, the winning U.S. team from 2022 scored 167.263 in qualifying and 166.564 in the final; the 20109 team with Biles led the qualifying at 174.205 and won the team gold at 172.330.
Biles led in the All-Around at 58.865, ahead of teammate Shilese Jones (56.932), with Leanne Wong fifth (54.398). Biles led on Vault (14.949), Beam (14.566) and Floor (14.633). She was also second to Jones on the Uneven Bars, 14.833 to 14.400, with the rest of the qualifying to be completed on Monday.
The women's Team final comes Wednesday (4th).
4.
USOPC's Hirshland on power of sport in international relations
U.S. Olympic & Paralympic Committee chief executive Sarah Hirshland took part in a global strategy lecture series program at Duke University on Thursday, considering how sports can be a part of diplomacy.
Hirshland, who earned her bachelor's degree at Duke, told the attendees:
"I think there are two common languages globally. And that's inclusive of inside our country, one of them is sports, and the other one is music. And I think those two are incredibly powerful tools to unite. And, we talk all the time, unity does not mean sameness. Unity is common purpose. We heard Coach [Mike Krzyzewski] talk about that. Sport has a very, very powerful way to drive common purpose. Very powerful."
She shared the stage with former Joint Chiefs of Staff Chair Gen. Martin Dempsey, legendary retired Duke basketball coach Krzyzewski and NBA Commissioner Adam Silver. Observed Silver:
"I don't know if I'd use the word naive, but I don't think you can separate politics from sports. And I don't necessarily think that's a bad thing. … I think it's part and parcel of life.
"And it doesn't mean that we shouldn't be drawing lines at certain times. We certainly do. … But I think at the same time, we're proud of the fact that our athletes … are comfortable with, regardless of where they're from in the world, speaking out about things that are important to them.
"And I also think that it doesn't necessarily mean that as a fan, you have to accept what they're saying. But I think that it's a healthy dialogue, engaging with them understanding their perspective, particularly on a global stage."
Hirshland also talked about sport as a way to go beyond the political:
"Our country is the leader in sport around the world and the influence we have is palpable everywhere you go. So, are politics and sports inextricably linked? In ways, yes. But can sport transcend and rise above politics? I'd like to believe the answer to that is yes."
5.
Athens' Olympic Stadium closed due to upper tier support
The Olympic Stadium in Athens (GRE), built for the 2004 Olympic Games, was closed on Friday after tests on the roof showed inadequate strength.
The Hellenic Republic Asset Development Fund (abbreviated as TAIPED), now the owner of the complex, said that an inspection of the facilities, including the roof, found that the structures of the stadium roof and the velodrome do not meet the required levels of "static structural adequacy." Further:
"Based on the above and with a sense of responsibility, every sporting and cultural activity in the Central Stadium and the Cycling Track is suspended as of today. A second study will quickly follow, in order to investigate more thoroughly and to confirm or not the elements of the current study.
"We share the [frustration from the] disruption in the sports family, but it is understandable that we must operate with the sole aim of the safety of athletes and fans."
A local report noted that the tests showed that "the central stadium is statically safe, but significant maintenance and improvement of the method of supporting the perimeter concrete frame at the top of the stadium is required for the upper tier of the stadium."
≡ WORLD CHAMPIONSHIPS ≡
● Rowing ● The World Rowing Beach Sprint Finals in Barletta (ITA) were slated to finish on Sunday, but rough weather has moved the finals of the solo events to Monday.
The Mixed Double Sculls final, held on Saturday, was won by New Zealand's Matthew Dunham and Jackie Kiddle in 2:42.52 over the 500 m distance, over Britain's Laura Mckenzie and Sam Scrimgeour (2:45.34). Italy took the B Final for the bronze.
The U.S. team of Christopher Bak, Jeni Sorli, Alexa McAuliffe, Kory Rogers and Coral Marie Kasden as cox won the Mixed Quadruple Sculls with Coxswain on Saturday, finishing in 2:27.35 to 2:39.05 for Italy.
● Rugby ● One week remains for the pool phase of the Rugby World Cup in France, with only one place in the quarterfinal assured so far among the four groups and the top two from each group to advance:
● Pool A: France (3-0: 13 points); New Zealand (2-1: 10), Italy (2-1: 10).
● Pool B: Ireland (3-0: 14); South Africa (2-1: 10), Scotland (2-1: 10).
● Pool C: Wales (3-0: 14); Australia (2-2: 11); Fiji (2-1: 10).
● Pool D: England (3-0: 14); Argentina (2-1: 9); Japan (2-1: 9).
Only England is assured to advance, and the only head-to-head match-up between the nos. 2-3 teams will be Japan vs. Argentina on 8 October. In Pool A, France will play Italy on 6 October.
The quarterfinals will begin on the 14th, with the semis on 20-21 October and the title match on 28 October.
Attendance continues to be excellent, with 1,360,363 through 31 matches for an average of 43,833. There are continuing, occasional issues of public transit, but the tournament is progressing toward what should be an entertaining conclusion.
≡ PANORAMA ≡
● International Olympic Committee ● The IOC announced the winners of its first Climate Action Awards, for individuals, International Federations and National Olympic Committees.
The winners included Ben Blankenship (USA/athletics), Marcus Mepstead (GBR/fencing) and Paloma Schmidt (PER/sailing), plus World Rugby, World Sailing, the Colombian Olympic Committee and the Spanish Olympic Committee.
Blankenship, a 2016 Olympian at 1,500 m, won the award for athlete advocacy – supported by Proctor & Gamble – for the "Endless Mileage Project, which plants trees for every American miler who breaks 4 minutes (men) and 4:30 min (women) in the event and redistributes used sports clothing and equipment to local schools."
Awards were also given for sustainable travel (Mepstead, World Sailing and the Spanish NOC), and for innovation, with World Rugby and Colombian NOC recognized.
● Olympic Games 2024: Paris ● The latest chapter in the saga of the iconic French booksellers on the banks of the Seine River was a meeting held last Thursday at the headquarters of the Paris police, hosted by Laurent Nunez, Prefect of the Paris Police.
There was no resolution, but tests will be made on a few of the book boxes to judge the feasibility of moving the stalls next summer in advance of the Olympic opening on the river. Nunez noted, "The city is very attached to second-hand booksellers and their heritage history" but is also aware of "the security constraints which require decision-making by the police prefect."
A petition to save the boxes has been signed by 147,303 as of Saturday evening on change.org, but does not appear to be making any difference.
¶
The newest reported problem in and around Paris are bedbugs showing up on trains, buses and movie theaters.
Is this serious? Paris Deputy Mayor Emmanuel Grégoire wrote to French Prime Minister Elisabeth Borne, asking "The State must urgently bring together all the stakeholders concerned in order to deploy an action plan commensurate with this scourge as the whole of France prepares to host the Olympic and Paralympic Games in 2024."
● Asian Games 2022: Hangzhou ● The 2022 Asian Games in Hangzhou (CHN) moves toward its final week, with China continuing to run away with the medal lead.
The powerful Chinese team, performing for a home audience, has won 244 medals (133-72-39) through Sunday, with 275 of the 481 events completed. South Korea has moved into a distant second place, with 125 medals (30-35-60) with Japan sitting third at 112 (29-41-42).
The swimming events concluded last Friday (29th), with the Chinese team dominating with 58 medals (28-21-9) and 18 Asian Games records. Two-time men's World backstroke champ Jiayu Xu swept the 50-100-200 m Backstroke events, triple World Champion Haiyang Qin won the men's 50-100-200 m Breaststroke events, and Bingjie Li won the women's 400-800-1,500 m Free events.
Butterfly star – and Tokyo 200 m Fly gold medalist – Yufei Zhang took the golds in the women's 50-100-200m Fly finals, but added a fourth individual medal with a win in the 50 m Free as well.
Track & field has started, with China's Zhenye Xie winning the men's 100 m in 9.97 and Worlds runner-up Ernest John Obiena (PHI) taking the men's vault at 5.90 m (19-4 1/4).
Tokyo Olympic shot champ Lijiao Gong (CHN) won her third Asian Games title at 19.58 m (64-3) and 2022 World Champion in the discus, Bin Feng, moved up from second in 2018 to win in Hangzhou at 67.93 m (222-10), a meet record.
In gymnastics, China won five of eight men's events and three of six women's events. In the women's Vault, the amazing Oksana Chusovitina (UZB), 48, finished fourth and skipped the World Championships; she still hopes to qualify for Paris 2024 through the 2024 FIG World Cup series.
¶
An important benefit of the Asian Games for South Korean athletes is that gold medalists receive an exemption from compulsory military service required of all men between 18-28. Eight swimmers won gold in Hangzhou, including 50 m Fly winner Inchul Baek, who commented:
"Not just for swimmers but as an athlete, I think exemption from military service removes a hindrance to an athlete's life, allowing him to have a longer career."
SwimSwam.com noted:
"Military exemptions are a point of contention in South Korean culture. Fewer than 100 exemptions were handed out last year — not even K-pop sensation BTS gets special treatment. The debate was reignited this week when League of Legends star 'Faker' [Sang-hyeok Lee] received a controversial military exemption for claiming gold as a part of esports' debut at the Asian Games."
● Pan American Games 2023: Santiago ● The Pan American Flame was lit on Friday, at the Pyramid of the Sun at the ancient city site of Teotihuacan, Mexico, northeast of Mexico City, site of the flame-lighting beginning in 1995.
It was flown to Santiago, host for the 2023 Pan American Games and received by Chilean President Gabriel Boric on Saturday.
● Beach Volleyball ● The Beach Pro Tour Elite 16 in Paris (FRA) featured a familiar women's final, with the top two seeds reaching the gold-medal match: Brazil's top-seeds Ana Patricia Ramos and Duda Lisboa – the reigning World Champions – and Americans Kristen Nuss and Taryn Kloth (USA).
For the second time in an Elite 16 final, Ramos and Lisboa managed a 2-1 win by 21-10, 18-21, 15-13. They had previously beaten Nuss and Kloth at the Hamburg Elite 16 tournament, and the fourth time in five Elite 16 tournaments this season that the Brazilians have beaten a U.S. team in the final.
Katja Stam and Raisa Schoon (NED) defeated Valentina Gottardi and Marta Menegatti (ITA) for the women's bronze, 21-17, 22-20.
Ondrej Perusic and David Schweiner (CZE), the 2022 European Champs silver winners, scored their second win of the season with a 16-21, 21-19, 15-11 victory over Nils Ehlers and Clemens Wickler (GER).
Alexander Brouwer and Robert Meeuwsen (NED), the 2013 World Champions, took the bronze over Julian Hoerl and Alexander Horst (AUT), 18-21, 21-18, 15-13.
Next up will be the 2023 World Championships, in Tlaxcala, Mexico, from 6-15 October.
● Cycling ● The seventh and penultimate stop on the 2023 UCI Mountain Bike World Cup came to Snowshoe, West Virginia over the weekend, with 2020 World Champion Jordan Sarrou (FRA) barely holding off three Swiss chasers for his first win of the season.
Sarrou took the lead from 10-time individual World Champion Nino Schurter (SUI) on the fifth of seven laps and then managed to hold off Schurter to the finish, 1:18:38 to 1:18:39. Right behind were Marcel Guerrini (SUI: 1:18:41) and Mathias Flueckiger (SUI: 1:18:48). It's Sarrou's second medal of the season; Schurter – at 37 – won his fifth medal of the season (2-2-1) out of seven races so far.
France's Viktor Koretzky won his second World Cup Short Track race in a row in 20:54, just two seconds up on Sarrou (20:56), with Luca Schwarzbauer (GER: 20:58) third.
Austria's Laura Stigger took over after a couple of laps and rode away with the women's race, finishing in 1:21:56 to 1:22:19 for Loana Lecompte (FRA), with Martina Berta (ITA: 1:22:28) third. American Sevilla Blunk finished fourth (1:22:34) and fellow American Haley Batten was eighth (1:23:32). It's Stigger's first win on the circuit this season and her second medal.
In the women's Short Track race, Britain's 2021 World Champion Evie Richards won a tight battle with Dutch star Puck Pieterse, 19:54 to 19:59, with Rebecca Henderson (AUS: 20:03) third.
In the non-Olympic Downhill events, Ireland took a 1-2 in the men's final, with Oisin O'Callaghan (3:07.624) and Ronan Dunne (3:08.120) with American Dakotah Norton third (3:08.987). France's 2015 World Champion, Marine Cabirou, won the women's race in 3:41.042 over Nina Hoffmann (GER: 3:41.386).
The season will conclude next week at Mont-Sainte-Anne in Quebec (CAN).
● Football ● UEFA's 26 September decision to allow Russian U-17 teams to play in its tournaments as "neutrals" has been met with resistance from multiple national federations.
Sweden announced that it would not allow the Russian team to compete – if it qualifies – in the women's European U-17 Championship it will host in May 2024. National federations including Denmark, England, Latvia, Lithuania, Norway, Poland, Sweden, and, of course, Ukraine, said they would not play matches against Russian national teams.
● Swimming ● The International Swimming Hall of Fame welcomed 13 new members on Saturday during the induction ceremonies in Ft. Lauderdale, Florida. Among them was the greatest swimmer of all: Michael Phelps.
Both Phelps, who won a record 28 Olympic medals and 33 World Championships medals, was inducted along with his coach, Bob Bowman, now at Arizona State and still coaching Olympic stars.
American Missy Franklin, the 100-200 m Olympic backstroke winner at London 2012 and an 11-time World Championships gold medalist, was honored, as was Kirsty Coventry, the seven-time Olympic medal winner from Zimbabwe, now a high-profile member of the International Olympic Committee and a possible candidate for the IOC presidency in 2025.
¶
You can receive our exclusive TSX Report by e-mail by clicking here. You can also refer a friend by clicking here, and can donate here to keep this site going.
For our updated, 787-event International Sports Calendar (no. 3) for 2023 and beyond, by date and by sport, click here!