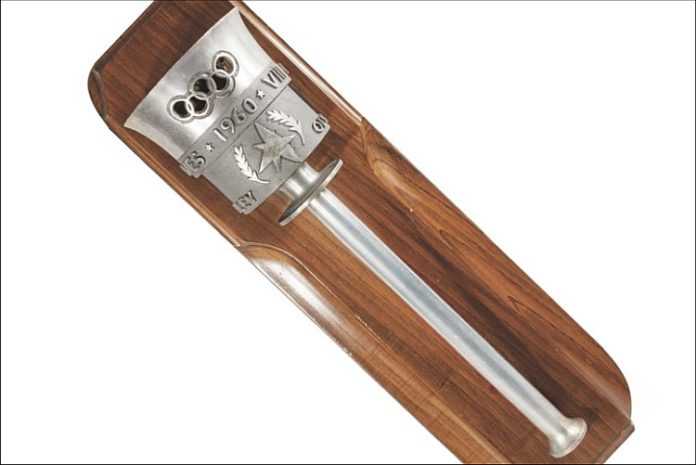 ★ The Sports Examiner: Surveying, monitoring and explaining the key competitive, economic and political forces shaping elite sport and the Olympic Movement. ★
★ Want TheSportsExaminer.com insights for your team? Yes! Click here for info on speaking, research and consulting from editor Rich Perelman. ★
★ To get The Sports Examiner by e-mail: sign up here! ★
≡ THE 5-RING CIRCUS ≡
1. Staggering $720,000 paid for 1960 Olympic Winter torch
2. Spain outclasses U.S. women, 2-0, in Pamplona
3. NWSL abuse scandal continues to expand
4. Hockey Canada imploding over assault scandals as board resigns
5. Paralympics impact comes "One, two, three or four years later"
A 1960 Olympic Winter Games torch presented by Walt Disney to his deputy for the torch relay and pageantry of the event sold for an astonishing $600,000 plus a 20% buyer's premium at an online auction that concluded over the weekend. There were 13 more items that sold for more than $10,000 each. In Pamplona, Spain, the U.S. Women's National Team lost to Spain, 2-0, and dropped consecutive games for the first time since 2017. The American side was missing a half-dozen of its stars, but 15 Spanish players had refused to play to protest the team's coach! The abuse scandals at the National Women's Soccer League continue to expand, with new cases reported, the Orlando Pride coach fired and sponsors suspending their support of teams in Portland and Louisville. Further north, Hockey Canada is imploding from revelations of millions in payments in abuse cases back to 1989, with the chief executive excused and the board of directors resigning en masse in advance of an election in December. Athletes in other sports are also pushing back against their federations, especially in bobsleigh and skeleton. The Paris 2024 organizers welcomed a crowd of perhaps 40,000 to its Paralympic Day last Saturday, with IPC President Andrew Parsons saying the Paralympic Games bring long-term change for those with disabilities, and the attention focused on them is the reason a merger with the Olympic Games would not be advisable.
1.
Staggering $720,000 paid for 1960 Olympic Winter torch
/Updated/Lot no. 1 of Ingrid O'Neil's 485-item Auction 92 of Olympic memorabilia that ended on 8 October was a mounted torch from the 1960 Olympic Winter Games in Squaw Valley, California (now re-named Palisades Tahoe).
Given by Walt Disney – Chairman of the Games Pageantry Committee – to film producer, writer and director Tom Leetch in recognition of his work on the relay and the pageantry for the Games, the torch had a starting bid of $240,000.
It sold for an astonishing $600,000, plus a 20% buyer's premium for a total sales price of $720,000 to an unknown buyer. O'Neil, who has been in the Olympic memorabilia business for decades, believes this is an "absolute record" for a torch from the 1960 Winter Games.
That was the stunner, but there were 13 other lots which sold for more than $10,000, not including the 20% buyer's premium, eight of which were for Olympic torches:
● $65,000: A 1992 Albertville Olympic Winter Games torch.
● $45,000: The 1904 St. Louis bronze medal in the men's triple jump, won by American Robert Stangland, with the original case.
● $35,000: A set of 1948 St. Moritz Winter Games gold, silver and bronze medals, apparently a souvenir given to the Swiss Chef de Mission Kurt Gassmann.
● $28,000: the 1904 St. Louis gold medal for rope climbing – part of the gymnastics competition – won by American George Eyser.
● $28,000: A Sapporo 1972 Olympic Winter Games torch.
● $24,000: Original 22×29-inch oil painting by French artist Michel Delacroix, commissioned by the 1996 Atlanta Committee for the Olympic Games, and used to create a poster for the Games.
● $24,000: Calgary 1988 gold medal (USSR) for men's ice hockey.
● $24,000: Calgary 1988 Olympic Winter Games torch.
● $22,000: A Cortina 1956 Olympic Winter Games torch.
● $20,000: A 1976 Innsbruck Olympic Winter Games torch.
● $18,000: A gold-plated and extremely rare Montreal 1976 torch.
● $13,000: A Beijing 2022 Olympic Winter Games torch.
● $12,000: A Tokyo 2020 Olympic torch.
Not everything went for big money. Six lots went for $80 each ($96 with the buyer's premium): the U.S. Olympic Committee's official book for the 1984 Games, 1988 Seoul Olympic mascot figurines, a 1992 Albertville U.S. Olympic Team beer stein, a 1998 Nagano commemorative beer stein, a 2004 IOC-awarded Athens participation pin, and a set of London 2012 Opening and Closing Ceremonies programs.
2.
Spain outclasses U.S. women, 2-0, in Pamplona
Despite a revolt from many of its star players, eighth-ranked Spain controlled the midfield and convincingly defeated the top-ranked U.S. Women's National Team, 2-0, in Pamplona on Tuesday,
The first half saw the U.S. control the first 30 minutes, but without any serious chances. Spain then came alive, found some offensive cohesion and got a quality chance on a powerful shot from outside the box by midfielder Claudia Zornoza in the 31st minute.
Off a Zornoza corner in the 39th minute, the ball swerved into the middle of the box, right in front of the American goal, and found the foot of striker Alba Redondo, whose shot was blocked. It caromed off the ankle of defender Rocio Galvez and defender Laia Codina clubbed it with her right foot past U.S. keeper Casey Murphy for a 1-0 lead. The half ended with Spain holding 54% of the possession and a 4-3 edge on shots.
The second half continued Spain's control of play, with strong chances in the 63rd and 69th minutes and then a thunderous second goal in the 72nd minute. Moving down the right side, midfielder Oihane Hernandez sent a hard cross into the middle of the box, with Esther Gonzalez meeting it with her left foot and directing it into the left side of the net for a 2-0 lead.
The U.S. attack was inconsistent and Spain's midfield was more and more efficient as the game progressed. The Spanish finished with 51% possession, but the U.S. had a 10-8 advantage in shots. The U.S. managed only two shots-on-goal on Tuesday, after two against England last Friday.
The game, played in front of a full house at the 23,576-seat El Sadar Stadium in Pamplona, featured two wounded teams.
The Spanish were without 15 players who refused the call-up for the national team on 24 September, citing issues with team performance and coach Jorge Vilda. A player's letter cited "the general situation on the Spanish national team generated by recent events, events which [the federation] is aware of, is greatly affecting my emotional state and therefore my health."
The U.S. was coming off its first loss of the year, a 2-1 defeat to England on Friday, ending a 23-match unbeaten streak, and without multiple first-line players due to injuries, including strikers Alex Morgan, Mallory Pugh and Catarina Macario, midfielders Sam Mewis and Julie Ertz, defenders Tierna Davidson and Kelley O'Hara, and others.
The last time the American women lost consecutive games was back in 2017, with losses to England (0-1) and France (0-3) in the SheBelieves Cup. And the schedule does not get any easier, with two matches vs. no. 2-ranked Germany coming up on 10 November in Ft. Lauderdale, Florida and 13 November in Harrison, New Jersey.
¶
The U.S. women's recent friendlies have drawn modest interest from television viewers. After the USA-Nigeria match on 6 September (Tuesday) drew 336,000, the USA-England friendly on Friday afternoon (3 p.m. Eastern) drew 726,000 viewers according to Nielsen. That was the biggest soccer audience of the week in the U.S., but paled against college and NFL games, with 22 drawing more than one million viewers, and the Major League Baseball Wild Card Series games, where all nine had more than a million viewers.
3.
NWSL abuse scandal continues to expand
U.S. Soccer Federation President Cindy Parlow Cone said that the release of the federation-commission report on abuse compiled by former Deputy Attorney General Sally Yates has led to at least three additional abuse cases being reported.
Parlow Cone said the reports have been forwarded, as required, to the U.S. Center for SafeSport.
At the Orlando Pride, coach Amanda Cromwell and assistant coach Sam Greene were fired, with team owner Mark Wilf's statement including:
"Our organization has received a review of the findings regarding retaliatory conduct toward Pride players and supports the actions taken by the National Women's Soccer League."
Cromwell disagreed and posted a statement that read in part, "I am saddened and disappointed by the results of the NWSL's investigation released today. I believe the investigation lacked transparency, professionalism and thoroughness and as a result my character and integrity have been mischaracterized." She is considering her legal options.
The repercussions of the Yates Report, which focused on specific misconduct of coaches in Portland, Louisville and Chicago, continue to be felt at the club level. In Portland, owner Merritt Paulson announced that he will no longer serve as chief executive of the Thorns, saying "I am holding myself accountable for not doing enough."
Thorns sponsors Laurelwood Brewing Company, Tillamook and Alaska Airlines have questioned their relationship with the team going forward; Alaska Air said in a Sunday statement (9th), in part:
"[W]e are taking an immediate next step to redirect Alaska Airlines' Timbers and Thorns FC sponsorship funds this quarter to the National Women's Soccer League Players Association 'Support the Players Emergency Trust' and to youth sports in the Portland community."
Racing Louisville sponsor Sherwin-Williams announced last Friday that "Any future support will depend on the National Women's Soccer League creating meaningful change to ensure the health and safety of the players.
"In lieu of the sponsorship, we have made a donation to Support The Players National Emergency Trust (NET), which will guarantee our funds go directly to the players."
4.
Hockey Canada imploding over assault scandals as board resigns
A major abuse scandal is essentially dissolving the highest-profile national sports federation in Canada – Hockey Canada – over its own abuse scandal in the national sport.
Reports in July revealed that the federation had paid C$8.9 million (~$6.5 million U.S.) in 21 different settlements in abuse cases since 1989, some from its own funds and some from insurance. Another settlement, for C$3.55 million (~$2.58 million U.S.), was made in May related to sexual assault allegations from June 2018 involving eight former Canadian Hockey League players.
The repercussions have reached the boiling point, with federation sponsors Bauer Hockey, Canadian Tire, Nike and Tim Hortons all suspending their relationships with Hockey Canada. Hockey Quebec announced last week that it would no longer forward a portion of registration fees to the national federation, in which it had "lost confidence."
On Tuesday, chief executive Scott Smith, who refused to resign in July, was dismissed and the entire Board of Directors resigned so that a new Board can be installed. Elections for a new Board will be held on 17 December.
The Toronto Star reported Monday that "Athletes in sports such as rowing, rugby, skeleton, artistic swimming, women's soccer and wrestling have voiced concerns about Canadian sports culture and issues ranging from sexual abuse and maltreatment to toxic training environments and financial wrongdoings."
Reports of misconduct have roiled the Bobsleigh Canada Skeleton federation and Gymnastics Canada has had its funding frozen by the Canadian Ministry of Sport.
5.
Paralympics impact comes "One, two, three or four years later"
The Paris 2024 "Paralympic Day" on Saturday (8th) brought perhaps 40,000 Parisians – no one knows for sure – to the Place de la Bastille for free demonstrations of 15 Paralympic sports across three temporary fields along with entertainment.
The French-language site FrancsJeux.com reported on the comments of International Paralympic Committee President, Andrew Parsons (BRA), on the impact of a Paralympic Games in a country:
"It's important to mention that we don't expect issues that are hundreds of years old to be resolved with the Paralympic Games.
"It would be unrealistic, in particular, to imagine that public transport would be 100% accessible. But the Paralympic Games are a catalyst. What we want is to push accessibility and highlight the needs in this area. So that there are always improvements in terms of accessibility for the city and for the country. Not at the time of the Games, but one, two, three or four years later. This is the opportunity. After the Games, it's up to society to keep pushing for inclusion."
Parsons noted in an August interview that while there was a significant inclusion of Paralympic events into the Commonwealth Games in Birmingham (ENG) in July, he does not see a merger of the Olympic and Paralympic Games coming … and does not want one:
"In the sport movement I think we are going to see more and more integration, but I still believe that the Paralympic Games is not only a sport event. I see the Paralympic Games as the only global event on this planet that puts persons with disabilities centre stage, so I still believe that this is a platform that needs to be owned by persons with a disability in an exclusive way because it's their moment to shine, their moment to send a message, their moment to bring their agenda to the world.
"So while I do believe that in many other sports events like the Commonwealth Games – and I was there for a few days – it's really great to see that level of integration, especially when the crowds, they don't differentiate a Para athlete from an athlete without a disability, I believe that when it comes to the biggest sport event at a global level for persons with disability, we should still have the same format as we have now. Olympics, transition, Paralympics. And in some other games, when it's possible, I think integration is amazing."
The Paralympic athletes are fully aware. Said French long jumper Arnaud Assoumani, a six-time Paralympic medalist, who reached 7.58 m (24-10 1/2) on Saturday:
"The Paralympic Games and big events like that can change and really accelerate the perception, the awareness and then also to show that everyone needs to be part of that Movement.
"It's not just for people with disabilities. It's for all society, so we need the politicians, we need the media, we need the companies. Now we are in that moment in France where everything is speeding up like crazy, but we are building something.
"Today was the first Paralympic Day, but we want to have more in France in the next years, and this Paralympic Day needs to [be held] in other countries around the world too."
≡ WORLD CHAMPIONSHIPS ≡
● Judo ● The World Judo Championships are heading toward the finish in Tashkent (UZB), with the home team enjoying two wins in the men's division.
Tokyo Olympic bronze medalist Davlat Bobonov won the men's 90 kg class by defeating Christian Parlati (ITA), and Muzaffarbek Turoboyev took the 100 kg title with a win over Canada's Pan American champ Kyle Reeves.
The women's 70 kg final was a triumph for defending champion Barbara Matic of Croatia, but this in a final against another Croatian, Lara Cvjetko, who won her first Worlds medal. At 78 kg, it was Brazilian Mayra Aguiar winning her third world title – 2014-17-22 – by defeating China's Zhenzhao Ma.
The open-weight classes will be concluded on Wednesday and the Mixed Team event on Thursday will conclude the championships.
● Shooting ● The ISSF World Championships in Shotgun concluded in Osijek (CRO) with the team events in Skeet, and the U.S. women claiming gold.
Dania Jo Vizzi, Austen Smith and Sam Simonton swept the Women's Team final from Italy, by a 6-0 score, winning by scores of 11-9, 11-10 and 12-5. China won the bronze in a shoot-off with Germany, 11-10.
Italy and the U.S. met again in the men's Team final, but it was much, much closer. The U.S. trio of Vincent Hancock, Dustan Taylor and Christian Elliott fought the Italians to a 5-5 tie after five rounds, coming back from am 0-2 deficit. But in the shoot-off, Italy triumphed by 12-11 to win the title. The Czech Republic won the bronze.
The Mixed Team final included Italy once again, but it was Britain's Ben Llewellin and Amber Hill who managed a 7-3 win for the gold medal. Kazakhstan and France won the bronze medals; the American pair of Taylor and Simonton lost to France, 7-1.
The U.S. won five senior-level medals (2-2-1); Italy won four golds, plus two silvers and a bronze to lead all medal-winning teams, while Great Britain won six (2-3-1).
● Volleyball ● The serious business of the elimination rounds at the FIVB Women's World Championship in the Netherlands and Poland has begun, with Italy, Brazil, Serbia and the U.S. advancing to the semifinals on Wednesday and Thursday.
On Tuesday, Italy dispatched China, 3-1, and Brazil edged Japan, 3-2, in Apeldoorn (NED), and will play on Thursday, also in Apeldoorn. Serbia had a tough time with home-standing Poland, 3-2, in Gilwice. The U.S., the Tokyo Olympic gold medalists, defeated Turkey for the second time in the tournament, 3-2. The Serbia-U.S. match will be in Gilwice.
In prior play, Brazil defeated Italy in a tight, 3-2 match in the second round. Serbia previously swept aside the U.S., 3-0, in pool play. The defending champion Serbs are the only undefeated team left in the tournament (10-0) and have won 30 of 35 sets played.
≡ PANORAMA ≡
● Athletics ● the Athletics Integrity Unit confirmed the doping positive of British sprinter CJ Ujah and the disqualification of Britain's men's 4×100 m relay team at the Tokyo Olympic Games, where it finished second. The AIU stated:
"The Athletics Integrity Unit (AIU) has banned British athlete Chijindu (CJ) Ujah for 22 months from 6 August, 2021 until 5 June, 2023.
"This is the outcome of the Case Resolution Agreement which the AIU and the World Anti-Doping Agency (WADA) have reached with Ujah who tested positive at last year's rescheduled Tokyo 2020 Olympic Games for two prohibited substances (Ostarine and S-23) which are Selective Androgen Receptor Modulators (SARMS). The AIU and WADA were satisfied that the sprinter's anti-doping rule violation (ADRV) was not intentional as a result of his ingestion of a contaminated supplement and the applicable two-year period of ineligibility was reduced by two months on account of how promptly he admitted the violation."
¶
More Kenyan doping positives, both for marathoners. On Monday, the Athletics Integrity Unit suspended Philemon Kacheran (best of 2:05:19 in 2021) for three years for testosterone use. On Tuesday, the AIU announced Mark Kangogo (2:14:08 in 2018) has been provisionally suspended for use of the steroids Norandrosterone and Triamcinolone acetonide.
Kenya's The Nation reported that 21 Kenyan athletes have been suspended for doping in 2022.
● Football ● The fan festival concept, now a fixture in the country where the FIFA World Cup is being held and in many of the participating countries, is being expanded by FIFA through its sponsor AB Inbev this November. Fan programs will be mounted in five countries:
● London (ENG) at Outernet London, sponsored by BudX, on five dates only.
● Mexico City (MEX) at the Plaza de la Republica, sponsored by Corona, from 20 November to 18 December.
● Rio de Janeiro (BRA) at the Copacabana beach, sponsored by Brahma, on seven dates only.
● Sao Paulo (BRA) at Anhangabau Valley Park, sponsored by Brahma, on seven dates only.
● Seoul (KOR) at the S-Factory, sponsored by BudX, on three dates only.
● Dubai (UAE) at the Dubai Harbor, sponsored by BudX, from 20 November to 18 December.
All but the UAE have teams in the tournament, and the festivals will "only be open to consumers of legal drinking age." This is a full-service concept, with the program tailored to each market and capacities of up to 10,000. More details, such as admission fees (if any) and special reserved areas, are yet to come.
¶
FIFA announced the 2022 version of its Club Benefits Program, which will pay club teams up to about $209 million for players who are away from their teams for the FIFA World Cup in Qatar.
FIFA said it will pay about $10,000 U.S. per day, up to $370,000 per player who play in the medal matches, expected to be paid to 416 clubs across 63 countries. This is the same amount paid out for 2018; the program began in 2010. Smaller amounts will be paid to clubs for players who played in World Cup qualifying matches.
¶
The U.S. Women's U-17 team opened with an 8-0 rout of India at the FIFA U-17 Women's World Cup, in Bhubaneswar (IND). Melina Rebimbas scored twice as the U.S. out-shot India, 30-2.
● Gymnastics ● Sunday's final day of the Ukrainian national championships was canceled due to the bombing of Kyiv on Sunday by Russian missiles. The Gymnovosti.com site reported a tweet from 2016 Rio Olympian Angelina Radivilov, now working as a coach, that included an 11-second video of athletes sheltering and the caption:
"[T]his is how the final competition of the Ukrainian Championships went today. In the basement. And how is it at yours, Russians? Are you also hiding your athletes from rockets?"
¶
Following the lead of USA Cycling, USA Weightlifting, USA Fencing and others, USA Gymnastics announced it "will cover costs for regular visits to mental health providers for National Team athletes and coaches under a new athlete health and wellness program rolled out this fall."
Funded in part by USAG apparel sponsor GK Elite, the new project includes:
"Each National Team athlete in all disciplines will receive up to eight mental health visits per year, reimbursed by USA Gymnastics up to $125 per visit. Coaches are eligible for up to four visits per year. Athletes and coaches may use any provider of their choosing who has appropriate training and licensure in sport psychology or mental health."
● Swimming ● Two outstanding American swimmers confirmed their retirements, both of whom won medals in international competitions for the United States.
Madisyn Cox, 27, won a World Championships bronze in the women's 200 m Medley in 2017 and a gold on the 4×200 m Free Relay, plus 2016 World 25 m Championships bronzes in the 200 m and 400 m Medleys, and a 4×200 m Free relay silver.
But she will equally be remembered for fighting a 2018 doping ban for trimetazidine and winning. Cox was able to prove at the Court of Arbitration for Sport that a multivitamin contaminated with the drug was at fault and not her, and her suspension was reduced from four years to the six months that passed during her appeal.
Cox had said that the 2021 season would be her last, as she was moving on to medical school at the University of Texas.
Katie Drabot, 25, was a 13-time All-American at Stanford and won a World Championships bronze in the 200 m Butterfly in 2017 and a Pan-Pacific bronze in the same event in 2018. She wrote on her Instagram account:
"Swimming will always be a big part of my life and I'm forever grateful for the opportunities, individuals and experiences that it's given me. It's now time for me to focus on my health and well-being as I start this next chapter of my life."
¶
You can receive our exclusive TSX Report by e-mail by clicking here. You can also refer a friend by clicking here, and can donate here to keep this site going.
For our updated, 620-event International Sports Calendar for 2022 and beyond, by date and by sport, click here!