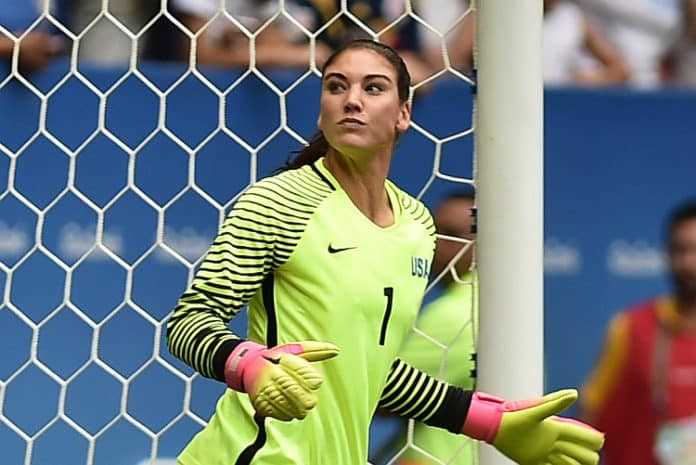 ★ The Sports Examiner: Surveying, monitoring and explaining the key competitive, economic and political forces shaping elite sport and the Olympic Movement. ★
★ Want TheSportsExaminer.com insights for your team? Yes! Click here for info on speaking, research and consulting from editor Rich Perelman. ★
★ To get The Sports Examiner by e-mail: sign up here! ★
≡ THE 5-RING CIRCUS ≡
1. Former star U.S. keeper Solo objects to USSF-USWNT settlement
2. Italy becomes sixth country to boycott FIG Congress
3. Russian figure skater Maria Talalaikina refused Italian residence
4. Ealey and McLaughlin nominated for World Athletics Woman of the Year
5. Is drafting the key to a sub-2:00 marathon?
The widely-applauded equal-pay settlement agreed between the U.S. Women's National Team and the U.S. Soccer Federation is being challenged by former star keeper Hope Solo. She is asking that the agreement be thrown out during the 5 December hearing as there is no clarity on what monies each plaintiff will actually receive, and moreover, only $14.1 million of the $22 million settlement will go to the players due to $7.9 million in attorney's fees and costs! Italy announced it will boycott the 2022 FIG Congress next month over Russian and Belarusian officials being able to attend; it's the sixth country to do so. Italian authorities would not allow Russian figure skater Maria Talalaikina, resident in the country for 11 months, to stay, and so she had to go back to Russia. But she is happy to be skating again. World Athletics announced its 10 candidates for Woman Athlete of the Year, with American World Champions Chase Ealey and Sydney McLaughlin on the list. A study led by the University of Colorado showed that better drafting during a marathon could lead to a sub-2:00 in-competition finish, especially with Kenyan star Eliud Kipchoge down to 2:01:09 in Berlin this year!
In figure skating, American star Mariah Bell retired and Boston was awarded the 2025 World Championships.
1.
Former star U.S. keeper Solo objects to USSF-USWNT settlement
"Based upon the foregoing, and because the Settlement is neither fair, reasonable, nor adequate, Class Member Solo's Objection should be sustained, the Settlement should be rejected and, approval of the Settlement should be denied."
That's from a Tuesday filing (11th) by former U.S. goalkeeping star Hope Solo, now 41, who was a member of the American women's team from 2000-16 and was on two Olympic champion and one World Cup champion teams.
Solo filed the objection to the much-lauded settlement agreement reached in February on the class-action suit between the U.S. Women's National Team and the U.S. Soccer Federation, alleging violations of the Equal Pay Act and the Fair Labor Standards Act.
The settlement is coming for final approval on a 5 December hearing in Los Angeles before Federal Judge R. Gary Klausner. Solo is asking Klausner to reject the settlement.
Her main issues are the (1) lack of specificity on how the $22 million in damages that the USSF has agreed to pay is going to be distributed to her and other claimants, and (2) the amount of legal fees that will come off the top before anything is given to her and the other plaintiffs in the case.
On distribution, Solo's filing states:
"The proposed Settlement Agreement fails to set forth with specificity the allocation of the Settlement fund for each class member. The failure to explain the plan of allocation is material.
"Neither the Class Notice nor the proposed Settlement Agreement provides the Class Members with the allocation of their individual relief. As a result, Class Members do not have the information necessary to calculate the allocation of the Settlement proceeds per class member.
"The lack of disclosure about the Settlement allocation denies Class Members the opportunity to make informed decisions as to releasing their claims in exchange for an unknown allocation of the proposed Settlement fund at an unknown time in the future."
And then there is the question of how much money is actually going to be available:
"The Class Notice states that Class Counsel will request the Court for an award of attorneys' fees and expenses, which will be paid from the $22 Million fund. The Class Notice further states that Class Counsel will ask the Court for 30% of the $22 Million fund ($6.6 Million) and seek approximately $1,319,127 in litigation expenses."
That's $7,919,127 off the top or 36% of the total of $22 million, leaving $14,080,873 to distribute. That's a lot less, and Solo contends:
"Class Counsel's requested attorney's fees and reimbursement of expenses is disproportionate to the Settlement fund, and are improper as neither reasonable nor necessary."
Solo's filing also reveals that the USSF will not pay all $22 million at one time, but in four annual payments of $5.5 million, with the first made on 1 June 2022. So the claimants are going to have to wait for their full share – whatever that is – until mid-2025.
Once again, we are reminded of Yogi Berra's famous 1973 maxim: "It's never over till it's over."
2.
Italy becomes sixth country to boycott FIG Congress
The Federazione Gimnastica d'Italia (FGI) stated on Wednesday that it would skip the forthcoming International Gymnastics Federation (FIG) Congress:
"FGI President Gherardo Tecchi announced that the Gymnastics Federation of Italy will not take part with its delegation in the 84th FIG Congress, scheduled in Istanbul, Turkey, on 11 and 12 November 2022, due to the desire not to meet delegates from Russia and Belarus.
"The decision of [the FGI] was taken, with the endorsement of the Italian National Olympic Committee, in support of the line adopted by other federations – to date Norway, Ukraine, Estonia, Poland and Lithuania – with reference to the declaration agreed by the Ministers of Sport – or their equivalents – of the 25 countries of the European Union and numerous non-European countries, in total solidarity with the Ukrainian Gymnastics Federation."
Italy is a significant player in the gymnastics world, but its announcement was brushed aside by Russian Gymnmastics Federation chief and FIG Executive Committee member Vassily Titov of Russia. He told the TASS news agency:
"The International Gymnastics Federation includes 143 countries, 130 have already registered.
"This means that the congress is competent, it will take place and make all the necessary decisions. that our sports colleagues are trying to overly politicize the situation with the participation of the Russian and Belarusian delegations."
Titov also noted that the ban on Russian and Belarusian athletes in FIG -sanctioned competitions is still in effect. Russian Sports Minister Oleg Matytsin also said he sees no movement toward reinstatement of Russian and Belarusian athletes:
"Statements that discriminate against Russian, Belarusian or other athletes are absolutely unacceptable. We hear some positive statements that sports cannot exist without Russians.
"The next year is important, and a lot depends on the position of the [International Olympic Committee]. So far, we do not see its change. The task of our federations and state bodies is to change the position of the international sports community to one where all Olympic principles are observed."
3.
Russian figure skater Maria Talalaikina refused Italian residence
The Russian invasion of Ukraine continues to have repercussions far beyond the battlefield and even sports competitions, but down to who can live where.
Russian-born figure skater Maria Talalaikina, now 20, who finished ninth in the 2020-21 Russian nationals, moved to Italy to improve her chances of competing internationally. She told the RIA Novosti agency that she received permission last year from Russia for a change of nationality … then the war came:
"Due to the political situation, the Italian government did not issue me a residence permit. Without this document, I could not represent this country in international competitions. And I could not continue to reside in Italy either.
"I spent almost a year in sports 'quarantine' in Italy in order to be able to participate in international competitions in the future. This period was difficult for me. I thought about quitting, then I realized I couldn't live without figure skating. So I decided to come back [to Russia]."
She returned in October and was welcomed back to her old training group in St. Petersburg. She told TASS, "There was a letter of apology from the Italian federation, which said that they could not change anything, it was the decision of their government." She explained that the Italians tried to help her with a transfer to Croatia, but the Croatian government has banned entry for Russian passport holders. So she had nowhere else to go.
She explained her situation this way:
"I think it's no secret to anyone that every athlete has a goal not only to train, he wants to compete. At that time, I understood that in Russia I won't have such an opportunity [to make a national team], but in Italy there was a chance. Since there was, why not try? I had to, so as not to regret later that I didn't even try. …
"I think everyone in life has such a moment when they don't know what to do. I had the feeling that everything was taken from me. I'm 20 years old, and from the age of four, I skate, I even slept in them when I was little. Well, I can't live without this frozen piece of water. …
"I don't need anything else; nothing can replace this. I love what I've always done, and I'm happy that I still can. Everything is fine, I'm at home and I'm glad I'm back, I don't even remember when I was so happy for the last time."
But don't look for her to compete internationally any time soon.
4.
Ealey and McLaughlin nominated for World Athletics
Woman of the Year
World Athletics announced its list of 10 candidates for Women's World Athlete of the Year, with two Americans making the list (in alphabetical order):
● Tobi Amusan (NGR): World Champion in 100 m hurdles and world-record setter (12.12)
● Chase Ealey (USA): World Champion in the shot; world leader at 20.51 m (67-3 1/2)
● Shelly-Ann Fraser-Pryce (JAM): Won fifth 100 m world title; world leader at 10.62
● Kimberley Garcia (PER): World Champion in 20 km and 35 km Walks
● Shericka Jackson (JAM): World 200 m Champion and world leader at 21.45
● Faith Kipyegon (KEN): World Champion at 1,500 m and world leader at 3:50.37
● Yaroslava Mahuchikh (UKR): World Indoor Champion; Worlds silver medalist; world leader at 2.05 m (6-8 3/4)
● Sydney McLaughlin (USA): World Champion in 400 m hurdles; world-record setter at 50.68
● Shaunae Miller-Uibo (BAH): World Champion in 400 m, indoors and out
● Yulimar Rojas (VEN): Triple Jump World Indoor Champion and World Champion; extended her world record to 15.74 m (51-7 3/4)
Fans can participate in voting through the World Athletics social-media channels; the vote of the World Athletics Council counts for 50%; another 25% is reserved for the World Athletics "family" – including the national federations – and the fan vote also counts for 25%.
The winner will be announced in December.
5.
Is drafting the key to a sub-2:00 marathon?
"Kipchoge only has to shave off about a minute. More disciplined drafting could easily get him there."
A University of Colorado-led study of the impact of drafting during a full marathon indicates that even Kenyan world-record holder Eliud Kipchoge could obtain a substantial advantage of as much as five minutes!
In "The metabolic cost of emulated aerodynamic drag forces in marathon running," published in July in the Journal of Applied Physiology, authors Rodger Kram (USA/University of Colorado), Edson Soares da Silva (BRA/Universidade Federal do Rio Grande do Sul) and Wouter Hoogkamer (NED/University of Massachusetts Amherst) conducted the strongest experiments yet to determine the impact of drafting on an endurance race.
They used a team of 12 runners, each working on a treadmill and competing six 5:00 trials, first without resistance, then with a rubber strap that pulled them backwards at a rate calibrated to simulate aerodynamic drag. And:
"The researchers conclude runners could theoretically increase their power by about 6% per 1% of their body weight in the absence of any wind resistance.
"Realistically, even the most ideal drafting can probably only eliminate about 85% of that drag. And notably, for reasons that aren't yet clear, some runners appear to benefit even more from drafting than others.
"For a runner of Kipchoge's size and speed, this means drafting alone can potentially save between 3:42 and 5:29.
"Surprisingly, slower runners can achieve about the same time savings. For instance, da Silva calculates, a 125-pound, 5-foot-7 female runner who typically runs about a 3:35 marathon could improve her time by as much as five minutes."
Kipchoge famously ran 1:59:40 in Vienna in 2019 in time-trial conditions that included a pacing scenario that allowed Kipchoge to draft most of the way. Kipchoge had three pacesetters working with him in Berlin for his most recent 2:01:09 record, who left after about the 15-mile mark (24 km); if they had been able to help him for another six miles (10 km), another minute could be saved, leaving the Kenyan star right at the 2:00 mark.
≡ WORLD CHAMPIONSHIPS ≡
● Cycling ● The 2022 UCI Track Cycling World Championships began on Wednesday in Saint-Quentin-en-Yvelines (FRA) and will continue through Sunday.
The men's first-day winner was Australia in the Team Sprint – its first since 2012 – defeating four-time defending champion Netherlands in the final, 41.600-41.633. Great Britain took the bronze over Germany.
The women's Team Sprint was a third straight World Championships win for Germany, with a world-record time of 45.967 for Emma Hinze, Pauline Grabosch and Lea Friedrich. All three have been on Germany's three consecutive winning teams. China was second (46.631); Great Britain again won the bronze.
Italy's Martina Fidanza defended her world title in the women's Scratch Race, outlasting Maike van der Duin (NED) for the second straight year. Jessica Roberts (GBR) was third, with American Lily Williams fourth.
● Judo ● The individual weight classes at the 2022 World Judo Championships concluded on Wednesday, with two more medals for Japan, but neither of them gold.
In the men's +100 kg class, Cuba's Andy Granda, the 2019 Pan American Games gold medalist, won his first Worlds medal by defeating Japanese newcomer Tatsuru Saito in the final. The women's +78 km crown was won by France's Romane Dicko, the Tokyo Olympic bronze winner, who defeated Brazil's 2021 Worlds bronze winner Beatriz Souza in the championship match. Japan took a bronze with Wakaba Tomita, the silver medalist in 2021.
The medal standings for the individual classes showed Japan once again dominant, winning 12 medals, with five golds, four silvers and three bronzes. Next closest were Brazil, France and Georgia, with four medals each. The Mixed Team event will be held on Thursday.
● Volleyball ● Defending champion Serbia moved into the championship final of the 2022 FIVB Women's World Championship on Wednesday by defeating the Tokyo Olympic gold medalists, the U.S., in four sets.
Serbia swept the U.S. in pool play and won the semifinal held in Gilwice (POL) by 25-21, 25-20, 17-25 and 25-23.
The other semi, to be held in Apeldoorn (NED) on Thursday, has Brazil meeting Italy. The Italians lost to Serbia in the 2018 final and Brazil won silvers in 2006 and 2010.
The medal matches will be held on Saturday, both in Apeldoorn.
≡ PANORAMA ≡
● Memorabilia ● An update on Wednesday's post on the sale of a mounted Olympic Torch from the 1960 Olympic Winter Games that sold at auction for $720,000, including the buyer's premium. This turns out to be a record for a torch from this specific Games only. A confirmed sale in 2021 for a torch from the 1952 Helsinki Games was for more than $1 million.
● Athletics ● USA Track & Field published its selection criteria for the 2023 World Athletics Championships marathon to be held in Budapest (HUN) next summer. It's all on time:
"Three (3) team positions, per gender, will be selected based on the three (3) highest placing time performances on marks set on World Athletics approved courses (footnote) during the period of December 1, 2021 through May 30, 2023, who accept a position on the team.
"Each selectee must have met at least the World Athletics Championships qualifying standards of 2:09:40 for men and 2:28:00 for women or otherwise qualified based on world ranking or top five finish at a Platinum Label marathon held during the qualification period or by winning a Gold Label marathon held in 2023.
"Should not enough athletes accept positions using the above procedure, any remaining positions will be filled based on rank order as described above."
With the selection period going back to December of 2021, the current time leaders who have met the qualifying standards are:
Men:
● 2:08:16 ~ Conner Mantz (Chicago '22)
● 2:09:28 ~ Zach Panning (Chicago '22)
● 2:09:36 ~ Galen Rupp (World Champs '22)
(no other qualifiers below 2:09:40)
Women:
● 2:18:19 ~ Emily Sisson (Chicago '22)
● 2:19:12 ~ Keira D'Amato (Houston '22)
● 2:22:10 ~ Sara Hall (World Champs '22)
(four others below 2:28:00 in 2022)
Lots to choose from on the women's side; as for a possible 10,000 m berth instead, the 2023 U.S. Nationals are currently slated for 6-9 July, with no site publicly announced as yet.
● Figure Skating ● American star Mariah Bell, 26, announced her retirement on Wednesday, in an Instagram post that included:
"This journey was hard and I didn't always like it but I did always love it. All of these experiences made me the person I am, a person ready to hang up my competitive skating and take on the next part of my life with knowledge I could only gain through gliding across a cold sheet of ice everyday. My dreams became reality!
"I've learned through perseverance and determination there are no limits. … I am so lucky that I am ending with my love of skating at an all-time high. …
"See you on the ice again but now just for the fun of shows."
Bell appeared in four World Championships, with a best of fourth in 2022, and was 10th at the Beijing 2022 Olympic Winter Games. She was a four-time U.S. Nationals medal winner, winning in 2022 and second in 2020. She won four ISU Grand Prix medals and won at Skate America in the fall of 2020.
¶
The International Skating Union announced that Boston has been provisionally awarded the 2025 World Figure Skating Championships for 24-30 March. The 2026 meet will go to Prague (CZE).
The 2025 Worlds are slated for the TD Garden, which also hosted the event in 2016. It's the 14th time that the United States will host the figure skating Worlds, beginning in 1930! It will be the fourth time in the 21st Century for the World Championships to be in the U.S.
¶
The ISU published its allocation of judges by nation for the 2023 European, 2023 World Championships and 2023 World Junior Championships and no Russian or Belarusian judges will be involved. The ISU has maintained the ban on Russian and Belarusian athlete participation since 1 March 2022.
● Gymnastics ● The champions of the FIG Artistic World Challenge Cup were confirmed, with an unbelievable Vault victory for 47-year-old Oksana Chusovitina (UZB).
Although she represented the USSR through 1991, she was born in Uzbekistan and scored 85 points in her three Challenge Cup appearances to win the Vault title.
Ukraine's Daniela Batrona won the Uneven Bars (56 points) and Beam titles (70); Hungary's Dorina Boeczoego won the Floor championship (75), with Batrona second (50).
The Armenian Davtyan brothers won two of the six apparatus titles with Vahagn Davtyan taking the Rings (85) and younger brother Artur Davtyan winning on Vault (90). Israel claimed two titles with Tokyo Olympic Floor champ Artem Dolgopyat winning his specialty (90) and Alexander Myakinin winning on the Horizontal Bar (70). Kazak Nariman Kurbanov (72) won in the Pommel Horse and Ukraine's Ilia Kovtun won on Parallel Bars (90).
¶
You can receive our exclusive TSX Report by e-mail by clicking here. You can also refer a friend by clicking here, and can donate here to keep this site going.
For our updated, 620-event International Sports Calendar for 2022 and beyond, by date and by sport, click here!