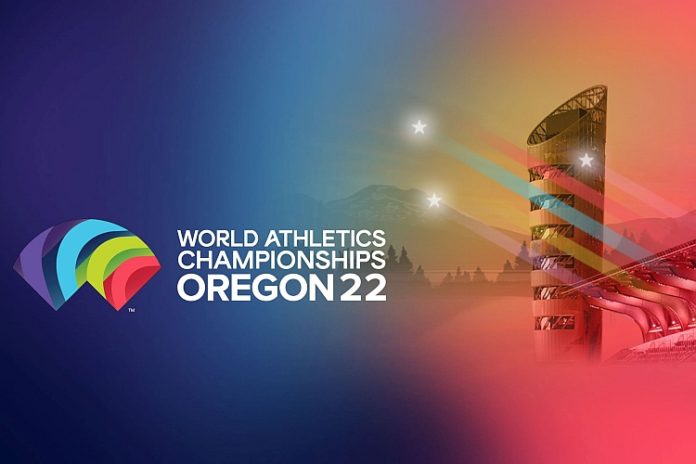 ★ The Sports Examiner: Surveying, monitoring and explaining the key competitive, economic and political forces shaping elite sport and the Olympic Movement. ★
★ To get The Sports Examiner by e-mail: sign up here! ★
≡ THE 5-RING CIRCUS ≡
1. Oregon lodging stats show only modest increase from Eugene Worlds
2. Van Niekerk comeback accelerates in Bellinzona
3. Massive crowd opens Lusail Stadium in Qatar, but with some issues
4. Turkey wins Greco title; Japan sweeps women's golds at Wrestling Worlds
5. Governance makes a difference as Central American Games canceled
The first statistics on the local impact of the 2022 World Athletics Championships in Eugene are out, with only a modest increase in occupancy, but a big gain in revenue thanks to increased prices. At the last World Athletics Continental Tour meet in Europe this year, South Africa's Wayde van Niekerk showed signs of being a major contender for 2023 honors with a 44.33 win in the men's 400 m. A massive crowd of more than 77,000 opened the Lusail Stadium in Qatar last week – it will be the site of the FIFA World Cup final – but with some of the often-seen issues of supplies and transport management that need to be worked out. Turkey won the team Greco-Roman title at the UWW World Championships in Belgrade and Japan's women continued to dominate, winning the first two Freestyle titles. Following the International Olympic Committee's imposition of a delayed suspension of the National Olympic Committee of Guatemala to resolve governmental interference in elections, the Central American Sports Organization decided to cancel October's Central American Games – to be held in Costa Rica and Guatemala – altogether. Wow.
1.
Oregon lodging stats show only modest increase
from Eugene Worlds
The first statistical reports are beginning to show up on the impact of the 2022 World Athletics Championships in Eugene, Oregon, with a noticeable but hardly overwhelming rise in accommodations use last July.
Let's start with noting that the 2022 Worlds took place from 15-24 July, so only 10 days out of a 31-day month. But the Oregon Tourism Commission's "Oregon Lodging Statistics" report for July showed:
● Statewide occupancy in Oregon was down by 2.2% in July to 73.9%, year-over-year vs. 2021.
● Occupancy in the Willamette Valley region, which includes Eugene and Springfield, was up by just 0.3% for the month to 77.7% in 2022, year-over-year vs. 2021. (Many Worlds visitors would like to know where those 22.3% unused rooms were during the meet!)
● Room rates, however, were up 10.1% statewide in July vs. 2021 and in the Willamette Valley region, by 35.0% vs. 2021, to an average of $185.91 per room per night. Room revenue statewide for July was up only 8.1% in July, but 33.5% in the Willamette Valley region to $48.02 million, compared to 2021. That's a reflection of the Worlds, no doubt.
Perhaps reflecting the concentration on the Worlds dates, "room demand" for all of  July in the Willamette Valley region was actually down by 1.1%, year-over-year, vs. 2021.
More reports are due from the Oregon Tourism Commission to more fully evaluate the impact of the World Championships, by the end of the year.
The June report, which includes the hosting of the poorly-attended NCAA Championships and USATF National Championships at Hayward Field, showed Willamette Valley occupancy at 75.2% for the month (down 2.0% from 2021) but an average room rate of $167.72, up 14.4% from 2021. That's a remarkable increase, given that the NCAAs and the U.S. Olympic Trials were held in Eugene in 2021, with much better attendance.
2.
Van Niekerk comeback accelerates in Bellinzona
The end of the World Athletics Continental Tour in Europe for 2022 was the Gala dei Castelli meet in Bellinzona (SUI) on Monday, but it showed that the comeback of Rio 2016 men's 400 m gold medalist Wayde van Niekerk (RSA) is just starting.
Still not the same following a freak injury during a celebrity touch rugby match in late 2017, van Niekerk went from bests of 43.48-43.03 (world record)-43.62 in 2015-16-17 to missing all of 2018, then 47.28 in 2019, 45.58 in 2020 and 44.56 in 2021.
In a non-Diamond League race in Zurich on the 8th, he won in a seasonal best of 44.39 and then won in Bellinzona in 44.33, his fastest in five years and no. 7 in the world for 2022. He beat 2012 Olympic champ Kirani James (GRN) – the Diamond League winner – who ran 44.38 for second. Age 30, van Niekerk was fifth at this year's Worlds in Eugene and now has to be counted as a real challenger again for the 2023 Worlds … if he can stay healthy. He said after Zurich:
"The year has been challenging. I had to fight a lot of doubts and fears but I think it is going the right direction. It was just about getting back to believe in myself. I feel good, this was a good indication for me and great step forward."
There were other strong marks on Monday, including a 47.61 win for Brazil's World Champion Alison Dos Santos in the men's 400 m hurdles, a 13.18 win for Jamal Britt (USA) in the men's 110 m hurdles, another victory for E.J. Obiena (PHI) in the vault at 5.81 m (19-0 3/4) over American Chris Nilsen (5.71 m/18-8 3/4), and a shot put win for the U.S.'s Joe Kovacs over countryman Ryan Crouser, 22.19 m (72-9 3/4) to 22.00 m (72-2 1/4).
Marie-Josee Ta Lou (CIV) impressed with a 10.86 victory in the women's 100 m and Puerto Rico's Olympic champ Jasmine Camacho-Quinn won the women's 100 m hurdles in 12.72 over 2019 World Champion Nia Ali of the U.S. (12.80).
3.
Massive crowd opens Lusail Stadium in Qatar,
but with some issues
The final venue to be declared ready for the FIFA World Cup 2022 in Qatar saw a national-record crowd of 77,575 pour in on Friday (9th) for the Lusail Super Cup, with Al Hilal (RSA) defeating Zamalek (EGY) on penalties after a 1-1 tie.
The Lusail Stadium will host the FIFA World Cup final on 18 December and the match was not without incident. Reuters reported that with temperatures at about 93 F, water had run out at facilities inside and outside the stadium, and that crowds overwhelmed the nearby public transit station after the conclusion of the match:
"The station entrance is 400 metres from the stadium, but fans waited in a 2.5 kilometre line snaking back and forth across an empty lot. Officials said that was to prevent a stampede."
There was confusion among medical staff, security and suppliers on entrances to the facility, not surprising for a first event, but indicating the continuing need for preparations for the World Cup, which will open on 20 November.
4.
Turkey wins Greco title; Japan sweeps women's golds at Wrestling Worlds
Japan's women Freestyle team has won seven World Championships team titles in a row and 16 of 19 this century. And there is no let up.
At the UWW World Championships in Belgrade (SRB), Japan scored the first two golds of the women's tournament, with Tokyo Olympic champ Mayu Mukaida winning her third Worlds gold with a 10-0 technical fall over Ukraine's Oleksandra Khomenets in the final, and World Junior Champion Nonoka Ozaki shutting down American Kayla Miracle, also 10-0.
Miracle won a Worlds silver for the second year in a row and had won her matches by 17-6, 6-1 and a pinfall, but was overmatched against Ozaki.
American Jacarra Winchester lost in the 55 kg semifinals to Mukaida, but wrestling back into the bronze medal round, she was pinned by China's Mengyu Xie, and finished fifth.
In the Greco-Roman finals, host Serbia scored wins at 63 kg and 67 kg, with Sebastian Nad winning his first Worlds medal by defeating 2021 Worlds silver winner Leri Abuladze (GEO), 3-1 at 63, and 2021 European champ Mate Nemes moving up from a Worlds bronze in 2019 to win at 67 kg over Tokyo 2020 Olympic champ Mohammad Geraei (IRI), 5-4.
Zholaman Sharshenbekov (KGZ) – the 2021 Worlds runner-up – won the 60 kg class this time, scoring an 11-2 rout over 2020 European Champion Edmond Nazaryan (BUL). At 82 kg, Turkey's Burhan Akbudak also moved up from silver in 2021 to win at 82 kg over Uzbekistan's 2021 Asian champ, Jalgasbay Berdimuratov, 7-6.
Rio 2016 Olympic champ Artur Aleksanyan (ARM) won his fourth Worlds gold with a 5-1 victory over Bulgaria's 2018 Worlds runner-up Kilil Milov. Aleksanyan now owns World Championship golds from 2014-15-17-22, plus silvers from 2013-19 for six medals in the last nine Worlds.
Turkey won the Greco team title as three-time Olympic medal winner Riza Kayaalp took his fifth world title at 130 kg (2011-15-17-19-22) by defeating Iran's Amin Mirzazadeh, 1-1, on criteria. The victory gave the Turks 125 points in the Greco-Roman division, on top of Azerbaijan (118) and Serbia (110).
The meet continues through the weekend with the women's and men's Freestyle classes.
5.
Governance makes a difference as Central American Games canceled
Last week, the International Olympic Committee suspended the National Olympic Committee of Guatemala for interference by the Constitutional Court of Guatemala, to take effect on 15 October 2022.
The delay was to allow a solution to be found in time for the 2022 Central American Games to take place in Costa Rica and Guatemala from 27 October to 13 November. There's no need for that now as the Central American Sports Organization (known as ORDECA) canceled the 2022 CAG altogether:
"The Executive Committee of the Central American Sports Organization (ORDECA), in an extraordinary session (September 12, 2022), in view of the governance situation facing the Guatemalan Olympic Committee (COG), reports that:
"– Adheres to and expresses its full support for the content of the letter sent by the International Olympic Committee dated July 1, 2022, which reiterates that the National Olympic Committees must be free from interference in their internal governance and operations in accordance with the principle of autonomy of the Olympic Movement established in the Olympic Charter.
"– In view of the governance situation that affects the normal operation of the National Olympic Committee of Guatemala in accordance with the Olympic Charter and given the administrative and financial insecurity that such a situation entails, it is decided to cancel the XII edition of the Central American Sports Games that would be organized together Guatemala and Costa Rica.
"– In order to offer Central American athletes the opportunity to compete in the Central American Games, in accordance with the ORDECA Statutes, applications will be opened from the host cities in 2023 and thus have a broad period of organization to the next edition of the Central American Games scheduled to be held in 2025."
About 2,500 athletes from seven nations – Belize, Costa Rica, El Salvador, Guatemala, Honduras, Nicaragua and Panama – were expected to participate. The CAG was to have been held in 2021, but was moved due to the postponement of the Tokyo 2020 Olympic Games to 2021. The last Central American Games was held in 2017 in Nicaragua, with 3,500 athletes competing in 27 sports.
≡ PANORAMA ≡
● Olympic Winter Games: 2030 ● A new poll by the Asahi Shimbun in Japan found that 55% support the Sapporo bid for 2030 vs. 38% against. However, the polling in the Hokkaido Prefecture – in which Sapporo is located – showed an almost even split.
Sapporo and Salt Lake City are leaders in the campaign for the 2030 Winter Games, with Vancouver working to catch up after a late start. The host is expected to be selected in 2023.
● African Games ● Next year's XIII All-Africa Games in Ghana is being threatened by a dispute by the Association of African Sports Confederations.
MyJoyOnline, operated by Joy FM, the leading English-language radio station in Ghana, reported last week that a "[m]ajor disagreement over marketing rights between the African Union (AU), the Association of African Olympic Committees (ANOCA) and Association of African Sports Confederations (UCSA) – three organisations that usually collaborate for the games – is threatening the delivery of the event."
The three groups signed an agreement to cooperate on the event in 2018, but the African Union entered a separate agreement with the government of Ghana for the 2023 event that contradicted sections of the 2018 deal.
The UCSA provides the sports officials for the event and without its assistance, it "would make it impossible to stage the games next year." The event is scheduled for August 2023 in Accra.
● Deaflympics ● Japan's post-Olympic program for its venues got another boost as Tokyo was selected to host the 2025 Deaflympics, the first time for the event to held in Japan.
The event dates back to 1924 in Paris and the 2021 Deaflympics in Caxias do Sul (BRA) drew 1,489 competitors competing in 18 sports and 220 events. It will be the second time in Asia for the event; the 2009 edition was held in Chinese Taipei.
● Athletics ● Italian Steeple star Ahmed Abdelwahed, who had a career year in 2022, including a European Championships silver medal and a lifetime best of 8:10.29, was provisionally suspended by the Athletics Integrity Unit on 7 September 2022.
The suspension posting notes the presence or use of a prohibited substance, in this case, meldonium, which has been banned by the World Anti-Doping Agency since 2016.
¶
"[M]aybe this will be my last big competition on the professional level."
It was. Only hours after her fifth-place finish in the women's javelin at the Diamond League Final in Zurich, Czech star Barbora Spotakova announced her retirement.
Now 41, she is one of the greatest javelinistas ever, winning Olympic golds in 2008 and 2012 and World Championships titles in 2007-11-17, 15 national titles and is the world-record holder at 72.28 m (237-2) from 2008. She currently has three of the top six performances of all time from other meets in 2008 and 2011.
Few also remember that she spent one season as a collegian in the U.S. at Minnesota, winning the Big 10 heptathlon and finishing second in the jav, and then fifth in the NCAA javelin.
She told a news conference last Friday (9th), "Every fairy tale comes to an end, and mine had a wonderful happy ending in the form of a bronze medal at the [2022] European Championships in Munich, symbolically closing the circle. My body was clearly telling me that it was time to quit. …
"I want to be a mom now. The boys are nine and four, and I feel they need me more than ever before. I found that it makes me happier when they play sports than when I do. In the past year, I had to watch myself a lot to stay as healthy as possible, and I missed the joy of athletics. I enjoy my boys' sports all the more."
¶
Speaking of retirement, what about American Record holder Kara Winger?
She had a magical 2022 season – at 36 – including a last-throw World Championships silver medal and then not only a Diamond League Final win, but the world-leading throw for 2022 at 68.11 m (223-5) in Brussels, now no. 12 all-time. And she is automatically qualified for the 2023 World Championships in Budapest.
After her Diamond League Final victory, she told reporters:
"I have to see how I feel, but at this point, I do not change my decision about my retirement. I loved this one-time season with my husband [Russ] by my side.
"It was amazing to share my career with Barbora Spotakova and we became good friends. That just feels perfect. I have been to Zurich like four times and it was always fantastic. But there was something special about today. I felt like the entire stadium was with me. I felt like I had so many friends with me. The season was like … disbelief.
"I just wanted to have a good time and it turned out to be the best season of my life. I know it was absolutely everything and I am so grateful for what I did because we worked really hard for this and I just cannot believe it. It was magic."
¶
The 2022 season was a traumatic one for all Ukrainian athletes. High jumper Yaroslava Mahuchikh, just 20, had the season of her life with a World Indoor gold, a silver at the World Championships in Eugene and the Diamond League victory in Zurich. She said afterwards:
"It is so cool to win my first Diamond trophy. I am done with my season now. We, as a team, we are very strong now because we are fighting for our country and it gives us more power.
"I managed to stay quite focused during the season and I really even enjoyed it today. It was so nice to compete here and I felt the support from the crowd very much. Now, every competition, every win is so important for me and for Ukraine.
"Now, I am really like an ambassador of Ukraine on the track because I talk to many journalists and I have the chance to talk about Ukraine. Now, we finish our season with 2.03 m [6-8], it is so nice and I hope I will find the power to compete in the new season. I was very close at 2.06 m [6-9] but it just did not happen this time.
"As the season is over, I do not know, I just want to be alive, I want to come back to Ukraine to my city. Let's see. See you next season."
Mahuchikh finished as the world leader for 2022 at 2.05 m (6-8 3/4), a national record. She and her teammates deserve a rest, but who knows what they will find at home.
● Football ● The no. 1-ranked U.S. Women's National Team scheduled another challenging road match on its forthcoming European trip, adding a contest with no. 8-ranked Spain in Pamplona on Tuesday, 11 October.
That's four days after the American women will play 2022 European Champion England at sold-out Wembley Stadium on 7 October, with England currently ranked fourth worldwide.
A month later, the USWNT will play no. 2-ranked Germany in back-to-back matches, first on 10 November in Ft. Lauderdale, Florida and then on 13 November in Harrison, New Jersey.
At the recent European Championships held in England, Spain reached the quarterfinals and lost to eventual champion England, 2-1, after extra time. Germany won its first five games to reach the final, outscoring its opponents by 13-1 before losing an extra-time thriller to England, also by 2-1.
● Judo ● The International Judo Federation announced that the Court of Arbitration for Sport upheld its four-year suspension of the Iran Judo Federation for actions taken by Iranian officials at the 2019 World Championships to avoid having its judoka compete against Israeli athletes.
After its initial decision to suspend the Iranian federation indefinitely was overturned by the Court of Arbitration for Sport, the IJF Disciplinary Commission sanctioned the Iranian federation with a four-year ban from September 2019 to September 2023. The 1 September 2022 opinion of a three-arbitrator panel confirmed the validity of the suspension, which continues in force.
● Rowing ● You don't hear much about doping in rowing, but British competitor Christopher Bailey was suspended for four years by the International Testing Agency for a doping positive recorded at the World Rowing Virtual Indoor Championships from last February.
Bailey finished seventh in the men's 30-39 event at 2,000 m, was selected for an in-competition test by the ITA and was found to be positive for the anabolic steroid. Drostanolone. Bailey submitted no response to the charge and is suspended through 24 April 2026.
Doping in an online competition? Wow.
¶
You can receive our exclusive TSX Report by e-mail by clicking here. You can also refer a friend by clicking here, and can donate here to keep this site going.
For our updated, 620-event International Sports Calendar for 2022 and beyond, by date and by sport, click here!