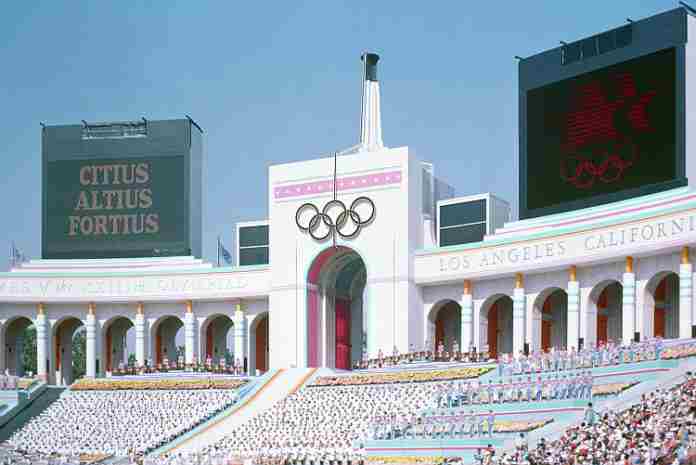 ★ The Sports Examiner: Chronicling the key competitive, economic and political forces shaping elite sport and the Olympic Movement.★
★ Bravo! Our 25 donors have covered 62% of our summer fund-raising goal. Please help if you can; it's important. ★
★ To get The Sports Examiner by e-mail: sign up here! ★
≡ THE 5-RING CIRCUS ≡
1. Australia wins three, Marchand wins third at Swim Worlds
2. Disqualification of Kharlan overshadows Fencing Worlds
3. Portugal wins, Nigeria shocks Australia at World Cup
4. IOC suspends Sheikh Ahmad three years, questions OCA vote
5. Remembering LA84: the Games that changed everything
France's Leon Marchand won his third event at the 2023 World Aquatics Championships in the men's 200 m Medley, while Australia's women set a world record in the 4×200 m Freestyle. Kyle Chalmers and Kaylee McKeown also won golds for Australia in Fukuoka, Japan. At the FIE World Championships in Milan, Italy, four-time World Sabre Champion Olha Kharlan of Ukraine was disqualified from the event after beating "neutral" (Russian) Anna Smirnova, 15-7, but not shaking her hand afterwards! This has triggered an angry protest from the Ukrainians, who changed their national policy to allow Kharlan and others to compete in Olympic qualifying events. The IOC said international federations should show "sensitivity" in such situations. The IOC also imposed a three-year suspension on Kuwait's Sheikh Ahmad, who interfered – against instructions – in the Olympic Council of Asia Presidential elections that saw his brother win a close vote. Friday marks the 39th anniversary of the revolutionary 1984 Olympic Games in Los Angeles, an aesthetic, financial and organizational success that changed the Olympic Movement from losers to winners across 16 days, and continues to help support sport in Los Angeles and the U.S. today.
● Panorama: Paris 2024 (What does the IOC's invitation for 2024 actually say?) = Russia (2: Russian Olympic Committee head pessimistic on 2024; dates announced for the BRICS Games in 2024) = Archery (process for re-admitting Russians and Belarusians won't happen in 2023) = Cycling (German Ricarda Bauernfeind wins Tour de France Femmes stage 5) = Swimming (Kolesnikov gets men's 50 m Back world record in Kazan) ●
1.
Australia wins three, Marchand wins third at Swim Worlds
It's pretty clear now that France's Leon Marchand, 21, is going to be the center of attention in France a year from now when the Olympic swimming events open in Paris, after his third victory at the 2023 World Aquatics Championships in Fukuoka, Japan.
Marchand came in as the favorite in the men's 200 m Medley and finally got in front on the Breaststroke leg and had a huge 1.15-second lead coming home, finishing in a European Record of 1:54.82, the 11th-fastest swim in history. He's now no. 3 all-time behind Americans Ryan Lochte and Michael Phelps, who still have the top 10 performances ever.
Tokyo silver medalist Duncan Scott (GBR) and teammate Tom Dean, the Tokyo 200 m Free winner, finished 2-3 in 1:55.95 and 1:56.07, with Americans Shaine Casas and Carson Foster at 4-5 (1:56.36 and 1:56.43).
Marchand won three events as a sophomore for Arizona State at the 2023 NCAAs and is coached by Bob Bowman, formerly Phelps' coach. It will be fascinating to see how he handles now only the training schedule between now and 2024, but the pressure of being one of the main faces of the French team for the Paris Games.
Otherwise, it was another big day for Australia in the pool, with three more wins and another relay world record.
At the start of the session was the women's 200 m Butterfly final, with Canada's 16-year-old star Summer McIntosh getting her first win of this meet in 2:04.06, a lifetime and now equal-5th on the all-time list. She had control from the start, leading at each turn, leading surprising Lana Pudas (BIH) at 100 and 150 m, but on the final lap, both Elizabeth Dekkers (AUS) and Regan Smith of the U.S. passed her and finished 2-3 in 2:05.46 and 2:06.58. Lindsay Looney of the U.S. was eighth in 2:07.90.
Just 34 minutes later, Smith was back in the pool for the final of the 50 m Back, racing against Tokyo 100-200 m winner Kaylee McKeown of Australia, who had already won the 100 m Back in Fukuoka. The race was tight from the start, with McKeown in five and Smith in four and the Australian was first with the touch in 27.08 to 27.10 for Smith and 27.20 for Britain's Lauren Cox. American Katharine Berkoff finished fifth in 27.38.
McKeown moved to no. 3 all-time with her 27.08 winning mark.
Just before the women's 50 was the men's 100 m Free, which was supposed to belong to Romania's 18-year-old star David Popovici, who set the world record of 46.86 in 2022 and was the defending champion. But it was Rio 2016 Olympic champ Kyle Chalmers of Australia who zoomed from seventh at the turn and swam the last lap in just 24.11 to catch Cal sophomore Jack Alexy of the U.S., 47.15 to 47.31.
The win is Chalmers' first Worlds gold, although he swam faster (47.08) for silver at the 2019 Worlds. The revelation was Alexy, 20, who barely got into the final and swam from lane eight, turning in front (22.48) and then hanging on for second to move his best from 47.68 to 47.31, now no. 13 all-time and no. 2 all-time U.S. Popovici was sixth in 47.83.
The final event was the women's 4×200 m Free, with Australia heavily favored after their 1-2 finish in the 200 m Free. And they delivered, with Mollie O'Callaghan (1:53.66), Shayna Jack (1:55.63), Brianna Throssell (1:55.80) and Ariarne Titmus (1:52.41, fastest split ever) racing away to a world record of 7:37.50. That erased the Aussie women's record set at the 2022 Commonwealth Games of 7:39.29.
The U.S. was third after Erin Gemmell's 1:55.97 opening leg, second after Katie Ledecky's 1:54.39 swim and actually in the lead after Bella Sims swam 1:54.64. But anchor Alex Shackell had no answer for Titmus and finished in 1:56.38 for a total of 7:41.38 and silver. That's the no. 6 time in history and second-fastest ever in U.S. history. China was a distant third in 7:44.40.
By the way, Ledecky won a 25th career Worlds medal (20-5-0) and still has the women's 800 m Free to swim on Saturday.
World-leading marks were set in four events on Thursday:
● Men/100 m Free: 47.15, Kyle Chalmers (AUS)
● Men/200 m Medley: 1:54.82, Leon Marchand (FRA)
● Women/50 m Back: 27.08, Kaylee McKeown (AUS)
● Women/4×200 m Free: Australia ~ World Record
The meet concludes Sunday. It's entirely likely now that Australia will win the most gold medals at this Worlds, although the U.S. continues as the top medal-winner. This has happened before, most recently at the 2001 World Championships, when Australia won 19 medals (13-3-3) to 26 for the U.S. (9-9-8).
So far, the U.S. has 21 medals (3-10-8) to Australia's 13 (9-4-0), with China next at 9 (4-0-5).
¶
Greece and Hungary will meet for the world title in men's water polo on Saturday, after semifinal wins on Thursday. The Greeks handled Serbia, 13-7 and Hungary overcame defending champ Spain, 12-11, with a 5-3 scoring burst in the final quarter.
The U.S. men lost to France, 5-3, in a penalty shoot-out after a 13-13 tie in regulation. The French came back from an 11-8 deficit in the fourth quarter and then advanced to the fifth-place match against Italy. The American men will play Montenegro for seventh.
The U.S. women will play Hungary for fifth place on Friday.
2.
Disqualification of Kharlan overshadows Fencing Worlds
In his opening remarks at last month's 140th Session of the International Olympic Committee, President Thomas Bach (GER) praised the European Fencing Championships, World Judo Championships and World Taekwondo Championships for following the IOC's recommendations to allow Russian and Belarusian athletes to compete as neutrals.
"All three championships took place without incidents," he said, extolling the IOC's approach.
Well, now there has been an incident, at the World Fencing Championships in Milan (ITA) involving four-time World Sabre Champion and 10th seed Olha Kharlan. She defeated 55th-seeded "neutral" (Russian) Anna Smirnova in the round-of-64, 15-7, then refused to shake hands after the bout. She offered her sabre for a touch, but Smirnova made no move and Kharlan left the piste. Smirnova stayed put and was eventually offered a chair, remaining on the piste for what was reported for as much as an hour.
The FIE disqualified Kharlan and the results showed Bulgaria's Yoana Ilieva advancing to the quarterfinals in a walkover.
The FIE technical rules (t.122) state:
"[W]hen the final hit has been scored, the bout has not ended until the two fencers have saluted each other, the Referee and the spectators: to this end, they must remain still while the referee is making his decision; when he has given his decision, they must return to their on-guard line, perform a fencer's salute and shake hands with their opponent. If either or both of the two fencers refuse to comply with these rules, the Referee will penalise him/them as specified for offences of the 4th group (cf. t.158-162, t.169, t.170)."
Smirnova stood on the piste, but offered no salute, while Kharlan offered her sabre in salute, raising questions about the severity of the penalty to Kharlan alone.
That Kharlan actually fenced against Smirnova was remarkable, as the Ukrainian government changed its stance on Wednesday, from banning all competitions against Russians or Belarusians to allowing those in situations where they are not representing their countries. Kharlan's bout against Smirnova was reportedly the first between a Ukrainian and Russian athletes since Russia's invasion in 2022.
The change in policy came too late for Ukraine's Igor Reizlin, the Tokyo 2020 bronze winner in Epee, as he refused to compete against Russian Vadim Anokhin on Wednesday, apparently presenting a medical excuse for his withdrawal.
Ukraine's Fencing Federation President Mykhaylo Ilyashev told reporters in Milan:
"We have already submitted our protest to the Bureau of the International Fencing Federation. We are waiting for the immediate consideration of this protest, so that this disqualification is cancelled and Olha can take part in team competitions."
Ukrainian Foreign Minister Dmytro Kuleba tweeted: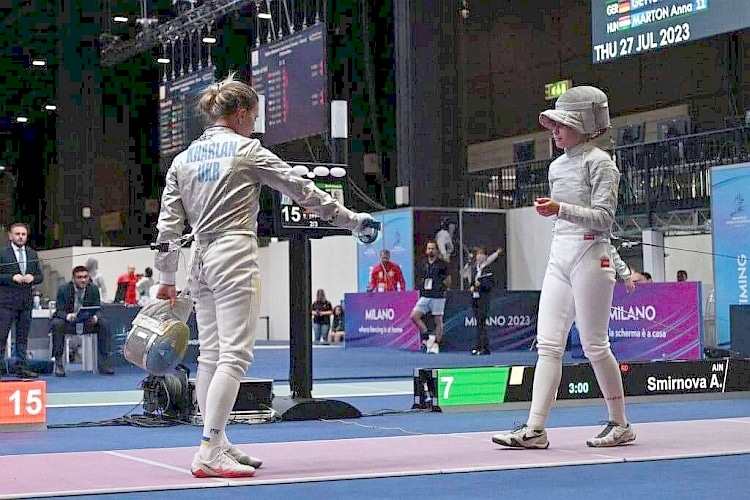 "Anna Smirnova lost the fair competition and decided to play dirty with the handshake show. This is exactly how Russian army acts on the battlefield. Olha Kharlan won the fair competition and showed dignity. I urge @FIE_fencing to restore Kharlan's rights and allow her to compete."
The IOC issued a statement in support of Wednesday's decision by Ukraine to allow competitions against Russians and Belarusians acting as neutrals that rings hollow only hours later:
"This decision will allow Ukrainian athletes to participate in international competitions and will enable them to qualify for the Olympic Games Paris 2024. We are glad that they will be given this opportunity, and at the same time we are aware of the difficult inner conflicts they may have, given the aggression against their country.
"Therefore, we encourage international federations to handle situations involving Ukrainian and Individual Neutral Athletes with the necessary degree of sensitivity. We continue to stand in full solidarity with the Ukrainian athletes and the Olympic community of Ukraine."
The women's Sabre tournament was won by Japan's defending champion Misaki Emura, who beat 2022 bronze winner Despina Georgiadou of Greece in the final, 15-11. Greece's 2019 Worlds third-placer Theodora Gkountoura and Ilieva took the bronzes, her first career Worlds medal.
In Thursday's men's Foil tournament, 2022 Worlds silver medalist Tommaso Marini of Italy thrilled the home fans with a 15-13 victory over American Nick Itkin in the final. Itkin, 23, moved up from bronze in 2022. Marini defeated France's Enzo Lefort in the semis, reversing his loss to Lefort in the 2022 Worlds final, while Itkin out-classed Japan's Kyosuke Matsuyama, 15-10.
Team events are next in Milan, with the women's Sabre scheduled for preliminary matches on Saturday and eliminations on Sunday.
3.
Portugal wins, Nigeria shocks Australia at World Cup
The fight for Group E at the 2023 FIFA Women's World Cup, which includes the U.S. women, the Netherlands and Portugal is going to come down to the final day of matches, with all three still in contention after the Portuguese win over Vietnam, 2-0. And Nigeria shocked host Australia, 3-2, sending Group B into a tizzy, also to be decided on the final day.
● Group B: Nigeria 3, Australia 2 ● A huge crowd of 49.156 showed up at the Brisbane Stadium to see the Matildas advance, but instead saw a thriller that ended with Australia controlling the game and Nigeria winning.
The first half was scoreless through 45 minutes, but in stoppage time, striker Emily van Egmond got Australia on the board at 45+1, thanks to a perfect pass from the left side to the middle by striker Caitlin Foord that a trailing van Egmond smashed into the goal with her right foot. But the excitement was short-lived, as midfielder Uchenna Kanu left-footed a loose ball from midfielder Rasheedat Ajibade's shot that was blocked and landed at her feet at the right side of the goal, at 45+6.
The Aussies continued to own possession and take shots in the second half, but Nigeria countered cleverly, and in the 65th, an Ajibade header from the left side was saved, but wasn't cleared and defender Osinachi Ohale easily headed it in for the 2-1 lead.
Then defender Alanna Kennedy botched a clearance on a long lead ball in the 72nd, beyond keeper Mackenzie Arnold, and substitute striker Asisat Oshoala socked it into the open goal for a 3-1 lead.
A furious rally by the Australians produced seven shots into stoppage time when Kennedy finally got a consolation goal at 90+10 on a header off of a corner kick, but it was not enough. Australia finished with 64% of possession, a 28-11 edge on shots… and a loss.
The group finishes on Tuesday (31st) with Canada and Nigeria at 1-0-1 (4 points) and Australia at 1-1 (3). Canada and Australia will play in Melbourne in an elimination game while Nigeria will face already-eliminated Ireland.
● Group E: Portugal 2, Vietnam 0 ● The Portuguese knew they had to win to stay in contention for the playoffs and got off to a hot start in Hamilton with a seventh-minute goal from striker Telma Encarnacao, finishing off a perfect cross from the right side to in front of the goal by midfielder Lucia Alves.
It was quickly 2-0 in the 21st off an Encarnacao lead pass from the left of goal above the box to forward Kika Nazareth in the center of the box, whose right-to-left strike rolled into the goal for a 2-0 lead that looked very secure.
Portugal had more chances, but could not score again, with Vietnamese keeper Tran Thi Kim Thanh making seven saves to keep it respectable. The Portuguese had 69% of possession and a 28-5 shots advantage in a game they completely controlled.
With the loss, Vietnam was eliminated, but the U.S. (1-0-1, +3) and the Dutch (1-0-1, +1) tied for the lead in the group with four points and Portugal with three (1-1, +1). On Tuesday (1st), the U.S. and Portugal will play in Auckland, while the Dutch take on Vietnam. With a Dutch win expected, the U.S. can advance with a draw or win, while Portugal needs to beat the Americans.
4.
IOC suspends Sheikh Ahmad three years, questions OCA vote
The International Olympic Committee signaled its displeasure as it was happening and on Thursday, came back with a three-year suspension of already self-suspended member Sheikh Al-Ahmad Al-Fahad Al-Sabah of Kuwait.
Sheikh Ahmad, as he is known, 59, has been an IOC and FIFA power broker since 1991, was the head of the Olympic Council of Asia since 1991, an IOC member since 1992 and on the FIFA Council in 2014. He left the FIFA Council in 2017 after allegations of bribery, and then was convicted of forgery in a Swiss court in 2021, which he is appealing. But he stepped away from his activities with the IOC, and as the President of the Association of National Olympic Committees in 2018, and as Olympic Council of Asia chief in 2021.
With a decision on his appeal still pending, Sheikh Ahmad was appointed as Deputy Prime Minister and Minister of Defence in Kuwait.
And he jumped back into the spotlight at the recent Olympic Council of Asia elections, supporting his brother, Sheikh Talal Al-Fahad Al-Sabah, who ultimately won a close, 24-20 vote on 7 July over longtime OCA Secretary General (and now World Aquatics President) Husain Al-Musallam, also of Kuwait.
The IOC Ethics Commission sent a letter to Sheikh Ahmad, expressly forbidding his participation in the OCA elections, since it would constitute direct government interference. But he was in Bangkok (THA) for the OCA Assembly and vote anyway. And the IOC Ethics Commission was not amused, noting in its recommendations:
"Contrary to the recommendations by the IOC Ethics Commission to avoid any participation in the OCA's activities, of which he was reminded multiple times and upon which he agreed through his own decision to self-suspend himself, Sheikh Ahmad Al-Sabah actively intervened in the OCA's election campaign, as also corroborated by the various pieces of evidence.
"The IOC, an association under Swiss law, cannot accept that one of its Members fails to respect its decision of provisional suspension in his subsequent behaviour, in particular after the Member concerned has publicly announced that he has suspended himself.
"A proportional sanction to be recommended for this specific breach of the IOC Executive Board's decision and of the IOC Code of Ethics should be a full suspension for a duration of three (3) years of all his rights, prerogatives and functions deriving from his IOC membership, as provided by Rule 59.1.1.b of the Olympic Charter."
Moreover, the IOC's questions over the validity of Sheikh Talal's election are not over, as an OCA-member National Olympic Committee has asked for an inquiry. The IOC Ethics Commission noted:
"Considering the evidence gathered by the IOC and the impact on the OCA's elections of Sheikh Ahmad Al-Sabah's behaviour, it appears from the exchange of emails between the OCA's Ethics Committee and the IOC [Ethics Commission Chair] that there is a need for a full assessment of the potential non-respect of the OCA's elections process.
"Consequently, it would be appropriate to recommend to the IOC Executive Board not to recognise these elections at this stage until a full review of the respect of the OCA's Elections Process and Procedure … is carried out."
The IOC announced on Thursday that its Executive Board had agreed with the Ethics Commission's recommendations.
Observed: Sheikh Ahmad was a key player in Olympic affairs since his involvement in the early 1990s, and the IOC's forthcoming review of the Olympic Council of Asia election process indicates its willingness to get involved in matters well beyond its direct purview. The outcome will be closely watched within Olympic circles to see how far the IOC is willing to go to root out what it could see as corruption in an affiliated body in a politically-crucial region.
5.
Remembering LA84: the Games that changed everything
There are no formal celebrations planned, no gathering of former staff members, not even a documentary to re-run on cable television. But 39 years ago – 28 July 1984 – was the date on which the Olympic Movement pivoted to the future.
The Games of the XXIIIrd Olympiad was held in Los Angeles, although many predicted it would not be held at all. Consider:
● 1968/Mexico City: The post-men's 200 m protest by Americans Tommie Smith and John Carlos was a civil rights protest icon from the moment it happened. Less well remembered was the 2 October Tlatelolco massacre just 10 days prior to the Games, in which hundreds of protestors were killed and more than 1,300 injured by elements of police and army units.
● 1972/Munich: The most technically advanced and brilliantly-organized Olympic Games so far was halted by Palestinian terrorists who invaded the Olympic Village and killed or took hostage 11 members of the Israeli delegation, all of whom were later killed.
● 1976/Montreal: The Games was held successfully, but ran a deficit of more than C$1 billion that was not paid off for 30 years, and was symbolized by the Stade Olympique, whose planned roof wasn't installed until 1987.
It was against this backdrop that the Southern California Committee for the Olympic Games, a private group formed in 1939 after the successful 1932 Los Angeles Games, bid once again, barely getting the U.S. Olympic Committee designation over New York. Los Angeles had bid and lost to Montreal in 1970 and Moscow in 1974, but was ready to go again for 1984.
In response to the Montreal financial disaster, bid chief John Argue famously wrote in his introduction to the sports technical questionnaire, "Arrangements are to be Spartan," and at the 31 October 1977 bid deadline to the IOC, no one else wanted the Games.
The tense negotiations that followed finally ended with the IOC awarding the Games to Los Angeles in October 1978, followed by a November vote by Los Angeles citizens banning any City expenditure on the Games that was not reimbursed, by 78%-22%.
The Games would live or die with the private sector. It thrived. Los Angeles Olympic Organizing Committee President Peter Ueberroth, quietly advised by famed film  and television producer David Wolper, astonished the sports and business worlds with the $225 million sale of U.S. television rights to the Games to ABC in 1979; the most any U.S. broadcaster had previously spent was $87 million.
Ueberroth, working with former Mattel marketing exec Joel Rubenstein, designed a new approach to corporate sponsorship that narrowed the number of affiliates from hundreds to a mere 35 sponsors and 64 suppliers, and attracted a then-unheard of $127 million in cash and hundreds of millions more in in-kind support to the LAOOC. The LA84 experience created the modern corporate sponsorship model used today.
The Montreal finances made Argue and Ueberroth determined to build as little as possible and only three new venues were constructed: a velodrome at Cal State Dominguez Hills that later became what is now the multi-sport Dignity Health Sports Center, a swimming pool at USC that is still heavily used today and a shooting range in Chino that is also still going strong. And that was just the beginning:
● Neither the IOC or any international sports organization believed in the concept of volunteers to help operate events, but volunteerism was already deeply rooted in Los Angeles. Some 33,500 came out to assist in 1984 and changed the way large sporting events are run forever.
● An experiment shepherded by Executive Vice President/General Manager Harry Usher turned into the wildly-successful "Festive Federalism" design scheme that replaced the expected red, white and blue theme with miles of utilitarian fence fabric, streamers, Sonotubes, tents and scaffolding in aqua, magenta, yellow, orange, lavender, blue and more that gave the Games an exciting, uplifting feeling.
● A first-ever national Torch Relay took the Olympic flame from New York to Los Angeles across 82 days and raised $10.95 million for the Boys and Girls Clubs, YMCA and Special Olympics.
● Instead of the required cultural sideshow during the Games, a massive Olympic Arts Festival was staged for 10 weeks, starting 1 June and energizing the dance, music, opera, theater and visual arts scene in Southern California, drawing more than 1.25 million.
● New technologies came to the Games, including early versions of voice mail and electronic mail and even one of the first mobile telephones available in California.
All of this, plus memorable opening and closing ceremonies orchestrated by Wolper, led to a brilliant Games that drew a then-record 5.72 million ticket sales, with tickets priced as low as $3. The competitions produced stars such as Carl Lewis, Edwin Moses and Mary Lou Retton that sent ABC's ratings into the stratosphere.
The true beginning of the soccer revolution in America? FIFA's stunned reaction to the 101,799 who attended the Brazil-France final at the Rose Bowl, which led directly to the U.S. being awarded the 1994 FIFA World Cup, followed by the founding of Major League Soccer.
A record 140 nations attended the Games, even with a Soviet-led boycott by 14 countries, in retaliation for the 1980 U.S.-led boycott of the Moscow Games. At the end, the LAOOC had produced an aesthetic success that also created a $232.5 million surplus – the first for an Olympic Games since Los Angeles in 1932 – that created the still-in-operation LA84 Foundation, with 60% given to the U.S. Olympic Committee and the national governing bodies, monies still supporting athletes today as the U.S. Olympic Endowment.
It was a success beyond all expectations, except to those who worked on the project and saw it grow. Despite the efforts of revisionist historians over the following 20 years who tried to play down the Los Angeles success, the 1984 Games is seen as validating the Olympic concept and changing the direction of the Olympic Movement toward its financial juggernaut status of today.
Ueberroth is now 86; Argue, Usher, Wolper and then-Los Angeles Mayor Tom Bradley, a key player in getting the Games and then ensuring the City bureaucracy worked with the LAOOC instead of against it, have all passed. But the health of the Olympic Movement, the U.S. Olympic and Paralympic Committee and so many other groups that support sport today was made possible by the success of the Games that opened 39 years ago today.
≡ PANORAMA ≡
● Olympic Games 2024: Paris ● What exactly did the invitations to the National Olympic Committees to participate in the 2024 Olympic Games actually say? The IOC's text:
Le Comité International Olympique a l'honneur d'inviter le
The International Olympic Committee has the honour of inviting the
[name of National Olympic Committee]
à participer aux Jeux de la XXXIIIe Olympiade Paris 2024, France,
qui auront lieu du 26 juillet au 11 août 2024.
to participate in the Games of the XXXIII Olympiad Paris 2024, France,
which will take place from 26 July to 11 August 2024.
Thomas Bach
Président du Comité International Olympique
President of the International Olympic Committee
Lausanne, le 26 juillet 2023
Lausanne, 26 July 2023
Now you know.
● Russia ● Russian Olympic Committee President Stanislav Pozdnyakov told the Russian news agency TASS he is increasingly pessimistic that Russian athletes will compete in Paris:
"Every day the sand in the hourglass is shrinking, along with that the chances of our team's potential participation are shrinking.
"And that is if we can talk about it at all. Because the participation of the Russian team without the flag, anthem and all the attributes seems unacceptable to me."
¶
The BRICS Games, an event designed by Russia to offer a challenge to the IOC in international sport, was announced to be held on 12-23 June 2024, about a month prior to the 2024 Olympic Games in Paris.
"BRICS" stands for Brazil-Russia-India-China-South Africa, and Russian Sports Minister Oleg Matytsin said Thursday, "The program includes 25 sports, we will invite national teams, teams from other countries," with the event to be held in Kazan (RUS).
Russia is also preparing a 27-sport "Friendship Games" in Moscow and Yekaterinburg for September 2024, with Matytsin saying that Ukraine should be invited; Deputy Prime Minister Dmitry Svishchev added:
"We must also invite the Americans and the British. We will ensure security and equal conditions. As long as they travel with pure motives. And we certainly will not require you to fill out any forms."
● Archery ● Russian and Belarusian athletes won't be competing in World Archery competitions in 2023, but 2024 is still a possibility. World Archery Vice President Joerg Brokamp (GER) told the Russian news agency TASS that the process is ongoing.
A World Archery working group approved the criteria in May to allow Russian and Belarusian archers to compete as neutrals. Archers could not be members of the sports clubs CSKA or Dynamo, which are associated with law enforcement, and process includes five successive points: the formation of admission conditions, the official consent of the national federations of Russia and Belarus to them, the provision of data on athletes, their verification by third-party companies and the final decision on admission. Said Brokamp:
"In May, we sent the national federations the eligibility criteria and asked them to send the details of the athletes and accompanying personnel, but we still have not received an official response from Russia.
"So now we are on the second point, while talking about a possible the participation of athletes from Russia and Belarus in a neutral status is possible only at the moment when we reach the fifth point.
"You know the international calendar of competitions better than I do, so we can say that in 2023 we will not see Russian and Belarusian athletes in them in connection with the situation I have described."
● Cycling ● The hilly and often downhill Stage 5 looked like it could be a sprint finish at the 2023 Tour de France Femmes, but turned out to be a showcase for German Ricarda Bauernfeind.
She attacked with 35 km left in the 126.1 km route to Albi and no one could catch her, leading to a 22-second victory in 3:07:20. Swiss Marlen Reusser and stage 2 winner Liane Lippert (GER) were 2-3, with a 30 riders coming in at +0:32.
That included race leader Lotte Kopecky (BEL), who maintained a 49-second lead on Ashleigh Moolman (RSA) and 51 seconds on Elisa Longo Borghini (ITA), Kasia Niewiadoma (POL) and defending champ Annemiek van Vleuten (NED). Look for stage 7 on Saturday to be decisive.
● Swimming ● A world record in the men's 50 m Backstroke for Russian star Kliment Kolesnikov at the Russian Cup in Kazan, winning his Thursday semifinal in 23.55. That's 0.16 ahead of the 23.71 from Hunter Armstrong of the U.S. from 2022.
Kolesnikov, 23, won the Olympic silver in Tokyo in 100 m Back, and won the Russian Cup 100 Back in a world-leading 51.82, the no. 2 time in history on Wednesday.
He was the Tokyo Olympic silver medalist in the 100 m Back and bronze winner in the 100 m Free, and has been frozen out of the World Aquatics Championships due to Russia's invasion of Ukraine.
¶
You can receive our exclusive TSX Report by e-mail by clicking here. You can also refer a friend by clicking here, and can donate here to keep this site going.
For our updated, 787-event International Sports Calendar (no. 3) for 2023 and beyond, by date and by sport, click here!