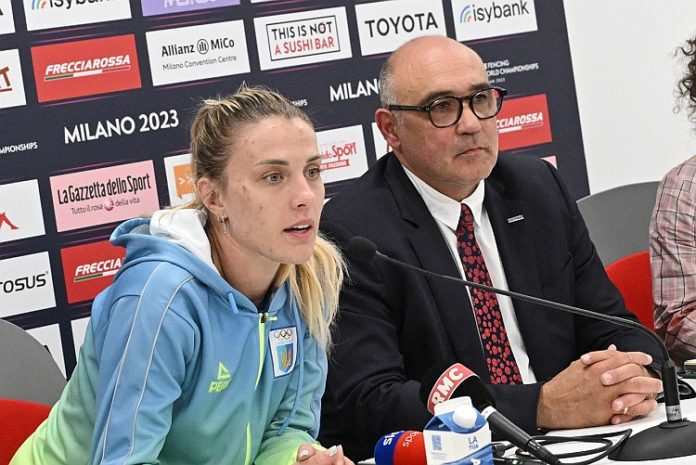 ★ The Sports Examiner: Chronicling the key competitive, economic and political forces shaping elite sport and the Olympic Movement.★
★ More! Now 26 donors have covered 63% of our summer fund-raising goal. Will you join in? ★
★ To get The Sports Examiner by e-mail: sign up here! ★
≡ THE 5-RING CIRCUS ≡
1. IOC grants Ukraine's Kharlan direct entry to Paris Games
2. Russia: IOC's treatment of Kharlan shows "duplicity"
3. Swim Worlds close with U.S. relay wins
4. Swiss and Spain clinch groups in Women's World Cup
5. U.S. Center for SafeSport eyed by review Commission
In nothing less than a real-life version of a soap opera, Ukrainian fencing star Olha Kharlan's disqualification in the women's Sabre event turned – within 24 hours – into a guaranteed entry into the Paris 2024 Olympic Games and a suspension of her disqualification by the same federation that black-carded her. Especially amazing was the reserved place for her given by the International Olympic Committee President, Thomas Bach, the day after she was suspended. Fair enough; all of this is the IOC's fault. Russian reaction was furious, of course. The World Aquatics Championships closed in Fukuoka, Japan, with Australia taking 13 golds in swimming, and the U.S. winning the most medals in swimming – 38! – and 44 overall, to top China (40). At the FIFA Women's World Cup in Australia and Japan, the second round of group-stage game have concluded, with only five sports in the knock-out round assured yet, for Switzerland, Norway, Spain, Japan and Sweden. The rest of the group-stage matches unfold this week. The Commission on the State of the U.S. Olympics and Paralympics will be looking not only at the U.S. Olympic & Paralympic Committee, but also at the continually-criticized U.S. Center for SafeSport, formed by Congress, but primarily funded by the USOPC.
● Panorama: Tokyo 2020 (another admission in the test-event bid-rigging scandal) = Paris 2024 (Seine book sellers won't move for Opening Ceremony) = Russia (2: World Archery asking about state funding of Russian athletes; Russian summer games mimicking Deaflympics underway) = Archery (Cowles beats Huish at Buckeye Classic) = Athletics (3: Asinga runs 9.89 for World U-20 record; vault star Braz suspended; Simbass and Taylor win USATF 7-Mile titles) = Badminton (Axelsen gets 20 World Tour win at Japan Open) = Beach Volleyball (Mol & Sorum beat Partain and Benesh at Montreal Elite 16) = Cycling (2: Vollering finishes Tour de France Femmes win; Evenepoel wins San Sebastian Klasikoa) = Football (UEFA 2028 going to Britain and Ireland) = Swimming (Luther impresses at Tyr Pro Swim Champs) = Tennis (Czech Rep. refuses Russian or Belarusian entry for Prague Open) = Triathlon (France sweeps World Tri Series in Montreal) ●
1.
IOC grants Ukraine's Kharlan direct entry to Paris Games
In another installment of truth being stranger than fiction, Ukraine's four-time World Sabre Champion Olha Kharlan went from being disqualified following her win over Russian "neutral" Anna Smirnova on Thursday to being guaranteed a place at the Paris 2024 Olympic Games on Friday.
At the World Fencing Championships in Milan (ITA), Kharlan won her round-of-32 bout over Russia's Smirnova, 15-7, and offered her sword for a post-match touch in salute. The International Fencing Federation (FIE) ruled that she did not offer the handshake called for in the FIE rules – a controversial decision to say the least – and black-carded Kharlan, meaning she was not only disqualified for the remainder of the tournament, but also banned for 60 days and unable to fence in the Team Sabre event.
The Ukrainians immediately and loudly appealed, and the story was quickly elevated worldwide. The Ukrainians, at the urging of the International Olympic Committee, changed its national policy on Wednesday to allow its athletes to compete against Russian or Belarusians who were not competing under their national flags or other symbols.
On Friday, IOC President Thomas Bach (GER) – himself a 1976 Olympic men's Foil Team gold medalist – sent a stunning letter to Kharlan that included:
"As a fellow fencer, it is impossible for me to imagine how you feel at this moment. The war against your country, the suffering of the people in Ukraine, the uncertainty around your participation at the Fencing World Championships in Milan, the difficult inner conflicts you and many of your fellow Ukrainian athletes may have and then the events which unfolded yesterday – all this is a roller coaster of emotions and feelings. It is admirable how you are managing this incredibly difficult situation, and I would like to express my full support to you.
"Given your unique situation, the International Olympic Committee will allocate an additional quota place for you for the Olympic Games Paris 2024 in case you will not be able to qualify in the remaining period. We make this unique exception also because the ongoing procedures will in no case make up for the qualification points you missed because of your disqualification.
"It goes without saying that you must fulfill the other eligibility criteria like any other Olympic athlete.
"Rest assured the IOC will continue to stand in full solidarity with the Ukrainian athletes and the Olympic community of Ukraine during these extremely difficult times."
The drama then turned to farce as the FIE called a news conference, with Kharlan and interim President Emmanuel Katsiadakis (GRE); the announcement included:
● "The Bureau of the International Fencing Federation (FIE) has decided to permit Ukrainian sabre fencer Olga Kharlan to participate in the forthcoming women's sabre team competition at the 2023 Fencing World Championships currently underway in Milan."
● "The FIE stands fully behind the penalty, which, after a thorough review, is in complete accordance and compliance with its official rules and associated penalties."
Said Kharlan. "The most important thing for an athlete is to be able to compete, for my family, my team, my country and all the people who support me. During these difficult few days, I appreciate all the support I've had from around the world."
After the incident on Thursday, Kharlan told reporters, "My message today is that we Ukrainian athletes are ready to face Russians on the sports field but we will never shake hands with them," and said that Katsiadakis had told her it was not required for her to shake hands with a Russian opponent prior to the start of her tournament.
She also said in a video posted by the Italian newspaper La Repubblica:
"I couldn't act differently, first of all, because I came to the competitions, I came to fence against her, I showed my respect, to stand with her on one piste, and then after the match, I wanted to give her – not shaking hands – but with the blade because it was also allowed during Covid times … but yesterday they changed the rules, because they knew it was going to happen."
She also said that after the match, while Smirnova would not leave – she stayed on the piste for between 45-50 minutes according to reports – Kharlan was told to go, and was disqualified after a Russian protest was filed. Asked if it was a political decision to disqualify her, she replied, "Of course."
She said in an Instagram video:
"I did not want to shake hands with this athlete, and I acted with my heart. So when I heard that they wanted to disqualify me, it killed me so much that I was screaming in pain.
"I think I understand, like everyone else in this world, in a sane world, that the rules have to change because the world is changing."
There have been multiple reports that the FIE has changed its rules to allow a "fencer's salute" instead of a handshake at the end of matches, but the FIE has posted no document which states this.
Kharlan did fence in the Team Sabre event, winning seven bouts, losing four and tying three as Ukraine finished fourth.
Observed: This extraordinary turn of events was hardly a surprise and is completely due to the IOC's 28 March decision to try and integrate Russian and Belarusian "neutrals" in international competition. That Bach and the IOC would step in to grant a direct entry for Kharlan is a feel-good, stopgap measure, but is direct interference with an International Federation, albeit a bumbling, incompetent one in the FIE.
Other federations have already taken note. And what of Kharlan's insistence that she spoke to the FIE's Interim President about exactly this issue prior to the tournament?
The incident is exactly the opposite of what the IOC wanted and creates even more pressure for future events, especially now that the Ukrainian government's ban on competing against Russian and Belarusian "neutrals" has been relaxed in the name of Olympic qualifying. Everyone is now on edge.
For those looking at the panorama of international sport, this kind of incompetence seemed all too likely with an Olympic program made up of multiple sports federations whose continued existence is directly tied to the IOC's television money distribution every four years. Federations like the FIE, which has been supported by cash donations for years from its now-not-involved President, Russian billionaire Alisher Usmanov, do not have the sophistication and experience that well-funded organizations like the Women's Tennis Association or the men's Association of Tennis Professionals, where Russian and Belarusian neutrals have been playing in tense but so-far-respectful situations with Ukrainian players. But nothing like the clown show in Milan.
This isn't over. It's just starting.
Oh, and what of the larger sports, such as aquatics, athletics and gymnastics? World Aquatics and the International Gymnastics Federation (FIG) are still mulling over what the conditions for Russian and Belarusian re-admission will be; World Athletics still has a Russian ban in place. Asked what might happen to speed up that process, President Sebastian Coe (GBR) suggested that Russia "get out of Ukraine."
¶
In the actual fencing, the World Championships in Milan saw homestanding Italy win the men's Team Epee, defeating France, 45-32, in the final, and the women's Team Foil, edging France, 45-39, in the final. Japan won the women's Team Foil bronze over the U.S., 45-34.
Hungary swept the men's and women's Team Sabre events; the men defeated South Korea, 45-42, while the U.S. got third over France, 45-42. The Hungarian women beat France, 45-38, while South Korea got the bronze, 45-32, over Kharlan and Ukraine.
Japan won the men's Team Foil, 45-35 over China and Hong Kong got the bronze, 45-31, over the U.S. Poland won the women's Team Epee with a 32-28 over Italy in the final, with South Korea third.
In all, Italy led the medal table with 10 total (4-4-2), with France next at six (1-3-2) and then Hungary, Japan and the U.S. at four each.
2.
Russia: IOC's treatment of Kharlan shows "duplicity"
The Russian reaction to Kharlan's disqualification was positive, such as from Sports Minister Oleg Matytsin:
"The International Federation made the right decision to disqualify, ensuring equality and fair competition, based on the rules of the sport. Such incidents are unacceptable."
But her subsequent reinstatement to the team event and the IOC's gift of a Paris 2024 spot brought a different reaction, such as this diatribe from Russian Olympic Committee President Stanislav Pozdnyakov, himself a four-time Olympic gold medalist in Sabre:
"Yesterday's IOC statement after the disqualification of the Ukrainian athlete, and in accordance with the rules of the International Fencing Federation – and this is an autonomous organization – once again clearly showed all the duplicity of the so-called recommendations, criteria and parameters, but, most importantly, revealed the true attitude to what is happening in the sports world on the part of the parent Olympic organization.
"One athlete, instead of shaking hands, pokes another with a saber, and for this the president of the International Olympic Committee demands to show sensitivity and delicacy to her. Another athlete – who acted nobly and according to the rules despite the rival's initiative – now gets threats to life, and insults begin to pour in, humiliating her honor and dignity. But the IOC does not find reasons to show sensitivity and delicacy to her if before that, thousands of citizens of Russia and Belarus were expelled from world sports by Olympic officials without the slightest hesitation.
"Now we have been unwittingly, but clearly shown the attitude that absolutely any Russian will face at international competitions after all the eliminations on a national basis.
"Anna Smirnova experienced it herself, and, unfortunately, this is the new, objective reality. It justifies and encourages any anti-Russian initiative, but for everything else there are concerns, recommendations and sanctions.
"The statement in question indicates that the IOC has identified and taken a side of the political conflict, has begun to act in the interests of this side, already openly distributing instructions to the participants in the Olympic Movement: whose rights to protect, and whose to postpone until the right moment.
"Olympism is officially made an instrument, controlled from the outside in the interests of a geopolitical order to neutralize our citizens and organizations in sports."
And the Chair of the State Duma Committee on Physical Culture and Sports Dmitry Svishchev chimed in with:
"These are absolutely shameful decisions of the international federation and the IOC. [Kharlan] broke the rules, and was disqualified absolutely for the cause. And then, apparently, calls rained down with threats to the federation, which got scared and rolled back the situation. The IOC decided to be at all 'clean' and without selection to admit her to the Olympic Games.
"This is a dangerous precedent, because it puts athletes in unequal conditions. I wonder what to do with those who really cannot participate in the selection due to more complex problems than breaking the rules? The same athletes from African countries, for example."
The Russian view of participation in Paris 2024 was underscored by Igor Levitin, the former Russian Transport Minister and now a close advisor to Russian President Vladimir Putin:
"I believe that athletes should participate in the Olympic Games, Each international federation will put forward its own conditions, and they will be different. But the main thing is that an athlete should not give any signatures about supporting or not supporting the [Russian invasion of Ukraine]. This shouldn't be happening. And he can participate."
3.
Swim Worlds close with U.S. relay wins
The 2023 World Aquatics Championships in Fukuoka (JPN) concluded with a big day for the U.S. in swimming on Sunday, including wins in the final two events in swimming, the 4x100m Medley Relays.
On Friday, China's Haiyang Qin, 24, who had never won a (long-course) Worlds medal coming into the meet, completed a sweep of the men's Breaststroke events with a brilliant 2:05.48 world record, smashing Australia's Zac Stubblety-Cook's 2:05.95 mark from 2022. Qin led wire-to-wire, while Stubblety-Cook, the Tokyo Olympic champ, moved from sixth at 100 m to third with a lap to go and he and Matt Fallon of the U.S. moved up to 2-3 in 2:06.40 (equal-6th performance ever) and 2:07.74. Fellow American Josh Matheny was eighth in 2:10.41.
Australia's Mollie O'Callaghan got her second individual win in the women's 100 m Freestyle in 52.16, the no. 2 performance of the year, coming from seventh at the turn to rocket past everyone to the touch. Siobhan Haughey (HKG: 52.49) led after 50 m and got second, with Marit Steenbergen (52.71) third and Americans Kate Douglass (52.81) and Abbey Weitzeil (53.34) fourth and sixth.
The U.S. continued its medal march with three more silvers. Douglass came back 47 minutes after the 100 Free and was second to Olympic champ Tatjana Schoenmaker (RSA), 2:20.80 – no. 2 this season – to 2:21.23. Lilly King, the defending World Champion, ended up fourth in 2:22.25, behind Tes Schouten (NED: 2:21.63).
Ryan Murphy led for the first 100 m in the men's 200 m Backstroke final, but was passed by Hungary's Hubert Kos, 20, who went on to win in 1:54.14, fastest in the world this year. Murphy was a clear runner-up in 1:54.83, for his 16th career Worlds medal (6-8-2).
After a 1-2 finish in the men's 200 m Free, Great Britain was favored in the 4×200 m Free relay and won in 6:59.08, the no. 4 performance in history. The U.S. squad of Luke Hobson, Carson Foster, Jake Mitchell and Kieran Smith was a very creditable second in 7:00.02, the seventh-fastest ever.
Saturday was, in some ways, a re-run of Friday. Australia's Kaylee McKeown, the Olympic women's 100-200 m Backstroke champ, completed a sweep of the Worlds Backstroke events with a third win, this time in the 200 m Back, beating American Regan Smith for the third time in 2:03.85 to 2:04.94. Smith led through the final turn, but McKeown jetted past in the final 50 to win decisively. McKeown's time is the sixth-fastest ever is no. 7 in U.S. history.
And Australia's dream Worlds continued, as Cameron McEvoy won the men's 50 m Free in 21.06, the no. 6 performance in history and now the no. 4 performer. American Jack Alexy, one of the finds of this Worlds, was second in 21.57, now no. 8 all-time U.S. He now has two individual silvers, and a relay silver and bronze, in his first Worlds. Britain's Ben Proud was third (21.58) and Ryan Held of the U.S. was fifth (21.72).
Australia set its third relay world record in the Mixed 4×100 m Free, with Jack Cartwright, Kyle Chalmers, Shayna Jack and O'Callaghan winning in 3:18.83, with the U.S. second in 3:20.82. Alexy had the U.S. in the lead after the first leg, but Matt King, Abbey Weitzeil and Douglass could not keep up, but were well ahead of Britain (3:21.68).
Overshadowed was Katie Ledecky's runaway win in the women's 800 m Free in 8:08.87, 4.44 seconds up Bingjie Li's Asian Record of 8:13.31 for China, with Ariarne Titmus (AUS: 8:13.59) third. Jillian Cox of the U.S. was sixth in 8:19.73, now no. 8 all-time U.S.
Ledecky's swim was the eighth-fastest in history; she has the top 29. And she won her sixth Worlds gold in this event – 2013-15-17-19-22-23 – and now has 21 career Worlds golds and 26 medals overall. She passed Michael Phelps for the most career individual Worlds golds ever, 16-15.
France's Maxime Grousset won the men's 100 m Butterfly in a fast 50.14, moving to no. 5 on the all-time list. He beat Canada's Josh Liendo (50.34, no. 6 all-time) and American Dare Rose, in his first Worlds, timed in 50.46, now no. 12 all-time and no. 5 all-time U.S.
Sweden's Sarah Sjostrom concentrated on the 50 m events in Fukuoka, and went wild on Saturday, winning the 50 m Butterfly in 24.77, with a huge 0.28 margin over China's Yufei Zhang and 0.69 over American Gretchen Walsh. Sjostrom, 29, won her 11th Worlds gold and has won this event in 2015-17-19-22-23! American Torri Huske was fifth in 25.64.
About 20 minutes later, Sjostrom came back for the semis of the 50 m Free and won semi two in an amazing 23.61, obliterating her own world record of 23.67 from the semis of the 2019 World Championships! The next-best time was 24.01 by Australia's Jack, a difference of 0.40 seconds in a 50 m race! Sjostrom now owns the top three times in history and four of the top five, with the final to come.
The record-setting wasn't done. In the next event, the women's 50 m Breaststroke semis, Lithuania's Ruta Meilutyte – winner of the 100 m Breast earlier – won semi two in 29.30, equaling the world record by Italy's Benedetta Pilato from 2019. King was second in the semi and second overall in 29.72, and Pilato was third in 30.09. Wow!
The final day of the meet on Sunday was a little different, with the U.S. roaring at the close with seven medals in seven events and two relay wins to finish on a high note.
Sweden's Sjostrom was the overwhelming favorite in the women's 50 m Free and won easily in 23.62, just 1/100th off her world record in the semis. It's her 22nd Worlds medal and 12th career gold, and third in this event. Australia's Jack (24.10) won silver, Zhang (CHN: 24.15) got the bronze and Weitzeil of the U.S. was fourth (24.32).
The U.S. medal parade started with the men's 50 m Back, with Hunter Armstrong moving up from silver in 2022 to gold this time, out-touching teammate and defending champ Justin Ress, 24.05 to 24.24.
The women's 50 m Breast followed, with London 2012 Olympic 100 m Breast winner Meilutyte on fire from the start and, after equaling the world record in the semis at 29.30, re-set the bar at 29.16! King wasn't close, but won silver in 29.94, followed by Italy's former world-record holder Pilato in 30.04.
Australia's Sam Short had already won the men's 400 m Free and took silver in the 800 m Free and led from the start of the men's 1,500 m Free. Olympic champ Bobby Finke of the U.S. took over at 1,000 m, with 800 m Free winner Ahmed Hafnaoui leading at 1,100 m. Those were going to be the medal winners, with Short falling back at 1,200 m and Hafnaoui and Finke stroke-for-stroke to the finish, with the Tunisian winning, 14:31.54 to 14:31.59. Those are the nos. 2-3 performances in history, an African Record for Hafnaoui and lowering Finke's American Record. Short was third in 14:37.28, moving him to equal-9th performer all-time.
Canadian Summer McIntosh, 16, set the world record in the women's 400 m Medley in March and got her second gold of the meet with a wire-to-wire win in 4:27.11, the no. 3 performance ever. American Katie Grimes was easily the best of the rest, in 4:31.41, a lifetime best and now no. 4 all-time U.S. Australia's Jenna Forrester got third (4:32.30) and American Alex Walsh was fourth in 4:34.46.
Then came the relays, where Australia had won four of six going in. But the U.S. was in front from the start in the men's 4×100 m Medley, with Backstroke ace Ryan Murphy taking a huge 1.17-second lead after the first leg and Nic Fink (Breast), Rose (Fly) and Alexy (Free) were hardly challenged on the way to a 3:27.20, the no. 2 performance in history! China was second in 3:29.00 and Australia third in 3:29.62.
The women's 4×100 m Medley saw Regan Smith finally get the better of Australia's McKeown, 57.68 to 57.91, but it was King's 1:04.93 breaststroke leg that broke the race open. King was 0.23 ahead when she started and 2.34 seconds up when she finished and Gretchen Walsh and Douglass finished up in 3:52.08, the no. 6 performance ever. Australia got the silver (3:53.37) and Canada got bronze (3:54.12).
In the final three days of the meet, world-leading marks were set in 13 events, including world records in four:
● Men/50 m Free: 21.06, Cameron McEvoy (AUS)
● Men/1,500 m Free: 14:31.54, Ahmed Hafnaoui (TUN)
● Men/50 m Back: 24.05, Hunter Armstrong (USA)
● Men/200 m Back: 1:54.14, Hubert Kos (HUN)
● Men/200 m Breast: 2:05.48, Haiyang Qin (CHN) ~ World Record
● Men/100 m Fly: 50.14, Maxime Grousset (FRA)
● Men/4×200 m Free: 6:59.08, Great Britain
● Men/4×100 m Medley: 3:27.20, United States
● Women/50 m Free: 23.61, Sarah Sjostrom (SWE) ~ World Record (semis)
● Women/50 m Fly: 24.74, Sarah Sjostrom (SWE) ~ semifinals
● Women/50 m Breast: 29.30, Ruta Meilutyte (LTU) ~ equals World Record (semis)
● Women/50 m Breast: 29.16, Meilutyte ~ World Record
● Women/4×100 m Medley: 3:52.08, United States
● Mixed/4×100 m Free: 3:18.83, Australia ~ World Record
In terms of the final standings, Australia finished with 13 golds and 25 total medals (13-7-5) vs. 38 medals for the U.S. (7-20-11), with China an impressive third (16: 5-3-8). This was the first time since 2001 that Australia has won the most golds at the Worlds and they equaled their best-ever output of 13 wins, in 2001 and 2005.
Both the U.S. and Australia did something else that was critical to their 2024 Olympic plans. Both teams finished in the top three in all eight relays, meaning that for the seven relays on the Olympic program – 4×100 m and 4×200 m Free, 4×100 m Medley for men and women, and Mixed 4×100 m Medley only – those two countries are qualified already and do not have to chase a place at the 2024 World Aquatics Championships that will be held in Qatar next February. That's an important training consideration for USA Swimming and will help shape its strategy for the 2024 Worlds.
¶
Hungary won its fourth World Championships title in the men's water polo tournament – and first since 2013 – going to a shoot-out to beat Greece, 4-3, after a 10-10 tie. It was close throughout, with Hungary leading 5-4 at half and tied, 7-7 after three. Spain, the defending champs, won the bronze by beating Serbia, 9-6. The U.S. ended up seventh, beating Montenegro, 17-15.
Hungary's Gergo Zalanki was selected as Most Valuable; Hannes Daube of the U.S. Made the All-Tournament team as the no. 2 scorer, with 22 scores.
The Netherlands won the women's title, also going to a shoot-out to defeat Spain, 5-4, in the final, following a 12-12 tie. It's the first Worlds gold for the Dutch since 1991, and was their first win in their last four appearances in the final.
Italy defeated Australia, 16-14, to finish third. The U.S. women, the four-time defending champs, finished fifth, winning a 4-2 shoot-out with Hungary after an 11-11 tie.
Spain's Elena Ruiz was selected as Most Valuable; teammate Judith Forca led all scorers with 23 goals.
¶
In the overall medal count for the Championships, the U.S. won 44 medals (7-22-15) to lead all nations, ahead of China (40: 20-8-12) and Australia (30: 15-9-6). The Chinese won 12 of 13 diving events and then five in the pool and three in Artistic.
4.
Swiss and Spain clinch groups in Women's World Cup
The final round of group matches at the 2023 FIFA Women's World Cup have begun, with five teams now advanced to the elimination rounds: Switzerland and Norway from Group A, Spain and Japan from Group C and Sweden from Group G.
This will be quite a week as the play-offs – and brackets – get sorted out. The weekend's games:
● Group D: England 1, Denmark 0 ● The Lionesses managed another 1-0 win, thanks to forward Lauren James' strike in the sixth minute, off a dribble to the top of the box and smashed a right-footed shot to the right side of the Danish net for the only goal of the game.
Both sides had chances, but England controlled possession (71%) and had a 13-6 shots advantage. Denmark missed its best chance in the 87th, when midfielder Amalie Vangsgaard's head clanged off the far goalpost.
● Group D: China 1, Haiti 0 ● This game got crazy quickly, as Chinese midfielder Zhang Rui was red-carded in the 29th minute for a studs-up tackle on Haiti's midfielder Sherly Jeudy, and China had to play with 10.
Even so, they controlled much of the game, with 54% of possession, but without much offense. China got eight shots to Haiti's seven, with Chinese keeper Zhu Yu denying substitute midfielder Melchie Dumonay from point-blank range in the 53rd to keep it scoreless. In the 71st, Haiti defender Ruthny Mathurin was called for a penalty on a tackle after an offsides call was wiped out on a video review, and substitute midfielder Wang Shuang scored in the 74th for the only goal of the match.
England leads the group at 2-0 with six points, with Denmark (1-1) and China (1-1) at three; China will face England and Haiti will play Denmark on Tuesday (1st).
● Group F: France 2, Brazil 1 ● This was a hard-fought game, played in front of a huge crowd of 49,378 in Brisbane.
France struck for on a long diagonal pass from defender Sakina Karchaoui found striker Kadidiatou Diani at the far side of the Brazil goal, and her header put striker Eugenie Le Sommer in perfect position to head it in for a 1-0 lead in the 17th. The half ended there.
Brazil kept coming and midfielder Kerolin sent a pass through the French defense and striker Debinha right-footed it in for a tie in the 58th. The French kept the pressure up and, finally, a corner from midfielder Selma Bacha found French star defender Wendie Renard at the far side of the goal and she headed a bouncer into the net in the 83rd for the winning score.
France had 54% of possession and a 19-11 edge on shots.
● Group F: Jamaica 1, Panama 0 ● The Jamaicans surprised France with a 0-0 draw in their opening match for their first-ever Women's World Cup point and then managed to overcome Panama, 1-0, for their first Women's World Cup win, in Perth (AUS).
The game was tightly played, and while the Jamaicans had chances, the half ended 0-0. Finally, a corner from midfielder Trudi Carter sailed into the middle of the box and was headed into the far side of the net by defender Allyson Swalby in the 56th, for the only goal of the game.
Panama had slightly more possession at 52%, but the Jamaicans were the aggressors, with 20 shots to 13. With the win, Jamaica and France are both 1-0-1 (W-L-T) and have four points, ahead of Brazil (3), with Panama eliminated. The French play Panama and Jamaica is in an elimination match against Brazil on Wednesday (2nd).
● Group G: Argentina 2, South Africa 2 ● The South Africans were on track to win after taking a 1-0 lead in the first half on a breakaway by striker Thembi Kgatlana and a 2×1 attack with midfielder Linda Motlhalo finishing. The play was called offsides, but reversed on video review.
Then Kgatlana got her own goal in the 66th off a steal deep in the Argentine zone from fellow striker Jermaine Seoposenwe, whose pass to the front of goal was finished for a 2-0 advantage.
But Argentina stormed back, with defender Sophia Braun slamming a loose ball beyond the box into the net on the fly in the 74th, and midfielder Romina Nunez heading in a cross into the box into the far corner of the South African net in the 79th for the equalizer. Argentina had 61% of possession, but both sides managed 13 shots and earned a point.
● Group G: Sweden 5, Italy 0 ● The Swedes clinched a playoff spot with a rout of Italy, scoring three times at the end of the first half at Wellington (NZL).
Defender Amanda Ilestedt opened the flood gates with a header in the 39th off a corner kick from defender Joanna Andersson that curled right into the front of the Italian goal, then another Andersson corner sailed a little further in the 44th and forward Fridolina Rolfo knocked it in for a 2-0 lead. At 45+1, a cross near the endline from forward Johanna Kaneryd could not be cleared and striker Stina Blackstenius was waiting to finish for the 3-0 halftime score.
The game was decided; Ilestedt scored on another header from Andersson in the 50th and substitute striker Rebecka Blomqvist outran everyone on a loose ball from midfield at 90+5 and scored for the 5-0 final.
Italy actually had 53% of possession, but the Swedes piled up 21 shots to 12 and essentially clinched the group.
● Group H: Morocco 1, South Korea 0 ● The Moroccans got crushed by Germany in its first-ever Women's World Cup game, then scored its first-ever Women's World Cup goal in the sixth minute against South Korea on a header by striker Ibstissam Jraidi at the right side of the box that ran diagonally to the left side of the net off an entry pass from defender Hanane Aït El Haj. That was all the scoring.
The Koreans controlled possession (62%) and got 16 shots off to 10 for Morocco, but the Africans were well organized on defense and physical, with 14 fouls. The Moroccans had more chances, but could not score again and Korea missed a final chance in the 87th with U.S.-born teen Casey Phair missing a strike from inside the box wide to the right in the closing minutes.
● Group H: Colombia 2, Germany 1 ● The no. 2-ranked Germans looked all-powerful in their first game, but ran into a determined Colombian squad in Sydney and suffered a shocking defeat in stoppage time.
Neither side could score in the first half, but the forward Linda Caiceido scored a brilliant goal in the 52nd for Colombia, taking possession of a blocked shot at the left side of the box, dribbling to create space and then sending a right-footed rocket to the high right side of the German net for a 1-0 lead.
The Germans had the ball (68% possession) and shots, but could not score, despite 14 shots (to 9). In the 88th, a breakthrough by midfielder Lena Oberdorf was cut short by a tackle by Colombian keeper Catalina Perez for a penalty. Striker Alexandra Popp converted cleanly to tie the game at 1-1.
But the Colombians stunned the Germans, themselves and 40,499 at the Sydney Football Stadium at 90+7 when a corner by substitute midfielder Leicy Santos was headed by defender Manuela Vanegas into the top right corner of the German goal for the winning score.
Colombia is now 2-0 with six points, with Germany and Morocco at three each; Columbia plays Morocco next and the Germans need a win against 0-2 Korea.
● Group A: Switzerland 0, New Zealand 0 ● The Swiss only needed a draw in Dunedin to advance and with 51% possession and just three shots in the match, that's what they got.
New Zealand striker Jacqui Hand hit the right goalpost with a shot on the run in the 24th with the best offensive play of the game. The Football Ferns were aggressive – 12 shots to 3 – but could not score and were eliminated. The Swiss won the group at 1-0-2 and five points.
● Group A: Norway 6, Philippines 0 ● It was 2-0 after 17 minutes and 3-0 after 31 as Norway cruised into the knock-put round with a 6-0 win in Auckland. Striker Sophie Roman Haug opened the scoring in the sixth minute on a left-footed volley from the left of goal, then got a second in the 17th on a header, also from the left of goal and into the far right corner.
Forward Caroline Hansen got the third goal of the half in the 31st on a powerful strike from 10 years beyond the box that whistled into the left side of the Philippine goal for the 3-0 halftime edge.
It got worse, as Philippine defender Alicia Barker scored an own goal on a failed clearance in the 48th (4-0) and midfielder Guro Reiten converted a penalty in the 53rd (5-0). Haug got one more on another header at 90+5 for the 6-0 final. The Norwegians enjoyed 72% of possession and put up 31 shots to 4. On to the eliminations.
Group play continues through 3 August; the Round of 16 will begin on 5 August.
¶
Fox Sports announced that its English-language telecast of the U.S.-Netherlands Women's World Cup drew a big audience of 6,429,000 viewers on Wednesday, including 196,938 streaming viewers (3.06%).
Telemundo's Spanish-language broadcast drew 1.51 million viewers, including 244,000 streaming viewers (16.16%), for a combined total of 7.939 million, way up vs. the comparable group-stage game from the 2019 edition and 50% ahead of the U.S.-Vietnam opener (1.01 million).
5.
U.S. Center for SafeSport eyed by review Commission
Expect a focus of the Commission on the State of the U.S. Olympics and Paralympics to be on the U.S. Center for SafeSport, as well as the USOPC.
Said Han Xiao, a Co-Chair of the Commission and the former head of the USOPC's Athletes Advisory Council, told the Associated Press, "Over and over again, we're hearing that athlete safety and the SafeSport process must be a top priority."
Formed in 2017, the SafeSport 2022 report showed that of the 12,751 cases it has resolved to date:
● 1,720 (13.5%) resulted in a violation being found
● 157 (1.2%) resulted in no violation being found
● 744 (5.8%) are on administrative hold (person now not affiliated with an NGB)
● 1,900 cases (14.9%) closed for lack of jurisdiction
● 3,340 cases (26.2%) closed because SafeSport declined to pursue
● 4,480 cases (35.1%) administratively closed as SafeSport declined to pursue
Combining those cases with violations or no violations being found, only 1,877 of 12,751 cases resolved – 14.7% – had a final outcome.
There are varying reasons for each outcome, such as lack of evidence or a judgement that the complaint may be minor enough to be handled by a National Governing Body rather than the Center.
The AP story quoted Center director Ju'Riese Colon: "If I was to look into the future about what we really need, we need at least double what we have today." She said the Center's budget was based on an annual complaint volume of 2,700 cases, but it receives about 8,000 now.
The Center for SafeSport is primarily funded by the USOPC, which was mandated by Congress in the Empowering Olympic, Paralympic and Amateur Athletes Act of 2020 to pay it $20 million per year each January.
Max Cobb, the former President of the U.S. Biathlon Association – and of the U.S. National Governing Body Council – who is now the Secretary General of the International Biathlon Union, told the AP:
"Too often, the investigations take months or years to begin, and in the end are too slow to be effective within the real-life timeframe in which our athletes and sports happen. This creates a long period of inaction that in many cases is worse or nearly as bad as the initial offense."
The Commission on the State of the U.S. Olympic and Paralympics is expected to hold a public hearing on 6 September.
≡ PANORAMA ≡
● Olympic Games 2020: Tokyo ● The Tokyo 2020 bid-rigging scandal continued to unfold in the Tokyo District Court last Thursday, as Dentsu Sports Division Assistant Director Koji Henmi admitted working to fix the awards to manage the Olympic test events.
He is the second official to be tried in the bid-rigging program; Yasuo Mori, who was the Deputy Executive Director of the Tokyo 2020 organizing committee's operations team, pled guilty earlier this month. The scheme was executed between February and July 2018 to select companies to organize the test events, leading to much more lucrative contracts for venue management during the Games.
Henmi pled to the test-event project, but not to the Games venue management selections, and reports indicate he may fight that part of his indictment. So far, everyone in both the bid-rigging and sponsorship-selection scandal has pled guilty in hopes of a lighter sentence … all of which have been suspended thus far.
● Olympic Games 2024: Paris ● Agence France Presse reported that the 200-plus booksellers whose stalls line the River Seine in Paris are not interested in shutting down to accommodate the Opening Ceremony of the Paris Games next year.
The head of the Paris Booksellers Cultural Association, Jerome Callais, said the merchants were told by the Paris police that the shelving of 570 of them had to be removed:
"The official responsible for the Seine explained to us that we would be obstructing the view on the day of the ceremony. We're a major symbol of Paris. We've been here for 450 years!
"To want to erase us from the landscape when the celebration of these Games should be a celebration of Paris seems a bit crazy."
Worries over security and terrorism are driving the request. AFP noted that the demand to move included an agreement that the city will remove and reinstall the book boxes, and repair any that are damaged. Callais said it could cost €1.5 million to do the job properly (about $1.66 million U.S.).
● Russia ● European sports ministers have asked that any Russian or Belarusian athlete who receives state assistance be disqualified from competing in Paris in 2024 as a "neutral." For the first time apparently, the question is being asked, according to Russian Archery Federation chief Vladimir Yesheev:
"We are asked to provide personal data of athletes and coaches, but we cannot make cross-border transfers of documents until Roskomnadzor [Russian Federal Service for Supervision of Communications, Information Technology and Mass Media] gives the appropriate permission.
"We are asked to indicate the employer, the coach, the coach's employer, to inform whether the athlete served in the army. We reported that the lists of the national team are publicly available, on the website of the Ministry of Sports, but we cannot provide the rest of the data without a decision of Roskomnadzor.
"We reported which athletes are listed in CSKA and Dynamo [sports clubs], but they also demanded to indicate whether they received subsidies from state bodies or sports organizations."
¶
The Russian government is continuing its program of creating multi-sport events to mimic the Olympic Movement from which it is now excluded. Now underway is the Summer Games for Deaf Athletes "We are together. Sport" for the deaf in Ufa, clearly modeled on the Deaflympics, first staged in 1924.
The event started on 23 July and will close on 2 August, with a reported 2,000 participants, apparently including one American. The International Sports Committee for the Deaf issued a statement in March that included:
"The ICSD strongly states that it has not and will not give any form of permission for the use of the word 'Deaflympics' and will closely monitor the organisation of the Russian Summer Games of Deaf Athletes 'We are together. Sport' event and, if necessary, take action and take the necessary steps against any possible unlawful use of the word 'Deaflympics'."
The next Deaflympics will be held in Tokyo in 2025.
● Archery ● At the fourth U.S. Archery Team Qualifier Series tournament – the Buckeye Classic in Dublin, Ohio – the past met the future in the men's Recurve final as 1996 Olympic gold medalist Justin Huish, now 48, faced 21-year-old Trenton Cowles, the 2018 Youth Olympic Games champion.
Cowles was the top seed and won, 6-4, in a tight match: 29-27, 27-30, 30-30, 29-29 and 30-29. Is he the next great American men's archer?
Matthew Nofel, a Worlds silver Team medalist in 2021, won the third-place match, 6-4, over Gabe Anderson.
The women's title went to Isabella Frederick, 20, a 6-4 winner over Megan McDonough, while Cham Chung took third with a 7-1 win against Molly Nugent.
● Athletics ● A breakthrough for 18-year-old Issam Asinga of Suriname at the South American Championships in Sao Paulo (BRA) on Friday, winning the continental title with a World U-20 Record of 9.89 (+0.8).
That brings him to equal-fourth (with three others) on the 2023 world list and raises him to instant medal contender status for the World Athletics Championships that begin on 19 August in Budapest (HUN).
World Athletics noted, "Asinga was born in Atlanta, USA, and grew up in Zambia, where his mother was born. His father is Surinam's Tommy Asinga, who still holds the country's national records for 400m, 800m and 1500m." He has signed with Texas A&M for college.
¶
Brazil's Thiago Braz, the stunning winner of the Rio 2016 men's vault gold, was provisionally suspended Friday by the Athletics Integrity Unit for the prohibited selective androgen receptor modulator (SARM) Ostarine that has impacts similar to steroids.
If confirmed, Braz could be subject to a four-year penalty. The World Indoor silver winner in 2022, Braz – now 29 – had cleared a seasonal best of 5.71 m (18-8 3/4) this season, ranking 32nd on the world list.
¶
Abbabiya Simbassa and Kellyn Taylor won the USA Track & Field 7-Mile Championships in Davenport, Iowa.
The men's lead pack was down to five by the four-mile mark, with Simbassa attacking near the five-mile mark and breaking everyone except 8 km national champ Clayton Young, who took the lead with a half-mile left. But Simbassa had another gear and ran away to win in 32:35 for his second career national title and first in 2023; Young was second in 32:53 and Reid Buchanan came up for third in 32:57.
Tokyo Olympic Marathon Trials winner Aliphine Tuliamuk and Taylor, 37, broke away from the women's field with a couple of miles left, and then raced to the finish. Taylor finally caught to, and then passed Tuliamuk to get her first U.S. title in 36:33, with Tuliamuk denied an eighth USATF title in 36:38. Ednah Kurgat, who won the USATF 6 m title this season, got third in 36:56, just ahead of Annie Frisbie.
● Badminton ● Top-seeded Viktor Axelsen of Denmark won his 20th career BWF World Tour tournament title to headline the Japan Open in Tokyo. Axelsen defeated Indonesian Jonatan Christie, 21-17, 21-18 in the final.
Second-seed Se Young An (KOR) won the women's Singles over Bing Jiao He (CHN), 21-15, 21-11, and the Koreans got a second win in the women's Doubles, by So Yeong Kim and Hee Yong Kong (KOR) over Qing Chen Chen and Yi Fan Jia (CHN), 21-17, 21-14.
Chinese Taipei scored a win in men's Doubles, as Yang Lee and Chi-Lin Wang swept Takuro Hogi and Yugo Kobayashi (JPN), 21-19, 21-13, but Japan's Yuta Watanabe and Arisa Higashino won the Mixed Doubles by 17-21, 21-16, 21-16 over Dechapol Puavaranukroh and Sapsiree Taerattanachai (THA).
● Beach Volleyball ● A rematch at the Beach Pro Tour Elite 16 in Montreal (CAN) pitted the two finalists from the prior Elite 16 tournament in Gstaad (SUI): Olympic and World Champions Anders Mol and Christian Sorum from Norway and the upstart Americans, Miles Partain and Andrew Benesh.
Partain and Benesh won in Gstaad in a shocker, two sets to one, and in Montreal, it was another tug-of-war. The Norwegians took the first set, 21-17, but were tied, 15-21, after the second set, and finally won the decisive third, 15-10.
In the six Elite 16 finals this season, Mol and Sorum have made all six finals and have won three. In the third-place match, Alex Ranghieri and Carambula Raurich (ITA) edged Evandro Oliveira Jr. and Arthur Lanci (BRA), 24-22 and 22-20.
The women's final was an all-North American battle between 2019 World Champions Melissa Humana-Paredes and Brandie Wilkerson (CAN) and Julia Scoles and Betsi Flint (USA), who had already achieved their first medal finish of the season.
In fact, Scoles and Flint could barely believe they made the final after a furious comeback in their quarterfinal against Brazil's reigning World Champions Ana Patricia Ramos and Duda Lisboa: down 9-14 in the third set, they scored six straight points to get to 15-14, then 15-15. Two more points got the Americans to 17-15 and an improbable win that continued into the final.
The final was close, with the Canadians winning the first set, 21-15, but tied in the second (16-21), and finally winning in the third, 15-13, for their second win of the season. Scoles and Flint won their second Beach Pro Tour medal together, and their first this season.
The third-place match saw Chen Xue and Ximyi Xia (CHN) get past Katja Stam and Raisa Schoon (NED), 21-17, 20-22, 15-12.
● Cycling ● The key seventh stage of the 2023 Tour de France Femmes, with its finish on the 2,116 m Col du Tourmalet, was a brilliant victory for Dutch star Demi Vollering, already a five-time winner on the UCI Women's World Tour in 2023.
Her solo attack from 5 km out won the stage by a whopping 1:58 over Poland's Kasia Niewiadoma and 2:34 over Dutch teammate Annemiek van Vleuten and catapulted her into the overall lead by 1:50 over Niewiadoma, 2:28 over van Vleuten and 2:35 over prior leader Lotte Kopecky (BEL).
Kopecky had remained in the lead after Stage 6, a sprint finish won by Emma Norsgaard (DEN), over Charlotte Kool (NED: +0:01) and Kopecky (+0:01). But the race was decided on Saturday, with only the Individual Time Trial in Pau left on Sunday.
Swiss Marlen Reusser won the 22.5 km Time Trial in 29:15, ahead of Vollering (+0:10) and Kopecky (+0:38). That left Vollering the winner at 25:17:35, ahead of Kopecky (+3:03) and Niewiadoma (+3:03), and defending champ van Vleuten (+3:59). It's Vollering sixth major win of the year.
¶
The UCI World Tour is back in full swing, with Belgian Remco Evenepoel defending his title at the 43rd Donostia San Sebastian Klasikoa in Spain, in a sprint to the finish with home favorite Pedro Bilbao (ESP) at the end of the hilly, 230.3 km course on Saturday.
It's the third win this season for Evenepoel, who has now won this race three times, in 2019-22-23. He and Bilbao both timed 5:30:59, well ahead of Aleksandr Vlasov (RUS), with American Nelson Powless (+2:50).
● Football ● UEFA announced that Italy and Turkey have merged their bid to host the 2032 European Championship, leaving the 2028 edition to go to the joint bid from England, Scotland, Wales, Northern Ireland and Ireland:
"In 2021, UEFA initiated a bidding process for the hosting of two consecutive editions of its European Championship, in 2028 and 2032. TFF [Turkey] entered the process for both editions, while FIGC [Italy] decided to bid only for the 2032 edition. A joint bid to host the 2028 edition has also been placed by five associations: England, Northern Ireland, Republic of Ireland, Scotland and Wales.
"UEFA will now work with FIGC and TFF to ensure that the documentation to be submitted for their joint bid is compliant with the bidding requirements.
"If the joint bid does comply with such requirements, it will be submitted to the UEFA Executive Committee at the meeting scheduled on 10 October, where the appointments for 2028 and 2032 will be made."
● Swimming ● While the World Championships continued, the Tyr U.S. Pro Championships were held in Irvine, California, with Dakota Luther moving into the world top 10 in the women's 200 m Fly,
Luther, who finished third at the U.S. Nationals, won the 200 m Fly with a lifetime best of 2:06.79, moving her to no. 7 on the year. That time would also have placed her fourth at the 2023 World Championships, just 1/100th behind fellow American Regan Smith for the bronze medal.
American Paige Madden scored a triple win, taking the 200-400-800 m Freestyles in 1:57.41 (season best), 4:07.97, and 8:32.46 (season best). Sprinter Catie De Loof won the 50 m and 100 m Freestyles in 24.68 and 54.06, with 2019 World 50 m champ Simone Manuel third in the 50 at 25.05 and second in the 100 m in 54.21.
Jake Foster took the men's 100-200 m Breast double in 59.64 and 2:08.23, and Australia's Maximilian Giuliani won the 100-200 m Free double in 48.21 and 1:46.23. Aiden Hayes of the U.S. won the men's 100 m Fly in 51.24, now no. 4 in the U.S. this season.
● Tennis ● The Czech Republic has prevented entry to the country by Russian and Belarusian tennis players who were to play as neutrals in this week's Women's Tennis Association Prague Open tournament.
One Russian player was stopped from entering the country last Thursday and other players were informed by the tournament organizers that they would not be admitted. Tournament director Miroslav Maly said, "The management of the tournament fully respect the current stance of state authorities. We do not expect any player with Russian or Belarusian citizenship to take part in the tournament in this situation."
Czech policy is not to allow Russian or Belarusian athletes to compete in the country, regardless of "neutral" status. The WTA responded with an annoyed tweet:
"WTA rules state that all players must be allowed to compete on the WTA based solely on merit, without discrimination.
"We will continue to review the situation as we factor important considerations around these complex geopolitical issues."
● Triathlon ● France's Cassandre Beaugrand underscored her Hamburg Super-Sprint world title with a follow-up victory in the World Triathlon Championship Series in Sunderland (GBR) on Saturday.
This was a Sprint – 750 m swim, 21.3 km bike and 5 km run – with Beaugrand coming out of the water third and just five seconds back after the bike phase. She took over on the run, where she posted the fastest time in the field by six seconds, and by more than 20 seconds from her closest competitors to win in 59:53. French teammate Emma Lombardi was a distant second (1:00:11) with Annika Koch (GER: 1:00:17) third, with her first World Series medal. Erika Ackerlund was the top U.S. finisher in 13th (1:00:58), with Rio 2016 Olympic champ Gwen Jorgensen 21st in 1:02:21.
The men's competition was another French 1-2, with Pierre Le Corre winning his first World Series title, just ahead of 2022 World Champion Leo Bergere, with both timed in 54:06. Once again, the run was decisive, with Le Corre at 14:37, nine seconds up on Bergere (14:36), the next best. New Zealand's Hayden Wilde was third (54:21), winning his fourth World Series medal in 2023.
The French completed their sweep of the weekend with a win in the Mixed Relay, with Tom Richard, Emma Lombardi, Le Corre and Beaugrand the decisive victors in 1:26:53, ahead of Britain (1:27:16) and Norway (1:27:17). The U.S., with Jorgensen on second leg, finished eighth (1:29:17).
¶
You can receive our exclusive TSX Report by e-mail by clicking here. You can also refer a friend by clicking here, and can donate here to keep this site going.
For our updated, 787-event International Sports Calendar (no. 3) for 2023 and beyond, by date and by sport, click here!