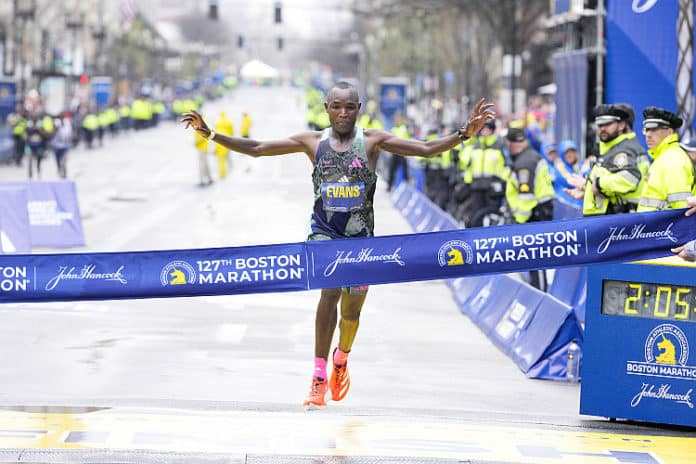 ★ The Sports Examiner: Chronicling the key competitive, economic and political forces shaping elite sport and the Olympic Movement.★
★ To get The Sports Examiner by e-mail: sign up here! ★
≡ THE 5-RING CIRCUS ≡
1. Chebet and Obiri win third straight Kenyan Boston Marathon sweep
2. Former biathlon president Besseberg indicted for corruption
3. Ukraine sanctions 80 more Russian athletes and officials
4. IIHF's Tardif says Russia and Belarus come back when war is over
5. Argentina confirmed as FIFA men's U-20 World Cup host
At the 127th Boston Marathon, Kenyan Eliud Kipchoge was the center of attention, but it was defending champ Evans Chebet of Kenya who won again. The women's race was won by Kenya's track superstar Hellen Obiri, her first marathon win in her second try. Former International Biathlon Union President Anders Besseberg was indicted for corruption in his native Norway, related to favors he did for Russia over a 10-year period. The Ukrainian government imposed a new round of sanctions on 80 Russian athletes and officials, including at least 11 Olympic medal winners, past and present. The International Ice Hockey Federation President said he would welcome back Russian and Belarusian teams … as soon as the war was over, and praised the improving level of women's hockey. Argentina was formally awarded the FIFA men's U-20 World Cup, beginning in May, replacing Indonesia, which did not want to allow Israel to play.
● Panorama: Russia (3: European Games refuses Russian and Belarusian entries; Norway withdraws from fencing events; 2029 World Aquatics Champs in Kazan?) = Anti-Doping (testing reports from aquatics and volleyball) = Artistic Swimming (2: U.S. nationals; new U.S. gender equity policy) = Athletics (more world leaders in California and India) = Gymnastics (U.S. team members Chiles, McCallum, Carey and Wong medal at NCAA Champs) = Swimming (new world leaders in Sweden and Australia) ●
1.
Chebet and Obiri win third straight Kenyan Boston Marathon sweep
All of the hype surround the 127th Boston Marathon on Monday was focused on Kenya's two-time Olympic champ Eliud Kipchoge, but it was 2022 victor Evans Chebet cross the line first once again, and track star Hellen Obiri winning her first marathon in the women's race.
The conditions were part of the story, with an overcast, rainy and windy morning, with temperatures in the high 40s (F). A large group of 11 men formed the lead pack and moved through the halfway mark in 1:02:19, which closed to seven by 30 km.
Now the attacks started, including Tanzania's Gabriel Geay, whose charge to the front dropped Kipchoge by 20 miles (32 km) and he was not a factor again. By the 35 km mark, it was 2021 champion Benson Kipruto (KEN), Chebet and Geay breaking away from all others and they would race for the medals.
They ran together through 35 km, but Kipruto could not keep up by the 38 km mark and dropped a few seconds back. Geay kept challenging Chebet, who stayed steady and smooth, unmoved by the damp conditions. But Kipruto charged to join them at 40 km and then it was Geay who dropped back a bit.
With a mile to go, Chebet had the lead and broke away with just more than a half-mile to go, running alone to the finish in 2:05:54, the sixth-fastest time in Boston Marathon history. He's the first men's repeater since Robert Cheruiyot won his second, third and fourth Boston wins in 2006-07-08. Although he placed high in his first eight marathons from 2013-17, Chebet, 34, has won six of his last seven from 2019-23, including Boston twice, Valencia in 2020 and New York in 2022.
Geay regained second place on the run-in in 2:06:04, with Kipruto at 2:06:06, and Kipchoge in seventh at 2:09:23. In his 18th career marathon, it's his second-worst finish; he was eighth in London in 2018, also on a rainy, cold day.
Scott Fauble was the top American finisher, in seventh for the second year in a row and third time in his Boston career, in 2:09:44. Matthew Mcdonald was 10th (2:10:17) and Conner Mantz was 11th (2:10:25).
The women's lead pack also had 11 runners together at the halfway point, in 1:11:29 and stayed together through 35 km! By 37 km, though, only six were with the lead group and the final five contenders – Obiri, Lonah Salpeter (ISR), Ethiopians Amane Beriso and Ababel Yeshaneh and American Emma Bates, the 2021 Chicago Marathon runner-up – were set by the 39 km mark.
Bates was dropped by 40 km and Salpeter fell back shortly after that. That left Obiri and the two Ethiopians, who took turns leading, with Yeshaneh falling back first and then Obiri – the 2017 and 2019 World Champion at 5,000 m – taking off for good with about 800 m remaining and ran to the line alone in 2:21:38, the no. 10 time in Boston Marathon history.
Beriso stayed second (2:21:50), Salpeter came on to pass Yeshaneh for third (2:21:57 to 2:22:00) and Bates was fifth in a lifetime best of 2:22:10 as the top American. Aliphine Tuliamuk, the 2020 U.S. Olympic Trials winner, was the next American, in 11th (2:24:37), with Nell Rojas in 14th (2:24:51).
Chebet's win was the fourth in a row for the Kenyan men and Obiri scored the third straight for the Kenyan women. Her victory was especially gratifying after her debut in New York last November ended with a sixth-place finish; she was simply stronger than everyone else in the final mile.
Said Kipchoge afterwards, "Today was a tough day for me. I pushed myself as hard as I could, but sometimes, we must accept that today wasn't the day to push the barrier to a greater height."
Obiri noted, "After New York, we learned some things we did not know. I learned to be patient." Chebet revealed that he and Kipruto worked together: "It was a mutual agreement that we would keep pace together. And this is what worked out well."
2.
Former biathlon president Besseberg indicted for corruption
Norwegian Anders Besseberg, 77, the President of the International Biathlon Union from 1993 to 2018, was indicted Monday for corruption related to favors he received during his lengthy term in office. The announcement included:
"The Norwegian National Authority for Investigation and Prosecution of Economic and Environmental Crime (Økokrim) has indicted a Norwegian man who was president of the IBU for trial on charges of aggravated corruption. The offences took place during the period 2009 to 2018.
"The charges include accepting bribes in the form of watches, hunting trips and trophies, prostitutes and a leased car which he enjoyed the use of from 2011 to 2018 in Norway.
"Økokrim believes there is sufficient evidence to prove that he accepted bribes continuously over a ten-year period. The seriousness of the matter is emphasised by the breach of trust his actions represent in light of his position as president of the IBU, says the prosecutor in charge of the case, Senior Public Prosecutor Marianne Djupesland."
Okokrim has been involved with the Besseberg case since early in 2020, when it was asked to take over the corruption aspects of an investigation by Austrian authorities dealing with doping in sport and fraud.
Okokrim acknowledged additional assistance from authorities in Canada, the Czech Republic and Liechtenstein. Besseberg was forced out of office in 2018 based on reports of corruption and possible doping cover-up assistance for Russian athletes.
The International Biathlon Union's statement noted that in 2018:
"Following an exhaustive investigation, the [IBU External Review Committee] concluded that Mr Besseberg had a case to answer for breach of the IBU's rules, based on their apparent protection of Russian interests, particularly in the anti-doping context, without good justification."
3.
Ukraine sanctions 80 more Russian athletes and officials
On Saturday, Ukraine issued another round of sanctions against more than 80 Russian athletes and officials, which a ban on the issuance of a Ukrainian visa and a ban on entry into Ukrainian territory for 50 years.
The sanctions list includes, among others, Olympic gymnastics medalists Svetlana Khorkina (1996-2004), Maria Paseka (2012-16), Victoria Listunova (2020) and Artur Dalaloyan (2020); swimmer Anton Chupkov (2016); wrestler Varteres Samurgashev (2000-04); biathlon medalists Dmitry Vasiliev (1984-88), Svetlana Ishmuratova (2002-06); figure skater Nikita Katsalapov (2022); hockey player Andrei Kovalenko (1992-98), and Nikolai Gulyaev, head of the Russian Skating Union and 1988 Olympic speed skating gold medalist.
Russian Gymnastics Federation coach Valentina Rodionenko told TASS:
"The decision of the leadership of Ukraine to impose sanctions on our gymnasts can be called complete insanity. People no longer know how else to hurt us.
"I was not going to go to Ukraine, and these sanctions cannot in any way prevent our participation in foreign competitions if the international federation decides in early May on the return of Russians and Belarusians."
In December 2022, the Ukrainian government sanctioned 55 athletes and officials over their support for the Russian invasion, including teen figure skater Kamila Valieva, still at the center of a doping inquiry from the Beijing 2022 Olympic Winter Games.
A BBC commentary last Saturday noted:
"[W]hy is the Russian state so keen to keep winning in the sporting arena?
"Popular newspaper Vedomosti argued that the Russian government wants to use athletic achievements to keep Russians happy and united when things are not going well elsewhere.
"'We need victories as a way of doping patriotism,' it said. 'Victories are part of state policy.' …
"According to Vyacheslav Fetisov, formerly a famous ice hockey player, two-time Olympic champion and now member of parliament for the ruling United Russia party: 'We are the most disgraced country in the history of international sport.'"
4.
IIHF's Tardif says Russia and Belarus come back when war is over
The International Ice Hockey Federation President, Frenchman Luc Tardif, was asked about Russian and Belarusian re-entry into competition at a news conference before the final match of the 2023 Women's World Championship. He was clear:
"First, I hope Russia and Belarus return to the IIHF very soon because that would mean that the war is over.
"But we will make a final decision about those countries for Milano in March 2024 because soon after we will begin Olympic qualifications, and Belarus would need to be a part of that."
¶
Tardif also praised the organization of the tournament, held in Brampton, Ontario, Canada and the continuing improvement in women's hockey:
"There has been great improvement in the women's game, and there is a simple reason. The top 20 federations now have dedicated women's programs. These are important for developing players and growing the game. You see here the number of close games. Maybe teams aren't ready to beat Canada and the U.S. yet, but it's getting there. It won't happen over night. It takes some time. But it's getting better and better."
¶
The tournament, won by the U.S., 6-3, in the final over Canada, was notable on multiple levels. The American women continued a remarkable streak of appearing in the final of all 22 women's Worlds, and winning 10. The win broke a two-championships win streak for the Canadians and the amazing Ann-Renee Desbiens, the star Canadian keeper who suffered a loss for the first time in Worlds and Olympic play. She had been 16-0 in the World Championships (2015-21-22-23) and 6-0 in Olympic play (2018-22).
Canadian forward Sarah Fillier was named Most Valuable Player, with Fillier recognized as the best forward, American Caroline Harvey as the best defender and Desbiens as the top keeper.
Harvey led all scorers in the tournament with 14 points (4+10) in seven games, while American Hilary Knight led all goal-scorers with eight (Fillier had seven).
Knight won her ninth Worlds gold, tying the record held by Canadian forward Danielle Goyette, who won her nine between 1992-2007.
5.
Argentina confirmed as FIFA men's U-20 World Cup host
"The Bureau of the FIFA Council has confirmed Argentina as the host of the FIFA U-20 World Cup 2023.
"The decision follows the removal of the original tournament host, Indonesia, as well as a subsequent bid submitted by the Argentinian Football Association (AFA) and an on-site inspection by a FIFA delegation to the South American country last week."
Monday's announcement was hardly a surprise, after the Argentine federation made an immediate bid after FIFA took the event away from Indonesia following government requests to not allow Israel – with which Indonesia has no diplomatic relations – to play in the tournament.
The anti-Semitic rhetoric from Indonesia will likely result in sanctions, which have not yet been announced. One result of the transfer is that the Indonesian team, which would have played in the tournament as the host nation, will not compete and Argentina will play instead.
The draw will now be held on Friday (21st) and the tournament starts on 20 May.
≡ PANORAMA ≡
● Russia ● A spokesman for the organizers of the 2023 European Games in Krakow, Poland, said they would rather lose the hosting rights to the event – to begin on 21 June – than to allow Russian and Belarusian athletes to compete there.
Dawid Glen told Germany's Deutsche Welle that some sports could be removed from the event as Olympic qualifiers because of this stance:
"Yes, we are concerned that there is such a risk. We see what kind of decisions are made internationally. This does not change our position.
"We hope that this is not going to happen, but we would sooner resign from organizing competitions in a given discipline than allow Russians and Belarusians to stand on the starting line. …
"A year ago, Poland spearheaded the decision to expel the Russians from the sport. At present, we see no reason to change our position on this issue. The bloody war continues."
Clearly at issue will be fencing, in which the International Federation (FIE), and taekwondo, where World Taekwondo has also allowed Russian and Belarusians to return as neutrals. The International Boxing Association, which has been suspended by the International Olympic Committee, has also pushed for removal of the boxing events, but the European Games was selected by the IOC as a qualifier for Paris 2024.
¶
On Friday, the Norwegian Fencing Federation announced that it would not be competing in FIE events in which Russian and Belarusian athletes were allowed to take part:
"After the decision on the admission of Russians and Belarusians was made at the congress of the International Fencing Federation, the board of directors of the Norwegian Fencing Federation decided not to send their athletes to competitions with their participation. In addition, the World Cup stages will not be held in Norway. Instead of the World Cup, we must organize competitions in cooperation with Finland and Sweden, which have taken appropriate measures."
¶
The head of the Russian Swimming Federation, four-time Olympic gold medalist Vladimir Salnikov, told the Russian news agency TASS that the federation is preparing to host the World Aquatics Championships in 2029.
The event was awarded to Kazan for 2025, but removed by World Aquatics in view of the Russian invasion of Ukraine. But, say the Russians, the award was postponed, not canceled. Said Salnikov:
"I don't see any reason why it won't take place that year. I think that the tournament will take place within those terms."
● Anti-Doping ● The World Aquatics Integrity Unit announced its testing figures for 2022, with 5,835 samples collected from 1,428 athletes across 101 national federations. This includes swimming (and open water), diving, artistic swimming and water polo. In terms of distribution:
● "Europe accounted for 56.6% of tests followed by America (21.6%), Asia (10.9%), Oceania (7.7%) and Africa (3.17%)."
● "With regard to testing across World Aquatics sport disciplines, swimming accounted for 66% of all tests, followed by water polo (14%), open water (9%), artistic swimming (5%) and diving and high diving (4%)."
The AQIU also noted that testing in Russia, Belarus and Ukraine was not significantly disrupted in 2021.
Overall, about 35% of the tests used blood samples, with the remainder using urine collection.
¶
The International Volleyball Federation (FIVB) released its 10-year testing statistics from 2013-22, with 4,269 samples collected for beach and indoor volleyball and less than 1% in positives. The federation has now delegated its anti-doping program to the International Testing Agency.
● Artistic Swimming ● The 2023 U.S. nationals concluded in Oro Valley, Arizona over the weekend, with Janneke Dirven winning the women's Solo Technical final (183.4083) and Maya Schweikert taking the Solo Free title (235.1458).
The Duet winners were Kennah Burdette and Luz Portilla-Vollota (175.9500) in the Technical final, and Hannah Lin and Karen Wang (225.6250) in Duet Free. The Mixed Duet Free winners were Sarah Farmer and Chris Leahy (102.8250), and Leahy won the men's Solo Free (116.1750, only entrant).
¶
U.S. Artistic Swimming announced a new gender inclusion policy with no restrictions at all:
"Athletes of all gender identities have the choice to participate in all USAAS sanctioned and owned events in the category which they feel most closely aligns with their gender identity. Participants do not need to and will not be asked to provide evidence of hormone treatment or surgical intervention.
"Solo Categories: Girl/Woman Solo (athlete who identifies as a girl/woman), Boy/Man Solo (athlete who identifies as boy/man), Gender Inclusive Solo (open to athletes who do not identify as girl/woman or boy/man)
"Duet Categories: Girls/Women Duet (both athletes identify as a girl/woman), Boys/Men Duet (both athletes identify as a boy/man), Mixed Duet (one athlete identifies as boy/man, one girl/woman), Gender Inclusive Duet (one or more athlete(s) who do not identify as girl/woman or boy/man)
"All other categories (i.e. Team events) are open (no gender restriction)."
Implementation will begin this summer. The policy is in conflict with the strict World Aquatics gender policies, which will determine allowable entries into the World Aquatics Championships.
● Athletics ● A few more world leaders from the torrent of competitions over the weekend, including two more at the Brian Clay Invitational in Azusa, California. Cooper Teare won the men's 1,500 m a 2023 world outdoor best of 3:34.96, while Brian Fay (IRL-Washington) won the 5,000 m in 13:21.99 for the world outdoor lead.
At the nearby Mt. SAC Relays in Walnut, Harrison Williams of the U.S. won the decathlon with a world-leading 8,492 points, a lifetime best.
At the Indian Grand Prix in Bengaluru (IND), Prakasha Manu grabbed the world lead in the men's javelin at 84.33 m (276-7) and Shalili Singh won the women's long jump with a world-leading 6.76 m (22-2 1/4).
● Gymnastics ● Members of the U.S. Olympic and World Championships team were familiar faces on the podium of the 2023 NCAA women's championships held in Ft. Worth, Texas, that concluded on Saturday.
Jordan Chiles of UCLA, a Tokyo Olympic Team silver medalist, 2022 Worlds Team gold medalist, and Worlds Vault and Floor silver winner, won the NCAA title on the Uneven Bars (10.0000) and on Floor (9.9875). She finished second in the All-Around (39.7125) to Utah's Maile O'Keefe (39.7625), who also won on Beam (10.0000).
Grace McCallum (Utah), a member of the Tokyo 2020 silver-medal team, was part of a five-way for second on the Uneven Bars; Tokyo 2020 Floor gold medalist Jade Carey (Oregon State) was in a second-place tie on Beam, and 2021 Worlds All-Around runner-up Leanne Wong (Florida) was in a two-way tie for second on Floor.
● Swimming ● Four more world-leading marks over the weekend, but this time at the Swedish Open in Stockholm. Twenty-one-year old Daniel Wiffen of Ireland won the men's 800 m Free in a national record 7:44.45, and then the 1,500 m in another record effort of 14:34.91.
Swedish star Sarah Sjostrom won the women's 50 m Free in a world-leading 23.92 and the 100 m Free in 52.99, also the best so far this season.
¶
The Australian Championships began in Gold Coast on Monday, with two world leads on the first day. Sam Short won the men's 400 m Free in a lifetime best of 3:42.46, tops on the seasonal list, and 2022 Worlds sprint star (and 100 m Free World Champion) Mollie O'Callaghan won the women's 100 m Free in a tight finish with Shayna Jack, 52.63-52.64, the top two marks so far in 2023.
Tokyo Olympic triple gold medalist Kaylee McKeown won the women's 200 m Medley in 2:08.16, moving to no. 2 in the world for 2023. The meet continues through Thursday.
¶
You can receive our exclusive TSX Report by e-mail by clicking here. You can also refer a friend by clicking here, and can donate here to keep this site going.
For our updated, 651-event International Sports Calendar (no. 2) for 2023 and beyond, by date and by sport, click here!