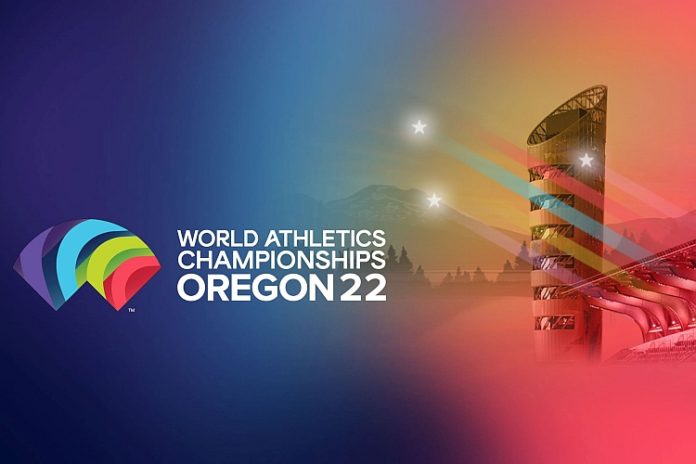 ★ The Sports Examiner: Chronicling the key competitive, economic and political forces shaping elite sport and the Olympic Movement.★
★ To get The Sports Examiner by e-mail: sign up here! ★
The fascinating Nielsen Sports post-event report on the 2022 World Athletics Championships in Eugene, Oregon, demonstrated a direct and induced economic impact of $153.4 million, but included a wealth of other information to answer the question: was it worth it?
Possibly yes, with plenty of surprises shown in the data. For example, that the event was most strongly viewed on television in Africa and the Middle East! Yes, really.
Nielsen cited a Publicis survey that stated some 1.117 billion hours of the Oregon22 meet were seen on television worldwide, but with a surprising distribution (figures do not add due to rounding):
● 39% or 429.8 million hours: Africa and Middle East
● 33% or 368.1 million hours: Asia Pacific region
● 20% or 219.3 million hours: Europe
● 9% or 95.5 million hours: Americas
Among individual countries, the U.S. was only fifth:
1. 254.1 million hours: Japan
2. 102.5 million hours: China
3. 47.3 million hours: Great Britain
4. 35.5 million hours: Nigeria
5. 35.4 million hours: United States
NBC reported last year that its total viewership comprised an estimated 18.7 million viewers across its network and cable broadcasts of Oregon22. Also in the top 10 countries by hours viewed were France (24.2 million hours), Poland (23.4 million hours), Sweden (21.3 million hours) and Finland (21.3 million hours).
This is good intermediate-term news for World Athletics, which is headed to Tokyo for the 2025 Worlds, but also makes the case for placing a future World Athletics Championships in Africa, which showed so much interest in the 2022 meet. Kenya bid Nairobi for 2025, but the facilities and supporting infrastructure were not in Tokyo's class, given the new Olympic Stadium delivered for the Tokyo 2020 Olympic Games.
But now there is an even better reason to go there.
The report noted that the total television exposure across all broadcasters was 3,913.5 hours and, based on regional ad rates, generated $188.1 million in broad exposure (TV time) for "affiliated brands" such as World Athletics sponsors TDK, Qatar National Bank, Seiko and so on. The biggest winner in terms of exposure during the meet was the State of Oregon, which provided $40 million in cash and grants to the organizing committee, about 53% of its total budget of $75 million.
Oregon's return on television exposure alone was $59.3 million, followed by TDK's $43.8 million for being the primary name on athlete identification bibs.
The report also claimed a online media value of $50.1 million, with 79,100 mentions tracked. The State of Oregon received exposure value equivalent to $19.3 million in advertising. Print media (newspapers) generated another $5.5 million in value, with the State of Oregon getting another $3.45 million.
Social media tracking showed 37.2 million "engagements," and a $7.24 million total value. "Sentiment" was found to be mostly neutral (61%), but 34% positive against only 5% negative.
So, for its $40 million investment, the State of Oregon received – according to the report – at least $82.05 million in equivalent ad exposure, or a 2:05 to 1 return. Look for those figures to be cited frequently in the future.
¶
There was also the in-person exposure to the 150,000 attendees, of whom 84% were from the U.S. Of the 16% who came from outside the U.S., 35% were making their first visit to the United States. But the meet was highly localized: 49% of all spectators came from Oregon, with 32% from the Eugene area!
Of the visitors who needed accommodations, only 3% did not stay in the Eugene area and the largest group, 43%, used Airbnb and Vrbo to find housing. Only 32% stayed in hotels. Combining all 34.577 attendees, including athletes and accredited personnel, the 2022 Worlds generated an estimated 222,583 room nights and $45 million in direct, local spending. That's where the money was.
The attitudes of spectators towards the event was generally positive:
● 97% liked the look and feel of the new Hayward Field.
● 88% liked the security situation in the stadium.
● 80% thought the WiFi and mobile phone coverage was good.
● 65% thought the food and beverage quality was good.
● 54% thought the variety of merchandise was good.
There were negatives, however:
● "The ticket prices were ridiculous"
● "The stadium needs to be covered; it was too hot"
● "Hard to hear in-stadium announcements"
Transportation was also interesting: 41% got to the meet in a personal car, but 26% walked! Only 14% took public transit.
¶
The Oregon22 organizers made a big effort on sustainability, but barely made a dent in the estimated emissions caused by air travel of athletes and spectators to Eugene: 75,537 tons of carbon dioxide.
This was reduced somewhat by low-emission power generation on-site and 5,200 pounds of leftover food that was donated to a local foodbank system. But, in all, the event generated 97,095 tons of CO², with the environmental initiatives reducing the total by 2%. Using the cost-conversion formulas for carbon credits, the Oregon22 carbon footprint had a net cost of $7.4 million.
¶
There's no doubt that the 2022 World Athletics Championships in Eugene was an enormous success on the track, with spectacular performances. Except for those folks who sat in the lower rows and were exposed to the sun, Hayward Field was well received, as were most services.
The 1,585 volunteers, who contributed 152,160 hours of service, were highly appreciated and respected.
Travel Oregon and the state government can point to more than $82 million in media exposure (ad equivalencies), more than double their $40 million investment and there was additional government tax revenue not calculated in the report from accommodations, food sales and merchandise.
That's more than a 2:1 return in media exposure for the cash invested, which has traditionally been a winner for Oregon, drawing tourism attention to an area of the U.S. not that well known to foreign visitors. Whether future U.S. cities or state will be willing to put up that much cash to bring an event like the World Athletics Championships back – especially to a larger, already-well-visited metropolitan area – is an open question.
Rich Perelman
Editor
You can receive our exclusive TSX Report by e-mail by clicking here. You can also refer a friend by clicking here, and can donate here to keep this site going.
For our updated, 651-event International Sports Calendar (no. 2) for 2023 and beyond, by date and by sport, click here!