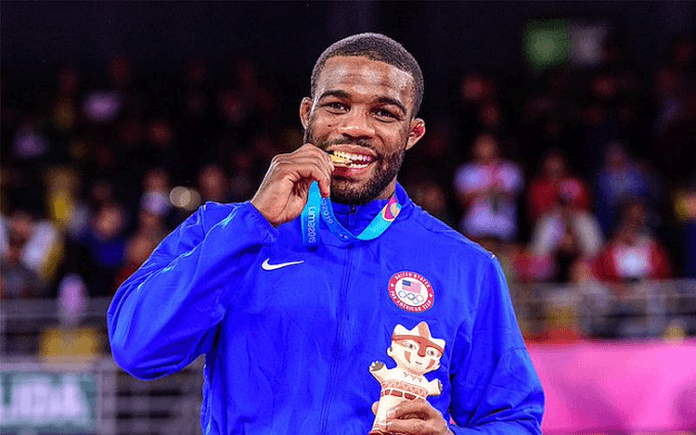 ★ The Sports Examiner: Surveying, monitoring and explaining the key competitive, economic and political forces shaping elite sport and the Olympic Movement. ★
★ To get The Sports Examiner by e-mail: sign up here! ★
≡ THE 5-RING CIRCUS ≡
1. IOC mention of Russian re-entry came from Athletes' Commission call
2. Russia has not responded to U.S. deal on Griner, Whelan release
3. Int'l Biathlon Union empowers Exec Board with exceptional powers
4. U.S. men win UWW World Freestyle title, with eight finalists!
5. Rowdy Gaines says Dressel may be on six-month hiatus
Last week's headline that the International Olympic Committee is beginning to think about a return of Russia and Belarus to international competition appears to have come from remarks by IOC chief Thomas Bach during an Athletes Commission call on the 14th. But nothing is going to happen soon. The Russian government has not replied to a serious U.S. offer for the return of imprisoned Americans Brittney Griner and Paul Whalen. The International Biathlon Union approved emergency powers for its Executive Board to deal with situations like Russia's invasion of Ukraine; Russian responses went from concern to a fantasy that the world wants them back. The U.S. men's Freestyle team dominated the UWW World Championships, with eight finalists in 10 classes, world titles for Jordan Burroughs, Kyle Dake, David Taylor and Kyle Snyder and won the team title for the first time in five years. NBC's swimming analyst (and Olympic gold medalist) Rowdy Gaines said U.S. sprint star Caeleb Dressel is taking time off, but feels better and will be fine.
1.
IOC mention of Russian re-entry came from
Athletes' Commission call
More information is coming out about be the likely genesis of the surprise comment by U.S. Olympic & Paralympic Committee Chair Susanne Lyons during last Thursday's news conference, that the International Olympic Committee is "beginning to think about whether there is a pathway back for the Russian athletes."
According to a TASS report quoting two-time Olympic gold medalist in Team Sabre, Sofya Velikaya, head of the Athletes Commission of the Russian Olympic Committee, the comment can be traced right back to International Olympic Committee President Thomas Bach (GER). Velikaya told TASS:
"Yesterday [14th], the IOC organized a conference call, where there were athletes from all over the world.
"I had the opportunity, on behalf of our commission, to voice all our problems personally to Thomas Bach. About discrimination, about violation of rights, violation of the Olympic Charter. That everything that is happening now violates the rights of athletes and can lead to more serious consequences.
"Today our countries are suffering, tomorrow they will be different, and in the future there may simply be no Olympic Movement. Bach voiced all this in his speech. He replied that this was a dilemma for them, and the decision they made was hard for them to accept. In the future, they will think about how to deal with this dilemma."
That's exactly how Lyons characterized the situation a day later with U.S. reporters.
On Friday (16th), Bach said during opening remarks at the International Biathlon Union Ordinary Congress that there is no current plan for any changes in status:
"We must acknowledge that the time has not yet come to repeal these recommendations, but we hope that we are all united that the day will soon come when we can again follow our mission. Our role is to be an example that confronts conflict and division of people, and not reinforce them. We must be together to achieve our common mission."
In Moscow last Thursday (15th), Dmitry Svishchev, Chairman of the State Duma Committee on Physical Culture and Sports, told TASS:
"Bach said two weeks ago that he recommends not inviting Russian athletes to international competitions. Now he says that the IOC is working on how to return Russian and Belarusian athletes in this direction. It will be incredibly difficult to return Russian and Belarusian athletes to the world stage in the near future.
"We need to continue to develop sports within the country, look for new directions and support our athletes and coaches."
And Russian Olympic Committee President Stanislav Pozdnyakov told the ROC Athletes Commission, also on Thursday (15th):
"Almost seven months have passed since sanctions were imposed on Russian and Belarusian sports. Although some foreign colleagues are trying to present this situation as a defense of the Olympic Movement, we do not agree with such an assessment. These are really sanctions. Any restrictions, prohibitions, any violation of freedom and the opportunity to compete in a fair fight are clear sanctions.
"We faced a problem that suddenly fell on us, because all the time that I was in the Olympic Movement, the main postulate was 'faster, higher, stronger.' Our motto demonstrated that athletes should defend the title of the strongest in wrestling, and we lived with this axiom, dogma until the end of February of this year. Now we see that the whole world is undergoing global changes, including the Olympic Movement. The IOC did not pass this test, the intervention of political forces, the collective West, made a similar split in all Olympic Movement.
"The Olympic Movement is very heterogeneous, but most of the National Olympic Committees, oddly enough, adhere to the postulate of distance from political influences. Another thing is that most of the [Olympic] political elite is occupied by representatives of those countries that impose sanctions against Russia at the state level. And this has spread to our athletes."
Translation: nothing is going to happen soon, and the results on the battlefields in Ukraine will have the biggest influence on the future of Russian and Belarusian athletes.
2.
Russia has not responded to U.S. deal on Griner, Whelan release
"They have not responded to our offer. We have made a serious offer to get Brittney Griner and Paul Whelan back home. The Russians have not responded to that offer. But that doesn't mean that we're not still in negotiations and we're not still trying."
That's National Security Council Coordinator for Strategic Communications John Kirby from a White House briefing on Friday (16th) on the continuing efforts to bring home detained Americans Brittney Griner and Paul Whelan, both imprisoned in Russia.
Asked why the Russians have not replied, Kirby explained that it's not for a lack of trying on the U.S. side:
"I mean, man, if we had the answer to that question, we might already have a deal. I think that's a better question put to our Russian colleagues. We made a serious offer. We want them to accept it. Frankly, these two individuals ought to be home anyway, period.
"But we understand that it's probably going to have to be the result of a negotiating process, one that we're willing to participate in honestly and fully. And we've been doing that. And we await them to take the offer that's on the table. …
"We want these two individuals home, back where they belong with their families. They should be there already."
3.
Int'l Biathlon Union empowers Exec Board with
exceptional powers
At its 15th Ordinary Congress in Salzburg (AUT), the International Biathlon Union membership approved the proposal to give its Executive Board more power to deal with situations like the Russian invasion:
"The Congress approved a number of motions, most notably the enhancement of the powers of the Executive Board to impose exceptional protective measures aimed at preserving the safe, peaceful and regular conduct of the IBU's activities in the case of events or circumstances of an exceptional nature which are outside of the IBU's control."
The suspensions of the Russian and Belarusian federations were extended by a 40-1 vote, as well as the ban on Russian and Belarusian athletes in IBU events, by 39-2. When can they be lifted?
"The Executive Board had made it clear earlier in the year that the membership suspensions will be maintained until both national federations demonstrate their full commitment to support and promote the purposes and principles of the IBU, for example clearly distancing themselves from the war in Ukraine and ensuring that none of their officials or athletes are actively involved in the Russian military or take any part in the war effort."
The head of the Russian Biathlon Union, Viktor Maigurov, asked the IBU Congress in an address:
"Could you indicate what conditions or criteria for restoration are set for the [Russian federation]? What will happen if the conflict lasts for several years, as it happens between Israel and Muslim neighbors or between the DPRK and South Korea? This does not prevent the athletes of these countries from participating in international competitions.
"Suspension can last for several years, and we have no control over it, but the consequences can be serious. Do you think this is fair?
"If you want to harm Russian biathlon, then this is your right, but many athletes and coaches can end their careers. You can also make our young athletes think about changing sports citizenship, thousands of Russian children can leave biathlon, preferring other sports – tennis, hockey or judo. World biathlon will survive without Russian athletes, but I'm not sure if this will help the sport, nor do I think it will help Ukrainian athletes. It's your responsibility: we must build walls or bridges, make the right choice."
Two-time Soviet Olympic relay gold medalist (1984-88) Dmitry Vasilyev had a more imaginative look at the future, reported by the TASS news agency:
"There is no murder of the Russian biathlon, no one doubted that the decision would be like that, in any case, I had no doubts. Because the engagement is 100% visible, that is, all of Europe and the Western world are imprisoned for to contain Russia in all industries and areas, including in sports. And biathlon is a popular enough sport to hit harder and more painfully, such a decision was made.
"As for the athletes, they will not lose, and even, perhaps, will benefit from this, because now the Russian Biathlon Union has established significant awards. Now the athletes are performing and earning money in competitions, then, when the sanctions against Russia are lifted, they will still think, it's worth whether they should go to the World Cup stages or continue to stay in Russia to earn prize money. Therefore, I think that everything will be fine with them."
Vasilyev also said this:
"All these are links of one chain, everything will be returned exactly when everything is over, when the population of Western countries will force their governments to negotiate with Russia.
"I think that this period will not last long, for them it will be a huge shock. And then it will be necessary to dictate our own terms, it will be impossible to agree on other terms. When the initiative is on our side, we will need to use it to the fullest."
The IBU re-elected Swede Olle Dahlin, who ran unopposed, as President, and elected Jiri Hamza (CZE) as Vice President. American Max Cobb will begin his work as IBU Secretary General in October.
4.
U.S. men win UWW World Freestyle title, with eight finalists!
A spectacular showing by the U.S. men's Freestyle team included eight finalists and four world titles at the UWW World Championships in Belgrade (SRB) and brought the American men their first team title since 2017. The World Champions:
● Jordan Burroughs (79 kg) won a sensational sixth world title, defeating Iran's Mohammad Nokhodi, 4-2, in the final. It was his only close match, as Burroughs won his other bouts by 12-1, 12-1, 10-0 and 9-2. He's now won nine Worlds medals (6-0-3) between 2011-22 and world titles in 2011-13-15-17-21-22. At 34, any doubt that he's on the road to Paris?
● Kyle Dake (74 kg) overcame Iranian Younes Emami, 2-2, on criteria, in the semis and then Tajmuraz Salkazanov (SVK), 3-1, in the final. Dake won the Tokyo Olympic bronze and now owns four Worlds golds in 2018-19-20-22.
● David Taylor (86 kg), the Tokyo Olympic gold medalist, won a brilliant final over Iran's Hassan Yazdani, the 2016 Olympic champ at 74 kg and a three-time World Champion at 86 kg in 2017-19-21. Taylor won his preliminary bouts by 10-0, 11-0 and 12-0 before facing Yazdani and dominated with a 7-1 victory. It's Taylor's second Worlds title, after 2018.
● Kyle Snyder (97 kg), the 2016 Olympic winner and 2020 silver medalist, won his third Worlds gold with a 6-0 shutout of Batyrbek Tsakulov (SVK) in the final. Using his direct, methodical style, Snyder won his early bouts by 4-1 and 10-0, then overpowered Iran's Mohammad Hossein Mohammadian by 4-1. That's medals in six straight Worlds for Snyder (2015-22: 3-2-1) and he adds to his prior Worlds golds from 2015 and 2017.
The U.S. took silvers at 57 kg (Thomas Gilman), 65 kg (Yianni Diakomihalis), 70 kg (Zain Retherford) and 92 kg (J'Den Cox). Gilman lost to Albanian Zelimkhan Abakarov by 7-2; Diakomihalis lost a 13-8 brawl to Iran's Rahman Amouzad; Retherford was overwhelmed by Japan's Taishi Narikuni, 10-0, and Cox lost a taut match with Iran's Kamran Ghasempour, 2-0, to defend his 2021 world title.
Narikuni's mother, Akiko Iijima, won the women's world title at 65 kg in 1990 and 1991.
There were only two classes without American finalists. At 61 kg, Rei Higuchi (JPN) stomped on Iran's Reza Atri, 10-0. At 125 kg, Turkey's Taha Akgul, the Tokyo Olympic champ, won his third World Championships gold, in 2014 and 2015 and now 2022. He defeated Monkhtoriin Lkhagvagerel (MGL), 6-2, in the final.
The U.S. finished with 198 points to 150 for Iran to win its fourth men's Freestyle team title, also in 1993, 1995 and 2017. Russia had won the last three Worlds men's team titles and 18 of the last 23.
The Americans also topped the overall medal table with 15 total (7-6-2), with Japan at 13 (7-1-5) and Iran with 10 (2-5-3). It's the first the U.S. had won the most medals at a Worlds by itself this century; it tied for the most in 2017 and 2003.
5.
Rowdy Gaines says Dressel may be on six-month hiatus
Triple Olympic gold medalist Rowdy Gaines said on the debut of NBC's "Chasing Gold: Paris 2024″ show that American sprint star Caeleb Dressel is probably taking a six-month time-out on his career.
"Our pinnacle of success is the Olympic Games, and it's every four years, so there's so much pressure. … Can you imagine a Super Bowl being once every four years?
"When that was all done, it was hard for him to kind of get back in the groove, and he just didn't really enjoy swimming very much. When I talked to him in the fall, I said, 'Dude, take some time off. Take six months.' And when I talked to him a couple days ago, he said, 'You know, I didn't really do that, but now, I'm in the best place I've ever been.' Those were his words: 'I'm in the best place I've ever been.' So when you're looking ahead for Caeleb Dressel, I think he's going to be just fine, both in and out of the water. …
"So if Caeleb ends up taking six months off, which I believe he will, it's going to take him about three months [to get ready]. No problem, we still have a long way to go to be prepared, and I think he'll be ready both mentally and physically, when we get to those Olympic Games."
After his five golds at the Tokyo Games in 2021, Dressel won golds in the 50 m Fly and on the men's 4×100 m Freestyle relay at the 2022 FINA Worlds in Budapest (HUN), then left the meet after the heats of the men's 100 m Free for "medical reasons."
Time is certainly on his side for 2023, let alone 2024. The U.S. will select its 2023 FINA World Championships team at another "International Team Trials" from 27 June-1 July 2023 in Indianapolis; the Worlds are scheduled for Fukuoka, Japan from 2-11 August.
≡ WORLD CHAMPIONSHIPS ≡
● Cycling ● The 89th UCI World Road Championships are underway in Wollongong (AUS), with the men's and women's time trial completed on Sunday.
The 34.2 km women's race, on a flat course, was won by Dutch star – and defending champion – Ellen van Dijk in 44:29, ahead of home favorite Grace Brown (AUS: +0:12) and 41 seconds better than bronze medalist Marlen Reusser (SUI). Americans Leah Thomas (+1:18) and Kristen Faulkner (+1:25) finished 5-6.
It's van Dijk's third title in this race, also in 2013. Dutch riders have now won three in a row and five of the last six.
The men's race was held on the same course, with 2020-21 champ Filippo Ganna (ITA) looking for a third win in a row. But Norway's Tobias Foss completed the circuit in 40:02 and no one could match him. Swiss Stefan Kung was second (+0:03) and Vuelta a Espana winner Remco Evenepoel (BEL) finished third, just nine seconds behind. Ganna rode well, but finished in seventh place, 56 seconds back of the winner.
● Equestrian ● The World Eventing Championships in Pratoni del Vivaro (ITA) saw Britain win the individual title for the third time in the last five editions, but with a new face atop the podium.
Yasmin Ingham, 25, was riding individually in the Worlds for the first time and came away victorious on Banzai du Loir, jumping without faults and ending with 23.2 points. Germany's Tokyo Olympic champ Julia Krajewski was a close second at 26.0, moving from fifth to silver with a clean jumping run. New Zealand's Tim Price was third (26.2). The U.S. top finishers included William Coleman in seventh (27.2), Tamra Smith in ninth (32.0) and Ariel Grald in 11th (32.5).
Germany won the team title for the third time in the last five Worlds, scoring 95.2 points and winning €41,500! The U.S. finished second for its first medal since its 2002 victory, with Coleman, Smith, Lauren Nicholson and Boyd Martin totaling 100.3 points and winning €30,000. The top seven teams qualified for Paris 2024 and included New Zealand, Great Britain, Ireland, Sweden and Switzerland.
● Gymnastics ● Italy's Sofia Raffaeli won the individual All-Around at the FIG Rhythmic World Championships to finish with four golds in five events, and a bronze in Clubs to dominate the event.
Raffaeli, 18, was the leading qualifier for the All-Around and won the final with 133.250 points, just ahead of Germany's Darja Varfolomeev (132.450) and decisively over Stiliana Nikolova of Bulgaria (128.800). The U.S. entries, Evita Griskenas and Lili Mizuno, finished 10th and 12th with 119.950 and 117.850 points.
Raffeli's win broke a stream of 10 straight All-Around titles for Russian athletes, and 13 of the prior 15.
Bulgaria won the Group All-Around (66.60), ahead of Israel (64.650) and Spain (63.200), all qualifying for Paris 2024. The U.S. was 15th (53.900).
Italy (34.950), Israel (34.050) and Spain (33.800) won the medals in the 5 Hoops team event. Bulgaria (33.300), Italy (31.450) and Azerbaijan (30.750) took the medals in the 3 Ribbons + 2 Balls final.
● Underway ● The World Rowing Championships and World Surf Games are ongoing and will continue this week.
≡ PANORAMA ≡
● Olympic Winter Games 2022: Beijing ● The Director General of the Russian Anti-Doping Agency, Veronika Loginova, told the Russian news agency TASS about the timing of the forthcoming hearing on the long-delayed Kamila Valieva doping case:
"Yesterday we completed the investigation," Loginova said on Thursday (15th). "Now there will be a procedure for processing the results in accordance with international norms and requirements. We cannot give an exact date. Either the end of September or the beginning of October."
● Athletics ● The venerable Decastar meet in Talence (FRA) marked the end of the season for decathletes and heptathletes and was a showcase for Grenada's Commonwealth Games champ, Lindon Victor.
He won the shot, discus and the javelin on the way to a lifetime best of 8,550 points, moving him to no. 7 on the 2022 year list. Manuel Eitel (GER) was second, also with a lifetime best of 8,193), and Estonia's Risto Lillemets at 8,149, just seven points his personal record. The top U.S. finisher was Steve Bastien, fifth with 8,005.
The women's hep ended in a rare tie, with Tokyo bronze winner Emma Oosterwegel (NED) and Ivona Dadic (AUT) both scoring 6,233 points. Biana Salming (SWE) ended up third (6,028) with American Ashtin Zamzow-Mahler fourth (5,889).
¶
At the USA Track & Field national 10 km road championships, held on Saturday in Northport, New York, Abbabiya Simbassa and Stephanie Bruce used late charges to win their divisions.
Simbassa broke away from defending champion Sam Chelenga in the final quarter of the race, opening a 20-second gap and cruising home in 28:12 for his first national 10 km title. Chelanga was passed for second by 2017 USATF 10 km champ Leonard Korir, 28:34 to 28:35.
Bruce, 38, pulled away during the final 1.5 km to win, adding to her 2018 USATF 10 km title with a win in 31:52. Nell Rojas emerged over the final 800 m to take second (31:56), just ahead of Annie Frisbie (31:58).
● Triathlon ● The Professional Triathletes Organization (PTO) is trying to take the sport to a higher plane, adding high-profile races to the existing World Triathlon Series and the Ironman calendar.
Sunday's U.S. Open was held in Irving, Texas on a total course of 100 km, with a 2 km swim in Lake Carolyn, 80 km on the bike and a three-lap, 18 km run (vs. the Olympic distance of 1.5 km, 40 km and 10 km).
With temperatures in the 90s (F), Australia's Ashleigh Gentle, the 2017 Worlds Champs silver winner, completed her sweep of the 2022 PTO 100 km events with a come-from-behind win in the final 2km in 3:37:17. Only in eighth place at the start of the run, she took the lead American Taylor Knibb and won with a run phase that was more than four minutes faster than anyone else. Knibb finished in 3:38:32 and Lucy Charles-Barclay (GBR) was third in 3:40:31.
American Collin Chartier moved up steadily, from ninth out of the water to sixth at the end of the bike phase and won the men's race in 3:17:16 with the second-fastest run split of the field: 1:00:03!
He was a decisive winner, with Dane Magnus Elbaek Ditlev second (3:17:58) and fellow American Sam Long third (3:18:18), who was the leader at the start of the run.
¶
You can receive our exclusive TSX Report by e-mail by clicking here. You can also refer a friend by clicking here, and can donate here to keep this site going.
For our updated, 620-event International Sports Calendar for 2022 and beyond, by date and by sport, click here!