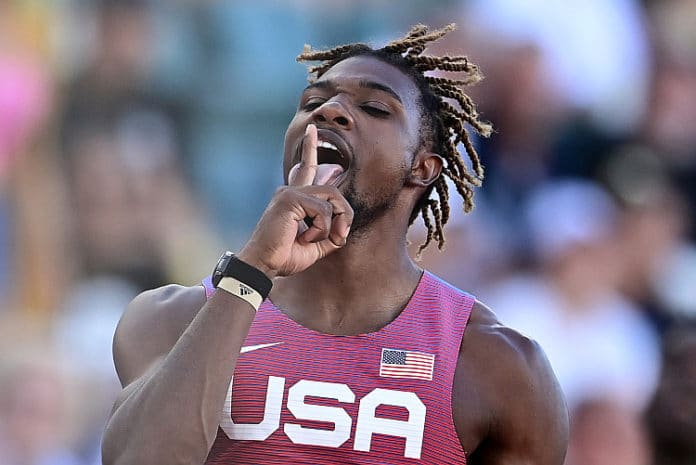 ★ The Sports Examiner: Surveying, monitoring and explaining the key competitive, economic and political forces shaping elite sport and the Olympic Movement.★
★ To get The Sports Examiner by e-mail: sign up here! ★
No one had a 200 m season like Noah Lyles had in 2022. No one, not even Usain Bolt.
Lyles ran twelve 200 m races this season, in seven meets, winning them all and finishing all 12 under 20 seconds, one short of the single-season best of 13 by fellow American Kenny Bednarek in 2021.
Lyles won the U.S. Nationals in 19.67 and the World Athletics Championship in an American Record of 19.31, moving him to no. 3 on the all-time performers list, behind Jamaicans Bolt (19.19 in 2009) and Yohan Blake (19.26 in 2011).
And he vanquished his teenage challenger, Erriyon Knighton, five times to none during the season, winning at the U.S. Nationals (Knighton second), the World Champs (Knighton third) and the Diamond League final (Knighton fourth).
Lyles was ecstatic after winning the Diamond League final in Zurich (SUI) in 19.52, the equal-12th-fastest race ever and taking his first Diamond League Trophy:
"I do not like uneven numbers so I think I have to come back to get another [Diamond] Trophy. To be honest, it was a great race … all year it was all about running faster and faster. It is everything.
"The one thing is the win and the next is that everybody knows that the moment has just happened. Breaking the meet records and beating the fastest in the world, that is all about it. It just takes another year to run even faster. I already have so many plans. It has been an amazing season. It has been my best season ever. And that is exactly what I was set to do this year. No pressure, just have got to enjoy it and let it happen."
So, now what?
Lyles clearly has Bolt's epic 2009 world mark of 19.19 in his sights. But he will also pass Bolt in some other categories assuming a healthy season in 2023:
● Bolt has the most sub-20 times (all conditions) in history with 34, achieved between 2004-16 – ages 18-30 – but never more than six in a single season. Lyles has 33 at age 25 and, of course, he lost most of 2020 due to the pandemic. He should pass Bolt by the U.S. Nationals next year in this category.
American great Michael Johnson, way ahead of his time, ran sub-20 a sensational 23 times between 1990-2000.
● In the rarefied air of the top times in history, Bolt ran sub-19.6 an amazing nine times. But Lyles has six sub-19.6 clockings and four of those came in 2022, the most ever. Bolt had three in his super year of 2009. Another season like 2022 and Lyles will lead in this category as well.
In fact, there are only eight performers in history who have run wind-legal times of under 19.60:
● 19.19 best: Usain Bolt (JAM: 9 under 19.60)
● 19.26 best: Yohan Blake (JAM: 3)
● 19.31 best: Noah Lyles (USA: 6)
● 19.32 best: Michael Johnson (USA: 1)
● 19.49 best: Erriyon Knighton (USA: 1)
● 19.53 best: Walter Dix (USA: 1)
● 19.57 best: Justin Gatlin (USA: 1)
● 19.58 best: Tyson Gay (USA: 1)
Of the 23 sub-19.60 marks, Bolt and Lyles have 15 of them, or 65%!
● One of the favorite statistician's measurements is the average of an athlete's top-10 marks. Bolt leads Lyles in the 200 m match-up, 19.469 to 19.540. But Lyles is gaining quickly.
Bolt got the jump on Lyles, emerging as a sub-20 star at age 18, running a World Junior Record of 19.93 in 2004; his most productive year was 2008 with six sub-20s. Lyles ran his first sub-20 at age 20, then got five sub-20s in 2018, seven in 2019, six in 2021 and 12 this season. He's still just 25. Bolt competed through age 31, in 2017.
Beyond the world record, what about titles? Well, Bolt has a big lead there, winning three Olympic 200 m golds in 2008-12-16 and four World titles in 2009-11-13-15. Lyles did not win in Tokyo (bronze), but his prospects for Paris are bright and he'll be 31 by the time of the 2028 Los Angeles Games. He is on the road to challenge Bolt on Worlds golds, as he already owns titles from 2019 and 2022, with 2023 coming up fast.
The difference could also be in interest. Bolt never ran very much, especially after 2013, with one meet in 2014 (age 28), seven in 2015 (29), six meets in 2016 (30) and five in 2017 (31). Lyles ran in 11 meets in 2021 (at 24) and 15 meets – indoors and out – in 2022 (at 25). He seems to like to run, and to win.
Another factor in Lyles' favor for the future is competition. Bolt won his four World titles in the 200 m by wide margins for a sprint – 0.62, 0.30, 0.13 and 0.19 seconds – and 0.66, 0.12 and 0.24 in his three Olympic wins.
Lyles, however, is dealing with strong sprinting at home as well as the rest of the world:
● Kenny Bednarek (23): 19.68 best, 20 career sub-20s
● Erriyon Knighton (18): 19.49 best, 10 career sub-20s already!
● Fred Kerley (27): 19.76 best, 8 career sub-20s
A total of 18 men ran under 20 seconds in 2022, including Cuban Reynier Mena (19.63), American 400 m star Michael Norman (19.76) and 19.80 for Trinidad & Tobago's Jereem Richards. That kind of speed will push Lyles to be better, because he will have to be.
But in 2022, Lyles was much faster than all of them, at 19.31, and looking ahead to chasing Bolt on the clock. Lyles is accessible, funny, chatty and may have the fastest top-end speed in the world, as he showed when he ran down Knighton in the final 5 m at the U.S. Nationals to win by 0.02:
"I do what it takes to win, and Erriyon got the best of me on the turn. I ain't worried about that. I saw him reach his top speed , and mine's faster. So I'm going to catch him and it's going to take the whole rest of the 100. And that's what I did."
Lyles is a star. But one of the endearing qualities of track & field is that everyone is even at the start. Lyles has a chance to be the best ever in the half-lap, but he has no time to waste. Knighton said so after Lyles' win at the U.S. Nationals:
"The job's not finished. It's never finished."
Rich Perelman
Editor
You can receive our exclusive TSX Report by e-mail by clicking here. You can also refer a friend by clicking here, and can donate here to keep this site going.
For our updated, 620-event International Sports Calendar for 2022 and beyond, by date and by sport, click here!