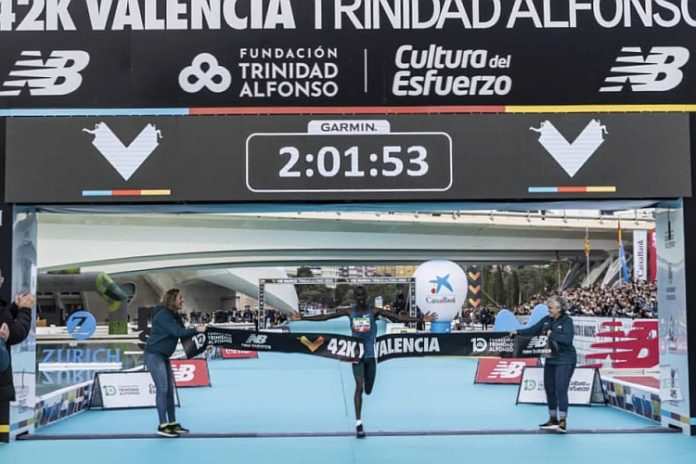 ★ The Sports Examiner: Chronicling the key competitive, economic and political forces shaping elite sport and the Olympic Movement.★
★ Want TheSportsExaminer.com insights for your team? Yes! Click here for info on speaking, research and consulting from editor Rich Perelman. ★
★ To get The Sports Examiner by e-mail: sign up here! ★
≡ THE 5-RING CIRCUS ≡
1. Traditional powers on collision course – so far – at Qatar World Cup
2. Kiptum (2:01:53!) and Beriso (2:14:48!) brilliant in Valencia
3. USATF Championships for 2023 heading back to Eugene
4. Paris 2024 Olympics move Tour de France finale to Nice
5. German Olympic Federation approves Olympic bid project
Half of the quarterfinal match-ups at the FIFA World Cup in Qatar are set, with Argentina to face the Netherlands and France to meet England. Despite all the hoopla about improving football in Africa and Asia, the quarters could end up with six European teams and two South American teams … maybe. At the Valencia Trinidad Alfonso Marathon in Spain, unheralded Kenyan Kelvin Kiptum won the men's race – in his debut – in a sensational 2:01:53, and Ethiopian Amane Beriso tool the women's title in 2:14:48, both moving to no. 3 all-time! USA Track & Field announced the 2023 nationals would be in Eugene … again, while the promised "Diamond League-level meets" will be existing meets in Bermuda, Los Angeles and New York. With the Olympic Games in Paris in 2024, it's impossible to finish the Tour de France on the Champs Elysses, so the race is heading south and will conclude in Nice. The German National Olympic Committee approved a plan to explore a bid for – at the earliest – the 2034 Winter or 2036 Olympic Games, including an eventual public referendum. A 2036 Games would come a century after the infamous Nazi propaganda project of 1936.
1.
Traditional powers on collision course – so far – at
Qatar World Cup
After all of the buzz from the group stage, the FIFA World Cup appears to be coming back to showdowns between traditional powers with half of the Round of 16 games now complete.
Two-time winner Argentina will play three-time finalist Netherlands in one quarterfinal, with defending champion France playing 1966 winner England in another, following the weekend's elimination of the U.S., Australia, Poland and Senegal.
Waiting for their turn now are powers Brazil (playing South Korea) and 2018 runner-up Croatia (playing Japan) on Monday and Tuesday matches featuring Spain (playing Morocco) and Portugal (playing Switzerland).
Europe had seven of the eight quarterfinalists in 2018 and all four semifinalists, and UEFA could get six of the eight spots in 2022, if Croatia and Spain win. With Argentina in, Brazil is favored in its game and would give the South Americans the other two berths.
The football on the field is now becoming more important – for the final two weeks of the tournament – than the hubbub over migrant workers and Qatar's view of gay rights, which were co-equal stories with the actual matches during the group stage.
Interestingly, FIFA's Arsene Wenger (FRA), its Chief of Football Development, told a news conference on group-stage technical evaluations on Sunday that a major challenge for teams in 2022 was the lack of preparation time, since many players came right from their league play to Qatar, without the usual, lengthy pre-World Cup training camps. And he added:
"The teams who were not disappointing with their first game performance – because when you got to the World Cup you know you have not to lose the first game – are the teams with experience, they have results in the former tournaments, like France, like England, like Brazil, they played well in first game.
"And the teams as well who were mentally ready … had the mindset to focus on competition and not on political demonstrations."
As for the tournament as a whole so far, Wenger summed up FIFA's view:
"How well will it be organized? What will the experience of the fans be? Will it be possible to watch more than one game per day? And, I must say, this experience has been unique. I have seen the feedback we have from the fans is exceptional, and the TV audiences have never been higher, going through the roof. That means this World Cup has created a huge interest, despite all the negative publicity we got before."
2.
Kiptum (2:01:53!) and Beriso (2:14:48!) brilliant in Valencia
Whether it's the flat courses or the shoes or actually good training and racing, this has been one of the greatest years in marathoning, punctuated by two brilliant, fast wins at the Valencia Trinidad Alfonso Marathon in Spain on Sunday. Winners Kelvin Kiptum (KEN) and Amane Beriso (ETH) became the third-fastest men's and women's marathoners in history.
Kiptum, 23, a 58:42 half-marathoner running his debut marathon, was with a large front pack at the half in 1:01:42. World Champion Tamirat Tola (ETH) took the lead and began trimming the field, and then Kiptum started pushing and by 30 km, he, Tola and Gabriel Geay (TAN) were the remaining contenders. Kiptum ran away with a 14:01 split to 35 km and was clear to the finish in 2:01:53, now no. 3 all-time, with the no. 4 performance!
Geay was second in a lifetime best of 2:03:00, then Alexander Mutiso (KEN: 2:03:29 lifetime best), Tola (2:03:40) and Kaan Kigen Ozbilen (TUR: 2:04:36). Wow. The all-time performance list:
1. 2:01:09 ~ Eliud Kipchoge (KEN) 2022/Berlin
2. 2:01:39 ~ Kipchoge 2018
3. 2:01:41 ~ Kenenisa Bekele (ETH) 2019
4. 2:01:53 ~ Kelvin Kiptum (KEN) 2022/Valencia
5. 2:02:37 ~ Kipchoge 2019
The women's race was just as stunning, with all the attention on Ethiopia's Letsenbet Gidey, the 2022 World 10,000 m champ and 5,000 m-10,000 m-Half Marathon world-record holder, making her marathon debut.
But Gidey had company at halfway, passed in 1:07:18, with fellow Ethiopian Beriso, 31, running her ninth career marathon, and coming in with a best of 2:20:48 from 2016.
The pace may have been more than Beriso could be expected to handle, but she began to pull away from Gidey just before 35 km and cruised in at 2:14:58, moving Beriso to no. 3 all-time, with the no. 3 performance ever:
1. 2:14:04 ~ Brigid Kosgei (KEN) 2019
2. 2:14:18 ~ Ruth Chepngetich (KEN) 2022/Chicago
3. 2:14:58 ~ Amane Beriso (ETH) 2022/Valencia
4. 2:15:25 ~ Paula Radcliffe (GBR) 2003
5. 2:15:37 ~ Tigist Assefa (ETH) 2022/Berlin
Gidey was second in the fastest debut marathon ever in 2:16:49, now no. 6 all-time. The top 12 finishers all got personal bests, with Sheila Kiprotich (KEN) third in 2:17:29 (no. 11 all-time), Tadu Teshome (ETH) fourth in 2:17:36 (now no. 12 all-time) and Kenya's Fancy Chemutai fifth in 2:18:11. It was the first time four women finished under 2:18.
¶
At the USA Track & Field National Marathon Championships, held in conjunction with the California International Marathon in Sacramento, ex-Northern Arizona star Futsum Zeinasellassie won the men's title in 2:11.01, ahead of Jacob Thomson (2:11:52).
Paige Stoner took the women's race, finishing in a lifetime best of 2:26:02 – no. 4 on the U.S. list for 2022 – with Lauren Hurley second in 2:27:41.
3.
USATF Championships for 2023 heading back to Eugene
USA Track & Field announced its major-events schedule for 2023 at its annual meeting in Florida, with the indoor nationals in Albuquerque and the outdoor nationals – and World Championships selection meet – once again in Eugene:
● 16-18 Feb.: National Indoor Champs in Albuquerque
● 06-09 Jul.: National Outdoor Champs in Eugene
● 07-09 Jul.: National U20 Outdoor Champs in Eugene
The reaction to Eugene hosting for the eighth time in the last 14 editions was mixed. World men's 100 m champ Fred Kerley tweeted: "When we going to la New York or miami" and then added a second tweet: "Texas".
During the World Athletics Championships in Eugene last July, USATF chief executive Max Siegel promised an upgraded series of Diamond League-level competitions in the U.S. The schedule announcement specified a domestic indoor schedule of three familiar meets and five existing outdoor meets plus the Pre Classic. The announcement included:
"As a part of the Journey to Gold, USATF will introduce the Grand Prix Series of elite gold-label events. Fans will not only get to see exciting competition from the best athletes in the world, but they will also have the opportunity to participate and engage in the sport in various events during this multi-day series." The schedule:
Indoor:
● 28 Jan.: Dr. Sander Invitational in New York
● 04 Feb.: New Balance Indoor Grand Prix in Boston
● 11 Feb.: Millrose Games in New York
Outdoor:
● unknown: USATF Throws Festival in Tucson
● 21 May: USATF Bermuda Grand Prix in Bermuda
● 26 May: USATF Distance Classic in Los Angeles
● 27 May: USATF LA Grand Prix in Los Angeles
● 24 Jun.: USATF NYC Grand Prix in New York
The Diamond League Final in 2023 will be held on 16-17 September in conjunction with the Pre Classic, also in Eugene.
4.
Paris 2024 Olympics move Tour de France finale to Nice
Since its debut in 1903, the Tour de France has not always finished in Paris itself, but always close by. But that makes little sense for 2024, as the French capital will be in the midst of preparations for an even larger event, the Games of the XXXIII Olympiad, to begin on 26 July.
With the 2024 Tour de France scheduled to finish on 21 July, the race owners, the Amaury Sports Organisation (ASO) announced that the race would finish, for the first time, in the southern city of Nice, with the final stage to begin in the Principality of Monaco:
"This new finish, conditioned by the logistical imperatives that will already block the Champs-Elysees just a few days before the start of the Paris 2024 Olympic Games, is accompanied by a significant sporting challenge as the last stage will be an individual time trial."
Monaco is hardly a new destination for the race, having been included as early as 1939 and in five more editions since then; the last time was in 2009. Nice was part of Le Tour in 1906, was the starting point in 1981 and 2020. The Champs-Elysees finish has been standard at Le Tour since 1975.
A good move by ASO, staying away from Paris as the Games approach. Perhaps an opportunity to start the event– on 29 June – in Paris, which has not happened since 2003.
5.
German Olympic Federation approves Olympic bid project
"The assembly unanimously endorsed a resolution on a multi-stage strategy process for a possible bid for the Olympic and Paralympic Games. Miriam Welte and Oliver Stegemann presented a 'road map', the first stage of which in the coming year will include a nationwide series of discussion forums with supporters, critics and stakeholders from business, politics, culture and other areas of society. In an open-ended and transparent process, the question of possible details such as when, where or how should be discussed and why."
On Saturday, the DOSB – the National Olympic Committee of Germany – General Assembly agreed to begin the process of assembling an Olympic bid, with the immediate targets the Olympic Winter Games in 2034 or the Olympic Games in 2036.
DOSB President Thomas Weikert said afterwards that a formal decision on preparing an actual bid for a Games will depend on the outcome of the consultation process and a referendum of some type to be taken in 2024. Weikert was re-elected for a second term as President by a 434-4 margin.
As is now the norm, the idea would be to offer a bid with competitions in more than one city and possibly in multiple parts of the country. Germany hosted the Olympic Games twice previously, with the infamous Nazi Games in 1936 and the terrorist-plagued Munich Games in 1972. It hosted Winter Games in Garmisch-Partenkirchen in 1936.
Formal German bids since the Munich Games have been made for the Olympic Games of 2000 (Berlin) and 2012 (Leipzig), and Winter Games for 1992 (Berchtesgaden) and 2018 (Munich). There has been considerable debate about the wisdom of trying to host a 2036 Olympic Games, exactly 100 years after the Nazi spectacular of 1936, one of the reasons the DOSB will be seeking a wide buy-in through its discussion process in 2023.
≡ FIFA WORLD CUP ≡
Day two of the quarterfinals saw two of the game's most popular nations advance to a delicious face-off on 10 December, with defending champion France to face England. These two ancient rivals have only played twice in World Cup history and not for a long time; England won, 2-0, en route to the 1966 World Cup title and again, 3-1, in the group stage in 1982.
The legend of French star Kylian Mbappe continues to grow, now with nine World Cup goals in 11 games, at just 23 years old. Can he be stopped?
● France 3, Poland 1 ● The defending champion French were on offense most of the first half, but could not score.
The half appeared ready to end scoreless, but then France struck in the 44th minute. Superstar midfielder Mbappe sent a perfect pass into the box to striker Olivier Giroud, who finished with the left foot into the right side of the net for a 1-0 lead. The goal gave Giroud 52 for his international career, the most in French history, breaking a tie with long-time star striker Thierry Henry.
Poland had its chances, especially in the 38th, when French keeper Hugo Lloris managed to save a point-blank shot from midfielder Piotr Zielenski and then defender Theo Hernandez cleared a rebound strike from forward Jakub Kaminski.
The French continued on offense in the second half, with the Poles threatening occasionally. In the 74th, a French fast break saw Giroud push the ball to midfielder Ousmane Dembele on the right side, who drew the defense to him, then sent a cross to an all-alone Mbappe on the left side, and he lined up a rising, right-footed rocket that flew into the net for a 2-0 lead, and the issue was decided.
Mbappe then applied the finishing touch at 90+1, taking a pass from sub striker Marcus Thuram on the left side of the box and sending a laser to the far right side of the goal for a 3-0 lead. For Mbappe – at age 23 – the goal was his ninth in the World Cup, in 11 games; by comparison, Brazilian icon Pele scored seven in his first two World Cups and 12 in 14 career World Cup games.
In the 98th, France was called for a hand ball in the box and Polish star Robert Lewandowski took the penalty, shutter-stepped and Lloris made the save easily. But Lloris came off his line early and on the second attempt, Lewandowski stutter-stepped again and rolled it into the left side of goal for the 3-1 final.
The French ended with 55% of possession and a 16-12 edge on shots. On to the quarters.
● England 3, Senegal 0 ● English fans had concerns, as the Senegalese attack in the group stage had created five goals, with speed and power to spare. But there was no need to worry.
The first half started slowly, with Senegal making determined forays that looked quite dangerous, especially a 32nd minute shot from striker Boulaye Dia from the left of goal – off an England turnover and a clever feed by midfielder Ismaila Sarr – that was saved by English keeper Jordan Pickford. But they couldn't score.
The English were looking for opportunities and shortly thereafter, striker Harry Kane started a breakout, passing to midfielder Jude Bellingham, whose cross from left to right found Jordan Henderson charging toward goal for a left-footed shot that gave England a 1-0 lead in the 39th.
More Senegal turnovers led to more English fast breaks. Bellingham started another in stoppage time, passed ahead to forward Phil Foden, who crossed to Kane, leaving him one-on-one on goal and his right-footed shot was into the net for a 2-0 lead on the final play of the first half, at 45+3.
England had 65% of possession and just a 4-3 edge on shots, but had a two-goal lead. The lead expanded to 3-0 in the 58th, with Kane gaining possession and getting the ball to Foden on the left side, who sent a sensational cross to a sprinting striker Bukayo Saka, who chipped the ball into the net. Very impressive.
The English ended with 61% of possession and a 10-8 edge on shots, but a huge edge on making their chances count.
¶
On Monday, Japan will meet Croatia and Brazil will play South Korea in the third of four days of quarterfinals:
Game 5: 10 a.m. Eastern time:
● Japan (Group E-1): 2-1 ~ goals: 4-3
● Croatia (Group F-2) : 2-1 ~ goals: 4-1
The surprise winner of Group E, Japan, came back from behind to beat Germany (2-1) and Spain (2-1) is in its seventh straight World Cup finals, but never progressed beyond the Round of 16, losing in 2002-10-18. All four of its goals have come in the second half. Croatia was the 2018 runner-up, but is consistently underrated. It beat Canada 4-1 and played 0-0 ties with Morocco and Belgium, showing a stiff defense, but some trouble scoring. It made it past the group stage for the first time in 2018.
Game 6: 2 p.m. Eastern time:
● Brazil (Group G-1): 2-1 ~ goals 3-1
● South Korea (Group H-2): 1-1-1 ~ goals 4-4
Five-time champion Brazil won its first two games by 2-0 and 1-0, then substituted nine of its players in a 1-0 loss to Cameroon. The Brazilians have awesome offensive weapons, and have won seven straight Round of 16 games; it last lost a game in this round in 1990. The South Koreans made a miracle comeback to defeat Portugal to finish 1-1-1 in its group and are 1-1 all-time in Round of 16 games, advancing to the third-place match in 2002 and losing in this round in 2010.
Tuesday's final Round of 16 matches will have Morocco vs. Spain and Portugal vs. Switzerland.
≡ PANORAMA ≡
● Alpine Skiing ● The FIS men's World Cup tour was in Beaver Creek, Colorado for speed events, with one Downhill canceled due to very heavy snow. But the course was clear for Saturday's Downhill, won by Norway's Aleksander Aamodt Kilde, who won the season's earlier Downhill at Lake Louise (CAN) on 26 November. Kilde timed 1:42.09 to take his 15th career World Cup win, ahead of reigning World Cup overall champ Marco Odermatt (SUI: 1:42.15). American Ryan Cochran-Siegle was seventh (1:43.15).
Sunday's Super-G was almost a repeat, with Kilde winning in 1:10.73, followed by Odermatt (1:10.93), with French star Alexis Pinturault third (1:11.03).
¶
The women's circuit was in Lake Louise for two Downhills and a Super-G, with Italian star Sofia Goggia – the 2018 Olympic winner and 2022 silver medalist – taking both Downhills. She won Friday's race in 1:47.81, just 0.04 ahead of Swiss Corinne Suter, the Beijing 2022 winner, then took Saturday's run in 1:28.96, with Nina Ortlieb (AUT: 1:29.30) second and Suter third (1:29.33). Goggia now owns 19 World Cup wins in her career, 14 in Downhills.
On Sunday, Suter – a two-time Worlds Super-G medalist – won in 1:20.75, barely ahead of Cornelia Huetter (AUT: 1:20.77) and Ragnhild Mowinckel (NOR: 1:20.91).
● Beach Volleyball ● The Volleyball World Beach Pro Tour had its final Elite 16 tournament of the season, in Torquay (AUS), with an All-American final on the women's side.
Sara Hughes and Kelly Cheng were clear winners for the second week in a row (and third time this season), defeating fellow Americans Betsi Flint and Julia Scoles by 21-17 and 21-11. Australia's Taliqua Clancy and Mariafe Artacho del Solar took the bronze medals by outlasting Americans Kristen Nuss and Taryn Kloth, 14-21, 21-19, 15-13.
The men's event had an Australian finalist, but Thomas Hodges and Zachary Schubert were defeated by France's Youssef Krou and Arnaud Gauthier-Rat, in two marathon sets, 22-20 and 23-21, for their first medal of the season. Italy's Adrian Carambula and Alex Ranghieri took the third-place match from Americans Paul Lotman and Miles Evans, 21-15, 11-16.
● Biathlon ● The 2022-23 IBU World Cup opened in Kontiolahti (FIN), with Olympic 15 km Mass start silver medalist Martin Ponsiluoma (SWE) taking the men's 20 km Individual race in 49:36.5 (1 penalty), well ahead of Niklas Hartweg (SUI: 50:13.7/0). Beijing 2022 Sprint winner Johannes Thingnes Boe (23:09.0/1) won the 10 km Sprint for his 57th career individual World Cup victory, beating teammate Sturla Holm Laegreid (23:19.5/0).
Boe, a three-time World Cup overall champion, also won Sunday's 12.5 km Pursuit in 32:44.4 (3), over teammate Laegreid (33:03.6/2) and France's two-time Worlds winner in the event, Emilien Jacquelin (33:31.7/2).
The PyeongChang Olympic women's 15 km Individual winner, Swede Hanna Oeberg was once again the best in that event, winning in 43:53.8 (1), more than 30 seconds up on Ingrid Tandrevold (NOR: 44:30.3/0). Austria's Lisa Theresa Hauser won the 7.5 km Sprint, beating Lisa Vittozzi (ITA), 20:39.5 (0) to 20:56.8 (1).
France's Julia Simon won her fifth career World Cup in the 10 km Pursuit in 31:13.0 (0), beating Italy's 2020 World Champion Dorothea Wierer (31:24.9) and Swede Elvira Oeberg (31:34.7/1).
● Bobsled & Skeleton ● The IBSF World Cup moved to Park City, Utah this week, but the change of venue meant nothing to Germany's double Olympic champion Francesco Friedrich, who continued his rampage, winning both the Two-Man and Four-Man races.
Driving with Thorsten Margis aboard this time, Friedrich took the Two in 1:35.82, ahead of Britain's Brad Hall, runner-up for the second week in a row in 1:36.08. American Frank Del Duca, with Hakeem Abdul-Saboor aboard, was seventh in 1:36.97. Friedrich took the Four in 1:33.62, leading a German sweep ahead of Johannes Lochner (1:33.85) and Christoph Hafer (1:33.86). Del Duca had the top American sled, again in seventh (1:34.36).
Friedrich won seven of eight World Cup races last season in both sleds and is undefeated (4/4) so far this season.
The women's Monobob was a win for American Kaillie Humphries, the Olympic champ, in 1:42.93, ahead of Lisa Buckwitz (GER: 1:43.24). German Kim Kalicki won the Two for the second week in a row, in 1:37.37, with Leonie Fiebig aboard, beating teammate Laura Nolte (1:37.60), with Humphries (and Jasmine Jones) third in 1:37.69.
In Skeleton, Beijing Olympic champ Christopher Grotheer (GER) won the men's race in 1:36.26, with Korea's Seung-gi Jung second for the second week in a row (1:36.43). Mirela Rahneva (CAN) won her first race of the season in the women's division in 1:38.42, ahead of four-time World Champion Tina Hermann (GER: 1:38.52).
● Cross Country Skiing ● The second stop on the FIS World Cup tour was in Lillehammer (NOR), with the home team continuing to dominate the men's action. Norwegian men won all three events at the first event in Finland, and stayed strong in Lillehammer, as Iver Tildheim Andersen (21:12.6), Didrik Toenseth (21:15.4) and Hans Christer Holund (21:21.7) swept the medals for Norway in the 10 km Freestyle on Friday.
Superstar Johannes Hoesflot Klaebo won his fourth World Cup race of the season (out of five so far) in the Freestyle Sprint in 2:56.45, ahead of two-time Olympic Sprint silver winner Federico Pellegrino (ITA: 2:57.20) with Norway's Even Northug third (2:57.68). Sunday's 20 km Mass Start Classical was another Norwegian sweep, with Pal Golberg winning his fourth medal in six races this season in 48:14.5, with Sjur Roethe second (48:15.4) and Martin Nyenget third (48:15.6).
Sweden won all three women's events last week and Emma Ribom won her second straight Sprint – this time in Freestyle – in 3:20.40, ahead of teammate Maja Dahlqvist (3:20.57), with American Jessie Diggins fourth (3:22.64).
But Diggins was all over the 10 km Freestyle on Friday, winning her 13th World Cup gold in 23:49.5, well ahead of German Katharina Henning (23:53.3).
Swede Frida Karlsson won her second World Cup gold of the season on Sunday in the 20 km Classical Mass Start in 53:51.9, just ahead of Tiril Udnes Weng (NOR: 53:52.5) and Ebba Andersson (SWE: 53:53.1). Diggins was ninth (53:57.4).
● Freestyle Skiing ● The Moguls and Aerials seasons opened in Ruka (FIN) with familiar stars on the podium.
Canada's Mikael Kingsbury, the greatest Moguls skier of all time, scored his 72nd career World Cup win in the men's division at 84.50, followed by Japan's two-time World Champion Ikuma Horishima (80.48) and Matt Graham (AUS: 80.12), with American Nick Page fourth (80.05).
The women's Moguls was won by Australia's Olympic gold medalist, Jakara Anthony, scoring 81.69 points to edge PyeongChang 2018 winner Perrine Laffont (FRA: 78.33) and 18-year-old Anri Kawamura (JPN: 78.33) in a tie for second, with Americans Olivia Giaccio and Jaelin Kauf fourth and fifth (77.98 and 77.33).
Sunday's Aerials saw Switzerland go 1-2 in the men's final, with Pirmin Werner winning with 126.24 points to 123.98 for teammate Noe Roth. Canada's Lewis Irving was third (109.29). American Chris Lillis was fifth (97.74).
Australia Danielle Scott won the women's Aerials, scoring 99.05, ahead of Marion Thenault of Canada (90.59), with American Kalia Kuhn fourth (78.30).
● Judo ● The Tokyo Grand Slam attracted many top stars just a year after the Olympic tournament was held there. Japan claimed nine Olympic golds and was looking for more, ending with 12 wins in the 14 classes!
This was not an Olympic re-run, but new stars, with five men's winners, including Joshiro Maruyama at 66 kg, Soichi Hashimoto (2022 Worlds silver medalist) at 73 kg, Kenya Kohara (81 kg, beating Olympic champ Takanori Nagase), Kosuke Mashiyama (90 kg) and Hyoga Ota at +100 kg.
Japanese fighters swept all seven divisions of the women's tournament. The winners included two Olympic champs: Uta Abe at 52 kg and +78 kg star Akira Sone, plus Kano Miyaki (48 kg), Haruka Funakubo (2022 Worlds silver medalist at 57 kg), Miku Takaichi (63 kg), Saki Niizoe (Worlds bronze medalist at 70 kg) and Rika Takayama at 78 kg.
Japan won an astonishing 39 medals; the only victors from elsewhere were Korea's Seung-beom Jeon in the men's 60 kg and Italy's Gennaro Pirelliin the men's 100 kg.
● Luge ● The FIL World Cup opened in Innsbruck (AUT), with the home team on top of the podium in both women's events.
Madeleine Egle took the Singles race in 1:19.188, just ahead of American Emily Sweeney (1:19.404) – the 2019 Worlds bronze medalist – and 2021 World Champion Julia Taubitz (GER: 1:19.436). Egle also won the Sprint, with Sweeney right behind, in 29.908 to 29.927.
The new women's Doubles discipline saw Austria's Selina Egle and Lara Michaela Kipp win the inaugural World Cup race, in 1:20.019, with Jessica Degenhardt and Cheyenne Rosenthal (GER) second in 1:20.195. Americans Summer Britcher and Sweeney were fifth (1:20.550). Egle and Kipp also took the Sprint in 30.219, with Britcher and Sweeney fourth (30.384).
Austria's Nico Gleirscher won the men's Singles and led an Austrian sweep, with Wolfgang Kindl second and Jonas Mueller third, in 1:39.283, 1:39.327 and 1:39.378. American Jonathan Gustafson was fifth in 1:39.950. Gleirscher also won the Sprint, ahead of Kindl (32.599-32.611).
The men's Doubles was another Austrian sweep (!), starting with Juri Gatt and Riccardo Schopf (1:18.915), then Beijing '22 bronze medalists Thomas Steu and Lorenz Koller (1:18.994) and Yannick Mueller and Armin Frauscher (1:18.998). Zachary Di Gregorio and Sean Hollander were the top Americans, in eighth (1:19.100). Mueller and Frauscher won the Sprint in 29.822.
● Nordic Combined ● Both the men and women were competing in Lillehammer (NOR) this week, with more Norwegian victories. Four-time defending World Cup champ Jarl Magnus Riiber won two races last week, but this time it was teammate Jens Luraas Oftebro who led the 100 m hill jumping and then finished the 10 km segment in 24:04.7 to win, with Riiber second (24:14.2).
Sunday's 140 m hill and 10 km race was a triumph for Riiber, his third of the season, beating Oftebro, 24:49.2-25:36.7.
The women's races were more gold for Norway, as Gyda Westvold Hansen continued her dominance, winning on Friday and Saturday (both 100 m hill and 5 km race) in 14:27.1 and 14:14.6. She won seven of eight World Cups last season, so that's now nine of 10.
Italy's Annika Sieff (15:38.6) and Ida Marie Hagen (NOR: 15:36.2) won the silvers, but were both well behind the winner.
● Rugby Sevens ● The HSBC Sevens Series was in Dubai (UAE) for men and the season opener for the women.
France and the U.S. were the only 3-0 teams in men's pool play, but the French lost in the quarterfinal playoffs to New Zealand (20-0) and the U.S. was tripped up by Ireland in the semis by 12-7. It was South Africa which edged Samoa and then New Zealand to get to the final and defeated the Irish, 21-5, to take the title. New Zealand beat the U.S. for bronze, 31-12.
In the women's tournament, Australia, New Zealand and Ireland were 3-0 in pool play, but the U.S. shut down the Irish, 5-0, in the quarterfinals to advance to the semis against New Zealand. The Black Ferns dispatched the Americans, 36-0 and moved on to face Australia, a 38-5 winner over France. The final was a battle, but a win for the Aussies, 26-19, with the U.S. third, thanks to a 21-19 win over France.
● Ski Jumping ● Only the women were in action, also in Lillehammer (NOR), with 2018-22 Olympic silver winner Katharina Althaus (GER) taking Saturday's competition off the 98 m hill with 260.1 points, ahead of Austrian stars Eva Pinkelnig (250.2) and reigning World Cup champ Marita Kramer (242.3). Jumping off the 140 m hill on Sunday, Norway's Silje Opseth got he second win of the season, scoring 259.6 to 252.1 for teammate Anna Odine Stroem, with Pinkelnig third (250.9).
● Snowboard ● The SnowCross season began in Les Deux Alpes in France, with Saturday's races postponed to Sunday. Germany's Martin Noerl took the men's final for his fifth career World Cup gold, beating Italy's Beijing 2022 bronze medalist Omar Visintin to the line, with Canada's Beijing silver medalist Eliot Grondin third.
Australia's Josie Baff scored an upset in the women's final, winning over two-time Olympic medalist Chloe Trespauch (FRA) and France's Lea Casta. It was the first career World Cup medal for the 19-year-old Baff.
● Speed Skating ● The ISU Four Continents Championships was held in Quebec City (CAN), with a few stars present, but mostly emerging skaters.
However, Beijing Olympic men's 1,000 m silver medalist Laurent Debreuil of Canada was on top of the podium twice, winning the 500 m (34.462) and the 1,000 m (1:09.278). Korea's 2022 Olympic silver winner Jae-won Chang took the Mass Start race in 8:15.770, just ahead of teammate and Beijing bronze medalist Seung-hoon Lee (8:15.840).
Canadian Antoine Gelinas-Beaulieu won the 1,500 in 1:44.666, and Vitaliy Chshigolev (KAZ) won the 5,000 m in 6:22.815.
Korea's Youth Olympic Games star Min-sun Kim swept the women's 500 m (38.141) and the 1,000 m (1:16.066), while Canada's Beijing Team Pursuit gold medalist Valerie Maltais won the 3,000 m (4:02.150) and the Mass Start (9:14.700). Nadezhda Morozova (KAZ) won the 1,500 m in 1:56.378.
● Swimming ● Olympic stars Katie Ledecky and Regan Smith highlighted the U.S. Open in Greensboro, North Carolina, winning nine events between them.
Ledecky swept the women's 200-400-800-1,500 m Freestyles, taking the 200 m Free on Friday (1:56.74) and the 1,500 m Free (15:44.13) on Saturday. Smith, 20, the two-time World Champion in Backstroke, won five events in all, including the 100 m Back in 57.95 – the no. 3 performance of 2022 – and the 200 m Back in 2:05.28, the no. 6 performance of the year. She added the 100 m Fly in 57.65 and the 200 m Fly in 2:07.30 to the 200 m Medley she won earlier in the meet.
Canada's 16-year-old star, Summer McIntosh, second to Ledecky on Thursday in the women's 400 m Free, came back to win the 400 m Medley in a World Junior Record4:28.61, the no. 4 performance of all time!
Tokyo Olympic 400 m Medley gold medalist Chase Kalisz won both the 200 m and 400 m Medley; his 200 m Medley time of 4:10.09 is the no. 12 performance of 2022. Other multi-event winners included Lithuania's Aleksas Savickas, who won the men's 100 m and 200 m Breast in 1:00.54 and 2:09.68, and 17-year-old American Daniel Diehl in the men's 100 m and 200 m Back, in 53.07 and 1:56.41.
¶
You can receive our exclusive TSX Report by e-mail by clicking here. You can also refer a friend by clicking here, and can donate here to keep this site going.
For our updated, 951-event International Sports Calendar for 2022-23 and beyond, by date and by sport, click here!