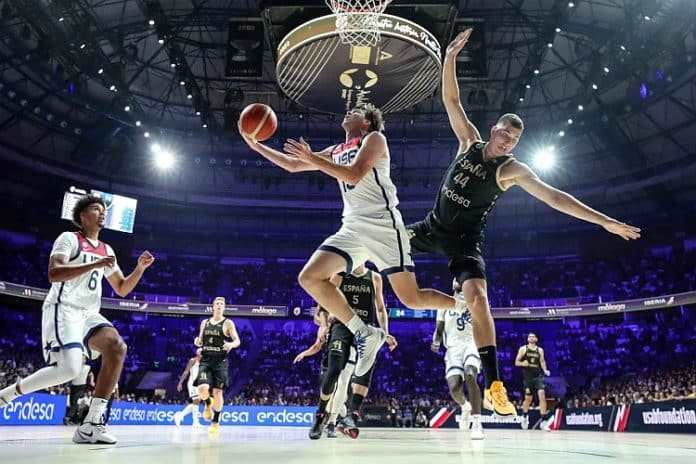 ★ The Sports Examiner: Chronicling the key competitive, economic and political forces shaping elite sport and the Olympic Movement.★
★ Thank you! Nine days left: our 32 donors have brought us to 73% of our summer fund-raising goal. Please help! ★
★ To get The Sports Examiner by e-mail: sign up here! ★
≡ THE 5-RING CIRCUS ≡
1. Fox averaged 669,000, Telemundo 167,000 for Women's World Cup
2. FIFA: 119,654 room nights booked for the Women's World Cup
3. Pitch invader, Spanish kisser marred World Cup final
4. Strong start to World Athletics Champs on NBC
5. No. 2-ranked U.S. a huge favorite in FIBA World Cup
● The viewing audiences for Fox and Telemundo for the 2023 FIFA Women's World Cup were well down from 2019 levels, thanks to the unfriendly time zones in Australia and New Zealand, as well as the early U.S. exit. Fox was down 60% from 2019 and Telemundo about 45%. Between the two, the final still drew 2.059 million viewers.
● FIFA offered some detailed statistics on the tournament, but perhaps none more important that the report of 119,564 room nights booked during the event, a key number for future and potential future organizing committees. The final attendance at the fan festivals was 777,000 across all of the facilities in each host city.
● The final was marred by an anti-Russian protester who ran onto the field in the first half, and then by an overly affectionate greeting by Spanish federation head Luis Rubiales, kissing midfielder Jenni Hermoso during the medal presentations. His action was quickly and widely rebuked and he made a video apology later on Sunday. On Tuesday, the Acting Prime Minister called the apology inadequate and the federation has called an emergency meeting on Friday.
● NBC's Saturday and Sunday telecasts of the World Athletics Championships from Budapest, Hungary were strong on viewers, with 934,000 on the first day and 1.112 million on day two. Sadly, there's only one more NBC Worlds show coming, next Sunday; the rest is on CNBC and USA.
● The U.S. men's team is an overwhelming favorite to win the FIBA World Cup in Indonesia, Japan and the Philippines that starts later this week. Overwhelming.
● World Championships: Modern Pentathlon (Egypt sweeps men's and women's relays) = Shooting (two more wins for China) ●
● Panorama: Pan American Games (Santiago 2023 torch unveiled) = Russia (new law to require national flag at all events) ●
● Errata: Eagle-eyed reader Tony Duffy noted a typo in Tuesday's post that stated Spanish striker Salma Paralluelo is 29. She's 19, of course. Sorry; now corrected on the site. Thanks, Tony! ●
● Special coverage of the World Athletics Championships is being posted daily; for Tuesday, click here ●
1.
Fox averaged 669,000, Telemundo 167,000
for Women's World Cup
Bad time zones make for smaller audiences, as Fox and Telemundo found out in their overall audience ratings for the FIFA Women's World Cup.
Fox reported an overall average of 669,000 viewers for all 64 games in the tournament, and 1.658 million for the final between Spain and England. The audience for the final peaked at 2.446 million between 7:45 and 8:00 a.m. Eastern, with the top markets in Washington, D.C., Austin, San Diego, Boston and Hartford.
The Spain-Sweden semi was seen by 470,000 and England-Australia by 1.058 million, starting at 4:00 a.m. and 6:00 a.m., respectively. The third-place game between Sweden and Australia drew 562,000 on Fox.
The average is way down from the 1.66 million from the 2019 tournament in France, but still respectable as most of the games were shown in the middle of the night in the U.S.
Telemundo reported a Spanish-language average of 401,000 for the final, making the total 2.059 million, a very good result given the timing.
The Spanish-language average across the tournament, on Telemundo-Peacock-Universo was 167,000, well down from 2019's average of 302,000, again respectable in view of the time zone.
Reports on European viewing outside of finalists Spain and Britain were mostly lower than for 2019 in France, again due to unfriendly viewing times.
2.
FIFA: 119,654 room nights booked for the Women's World Cup
Amid a mass of statistics rolled out by FIFA as its 2023 Women's World Cup closed up was an important one for organizers of future tournaments:
"119,564 – The total number of room nights booked throughout the tournament, supporting businesses and economies in Australia and Aotearoa New Zealand. This included over 30,000 nights for teams and workforce, and over 7,000 nights for match officials in Host Cities and Team Base Camp locations."
From a U.S. perspective, at an average price of just $100 per room per night, that's about $12 million, spread across the host cities. If the average spend per person was $250 per day, that's $29.9 million, across one month of matches.
If you have wondered how many people it takes to put on the Women's World Cup, FIFA noted that a total of 41,859 accreditations were distributed.
As far as the FIFA Fan Festivals were concerned:
"After the final whistle in the Final, 777,000 fans had been part of the FIFA Fan Festival, with the attendance peaking on August 12 when 68,000 people across all venues watched the Matildas beat France in a dramatic quarter-final."
3.
Pitch invader, Spanish kisser marred World Cup final
The Women's World Cup final was dramatic, but also had its share of less memorable moments.
During the first half of the final, an anti-Russian protester ran onto the field and had to be tackled by security staff and led away, causing a brief delay. He was wearing a T-shirt with a mashed-up image of Russian President Vladimir Putin and Nazi dictator Adolf Hitler, with the words "Stop Putler" on the front and a Ukrainian flag and the words "Free Ukraine" on the back.
Much more widely reported as a too-excited celebration by Real Federación Española de Fútbol (RFEF: Royal Spanish Football Federation) President Luis Rubiales, who greeted midfielder Jenni Hermoso with a kiss on the lips during the medal presentation ceremony.
The action was immediately and widely reviled, with Spain's Acting Prime Minister, Pedro Sanchez calling him out on Tuesday:
"What we saw is unacceptable. And the apologies offered by Mr. Rubiales are not sufficient, I would call them inappropriate, so he must continue taking further steps to clarify what we all saw."
The RFEF has called an emergency assembly for Friday to consider further steps and an inquiry has been started. Rubiales initially brushed off any impropriety, then issued an apology on Sunday via a video, which included (translated from the original Spanish):
"There's an event, which I have to regret, which is everything that happened between the player and I, with a magnificent relationship between the two of us, the same as with the others
"And well, I surely made a mistake, I have to recognize that. In a moment of elation, without any intention of bad faith, well, what happened happened – I think in a very spontaneous way. I repeat, there was no bad faith between either of the two of us.
"Here, we didn't understand it because we saw something natural, normal and in no way, I repeat, with bad faith. But outside of the bubble, it looks like it has turned into a storm and so, if there are people who have felt offended, I have to say I'm sorry."
Rubiales is up for election in 2024.
4.
Strong start to World Athletics Champs on NBC
In a very tepid year for track & field on U.S. television, the NBC shows on Saturday and Sunday from the World Athletics Championships in Budapest (HUN) were solid.
Saturday's opening-day show drew an average of 934,000, the highest total for an outdoor meet in 2023. Sunday was even better, at 1.112 million, the top audience for a track & field event in the U.S. this year.
By comparison, the 2022 Worlds in Eugene were televised six times on NBC and had an average of 1.993 million. Unfortunately, NBC has only one more Worlds show scheduled, for next Sunday.
Last weekend's coverage was mostly on CNBC, and weekday coverage is on USA Network. Don't expect much; last year's Worlds in the U.S. averaged only 379,000 on those two channels.
¶
Also, the final USA Basketball Showcase game vs. Germany in Abu Dhabi (UAE) on Sunday had an average audience of 585,000 at noon Eastern, quite respectable.
5.
No. 2-ranked U.S. a huge favorite in FIBA World Cup
The 19th FIBA men's World Cup begins on Friday, with games spread across three countries: Indonesia, Japan and the Philippines and will roll on to 10 September, with the final at the Mall of Asia Arena in Pasay (PHI), part of metro Manila.
The U.S. has won this tournament five times, tied for the most with Yugoslavia and won back-to-back titles in 2010 and 2014. But Spain emerged as the 2022 winner in China as the Americans were knocked out in the quarterfinals – finally finishing seventh – missing the medal round for the first time since 2002. That finish is the reason Spain is top-ranked and the U.S. is second.
For 2023, the Americans, coached by Golden State Warriors boss Steve Kerr, has been installed as the prohibitive favorite, following a 5-0 exhibition tour. The top picks:
● United States: -111 to -140
● Canada: +700 to +900
● France: +750 to +1,000
● Australia: +900 to +1,000
● Spain: +1,000 to +1,400
● Serbia: +1,200 to +2,000
● Germany: +1,500 to +2,700
● Slovenia: +1,600 to +3,000
● Greece: +1,600 to +6,000
● Italy: +4,000 to +5,000
Translation: a wager of $111 to $140 on the U.S. is required to win $100, but a wager of $100 on Canada would return $700 to $900. Wow.
That's the top 10 out of 32 teams. The least-favored:
● China: +50,000 to +100,000
● Iran: +50,000 to +100,000
● South Sudan: +50,000 to +100,000
● Angola: +50,000 to +200,000
● Cape Verde: +50,000 to +200,000
● Cote d'Ivoire: +50,000 to +200,000
● Jordan: +50,000 to +200,000
● Lebanon: +50,000 to +200,000
● Egypt: +50,000 to +250,000
Those are pretty long odds.
The teams will play in groups for three games, with the top two teams in each advancing to the second round. The U.S. will play New Zealand (26th), Greece (28) and Jordan (30th), then, if qualified, move on to a second-round group against the top two teams in Group D, which includes Egypt, Lithuania, Mexico and Montenegro, with games on 1 and 3 September.
The top two move on to the quarterfinals. ESPN2 (six games) and ESPN+ (86 games) will carry the games in the U.S., once again in difficult time slots from Asia.
≡ WORLD CHAMPIONSHIPS ≡
● Modern Pentathlon ● The UIPM Worlds are on in Bath (GBR), with the men's and women's relays held Tuesday and swept by Egypt.
The women's pair of Amira Kandil and Malak Ismail won the opening fencing competition, were fifth in riding and third in swimming, starting the Laser Run as the leaders by a couple of seconds over Italy's Beatrice Mercuri and Aurora Tognetti. The Egyptians were calm and maintained their lead, finishing with the third-fastest time in the field at 13:33.90 to 13:37.30 for Italy, leading to a 1,315-1,309 victory. Mexico passed China for third, scoring 1,290.
The men's relay was a victory for Moutaz Mohamed and Ahmed Hamed, who scored 1,467 to hold off Hungary's Gergely Regos and Balazs Szep (1,462) and Koreans Chang-wan Seo and Ji-hun Lee (1,461).
After a fifth in fencing, second in riding and in swimming, the Egyptian started only one second back in the Laser Run, with the Koreans seven seconds behind and Hungary fifth (+0:13). Regos and Szep managed the fastest time at 11:19.70, but Mohamed and Hamed were at 11:27.70, just enough to get across the line first.
The Worlds continue through Sunday.
● Shooting ● The ISSF World Championships roll on in Baku (AZE), with China continuing to pile up the wins and medals.
In the women's 50 m Rifle/3 Positions, Qiongyue Zhang, 19, won her first Worlds medal with a 465.3 to 463.5 win over teammate Jiayu Han, 21, also a first-time medal winner. American Sagen Maddalena, the Tokyo fifth-placer, took the bronze (451.9) for her first individual Worlds medal.
Yuehong Li, 33, won the men's 25 m Rapid-Fire Pistol, his first Worlds gold after bronzes in this event in 2010 and 2014, along with Olympic bronzes in Rio and Tokyo. He out-dueled France's Clement Bessaguet, also the 2022 Worlds runner-up, 39-30. German Florian Peter took the bronze (24).
Czech Petr Nymbursky won the non-Olympic men's 300 m Rifle/Prone competition, 626.5-625.5, over China's Linshu Du, 20, last year's World Junior Champion.
Competitions continue through the end of the month.
≡ PANORAMA ≡
● Pan American Games ● The Santiago 2023 Pan American torch was unveiled on Tuesday:
"The torch is 66 cm [26 inches] long, weighs 1.5 kilograms [3.3 pounds] and is inspired by the color palette of the territory with brown and different shades of blue on a background where the mountain range relief is expressed from north to south as if it were a map.
"The top of the torch is framed by a border which represents the moon and its invisible force that moves the tide of the oceans. In the case of the adapted version, references are made to the sun, fire, desert and valleys and it includes the phrase 'Santiago 2023' in Braille."
The Santiago 2023 relay will begin on 30 September, taking three separate paths throughout the country before the Opening Ceremony on 20 October.
● Russia ● On Russia's annual Flag Day – 22 August – a new law has been proposed that would require the Russian flag to be displayed at competitions inside the country. According to State Duma member Leonid Slutsky:
"For a long time, the Russian flag has been subject to obvious discrimination in the international sports arena. Athletes are forced to compete under a neutral flag. But even in the Russian Federation, the flag is rarely raised at competitions. I believe that the country's flag should be raised at all sporting events as a symbol of perseverance of the Russian athletes."
Dmitry Svishchev, head of the State Duma Committee on Physical Culture and Sports, added:
"We insist that it is imperative to raise the Russian flag at all sporting events. … Children, the younger generation, should know our state symbols, should be proud of them."
¶
You can receive our exclusive TSX Report by e-mail by clicking here. You can also refer a friend by clicking here, and can donate here to keep this site going.
For our updated, 787-event International Sports Calendar (no. 3) for 2023 and beyond, by date and by sport, click here!