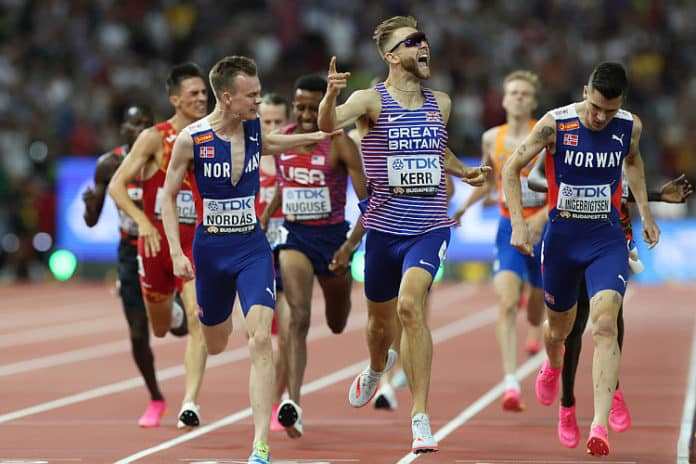 ★ The Sports Examiner: Chronicling the key competitive, economic and political forces shaping elite sport and the Olympic Movement.★
★ Thank you! Last week of our summer fund-raising drive: 74% of goal from 33 donors. Can you help? ★
★ To get The Sports Examiner by e-mail: sign up here! ★
≡ WORLD ATHLETICS CHAMPIONSHIPS ≡
Another 90-degree (F) day in Budapest for the 19th World Athletics Championships, which required a move of the women's 5,000 m heats to the evening session. It was down to 85 F and 50% humidity for the evening races, which saw a shared golds in the women's vault and a split decision for Norwegian stars Jakob Ingebrigtsen and Karsten Warholm. Here's what happened:
● Men/1,500 m ● All eyes were on Olympic champ Ingebrigtsen, the overwhelming favorite and world leader at 3:27.14. Usually running from the back, he was up close to early leader Abel Kipsang (KEN), the 2022 World Indoor bronzer, who led at 400 m in 56.01.
The Norwegian star took over at the 500 m mark and led with two laps to go, over Kipsang and U.S. champ Yared Nuguse, and they passed 800 m in 1:54.19, with Kipsang slightly in front.
Ingebrigtsen now took over, with Britain's Tokyo Olympic bronze medalist Josh Kerr moved up to challenge, passing 1,200 m in 2:49.53, with Kipsang third. Down the back straight, Kerr shadowed the Norwegian, waiting. Behind them was a mad scramble for position, with Kipsang holding off teen star Niel Laros (NED) for third.
All out in the straight, it was Kerr with the speed and he pulled ahead for good with 80 m to go and raced to the win at 3:29.38, to 3:29.65 for Ingebrigtsen. The Norwegian knew he was beaten with 20 m left, looking up in disgust at the scoreboard as he ran through the finish.
Norwegian teammate Narve Nordas sprinted from sixth to third at the line in 3:29.68 for his first international medal, with Kipsang fourth (3:29.89) and Nuguse fifth (3:20.25). American Cole Hocker was seventh with a lifetime best of 3:30.70 (now no. 6 all-time U.S.); Laros faded to 10th, but set a national record of 3:31.25.
Lightning struck twice: Ingebrigtsen was beaten at the 2022 Worlds in Eugene by Britain's Jake Wightman in a huge upset … and it happened again, but with a different British star.
● Men/400 m hurdles ● Norway's world-record holder Warholm came in as the world leader and had clearly showed he was back, but had American Rai Benjamin behind him in lane six. Off the gun, Warholm was out fast, but Benjamin was close through six hurdles and appeared to take the lead over seven.
But into the straight, Warholm re-took the lead and Benjamin could not match his speed, even losing second place to two-time Commonwealth Games winner Kyron McMaster (IVB).
Warholm's 46.89 is the equal-14th performance of all-time; he owns six of those top 15. McMaster finished in 47.34, ahead of Benjamin's 47.56. Defending champ Alison dos Santos (BRA) – who had surgery early in the year – was a very impressive fifth in 48.10. Trevor Bassitt of the U.S., who won bronze in 2022, was sixth in 48.22.
Warholm is now a three-time World Champion in the event, the most ever, and Benjamin has won silver-silver bronze in the last three Worlds, tying Kerron Clement (2-0-1 from 2007-17) for the most Worlds medals in the event by an American.
● Women/400 m ● Dominican Marileidy Paulino was the silver winner in Tokyo in 2021 and at the 2022 Worlds in Eugene, and the favorite here. She did not disappoint.
She took the lead on the backstraight and then moved best on the turn to push away from Lieke Klaver (NED) and pulled away from everyone on the straight, winning in 48.76, a national record.
Klaver faded in the straight, and Poland's Natalia Kaczmarek moved up for silver in 49.57 and Sada Williams (BAH) with a second straight Worlds bronze in 49.60. Klaver was sixth (50.33) and American Talitha Diggs was eighth in 51.25.
● Women/Pole Vault ● Qualifying showed the runway to be extra-fast, and the final was expected to be a sizzler.
Six remained in at 4.80 m (15-9), with former Arkansas star (and 2022 Worlds fourth-placer) Tina Sutej (SLO) over on her first try for a national record. So did 2022 Worlds bronze winner Nina Kennedy (AUS) and European champ Wilma Murto (FIN), and Olympic and World champ Katie Moon of the U.S. made it on her second try, and Molly Caudery (GBR) missed once and passed to 4.85 m (15-11).
Of the five still in, only Moon had made this height this season, but Kennedy set a national record with an excellent clearance to take the lead, followed by Moon snaking over to move up to second. They were the only ones to make it, with Murto settling for bronze and Sutej fourth for the second straight year.
Now at 4.90 m (16-0 3/4), Kennedy and Moon missed twice, but Kennedy was perfect with another national record on her third try and took the lead. Moon, on an all-or-silver try, hit the bar, but it held up on the snake-over and the vaulting continued. They both tied Moon's world-leading height for the season.
At 4.95 m (16-2 3/4), both missed three times, leaving them tied with just one miss each and tied for the lead. They could go on to a jump-off, but the two decided to share the win – as la Mutaz Essa Barshim and Gianmarco Tamberi in the Tokyo men's high jump – and take golds together.
Three-time Worlds silver winner Sandi Morris cleared 4.65 m (15-3) on her first try, but never looked comfortable at 4.75 m (15-7), missing three times and finishing sixth. Bridget Williams of the U.S. cleared 4.50 m (14-9), but could go no higher and was 12th. High school phenom Hana Moll also cleared 4.50, but placed ninth on misses.
¶
The morning qualifying session produced no huge surprises, but the reigning World Champion in the women's hammer did not make it out of qualifying in the evening.
● Men/200 m ● Act two of the Noah Lyles show started in heat two with a 20.05 win (wind: -0.1 m/s) over Andrew Hudson of Jamaica (20.25). Britain's Zharnel Hughes won heat one in 19.99 (0.0), the fastest time of the day.
Botswana's Letsile Tebogo, 20, who has run 19.50 this season, won heat three in 20.22 (-1.4), with Brendon Rodney of Canada taking heat four in 20.14 (-0.2). A close finish in heat five had Japan's Towa Uzawa first in 20.34 (-0.2) over NCAA runner-up Courtney Lindsey of the U.S. (20.39).
Worlds bronze medalist Erriyon Knighton of the U.S. and Olympic champ Andre De Grasse (CAN) were 1-2 in heat six in 20.17 and 20.28 (-0.5) and American Olympic and World silver winner Kenny Bednarek won heat seven in 20.01 (-0.1). The semis are on Thursday.
● Men/Pole Vault ● Qualifying required 5.75 m (18-10 1/4) to advance, with world-record holder Mondo Duplantis clearing all three of his heights on the first try. The big names all made it: Chris Nilsen and Zach McWhorter of the U.S., Ernest John Obiena (PHI), Kurtis Marschall (AUS), Poland's Piotr Lisek, Belgian Ben Broeders and others.
Zach Bradford of the U.S. cleared 5.70 m (18-8 1/4) and did not advance to the final.
● Men/Long Jump ● Wow! Sensational, world-leading jump for Jamaica's Wayne Pinnock – the 2022 NCAA champ for Tennessee (later transferred to Arkansas) – who blasted out to 8.54 m (28-0 1/4) on his first jump (+1.2), now sitting at no. 20 all-time!
His prior best had been 8.37 m (27-5 1/2) from the SEC Championships in May; he was ninth at the Worlds in Eugene last year. Both of his teammates got in: 2019 World Champion Tajay Gayle at 8.12 m (26-7 3/4) and Carey McLeod, who jumped 8.19 m (26-10 1/2) for fourth.
China's defending champ, Jianan Wang, got a season's best of 8.34 m (27-4 1/2) on his last jump to qualify, and Olympic champ Miltiadis Tentoglou (GRE) reached 8.25 m (27-0 3/4) to qualify third.
Two Americans made it: Will Williams in seventh (8.13 m/26-8 1/4) and U.S. champ Marquis Dendy in 10th (8.08 m/26-6 1/4). American Jarrion Lawson finished 16th (7.96 m/26-1 1/2) and did not advance.
● Women/200 m ● All six heats were won between 22.16 and 22.51; nothing crazy. Anthonique Strachan (BAH) took heat one at 22.31 (-0.4); American Sha'Carri Richardson won heat two in 22.16 (-0.7) over Marie-Josee Ta Lou (CIV), who got a seasonal best of 22.26.
Defending World Champion Shericka Jackson of Jamaica took heat three in 22.51 (-0.4) and NCAA champ Julien Alfred (LCA) cruised to a 22.31 win (-0.4) in heat four. U.S. champ Gabby Thomas won heat five in 22.26 (-1.3) and 2019 World Champion Dina Asher-Smith took heat six in 22.46 (-0.3).
Poland's Krystsina Tsimanouskaya, who fled the Belarus team and sought asylum at the Tokyo Olympics in 2021, qualified on time out of heat six in 22.88.
● Women/800 m ● All seven heats were won in the 1:59s, with the favorites moving through. Britain's world leader, Keely Hodgkinson, won heat one (1:59.53); Kenyan Mary Moraa took heat two, ahead of Raevyn Rogers of the U.S., 1:59.89 to 2:00.06; Noelle Yarigo of Benin won heat three at 1:59.96, and 2019 World Champion Halimah Nakaayi (UGA) took heat four from Adelle Tracy (JAM), 1:59.68 to 1:59.82. American Kaela Edwards was eighth in 2:02.22 and did not advance.
U.S. champ Nia Akins beat Britain's Jemma Reekie in heat five, 1:59.19 to 1:5971, while Ethiopia's Habitam Alemu won heat six in 1:59.36. Defending World Champion Athing Mu of the U.S. won heat seven, running 1:59.59 to edge Jamaican Natoya Goule-Toppin (1:59.64).
● Women/100 m hurdles ● American Keni Harrison stunned everyone with a 12.24 heat, and she dominated the first semi, running away after hurdle five and won in 12.33 (+0.5), ahead of Devynne Charlton (BAH: 12.49).
American Masai Russell got a brilliant start in semi two, but she clipped the second hurdle and crashed through the third hurdle and did not finish. Jamaican Ackera Nugent, the NCAA runner-up for Arkansas, had the lead through eight hurdles, but then defending champ Tobi Amusan (NGR) moved up and won on the run-in in 12.56 (-0.7) to 12.60.
Jamaica's Danielle Williams, the 2015 World Champion, got the lead by mid-race and was being chased by Tokyo champ Jasmine Camacho-Quinn (PUR) and 2019 Worlds winner Nia Ali of the U.S. Camacho-Quinn got the win in 12.41 (-0.4), with Ali storming to the line with a lean to edge Williams on the run-in, 12.49 to 12.50.
● Women/Steeple ● The first heat had seven in contact with three laps left, with four in the lead pack at the bell, including American Courtney Wayment. Bahrain's Winfred Yavi – fourth at the 2019 and 2022 Worlds – won at the line over world-record holder Beatrice Chepkoech (KEN), 9:19.18 to 9:1922. Wayment was an easy qualifier in fourth in 9:20.60.
Three broke away in heat two by 2,000 m, with Peruth Chemutai (UGA) leading a group of four at the bell, with Kenyan Faith Cherotich winning, 9:19.55 to 9:19.60. Emma Coburn of the U.S., the 2017 World Champion, had no response as the pace quickened in the last 1,000 m and finished 10th in 9:41.52. She said she re-injured her hamstring on the first barrier, and told NBC's Lewis Johnson, "It definitely sucks."
The third heat had a recall (what?), and with three laps left, it was 2022 European champ Luiza Gega (ALB) leading world leader Jackline Chepkoech (KEN) in a pack of five. Chepkoech decided to go with 650 m to go and won easily in 9:16.41, ahead of Zerfe Wondemagegn (ETH: 9:16.97). U.S. champ Krissy Gear finished seventh in 9:30.61.
● Women/5,000 m ● Agate Caune of Latvia, 19, the 2023 European U-20 Champion, raced away to a huge lead, with an 18-second advantage after six laps of heat one. She passed 3,000 m in 8:54.08, 20 seconds ahead of American Alicia Monson (9:14.94). The lead was 17 seconds at 4,000 m, but at the bell, the lead was down to seven seconds.
Ethiopia's defending champ, Gudaf Tsegay, led the pack coming on and she and  2022 Worlds runner-up Beatrice Chebet (KEN) caught up and moved into the lead with 120 m to go, and Chebet won in 14:57.70, then Tsegay at 14:57.72. Caune finished fourth, qualifying for the final with a lifetime best of 15:00.48. Elise Cranny of the U.S. was fifth (15:01.53) and Monson was seventh (15:03.35), both moving on to the final.
Kenyan superstar – and new world-record holder – Faith Kipyegon headlined the second heat, the day after her 1,500 m win, along with Olympic 5,000 m champ Sifan Hassan (NED). Hassan and Kipyegon were 1-2 with three laps left, with six in the lead pack. They were still together at the bell, with Hassan and Kipyegon racing down the final straight, and Hassan across first in 14:32.29 to 14:32.31. Kenyan Lilian Rengeruk tripped and fell on the straight, but got up quickly and qualified fourth in 14:36.61. American Natosha Rogers was a non-qualifying ninth in 15:06.68, her fifth-fastest time ever.
How fast was that second heat? Only nine others – besides Hassan and Kipyegon – have run faster this season!
● Women/Triple Jump ● Jamaica's Shanieka Ricketts led the first group of qualifiers with a seasonal best of 14.67 m (48-1 3/4), with Keturah Orji of the U.S. qualifying at 14.33 m (47-0 1/4). Jasmine Moore of the U.S. managed 14.13 m (46-4 1/4) for sixth, and made to the final as the 11th overall qualifier.
World-record holder Yulimar Rojas (VEN) qualified with one jump for the final at 14.59 m (47-10 1/2), but the leader in the second group was Thea Lafond (DMA) with a national record of 14.62 m (47-11 3/4). American Tori Franklin qualified at 14.13 m (46-4 1/4), so all three U.S. entries will jump on Friday.
● Women/Hammer ● No trouble for medal contenders DeAnna Price of the U.S. – the 2019 World Champion – or Canada's 2022 Worlds runner-up Cam Rogers, who qualified with first-round throws of 76.25 m (250-2) and 73.95 m (242-7). Jillian Shippee of the U.S. had three fouls.
In the second group, American Janee Kassanavoid – the 2022 Worlds bronze winner – reached 72.70 m (238-6) in her third round and qualified eighth overall. Defending World Champion Brooke Andersen of the U.S., the world leader, fouled twice in the second group, then managed only 67.72 m (222-2) in the last round and did not qualify, in 25th.
Just as shocking was Poland's Anita Wlodarczyk, the three-time World Champion, not qualifying, finishing 13th (71.17 m/233-6).
● Women/Javelin ● Seven reached the automatic qualifying distance of 61.50 m (201-9), led by Latvia's Lina Muze-Sirma at 63.50 m (208-4). World leader Haruka Kitaguchi (JPN) qualified third at 63.27 m (207-7), Australia's Mackenzie Little was second at 63.45 m (208-2) and 2022 World Champion Kelsey-Lee Barber (AUS) just made it as the last qualifier at 59.66 m (195-9).
U.S. throwers Maggie Malone (18: 57.85 m/189-9) and Ariana Ince (27: 54.60 m/179-1) did not advance.
≡ PANORAMA ≡
● Errata ● Some fixes on Tuesday's post. Phil Minshull notes that seven men (not five) were still jumping at 2.36 m (7-8 3/4), having passed from lower heights to try and stay in the mix. Also, Keni Harrison's 12.24 in the women's 100 m hurdles heats was her fastest since 2016, not the fastest since 2016, and two incorrect conversions in the women's discus for Valarie Allman and Lagi Tausaga. All of these have been corrected on the Web site, with thanks.
● Stats ● The U.S. won two medals on Wednesday and now has 14 (7-4-3), with at least one gold on each day so far. Next best is Ethiopia (6: 1-3-2), then Great Britain (4: 2-1-1). Italy, Kenya, Norway and Jamaica all have three.
On the team scoring placing table, scored 8-7-6-5-4-3-2-1, the U.S. leads with 142 points to 53 for Kenya, 46 for Ethiopia, 39 for Britain and 37 for Jamaica.
● Stories ● Amazing note from Federation of American Statisticians of Track (FAST) index co-editor Alan Mazursky, who observed that, according to the on-field timing system, the Netherlands initially won the Mixed 4×400 m relay on Saturday!
Dutch anchor Femke Bol astonishingly fell just before the finish line, with American Alexis Holmes steaming by to win in a world-record of 3:08.80. But as Bol fell, the baton – which has a timing chip in it – flew out of her hand and crossed the finished line!
So, the instant result on the broadcast showed that the Dutch had won the race (screenshot from an NBC highlight video on YouTube)!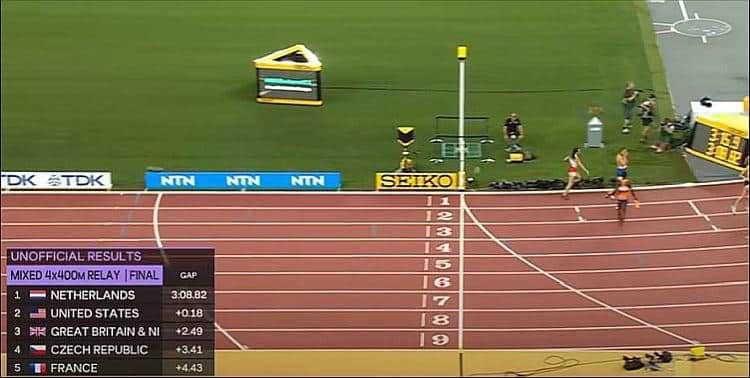 Technology is great, but people are still needed to get it right. Seiko got it fixed almost immediately, crediting the U.S. with the win and the world record.
● Voices ● Lots of comments about Tuesday's action, which was amazing to say the least.
Of Hawaiian native Tausaga's instantly-legendary win in the women's disc over Olympic champ Allman, Track & Field Writers of America President Jack Pfeifer shared:
"This was the 22nd meeting between the two. Prior to this, Allman had beaten her 20 of 21 times.
"This is an epic T&F moment I'd say. Trying to come up with a comparable upset, only thing I can think of is Billy Mills's 10K win in Tokyo in '64."
Long-time observer and USATF athlete activist David Greifinger added, "Tausaga followed her monster throw with a 68 + meter throw in Round 6. So, not just one outlier. Mind-boggling. What were the odds of her winning? 100 to 1?"
Quite right and not widely noted: Tausaga followed up her winner with a 68.46 m (224-7), meaning she had the three best throws of her life on Tuesday. She came in with a best of 65.46 m (214-9) at the U.S. Champs and then improved to 65.56 m (215-1) in round three to qualify for the final, then her 69.49 m (228-0) winner in round five and 68.46 m in round six.
Tausaga's winning throw moves her to no. 2 all-time U.S., with the no. 9 performance; Allman has the top eight, and had a great series Tuesday: 68.57 m, 66.94 m, 68.79 m, 69.23 m, 64.60 m and 68.61 m (224-11, 219-7, 225-8, 227-1, 211-11 and 225-1). That's an average of 67.79 m (222-5), which would have been fourth!
¶
You can receive our exclusive TSX Report by e-mail by clicking here. You can also refer a friend by clicking here, and can donate here to keep this site going.
For our updated, 787-event International Sports Calendar (no. 3) for 2023 and beyond, by date and by sport, click here!