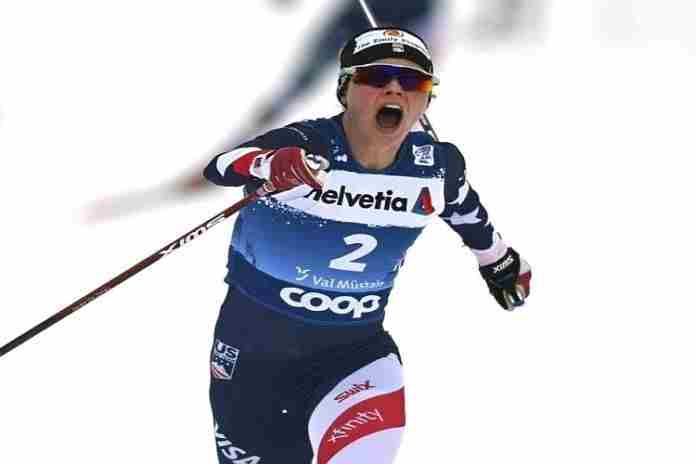 ★ The Sports Examiner: Chronicling the key competitive, economic and political forces shaping elite sport and the Olympic Movement.★
★ Thanks! Our 29 donors have now covered 64% of our technical expenses for the first half of 2023. Please consider a donation. Thank you in advance. ★
★ To get The Sports Examiner by e-mail: sign up here! ★
≡ THE 5-RING CIRCUS ≡
1. U.S.'s Diggins scores first FIS Nordic Worlds gold
2. Dentsu and five other firms indicted in Tokyo 2020 scandal
3. Ghana chaos leads to African Games postponement to 2024
4. Good TV audience for USA Gymnastics Winter Cup
5. Torch bidding heating up in Judge Velarde auction
The amazing Jessie Diggins made more history by winning the women's 10 km Freestyle Individual race at the FIS Nordic Skiing World Championships, the first individual Worlds gold by an American cross-country skier! The Japanese ad giant Dentsu, along with five other ad agencies and event management firms, were indicted – along with seven individuals – by the Tokyo District Public Prosecutors Office for rigging bids for Tokyo 2020 test-event contracts and then for venue-management agreements for the Olympic Games held in 2021. All together, some 22 individuals have been charged in bid-rigging and sponsorship-bribery prosecutions so far. The troubled 2023 African Games has been moved to 2024, but will remain in Accra, Ghana, despite continuing worries over construction and planning. Placing another major event in the Olympic year may become a problem, as dates have not been set, and the Ghana economy continues to suffer. The USA Gymnastics Winter Cup in Louisville last Saturday drew almost a million TV viewers and was no. 2 against all other sporting events in the same time slot. An auction of Olympic memorabilia that is especially heavy on Olympic torches will conclude this weekend, with $45,000 already bid for a rare 1980 Lake Placid Olympic Winter Games model.
● World Championships: Freestyle Skiing & Snowboard = Ski Mountaineering ●
● Panorama: Ukraine (IOC fund reaches $7.5 million) = Alpine Skiing (Nyman retires) = Athletics (Burns fifth prep sub-4:00 indoors) = Football (FIFA anti-doping report shows only six adverse findings) = Gymnastics (Gymnastics Canada dismisses chief executive) ●
1.
U.S.'s Diggins scores first FIS Nordic Worlds gold
There was just one final on Tuesday at the FIS Nordic Skiing World Championships in Planica (SLO), but it was a history-maker – again – for American star Jessie Diggins.
Sweden had swept the golds in the first three women's events in cross country, the Sprint, 15 km Skiathlon and the Team Sprint, but Diggins – now 31 – swept into the lead of the 10 km Freestyle Individual race after 2 km and would not let go, winning in 23:40.8.
That was well ahead of Skiathlon runner-up Frida Karlsson (+14.0) and Skiathlon winner Ebba Andersson (+19.5), giving Diggins her second medal of the Championships after the Team Sprint bronze with Julia Kern.
Diggins had a lead of less than three seconds at halfway and five seconds at 7,7 km, but was the strongest over the final quarter of the race to win decisively. Overjoyed, she said afterwards:
"This was one of the best races of my life. I didn't want to believe it until the race was finished but I when I finally got up off the snow I realized this was the best race of my life and I knew that because of how it felt; it was really special."
Diggins is the most decorated American cross-country skier in history, now owning an Olympic gold and Worlds gold, with three total Olympic medals (1-1-1) and six Worlds medals (2-2-2), also including a 2013 win in the Team Sprint. She is the only American to ever win an individual-event gold at the FIS Cross Country Worlds; she and Kikkan Randall were the first Americans to ever win an Olympic gold in Cross Country as well, in the PyeongChang 2018 Team Sprint.
And Diggins is the first skier from outside of Europe to win a FIS Cross Country Worlds race since 2017!
She isn't done, with the 30 km Mass Start coming on Saturday; she won the Olympic silver in that race in Beijing last year. Amazing.
Rosie Brennan of the U.S. finished 15th in 24:54.9; Sophia Laukli was 25th (25:25.0), and Kern finished 34th (26:09.9). The Nordic Worlds continue through Sunday.
2.
Dentsu and five other firms indicted in Tokyo 2020 scandal
The Tokyo District Public Prosecutors Office, in conjunction with the Japan Fair Trade Commission, announced indictments on Tuesday in the massive bid-ridding scandal at the Tokyo 2020 Olympic organizing committee.
At the top of the list was Dentsu, Inc., the advertising and marketing giant, which is alleged to have worked with the Tokyo 2020 organizing committee to determine which companies would be selected to organize test events on behalf of the organizers, and then manage the competition venues during the Games.
Dentsu, ad agencies Hakuhodo, Inc., and the Tokyu Agency, and event management firms Fuji Creative, Cerespo and Same Two, Inc. were all named. Seven individuals were also indicted, starting with Yasuo Mori, former deputy executive director of the Tokyo 2020 Games Operations Bureau, alleged to be the internal contact within the organizing committee. He and a former Dentsu executive, Koji Hemmi (also indicted), were apparently the key arrangers.
Reports on the scandal describe the scheme as a coordination between Mori, Dentsu and the other companies to decide who would be assigned (in 2018) the 26 different contracts to organize test events, with the agreements worth a cumulative ¥538 million (about $3.95 million U.S. today). A total of just nine companies were awarded the 26 assignments.
In the next phase, those companies which organized the test events then were assigned contracts for venue management during the Tokyo Games, reported to be worth, cumulatively, about ¥40 billion (about $293.6 million U.S. today).
This kind of collusion runs afoul of Japan's anti-monopoly law; Fair Trade Commission investigator Go Okumura told reporters on Tuesday, "We determined that this is a malicious and serious case that will have a broad impact on people's lives." Almost half of the 26 contracts drew only one bidder, not a surprise if the outcome was arranged in advance.
The Associated Press reported:
"The maximum penalty for a company convicted of bid-rigging is a fine of up to 500 million yen ($3.7 million). An individual, if found guilty, faces up to five years in prison and a fine of up to 5 million yen ($37,000)."
The total number of individuals being prosecuted so far for this scandal and the sponsorship bribery project masterminded by ex-Tokyo 2020 Executive Committee member Haruyuki Takahashi currently numbers 22.
3.
Ghana chaos leads to African Games postponement to 2024
The 2023 African Games have been in trouble for a while and an agreement was reached last week with the Association of National Olympic Committees of Africa to delay the event to 2024.
The event had been on thin ice over difficult economic conditions in Ghana, with Accra slated to host the event and considerable worry over whether facilities and planning would be completed. Moreover, the African Union (AU), the Association of National Olympic Committees of Africa (ANOCA), and the Association of African Sports Confederations (AASC) had all been insisting on their own rights to the event, creating further confusion.
Three-time Nigerian Olympic sprinter Deji Aliu told Lagos-based The Punch:
"This is a sad development, staging the African Games in the same year as the Olympics will affect the athletes and this is a big mess on the part of the Ghana Minister of Youth and Sports, this is one of the biggest competitions in Africa and it's more like the African Olympics.
"Any time they put the African Games in 2024, it will mess up the schedules for the athletes. It is difficult for an athlete to prepare for two big events in one year, it is very demanding."
No date was given for the 2024 Games, still to be held in Accra, but it already has an impact for the International Olympic Committee, which is looking for an event for qualifying African boxers for Paris 2024. It is using other 2023 continental events, such as the Asian Games, European Games and Pan American Games, for qualification, but a new solution will be needed for Africa (assuming boxing remains on the Paris 2024 program).
4.
Good TV audience for USA Gymnastics Winter Cup
It's hardly the national championships or the Olympic Trials, but the USA Gymnastics Winter Cup in Louisville, Kentucky last weekend was a modest hit on television.
NBC's Saturday highlights program at 1 p.m. Eastern time drew a very respectable 948,000 average audience, up 32.6% from 2022, which drew 715,000 in exactly the same day and time!
The Winter Cup ranked no. 2 among sports telecasts during its time slow, beaten only by the 1.117 million for Michigan State-Iowa men's college basketball game on ESPN.
There wasn't as much interest for the U.S. women's national team match against Brazil in the final SheBelieves Cup game, with 454,00 tuning in on TNT. That was an improvement on the 373,000 for USA-Japan on TNT on 19 February; the first game vs. Canada was not shown on English-language cable.
None of the Spanish-language broadcasts of the three SheBelieves Cup matches reached the 200,000 viewer floor for published Nielsen ratings.
5.
Torch bidding heating up in Judge Velarde auction
A small auction of 61 lots of Olympic memorabilia from the estate of Los Angeles Superior Court Judge Carlos Velarde will close Saturday (4th), but some of the bidding for the strong collection of Olympic torches has already been hot.
A very rare Lake Placid 1980 torch has already attracted a $45,000 bid, and a Melbourne 1956 Olympic torch has drawn $30,000 so far. A torch from the 1976 Innsbruck Winter Games already has a $20,000 bid.
The collection offers an excellent opportunity for the beginning collector, with 17 different torches with starting prices of $3,750 or less, ranging from 1968 to 2018.
Velarde's collection features the 1968 Mexico City Games with five different torches on sale, all between $2,000-3,000 to open, and three Olympic medals. A 1968 silver for weightlifting has already reached $11,000, while a boxing bronze has a $7,000 bid. A Rome 1960 gold medal for fencing has attracted a bid for $12,000.
There are also three excellent lots of participation medals, already having bids from $700 to $1,000, covering (in three different groups) from 1912 to 2008, with some missing.
The wildest item? Has to be a stunning Berlin 1936 "Golden Chain of Office" given to International Olympic Committee members, cast in bronze with six small plaques linked together in a truly gaudy piece. Bidding starts at $32,500!
≡ WORLD CHAMPIONSHIPS ≡
● Freestyle Skiing & Snowboard ● The Freestyle Slopestyle finals highlighted Tuesday's FIS Freestyle Skiing & Snowboard World Championships in Bakuriani (GEO), with Olympic champions on top of the podium.
In the women's Slopestyle final, Swiss Mathilde Gremaud entered as the Beijing 2022 winner and was the 2021 runner-up. She took the lead on her first run, scoring 87.96 to pass Norway's Johanne Killi (84.71) and Canada's 2021 Worlds bronze medalist, Megan Oldham (80.88).
Everyone had trouble on the second run, with only Oldham able to improve, to 87.75 and moving into second. No one else broke 60 and Gremaud took her first Worlds gold to add to her Olympic triumph last year.
The men's Slopestyle gold and silver winners from Beijing – American Alex Hall and Nick Goepper – are not at the Worlds, so the field was open … for another Olympic winner.
Norway's Birk Ruud, the Beijing Big Air gold medalist, stood third after the first round, then unleashed a special run that scored 90.75 to move into the lead and no one could catch him. He led a Norwegian 1-2 as Christian Nummedal scored 87.07 on his second run to secure silver, leaving first-round leader (and defending champion) Andri Raggettli (SUI) for the bronze.
Hunter Henderson was the top American, in sixth (81.45).
Rudd had won the Worlds Slopestyle silver in 2019, but this was his first Worlds gold. He'll have a chance for a second in the Big Air final.
● Ski Mountaineering ● This sport will debut at the 2026 Milan Cortina Winter Games and has started its 2023 ISMF World Championships at Alta Ribagorca (ESP). The Sprints came first, on Tuesday, with the silver medalists from 2021 moving to the top of the podium.
In the women's race, Marianna Jagercikova (SVK), 37, finally got her first Worlds gold, winning in 3:11.034 over defending champ Marianne Fatton (SUI: 3:14.005) and France's Emily Harrop (3:16.248). Jagercikova, second in 2021 and previously in 2019, earned her third career Worlds medal, all in the Sprint. For Harrop, a seven-time winner on the World Cup circuit, this was her first Worlds medal.
Defending men's champ Iwan Arnold (SUI) was eliminated in the quarterfinals, opening the door for a new winner. Spain's Oriol Cardona Coll, third in 2017, fourth in 2019 and runner-up in 2021, finally got the gold he had been looking for, winning in 2:35.218. He had more than six-and-a-half seconds on silver medalist Thibault Anselmet (FRA: 2:41.881), with Robin Galindo (FRA) third in 2:46.811. It's Anselmet's first individual medal at the Worlds and Galindo's first international medal!
The ISMF Worlds continue through Sunday.
≡ PANORAMA ≡
● Ukraine ● The International Olympic Committee provided a recap of its Solidarity Fund for the Ukrainian Olympic program, with $7.5 million contributed so far – $6 million from the IOC itself – and about 3,000 athletes and coaches benefitting from the support.
More than 115 grants have been made to assist Ukrainian athletes and teams to train and compete; multiple National Olympic Committees have hosted Ukrainian teams in archery, athletics, biathlon, curling, gymnastics, handball, karate, rowing and swimming.
● Alpine Skiing ● American speed racer Steven Nyman, 41, announced his retirement, to follow the FIS World Cup races in Aspen, Colorado, this weekend.
Nyman made his World Cup debut in 2002, was a member of four U.S. Winter Olympic teams, five World Championships teams and won 11 medals on the World Cup circuit, including three wins. All three were in Downhills, at the same spot: Val Gardena (ITA), in 2007, 2013 and 2015. His best Worlds finish was a Downhill fourth in 2015. He said:
"As a kid I dreamt of the Olympics and racing on the World Cup and in World Championship events. I exceeded those dreams many fold – standing on the top step of World Cup podiums, competing in multiple Olympic Games and World Championship events. …
"My time is done and I'm ready to move onto the next phase and challenge myself in other ways using the knowledge and experience I have gained through ski racing."
● Athletics ● Worth noting in the rush of results from the weekend, the fifth U.S. high schooler to break 4:00 in the indoor mile: Connor Burns (Southern Boone HS of Ashland, Missouri), who ran 3:59.11 for eighth at the Boston University Last Chance Indoor Qualifier on Sunday.
Burns moves to fourth on the all-time high school indoor mile list, behind Hobbs Kessler (3:57.66 in 2021), Drew Hunter (3:57.81 in 2016), and Colin Sahlman (3:58.81) in 2022. Alan Webb was the pioneer, running 3:59.86 as a prep in 2001. Burns broke 4:00 outdoors last season, at 3:58.83, ranking no. 7 all-time.
● Football ● The sport may have issues, but doping does not appear to be one of them. FIFA released its doping-control report for July 2021 to the end of 2022, showing six adverse findings in 5,596 samples, collected across 2,921 tests.
Four of the adverse findings resulted in suspensions, one is pending and one was subject to an exemption and no penalty was assessed.
● Gymnastics ● After months of complaints and an investigation into a "culture of abuse" within the sport in Canada, Gymnastics Canada chief executive Ian Moss was released last Thursday by the organization's board, which promised change. Interim Chair Bernard Petiot said in a statement:
"We have heard loud and clear the cultural and behavioural wrongdoings that have hurt individuals and our sport. We acknowledge and respect the ripple effect of these wrongdoings and we are moving ahead – today."
Moss joined the organization as High Performance Director in mid-2017 and was named as interim chief executive in May of 2018, and has been in that position since.
¶
You can receive our exclusive TSX Report by e-mail by clicking here. You can also refer a friend by clicking here, and can donate here to keep this site going.
For our updated, 929-event International Sports Calendar for 2023 and beyond, by date and by sport, click here!