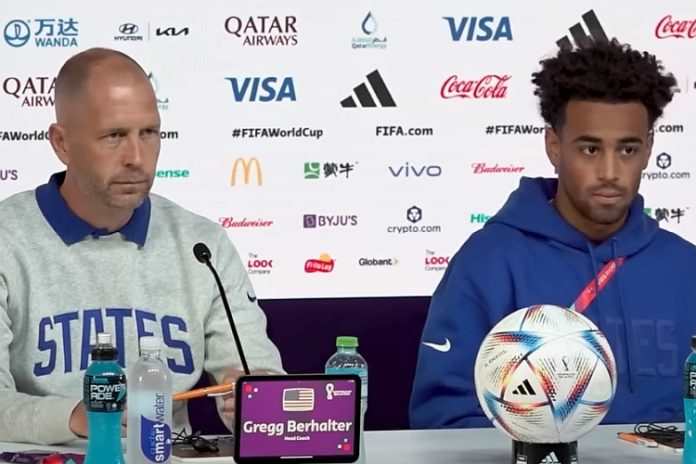 ★ The Sports Examiner: Chronicling the key competitive, economic and political forces shaping elite sport and the Olympic Movement.★
★ Want TheSportsExaminer.com insights for your team? Yes! Click here for info on speaking, research and consulting from editor Rich Perelman. ★
★ To get The Sports Examiner by e-mail: sign up here! ★
≡ THE 5-RING CIRCUS ≡
1. Brazil and Portugal go through; U.S. must beat Iran to advance
2. U.S. team had nothing to do with online Iran protest post
3. Paris 2024 ticket sale process to begin on 1 December
4. Vancouver 2030 bid still alive, at least as far as IOC is concerned
5. Kenya trying to stave off possible World Athletics suspension
Another wild day at the FIFA World Cup in Qatar as heavyweights Brazil and Portugal won their matches to advance to the Round-of-16 playoffs that will start on 3 December. The U.S. men face Iran on Tuesday needed to win to advance, but a Monday news conference was all about the social-media posts that temporarily featured an Iranian flag without its Islamic Republic symbols in the middle. Coach Gregg Berhalter said the team and the coaches knew nothing about it; it was done by U.S. Soccer. The Paris 2024 organizers unveiled the Olympic ticket purchase process, with ticket "packs" to go on sale in February and March and individual tickets to be sold starting in May. Although denied provincial funding required for its bid to go forward, the Vancouver 2030 Winter Games bid group met with the International Olympic Committee's Future Host Commission online last week. The Canadian Olympic Committee and Canadian Paralympic Committee are trying to get the British Columbia government re-engaged, but have had no luck so far. In Kenya, the minister of youth, sports and arts has written to World Athletics in an effort to keep from having Kenya suspended due to its unending list of doping violations. The Kenyan government has committed $5 million over the next five years to the effort, but the situation has risen to a crisis status.
1.
Brazil and Portugal go through; U.S. must beat Iran to advance
Tournament bluebloods Brazil and Portugal both managed tightly-fought victories on Monday, going to 2-0 in group play and clinching spots in the Round of 16 prior to their third group match.
In Group G, Brazil (2-0 W-L) advanced with a tightly-contested, 1-0 win over Switzerland (1-1) and Cameroon and Serbia (both 0-1-1) fought to a wild, 3-3 draw. That means Serbia needs to beat Switzerland on Friday (2nd) and hope that Cameroon can't beat Brazil. If Cameroon can win, it will also have four points and goal differential with Serbia or Switzerland could come into play.
In Group H, Portugal (2-0) out-fought Uruguay, 2-0, to move to the elimination round, with Uruguay now 0-1-1. Ghana won a crazy match from South Korea by 3-2, and is now 1-1 while the Koreans fell to 0-1-1. On Friday, Ghana will play Uruguay, with Ghana advancing with a win. Uruguay could get to four points with a victory, as could the Koreans if they can defeat Portugal, and then goal differential comes in.
The final matches in Group A and B will be held Tuesday, with Ecuador (1-0-1: 4 points) facing Senegal (1-1: 3), and the Netherlands (1-0-1: 4) playing Qatar (0-2: 0). The Dutch need to win to be sure of advancing, as does Ecuador, but Senegal could win the group with a win and a Dutch defeat or draw.
In Group B, England has four points (1-0-1) and plays Wales (0-1-1: 1), and needs at least a draw to advance. Iran (1-1: 3) and the U.S. (0-0-2: 2) will play, with the Iranians possibly advancing with a draw, but the U.S. moving on only if they win. A Wales win over England, however improbable that is, and an Iran draw with the U.S. will require goal differential to separate the English, Welsh and Iran.
2.
U.S. team had nothing to do with online Iran protest post
The U.S. Men's National Team's social-media accounts posted a graphic of the World Cup Group B standings, with Iran's flag shown – for 24 hours – with only its colors and not its Islamic Republic symbols in the middle.
But the team itself had nothing to do with it. Per coach Gregg Berhalter at a Monday news conference:
"The players and the staff knew nothing about what was being posted.
"Sometimes things are out of our control. We believe that it's going to be a match that the result will depend on who puts more effort in, who executes better on the field. And we're not focused on those outside things. All we can do on our behalf is apologize on behalf of the players and the staff, but it's not something that we are part of.
"We had no idea about what U.S. Soccer put out; the staff, the players had no idea. And for us, our focus is on this match. I don't want to sound aloof or not caring by saying that, but the guys that worked really hard for the last four years, we have 72 hours between England and Iran, and we really are just focused on how to get past Iran and [how] we can go to this knockout stage of the tournament.
"Of course, our thoughts are with the Iranian people … the whole country, the whole team, everyone, but our focus is on this match."
Berhalter added:
"Sport is something that should bring people together, bring countries together.
"When you look at the Olympics, to see all those countries competing at the same time, is a wonderful event. The World Cup is very similar, where people come from all around the world. Fans come from all around the world, and you get to compete on the field, as brothers, so sport does have the ability to do that."
CNN reported that it was the U.S. Soccer Federation which posted the symbol-less Iranian flag for 24 hours to show "support for the women in Iran fighting for basic human rights."
The Iranian Tasnim News Agency tweeted on Sunday:
"By posting a distorted image of the flag of the Islamic Republic of #Iran on its official account, the #US football team breached the @FIFAcom charter, for which a 10-game suspension is the appropriate penalty. Team #USA should be kicked out of the #WorldCup2022."
3.
Paris 2024 ticket sale process to begin on 1 December
The procedure to buy Olympic Games tickets has often been complicated and irritating, something the Paris 2024 organizing committee is trying to fix. And it has at least partially succeeded with its Monday announcement of the ground rules for buying the first group of tickets, to be made available in February. According to Paris 2024:
"For the first time in Olympic history, tickets will be sold exclusively on a single, centralised and digital platform which will be open to all fans at the same time.
"Through this platform, nearly 10 million tickets will be available for the Olympic Games, with one million of these priced at just €24 and almost half priced at €50 or less for the general public. Paris 2024 is committed to accessible and affordable Games, and these ticket prices are available across the 32 sports on the Olympic Games programme that are for sale (with the exception of surfing which will not be sold)." (€1 = $1.03 today)
Sales will be made in stages, with only "ticket packs" sold between 13 February and 15 March 2023 and then individual tickets available from 11 May 2023. Both sales periods will require registration and a lottery:
● Pack sales: Buyers must register between 1 December 2022 and 31 January 2023 to get into a lottery for a time slot to buy tickets. Those selected will be scheduled for access to the ticketing site for a 48-hour period between 13 February and 15 March to buy tickets from three different sessions of sport, with up to six tickets per session. That's what you can buy, in a variety of price ranges, with 80% of all sessions available for this sale period.
The opening and closing ceremonies will not expected to be part of this sale, nor will some high-demand finals sessions.
● Single sales: The second phase will require a new lottery – from 15 March to 23 April – with those chosen being able to buy tickets in a designated time slot beginning on 11 May 2023.
An absolute maximum of 30 tickets for the Games will be allowed for each "account." Tickets for the Paralympic Games will go on sale in mid-2023.
4.
Vancouver 2030 bid still alive, at least as far as IOC is concerned
The Canadian-based GamesBids.com site reported Friday that despite having been shunned by the British Columbia provincial government for needed funding to stage a 2030 Olympic Winter Games, the Vancouver bid group, led by four First Nations, made a video presentation to the International Olympic Committee last week.
The Vancouver team met via Zoom with the IOC's Future Host Commission for the Olympic Winter Games, explaining their proposal for about an hour. But it is clear that the project cannot go forward without financial support from British Columbia, on which national government support for hosting the Games is contingent.
The Canadian Olympic Committee and Canadian Paralympic Committee have asked for further talks in a 21 November open letter to provincial officials, which included:
"[W]e expected the next step to be a face-to-face meeting with all parties to discuss the costs and benefits, priorities, and possibilities. The B.C. government has not yet given any of the parties, despite attempts by us and the Nations, an opportunity to have this discussion.
"We recognize the size, complexity, and expense of any project of this nature, and respect that the B.C. government has the right not to support projects for its own reasons. … We invite the Province, under the leadership of its new Premier, David Eby, to sit down with all parties and fully explore the potential of this project – together."
No response has been reported from Eby; per GamesBids.com:
"A poll released this week by Research Co. revealed that 57 percent across the province agree with [B.C. Tourism, Arts and Culture Minister Lisa] Beare's decision to essentially end the bid while only 29 percent oppose it."
5.
Kenya trying to stave off possible World Athletics suspension
Reuters reported last Friday that the Kenyan government has asked World Athletics not to suspend it in view of a rash of doping cases involving its athletes.
Kenya's Cabinet Secretary for Youth Affairs, Sports and the Arts, Ababu Namwamba, tweeted last week:
● "The government is taking firm measures to protect and uphold the integrity of athletics and sports in general. Our commitment is zero tolerance to doping."
● "We will not allow a few unethical criminal elements to soil Kenya's hard-earned premium pedigree as a top athletics nation that prides itself on competing and winning clean. We must defeat doping and its perpetrators."
● "I ascribe to Abraham Lincoln's wisdom of rather losing honorably than cheating. It's more honorable to lose than cheat."
In a statement, Namwamba noted that the Kenyan government has committed to additional anti-doping funding of $1 million per year for five years, but also:
"We are therefore alarmed and saddened by the increase in Kenyan athletes using doping agents, which has tragically resulted in the most unfortunate downgrading of Kenya's premium status and led to classification as a 'Category A' violator under the World Anti-Doping Rules in Athletics. This is despite the existing legal framework enacted to tame the doping vice."
He also reported on a message from World Athletics President Sebastian Coe (GBR), with Namwamba stating:
"In his communication to me this week, Coe praised the government's action and plan in the fight against the threat of doping.
"'I welcome the additional resources provided by the Government of Kenya in the fight against doping. The only way we can reduce the magnitude of this problem is the collective commitment of all sports stakeholders in Kenya.'"
Reuters stated that 55 Kenyans are currently banned and eight more provisionally suspended by the independent Athletics Integrity Unit. Kenya's The Standard reported in a 13 November story that the Anti-Doping Agency of Kenya (ADAK) has additionally sanctioned 22 athletes and nine other active cases, none of which had been made public, but the site posted the list.
Further, coach Noah Busienei said that bribes are paid to keep athlete names from being publicized. He was quoted:
"They give kickbacks so that an athlete cannot be named. Some athletes have been asked to pay Sh7 or Sh8 million [$57,166 to $65,333 U.S.] not to be named. Such athletes feign injuries or claim to be on maternity leave.
"It is shocking that an athlete wins a big race, makes good money and then proceeds on maternity leave while in top form. It is normally the other way around.
"Many managers are simply out to make money. Let us avoid these brokers handling our athletes. That is when we will have a lasting solution."
≡ FIFA WORLD CUP ≡
● Group G: Cameroon 3, Serbia 3 ● Monday's opening game was crazy, with three goals in each half and Cameroon coming back from a 3-1 deficit to get a tie (and a point).
Serbia had the best chances early, but Jean-Charles Castelletto scored for Cameroon in the 29th minute when a corner kick bounded off multiple heads and fell at his feet at the far right side of the goal.
But the Serbs responded with a goal in stoppage time as defender Strahinja Pavlovic headed in midfielder Dusan Tadic's free kick from about 35 yards out at 45+1 for the tie. Two minutes later, Cameroon failed to clear and midfielder Andrija Zivkovic passed to forward Sergej Milinkovic-Savic at the top of the box and his left-footed shot found the corner of the net for a 2-1 halftime lead.
Just eight minutes into the second half, Serbia went up 3-1 on a brilliant, four-pass sequence that finally saw Zivkovic set up striker Aleksandar Mitrovic for a right-footed laser right in front of goal that whizzed by keeper Devis Epassy in the 53rd.
But Cameroon was hardly fazed and although Vincent Aboubakar appeared to be offside on a long lead pass from Castelletto, his bounding ball over the head of Serbian keeper Vanja Milinkovic-Savic found the net in the 63rd to close the deficit to one; the goal was awarded only after a video review. Just three minutes later, Cameroon was on another fast break, with Aboubakar sending a pass to his left to Maxim Choupo-Moting who scored on a left-footed drive to tie the game!
Both sides continued to attack, but there was no more magic. Serbia ended with 59% of the possession and 15 shots to 13, but was left wondering about the offsides call on Aboubakar's goal.
● Group G: Brazil 1, Switzerland 0 ● A packed-in Swiss defense was going to make it difficult for Brazil to score, especially with playmaker Neymar out with an injury. The half ended 0-0, with the Brazilians frustrated and the Swiss making an occasional offensive foray. Brazil's Vinicius Junior had one excellent chance in the 27th minute, but it was saved by Swiss keeper Yann Sommer.
But the intensity increased in the second half and a breakaway run and goal by Vinicius Junior in the 64th minute was wiped out for a video review which showed striker Richarlison was offsides at the start of the play.
Brazil kept coming and Richarlison had a chance on a tight angle at the corner of the Swiss goal in the 72nd minute that was blocked and a Bruno Guimaraes blast in the 81st was saved. But substitute midfielder Rodrygo fed star midfielder Casemiro in the middle of the box in the 83rd and he sent a line drive into the far right side of the net for the only goal of the game.
The Brazilian defense kept the Swiss without a shot the rest of the way and ended with 54% of the possession and 13 shots to six for Switzerland (which had none on goal).
● Group H: Ghana 3, South Korea 2 ● This was a furiously-played match, with Ghana seemingly in control, but the Koreans fighting back, right to the final whistle. Forward Jordan Ayew's free kick in the 24th minute found defender Mohammed Salisu in the box for a turnaround strike and a goal, and Ghana got a second as Ayew sent a ball into the box that was headed in by forward Mohammed Kudus in the 34th.
The Koreans regrouped at the half and came out with a ferocious attack and almost scored in the 53rd on a Gue-sung Cho header that was saved, but Cho connected on midfielder Kang-in Lee's cross to the front of goal in the 58th to cut the deficit to 2-1. Then defender Jin-su Kim saved a ball going out of bounds at the endline and sent a perfect cross into the box that Cho found again to tie the game in the 61st!
Ghana fought back and pressured the South Korean goal, with Inaki Williams missing the net in the 68th, then Ayew sent a cross into the box that Williams missed and Kudus smashed from the right side of goal and into the net for a 3-2 lead. Korea came back again and again, even through 10 minutes of stoppage time, but could not score again. The Koreans ended with 63% of possession and a 22-7 advantage in shots, but it didn't help. Ghana won its first World Cup match since 2010.
● Group H: Portugal 2, Uruguay 0 ● Uruguay also packed in the defense, focusing on superstar striker Cristiano Ronaldo and held the Portuguese scoreless through the first half. Portugal had excellent ball possession in the second half and a turn-and-shoot by attacking midfielder Bruno Fernandes from the left side of the box in the 54th minute lofted its way toward the Uruguay and appeared to graze Ronaldo's head for a 1-0 lead, but the goal was eventually credited to Fernandes instead.
Uruguay pushed hard on offense, but the Portuguese defense would not yield, although Uruguay striker Edinson Cavani got close in the 58th and forward Maximiliano Gomez hit the post from long distance in the 75th. As time wound down, Portuguese ball control was excellent, with continued pressure on the Uruguayan goal.
Fernandes was on the attack again and as Uruguayan defender Jose Gimenez fell backwards, he touched the ball with his hand – in the box – which turned into a penalty shot after video review. Fernandes buried the penalty for his second goal and the 2-0 final. Portugal had 60% of possession and a 15-11 edge on shots.
A fan ran onto the field with a rainbow flag and a T-shirt that said "respect for Iranian women" and "save Ukraine," but was quickly removed.
≡ PANORAMA ≡
● Olympic Games 2020: Tokyo ● The Hakuhodo advertising agency – the second-largest in Japan – as well as the smaller Tokyu Agency and event producers Same Two Inc. and Fuji Creative Corporation had their offices searched on Monday as part of the expanding Tokyo 2020 bribery and bid-rigging scandal.
Nine companies – including these four – and a consortium were awarded contracts to produce test events for the Tokyo 2020 organizing committee and then to manage one or more venues during the Games, with a total contracted value of at least ¥20 billion (about $143.56 million U.S. today). So far, the country's three largest ad agencies have all been searched.
● Pan American Games ● Pan Am Sports announced Monday that Asuncion (PAR) will host the 2025 Junior Pan Am Games. The Pan Am Sports Extraordinary General Assembly voted for Asuncion over Santa Maria (COL) by 32-16.
● Athletics ● The Jamaican sprint great Asafa Powell announced his retirement following his 40th birthday on 23 November. He preceded Usain Bolt's rise to fame and set or tied the 100 m world record four times from 2005-07, first lowering the mark to 9.77, then running 9.77 twice more in 2006 before a 9.74 mark at Rieti (ITA) in 2007.
Powell won an Olympic gold on the Jamaican 4×100 m relay in 2016 and World Championships golds in the 4×1 in 2009 and 2015. His best individual finishes were bronzes in the men's 100 m at the 2007 and 2009 Worlds and he finished fifth (2004), fifth (2008) and seventh (2012) in three Olympic finals.
He had an amazing 98 races in which he ran 9.99 or better with legal wind, the most in history, plus six more that were wind-aided. His first came in 2004 and his last in 2016. He continued competing into 2021, with his last recorded 100 m race a second-place finish in 10.07 at a meet in Clermont, Florida in May.
● Boxing ● The International Boxing Association announced a "collaboration agreement" with the World Boxing Association, headed by Panamanian Gilberto Jesus Mendoza, Jr. The statement included:
"The agreement includes cooperation in the development of amateur athletes and their integration into professional boxing through specific programs.
"The parties aim to create single regulations for amateur and professional boxing including boxers' medical safety and well-being management, coaches' development, and accordance with technical and competition rules."
● Fencing ● The International Fencing Federation (FIE), meeting on Saturday in Lausanne (SUI), voted 104-30 (with one abstention) to continue the ban on Russian and Belarusian fencers in all FIE competitions. The next opportunity to consider the matter again will come in March of 2023.
● Football ● With alcoholic beverages illegal in public spaces in Qatar – including during the World Cup – police and security officers have their hands full. One told the Russian news agency TASS about smuggling efforts:
"Attempts occur at almost every match. Fans are attempting to use hidden flasks in binoculars, telephone chargers and musical instruments. They also pour alcohol into bottles from other beverages. We are working attentively nevertheless."
¶
Monday's news conference with the U.S. men's team in Qatar was dominated by questions from Iranian media, many apparently pro-government. Captain Tyler Adams was asked, "are you okay to be representing the U.S., meanwhile, there's so much discrimination happening against Black people in America?"
Adams gave an impressive reply, including:
"There's discrimination everywhere you go. One thing that I've learned, especially from living abroad in the past years, and having to fit in in different cultures and kind of assimilate into different cultures, is that in the U.S., we're continuing to make progress every single day. Growing up for me, I grew up in a white family with obviously an African-American heritage and background as well.
"So I had a little bit of different cultures. And I was very, very easily able to assimilate in different cultures. So not everyone has that ease and the ability to do that. And obviously, it takes longer to understand and through education, I think it's super important, like you just educated me now on the pronunciation of your country. So yeah, it's a process, I think as long as you see progress, that's the most important thing."
¶
Mark Dreyer, who writes about sports in China, tweeted over the weekend:
● "This is amazing. Due to the backlash from Chinese fans seeing unmasked crowds in Qatar, Chinese TV is now replacing live crowds shots during games and instead cutting to close-ups of players and coaches."
● "I literally just spent the past two hours watching parallel feeds of the Brazil-Switzerland game and there were FORTY-TWO times where CCTV avoided showing crowd/fan close-ups. I saw ONE crowd close-up on CCTV (of former Brazilian players) at the start of the game. That's it."
This is possible as right-holding broadcasters have a choice of multiple feeds to choose from to show to their home audiences.
● Shooting ● In 2018, Russian billionaire Vladimir Lisin won the International Sport Shooting Federation (ISSF) presidency by a 148-144 vote against Italy's Luciano Rossi in a testy campaign in which Rossi said death threats were made against him.
At the same General Assembly meeting, ex-Russian and now German citizen Alexander Ratner was elected as Secretary General.
Now, Lisin and Rossi are both candidates for the ISSF Presidency once again at Wednesday's General Assembly in Sharm El Sheikh (EGY), with Ratner sending a remarkable message to the national federations, which was also posted in three languages on the ISSF Web site.
Rather than playing a neutral role, Ratner offered his personal views on the election, praising Lisin for introducing new competition formats, and "[o]rganizing and sponsoring final tournaments for the athletes with prize money coming from his personal means" and
"Much attention has been paid to development. The President, as promised, created a multimillion dollar-Fund based on his own funds. 93 national federations from all continents, including 42 European ones, were among the beneficiaries of the Fund's programs."
As for Rossi, Ratner recalled his ethics suspension in 2017 for conflicts of interest and claimed that Rossi advanced no proposals or innovations in 20 years as a member of the ISSF Executive Committee. He then sneers:
"[I]t should be noted with disgust that Mr. Rossi decided to politically instrumentalize the dramatic and tragic events in Ukraine for his personal benefit by spreading false allegations and at the same time ignoring both ISSF's exemplary way to implement the IOC recommendations and President Lisin's well-known anti-war position. This cannot remain unanswered. …
"Mr. Rossi … chose to discredit a candidate based on nationality while also degrading to fabricated slander."
Observed: Is this the proper role for an International Federation Secretary General, sent six days prior to the federation's General Assembly? It may or may not help Lisin in the short run with the forthcoming election, but calls into question the ISSF's own election regulations.
¶
You can receive our exclusive TSX Report by e-mail by clicking here. You can also refer a friend by clicking here, and can donate here to keep this site going.
For our updated, 951-event International Sports Calendar for 2022-23 and beyond, by date and by sport, click here!