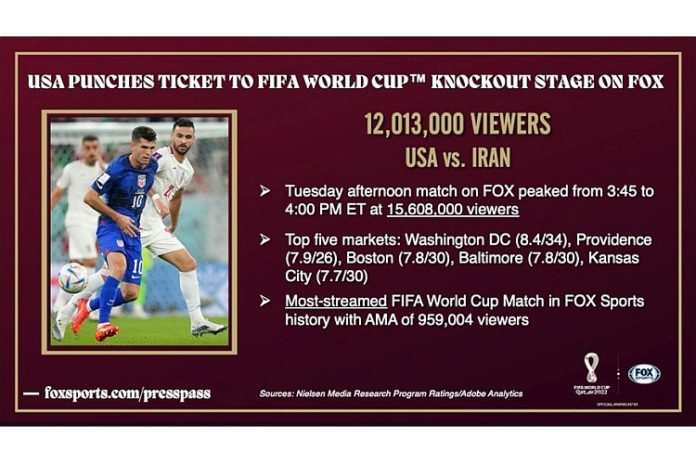 ★ The Sports Examiner: Chronicling the key competitive, economic and political forces shaping elite sport and the Olympic Movement. ★
★ Want TheSportsExaminer.com insights for your team? Yes! Click here for info on speaking, research and consulting from editor Rich Perelman. ★
★ To get The Sports Examiner by e-mail: sign up here! ★
≡ THE 5-RING CIRCUS ≡
1. Argentina up from the dead, move on with France, Australia, Poland
2. FOX averaging 4.88 million viewers in World Cup's first week
3. Russia on road to World Athletics reinstatement, maybe
4. Italy's Rossi defeats Russia's Lisin for ISSF Presidency
5. BCW survey finds "dialogue" preferred to elections of event hosts
The drama continues to build at the FIFA World Cup, as Argentina came back from losing a shocker to Saudi Arabia to win its group, while Mexico beat the Saudis, but came up a goal short of advancing. France and Australia advanced from Group D. The World Cup audience in the U.S. has been quite good, with FOX averaging 4.88 million on its telecasts, FS1 at more than 1.5 million and Telemundo at about 2.5 million. The U.S. games are outdrawing everything outside of the NFL. The World Athletics Council heard a positive report from its Russia Task Force that reforms are taking hold and a recommendation to end the seven-year suspension could come in March. But the ban over the war in Ukraine remains. At the International Shooting Sports Federation Congress in Egypt, Italian Luciano Rossi edged Russian billionaire Vladimir Lisin for president, by nine votes, removing the last Russian leader of an International Federation. A survey of 100 cities involved in bidding for major events showed that 56% preferred the new, less costly "dialogue" method of selection compared to direct elections.
1.
Argentina up from the dead, move on with
France, Australia, Poland
Superstar Lionel Messi and Argentina looked like they might be dead at the 2022 World Cup after a come-from-ahead, 2-1 loss to Saudi Arabia on the third day of the tournament. But in its following two games, it shut down Mexico and Poland by a combined 4-0 score and won Group C with six points.
Mexico, which had scored no goals in the tournament, stormed past Saudi Arabia, 2-1, and looked like it would score perhaps a half-dozen times. But the late Saudi goal at 90+5 kept them from advancing on goal differential, -1 to 0 against Poland.
In Group D, France rested some of its top players for most of the game against Tunisia, and lost by 1-0 on a 58th-minute goal by Wahbi Khazri and a stout defense against a frantic French attack in the final minutes.
Australia overcame a surprisingly weak Denmark team – ranked no. 10 in the world coming in – and won by 1-0, with Matthew Leckie scoring in the 60th minute. The Danes managed just one goal in their three games.
On Thursday, Spain (1-0-1: four points) will face Japan (1-1: 3) in Group E, along with Costa Rica (1-1: 3) vs. Germany (0-1-1: 1). In Group F, the very disappointing, no. 2-ranked Belgians (1-1: 3) – who have scored one goal thus far – will play Croatia (1-0-1: 4) and need to win to advance. Morocco (1-0-1: 4) will play winless Canada (0-2: 0 and one goal so far), probably needing to win to move on.
The final group matches will be played Friday, with the elimination round starting on Saturday.
2.
FOX averaging 4.88 million viewers in World Cup's first week
The U.S. audience is strong for the FIFA World Cup, with FOX, FS1 and Telemundo all showing good ratings for the first full week of the tournament:
● 4.88 million average for 12 matches on FOX (English)
● 1.57 million average for 16 matches on FS1 (English)
● 2.57 million average for 24 matches on Telemundo (Spanish)
(The Telemundo figure is somewhat overstated due to a lack of information for the four matches that aired at 5 a.m. Eastern time.)
The U.S. team is, of course, the most popular attraction, with FOX figures available for the final group match with Iran:
● 21 Nov.: 11.161 million vs. Wales (combined)
● 25 Nov.: 20.090 million vs. England (combined)
● 29 Nov.: 12.013 million vs. Iran (FOX only)
The FOX audience for U.S.-Iran peaked at 15.6 million in the final moments, when the U.S. was hanging onto a 1-0 lead. The three American matches on FOX averaged 11.755 million, which beats just about everything except the NFL (although Michigan at Ohio State drew 17.14 million on Saturday the 26th, also on FOX).
The other big draw, of course, was Mexico, especially on Telemundo. Its first match against Poland drew 4.6 million total on Telemundo (3.509 million on FOX) and 8.9 million against Argentina (4.132 million on FS1). That's 13.03 million for the Argentina game combined!
The next favorite is Brazil, which drew a mammoth audience on Thanksgiving of 6.187 million against Serbia at 2 p.m. Eastern on FOX and 5.7 million on Telemundo for a combined 12.88 million.
¶
Skiing and skating were also on this past week, with 825,000 watching Sunday's highlights package from the ISU Grand Prix in Espoo (FIN) on NBC.
The early-season FIS Alpine World Cup races for women from Killington, Vermont drew a respectable 594,000 on Saturday on NBC and 488,000 on Sunday.
3.
Russia on road to World Athletics reinstatement, maybe
On Wednesday, the World Athletics Council heard the latest report from the Russian Task Force head by Rune Andersen (NOR), which was encouraged by the latest actions of the All-Russia Athletics Federation. The Task Force report noted:
● "In October/November 2022, an independent audit was carried out of RusAF's progress against the requirements in the Reinstatement Plan approved by Council in March 2021. RusAF passed that audit, subject to taking two remedial measures …"
● "Under Acting President Irina Privalova, the current RusAF leadership team has embedded a new culture of good governance and zero tolerance for doping throughout the organisation."
● "Following positive changes at senior leadership level, RUSADA also appears to be working effectively at an operational level. In particular, it has developed a test distribution plan that includes more than 2,000 domestic tests of Russian track & field athletes per year, most of which are out-of-competition tests."
● "The Taskforce is not naive, however. It acknowledges that widespread and sustainable cultural change will likely take many years to embed, and regions and stakeholders will inevitably proceed at different paces and with different degrees of support for that change. Furthermore, RusAF remains subject to the oversight and control of the Russian Government, and the Taskforce notes with concern the decision of the RUSADA disciplinary commission not to publish its findings in the case of ice-skater Kamila Valieva, which indicates that not all parts of the domestic anti-doping framework are operating as robustly and independently as they should."
The Task Force expects to make a final recommendation concerning Russia in March 2023, and a plan is in place for the Athletics Integrity Unit to take over the Task Force's responsibilities, with a full-time staff working in the Russian federation's offices in Moscow. It also notes, however, that any significant future breach of the post-reinstatement conditions "will trigger a Council proposal that Congress expels RusAF permanently from membership of World Athletics."
That's the good news for Russia, which has been on suspension by World Athletics since 2015. On the other hand, the report also stated:
"In March 2022, in response to the invasion of Ukraine, Council decided to exclude Russian and Belarussian athletes, support personnel and officials from World Athletics Series events until further notice, but said that the Taskforce should nevertheless continue its work monitoring and overseeing RusAF's attempts to meet the reinstatement conditions. The Taskforce reminds Council that the Taskforce's consideration of progress of the reinstatement plan has no bearing on any Council decision on RusAF arising from the war in Ukraine."
A discussion on the doping situation in Kenya took place, but no action was taken against Athletics Kenya in view of the commitment of $5 million by the government to help stem the tide of cases.
An information session was held on the ongoing revision of the World Athletics regulations for athletes with Differences in Sex Development and for Transgender athletes. A revised set of regulations will be offered for Council approval next March.
¶
The Council also assigned the World Athletics Relays to its original host, Nassau (BAH) for 2024, a meet with significant qualifying implications for the 2024 Olympic Games in Paris.
4.
Italy's Rossi defeats Russia's Lisin for ISSF Presidency
The last Russian head of an Olympic International Federation was defeated in his bid for a second term as President of the International Shooting Sports Federation at the ISSF Congress in Sharm El Sheikh, Egypt, on Wednesday.
Italian Luciano Rossi, who had lost by four votes (148-144) in 2018, defeated incumbent Vladimir Lisin of Russia, by 136-127.
Said Rossi, "I am naturally delighted with this result. Certainly with this result today my determination and passion for the sport of shooting is rewarded.
"I thank everyone, in particular my family and those who enthusiastically voted for me. But I also thank those who did not vote for me because I truly intend to be everyone's President for the relaunch of our sport and for the democratic management of the International Federation."
Lisin, a billionaire, had contributed millions to the ISSF himself, but the federation remained divided on his leadership. He was the only Russian to head an Olympic-program IF, as fellow billionaire Alisher Usmanov had previously "stepped back" from his role as elected head of the International Fencing Federation (FIE).
ISSF Secretary General Alexander Ratner, a former Russian and now German citizen, had written and circulated a letter in three languages last week harshly criticizing Rossi and supporting Lisin in the election, is expected to be replaced during Thursday's session.
American star Kimberly Rhode, who won medals in six straight Olympic Games in trap and skeet, was elected as one of four ISSF Vice Presidents.
5.
BCW survey finds "dialogue" preferred to elections of event hosts
Is the new "dialogue" style of sports-event bidding better or worse than straight-out competitive elections? The communications giant Burson Cohn & Wolfe asked that question of 100 worldwide cities (no breakdown was given as to countries) involved in bids today.
The direct question between "dialogue" and elections was fairly clear, with 56% preferring the "dialogue" style to 31% who liked elections and the remainder having no preference. One voter commented, "A transparent, constant dialogue is always preferable. But this can be placed in a traditional bidding context as well."
The main benefit of the "dialogue" system was the ability to interact – instead of just react – with the rights holder, with 32% noting the opportunity to influence the event requirements and 32% appreciating the learning curve possible in such a system. The lowered cost was favored by 24% and 11% noted that losing was not made public.
The positives of elections were "Transparency in the decision-making process" for 31% and "Clear timeline for the process" for 29%. Said one respondent, "Traditional bidding process has the benefit of 'keeping everyone honest' but history is littered with many examples where this has not been the case."
Asked whether your city missed out on bidding for an event because it did not know about the process, 66% said "Never" or "Rarely" and 20% did not know. Only 14% were asleep.
Winning a competitive bid does generate more attention to the event for 64% of the respondents, with one commenting "Excitement is generated by the act of winning a competitive bid because it is a sign that other cities also value the event."
≡ FIFA WORLD CUP ≡
● Group C: Argentina 2, Poland 0 ● A draw would suit Poland fine, but the Argentines were in possession and had six shots in the first 30 minutes.
And it looked good for Argentina when a penalty was called on Polish keeper Wojciech Szczesny against superstar striker Lionel Messi. But Messi's hard shot to his right in the 39th minute was punched away cleanly by Szczesny, his second saved penalty in the tournament thus far! The half ended scoreless, with Argentina leading on shots, 12-2, and with 66% of possession.
The second half started the same way, with Argentina on offense and just a minute in, midfielder Alexis MacAllister sent a right-footed blast into the Polish net off defender Nahuel Molina's cross for a 1-0 lead.
Argentina kept up the pressure and in the 67th, forward Julian Alvarez got a goal from the center of the box off a through-ball by midfielder Enzo Fernandez to increase the lead to 2-0. At that point, Argentina had 19 shots to Poland's 4.
Poland's only answer was the continued brilliance of Szczesny, who saved 11 shots as Argentina piled up a 23-4 shots edge and had 73% possession for the game. Losing by 2-0 proved to be enough for Poland to get to the elimination stage for the first time since 1986.
For Argentina, one of the pre-tournament favorites, they survived their shocking first-game loss to the Saudis, convincingly defeating Mexico and Poland by 2-0 scores. They are still very, very dangerous.
● Group C: Mexico 2, Saudi Arabia 1 ● Mexico needed to win to advance out of the group, which it had done in its past seven World Cup appearances from 1990-2018, but had not yet scored a goal in its two games. And they were on offense right away, generating shots by midfielder Luis Chavez (2), and forwards Alexis Vega, Orbelin Pineda and Hirving Lozano in the first half-hour, while controlling 71% of possession.
Mexico dominated the half, with 69% of possession and a 11-4 shots advantage, but nothing on the scoreboard. The second half started with more Mexican fireworks, with more shots at the Saudi goal and off a corner, defender Cesar Montes flicked the ball toward the front of the goal and striker Henry Martin kicked it in for a 1-0 lead in the 47th.
Then, suddenly, Chavez sent a curving free kick off the wall from 30 yards out and into the corner of the net in the 52nd minute for his first-ever international goal; 2-0! Lozano scored again in the 56th, but was offsides and the game remained, 2-0.
The Saudis needed to at least tie the game to advance, but the Mexican offensive avalanche continued, up 17-8 in shots and 7-1 in shots-on-goal by the 70th minute. There was no let-up, with Uriel Antuna's goal in the 87th was called back for offsides.
But Mexico could not get a third goal, despite an unrelenting offensive push that ended with 26 shots to 10 and 61% of possession. But a late defensive breakdown allowed a give-and-go with midfielders Salem Al-Dawsari and Hattan Bahbri that ended with a Al-Dawsari goal at 90+5 that made the final 2-1.
That late goal turned out to be the difference, as both Poland and Mexico finished with 1-1-1 records and four points, but Poland had a goal differential of zero to minus-one for the Mexicans.
● Group D: Tunisia 1, France 0 ● The French were already through to the Round of 16 after winning their first two games, but although dominating play, were unable to score and lost on Wahbi Khazri's goal in the 58th minute.
Tunisia actually scored in the eighth minute on a header by defender Nader Ghandri, but he was offside and the first half ended scoreless. Khazri, who was born in France, dribbled the ball down the middle, got just inside the box and sent a left-footed, skipping shot straight to the right corner of the French goal for a 1-0 lead.
France rested some of its stars, but many of them came in past the 60-minute mark and its attack became more focused. But they could not score against the packed-in Tunisian defense.
However, midfielder Antoine Griezmann appeared to tie the game at 90+8, but was offsides as the ball was played in, preserving the shutout and giving the Tunisians an emotional win.
France had 66% of the possession and led in shots, 10-5, but ended up winning the group at 2-1 and six points.
● Group D: Australia 1, Denmark 0 ● After a tie and a loss, Denmark needed a win to advance out of the group but Australia (1-1) might have been able to get through with a draw.
The Danes, the Euro 2020 semi-finalists and ranked no. 10 worldwide, were on the ball in the first half and had 65% of possession and a couple of shots on goal, keeping Aussie keeper Mathew Ryan busy. But it was 0-0 until Australian midfielder Matthew Leckie took a long lead pass from striker Riley McGree in the middle of the field, dribbled inside, reversed, then sent a low line-drive from left to right into the far corner of the Danish net in the 60th for a 1-0 lead.
As the game went on, Denmark got weaker and could not mount a serious challenge for the tie, despite ending with 69% of possession and a 13-8 edge in shots. The 1-0 win propels Australia into the Round of 16 with six points (2-1), while the Danes scored one goal in three matches and ended 0-2-1 (W-L-T).
The Danes wore their red home jerseys and did not bring out their highly-publicized, black "color of mourning" jerseys to highlight their concerns over migrant labor conditions in Qatar. Denmark was perhaps the most strident team in the tournament in highlighting Qatar's labor policies, but are now – to their amazement, no doubt – on the way home.
≡ PANORAMA ≡
● Basketball ● The Class of 2022 was inducted into the FIBA Hall of Fame at a ceremony at the FIBA headquarters in Mies (SUI) on Wednesday. Nine individuals from women's basketball were inducted as part of a focus on the women's game, including two Americans: star center Lisa Leslie and University of Connecticut and U.S. Olympic Team coach Geno Auriemma.
The other inductees include players Robin Maher (AUS), Catarina Pollini (ITA), Jurgita Streimikyte-Virbickiene (LTU) and Mame Maty Mbengue (SEN), and coaches Antonio Carlos Barbosa (BRA), the late Milan "Ciga" Vasojevic (SRB) and Maria Planas (ESP).
● Football ● One of the stories of the 2022 FIFA World Cup has been the stunning expansion of stoppage time, in some cases to 11-12 minutes beyond the normal 45 minutes of each half. FIFA Referees Committee chair Pierluigi Collina (ITA) explained that actual playing time had decreased to perhaps 50 minutes – out of 90-plus – in matches at the 2018 World Cup in Russia:
"If we look back at Russia, the average amount of stoppage time was six and a half minutes.
"There was a maximum of six substitutions there compared to the ten we have now, and if we adapt that accordingly with the four extra substitutions, we can assume one extra minute. So we've gone from the equivalent of seven and a half minutes in Russia to ten minutes in Qatar, which is not a dramatic change, but it offers us the possibility to have an average of almost 59 minutes of actual playing time. We're quite happy with this result."
● Swimming ● The four-day, long-course U.S. Open began on Wednesday in Greensboro, North Carolina, with Freestyle superstar Katie Ledecky easily taking the women's 800 m Free on opening night in 8:13.90, the no. 7 performance of the year (she has five of the top six). She won by 23.99 seconds over fellow American Michaela Mattes (8:37.89).
Brazil's Guilherme Costa won the men's 800 m Free in 7:54.10, well off his seasonal best of 7:46.90. The meet continues through Saturday.
¶
You can receive our exclusive TSX Report by e-mail by clicking here. You can also refer a friend by clicking here, and can donate here to keep this site going.
For our updated, 951-event International Sports Calendar for 2022-23 and beyond, by date and by sport, click here!