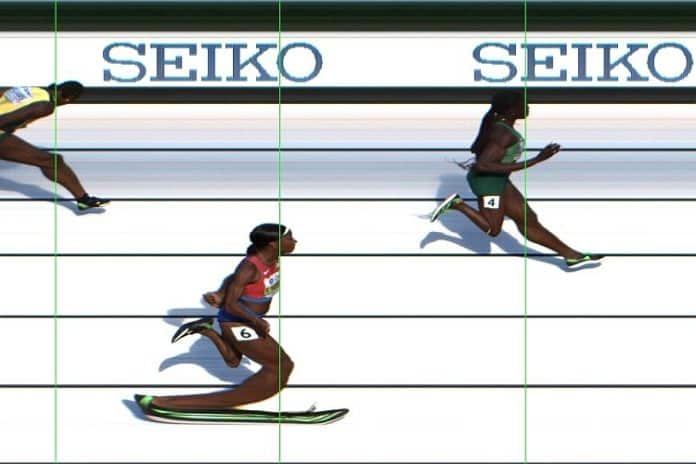 ★ The Sports Examiner: Surveying, monitoring and explaining the key competitive, economic and political forces shaping elite sport and the Olympic Movement. This site is free to view, with donations gratefully accepted to support our operating costs.
Comments? Click here. ★
★ Get The Sports Examiner by e-mail: sign up here! ★
≡ WORLD ATHLETICS CHAMPIONSHIPS ≡
Session 16 ~ Sunday, 24 July 2022
The final session of the 2022 World Athletics Championships at a sold-out Hayward Field in Eugene was hot – 89 F at the start – and started with a world record in the women's 100 m hurdles! From there, it got better!
No one expected to see a world mark from Nigeria's Tobi Amusan, but a world record from Sweden's Mondo Duplantis was widely hoped. And once again, the U.S. showed its power by winning three events on the day and finishing with more medals than any nation has ever won before. Here's what happened:
● Women/100 m hurdles ● A bolt of lightning from the first race of the evening session as Nigeria's Amusan got out well and ran perfectly in semi one, moving ahead of world-record holder Keni Harrison of the U.S. and flying to the line … in a world record of 12.12!
The wind was legal at +0.9 m/s and she displaced Harrison as the fastest ever (12.20 in 2016). Harrison was second in 12.27, the no. 4 performance in U.S. history and 2015 World Champion Danielle Williams (JAM) was third in 12.41.
There were still two semis to go, and semi two was a three-way fight with Alia Armstrong of the U.S., Devynne Charlton (BAH) and Olympic bronze medalist Megan Tapper (JAM), finishing 1-2-3 in 12.43-12.46-12.52 (-0.1), with lifetime bests for all three! Tokyo Olympic finalist Britany Anderson (JAM) got a lifetime best and national record of 12.31 (+0.3) to beat Olympic champ Jasmine Camacho-Quinn (PUR: 12.32) in semi three. Wow: a world record and the four fastest times of the year in the semis!
The final came at 7 p.m., with Harrison in three, Amusan in four and Anderson in five and Camacho-Quinn in an unexpected lane seven. Off the gun, Armstrong got the best start and was over the hurdles first, with Anderson and Amusan both pressing for the lead. By hurdle five, Amusan was on the gas and moving away from the field, winning in the fastest time ever run, a wind-aided 12.06 (+2.5 m/s). There was no doubt.
Anderson was second for most of the last half of the race, with Armstrong third, but Camacho-Quinn moved hard over the last three hurdles and was barely third, with Anderson and Camacho-Quinn both timing 12.24w.
Anderson was fourth in 12.31w, and Harrison, pressing hard, hit a hurdle and stopped.
Amusan had always been the one to be disappointed, finishing fourth at the 2019 Worlds in Doha and the 2020 Olympic Games in Tokyo. Not any more: she is the World Champion and the world-record holder, worth $170,000 in prize money.
● Men/Pole Vault ● The serious jumping started at 5.87 m (19-3), with Rio 2016 gold medalist Thiago Braz and Ernest John Obiena (PHI) clearing right away, but Olympic champ Duplantis and Olympic silver winner Chris Nilsen (USA) both missed.
Nilsen was way over on his second try, as did Duplantis, 2012 Olympic winner Renaud Lavillenie (FRA) and Oleg Zernikel (GER), who scored a lifetime best; those six were in the fight for medals.
At 5.94 m (19-5 3/4), the medalists were decided, Duplantis and Nilsen both cleared right away, with Obiena over on his second try. Braz missed twice, then missed once at 6.00 m (19-8 1/4) and ended up fourth. Zernikel was fifth and Lavillenie sixth.
At 6.00 m, Nilsen and Obiena both missed three times, while Duplantis cleared brilliantly and the medal standings were determined. At 6.06 m (19-10 1/2), Duplantis was over easily, and asked for the bar to go to an absolute world record of 6.21 m (20-4 1/2).
The first try missed. But Duplantis, jumping after the women's 4×400 m and the last athlete to compete in the World Championships, cleared majestically for the second world mark of the day and third of the Championships. He jumped out of the pit, sprinted down the backstraight and did a somersault as the crowd applauded.
Like Amusan, he will collect $170,000 for winning and for the world mark. The best-possible – even if hoped for or even expected – end to the meet.
● Men/5,000 m ● World-record holder Joshua Cheptegei (UGA) decided to set an honest pace and led through laps of 62.05, 63.19 and 62.73 , giving way to Kenya's Jacob Krop. He took the lead with nine laps left, with teammates Nicholas Kipkorir and Daniel Ebenyo, who slowed the pace to 65.12 and 64.79 and the race bunched up and Cheptegei allowed it, passing 3,000 m in 8:04.51.
The field stayed together, with no attacks, and Norway's 1,500 m runner-up Jakob Ingebrigtsen took the lead with two laps to go and nine in contention. Ingebrigtsen continued to lead and took the bell in front of Kipkorir, Krop, Grant Fisher of the U.S. and Cheptegei.
The top three remained that way through 4,800 m and around the bend came Canada's Moh Ahmed to pressure Fisher, who appeared to step on the rail with his left foot and almost fell down, losing his momentum and a shot at a medal. Into the last 100 m, Ingebrigtsen moved away from Krop to win in 13:09.24 to 13:09.98, Uganda's Oscar Chelimo racing past everyone else for bronze in 13:10.20. Ahmed was fifth in 13:10.46, Fisher recovered for sixth in 13:11.65 and Abdi Nur of the U.S. was 11th in 13:18.05
Redemption for Ingebrigtsen, the Olympic 1,500 m champion, who was upset earlier in the week, but proved he had both the pacing and sprint skills to win at 5,000 m.
● Women/800 m ● A brilliant field, with the Olympic gold and silver winners in Athing Mu (USA) and Kelly Hodgkinson (GBR). But it was Ethiopia's Diribe Welteji taking the lead over Mu after 200 m and holding the lead at the bell at 57.11.
There were a half-dozen in contention around the turn, but Mu moved hard at 500 m and Hodgkinson went with her with Kenyan Mary Moraa and Welteji giving chase. In the straight, it was Mu leading, but Hodgkinson moving hard on the inside and trying to pass. But Mu gave no quarter, stayed calm and pushed to the line, winning in an emotional and world-leading 1:56.30-1:56.38.
Moraa and Welteji stayed 3-4 in 1:56.71 and 1:57.02. Americans Raevyn Rogers and Ajee Wilson never challenged for the medals and ended up sixth and eighth in 1:58.26 and 2:00.19.
● Women/Long Jump ● Olympic champ Malaika Mihambo (GER) fouled on her first two jumps, but came through in round three to take the lead at 6.98 m (22-10 3/4), but was immediately passed by Nigeria's Ese Brume, out to a seasonal best of 7.02 m (23-0 1/2).
No concern for Mihambo, who responded in round three with 7.09 m (23-3 1/4) to re-take the lead. Behind the top two were Brazil's Leticia Oro Melo with a lifetime best of 6.89 m (22-7 1/4) in round one and American Quanesha Burks, who also got a seasonal best at 6.88 m (22-7), with two more behind her at 6.87 m (22-6 1/2).
That was the order right to the end, as no one improved … until Mihambo on the final jump of the event, reaching 7.12 m (23-4 1/2) for her final, winning mark. That's the Olympic and world title for the German in consecutive years; Brume was third in Doha in 2019 and scored the Olympic bronze last year, but moved up to silver.
American Tiffany Flynn jumped 6.48 m (21-3 1/4) and was 12th.
● Men/Decathlon ● The second day began with a 110 m hurdles win for Canada's Pierce LePage in 13.78, ahead of first-day leader Ayden Owens-Delerme (PUR: 13.88), and Daniel Golubovic (AUS) and world-record holder Kevin Mayer (FRA), both in 13.92. Americans Kyle Garland and Zach Ziemek were seventh and 13th in 14.18 and 14.47. Steve Bastien was 16th in 14.75.
Czech Jiri Sykora won the discus at 54.39 m (178-5), followed by Lindon Victor (GRN: 53.92 m/176-11) and LePage at 53.26 m (174-9), a lifetime best! That gave the lead back at LePage, at 6,427, with Owens-Delerme second (6,309) and Ziemek third (6,221).
The pole vault started in 77 F temperatures, but Mayer and Ziemek both got seasonal bests of 5.40 m (17-8 1/2) to lead the field. LePage managed 5.00 m (16-4 3/4) and maintained the lead at 7,337 to 7,256 for Ziemek and 7,251 for Mayer. Garland cleared only 4.60 m (15-1: 6,930 for 7th) and Bastien did 4.70 m (15-5: 6,589 for 16th).
Mayer kept climbing in the javelin, reaching 70.31 m (230-8) for 894 points, moving into the lead, while Ziemek got a lifetime best of 62.18 m (204-0). Niklas Kaul (GER) was next-best at 69.74 m (228-10) and Victor reached 66.20 m (217-2).
The 1,500 m started with Mayer at 8,145, LePage at 8,038 and Ziemek at 8,027; Victor was well back at 7,838. Owens-Delerme won the race in a lifetime best of 4:13.02 and Mayer ran home in 10th and LePage had enough to finish ahead of Ziemek to clinch the silver, 4:42.77 to 4:44.97.
Mayer finished at 8,816, ahead of LePage (8,701 lifetime best), Ziemek (8,676 lifetime best) and Owens-Delerme (8,532 lifetime best). American Kyle Garland finished at 8,133 for 11th and Steve Bastien was 16th at 7,939.
Mayer, 30, battling injuries, has only contested one decathlon in each of the last four years, failing to finish at the 2019 Worlds and winning silver in Tokyo last year. Now he has won his second world title, after his victory in 2017.
● Men/35 km Walk ● The 6:15 a.m. start saw 50 men begin the first World Athletics Championships 35 km walk in sunny and cool conditions at 52 F. And from the very first steps, it was Japan's Daisuke Matsunaga who had a big lead.
The Rio 20 km seventh-placer in 2016, he was up by 48 seconds at 5 km and 1:03 ahead by 13 km. But led by Sweden's 2019 and 2022 20 km bronze medalist Perseus Karlstrom, the pack caught up and passed Matsunaga after 20 km. A lead group of seven pushed ahead and it became clear the medalists would come from those athletes, including Italy's Tokyo 2020 20 km gold medalist Massimo Stano and Japan's Masatora Kawano, the 2022 world leader at 2:26:40.
By 30 km, the lead group was down to five, with China's Xianghong He dropped soon afterwards. Ecuador's Brian Pintado fell back after 32 km, with Stano continuing to press the pace over Kawano and Karlstrom.
Stano was relentless, churning out kilometers after 30 km of 4:03, 4:04, 4:00 and 3:53 at 34 km to drop Karlstrom and forge a lead over Kawano, who was straining badly and received two warnings.
Stano took a 5 m lead over Kawano right after the bell and could not be headed, finishing with a brilliant 3:50 final km to win in 2:23:14, the second-fastest time ever walked (there is no official world record yet). Kawano gained ground at the end, pumping his arms furiously and lunging across the finish line to finish just one second behind Stano (2:23:15), then pounding his fist into the ground in frustration, but later smiling at having won the silver medal.
Karlstrom, the bronze medalist at 20 km, won the 35 km bronze and was satisfied enough to don his trademark Viking hat on the way to the finish line in 2:23:44. Pintado was fourth in 2:24:37. Matsunaga finished in 26th place in 2:33.56; American Nick Christie finished 36th in 2:41:08.
● Men/4×400 m ● The favored U.S. fielded a team of Elija Godwin, Michael Norman, Bryce Deadmon and Champion Allison, starting in lane six. And it was no contest.
Godwin, who was stellar on the Mixed 4×400 m and in the heats, made up the three staggers ahead of him and handed to Norman with a big lead after a 44.28 opener. It was over.
Norman had a 12 m lead after a 43.64 leg and handed to Deadmon, who extended the lead to more than 20 m (43.82). Allison, who was part of a collegiate record team at Florida this season, finished with a 44.43 leg for a world-leading 2:56.17, the no. 10 performance in history.
Behind the U.S., Jamaica and Belgium dueled for the silver and a 43.98 anchor for Christopher Taylor outlasted Kevin Borlee (44.07), 2:58.58 to 2:58.72. Japan was fourth at 2:59.81.
● Women/4×400 m ● The U.S. brought out a team of Talitha Diggs, Abby Steiner, Britton Wilson and Sydney McLaughlin, starting in lane five, with Jamaica behind them in four and Britain ahead in six.
Diggs was in a tight battle with Britain's Victoria Ohuruogu, but passed first, 50.50-50.59. Steiner, an experienced 4×4 runner at Kentucky, ran 49.99 and nursed a small lead over Jamaica's Janieve Russell (49.90) at the exchange. Then the race broke open.
Wilson, also a sensational relay runner at Arkansas, stormed the turn and opened a 10 m lead on the field, finally passing to McLaughlin with a 5 m lead after a 49.39 leg. The result was not in doubt with the stick in McLaughlin's hand and she exploded for a 47.91 leg, one of the fastest ever, to finish in a world-leading 3:17.79, the no. 8 performance of all time.
Jamaica finished second in 3:20.74, ahead of Britain (3:22.64) and Canada (3:25.18).
¶
With the counting completed, the U.S. finished with 33 medals (13-9-11), two more than the previous high of 31 from the doped-up East German team in the 1987 Worlds in Rome. Ethiopia (4-4-2), Jamaica (2-7-1) and Kenya (2-5-3) all finished with 10.
The placing table, with scoring to eight places, revealed the U.S. dominance even further. The American team piled up 328 points to 110 for Jamaica, 106 for Ethiopia and 104 for Kenya. Great Britain scored 68 for fifth, with Canada and China in sixth at 63.
The U.S. won the first-ever recognized team title, celebrating with a massive trophy on the home straight.
≡ PANORAMA ≡
● Cycling ● The 109th Tour de France concluded on Sunday with the grand entrance into Paris and Denmark's Jonas Vingegaard moving up from second in 2021 to the top of the podium in 2022.
The final, 115.6 km stage finished in the usual sprint, with Jasper Philipsen (BEL) winning his second stage with a powerful surge ahead of Dylan Groenewegen (NED) and Alexander Kristoff (NOR), all in 2:58:32.
The victorious Dutch Jumbo-Visma team crossed together, with Vingegaard in 75th and ending in 79:32:29, with a margin of 3:34 over two-time defending champ Tadej Pogacar (SLO) and 8:13 over 2018 winner Geraint Thomas (GBR). Neilson Powless was the top American finisher, in 13th, 47:48 behind the winner; the U.S. had three more inside the top 21: Sepp Kuss (18th for Jumbo-Visma), Brandon McNulty in 20th and Matteo Jorgenson in 21st.
Vingegaard, 25, won stages 11 and 18, and second in stages 7, 17 and 20, with five other top-10 finishes. He's only the second Dane to win cycling's greatest race, after Bjarne Riis won in 1996. Pogacar, still just 23, won his first two Tours and was second this year.
The secondary winners included Wout van Aert (BEL) in the Points Division (for sprinters) and Vingegaard as King of the Mountains, a key to his winning the overall title.
¶
Worth noting was the start of the revived Tour de France Femmes, an eight-stage race that began in Paris with an 81.7 km, flat course, with Dutch riders Lorena Wiebes and Marianne Vos finishing 1-2 at the head of a mass sprint in 1:54:00. Belgium's Lotte Kopecky was third, with race favorite Annemiek van Vleuten (NED) in 21st (same time).
The race starts with two flat stages, then three hilly stages and the final three stages in the Vosges Mountains of eastern France, where the winner will be decided.
Various forms of a women's Tour were organized from 1984 through 2009, but the new race is run by the same group – Amaury Sports Organisation – which owns the Tour de France.
● Fencing ● The 2022 FIE World Fencing Championships concluded in Cairo on Saturday, with France and Italy dominating the competition, finishing with eight medals apiece.
In the final team events, France won the men's Team Epee over Italy, 45-42, with individual winner Romain Cannone getting his second gold medal of the tournament. Japan finished third, defeating Hungary. 45-30.
Italy won the men's Team Foil, 45-39, over the U.S. team of Nick Itkin, Chase Emmer, Alex Massialas and Gerek Meinhardt. Itkin had previously won the individual bronze medal.
The women's Team Foil was another Italian win over the U.S., with individual silver medalist Arianna Errigo lead a 45-27 win over Jackie Dubrovich, Olympic winner Lee Kiefer, Zander Rhodes and Maia Weintraub. France won the bronze, 40-34, against Japan.
Hungary defeated France in the women's Team Sabre final, 45-40. Japan got another bronze, 45-43, over Spain.
France won four gold, two silver and two bronze for eight total to lead the medal table; Hungary also won eight (2-4-2). Japan (1-1-2) and the U.S. (0-2-2) both won four.
¶
You can receive our exclusive TSX Report by e-mail by clicking here. You can also refer a friend by clicking here, and can donate here to keep this site going.
For our updated, 620-event International Sports Calendar for 2022 and beyond, by date and by sport, click here!