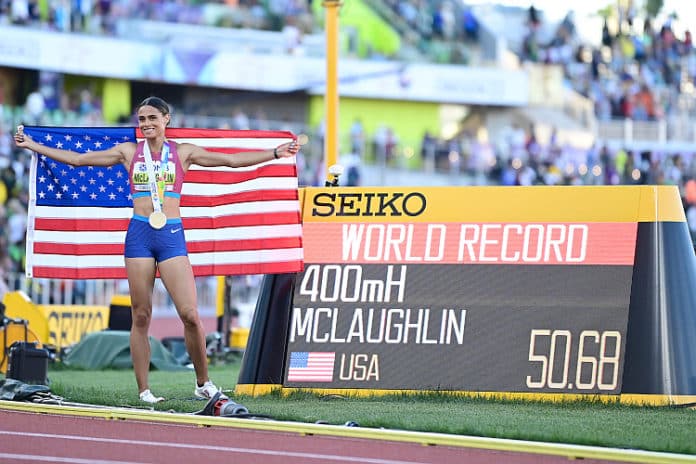 ★ The Sports Examiner: Surveying, monitoring and explaining the key competitive, economic and political forces shaping elite sport and the Olympic Movement. ★
Thank you to our 15 donors, who have covered 18% of our summer funding goal for operating costs. Can you help? Please donate here. Comments? Click here.
★ To get The Sports Examiner by e-mail: sign up here! ★
"Surely, surely Gail, and this is one of the reasons why we have come here to Eugene; surely a 1-2-3 in a home World Championship will generate front-page headlines in the United States tomorrow. Tell me that's the case."
At the end of the second day of the 2022 World Athletics Championships at the new Hayward Field in Eugene, Oregon, veteran British commentator Rob Walker, the long-time primary voice of the World Athletics international television feed asked his analyst, triple Olympic gold medalist Gail Devers of the U.S. if the medal sweep of the men's 100 m was going to be big news in America. Said Devers, with a hint of weariness at a question she has heard for decades:
"I'm hoping, all I can do is hope like you. It should be everywhere, because that was big."
The next day, the Los Angeles Times carried a 2,346-word dive on future plans to revitalize interest in track & field in the U.S. The actual coverage of the men's 100 victory by Fred Kerley was given 10 single-column lines – 44 words – in the miscellaneous news section, one more line than for 400 m star Randolph Ross's disqualification for a doping violation. No other results were noted.
That's the paradox presented by the 2022 Worlds in Eugene, the first ever held in the U.S. and in the smallest facility ever to host the event.
Walker doubled down on the final day of the meet last Sunday, as the U.S. squad was handed the first-ever World Championships team trophy:
"The team champions are USA, and we can only hope – from a neutral, global perspective – that these images will be in newspapers in the United States tomorrow. That, after all, has been the ultimate goal of bringing the World Championships to Tracktown USA. We want these people to become stars, not just in Europe, where we love them, but in your country."
His fellow commentator, Olympic and World Decathlon champion Dan O'Brien of the U.S. didn't take the bait, replying, "This World Championships will be remembered for a long time."
¶
On the field, the Eugene Worlds were spectacular and the numbers are worth listing:
● From 1,972 entered, there were 1,705 athletes from 179 countries competing, with a record 29 countries winning events and 81 countries reaching the top eight (essentially a final), the most ever.
● There were world-leading performances in 24 of the 49 events, and 30 world leads in all.
● World Championships meet records were set in 13 events and there were 92 national records set.
● There were three world records, by Sydney McLaughlin (women's 400 m hurdles), Tobi Amusan (women's 100 m hurdles) and Mondo Duplantis (men's vault), all in the final three days of the meet.
● Tom Lewis of the U.S. Track & Field and Cross Country Coaches Association compiled some impressive documentation of the impact of the U.S. collegiate system: 21.2% of all athletes (363) competed for a U.S. collegiate program (from 71 countries), winning 37 individual medals (14-12-11), more than the United States (33), without counting relays!
¶
There was no shortage of stars, including a lifetime memory for a hometown hero in Eugene.
● The world records by McLaughlin and Duplantis were not surprises, but Amusan's 12.12 in the first semi on Sunday was a complete shocker, even leading some folks to doubt the timing equipment.
However, she came back about 90 minutes later and won the final in a wind-aided 12.06! Another malfunction? Comparing the times using the wind-aid tables in the authoritative Big Gold Book by Track & Field News:
= Semi: 12.12 ~ wind +0.9 m/s saved 0.05 seconds
= Final: 12.06 ~ wind +2.5 m/s saved 0.14 seconds
So, the 12.06w final was "worth" 12.15 if the wind had been the same as the semi. Amusan was great, twice.
● How good were the Amusan, Duplantis and McLaughlin records vis-a-vis other world records? World Athletics sponsors a scientific study which assigns points to performers, separately for men and women. The comparison:
Men:
1. 1,365: Javelin ~ 98.48 m (323-1) by Jan Zelezny (CZE)
2. 1,358: 100 m ~ 9.58 by Usain Bolt (JAM)
3. 1,351: 200 m ~ 19.19 by Usain Bolt (JAM)
4. 1,346: Long Jump ~ 8.95 m (29-4 1/2) by Mike Powell (USA)
5. 1,341: 400 m hurdles ~ 45.94 by Karsten Warholm (NOR)
6. 1,325: Pole Vault ~ 6.21 m (20-4 1/2) by Mondo Duplantis (SWE)
7. 1,323: Shot ~ 23.37 m (76-8 1/4) by Ryan Crouser (USA)
8. 1,321: 400 m ~ 43.03 by Wayde van Niekerk (RSA)
9. 1,320: Discus ~ 74.08 m (243-0) by Jurgen Schult (GDR)
10. 1,314: High Jump ~ 2.45 m (8-0 1/2) by Javier Sotomayor (CUB)
Women:
1. 1,382: Discus ~ 76.80 m (252-0) by Gabriele Reinsch (GDR)
2. 1,372: Shot ~ 22.63 m (74-3) by Natalia Lisovskaya (URS)
3. 1,333: Long Jump: 7.52 m (24-8 1/4) by Galina Chistyakova (URS)
4. 1,331: Heptathlon: 7.291 by Jackie Joyner-Kersee (USA)
5. 1,314: 100 m ~ 10.49 by Florence Griffith-Joyner (USA)
6. 1,312: 400 m hurdles ~ 50.68 by Sydney McLaughlin (USA)
7. 1,309: High Jump ~ 2.09 m (6-10 1/4) by Stefka Kostadinova (BUL)
8. 1,308: 200 m ~ 21.34 by Florence Griffith-Joyner (USA)
9. 1,306: Javelin ~ 72.28 (237-2) by Barbora Spotakova (CZE)
10. 1,304: 400 m ~ 47.60 by Marita Koch (GDR)
Amusan's 12.12 is worth 1,272 points, ranking her 19th. McLaughlin would rank higher if marks made by chemically-enhanced competitors from East Germany and USSR were removed, but those are the ratified world records.
● Another all-time mark set by Duplantis was his clearance of 6.00 m (19-8 1/4) or more on 48 occasions, including three times en route to his world record in Eugene. That passes Ukraine's Sergey Bubka, who cleared 6.00 m 45 times, a mark long thought to be untouchable. Mondo has touched and surpassed.
● Allyson Felix won a bronze medal on the Mixed 4×400 m, then went home to Los Angeles, but was recalled to run a leg in the heats of the women's 4×400 m at the end of the program. As the U.S. won the event, she earned a gold medal, giving her an all-time record of 20 World Championships medals – the most by anyone – with 14 golds, three silvers and three bronzes from 2005-22.
● The conventional wisdom is that the long collegiate season in the U.S. argues against success in the World Championships. But four U.S. collegians beat the odds and ran brilliantly in Eugene.
The list starts with sprinter Abby Steiner (Kentucky), who finished fifth in the 200 m and ran legs on the winning 4×100 m and 4×400 m relays. Including the Worlds, she has run in 56 total races during the 2022 season: 10 at 60 m, eight at 100 m, 20 at 200 m, one at 300 m and 17 on relays!
Britton Wilson (Arkansas), who finished fifth in the women's 400 m hurdles and ran on the winning 4×400 m team, has run 45 races during 2022, in the 400 m, 400 m hurdles and relays.
Not quite as busy were men's 400 m stars Elija Godwin (Georgia) and Champion Allison (Florida), who have contested 33 and 27 races, respectively in 2022.
● If there is a "I finally made it" story on the U.S. team, it has to be sprinter Jenna Prandini. A star at Oregon and running on her "home track," Prandini has been a fixture on U.S. teams, but never a finalist. She reached the semis of the women's 100 m at Rio 2016 and in the 200 m at the Worlds in 2015 and 2022 and the 2016 and 2020 Olympic Games, but no finals.
She won silvers on the 4×100 m at the 2015 Worlds and Tokyo 2020 Games, but broke through with a brilliant turn on Saturday against Jamaican superstar Shelly-Ann Fraser-Pryce, to give TeeTee Terry the lead she required to hold off the Jamaicans and win the 4×100 m gold in Eugene.
¶
There was impressive new technology on display on the television broadcast, including an unbelievable live scoring display during the final events of the men's decathlon (1,500 m) and women's heptathlon (800 m).
Thanks to computer chips embedded in the identification bibs worn by all competitors, a graphic showed the "running" final scores of the top competitors as they ran on the track!
This was a mind-blower! There was also a wide use of graphics showing the relative speed of the competitors, but this was hard to absorb since the races themselves commanded all the attention. Same for the artificially-inserted lines that showed the world records and the final qualifying times. Good ideas, but hard to follow.
Same for the graphic at the end of each race on the left-hand side that showed how far behind placers 2-8 were, but leaving out the winning time, which was on the right side of the screen! The idea was good, but the execution was busy and confusing.
One improvement from Doha was the elimination of the on-the-field light show for the sprint finals. These were spectacular lighting effects, but were only done for a couple of events, a clear show of disrespect to other athletes.
Speaking of disrespect, there will be plenty of discussions to come about the false starts – by tiny margins – in the women's 100 m semis and of Devon Allen of the U.S. in the men's 110 m hurdles final.
¶
All credit to The Oregonian, which did a masterful job of obtaining daily figures on the numbers of tickets sold at the Worlds, with none of the sessions approaching the expected availability of about 15,000 spectator seats:
● 15 Jul: 13,646 (Fri.: 2 sessions)
● 16 Jul: 19,543 (Sat.: 2 sessions)
● 17 Jul: 21,065 (Sun.: 2 sessions)
● 18 Jul: 10,990 (Mon. evening only)
● 19 Jul: 11,865 (Tue.)
● 20 Jul: 10,881 (Wed.)
● 21 Jul: 11,253 (Thu.)
● 22 Jul: 12,054 (Fri.)
● 23 Jul: 12,132 (Sat. evening only)
● 24 Jul: 12,143 (Sun. evening only)
This totals 136,572 across 13 sessions or 10,506 on average; the evening-only average was more like 11,849. At the Doha 2019 Worlds, the stadium capacity was reduced to 21,000 and the announced attendance of 13,288 and 11,300 for the first two days was so awful that no further figures were ever provided, even with the stadium fairly full for the last weekend.
Eugene barely rivaled even those figures, and while the new Hayward Field is small for a Worlds, it was also engineered to be loud. So the athletes had people back in the stands cheering after the empty stadiums at Tokyo 2020 and it was especially loud for the home-standing American team.
Make no mistake, World Athletics is not expecting crowds of this size in the 36,000-seat facility in Budapest in 2023 or for the return to the 68,000-seat National Stadium in Tokyo in 2025. But it is boasting now of how full the stands were, in the smallest facility to ever host a World Athletics Championship.
The U.S. television ratings will be out on Tuesday and will tell even more about the impact – or lack thereof – that the Eugene Worlds had across the country.
There's no doubt that the U.S. should get a future World Athletics Championships, but where? Kerley was on Twitter mid-meet and suggested:
"We need to have world champ in Miami."
Rich Perelman
Editor
You can receive our exclusive TSX Report by e-mail by clicking here. You can also refer a friend by clicking here, and can donate here to keep this site going.
For our updated, 620-event International Sports Calendar for 2022 and beyond, by date and by sport, click here!