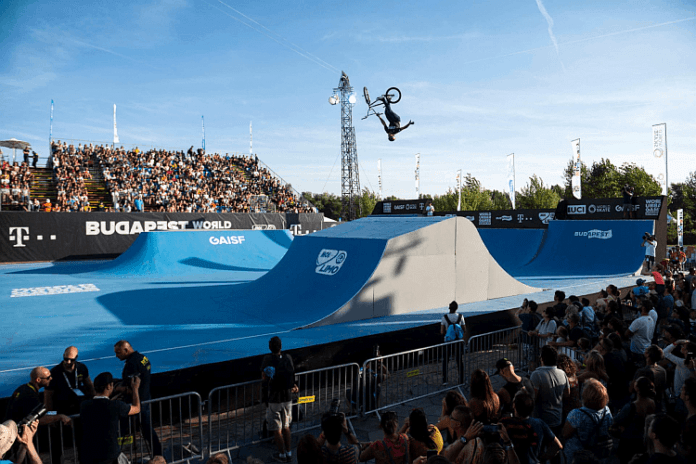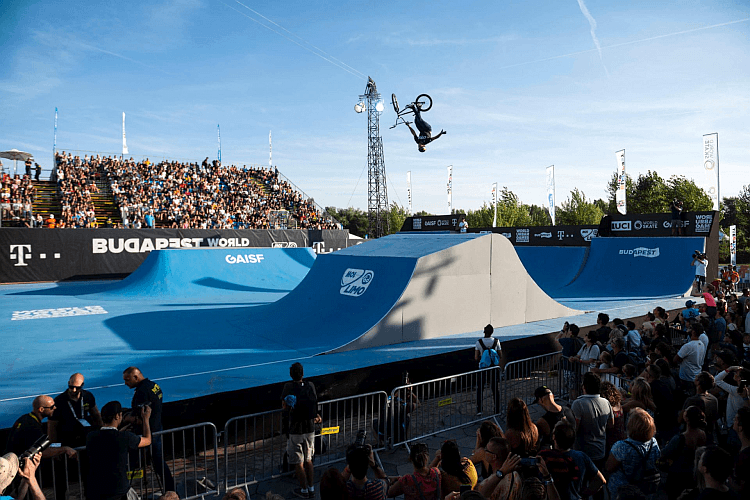 ≡ TSX DAILY ~ 17 September 2019 ≡
[Please note that due to a scheduling conflict,
there will be no TSX DAILY e-mail on Wednesday morning (18th)]
| 1. |  LEADING OFF: World Urban Games draws 50,000 spectators over three days in Budapest
The first World Urban Games took place over the weekend in Budapest, Hungary, with a reported 50,000 spectators coming to see six medal sports and two "showcase sports" in an "urban park."
A total of 300 athletes from 46 nations were reported to compete in 3×3 Basketball, BMX Freestyle Cycling, Break Dancing, Flying Disc, Parkour and Freestyle Roller Sport. Indoor Rowing and the Laser Run – part of the Modern Pentathlon – were the showcase (non-medal) sports.
There were some interesting competitions for those looking ahead to 2020, especially the continuing dominance of American teen Hannah Roberts in the women's BMX Freestyle. She won with a spectacular 93.00 score on her first run, winning by almost six points and then trying some new tricks to wow the crowd.
The U.S. was identified as the top medal winner, but without any chart or numbers. In the six competition sports, American athletes won seven medals in all (3-2-2). Russia won six (3-2-1).
But was the event a success?
According to Raffaele Chiulli (ITA), the President of the Global Assembly of International Sports Federations – the body which created the event – it was:
"In Budapest we have seen a great combination of sport, of social engagement and a showcasing of culture. It has been a great way for people to express their creativity.
"When we talk about playing our part to stimulate a more active society, the World Urban Games is a great example of bringing sport to the people and engaging them proactively."
What we have is an extension of International Olympic Committee President Thomas Bach's concept of "taking sport to the people" and a micro-scale version of the Youth Olympic Games held in 2018 in Buenos Aires, Argentina:
● Compact program: Eight sports, three days, 300 athletes
● One primary venue, the "WUG Park," with four competition areas
● Free admission and free parking
● Music stage, food court, sports demonstration areas
This is a smaller program that was envisioned for the World Urban Games as planned for Los Angeles, but it worked well enough. The 50,000 spectators for three days is reasonable, considering there were four venues inside the park.
The event continued to polish Budapest's reputation as a sports center in Europe. After having to pull out of the race for 2024 in view of calls for a referendum, the city has worked continuously to attract events of every kind, bringing new visitors to Hungary over time rather than all at once. It is scheduled to host the next World Urban Games in 2021.
But buried in all the praise are the costs, which no one has talked about, but there were costs. Further, the event was televised by Eurosport, but otherwise only available online on the IOC's Olympic Channel service.
If the goal is to offer a combination of a low-key sports spectacle primary designed to demonstrate activities in which youth can participate, this event can fulfill that mission. But at what point do such events have to pay for themselves?
| 2. | BASKETBALL: How many people actually attended the 2019 FIBA World Cup?
Spain's triumph in the 18th FIBA men's World Cup over Argentina was a popular victory for a team which grew during the tournament. It's not clear how popular it was with local spectators in China.
You see, attendance figures were not provided after a couple of games in each first-round group. In the second round, only two Group J games had figures published: 2,849 for Spain vs. Italy in Wuhan and 4,264 for Puerto Rico vs. Italy.
No figures were given for any of the other second-round groups at all. In the first round, Canada and Australia played before 9,330 in Dongguan on 1 September in Group H. France and Germany had 10,438 in the arena in Shenzhen in Group G and Brazil and Greece had 11,945 in Nanjing for Group F.
The first two U.S. games drew 17,800 (vs. the Czech Republic) and 18,000 in Shanghai (vs. Turkey) in Group E. The Italy vs. Serbia game in Group D had 15,000 in Foshan, but no attendance figures were given in Group C.
The crowds in Wuhan for Group B had some lowlights: 1,637 for South Korea vs. Russia and 2,100 for Nigeria vs. Argentina. The two games with China in Group A both drew more than 11,000 in Beijing.
The 2014 World Cup had attendance reported for the entire tournament of 645,135 or 8,489 per game. Did the 2019 World Cup surpass that total? We'll never know.
FIBA moved the tournament from 2018 to 2019 to get away from the long shadow cast by the FIFA World Cup. Whether for the men's World Cup in 2018 or the Women's World Cup in 2019, FIFA dependably reported attendance, whether good or bad. If FIBA wants to be more like FIFA, this would be one way to start.
| 3. | CANOE-KAYAK: Ready Steady Tokyo Sprint test event features upsets, and … snow?
The latest test event for the Tokyo 2020 organizing committee came at the Sea Forest Waterway from last Thursday through Sunday. But almost no one saw it as:
"Test events hosted or co-hosted by the Tokyo 2020 Organising Committee serve as a rehearsal to test the organisational and operational readiness, and therefore will not be open to the public."
There were some interesting results, however:
● Russian Kseniia Kurach won the C-1 200 m race in 50.371, but right behind was American teen Nevin Harrison (50.665), ahead of two-time 2018 World Championships medalist Dorota Borowska (POL).
● Maryna Litvinchuk of Belarus scored thrice, winning the K-1 200 m and K-1 500 m, the latter over New Zealand superstar Lisa Carrington, and then teamed with Volha Khudzenka to win the K-2 500 m race!
● Three-time Olympic champion Sebastian Brendel (GER) won the C-1 1,000 m in 4:10.392, just ahead of Russia's Kirill Shamshurin (4:10.891).
Another test made during the event was the use of artificial snow machines to help cool spectators, who were "played" by Tokyo 2020 volunteers. However, as the Japan Times reported:
"But instead of light fluffy snowflakes, the crowd, consisting mainly of Tokyo 2020 staff, was pelted with fairly coarse shards of shaved ice at a canoeing test event. …
"One problem became immediately apparent after the volunteers were doused in 300 kilograms (650 pounds) of snow in a matter of minutes: the "spectators" were quickly soaked through and the floor became slippery — resulting in one journalist taking a tumble."
Tokyo 2020 spokeswoman Taka Okamura explained, "We are trying everything possible to ease heat risks. This is not meant to cool the entire atmosphere but have spectators feel refreshed when the flakes of ice touch them."
Good for the organizers for trying new ideas, but this one appears to need some more work. Have they heard of misters?
| 4. | GYMNASTICS: Ageless Chusovitina wins at Paris World Challenge Cup
The World Urban Games were full of youngsters. The FIG Artistic World Challenge Cup in Paris had Oksana Chusovitina.
Now 44, she owns 11 World Championships with the first won back in 1991! She has competed  for the USSR, the Commonwealth of Independent States, the Unified Team, Germany and now Uzbekistan, and won a silver medal in Vault at last year's Asian Games.
She won again in Paris, as her Vault score of 14.300 easily out-distanced Sara Peter (HUN: 13.900) for her first win this season and fourth 2019 medal in the World Cup and World Challenge Cup programs combined. Amazing.
The 2017 High Bar World Champion, Tin Srbic (CRO) won his specialty at 14.900, ahead of Russian Sergei Eltcov (14.700).
| 5. | SHOOTING: Mein and Browning lead in Trap in Shotgun Fall Selection Match
The first of the two stages of the U.S. Olympic Trials in Trap was completed in Kerrville, Texas at the USA Shooting Shotgun Fall Selection Match … and it's close.
Among the men, Derrick Mein goes into the second (and final stage) with just a five-point lead over Brian Burrows, 243-238, with four more scoring 230 points or more.
In women's Trap, it's even closer, with 2018 Americas Champion Kayle Browning leading 2019 World Champion Ashley Carroll, 232-230 and Rachel Tozier at 225.
The final leg of the Trials program comes in late February 2020 in Tucson, Arizona.
| 6. | SKATEBOARDING: World Champion says "no idea about the Olympics"
Lost in the furor over the bronze medal by 11-year-old British rider Sky Brown at the World Skate Park World Championships, was the victory by 13-year-old Japanese Misugu Okamoto.
Despite winning all three of her events in the Olympic qualifying period – including the World Championships last weekend in Brazil – she told Agence France Presse:
"I don't feel like I'm the best in the world. I have no idea about the Olympics yet, but I will work with my coaches to keep pushing to learn new tricks and to go bigger.
"Skateboarding is not just based on competition. I want to be one of the best from a cultural perspective. I'm still a long way from that, but that's my vision."
Brown also had ideas of competing for Japan at the 2020 Games, but switched to British allegiance in sports, as she has a British father and Japanese mother, and lives and trains in Miyazaki (JPN).
| 7. | THE LAST WORD: Neighbors complain about shooting sounds from Lake Placid Biathlon range
From the Adirondack Explorer:
"New York State Police abruptly halted using the state's Mount Van Hoevenberg Nordic ski facility as a shooting range on Friday after the Adirondack Explorer reported neighbors' complaints about the unsettling and explosive noise echoing in the surrounding residential, tourist and school community."
The police were using the biathlon range at the Mt. van Hoevenberg for firearms training, but have been relocated after an inquiry from the Explorer newsmagazine and a Friday post on the topic.
The residents noted that the level of noise generated by the police is completely different than that from biathletes, who use a .22-caliber round that makes a light noise. The police equipment, however, "thunders.