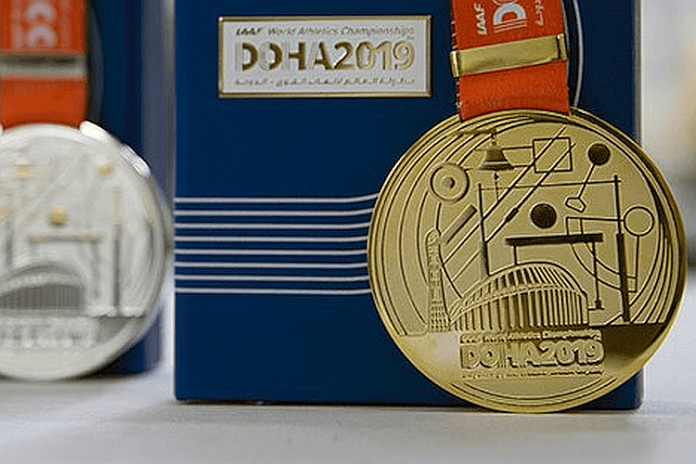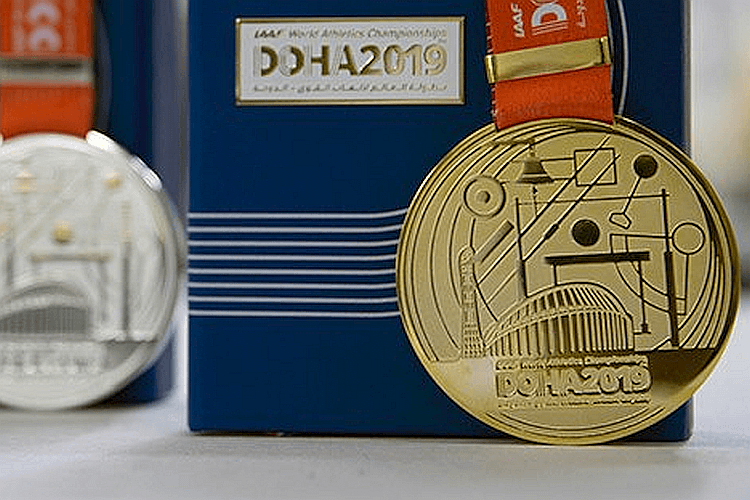 ≡ TSX DAILY ~ 1 October 2019 ≡
[Due to a scheduling conflict, there will be
no e-mail for this Thursday, 3 October]
| 1. |  LEADING OFF: Warholm beats Benjamin in 400 m hurdles on five-medal day for U.S. at IAAF Worlds
After just four of the 10 days of the IAAF World Track & Field Championships in Doha (QAT), the U.S. team has already piled up 13 medals, more than double that of second-place China (6) and continues to send more stars forward to finals. On Monday alone, the U.S. won five medals, with three silvers and two bronzes.
In the race of the day, Norway's Karsten Warholm defended his 2017 title in the men's 400 m hurdles, extending a small lead over Rai Benjamin of the U.S. on the run-in, 47.42-47.66. While Benjamin was disappointed, he only let it be known after that race that he was suffering from a bad left heel bruise suffered during training just a week before he traveled to Doha. He had considered pulling out, but decided to try to run; a 47.66 under the circumstances is close to miraculous.
The U.S. got another satisfying silver in the women's 3,000 m Steeple, where Kenya's Beatrice Chepkoech  (pictured) ran away with the race as expected in 8:57.84, but defending champ Emma Coburn set a lifetime best with the no. 2 performance in U.S. history at 9:02.35 for the silver medal, ahead of Germany's Gesa Krause (9:03.30). Coburn ran smartly and made a decisive move with 600 m to go and was never headed for second.
Ajee Wilson was the big favorite in the 800 m and led for 700 m, but couldn't match the sprint of Uganda's Halimah Nakaayi, who won in 1:58.04, a national record. Disheartened, Wilson looked to finish second, but teammate and training partner Raevyn Rogers flew down the home straight, passed Rogers and was closing on Nakaayi, finishing second in 1:58.18 with Wilson taking the bronze – just as in 2017 – in 1:58.84.
The women's high jump was a great show, with defending champ Mariya Lasitskene (RUS) and American Vashti Cunningham matching clearances on six straight heights, all the way up to 2.00 m (6-6 3/4). Lasitskene then cleared 2.02 m (6-7 1/2) and only Yaroslava Mahuchickh (UKR) could match her; Cunningham had to settle for the bronze. Lasitskene went on to clear 2.04, as did Mahuchikh on her third try, with the Russian winning on fewer misses for her third world title.
In the other finals, Ethiopia's Muktar Edris had run only 13:25.00 this season in the 5,000 m, but as defending champion, he had a direct entry in the Worlds and prepared for just this one race. When the time to run came, he had more speed than anyone else and powered away with a 12:58.85 win, ahead of countryman Selemon Barega (12:59.70). American Paul Chelimo faded in the final 200 m and was seventh in 13:04.60.
Sweden's Daniel Stahl won the discus as expected, taking the lead in the second round and then extending his margin in the third with the winning toss of 67.59 m (221-9). Jamaica's Fedrick Dacres was second, also as expected, at 66.94 m (219-7).
Tuesday's finals include the men's pole vault, featuring defending champion Sam Kendricks of the U.S., the men's 800 m with Donavan Brazier of the U.S. as one of the favorites, the men's 200 m, with American Noah Lyles a huge favorite and the women's javelin, likely a showcase for world leader Huihui Lyu of China. More on Monday's action here.
| 2. | ATHLETICS: Famed coach Alberto Salazar suspended for four years for doping actions
The long-running drama between Nike Oregon Project coach Alberto Salazar – one of the most successful in the sport – and the U.S. Anti-Doping Agency turned into a four-year suspension on Monday as a three-member arbitration panel handed down a 140-page decision on the case.
Salazar was charged back in June 2017 with doping violations by the USADA and this began a lengthy proceeding which included two in-person hearings in 2018 and a literal ton of evidence. The decision noted that:
"[T]he Panel has reviewed and examined approximately 1,562 exhibits, heard seven full days of testimony, which are documented in 2,543 pages of hearing transcript, reviewed and carefully considered the parties' prehearing and post-hearing briefs, which consist of 1,154 pages, reviewed and ruled on various motions and issues that arose between the parties, which are articulated in the 14 Procedural Orders issued by the Panel, and the Panel was required to spend thousands of hours on this matter."
In the end:
"[T]he Panel found the following violations of the Code:
"(a) Administration of a Prohibited Method (with respect to an infusion in excess of the applicable limit),
"(b) Tampering and/or attempted tampering with NOP athletes' doping control process, and
"(c) Trafficking and/or Attempted Trafficking of testosterone.
"Accordingly, the Panel finds that the period of Ineligibility shall be four years from the date of this decision."
However, don't paint Salazar (pictured below) with a black brush just yet. The decision also included this remarkable comment:
"The Panel notes that the Respondent does not appear to have been motivated by any bad intention to commit the violations the Panel found. In fact, the Panel was struck by the amount of care generally taken by Respondent to ensure that whatever new technique or method or substance he was going to try was lawful under the World Anti-Doping Code, with USADA's witness characterizing him as the coach they heard from the most with
respect to trying to ensure that he was complying with his obligations. The Panel has taken pains to note that Respondent made unintentional mistakes that violated the rules, apparently motivated by his desire to provide the very best results and training for athletes under his care. Unfortunately, that desire clouded his judgment in some instances, when his usual focus on the rules appears to have lapsed."
The sanction is four years ineligibility to coach, as of 30 September 2019. There will likely be an appeal to the Court of Arbitration for Sport, extending the life of one of the longer – but hardly the longest – procedures of the anti-doping process.
Salazar, himself a 1984 Olympian in the marathon, has had tremendous success in coaching, including recent Olympic and World Championships medal winners Mo Farah (GBR) and Galen Rupp of the U.S., among others.
The USADA won a similar case against Dr. Jeffrey Brown, the medical director of the Nike Olympic Project. A different panel found Brown has committed doping violations by tampering with patient records, administration of a banned infusion and complicity in Salazar's "trafficking of testosterone."
There were no references in the Salazar decision to any further action against any other athletes; these would be charged in separate cases if filed.
| 3. | U.S. OLYMPIC & PARALYMPIC COMMITTEE: California college OK-to-pay law signed by Gov. Newsom
California Governor Gavin Newsom signed Senate Bill 6 into law on Monday, allowing students at any of California's 58 four-year colleges and universities to earn money from the use of their image or likeness in conjunction with a school's intercollegiate athletics teams. (More details on the bill from our 27 September story here.)
The bill is controversial because it gives students at these schools an opportunity to earn money not available anywhere else in the country, and against current NCAA rules.
The NCAA has its own process moving and expects to receive a report this month from its own task force on the issue. It posted a statement noting in part, "We will consider next steps in California while our members move forward with ongoing efforts to make adjustments to NCAA name, image and likeness rules that are both realistic in modern society and tied to higher education.
"As more states consider their own specific legislation related to this topic, it is clear that a patchwork of different laws from different states will make unattainable the goal of providing a fair and level playing field for 1,100 campuses and nearly half a million student-athletes nationwide."
The Pac-12 Conference issued an on-the-mark statement that included:
"The Pac-12 is disappointed in the passage of SB 206 and believes it will have very significant negative consequences for our student-athletes and broader universities in California. This legislation will lead to the professionalization of college sports and many unintended consequences related to this professionalism, imposes a state law that conflicts with national rules, will blur the lines for how California universities recruit student-athletes and compete nationally, and will likely reduce resources and opportunities for student-athletes in Olympic sports and have a negative disparate impact on female student-athletes."
University of Arkansas sports management professor and Assistant Dean Steve Dittmore had a different take on Twitter:
"If NCAA really bans California schools, how quickly will universities consider forming a rival association to NCAA? Could see Kansas, Arizona, Louisville, etc. being interested in partnering with Cal, Stanford, USC, UCLA."
Nothing will happen immediately, as the California law does not take effect until 1 January 2023. But the NCAA is now on the clock.
| 4. | BASKETBALL: U.S. women storm through AmeriCup undefeated, beat Canada in final
No problem for the U.S. women's national team in the 2019 AmeriCup tournament in Puerto Rico, winning the gold medal with a 67-46 rout of Canada in the final.
The American squad, coached by Dawn Staley, won its four group games by an average score of 97-50, then defeated host Puerto Rico in the semis by 78-54 and then Canada in the final. Brazil defeated Puerto Rico, 95-66, for the bronze medal.
Center Sylvia Fowles led the U.S. in scoring during the tournament with 13.2 points per game, followed by forward Diamond De Shields (10.7) and Arike Ogunbowale (10.2). Center Tina Charles was the leading rebounder at 7.3 a game and guard Jordin Canada averaged 5.3 assists a game.
The U.S. was already qualified for the 2020 Tokyo Games as reigning World Cup champions; the results of this tournament qualified eight teams for two pre-Games qualifying tournaments to be held in 2020.
| 5. | CYCLING: BMX SuperCross World Cup ends with Dutch sweep for Kimmann and Smulders
The UCI BMX SuperCross season ended on Sunday in Santiago del Estero in Argentina with a double victory for Dutch stars Niek Kimmann and Laura Smulders.
Kimmann won the second of the two men's races on the weekend and defended his 2018 World Cup seasonal title with a 1,180-890 win over Ecuador's Alfredo Campo.
Smulders won both races on the weekend and finished the season with 1,270 points to win her fourth consecutive seasonal title. The U.S. went 2-3 with Felicia Stancil (925) and Alise Willoughby (910).
| 6. | SWIMMING: Rasovszky and Bruni win Marathon World Series titles
The ninth and final leg of the 2019 FINA Marathon (10 km) World Series concluded in Chun'An (CHN), with wins for 2016 Rio champion Ferry Weertman (NED) and Italy's Arianna Bridi.
The seasonal titles were won by Hungary's Kristof Rasovszky – his first career title – and Italy's Rachele Bruni, her third win after back-to-back victories in 2015 and 2016.
| 7. | GAMES OF THE XXXII OLYMPIAD: TOKYO 2020; Amazing 535,717 apply for 2020 Torch Relay
The Olympic-mania that has swept Japan for tickets to the Tokyo Games as well as volunteer positions showed up in a sensational 535,717 applications for the 2020 Torch Relay.
In the western prefecture of Hyogo, the ratio of applications to relay legs was 224 to one!
All candidates will be screened and then notified in December.