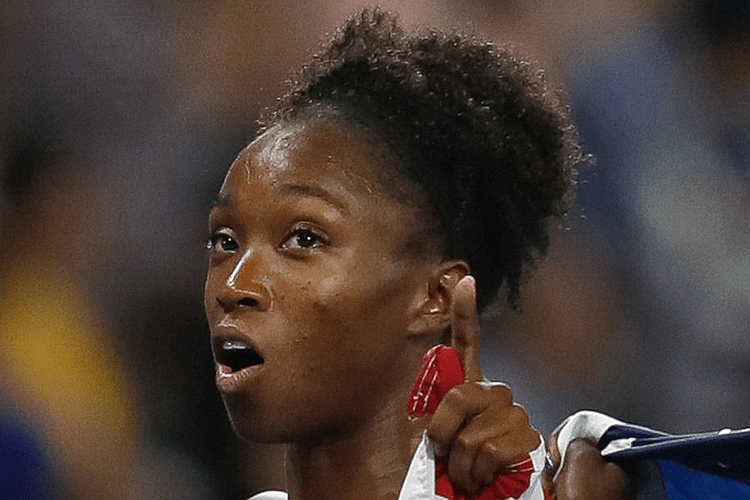 = TSX DAILY ~ 13 August 2019 =
| 1. |  ATHLETICS: Tianna Bartoletta's odyssey now includes anemia
If you read her resume, you'd think Tianna Bartoletta would have it made by now.
Pictured above, she's a three-time Olympic gold medalist, having led off two winning 4×100 m relays for the U.S. in London (a world record) and Rio and won the Rio long jump with a lifetime best of 7.17 m (23-6 1/4). Add in two World Championships long jump golds in 2005 and 2015 (and a bronze in 2017) and she should be looking ahead to Tokyo in 2020.
Instead, her 2019 has been a disaster. Plagued by a messy divorce and the financial ebbs and flows of being a track & field athlete – see our story about her situation a year ago here – she has managed only 6.32 m (20-9) this season and was 17th at the U.S. National Championships in Des Moines last month, jumping just 5.66 m (18-7).
What's gone wrong? In her latest blog entry from last Friday (9th), she explained that she finally found out … the hard way. Excerpts:
"I passed out.
"I collapsed behind an armchair with my backpack and MacBook Pro being the only things standing between me and a concussion.
"I went down in slow motion…
"In my head I was screaming no no no no no
"but it sounded like yelling underwater.
"I blinked my eyes and gathered myself.
"I thought…yep I'm on the floor.
"I think it was a split second.
"I think it was forever.
"I slowly pushed myself up like they teach you to in yoga coming out of savasana slowly with your head coming up last.
"I peeked over the back of the armchair like a meerkat coming out of his hole looking for danger.
"There wasn't a soul in sight. Not a single witness.
"I climbed into the chair.
"My chest was so tight.
"I took some deep breaths and decided to go ask for a doctor."
Bartoletta was in Colorado Springs, Colorado at the U.S. Olympic & Paralympic Committee's training complex and was taken to a hospital, where she was already scheduled to have exams on her legs. That's when the truth came out:
"What turned into a visit to get MRIs on my feet and ankles turned into blood labs, EKGs, and more walks down sterile hospital corridors than I ever cared to imagine taking.
"Turns out…
"the Anemia is what laid my ass out.
"It's what was blurring my vision
"What was making me dizzy
"Why I was tasting metal in my mouth (bleeding gums apparently).
"Why I was struggling to get out of bed.
"Why I couldn't focus.
"Couldn't perform."
There's a lot more to her story and it's an amazing, compelling, can't-stop read (so go here now). Bartoletta says her divorce proceedings are continuing and money, as is the case for most Olympic-sport athletes, is an issue.
But she says she is on the way back. Her story is not "typical" but none ever are; but it's a reminder that sport isn't all training and competing, glory and disappointment. Real life gets in the way
| 2. | BASKETBALL: Serbia's Djordjevic unconcerned about playing U.S. in FIBA World Cup: "May God help them."
The world championship of international basketball – now called the FIBA World Cup – starts in China on 31 August, but the trash talking has started. In Serbia.
Interviewed on the public broadcast service in Serbia (RTS), Serbian coach Aleksandar Djordjevic (pictured below) was asked about the numerous American stars who had declined to participate in the event.
"Welcome to the club. That's what happened to us, just thinking of us and some other teams that are less mentioned. For example, Germany, in recent years, has been raising its national team successes. We have played against them twice in qualifying and lost both times. Here, Greece, Russia , France, Argentina, Canada, Brazil, Spain … don't think about Americans at all."
He added at the end, "Let's let them (Americans) play their basketball, ours, and if we meet, may God help them."
His team includes five NBA players, including point guard Miles Teodosic (L.A. Clippers), shooting guard Bogdan Bogdanovic (Sacramento Kings) and star center Nikola Jokic of the Denver Nuggets.
Impressed? The oddsmakers aren't, with the current line showing the U.S. as 5/11 favorites and Serbia the next choice at 5/1, followed by Greece (with Giannis Antetokounmpo) at 11/1 and Spain at 18/1.
The Serbs are in preliminary group E and the Americans in group F, meaning the earliest they could meet is in the semifinals.
As to the World Cup, while the U.S. has won the last two editions – in 2010 and 2014 – the prize for most teams is Olympic qualification, which is available to the teams finishing in the top seven in the tournament.
| 3. | FOOTBALL: Kate Markgraf hired as first-ever General Manager of U.S. women's team
Two-time Olympic gold medalist and 1999 World Cup winner Kate Markgraf, a sterling defender as a player, was named on Monday as the first General Manager of the U.S. Women's National Team by the U.S. Soccer Federation.
At the same time, former U.S. striker Earnie Stewart was promoted to Sporting Director of the federation, also a new position, with oversight over the entire on-field program for the USSF. A new General Manager for the men's team will now be sought.
In the USSF announcement, Markgraf's responsibility were described as:
"Manage, hire and develop senior and youth Women's National Team coaches, technical and administrative staffs to maximize potential
"Create, implement, and manage a technical plan for the Women's National Teams at all ages to meet specific, agreed upon milestones and metrics
"Create, implement, and monitor performance standards for the Women's National Teams at all ages"
There is nothing in that portfolio which touches the issue of "equal pay" for the women's team, which has filed a lawsuit against the federation. As a former player, Markgraf will come in with plenty of credibility, but will have some fast decisions to make, including a coach to follow Jill Ellis after her retirement following the end of the in-progress "Victory Tour" games.
And there will be pressure. While the U.S. women won the FIFA Women's World Cup, the 2020 Olympic Games comes quickly and the U.S. will have to qualify and then take on the same opponents they faced at the World Cup in France in June, this time in Tokyo. Even with the World Cup triumph, the quarterfinal loss to Sweden in 2016 is still remembered; that loss was the launch point for the tactics and team which won the world title this year.
| 4. | GAMES OF THE XXXII OLYMPIAD: TOKYO 2020: The heat is on, and athletes don't like it
The hot summer weather in Japan is now the prime topic of discussion during the test events for the 2020 Olympic Games in Tokyo.
Two events were held last weekend, with the World Junior Championships in rowing and a 5 km Open Water swimming event. The World Rowing post on the second day of competition summarized the overall view:
"It was hot. The pace was fast. The 2019 World Rowing Junior Championships moved on to day two of heats at the Sea Forest Waterway in Tokyo, Japan. With a strong tail wind, the boats moved quickly, but they had to deal with rough water and hot, humid conditions."
Temperatures were in the high 80s (F) to low 90s, but the official word was that "Five days of racing at the 2019 World Rowing Junior Championships finished with Tokyo's new regatta venue passing its test with flying colours and Germany winning the most medals."
The Open Water event was held last Sunday (11th) and it was hot in and out of the water. The racing started at 7 a.m., with air temps already around 88 (F). London 10 km gold medalist Oussama Mellouli (TUN) told reporters, "That was the warmest race I've ever done. It felt good for the first 2 km, then I got super-overheated."
FINA, the international governing body for aquatics, is working with the organizing committee to monitor the environment and find the right solution to the water temperature and water quality. Secretary-General Cornel Marculescu (ROU) explained "Based on this information, we will decide the time the event will start. Could be 5 a.m., could be 5:30 a.m., can be 6 a.m., can be 6:30 a.m. — depends on the water temperature. Working with a specialized company like we are going to do here in Tokyo, we will have the right information to take the right decision."
The heat is an issue which will not go away for the Tokyo organizers. The Japan Times reported that during the week of 28 July-3 August, 57 people died across the country from heat-related issues and 18,347 were hospitalized.
| 5. | XVIII PAN AMERICAN GAMES: LIMA 2019: Doping positive costs Puerto Rico bowlers their gold medals
Doping was not a significant news item during the just-completed Lima Games. The organizers reported one positive during the first 16 days of the Games, by a Dominican baseball player, Audrey Joel Perez.
However, the shocker came on Sunday, when Puerto Rican bowler Jean Perez (pictured above) "tested positive for Chlorthalidone, belonging to the S5 group of diuretics and other masking agents."
Bowling? The violation cost Perez and teammate Ristian Azcona their gold medals in the men's Doubles (5,816) and elevated the U.S. pair of Jakob Butturff and Nicholas Pate, who had been second at 5,545, with Manuel Otalora and Alfredo Quintana (COL) getting the silver for their score of 5,151.
Those are the only two doping positives reported so far, but even with the Games having ended, the testing will go on.