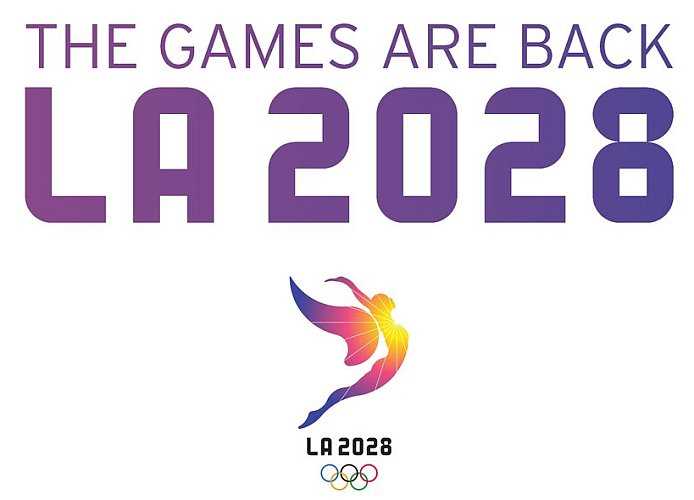 ≡ TSX DAILY ~ 20 August 2019 ≡
| 1. |  GAMES OF THE XXXIV OLYMPIAD: LOS ANGELES 2028: Let the (sports) lobbying begin 
The International Olympic Committee has mostly deflated the circus atmosphere that has surrounded the selection of hosts for the Olympic and Olympic Winter Games. In fact, with its new, consultative approach, the actual selection by vote for the 2026 Winter Games between Milan-Cortina and Stockholm-Are might be the last of its kind for a while.
But while one kind of election ends, there are others which are now open. Next up – although not for a few years yet – will be the request by LA28 for some additional sports to be added to the 2028 Olympic program.
The option to add sports was a regular feature of the Olympic organizing effort for many years; Tokyo in 1964 added Judo and Volleyball and they are both still part of the Games today. After a long hiatus, Archery was brought back into the Games by the Munich organizers in 1972.
With the Games expanding so greatly, the IOC stopped the practice until President Thomas Bach's reforms were instituted beginning in 2014. The Tokyo 2020 organizers were allowed to add some sports and chose five: Baseball (men) and Softball (women), Karate, Skateboarding, Sport Climbing and Surfing, all with very limited participation.
The Paris 2024 organizers offered their recommendations earlier this year and were heavily pressured by multiple International Federations, all asking for a spot in the 2024 Games. Ultimately:
● Selected (4): Breaking, Skateboarding, Sport Climbing and Surfing.
● Rejected: Baseball/Softball, Boules, Chess, Karate, Snooker, Squash, Motorcycling (Trial-E) and others.
The IOC agreed in June, on a provisional basis, to add the four requested sports, with the final confirmation not due until after the Tokyo Games have concluded.
So now what? Time for reflection and quiet? Ha!
The newest sport to launch itself into the discussion is Cricket. For Los Angeles in 2028?
A statement issued last week from the World Cricket Committee of the Marylebone Cricket Club – the game's rule-making body – noted that "There is still much to be done if cricket is to be included in the Olympics, with Los Angeles 2028 the earliest likely opportunity, and the [International Cricket Council] continuing to work internally to align cricket to pursue the sport's Olympic ambitions."
The chances of cricket making it into the Los Angeles Games is quite poor, given its tiny profile in the U.S. compared to other sports such as Baseball and Softball, which seem certain to be included (as Baseball was in 1984, as a demonstration sport). However, if the 2032 Games were to be handed to Queensland in Australia, then cricket would make some sense.
All of the other sports which lost out in Paris will start lobbying the Los Angeles 2028 organizers after Tokyo.
Breakdancing – when it was new – was actually a small part of the 1984 L.A. experience, as an exhibition for (mostly bewildered) news media during the welcoming party on the pool deck of the Westin Bonaventure Hotel on the night before the Opening Ceremonies! But whether it makes sense in 2028 is another matter.
Forgetting about Baseball and Softball, which are deeply ingrained in the Los Angeles sports experience today, it will be fascinating to see what these other sports will cite as the advantages they bring to a 2028 Olympic Games.
Surfing is already a part of the Southern California sports scene, but as a lifestyle rather than a competition sport. Same for Skateboarding, and there are riders who do not want to have the Olympics somewhat transform their experience into primarily a competitive, judged sport.
And by 2028, will these activities actually represent the youth culture that the IOC so desperately wants to be a part of?
Any discussion of added sports for 2028 will require the sports proposing their addition to show how they fit into the LA28 venue model. How many people do they bring? What impact on traffic? Are the sports packaged in a way that's convenient for broadcasters?
What is sure is that the Los Angeles plans as envisioned now will change, at least somewhat, in the coming years. That's because the Southern California venue profile continues to change. The NBA's Clippers want to build an 18,500-seat arena in Inglewood, and the Los Angeles Convention Center could add a 200,000 sq. ft. exhibition hall and another 100,000 ft. "multipurpose" space, both of which could house additional sports. And if the Los Angeles Angels of Anaheim relocate to a new baseball park to be built where the Long Beach Arena sits now, handball will have to be moved somewhere, although there are many options.
If you'd like to pick your favorite suggestion for the LA28, you can check the list of "recognized" federations – those are the ones whose sports are approved to be added to the Games if desired here.
My suggestion? In order to properly represent Los Angeles, California and the U.S. to the world, the return of Tug-of-War to the Games would be appropriate!
| 2. | FOOTBALL: U.S. Women's National Team and the U.S. Soccer Federation heading the court … faster than expected
Trial in the class-action "equal pay" lawsuit by the U.S. Women's National Team players against the U.S. Soccer Federation has been set to start on 5 May 2020.
The Wall Street Journal reported that the players had asked for the trial to start in November 2020 and the USSF has preferred December 2020.
The timing is interesting inasmuch as it comes prior to – rather than after – the Tokyo 2020 Olympic Games. The football matches are scheduled to begin on 22 July, prior to the Opening Ceremony; however, the trial is expected to last from 2-4 weeks, and could have some impact on the schedules of the U.S. players who will testify.
The case is under the jurisdiction of Judge R. Gary Klausner of the U.S. Central District of California, in Los Angeles.
| 3. | TRIATHLON: Beaugrand comes back from hospital to lead off the French Mixed Relay win
There was a lot of coverage of French triathlete Cassandre Beaugrand (pictured) last week when she finished 19th in the ITU Olympic Qualification Event in Tokyo and was hospitalized for possible heatstroke after the race.
So where was the coverage of Sunday's Mixed Relay, won in dramatic fashion by French anchor Dorian Coninx over Britain's Alex Yee at the tape?
As it turns out, Beaugrand led off the French team and handed off first – each leg includes a 300 m swim, 7.5 km bike phase and 2.0 km run – with the fastest run in the field. France held the lead with Pierre LeCorre and Leonie Periault following and Coninx on the finish. Both the French and British teams were timed in 1:26:33, with the U.S. third (1:27:09), anchored by Ben Kanute.
So Beaugrand is just fine, although you wouldn't know it by the media coverage. The Agence France Presse story noted that she was "treated for heatstroke" last Thursday, but failed to mention that she competed in the race! More from Tokyo:
● The hot conditions for Thursday's women's race will change some plans for athlete preparations next summer. South African Gillian Sanders told AFP, "I don't think it's too hot not to race or too hot to reduce the distance. Personally, I don't think I've acclimatized properly because I haven't been here for long. I've been here five days and I think you need two or three weeks. So it's a really good learning curve."
● The bike crash that took American star Katie Zaferes out of the race had repercussions, but they are manageable according to a Facebook post by Katie's husband, Tommy Zaferes, also a talented sports photographer and one of the best on the World Triathlon circuit. He posted:
"#DRAMA. #Tokyo2020 Test Event was pretty wild! I will not be discussing my thoughts on the incidents that occurred, other than it's a huge bummer for all parties involved. Please enjoy my favorite photos from the elite women's race and take your discussion of the events to the @worldtriathlon page.
"Katie update: 23 stitches in her mouth, possible broken nose, but she is okay."
The next major race is the World Triathlon Grand Final in Lausanne (SUI), starting on 29 August, where Katie Zaferes will try to win her first World Series title after finishing second last year.
| 4. | CANOE-KAYAK: On the eve of the World Championships, Canadian star Vincent-Lapointe caught for doping
One of the most decorated canoeing stars in history, Canada's Laurence Vincent-Lapointe (pictured), was suspended for a positive doping test by the International Canoe Federation.
The ICF statement noted that "Vincent-Lapointe will remain provisionally suspended until due process has been completed. A full hearing will be held at a later stage."
This eliminates her from this week's World Sprint Championships in Szeged (HUN); she is the defending champion in the C-1 200 m and C-1 5,000 m races and, with Katie Vincent, the C-2 500 m. She has a career total of 11 World Championships gold medals, from 2010-11-13-14-17-18.
Canoe Kayak Canada issued its own statement that included:
"The substance that was found in Ms. Vincent Lapointe's sample has been the subject of recent established contaminated supplement cases and the preliminary information, available at this time, supports that Ms. Vincent Lapointe's adverse analytical finding may have been caused by inadvertent and unknowing use of a prohibited substance from such a source."
The test took place on late July and the notice of finding was received on 13 August.
Said Vincent-Lapointe, 27, in the statement: "I am shocked and completely devastated by this situation because I have done absolutely nothing wrong and I have nothing to hide. I am a person of integrity and any form of cheating disgusts me.
I believe in clean sport and it is what I apply as a principle in my life as an athlete. I would never put my name, my reputation, or my career at risk to improve my performances and widen the gap with my opponents. This feels like a nightmare; I still cannot believe what has happened. Since learning of my positive test just a few days ago, I have done everything possible, with the support of CKC and within a short period of time, to determine the source of the prohibited substance that was found in my sample so that I can prove that I am innocent and that I am an honest and clean athlete."
She is expected to have a news conference in Montreal on Tuesday.
| 5. | ATHLETICS: Miller-Uibo confirmed for 400 m only in Doha; Felix to run in Zagreb on 3 September
After her brilliant performance in winning the 200 m at the IAAF Diamond League meet in Birmingham, England, Shaunae Miller-Uibo (BAH) – who hasn't lost a race at that distance since 2017 – confirmed after her win that she will skip the 200 m and run only the 400 m at the upcoming IAAF World Championships in Doha (QAT).
There's no lack of interest on her part, but the two events are being run on exactly the same days, so a 200/400 double is essentially impossible. That's almost the case in Tokyo in 2020, but the overlap is confined to one day where there are 400 m heats in the morning and the 200 m final as the last event of the day on 4 August. But that's next year.
In the meantime, American Allyson Felix (pictured),who finished sixth in the USATF Nationals at 400 m in her return from maternity, is scheduled to race for the first time since on 3 September at the IAAF World Challenge meet in Zagreb (CRO).
Felix has said that she will compete in the relays in Doha if she feels she can contribute to the success of the U.S. team. She will face strong opposition, with defending World Champion Phyllis Francis of the U.S. and 2017 silver medalist Salwa Eid Naser (BRN) also slated to compete.
| 6. | FOOTBALL: Expanded Women's World Cup for 2023 draws expanded field of potential hosts
FIFA confirmed that the national federation of Belgium has entered into the race to host the (now) 32-team FIFA Women's World Cup in 2023.
That brings the total number of signaled bids to 10, including Argentina, Australia, Bolivia, Brazil, Colombia, Japan, Korea (joint North-South bid), New Zealand, South Africa and now Belgium.
Additional bids are possible, with a 2 September deadline for expressing interest. The selection is expected to be made by May 2020.