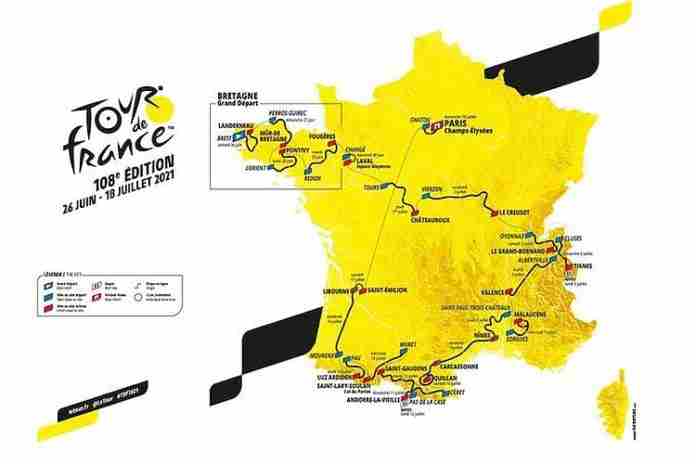 (★ Friends: Thank you! Now 19 donors have covered 26% of our new bill for server and support costs. Your help is needed: please donate here. Your enthusiasm is why this site continues. Thank you. ★)
The latest news, notes and quotes from the worldwide Five-Ring Circus:
● Games of the XXXII Olympiad: Tokyo 2020 ● A modest rise in coronavirus infections in the Tokyo area and reports of two infected members of the Ugandan delegation has resulted in further concerns about the Olympics as a spreader event.
Tokyo 2020 chief Seiko Hashimoto told reporters on Friday that further tightening of the counter-measures will be made and that the decision to allow some spectators into the venues could be revisited if the infection rate continues to rise.
On Wednesday, Tokyo 2020 announced a new ticket lottery for the Opening Ceremony, Closing Ceremony and eight sports across 97 sessions: Athletics (16 sessions), Baseball (16), Football (30), Golf (8)), Modern Pentathlon (2), Rugby (8), Softball (7) and Surfing (8), in order to accommodate the new spectator capacity limits. Ticket holders who are selected will be able to print their tickets out at home on 6 July.
On Thursday, the head of the Imperial Household Agency said that Emperor Naruhito is concerned that the Games may lead to a rise in infections, but Yasuhiko Nishimura also noted that he has "not heard such words directly from his majesty."
¶
NBCUniversal told reporters on Tuesday that its advertising sales effort for the postponed Tokyo Games has reached $1.2 billion so far, just shot of the $1.25 billion it had sold for the event in 2020.
Adweek reported "Currently, NBCUniversal has more than 120 advertisers lined up for Tokyo – roughly 20 more than the 100-plus it had in Rio – and more than 80 of those advertisers did not participate in the Rio Games. It has seem the biggest increase in technology, pharmaceutical and social categories, which are doubling or tripling the business from Rio."
The total U.S. audience for the Games is expected to top 200 million.
● Athletics ● The 2021 Wanda Diamond League schedule is being revised, with the two meets due to be held in China now cancelled due to travel restrictions and coronavirus issues in China.
The meets were scheduled for Shanghai on 14 August and another location to be determined on 22 August. There might be exhibition events held after the Diamond League Final in Zurich on 8-9 September, but this will depend on the travel situation at that time. The events that were to be held in the two meets will be re-distributed to the remaining events.
There was more Diamond League news on Wednesday, as Hayward Field in Eugene was selected to host the 2023 Diamond League final, the first time the culminating event will be held outside of Europe.
¶
Jamaica's two-time Olympic 200 m champion Veronica Campbell-Brown, 39, announced her retirement on Wednesday, finishing a brilliant career that saw her win a total of eight Olympic medals and five World Championships titles both indoor and out.
Campbell-Brown had been competing in U.S. meets in 2021, but managed bests of only 11.20 in the 100 m and 23.73 in the 200 m. She has lifetime bests of 10.76 – no. 11 all-time – from 2011 and a 200 m best of 21.74 – also no. 11 – from 2008.
She won the Olympic 200 m titles in 2004 and 2008 and won World Championships golds in the 100 m in 2007 and the 200 m in 2011. She also ran on Jamaica's Olympic-winning 4×100 m in 2004 and on silver-medal teams in 2000–12-16.
It's not well remembered that she was also the SEC champion in the 100 m and 200 m for Arkansas back in 2004, but her only scoring in the NCAA meet was on the fifth-place 4×100 m team in that year.
● Basketball ● USA Basketball formally announced its women's national team for the Tokyo Games, which will try to win a seventh consecutive Olympic tournament.
The team includes enormous experience: two players who will be five-time Olympians (Sue Bird and Diana Taurasi), four-time Olympian Sylvia Fowles, three-time Olympians Tina Charles, second-time Olympians Brittney Griner and Breanna Stewart, plus six first-time Olympians. The U.S. women are 66-3 all-time in Olympic competition and have won 49 games in a row.
The women's 3×3 team will include Stefanie Dolson (Chicago Sky), Allisha Gray (Dallas Wings), Kelsey Plum (Las Vegas Aces) and Katie Lou Samuelson (Seattle Storm), who will enter the event as the favorites after going 6-0 at the Olympic Qualifying Tournament earlier this year. It's worthwhile to note that all four are playing in the WNBA, while the U.S. men's team – which did not qualify – had no current NBA players.
● Cycling ● It's time for the 108th Tour de France, which will start on Saturday in Brest in the Brittany region, then head east to the Alps, south to the Pyrenees and finally back to Paris on 18 July.
The 21 stages include two time trials, eight flat stages, five hilly to medium mountain stages and six punishing mountain stages over a total distance of 3,417.5 km (2,123.5 miles). The race will be televised in the U.S., mostly on NBCSN, with some weekend stages on NBC.
The 139 registered riders include former winners Chris Froome (GBR: 4 wins), Italy's Vincenzo Nibali (1), Britain's Geraint Thomas (1) and last year's winner, Tadej Pogacar (SLO).
Pogacar and countryman Primoz Roglic are among the favorites for 2021, along with Thomas, Richard Carapaz (ECU), Richie Porte of Australia and home favorite Julian Alaphilippe, who led for 14 stages in 2019 before yielding to eventual winner Egan Bernal (COL). Pogacar, Roglic and Porte went 1-2-3 last year.
¶
Chelsea Wolfe of the U.S. is an alternate for the BMX Freestyle event in Tokyo, and may not compete. But her goal was to not just win, but make her feelings known on the podium.
Fox News reported earlier this week:
"'My goal is to win the Olympics so I can burn a US flag on the podium. This is what they focus on during a pandemic. Hurting trans children,' Wolfe wrote on Facebook on March 25, 2020, along with a link to a PinkNews story about the Trump administration's stance on transgender girls in female athletics."
The story noted that "Wolfe identifies as a transgender woman." If she gets her chance, she will face sanctions from the U.S. Olympic & Paralympic Committee, as its guidelines for prohibited behavior include the "Defacing, distorting, or causing physical harm to a national flag."
● Football ● The latest chapter of Euro 2020's "bottlegate" came Friday when tournament organizers UEFA announced that "teams, players and coaches will be asked in advance if they would object to having the bottles placed in front of them at press conferences on religious grounds."
French star Paul Pogba, who is Muslim, removed a bottle of a non-alcoholic version of Heineken during his news conference last week.
¶
The U.S. Soccer Federation posted a 17-tweet response to the HBOMax documentary film "LFG" about the U.S. women's National Team's win at the 2019 FIFA Women's World Cup in France that was available to see on Thursday (24th).
The federation started with "there is a concerning level of dishonesty about U.S. Soccer and the USWNT's compensation that we feel must be addressed. Specifically, lawyer Jeffrey Kessler presents a misleading and inaccurate account of the facts." And it continues (presented as posted):
● Kessler's own admission in the movie that certain things he says are "a little bit of an exaggeration" pertains to a lot of the misleading information he presents, conveniently without context or specific details. So, we'd like to talk about real facts. 2/17
● Kessler claims that "merely for showing up and playing a game, the men get more per game than the women."
The facts: The men's and women's teams are represented by different unions and knowingly requested and agreed to different compensation models. 3/17
● The USWNTPA asked for and agreed to a contract that provides a guaranteed salary of $100k and benefits, plus a bonus for matches. The men's contract is pay-for-play – meaning they only get paid when they play. No guaranteed salary. No benefits. 4/17
● Are the bonuses smaller than the USMNT game bonuses? Yes, b/c the USWNTPA negotiated for a $100k salary and benefits. Kessler conveniently leaves out those 2 things and only compares bonuses. He also fails to mention the $90k+ salary U.S. Soccer pays for playing in the NWSL. 5/17
● This structure was preferred by the USWNT as it ensures security and stability. If a player gets hurt on Jan. 2, she still gets paid her full salary (and NWSL salary). During COVID when there were no games USWNT still got paid every 2 wks + benefits. USMNT got paid $0. 6/17
● While negotiating their last agreement signed in 2017, the USWNTPA turned down a pay-to-play structure, the exact same way the men's team is paid. 7/17
● At the time, a player rep told http://SI.com that "equal isn't the right word. It would be equitable, because we are asking for a different structure." https://ussoc.cr/t7m4e 8/17
● Kessler also alleges differences in hotel accommodations for the USWNT and USMNT, joking the USWNT stays at Motel 6.
The facts: The USWNT consistently stays at some of the finest hotel properties in the world and has for 20 years. 9/17
● Kessler claims the WNT "almost never travel in charters" and "the last one they did was after the World Cup."
The facts: The WNT & MNT have chartered the exact same amount of flights from '18 to now (18 each). 6 for WNT were post-WWC, including most recent in April 2021. 10/17
● Kessler says that FIFA doesn't pay the players World Cup prize money directly and insinuates that since FIFA gives the money to the Federations, we haven't provided it fairly to the players.
The facts: U.S. Soccer paid 100% of the WC prize money to the WNT. 11/17
● The amount of prize $$ for the Men's WC and Women's WC is set by FIFA, not U.S. Soccer. We agree it should be equalized. We are also open to the teams sharing their prize $$ with each other if they choose. 12/17
● USSF has pressed FIFA to eliminate the gap in prize money – which right now is $34m ($38m for MWC winner and $4m for WWC winner) – and will continue to do so. Kessler says we should pay the difference from past WCs and any future differences. A total of almost $100m. 13/17
● The facts: Asking us to pay the difference in FIFA prize money would take millions away from developing USYNT players, coaches & referees. We would have less money to develop the next generation and grow the sport, and it could even bankrupt USSF. 14/17
● Kessler also consistently distorts the facts on revenue generation and TV ratings in his commentary in the movie. 15/17
● Our USWNT and USMNT are among the highest paid in the world, with the USWNT making more than almost every men's national team globally. We're confident that working together we can reach an agreement that benefits everyone moving forward. 16/17
● We remain committed to building on the success of our teams and continuing to grow soccer here in the U.S. at every level of the game. 17/17
This is a remarkable – although not unprecedented – use of Twitter, and a corresponding news release is not shown on the USSF Web site, and will be a point of debate among public relations professionals for years to come.
As for the actual dispute between the women's team and the federation, the equal-pay lawsuit was dismissed on summary judgement by U.S. District Court Judge R. Gary Klausner on 1 May 2020. Klausner wrote in part, "the WNT both played more games and made more money than the MNT per game" and "the reality [is] that the MNT and WNT bargained for different agreements which reflect different preferences, and that the WNT explicitly rejected the terms they now seek to retroactively impose on themselves."
The decision has been appealed to the U.S. Court of Appeals for the Ninth Circuit.
● Shooting ● On Wednesday, USA Shooting posted a news release which began with:
"USA Shooting was notified by the United States Olympic and Paralympic Committee (USOPC) today that Olympic Team Nominee Keith Sanderson has been excluded from the U.S. Delegation for Tokyo due to a suspension handed down by the U.S. Center for SafeSport. In accordance with the guidance provided by, and in cooperation with the USOPC, Tokyo Alternate Jack Leverett III has been promoted to fill this quota place in Men's 25M Rapid Fire Pistol and will compete alongside his brother Henry Leverett."
Matt Suggs, USA Shooting's chief executive, added: "USA Shooting remains committed to the safety of our athletes, staff, and volunteers and SafeSport is an important part of that commitment. Since the launch of the U.S. Center for SafeSport, 20 cases have been filed in connection with USA Shooting, and this is the first suspension of any kind for a USAS staff member, volunteer, coach, or athlete."
The U.S. Center for SafeSport site lists Sanderson as suspended as of 1 June 2021 for "Sexual Misconduct, Sexual Harassment." A statement from the U.S. Olympic & Paralympic Committee noted that his suspension is for three months.
Sanderson, 46, competed in 2008, 2012 and 2016 in the 25 m Rapid-Fire Pistol event, finishing with a best of fifth in Beijing.
● Swimming ● The 21 June notice of the Court of Arbitration for Sport decision to suspend Chinese star Yang Sun after a re-hearing imposed a suspension of four years and three months:
"The new Panel found Sun Yang to have acted recklessly in particular when he refused to allow the blood samples to leave with the Sample Collection Personnel, causing the abortion of the out-of-competition anti-doping control of 4-5 September 2018."
That's the same conclusion as the first panel reached, but Sun actually did quite a bit better due to an intervening change in the FINA rules. As a second-time violator of the anti-doping rules, he had been suspended for eight years as per the FINA rules in place at the time when the first decision was released, in December 2020.
Since then, FINA's rules were amended so that sanctions for a second offense are more flexible and can reflect "the entirety of the circumstances." Thus, the penalty was changed from a full eight years to 51 months. Sun's sanction runs from 28 February 2020 and will finish at the end of May in 2024, leaving him eligible – at age 33 – to compete in Paris in 2024.
¶
New FINA President Husain Al Musallam (KUW) struck a cordial note on Thursday about the future relationship between the federation and the International Swimming League during a conference call with reporters:
"For me as president of FINA, my door is open for ISL or any other commercial operation. We will work with ISL if ISL would like to work with FINA."
This is a sea change from the initially-hostile relations between the two, and two lawsuits against FINA by ISL and by a group of its swimmers are still pending in Federal Court in California. However, ISL has held two seasons thus far without sanctions from FINA and is preparing to begin a third after the Tokyo Games.
ISL posted no reply to Al Musallam's comments on its Web site or Twitter feed.
● The Last Word ● Legacy can be a tough part of Olympic hosting, as the folks in Korea are finding out.
The Alpensia Resort, which was the site for biathlon, cross-country skiing, nordic combined, ski jumping and bobsleigh, luge and skeleton at the 2018 Winter Games, was sold by its government-owned operator to a private-sector buyer for 710 billion won or about $628.93 million U.S.
The deal is slated to close in August, but there are doubts whether the buyer, a specially-created subsidiary of electronics parts maker KH Feelux, can conclude the deal. The property – which opened in 2009 – had been up for sale multiple times and condominiums in what had been the Olympic Village, did not sell as hoped.
You can receive our exclusive TSX Report by e-mail by clicking here. You can also refer a friend by clicking here, and can donate here to keep this site going.
For our 649-event International Sports Calendar for 2021 and beyond, by date and by sport, click here!