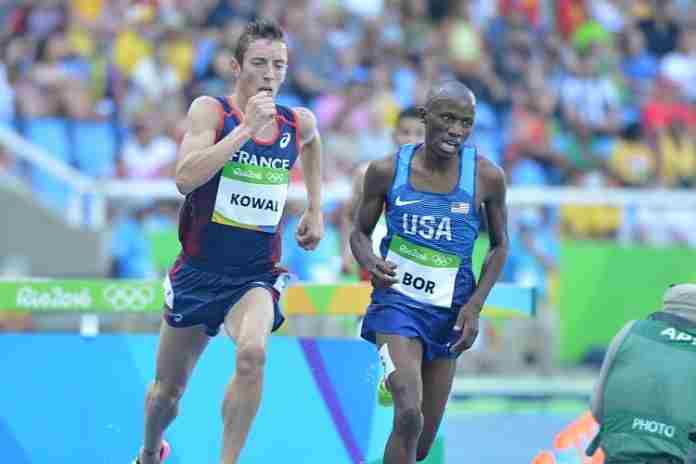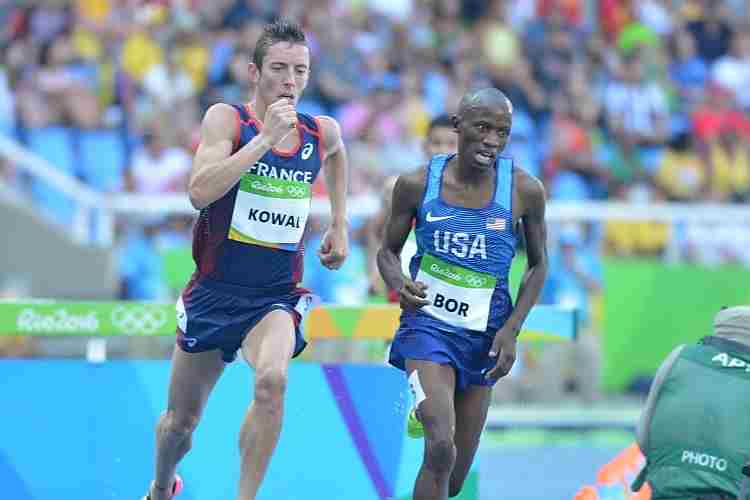 (★ Friends: Thank you! Now 20 donors have covered 27% of our new bill for server and support costs. Your help is needed: please donate here. Your enthusiasm is why this site continues. Thank you. ★)
Day six of the U.S. Olympic Track & Field Trials in Eugene featured 90-degree heat and had two finals – in the men's discus and the men's Steeple – and a passel of qualifying events.
The discus was the first final and 2019 World Champs finalist Sam Mattis took the lead right away at 62.51 m (205-1). The 2017 Worlds bronze winner and two-time U.S. champ Mason Finley fouled his first throw – after fouling his first two throws in qualifying yesterday – but got a fair toss of 60.70 m (199-2) in round two, sitting in fifth.
Mattis's first throw held up as the leader through three rounds, but then Finley got untracked and went to the lead on his fourth throw of 62.80 m (206-0). Feeling good, he then extended his lead to 63.07 m (206-11) in round five and it looked like no one would catch him.
The desperation of the sixth round produced the best throws of the day for Josh Stroychen in sixth and James Plummer in seventh, but a foul for Finley. Then 2018 national champ Reggie Jagers got the throw he was waiting for at 62.61 m (205-5) to move from fifth into second place and on the team with three throwers left. That's the way it ended: of the 12 finalists, the only three with the Olympic qualifying standard made the team – Finley, Jagers and Mattis – are on to Tokyo.
The men's Steeple ended the program, and two-time Olympian Donn Cabral led the pack through the first four laps with Rio Olympian Hillary Bor and Sean McGorty close. Benard Keter and Daniel Michalski came to the front with three laps remaining, but the pack was still together. Cabral and Bor led with two laps left, with Mason Ferlic now third, but Isaac Updike came up to lead Bor at the bell.
It was still anyone's race, but six men separated themselves on the back straight and then Bor and Keter raced away with 200 m to go and into the final water jump. The two were together into the straight and when Keter made an awkward clearance on the last barrier, Bor raced away with an 8:21.34 win. It will be his second Olympic appearance after finishing seventh in Rio.
Keter was second in 8:21.81 and Ferlic used a great last water jump to separate from Michalski and Updike to claim third, 8:22.05-8:22.54-8:24.72. Cabral finished sixth in 8:25.95.
The healthy qualifying program included:
● Men's 200 m: Things got hot immediately, as ex-prep star Erriyon Knighton ran hard from the gun in lane 4 and managed a remarkable win over World Champion Noah Lyles (in lane 7), and took away Lyles's 2016 American Junior Record by 5/100ths, timing 20.04! Lyles was second in 20.19, ahead of ex-400 m star (and now 100 m Olympian) Fred Kerley (20.41).
The other heats weren't nearly as fast, with Isiah Young beating Kenny Bednarek and Josephus Lyles in heat two, 20.21-20.22-20.39, and LSU star Terrance Laird – still the world leader – winning heat three in 20.44. The final heat was a win for Andrew Hudson in 20.40, with Georgia's Matthew Boling (20.47) and 2008 Olympic 400 m champ LaShawn Merritt (20.53) third.
The semifinals and finals come Sunday.
● Men's 1,500 m: The first semifinal was a wild dash into the final straight, with two-time U.S. champ Craig Engels moving out of a box and into lane two to break free and sprint to a win in 3:38.56. Notre Dame's collegiate record holder Yared Nuguse was second in 3:35.60, as the top eight finished within 1.27 seconds.
In the second semi, the entire pack ran together almost to the bell and then Johnny Gregorek and reigning Olympic champion Matthew Centrowitz took the lead as the running really started. Oregon frosh Cole Hocker, the NCAA champ, went to the lead with 250 m to go and he and Centrowitz raced together to the finish, with Centro winning in 3:42.96 – a 52-second last lap – and Hocker close at 3:43.00. Josh Thompson ran hard over the last 60 m to come up to third (3:43.61), as did Henry Wynne and Sam Prakel, leaving Gregorek in sixth and out of the final. Prep record holder Hobbs Kessler was eighth in 3:45.50.
● Men's 110 m hurdles: The first three heats went as expected: World Champion Grant Holloway won the first race in 13.11, followed by Daniel Roberts in 13.22 and Devon Allen in a tight finish with Michael Dickson, with both in 13.26.
Then came the fourth heat with four recalls and resets, and then a disqualification of Sam Bixley of Washington State on the fifth recall for a slight flinch. On the sixth try, it was Iowa's Jaylan McConico who looked best and edged Jarret Eaton, 13.35 to 13.51.
● Men's 400 m hurdles: Khallifah Rosser led for the first nine hurdles in semi one, but Kenny Selmon came on in the home straight and won in 48.51, with Rosser at 49.04 and Isaiah Levingston third in 49.34. T.J. Holmes, a 48.20 man from 2019, did not have it and was last in 53.98. Amere Lattin, who won his heat yesterday, was disqualified after the meet ended last night for running on the lane line inside him.
Worlds silver medalist Rai Benjamin was the focus of semi two, and he ran away from the field right away. He had a 15 m lead over David Kendziera coming into the straight and then cruised him, literally jogging home in 48.51. Wow! USC's Cameron Samuel passed Kendziera late for second, 49.01-49.05.
● Men's High Jump: It took 2.19 m (7-2 1/4) to move to the final and 2012 Olympic champion Erik Kynard and LSU's JuVaughn Harrison both advanced without incident.
However, Jeron Robinson, a three-time U.S. champion who has cleared 2.30 (7-6 1/2) this season, missed all three times at 2.14 m (7-0 1/4) and was eliminated.
● Men's Long Jump: The top 12 included Rio fourth-placer Jarrion Lawson, who had to win a reversal of a drug suspension last year to be able to compete. He had two fouls, then unleashed the best jump of the day with a windy 8.12 mw (26-7 3/4 +3.2 m/s). He finished ahead of nine others over 26 feet, including Steffin McCarter (8.10 mw/26-7w), Marquis Dendy (8.09 mw/26-6 1/2w), LSU's two-event star Harrison (8.06 m/26-5 1/2) and reigning Olympic champ Jeff Henderson in seventh (8.02 mw/26-3 3/4w).
Triple jump winner Will Claye was last at 7.18 m (23-6 3/4); 2012 Olympian Marquise Goodwin, now a Chicago Bears receiver, was 19th with 7.57 m (24-10).
● Women's 200 m: Former Oregon star Jenna Prandini blew away the field from the start of semi one, with a huge lead off the turn and then striding home in 21.99 (-0.3 m/s), just 0.01 off the world leader from Gabby Thomas yesterday. Veteran Morolake Akinosun made up the stagger on Allyson Felix in lane eight through the turn, but Felix had plenty in reserve and moved confidently into second at 22.20 to assure a better lane for the final. Dezerea Bryant was third (22.37) ahead of Akinosun (22.44). Cam Sturgis of North Carolina A&T ended up seventh in 22.68.
Semi two had Thomas in lane six, and she stormed to the lead immediately and won easily in another lifetime best – and 2021 world-leading time – in 21.94 (+1.8)! Ohio State's Anavia Battle was a distant second in 22.32 and Alabama's Tamara Clark was third (22.35). Akinosun did qualify for the final on time.
● Women's 800 m: All eyes were on Athing Mu, who let Chanelle Price lead the race for almost 700 m, with 2016 Trials winner Kate Grace just behind and Hanna Green in the mix. Into the final straight, Mu turned on a little speed and ran away from Grace to win in 1:59.31 to 1:59.43, with Price third in 1:59.90. Green got mixed up with Sage Hurta, who fell behind her, but still managed to get fourth in 2:10.19, but will miss the final. Mu looked so easy it was (and is) frightening.
The second semi saw Allie Wilson and Ajee Wilson running 1-2 at the bell and breaking away from the field with 300 m to go. Raevyn Rogers moved from the back into third with 200 m to go, but Ajee Wilson ran away from everyone down the straight and cruised home the winner in 1:59.49. Rogers came on strong for second at 1:59.66 and Allie Wilson was third (1:59.94). The final is Sunday.
● Women's 400 m hurdles: Sydney McLaughlin was the star attraction of heat one – and the only one with the Olympic standard of 55.40. This race had three recalls, and the starter was holding quite a long time. On the fourth try, McLaughlin cruised around the track in 54.07, ahead of Nnenya Hailey – running hard all the way from lane eight – got an Olympic qualifier in 55.05!
World no. 2 Shamier Little was in lane seven in heat two, running just inside the Rio bronze medalist Ashley Spencer. The two ran together to hurdle eight, when Spencer chopped her step and Little cruised in at 55.22, with Spencer at 55.92. Cassandra Tate, the 2015 Worlds bronze medalist, was the class of heat three, winning decisively in 56.11, with NCAA champ Anna Cockrell second in 56.83. World-record holder and reigning Olympic champ Dalilah Muhammad looked to be in perfect health – after months of injuries – in winning heat four in 55.51.
● Women's Javelin: No surprise as the American Record holder, Maggie Malone, led the list at 59.62 m (195-7), followed by former American Record holder, Kara Winger, with 58.78 m (192-10. They are the only ones who have the Olympic qualifying standard of 64.00 (210-0).
Saturday's program includes finals in 20 km walks and men's 10,000 m in the morning, then the first day of the women's heptathlon and then finals in the women's hammer, women's javelin, men's vault, women's long jump, men's 400 m hurdles, women's 200 m and the men's 110 m hurdles.
You can receive our exclusive TSX Report by e-mail by clicking here. You can also refer a friend by clicking here, and can donate here to keep this site going.
For our 649-event International Sports Calendar for 2021 and beyond, by date and by sport, click here!