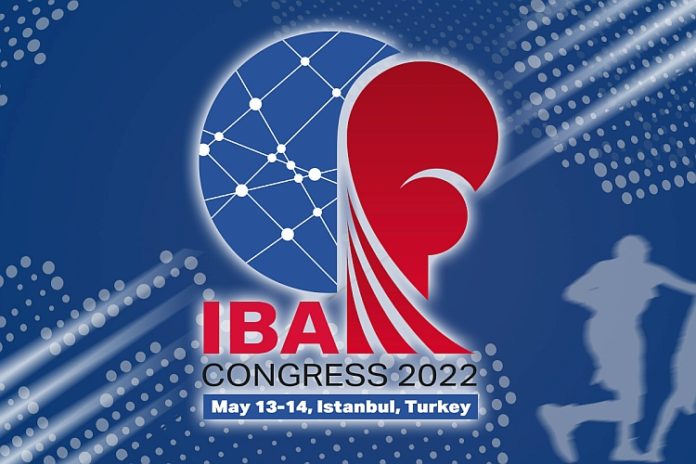 ● Plus: Los Angeles 2028: Garcetti nomination to be India ambassador stalls = Olympic Games 2036: London Mayor Khan reiterates interest = Figure Skating: China cancels its ISU Grand Prix event = Football: UEFA chief Ceferin not ready for Russia expulsion = Gymnastics: Chusovitina, 46, to try for ninth OG in 2024 = Judo: U.S. Olympian Cutro-Kelly wins Deaflympics gold = Skiing: U.S. Ski & Snowboard teams up with Kappa = Ski Jumping: FIS allows plastic landings; increases prize money = Swimming: Why Russia's Rylov didn't appeal FINA's suspension; Breaststroke star Peaty out of 2022 Worlds = Triathlon: Amazing Ironman win for Olympic and World champ Blummenfelt = SCOREBOARD => Cycling: Demare sprints to win in Giro d'Italia stage 5 ●
The latest news, notes and quotes from the worldwide Five-Ring Circus:
≡ SPOTLIGHT ≡
"We thank you in advance for this outstanding information, and confirm again that IOC recognition of IBA remains suspended and boxing is not currently included in the sports programme of the Olympic Games Los Angeles 2028, with concerns remaining in the key areas of governance, financial sustainability and the proven integrity of the refereeing and judging systems."
That's the final paragraph of a letter from IOC Sports Director Kit McConnell (NZL) and Chief Ethics and Compliance Director Paquerette Girard Zappelli (FRA) sent Tuesday to International Boxing Association President Umar Kremlev (RUS). There was more:
● "[T]he IOC wishes once more to raise its concerns regarding the necessary details of the Paris 2024 boxing Qualification System. In addition, we would like to express our specific concern over the possible selection of events that may not provide fair eligibility criteria, and create possible discrimination. Therefore, we urge you to ensure that all boxers have the same level of opportunities to qualify regardless of geographical and/or costs factors."
● "[W]e still have concerns regarding the IBA's capacity to execute a complex management system of Technical Officials' management and in particular referees and judges."
● "With regard to the IBA Women's World Championships currently underway in Istanbul, we are still waiting for your updated documents on Referee and Judge's processes, beyond the selection process. We would also appreciate clarification whether or not the IBA has not made any changes to its regulations. This is critical information for your athletes, and also for the independent auditors, who will monitor the current event in Istanbul."
Kremlev is facing off against Boris van der Vorst – President of the Dutch Boxing Association – in the IBA Presidential election coming up this weekend; Kremlev won election in December 2020 with 86 votes to 45 for Van der Vorst, and 19 for Interim AIBA President Mohamed Moustahsane (MAR).
Van der Vorst's election manifesto calls IBA's situation an "existential crisis" and underscores the federation's financial peril:
"The fiscal year will not result in any net gains for IBA and it is a clear attempt to take all of us, National Boxing Federations, as hostages to yet another promise of certain individuals, who speak of bringing in yet another 'miracle sponsor'. Another 'sponsor,' that is clearly ready to advance individual interests, not the interests of our sport.
"Despite the claimed settlement of IBA's debts, it has not been made clear to the National Boxing Federations what the terms and conditions of these settlements were. Neither the Board of Directors, nor the National Boxing Federations have received any reports on these settlements or heard any statements from IBA's creditors and investors to confirm how exactly it had been executed. Financial transparency of our world sport governing body often still resembles that of a private club."
Van de Vorst promises to clean house, regain the trust of the national federations and boxers and to institute "professional and sustainable financial management, not a 'miracle sponsor'."
Kremlev's 11-page election brochure enthuses "In 2020 my Manifesto included a two-year action plan – we have delivered most of it within 18 months only!" and "As you can see, I am a man who keeps his promises."
He lists achievements, beginning with "IBA debts are wiped off, all paid" and "Communication with the IOC is restored: boxing will be at the Paris 2024 Olympic Games, IBA is already developing and delivering for qualification and IBA has a roadmap towards reinstatement."
Plus: new weight categories to give more chances to more boxers, support programs for national federations and confederations – $1.4 million last year – and athlete prize money, with commitments on more broadcasting of IBA events, better event presentation and a new World Boxing Tour and world-ranking program.
The rather undefined "Tour" is an astonishing proposal considering that debts of $10 million or more resulted from the World Series of Boxing program launched by the old AIBA from 2010-18 and helped to throw the current IBA into the chaos from which it has not yet recovered.
Kremlev is favored to win re-election, but it is clear that the IOC is not warming to him or his program as regards a place in the 2028 Los Angeles Games.
¶
At the IBA Board of Directors meeting held Wednesday in Istanbul, the finance report signals major questions ahead:
"While IBA continues to deliver extensive programmes to support for boxing, the diversification of the revenue streams remains a top priority. The Board of Directors was informed that Gazprom has indicated it will not renew its General Partnership agreement with IBA at the end of the currently-contracted term – 31 December 2022."
The Russian energy giant entered into a short-term agreement after Kremlev's election to infuse enough money to clear the federation's debts (maybe), but the IBA has stonewalled the IOC's request to see the sponsorship agreement. With the Russian invasion of Ukraine, Kremlev's extensive contacts in his home country may become a liability to the federation and keep outside companies from investing in the sport.
The IBA Extraordinary Congress will be held on Friday and Saturday (13-14th). The IBA Board voted to allow the Russian Boxing Federation to vote in the elections.
≡ THE 5-RING CIRCUS ≡
● Games of the XXXIV Olympiad: Los Angeles 2028 ● The nomination of Los Angeles Mayor Eric Garcetti to be U.S. Ambassador to India took another detour with the release of an investigation by Sen. Charles Grassley (R-Iowa), the ranking member of the Senate Judiciary Committee. A summary of the findings included:
"Based on information obtained by Committee investigators, it is more probable than not that [senior adviser] Mr. [Rick] Jacobs sexually harassed multiple individuals, and made racist comments towards others. Based on witness testimony, this behavior was pervasive, widespread, and notorious. Several individuals told investigators that Mayor Garcetti was aware of this behavior, and based on the reported frequency and conspicuous nature of the conduct, it is more likely than not that Mayor Garcetti either had personal knowledge of the sexual harassment or should have been aware of it."
Garcetti was a central player in negotiations with the IOC in bringing the 2028 Olympic Games to Los Angeles in 2017. He is term-limited as Mayor and his second term will end later this year. His ambassadorship, which was expected to be quickly confirmed, has stalled and it is not clear if he will be approved by the full Senate.
● XXVI Olympic Winter Games: 2030 ● The Japanese Olympic Committee has estimated the cost of a 2030 Winter Games in Sapporo at $2.6 billion.
Said JOC President Yasuhiro Yamashita: "From both inside and outside our country, there are many views about hosting the Olympic and Paralympic Games. I realize there are also concerns about the huge costs involved."
The IOC has recognized bid interest for 2030 from Sapporo, Salt Lake City in the U.S. (budget projection of $2.2 billion) and in-formation bids from Vancouver (CAN) and a Pyrenees-Barcelona bid in Spain.
● Games of the XXXVI Olympiad: 2036 ● London Mayor Sadiq Khan repeated his campaign pledge to seek another Olympic Games for London, with the next available in 2036.
Khan was in San Francisco Wednesday and on his way to Los Angeles later in the week when he told ITV London:
"One of the things I have been making clear during this trip is my aspiration to have London as the sporting capital of the world – not just American football, baseball, boxing, tennis, cricket and so forth, but at some stage we would like the Olympics back as well.
"L.A. will be hosting the Olympics after Paris, in 2028. L.A. have now had [sic] the Olympics three times, as indeed has London.
"If it's the case we want to have a world that is green, that is sustainable, but also includes having Olympics that are sustainable – not building stadiums that sit empty but reusing stadiums and facilities that already exist."
Has London been in discussions with the IOC yet? Said Khan, "We're working on the preliminary plans, we're talking to the IOC, so watch this space."
● Collegiate Sport ● California Senate Bill 1401 would force colleges "to take 50 percent of their revenue from each sport in their athletic program and subtract that amount from the total of grant-in-aid-scholarships offered in that sport. The difference shall then be distributed equally among those student athletes in that sport."
The bill came up before the Senate Appropriations Committee on Monday (9th) and was placed in the famous "suspense file." This is a procedure in which the bill will either move forward to the Senate floor for debate and possible vote, or will die as it is considered too costly for the available State funds at the time.
While the University of California and California State University system did not comment on the bill previously, they are now. The analysis of the bill was amended to include:
"● By requiring institutions of higher education to establish degree completion funds for student athletes, this bill could result in a substantial redistribution of a college's athletic program revenues. This could then lead to significant local cost pressures for colleges to backfill these resources and balance their budgets to maintain the existing level of services.
"● The University of California (UC) estimates that the bill's requirement to create, manage, and distribute degree completion funds for qualifying student athletes would have a systemwide impact in the range of $34 million to $36 million each year. The California State University (CSU) estimates an impact of $1 million to $9.3 million for its nine Division 1 campuses, or the displacement of between 17 – 34 percent of total athletic department revenues for those campuses. The CSU also indicates that the redistribution of revenues will be disproportional to male and female athletes and could cause its institutions to be out of compliance with federal Title IX requirements.
"● Additionally, the UC estimates General Fund costs of approximately $1.44 million each year to hire one full time staff per campus to manage the degree completion funds while the CSU estimates General Fund costs of $3.3 million each year for these activities."
In other words, the bill is a net cost to California's state universities of perhaps $80 million a year and over $100 million a year when Stanford, USC and the smaller private universities in the state are added in.
Where is that money going to come from? And what about the Title IX implications when almost all of the money goes to football and men's basketball players and nearly nothing goes to women's sports?
The bill's status will be considered later this month.
● Figure Skating ● FrancsJeux.com reported that the Covid crisis in China has resulted in the abandonment of the planned International Skating Union Grand Prix stop there scheduled for 11-13 November.
With the removal of the Rostelecom Cup from Russia, the circuit is now down to four stops from six, although the ISU has asked for replacement venues from the national federations. Grand Prix events are scheduled for the U.S., Canada, France and Japan with the Grand Prix Final in Turin (ITA).
● Football ● "It is premature to talk about the disqualification of Russia. If you had asked me a month ago, my opinion would have differed from today's. We don't know what will happen in a month. I don't exclude anything, but I also can't say that something It will definitely happen in the near future.
"Our sanctions were tough on the athletes. Once again I must say that I feel sorry for them, but in this situation there was no other way out. Let's see what happens in the future. I hope that everything will stop as soon as possible."
That was UEFA chief Aleksander Ceferin (SLO), following the 46th UEFA Congress, held in Vienna (AUT). Discussion of the exclusion of the Russian Football Union from the confederation has been going on as the Russian war against Ukraine continues.
● Gymnastics ● Oksana Chusovitina thought she would end her remarkable career with the Tokyo Olympic Games last year.
However, she was back in action at the FIG Artistic World Cup in Doha (QAT) in October, winning the vault and confirmed to the Uzbekistan National Olympic Committee that she has no plans to stop:
"I thought about it well and decided that after the Asian Games I would also prepare for the Olympics in Paris!"
Now the Asian Games in China have been postponed to 2023, so Chusovitina has the incentive to continue, even at 46. If she makes it to Paris, it will be her ninth Games, which would tie the record for the most Olympics by a woman; Georgian shooter Nino Salukvadze, now 53, competed for the USSR, Unified Team and Georgia from 1988-2020.
Chusovitina competed for the Unified Team in 1992, Uzbekistan (1996-00-04), Germany (2008-12) and then back to Uzbekistan for 2016 and 2020. She owns an Olympic gold from the Team event in Barcelona and a silver from the Vault in Beijing.
● Judo ● An impressive double for American Nina Cutro-Kelly, 37, a four-time Pan American Championships medal winner at +78 kg, who made it to the Tokyo Games for Team USA and now is the 2022 Deaflympics gold medalist.
Cutro-Kelly has 50% hearing loss in both ears, but has not let that stop her on the tatami.
"I spent so long of my life not necessarily hiding that I was hearing impaired, but trying to prove that I could do anything that anybody else could do. And I think I did that. I made the Olympic Team and it was the first time a heavyweight woman made the U.S. team in 20 years.
"I'm pushing 40 and I can still medal in the Pan Ams. I think it's important for me to show that you don't do judo with your ears and it's not necessarily an obstacle to being able to compete in a sport on the same level, if not better, than someone with full hearing."
The 2022 Deaflympics, still ongoing in Caxias Do Sul, Brazil, added judo to the program in 2013 and Cutro-Kelly crushed her three opponents, winning in the final in 0:39. She plans to continue her relationship with the Deaflympics on the way to the 2025 event in Tokyo.
● Ski Jumping ● The FIS Ski Jumping Committee agreed to what could be an important change for the sport, allowing "an ice inrun track and a green (plastic) landing hill for the first time ever in the Ski Jumping World Cup.
"The combination of the ice inrun track and the plastic landing offers the possibility to start the World Cup season extremely early without the need of producing artificial snow. This means a big step when it comes to sustainability. Not only a lot of money is saved by the organizer but also a lot of energy. In addition, the mats on the landing area are an important step for safety, as it is extremely challenging to prepare the hill with artificial snow and the landing area was often bumpy which increased the risk of falls in the past."
Prize money was also increased; men's events will top out at CHF 90,000 each for 2023-24 and rise to CHF 100,000 per event in 2024-25. Women's events are paid by World Cup point, which will rise from CHF 38 to 50 by 2026-27.
● Skiing ● A big announcement for U.S. Ski & Snowboard, that "Kappa, Italy's leading sportswear brand, has signed a multi-year sponsorship as Official Technical Apparel Partner of the U.S. Ski Team, U.S. Freeski Team, and U.S. Snowboard Team. This is the first time a single outerwear and race suit provider has outfitted all the U.S. teams."
The deal runs from the 2022-23 winter season through the 2031-32 season, including the 2026 Milan Cortina and 2030 Olympic Winter Games. A retail apparel line will be introduced with the aim of "helping to expand Kappa's footprint across the U.S."
Veteran track & field observers will remember that Robe di Kappa was the apparel supplier for The Athletics Congress back in the 1980s – 1982-88 to be exact – and provided the uniforms for the 1984 and 1988 Olympic teams in Los Angeles and Seoul. Kappa is a unit of Turin-based BasicNet SpA, founded in 1967 and owners of brands also including Jesus Jeans, K-Way, Superga, Sabelt, Briko and Sebago.
● Swimming ● Russia's double Olympic champion in the backstroke, Evgeny Rylov, said he did not challenge FINA's suspension to the end of the year because of time.
Rylov was suspended for his participation in the 18 March pro-war rally in Moscow, along with a number of other athletes. He told the Russian news agency TASS: "I decided not to file an appeal, as the process could drag on for a long time."
Translation: the case would go on longer than the suspension.
There were more Russian athletes participating in the 9 May ceremonies in Red Square, commemorating the victory over Nazi Germany in World War II. Those identified included star wrestlers Roman Vlasov and Musa Evoloev and gold-medalist gymnasts Nikita Nagornyy and Angelina Melnikova, but there may have been others.
¶
British swim star Adam Peaty, the 2016-20 Olympic 100 m Breaststroke champion, and an eight-time Worlds gold medalist, will not compete at the 2022 Worlds in Budapest (HUN) due to a right-foot bone fracture suffered while training in Tenerife (ESP).
Peaty would have been trying for a fourth consecutive 50-100 m Breast double at the Worlds. He said he has been ordered to rest for six weeks; the Worlds begin on 17 June. He plans to be back for the Commonwealth Games in Birmingham (ENG) beginning on 28 July.
● Triathlon ● A unique triple for Norwegian star Kristian Blummenfelt as he won the Ironman World Championship last Saturday in difficult, hot conditions in St. George, Utah in 7:49:16. Lionel Sanders (CAN) was second at 7:54:03.
This comes in addition to his historic double in 2021, as he won both the World Triathlon Series championship and the Olympic Triathlon in Tokyo and now the Ironman title in less than 12 months.
Daniela Ryf (SUI) won her fifth world title in the women's division in 8:34:59, followed by Kat Mathews (GBR: 8:43:49).
≡ SCOREBOARD ≡
● Cycling ● Stage five of the 105th Giro d'Italia featured a climb up and over the 1,113 m Portela Mandrazzi in the middle of the otherwise flat, 174 km route … meaning the finish was set up for the sprinters.
It was France's Arnaud Demare who got there best, leading 97 riders who were given the same time, in 4:03:56. It was the Frenchman's sixth Giro stage win – in 2019, 2021 and 2022 – just ahead of Colombian star Fernando Gaviria, who finished third in stage three. Italians Giacomo Nizzolo and Davide Ballerini placed 3-4.
The leaders remained in place: Spain's Juan Pedro Lopez has a 39-second lead on Lennard Kamna (GER) and 58 seconds on Rein Taaramae (EST). Thursday's stage of 192 km from Palmi to Scalea has a big climb in the first quarter of the route, but otherwise sets up as another sprinter's delight.
You can receive our exclusive TSX Report by e-mail by clicking here. You can also refer a friend by clicking here, and can donate here to keep this site going.
For our updated, 620-event International Sports Calendar for 2022 and beyond, by date and by sport, click here!