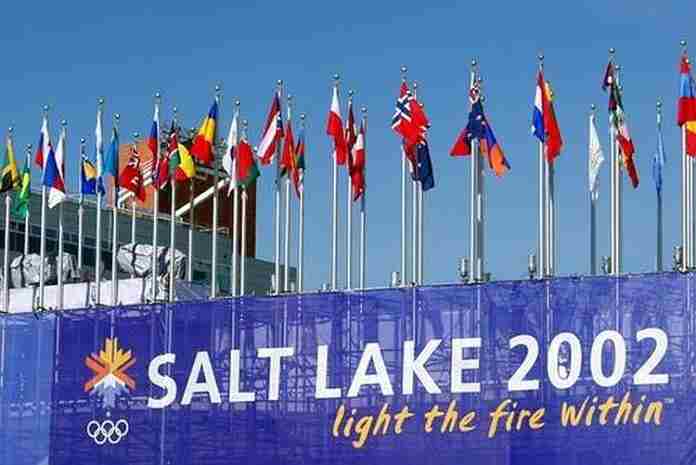 (★ Friends: The new bill for server and support costs has arrived. If you would like to support our coverage, please donate here. Your enthusiasm is why this site continues. Thank you. ★)
On the same day that Australia's aggressive bid for the Games of the XXXV Olympiad was endorsed by the International Olympic Committee's Executive Board, Brisbane as the host city for 2032, the Salt Lake City-Utah Commission for the Games was smiling.
They are also well along with a detailed bid to return the Olympic Winter Games to Salt Lake City, Utah, site of the highly-successful 2002 Winter Games which was an athletic, aesthetic and financial success with a $76 million surplus that continues to fund the legacy venues of those Games.
Already the confirmed candidate of the U.S. Olympic & Paralympic Committee, the sticking point has been about whether to bid for the 2030 Winter Games, or ask for 2034, in view of the 2028 Olympic Games being staged in Los Angeles.
At a Thursday meeting of the Commission's Strategic Board at the Olympic Oval in Kearns, Utah, the question was discussed publicly, and in detail by Fraser Bullock, not only the President and Chief Executive of the Commission, but the Chief Operating Officer of the 2002 Games organizing committee.
Bullock was candid:
"First and foremost, we need to choose 2030 vs. 2034 … that is our threshold issue. …
"It's really a collaborative process with and between us and the USOPC. We're in touch with them all the time, it's like a couple of times a week, where we're going through these concepts, and the big factors that we're working through is safeguarding LA 2028. That is number one. They've got those Games, we're fully supportive of them and anything we do needs to be additive to them.
"But then when we go through it, we say 'OK, what are the big issues of 2030 vs. 2034?' and one of the biggest ones is just economics. You have back-to-back Games that close together, that are 18 months apart. Is there a way to solve the domestic sponsorship revenue opportunity and challenge there? Are there enough sponsorship dollars to go around?
"So that has been a big part of our focus. We've had a lot of Zoom calls, and a lot of analysis, a lot of numbers going back and forth, and we have made significant progress on this that I'm optimistic in the not-too-distant future we can come up with a proposal of which Games edition we will be pursuing.
"And as part of that we looked at sales models, support models, we looked at how important that through all of this, we've prioritized our Games legacy. We have in our budget 300 million dollars that we want to leave behind as our Games legacy to build that winter sports capital of the world – or one of them – that we have that opportunity to continue to do that: hosting events and for our venues."
Bullock was questioned further about the advantages of the two options. For 2030:
"The disadvantage is really just the economics of domestic sponsorship revenue, but we think there's a strategy to address that. The advantages: number one is when they are 18 months apart, we can actually do some things jointly and we've already talked to this in one of our calls with LA 2028, where we said, 'between assets that you have, whether its bleachers or technology or televisions or different things like that, there are assets that are very significant that we could purchase from them at a discount, that helps them in liquidation.' There's a lot of people we could hire from them; if fact, we did that back in 2002, we hired a lot of people from the Sydney Games, and so there's people assets, there's physical assets, but then there's also planning and strategy and collaboration.
"I think NBC would be thrilled to have back-to-back Games because there's going to be a lot of energy around Games that close together, and it really hasn't happened before, and we're in constant dialogue with NBC as well, so there are a lot of positive elements to that as well, and we just have to look at both to see, OK, can we make this work economically because there is a lot of energy around it on the other side." (emphasis added)
And what about 2034?
"I think the advantages of going for 2034 is there's more distance for the sponsors and so we can – for the USOPC it's advantageous for them to have a Games further out … it's just easier to raise sponsorship dollars around a Games so they can do that for that [quadrennial]. …
"When they look at [2029-32 quadrennial], they say, 'OK, we can probably raise more money because it's more distant and we could probably raise a lot of money in the quad intervening between L.A. and '34.' So economically, it could be advantageous.
"On the negative side, our venues are well supported by the [2002] endowment, but the endowment is declining, and over time, it's going to get smaller and smaller, and can we keep our venues active? It was never intended to go this long, so there is going to be financial hardship on keeping everything alive until 2034. Frankly, the numbers don't add up. …
"I think the other thing is – very important – back to the athletes. '34 is a long time to wait to get Games back here, and if we want to re-energize Team USA in winter sport, I think '30 would be a lot stronger for us."
Bullock noted that the likely competitors for 2030, as known so far, are Sapporo (JPN), Vancouver (CAN) and Barcelona (ESP).
Brett Hopkins, the Chief Financial Officer of the 2002 organizing committee, explained the continuing work being done already on a detailed budget for 2030 and 2034:
"We've been working on this for some time; we're on version 35, if you can believe it. …
"I recognize that when we talk about budgets, you just want to know the number. We don't have a number; we do have a picture, but it still is a work in process and we're really focused right now in working with the USOPC to understand … how would it work with LA28 and Utah 2030 from a sponsorship standpoint. So to make sure we get our revenue targets accurate and complete and feasible. And so we're doing a real deep dive on that process now. …
'What I can tell you is that on an inflated basis, it will be less than 2002. Yeah, that's for sure, because we have wonderful facilities like this that we won't have to rebuild."
The Strategy Board session was attended by reporters on Zoom, and the level of detail and frankness of Bullock, Hopkins and others was remarkable.
If they can create a financial framework that would not encumber LA28's domestic sponsorship program – budgeted to bring in $2.5 billion – that would be much more remarkable. Game on!
You can receive our exclusive TSX Report by e-mail by clicking here. You can also refer a friend by clicking here, and can donate here to keep this site going.
For our updated – as of 1 May – 506-event International Sports Calendar for 2021 and beyond, by date and by sport, click here!