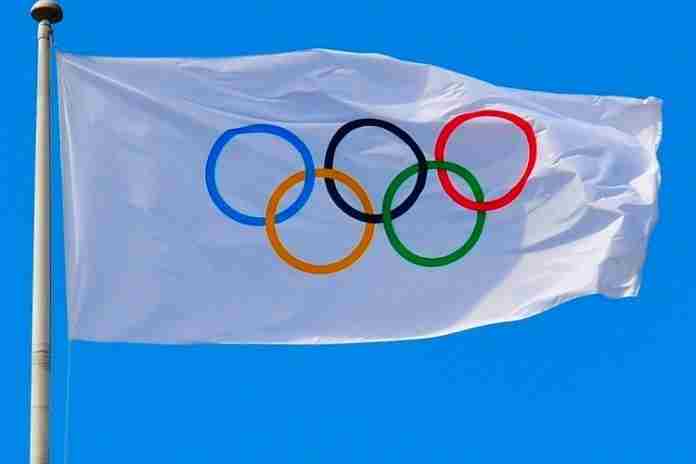 "We are confident we can deliver good Games and we will continue working towards that."
There's your summary of Wednesday's brief International Olympic Committee Executive Board meeting, held by videoconference, from IOC spokesman Mark Adams (GBR).
The meeting considered the progress in Tokyo for the Olympic Games coming up this summer and the IOC also unveiled further initiatives on sustainability and gender equity.
But the questions in the half-hour news conference that followed were centered on Tokyo and its continuing battle against the coronavirus. Adams's comments reflected the IOC's view that the continued re-emergence of sporting events worldwide confirms the viability of the Games in Tokyo:
● "More than 7,800 athletes have already secured their berths for Tokyo 2020. 70% of the quota places have been allocated. Qualification has finished in a number of sports and disciplines: among those, diving, equestrian, football, handball, hockey, sport climbing, volleyball, water polo, wrestling, and the disciplines of track cycling and road cycling, have all finished their qualifications now.
"More than 260 major events have been successfully organized by [International Federations] in the five continents around the world since September: 20 in the past two weeks, with a cumulative participation of some, in fact, more than 40,000 elite athletes. International competitions have returned across all sports.
"Of the places that still remain to be filled – so that's the 30% that's left – 20% will be allocated by rankings and only 10% by the remaining qualification events. And the qualification deadline is the 29th of June."
● "We are fully, fully concentrating now, in this last implementation phase of delivering excellent Games which really will bring the world together, which really will mark a moment, I think, and something we're all looking forward to. There are a lot of sporting events going on around the world now, and I think this one will be, the kind of the real tentpole moment that will bring the world together."
● "There has been a small extension of the emergency situation, but we continue to plan for full Games. That's the way it has to be and that's the only way it can be for us.
"And everything is telling us from the test events to the international events that the Games can go ahead and will go ahead."
Adams was questioned about the consistently negative public opinion surveys concerning the Games, reflecting great concern in Japan about an influx of athletes and officials to a country where widespread vaccination has not yet taken hold. He replied to Graham Dunbar of The Associated Press:
"I'm not going to comment on polls which I haven't seen and haven't seen how they've been conducted. I'm certainly not going to give you a headline saying I distrust them or mistrust them. They are what they are. We obviously do our own polling. As you know, these are very specific times and very different moment to normal, but as you know, there's always a dip ahead of the Games quite often. So we take note of them, we take note of public opinion and we think that, at this stage, the Games can go ahead, and I think that you will see – when they do go ahead – and when there is an amazing moment, that will be reflected in public opinion in general.
"As with all organizations, we have to pay attention to public opinion, but not be totally driven by it."
He also responded to another questioner about the loud voices online, with the equally loud interests of athletes:
"[W]e know social media, quite apart from what's happening with these Games, is always a very difficult place to be and you find extreme opinions there. What I will say is a lot of athletes are really concentrating on the Games, are really looking forward to the Games and have expressed that. Of course, they have caution as well. I have read one or two interviews where [athletes] are cautious, but the huge majority of views I've seen expressed by athletes, by those qualified for the Games, is that they're looking forward to the Games and they think they can be safe and secure."
And Adams felt the situation would turn as the Games begin:
"[T]here will be ups and downs and we understand the kind of problems that they are seeing there that will affect public opinion. But I think in the end what we have to do is take account of public opinion, but over a longer term, and try to see what the people will want and, as I said to an earlier question, when the Games happen and when the Japanese people can be the proud hosts of an event which really will be – it's an overused word – a historic moment to bring the world together after this terrible moment.
"I think, I'm very confident we will see public opinion hugely in favor of the Games. So, of course, we pay attention to these things and of course we must do, but I think we need to keep now, with 78 days to go, we need to keep our eyes very much on what will eventually be, I think, a key moment for the world and for Japanese people who will be very proud to have been able to host it, I think."
And he was also optimistic about the vaccination rate of those who will be in the Olympic Village:
"We estimate that a large majority of those in the Olympic Village will be vaccinated, and I think that's a very clear message also for the Japanese people that they will know that not just the athletes, but all those entourage support people who have to be in the Village too. We know a large proportion will be vaccinated."
The last "questioner" called on was supposedly a "David O'Brien from Yahoo," who was a protestor instead, holding up a black and white "No Olympics in Tokyo 2020″ banner and screaming against the Games in Tokyo, and Los Angeles for 2028, expletives included.
Adams motioned to have him cut off and sighed, "I'm quite used to this."
This last incident is emblematic of the anti-Olympic and some of the other protest movements going on in many other places. In the Olympic sphere, there are those who are against the Games in Tokyo this summer, and elsewhere. But that does not mean that the loudest voices in the room accurately reflect the group sentiment.
Take the Change.org petition to "Cancel the Olympics to protect our lives" started by lawyer and three-time Tokyo gubernatorial loser Kenji Utsunomiya.
It got lots of worldwide coverage after launching on 5 May at noon, Japanese time. It received 56,312 signatures in its first 24 hours online and had 190,000 signatures after 48 hours online.
But in almost seven days since then – by 4 a.m. Friday, 14 May (Tokyo time) – the signatures have slowed. The petition has 350,583 signees, so less in the last week than in the first two days. By comparison, Utsunomiya received 844,151 votes in last July's election for Tokyo Governor, about 13.8% compared to winner Yuriko Koike's 3.66 million (59.7%), out of 6.13 million ballots cast.
The loud voices can be counted on to be loud. That's what they do.
That does not mean that's what the IOC should do. Its President, German Thomas Bach, remembers all too well the broken dreams of athletes – like himself – who could not compete in the Moscow Games in 1980, due to a U.S.-led boycott. Their voices are among those driving him and the IOC to work with the Japanese governments and the Tokyo 2020 organizers to give today's athletes their chance-of-a-lifetime opportunity, even if in a sequestered, sterile environment in spectator-less stadiums.
You can receive our exclusive TSX Report by e-mail by clicking here. You can also refer a friend by clicking here, and can donate here to keep this site going.
For our updated – as of 1 May – 506-event International Sports Calendar for 2021 and beyond, by date and by sport, click here!