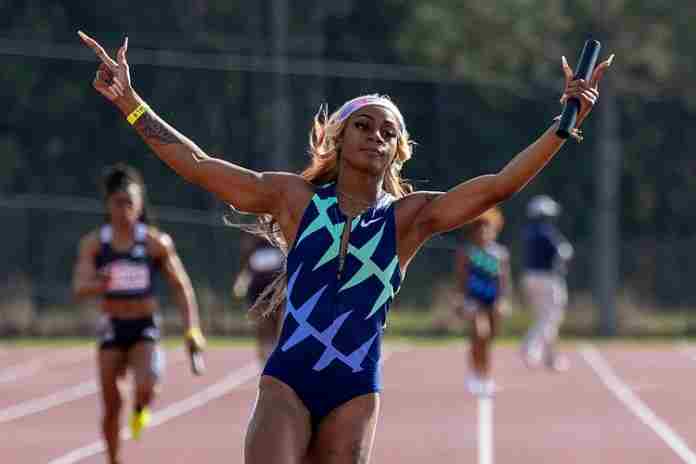 News, views and noise from the non-stop, worldwide circus of Olympic sport:
● Games of the XXXII Olympiad: Tokyo 2020 ● The Tokyo Games continue as a political fight in Japan, with anti-Olympics activists pointing to the "Cancel the Tokyo Olympics to protect our lives" petition on Change.org and Dr. Michael Ryan of the World Health Organization saying "It is not whether we will have Olympics or not; it is how those individual risks within that framework are being managed."
The cancel-the-Games petition was posted on 2 May by Kenji Utsunomiya, a 74-year-old attorney who ran a distant second to Tokyo Governor Yuriko Koike in the July 2020 Tokyo Metropolitan elections. Through Monday morning (Pacific time), the posting had attracted 321,543 signatures, and the head of the leading opposition party in Japan, the Constitutional Democratic Party, insisting that the Games cannot be held safely.
But then there is the World Health Organization's Ryan, an Irish surgeon who is the Executive Director of the Health Emergencies Program, who explained the situation in depth during a Friday media briefing (a long read, but worth it):
"The issues regarding the Olympics are multi-dimensional. There is the issue with regard to the safety of athletes and their teams within the environment of the Olympic Village and the Olympics themselves. Then there is the issue of the venues and whether spectators attend or don't attend. Then there is the issue of social mixing around those venues, and then there is the issue of whether spectators or attendees will come from outside the country.
"And all of those have to be considered separately. It's not whether we will have an Olympics or not; it's how those individual risks within that framework are being managed.
"There has been a tremendous amount of work done on the Playbooks for the teams and the delegations that are coming; a lot of preparations amongst those teams regarding testing and quarantines and arrival. And measures that are being taken in the Olympic Villages, in the training facilities and around the venues themselves.
"Then there is the matter of attendance within the facilities themselves and I believe the Japanese authorities and the IOC still have not made final decisions regarding the level of attendance at those venues because of variance in the incidence situation in Japan itself. Positivity rates in Japan are around seven percent. Japan has experienced an increase –like everybody else – over a period of weeks and months; that has leveled off, it is not continuing to increase. And it is our hope, as it is our hope for every country, that continues on a downward trend.
"We will leave it to the authorities in Japan, who are highly competent, to decide what level of attendance could occur in the Olympics. I think the authorities have already decided that spectators and others will not be allowed to the Olympics from abroad, so that's something that's not on the table at the moment.
"And then the issue will be extent to which social mixing and socializing is allowed around the Olympic venues themselves. And again, I believe the measures are being put in place for that and the decisions around that level of mixing will be made by the Japanese authorities in due course.
"And I've said the word 'mixing' a number of times and we've said this again and again with this virus: this virus transmits in places where people mix in higher density for prolonged periods of time. The aim of the protection around the athletes is to prevent that kind of contact and mixing and close proximity, to create an environment of safety for the athletes, to create and maintain an environment of safety for everyone who attends – whatever that proportion is – and to create an environment of safety around the venues themselves.
"Some of those decisions cannot be made until closer to the event, because it will depend on the epidemiologic situation at that time. So it is not a failing at all on behalf of the organizers that they haven't made certain decisions, because those decisions can only be made on the basis of the epidemiologic parameters that pertain at that time.
"It is our hope that the Olympics can occur; many other events – and we've seen sporting events and leagues – run very safely over the last six months without spectators, with special bubbles and arrangements for athletes and for others, footballers and many, many others. It is a complex event; there are so many different events, there are so many different delegations, it is a test of logistics, it is a test of risk management, and we have confidence that the International Olympic Committee and the host city Tokyo, and the Government of Japan, will make the right decisions regarding how best to manage the risks, and are working extremely hard right now to ensure that those risks are well managed.
"And we will leave any decisions regarding the extent to which the Olympics have attendance at venues and other decisions to them, as we believe they are applying a very systematic risk management approach to protect public health at this moment, and as needed, they will make the decisions that are needed based on the epidemiologic situation as we approach the July date."
¶
More on Tokyo: GamesBids.com editor Robert Livingstone – who covers bidding very closely – tweeted on Monday this historical reminder:
"[A] Japanese government poll taken one week before the [IOC] election showed 92 percent across Japan supported the #Tokyo2020 bid – perhaps the largest level of support ever for a bid (from a democratic nation). The IOC can't be responsible for buyers' remorse."
¶
The newest fight over the Tokyo Games concerns boxing, but this time outside of the ring.
Canadian boxer Mandy Bujold, 33, is a flyweight-class fighter who finished fifth in Rio in 2016, but lost an opportunity to qualify for Tokyo when the Americas qualifying tournament was canceled due to the pandemic.
Advancement to the Games is now being made through rankings as of the end of 2019, when Bujold was pregnant. So she is challenging the qualifying system at the Court of Arbitration for Sport as "discriminatory," asking for a quick ruling to allow her into the Games based on her pre-pregnancy standing.
● Games of the XXXVI: 2036 ● London Mayor Sadiq Khan was re-elected as expected in balloting last Thursday, projected to take 55.2% of the vote against 44.8% for Conservative Shaun Bailey.
That means a likely approach to the IOC's Future Hosts Commission, as Khan proposed holding another Olympic Games in London in 2036 or 2040, essentially as political cover for new spending:
"Not only would future London Olympics bring the world's finest sportsmen and women to London, it would help fast track much needed green infrastructure projects such as Crossrail 2 and the Bakerloo Line extension, bringing with them long term jobs and investment.
"My ambition is for London to host the most sustainable games ever, showcasing the Green New Deal for London with investment in low carbon projects, action to clean up London's air and showcasing the city's status as the world's first national park city to huge amounts of international tourists."
● XXIV Olympic Winter Games: Beijing 2022 ● The IOC posted a statement last Friday noting a telephone conversation between President Thomas Bach (GER) and Chinese Premier Xi Jinping concerning the progress of the organizing effort, including:
"The two leaders spoke about the close cooperation between the IOC and Chinese authorities with regard to health questions and the measures already being taken to ensure safe and secure Olympic and Paralympic Winter Games Beijing 2022, as well as the preparations by Chinese athletes for the upcoming Olympic Games Tokyo 2020.
"President Bach thanked the Chinese leader for his great support since their last meeting, during which time the Chinese Olympic Committee has assisted in making vaccines available for Games participants in countries where regulatory approval has been granted by their governments. Now others are also joining this initiative."
Bach will have his hands full dealing with protests against the Beijing Winter Games after Tokyo is concluded. How much help he can get from Xi is a question whose answer will be closely watched.
● Athletics ● Much more on the brilliant Sha'Carri Richardson, who stormed to stunning wins at the USATF Golden Games at Mt. San Antonio College in Walnut, California in 10.74 (heat) and 10.77 (final).
In her four 100 m races in 2021, she has run (and won) in 11.00, 10.72, 10.74 and 10.77. She's no. 6 on the all-time world list and at age 21, already has four legal marks under 10.80! There are only six others in history who have done that in a career:
● 15: Shelly-Ann Fraser-Pryce (JAM: 2008-19) ~ active
● 13: Marion Jones (USA: 1997-2000)
● 8: Elaine Thompson-Herah (JAM: 2016-21) ~ active
● 5: Carmelita Jeter (USA: 2009-12)
● 4: Merlene Ottey (JAM: 1990-96)
● 4: Florence Griffith-Joyner (USA: 1988)
Richardson, from Dallas, Texas, turned pro after winning the NCAA 100 m title as a frosh for LSU in 10.75 in 2019. She's also extremely active on social media, recently declaring an interest in protesting at the Olympic Games.
On 6 May, in response to a tweet from @MyMixtapez, stating "Tokyo Olympics have banned all Black Lives Matter apparel and will permanently ban any player kneeling during an anthem playing" – which is not correct, at least at present – Richardson replied:
"Let me make the team, I WILL REPRESENT MY PEOPLE !!"
On a lighter note, last Saturday she also posted:
● "My brain my biggest enemy."
● "Me wanting love is my biggest downfall"
We're not making this up, folks.
¶
Congratulations to Seattle Seahawks wide receiver DK Metcalf for conclusively stating what had to be said. After running a creditable 10.37 (changed from 10.36 originally posted), he finished last in his heat of the 100 m at the USATF Golden Games on Sunday; he told Helene Elliott of the Los Angeles Times:
"These are world-class athletes. They do this for a living. It's very different from football speed, from what I just realized.
"Personally, it was a good experience. Anybody else who has a different opinion, you're entitled to your own opinion. But I think I did very well for myself."
The real issue is not whether Metcalf is fast. He is fast for a football player, but not compared to the world-class sprinters competing on Sunday at Mt. SAC. The issue, as well framed by 1996 Olympic 200 m and 400 m gold medalist Michael Johnson last week, is why it takes a stunt like this to draw attention to the sport. From Twitter last Friday:
● "With @dkm14 competing this weekend at @usatf meet, sprinters rightly feel disrespected. People don't understand their talent. But that's not DK's fault or the media's fault. The sport has done little to show the immense skill and talent it takes to run 100m in under 10 seconds."
● "I agree @dkm14 competing in the @usatf meet will draw needed attention to the sport, but NFL, NBA, tennis, and golf don't need athletes from other sports for them to draw attention. The best sprinters in the world should be enough. Track and Field, market your own product!"
That is the issue. On ESPN's "Pardon the Interruption" on Monday, the first four minutes of the show were devoted to Metcalf. To Metcalf and only to Metcalf! Said host Tony Kornheiser:
"We begin today with something we rarely discuss: track & field." He added "It worked out like Skeets Nehemiah said it would, that he would finish back in the pack, but he wasn't embarrassed. He wasn't embarrassed at all" and then went on to note that Metcalf is 6-4 and 240 pounds, which makes sense for football. Then:
"The guy who won, Mike [Wilbon, co-host], who ran a 9.96, which is like a kite flying in the air it's so fast, is 6-feet, 160 pounds. That's like 80 pounds different!"
The winner of the 100 m, 2019 NCAA runner-up Cravon Gillespie, was never mentioned by name. This was great publicity for Metcalf, but will have any benefit for track & field? Not likely.
¶
A very busy weekend had even more strong performances in Europe, including four more world leaders over the weekend:
Ethiopian superstar Gudaf Tsegay debuted in the women's 10,000 m in a startling 29:39.42 to win in Maia, Portugal. For someone best known as an 800 m (1:57.52i) and 1,500 m (3:53.09 indoor world record), her mark places her no. 5 all-time in the event! Still just 24, which events will she run in Tokyo?
In Ibiza, Spain, Venezuela's triple jump superstar Yulimar Rojas opened at 15.14 m (49-8 1/2) to take over the world lead from American Keturah Orji, while the men's triple jump lead was taken by Hugues Fabrice Zango (BUR) at 17.40 m (57-1) in a meet at Montpellier, France.
The women's world javelin lead was grabbed by Pole Maria Andrejczyk, with a 71.40 m (234-3) toss at the European Throws Cup in Split (CRO) on Sunday. It's not only the world leader for 2021, but a lifetime best by more than 4 m from her 2016 best of 67.11 m (220-2) and moves her to no. 3 on the all-time world list!
¶
Reuters reported that the Court of Arbitration for Sport rejected on Friday the appeal by 2008 Olympic 50 km Walk winner Alex Schwazer (ITA) against an eight-year suspension for doping issued in 2016.
An Italian court in Bolzano had "cleared" Schwazer in a ruling under Italian law – in which doping is a criminal offense – and led to the appeal. An infuriated World Anti-Doping Agency opposed the motion and cited contrary evidence, with which the Court of Arbitration for Sport agreed.
Schwazer will now take his appeal to the Swiss Federal Tribunal, where his chances of reversal are very poor.
¶
Rio Olympic triathlon champion Gwen Jorgensen changed her focus to the marathon for Tokyo, but now says she will try to make the U.S. team in the 5,000 m or 10,000 m in June.
She has qualified in both events, running a lifetime best of 15:08.28 for fifth in March at the Sound Running Invite in San Juan Capistrano, California, and 32:12.12 in San Juan Capistrano in December 2020.
Jorgensen told Milwaukee's WTMJ4: "Going into Rio Olympics, I was like I'm going to do the Rio Olympics and have a family and that's it. I didn't think I could have both. I didn't think I could be a mom and an athlete. And I'm so thankful for the women before me who showed me that they could do it. That you can be a mom and an athlete and that inspired me to be like 'whoa! Maybe my career life doesn't have to be over just because I have a child.'"
● Cycling ● Monday's third stage of the 104th Giro d'Italia was a 190 km, moderately-hilly ride from Biella to Canale in northern Italy. The route ended in a second straight mass sprint, this time favoring Dutch rider Taco van der Hoorn, who broke away with 8 km remaining and finished four seconds up on Davide Cimolai (ITA), Peter Sagan (SVK), Elia Viviani (ITA) and Australian Patrick Bevan.
The first climbing test comes on Tuesday, during a 187 km ride that finishes uphill after three prior climbs, in Sestola.
● Diving ● The FINA World Cup concluded in Tokyo as both a test event and an Olympic qualifier last Thursday, and the post-mortems were positive:
From Canadian star Jennifer Abel: "We need to adapt, everyone needs to cope with these conditions. The main goal for everyone is to be and feel safe, and we are very safe here. We cannot ask for better conditions with this COVID situation."
From Colombia's Alejandro Solarte: "Concerning the conditions of participation, they are strict – and it's a pity we cannot leave the hotel… – but we have to think that our health should always be the priority. Everyone needs to adapt, but I feel very safe in this so special environment."
From Britain's Eden Chang: "The sanitary conditions? As long as we're in the 'bubble' we feel safe and we're happy."
FINA and the Tokyo organizers issued a joint statement on the event, noting in part:
"Among the 438 participants, including athletes, coaches and team officials, only one Covid-19 positive case, which was found to be in a team official upon arrival at the entry in Japan, was confirmed and announced on April 29. This individual was immediately quarantined, following the national procedure in place, and no close contacts were identified by Japanese authorities."
● Wrestling ● USA Wrestling noted the success of its qualifying efforts in light of the close of the World Olympic Qualifier tournament:
"Russia leads all nations with 17 Olympic qualifiers in the 18 weight classes. Russia has full six-athlete teams in men's and women's freestyle, plus five wrestlers in Greco-Roman. The United States is in second with 15 qualifiers, with a full six-athlete women's freestyle team, five in men's freestyle and four in Greco-Roman.
"The next two nations on the list are Cuba and host Japan with 12 qualifiers. China, Iran and Kazakhstan is next with 11 qualifiers. Coming in with 10 qualifiers are Tunisia and Ukraine.
"Five nations have full six-athlete women's freestyle teams: China, Japan, Mongolia, Russia and the United States. In men's freestyle, Russia and Iran are the only nation with full six-athlete teams. Cuba is the only nation with a full six-athlete team in Greco-Roman."
A total of 62 countries have qualified one or more athletes for the Tokyo wrestling tournament.
● At the BuZZer ● Australian basketball star Liz Cambage, one of the top players in the world, may consider not playing for the country's Olympic team in Tokyo because of a lack of representation of black athletes in an ad by Jockey, a sponsor of the Australian Olympic Committee.
She wrote on her Instagram account, in part: "HOW AM I MEANT TO REPRESENT A COUNTRY THAT DOESN'T EVEN REPRESENT ME" and added "y'all really do anything to remove POCs from the forefront when it's black athletes leading the pack until I see you doing more @ausolympicteam imma sit this one out."
Cambage, 29, was born in London (GBR), but moved to Australia as a toddler. She has played professionally in Australia, China and in the WNBA, where she is a star center for the Las Vegas Aces.
For its part, the Australian Olympic Committee posted a statement including "the athletes made available to Jockey could and should have better reflected the rich diversity of athletes who represent Australia at the Olympic Games."
Settled? Nope, far from it. Cambage replied on Instagram, writing in part, "words don't mean anything to me. Actions mean something to me."
You can receive our exclusive TSX Report by e-mail by clicking here. You can also refer a friend by clicking here, and can donate here to keep this site going.
For our updated – as of 1 May – 506-event International Sports Calendar for 2021 and beyond, by date and by sport, click here!