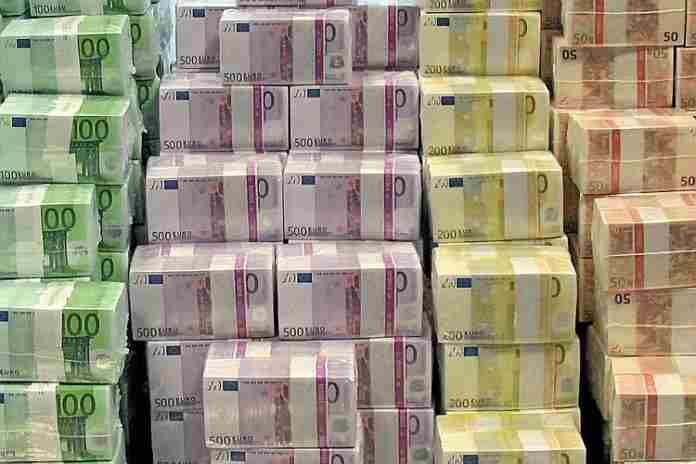 Just when you thought that no one could get together on anything:
"UEFA, the English Football Association and the Premier League, the Royal Spanish Football Federation (RFEF) and LaLiga, and the Italian Football Federation (FIGC) and Lega Serie A have learned that a few English, Spanish and Italian clubs may be planning to announce their creation of a closed, so-called Super League.
"If this were to happen, we wish to reiterate that we – UEFA, the English FA, RFEF, FIGC, the Premier League, LaLiga, Lega Serie A, but also FIFA and all our member associations – will remain united in our efforts to stop this cynical project, a project that is founded on the self-interest of a few clubs at a time when society needs solidarity more than ever.
"We will consider all measures available to us, at all levels, both judicial and sporting in order to prevent this happening. Football is based on open competitions and sporting merit; it cannot be any other way."
~ 18 April statement by the Union of European Football Associations (UEFA)
"I cannot stress more strongly at this moment that UEFA and the footballing world stand united against the disgraceful, self-serving proposals we have seen from a select few clubs in Europe that are fuelled by greed above all else.
"Not only the football world is united. Society is united. Governments are united. We are all united against this nonsense of a project. …
"This idea is a spit in the face of all football lovers and of society as a whole. We will not allow them to take it away from us.
"Our game has become the greatest sport in the world based on open competition, integrity and sporting merit. We cannot and will not allow that to change. Never, ever. We urge everyone from the millions of football lovers around the world, the world's media, politicians and football's governing bodies to stand tall with us, as we do everything in our power to ensure this never ends up in fruition."
~ 20 April statement by UEFA President Aleksandr Ceferin (SLO)
"But the last 48 hours obviously changed everything. And it seems there is only one topic that is of interest. Yesterday we've been hearing reading about 'war', 'crime' – terrible words, and even more terrible if linked with the game we all love; with football, that should give joy to everyone. Of course I'm speaking about this 'Super League' project. So let me be extremely clear from the very beginning. FIFA is an organisation which is built on values: the true values of sport, and our statutes which define the institutional framework, the pyramid, with FIFA, the Confederations, the associations, the leagues, the clubs, the players. And at FIFA we can only, and strongly, disapprove the creation of a Super League that is a closed shop and a breakaway from the current institutions – from the leagues, from the associations, from UEFA and from FIFA – and which is outside of the system. There is no doubt whatsoever of FIFA's disapproval for this. …
"So if some elect to go their own way, then they must live with the consequences of their choice. They are responsible for their choice. Concretely, this means: either you are in, or you are out."
~ 20 April remarks by FIFA President Gianni Infantino (SUI), at the opening of the 45th UEFA Congress
"The European Sport Model reflects the specific organisation, as well as the fundamental social and educational function, of sport. It is built on solidarity and volunteers. It is based on the twin principles of financial solidarity, which allows revenues generated at the elite level to be reinvested at the lower level. It is grounded in the openness of fair competition, which gives priority to sporting merit.
"But unfortunately, we have to realise that this European Sport Model is under threat today. In fact, the very existence of the values-, solidarity- and volunteer-based model is under threat. It is challenged by a purely profit-driven approach that ignores the intrinsic values and social mission of sport and the real needs of the post-coronavirus world. It is under threat because the social mission of sports organisations is losing ground to the purely profit-oriented goals of commercial sport providers and investors.
"If everything is only looked at from a business perspective, if only economic rules are applied to measure the impact of sport on society, then the social mission of sport is lost."
~ 20 April remarks by International Olympic Committee President Thomas Bach (GER), at the opening of the 45th UEFA Congress
Not since the founding of Poland's "Solidarity" trade union in 1980 have we heard so much talk about "solidarity." All this over European soccer?
Yes, and it has important implications for the entire Olympic Movement, not just soccer. In case you're not following all of this:
● A group of 12 major European clubs – Arsenal, Chelsea, Liverpool, Manchester City, Manchester United and Tottenham Hotspur from the English Premier League, Atletico Madrid, Barcelona and Real Madrid from Spain's La Liga and AC Milan, Inter Milan and Juventus from Italy's Serie A – confirmed plans for a breakaway European league over the weekend.
However, the British "Football Daily" show reported on Twitter today that Chelsea and Manchester City might be pulling out due to the negative reaction to the announcement.
● The "European Super League" would include 15 core clubs, who could not be removed, plus five clubs to be invited in based on their results in domestic and other European competitions. The 20 teams would play home-and-away matches in two groups of 10, followed by playoffs.
● The games would take place on Tuesday and Wednesday, preserving the domestic-league match schedules on weekends.
● The Super League would replace, for competing clubs, participation in the UEFA Champions League, a hugely-popular program which began in a smaller format in 1955. UEFA announced plans to expand the competition from 32 to 36 teams on Monday.
● J.P. Morgan Chase confirmed that it was financing the project, committing $4.8 billion over 23 years in support, charging 2-3% interest and expecting a major return from television and streaming rights. One report noted the clubs collect from £50-70 million annually in the Champions League (~$70-98 million), but could make up to £250 million (~$350 million) in the Super League.
The head of the Super League project, Real Madrid chief Florentino Perez said on a Spanish television program that "We have to explain to everybody that this is not a league for the rich clubs. It's a league to save all the clubs. Otherwise, football will die." He added:
"We are all going through a very difficult situation. When you don't have revenue, the only way to change that is to attempt to have more competitive games, more attractive games. Football has to evolve, just like businesses have to evolve and everyone has to evolve. Football needs to adapt. We felt that we needed to change something to help make football more attractive.
"With the way revenues are now in the Champions League, all clubs will die. The big ones, medium ones and small ones. By 2024, when this new format is supposed to start, the clubs will all be gone."
To help all of the other clubs not in the Super League, it would have its own "solidarity" program of $10 billion U.S. distributed over 23 years, promoted as three times more than is paid now.
There are a lot of holes in Perez's reported comments, and the reaction against the Super League is quite real, especially in England, where six high-profile teams are part of the program.
There are lessons to be learned from this:
(1) For the breakaway clubs, this is about money. The high-profile European clubs which have worldwide fan bases feel they aren't maximizing their revenue in a Champions League where they have to play early-round games against smaller teams of no interest (at least to them).
(2) For those against the Super League, the concept of an American-style "closed" league, without relegation, is anathema. The European tradition is that you have to play well every year to maintain your status as a top-tier club.
(3) The Super League concept raises questions – once again – about the "solidarity model" which Bach defined in his UEFA speech as an approach "which allows revenues generated at the elite level to be reinvested at the lower level."
One of the reasons this is questioned is the invisibility of "solidarity" payments, not just in football, but especially at the Olympic level, both for the IOC and for the International Federations and the National Olympic Committees. In many quarters, the gaudy claims of millions paid to support sport are simply not believed.
Oh sure, the money is paid. But who gets it? Athletes? Coaches? Or does it go to federation officials and staff? No one really knows and this fracas over the Super League and the continued sniping at the IOC, federations and NOCs – like the U.S. Olympic & Paralympic Committee, whose finances will be examined by the new Commission on the State of the U.S. Olympics and Paralympics – will not stop until a much better accounting is provided of who got what:
● The exact amounts paid – even with a copy of the bank transfer slips! – to supported organizations, like NOCs and national federations. As an example, check out the publicly-available Youth Sports Agreement between the City of Los Angeles and the LA28 Olympic and Paralympic organizers on how $160 million will be paid to support the City's Recreation and Parks Department, the schedule of payments and how it will be spent.
● The exact amounts paid – just like in any other grant program – to athletes, coaches and clubs, by name, and an accounting of any other uses of money, for facilities, maintenance, insurance, anti-doping and so on.
● An accounting of the number of athletes, coaches and others paid and a comparison of the amounts paid to athletes, coaches and clubs in proportion to the total amounts provided.
Regardless of how the Super League mess turns out – it could fold altogether with an agreement with UEFA for better marketing and some more control by the larger clubs – the IOC, FIFA and others have once again staked out the social-responsibility ground as the foundation of their reasons for being. If they expect to stand on that ground, than they must, in the future, do much more to prove they are doing the good they actually believe they are.
You can receive our exclusive TSX Report by e-mail by clicking here. You can also refer a friend by clicking here, and can donate here to keep this site going.
For our 649-event International Sports Calendar for 2021 and beyond, by date and by sport, click here!