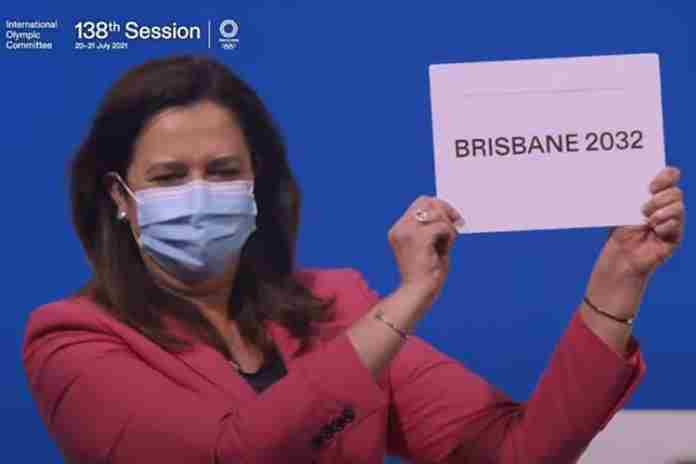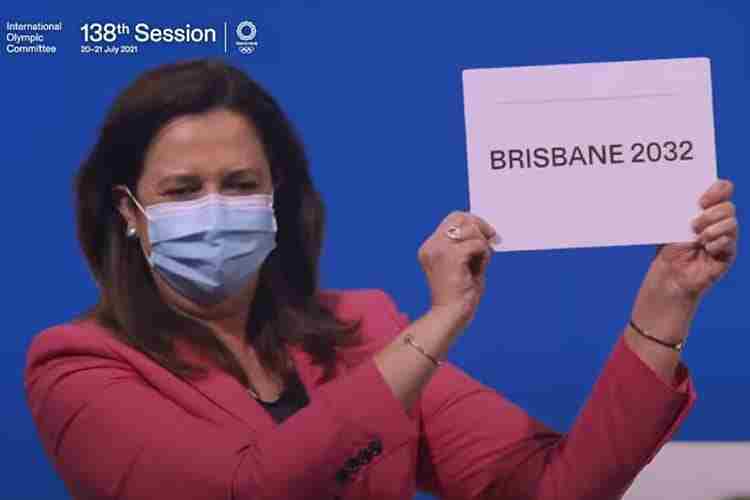 (★ Friends: Thank you to our 36 donors, who have covered 45% of our new bill for server and support costs. If you enjoy the coverage, please donate here. Your enthusiasm is why this site continues. Thank you. ★)
For the second consecutive time, the International Olympic Committee selected a host city for the Olympic Games 11 years beforehand, with Brisbane, Australia confirmed as the host of the Games of the XXXV Olympiad in 2032.
The IOC Session, meeting in Tokyo, was asked for a yes-or-no vote on Brisbane, which had prepared an aggressive bid in earnest at the urging of Australian IOC member John Coates, who also led the IOC's working group on the reformation of the Games bidding process.
But it was officials from Queensland, led by Premier Annastacia Palaszczuk, who did the actual work on the bid, developing a plan, lobbying the IOC in Lausanne and pressing their case with the newly-formed IOC Future Hosts Commission. All of that led to a recommendation to the IOC Executive Board that "Brisbane" should be designated as the targeted host for 2032 subject to providing the IOC's required guarantees and specifics on venues, accommodations and so on.
In Tokyo, Australian Prime Minister Scott Morrison joined the presentation by satellite from Canberra, and Palaszczuk, Australian Sports Minister Richard Colbeck, Brisbane Mayor Adrian Schrinner and Coates were present in the room.
Norwegian IOC member Kristin Kloster Aasen, head of the Future Hosts Commission for the summer Games, told the IOC members that "We have the best possible project on the table before us," that includes 84% existing and temporary venues and political solidarity, even from the leading opposition party in Australia. The bottom line:
"As the world continues to experience challenging times, we believe that we have before us the chance to seize a unique opportunity to secure the future of the Olympic Movement and provide the athletes of the world with an excellent welcome in 2032."
The Brisbane presentation was introduced by Coates, who promised "diligent, grateful and enthusiastic hands" to produce the event. Morrison emphasized that "we know what it takes to deliver a successful Games in Australia" and praised the efforts of the Japanese organizers to make the Tokyo Games a reality. He stressed the country's diversity – "We're like a giant-sized Olympic Village, all together" – and the detailed financial and sustainability commitments of all levels of Australian government.
Palaszczuk pointedly noted, "The Games will accelerate our future by providing the infrastructure much sooner than otherwise would be the case, by focusing and fast-tracking investment of all governments." Long-term community needs are built into the Games plan. And:
"We want to show the world that mid-sized cities and regions can host the Games without financial distress or missed deadlines. The keys are long-term planning, bi-partisan support and making the most of a city's natural and built resources."
Along with comments from Schrinner, the Brisbane presentation ran about 50 minutes and was impressively produced and delivered by its elected officials, augmented with multiple information slides and video clips.
A grand total of seven questions or comments were offered, all of which were handled satisfactorily. The vote was taken and the completely anticlimactic announcement was made that Brisbane will be the host city for 2032.
There was loud applause, followed by a video link to an outdoor viewing site in Brisbane (where it was about 6:30 p.m.) – complete with fireworks – and the signing of the Host City Contract. Australia has its third Games, after Melbourne in 1956 and Sydney in 2000.
¶
The second day of the IOC Session in Tokyo began with a keynote by World Health Organization Director General Dr. Tedros Adhanom (ETH), who declared, "The pandemic is a test and the world is failing."
Over a 35-minute address, he urged wealthier nations to share Covid vaccines with less-developed nations, saying "The most vulnerable remain unprotected." He asked for governmental, commercial and charitable help in manufacturing 11 billion vaccines to reach 70% of the world's population by the mid-2022. His comment on Covid and the Olympic Games in Tokyo:
"The mark of success in the coming fortnight is not zero cases. And I know that some cases have already been detected. The mark of success is making sure that any cases are identified, isolated, traced and cared for as quickly possible. And normal transmission is interrupted. That is the mark of success for every country."
This was followed by a lengthy series of reports on future Games:
● Beijing 2022: The Winter Games organizers provided a detailed report, with venue development well in hand. Beijing 2022 noted that it now has 45 marketing partners at all levels and that a remarkable 1.12 million applied to be volunteers for the Olympic and Paralympic Winter Games.
The Games are being promoted with events in China during the Tokyo 2020 Games period. Oh yes, the dreaded "playbooks" are being prepared at this time, but it is hoped (and expected) that spectators will be present.
● Paris 2024: The Paris organizing committee, led by canoeing Olympic Champion Tony Estanguet, underlined its continuing progress: "We are ready to take the baton on the 8th of August; we are on budget: more than half of our targeted revenue is signed and secured … we are on time on our three main pillars: celebration, legacy and engagement."
The details included construction on the agreed timeline (one venue already completed!), agreements for 47,000 hotel rooms available at the same pricing promised in the bid documents, and with no minimum-stay requirements. The Paris 2024 licensing program is underway, with 15 companies involved and an online store opening later this summer.
About 50 members of the 2024 staff are and will be in Tokyo as observers.
● Milan Cortina 2026: The presentation was led by Italian National Olympic Committee (CONI) President Giovanni Malago, who noted that the 2026 effort is already benefitting from having held world championships at the expected venues in Biathlon in 2020 in Anterselva and the Alpine Skiing Worlds in Cortina d'Ampezzo in 2021.
A new approach to "exponential organization" is being developed, in which the organizing committee itself will hire only 600 people and partner with four "local organizing committees" situated in the four Games venue clusters. This concept is designed to reduce human resource costs and to emphasize high performance, along with maintaining and further developing the "local delivery partners" who already know their areas so well. There are 90 staff members at present and up to another 131 could be hired this year.
Malago also noted the development of the logo, with 870,000 votes cast from Italy and elsewhere to select the first popularly-voted emblem for the Winter Games.
The Veneto regional government has confirmed that the 1956 Cortina sliding center will be renovated, but not for the Games in specific, but for a larger entertainment park for the area. It will be used in 2026 by the organizing committee as a temporary tenant only.
● Los Angeles 2028: This was the first in-person report by LA28 to an IOC Session, with Chair Casey Wasserman, Chief Revenue Officer Kathy Carter and Chief Operating Officer John Harper participating. Wasserman underlined the unique situation of Los Angeles, host to the Games already in 1932 and 1984:
"L.A. is a Games-ready city … We have an incredible culture of innovation, creativity and story-telling and we're excited to tell the stories of the Olympic Games to the world. And we intend to host a fiscally-responsible and sustainable Games using the best that L.A. has to offer, and as you all know, we are privately funded. …
"We're going to take advantage of these extra four years to put ourselves in a position to create a truly Games-changing experience."
He noted the emphasis has been on the graphical brand launch and sponsorship marketing as foundational elements, and he tied the business programming to the LA28 philosophies:
"We think it's important for the organization to be guided by our 'truths'. We use these to guide us every day … we're optimistic and believe in making great things possible; we believe that diversity makes us stronger, and we should celebrate our differences; we know that co-creating and innovating with others will shape a more progressive future. At our core, we will represent Los Angeles and welcome the world. We recognize that people are what matter most and are proud of our opportunity to leave a legacy, and finally, we are squarely rooted in sport. We believe in the power of sport and the spirit of competition and achievement. …
"Our mission is clear and our vision is bold. The mission, very simply, is to create an amazing Games experience for everyone. And our vision is ambitious, to create what's next by harnessing sport, community and the power of our differences."
On the unique branding program, utilizing an ever-changing "A" in the LA28 emblem, he explained:
"As we thought about how to bring our story to life, we thought about how Los Angeles is a place of constant re-invention and re-imagining what's possible. At our core, L.A. is an infinite canvas to pursue your wildest dreams. And we knew that everyone had to be a part of the L.A. story. L.A. defies singular definition, so there would be no singular way to represent our Games.
"And finally, the Games are not about one sport, one team, one idea or one theme, so we would need a collection of voices to tell the LA28 story … The best way to capture our community's essence is through a collection of voices."
Carter explained the venue plan, with five major "sports parks" containing most of the venues, with no permanent construction required. On the commercial side, she noted the unique collaboration that has LA28, the U.S. Olympic & Paralympic Committee and domestic broadcaster NBCUniversal working together as a single sales entity, opening a new vista for engagement and attracting new fans to the Olympic Movement. The on-site slide showed logos of already-committed partners Delta Airlines, Comcast, Salesforce and Deloitte and licensees Nike, Ralph Lauren, Getty Images and hospitality provider On Location.
Nicole Hoevertsz (ARU), the head of the IOC's Coordination Commission, gave a positive review for the organizing committee's work, especially the contribution to youth programs operated by the City of Los Angeles. She noted that LA28 currently has 90 employees.
¶
The elections portion of the Session included the re-election of five IOC members who had served for eight years (approved by 78-0), and a change of status from Athletes' Commission member to an individual member for Kirsty Coventry (ZIM), approved by 78-2. Coventry, also the Minister of Youth, Sport, Arts and Recreation in her country, is seen as a possible future leader of the Olympic Movement.
Aruba's Hoevertsz, already a member of the Executive Board, was elected as a Vice President of the IOC by a 72-7 margin, to replace the term-limited Anita DeFrantz (USA). For the IOC Executive Board, Robin Mitchell (FIJ) was re-elected by 75-4; Denis Oswald (SUI) was re-elected by 71-7 after the withdrawal of Norway's Kristin Kloster Aasen, then Kloster Aasen was herself elected by 71-6.
(DeFrantz served for two terms as a Vice President, and is eligible to run again in two years.)
The Session also elected Craig Reedie (GBR) – the former head of the International Badminton Federation and the World Anti-Doping Agency – as an honorary member beginning in 2022; he was age-limited at the end of this year. Crown Prince Frederik (DEN), who resigned earlier this year, was elected as an honorary member as well.
¶
The Games competition actually started, with softball matches in Fukushima and host Japan defeating Australia, 8-1, ending the game by the mercy rule after five innings. Minori Naito and Yamato Fujita homered for the winners.
The U.S. was in action in the second game, with Cat Osterman, 38, a gold medalist from 2004 and 2008, shutting out Italy on a six-inning one-hitter, 2-0, with Monica Abbott, 35, earning the save for a scoreless seventh.
¶
During the second part of Monday's Session, a series of reports were heard, including a short, hopeful greeting from the Tokyo 2020 organizers. The IOC noted that "Coordination Commission Chair John Coates told the IOC Members that the work done, both on permanent and temporary facilities, is of the highest quality, and that the conditions in the Village, training venues and competition fields of play are perfect."
Other highlights:
● The IOC approved a request from President Thomas Bach (GER) to change the Olympic motto, of "Citius, Altius, Fortius" – better known as "Swifter, Higher, Stronger" and adopted in 1894 – by adding "Communiter" or, in English: "Swifter, Higher, Stronger – Together." The vote was unanimous.
● The International Testing Agency noted that it will collect approximately 5,000 urine and blood samples both in and out of competition, in collaboration with Tokyo 2020 and the Japan Anti-Doping Agency (JADA), at the Games The collections will be obtained via an anti-doping workforce of 250 Doping Control Officers and 700 chaperones.
● The Milan Cortina organizers for the 2026 Olympic Winter Games asked for and received approval to add Ski Mountaineering to its program. Five events would be held – a sprint and an individual event for men and women and a mixed event – with a total of 48 athletes. Those athletes will be included in the overall quota of 2,900.
● Also looking to the future, six International Federations received full recognition from the IOC, including the International Cheerleading Union (ICU), International Federation of Muaythai Associations (IFMA), International Sambo Federation (FIAS), International Federation Icestocksport (IFI), World Association of Kickboxing Organisations (WAKO) and World Lacrosse (WL). This does not mean these federations are any closer to being part of the Olympic program, but are now part of a large group of "recognized" federations which receive some modest IOC support.
Some modest revisions were made to the Olympic Charter, including a requirement that National Olympic Committees must have functional Athletes' Commissions – with voting rights – by the end of 2022, and the responsibility for organizing committees to hold test events was modified to include programs short of "full competitions" – such as school events – in agreement with the relevant International Federation as a potential money-saving measure.
¶
Tokyo 2020's Wednesday update on Covid-19 cases showed the total up to 79, with eight new cases. Japanese residents account for 46 (58%), while the other 33 are non-residents (and four of these are in training camps).
By group, 42 are contractors, 20 are "Games-related personnel" (coaches, officials), eight are athletes, five media and four Tokyo 2020 staff and volunteers.
¶
At Monday's post-Session news conference, IOC member and Athletes' Commission chair Coventry was asked about the recent change to the Olympic Charter's Rule 50 guidelines, allowing "expression" prior to competition, but continuing the ban at ceremonies and in the Olympic Village. She explained:
"What athletes were asking were for more opportunities to be able to talk about things that were important to them. And with the results of the last month, and allowing for there to be athletes expressing themselves before the start of competition, my hope is that athletes will still respect each other and will live by our Olympic values, which are their Olympic values because now they are now Olympians."
¶
There were lots of headlines on Tuesday about Tokyo 2020 chief executive Toshiro Muto "not ruling out" the last-moment cancellation of the Games at a Monday news conference, but what he actually said was:
"We can't predict what will happen with the number of coronavirus cases. So we will continue discussions if there is a spike in cases.
"We have agreed that based on the coronavirus situation, we will convene five-party talks again. At this point, the coronavirus cases may rise or fall, so we will think about what we should do when the situation arises."
The SwimSwam.com site added a really cheeky follow-up about the Irish bookmaker Paddy Power, including:
"Bookmakers have rated the chances of Tokyo ending early as short as 4/1 which, according to Power, puts an implied 17% probability on the Games ending early" and even odds on which sports might be canceled given their close-contact nature! Wrestling (36%), Karate (33%) and Judo (33%) had the best odds.
¶
● Athletics: Before the pandemic, the biggest concern about the Tokyo Games was heat, and the marathons and race walks were moved to Sapporo, where the weather was expected to be cooler.
On Sunday, however, high temperatures hit 91 F in Sapporo and rose to 93 F on Monday. Temps were expected to cool to the mid-80s during the Games, with lows from 70-72 F, still warm for the long-distance events.
Regardless of Covid, the heat is apparently going to be an issue in Sapporo.
● Beach Volleyball: Ondrej Perusic of the Czech Republic has been identified as a Covid-positive case and with his first match with partner David Schweiner against Latvia on the 26th, is in danger of missing the Games. The pair are medal contenders, having won three medals (1-1-1) on this season's FIVB World Tour in five starts, including a win on Doha (QAT) in March. Perusic and Schweiner sport a shiny 19-6 won-loss record on the season.
● Swimming: A terrible administrative mix-up resulted in six Polish swimmers getting on the plane for Tokyo and then being told that they could not compete at the Games and had to return home.
Poland qualified two individual women and nine men for the Games and five relay teams. Under FINA regulations, it was allowed to enter 17 total athletes, but the Polish federation instead sent 23 athletes to Tokyo. Six were told upon arrival that they would have to return.
In a lengthy letter explaining the situation and the arithmetic, Polish Swimming Federation chief Pawel Slominski began by noting (per Google Translate):
"I express great regret, sadness and bitterness about the situation related to the qualification of our players for the Olympic Games in Tokyo. Such a situation should not take place, and the reaction of the players, their emotions, the attack on the Polish Swimming Federation (PZP) is understandable to me and justified."
A letter from the Polish team asked for resignations of Slominski and the entire federation board, but that won't get them into the pool in Tokyo.
You can receive our exclusive TSX Report by e-mail by clicking here. You can also refer a friend by clicking here, and can donate here to keep this site going.
For our 649-event International Sports Calendar for 2021 and beyond, by date and by sport, click here!