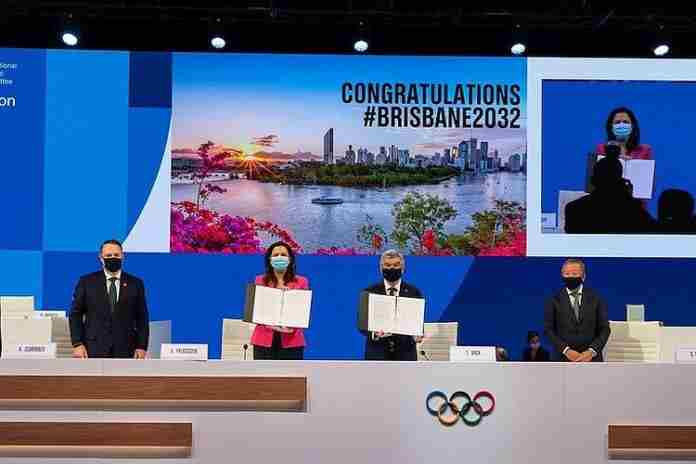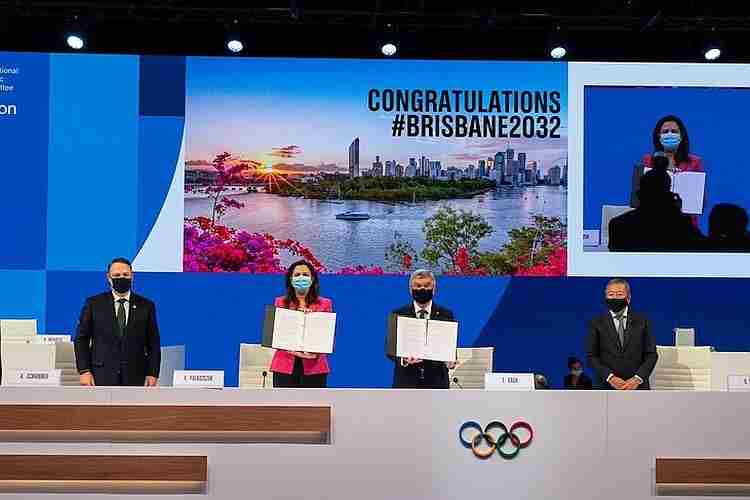 (★ Friends: Very grateful to our 36 donors, who have covered 45% of our current tech support bill. If you would like to join in, please donate here. Your help is so very much appreciated. Thank you. ★)
Updates from, in and around the Games of the XXXII Olympiad: Tokyo 2020:
● International Olympic Committee ● Tuesday's IOC Session vote for Brisbane as the host of the Games of the XXXV Olympiad in 2032 was historic for several reasons, but perhaps most importantly as a template for future hosts. Said IOC member and Australian Olympic Committee chief John Coates at the end of Brisbane's presentation:
"[Brisbane] sets out to demonstrate hosting the Olympic and Paralympic Games is truly within the capacity – and budgets – of other like places and mid-size cities all over the world. And in so doing, helping the IOC to future-proof the Olympic Games. What an important outcome this would be."
It's not important, it's a paradigm shift; in 2032, Brisbane will be the smallest metropolitan area to host the Games in 80 years, since Helsinki, Finland in 1952. Comparing the 2021 population figures of the host cities (in millions):
● 1950s: Helsinki '52: 1.5; Melbourne '56: 5.0.
● 1960s: Rome '60: 4.3; Tokyo '64: 37.4; Mexico City '68: 21.9.
● 1970s: Munich '72: 6.0; Montreal '76: 4.2.
● 1980s: Moscow '80: 12.5; Los Angeles '84: 13.1; Seoul '88: 25.0.
● 1990s: Barcelona '92: 5.5; Atlanta '96: 6.0.
● 2000s: Sydney '00: 4.9; Athens '04: 3.7; Beijing '08: 20.9.
● 2010s: London '12: 14.3; Rio '16: 13.5.
● 2020s: Tokyo '20: 37.4; Paris '24: 12.6; Los Angeles '28: 13.1.
● 2030s: Brisbane '32: 2.6.
That is fairly astonishing; the last host even close to Brisbane's size was Athens in 2004 and that was a difficult, budget-challenged Games to say the least. The vote was 77-5 with three abstentions in Brisbane's favor and at the post-Session news conference, Queensland Premier Annastacia Palaszczuk spoke to the achievement of such a relatively small region landing the Games:
"It's something our city and our state has always aspired to, bur we never thought it was possible. But under the Olympics' 'New Norm,' we have over 80% of our venues, we have cooperation with all three levels of government and we've got agreements to do the infrastructure that is already needed for our city, which will complement the Games.
"We've very excited. We're over the moon and we're absolutely honored."
Coates noted that while Brisbane was the only city presented to the IOC Session for approval, as many as five other cities or regions were in discussions with the IOC's Future Hosts Commission, but with projects not as well developed as Queensland's.
¶
IOC President Thomas Bach was asked about what appear to be happy times ahead for the IOC, with host cities out to 2032 and a strong financial situation even though the pandemic. Bach wasn't sure:
"I hope you're right. I was also thinking that, at least starting with Tokyo, we will have a tranquil period. Even before Pyeongchang, I was thinking until a certain moment that it will be tranquil after Rio and you know what happened. Then in Korea, you know what happened , then with the pandemic, so I keep my fingers crossed , then for the rest of my mandate, but even more for my successor that it will be indeed a more tranquil period.
But the Olympic Movement is living in the middle of society and we are not living in a tranquil world. We are living in a very fragile world at this moment and therefore we have to react to this and to find the right way for the Olympic Movement. …
"Once the health crisis is over, we will see the social, the political, the economic, the financial consequences of the pandemic, so the policy we have applied in the IOC in the last couple of years was to create stability.
This is why from the beginning of my term, we have concluded long-term contracts with rights-holding partners and sponsors. We have been looking to make our procedures more flexible, always in order to create stability as far as we could in this very turbulent and fragile world."
It was noted that Bach inherited the selection of Sochi for the 2014 Winter Games, Rio in 2016, PyeongChang in 2018 and Tokyo for 2020 when he was elected in September of 2013. Under his watch, however, Beijing was selected for the 2022 Winter Games and that event promises to be anything but placid given the political stance of China today. But for Paris, Milan Cortina, Los Angeles and now Brisbane, the future is bright.
¶
The IOC published its 2020 Annual Report online during the Session, detailing a difficult year during the pandemic, but underscoring its excellent resources.
In 2020, the IOC took in $623.8 million, down slightly from 2019 ($694.5 million), and spent $798.7 million for a loss of $174.9 million before investment gains, which reduced the actual loss to $55.0 million.
No matter; the IOC ended 2020 with assets of $5.71 billion, up 7% from 2019 and reserves of $2.47 billion. The report noted that contracts worth $4.1 billion are already in place for the quadrennial of 2029-32.
The IOC spent $127.2 million on its Olympic Solidarity programs in 2020, including direct-to-athlete payments to 1,600 Olympic Scholarship holders.
The U.S. Olympic & Paralympic Committee received $88.7 million in TOP sponsorship payments in 2020 (separate from television rights fees).
● Tokyo 2020 ● Competitions have finally started in Tokyo and there was a shocker right away in football; of note:
● Football: In Group G of the women's tournament, Sweden pummeled the U.S., 3-0, ending a 44-match unbeaten streak for the American women that dates back to January 2019. It was also the first loss by the U.S. with Vlatko Andonovski as coach; he took over at the end of 2019 following the U.S. win at the FIFA Women's World Cup.
The usually active U.S. defense was lax and Sweden's Sofia Jakobsson sent a cross in front of the U.S. goal in the 25th that found the head of Stina Blackstenius for a 1-0 lead. The Swedes pressed the U.S. in the midfield and slowed its usually potent attack. Blackstenius scored again in the 54th minute and Lina Hurtig scored on a header in the 72nd minute for the final goal.
Sweden had a 52-48% edge on the U.S. in possession – rare – and a 16-13 edge on shots, a good measure of the dominance in the game.
In the other Group G match, Australia defeated New Zealand, 1-0, and the U.S. will play New Zealand on the 24th and Australia on the 27th.
● Protests: The expected protests of going to one knee prior to their match – allowed under the IOC's new guidelines – came in the football matches with Great Britain and Chile and with the U.S. and Sweden.
● Withdrawals: Covid positives leading to withdrawals from the Games were reported for Fernanda Aguirre of Chile (taekwondo) and Candy Jacobs (NED: skateboarding).
American beach volleyballer Taylor Crabb tested positive over the weekend after he arrived in Japan and is in the Covid protocol. He and Jake Gibb are scheduled to play their first match on Sunday; Crabb may be replaced by Tri Bourne.
Australian equestrian showjumper Jamie Kermond was reported to have tested positive for cocaine and has been provisionally suspended and will not compete in Tokyo.
● U.S. Olympic & Paralympic Committee ● The USOPC announced that about 230 members of the U.S. delegation are expected to march in the Opening Ceremony on Friday, with Sue Bird (basketball) and Eddy Alvarez (baseball) elected as flag bearers.
The IOC changed the protocol for the ceremony to allow two flag bearers as long as both a man and women are included. Bird is a four-time basketball gold medalist and Alvarez plays in the Miami Marlins minor-league system, but won a silver medal in the 2014 Sochi Winter Games as a member of the 5,000 m four-man short track speedskating team.
You can receive our exclusive TSX Report by e-mail by clicking here. You can also refer a friend by clicking here, and can donate here to keep this site going.
For our 649-event International Sports Calendar for 2021 and beyond, by date and by sport, click here!