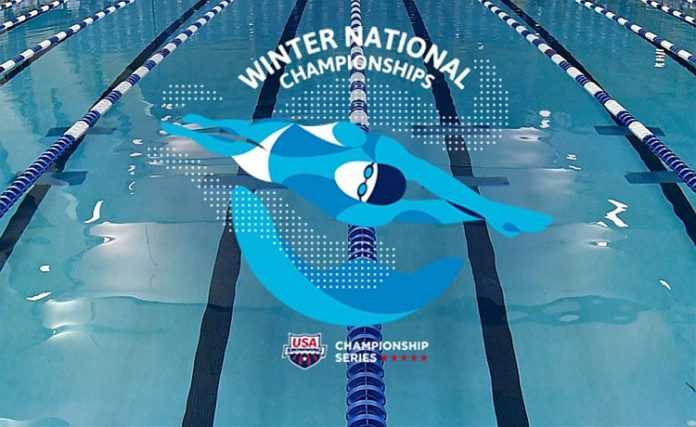 The U.S. Olympic Trials for the 2020 Olympic Games are a long way off. But starting Wednesday, American swimmers can begin qualifying for the Trials with performances at the USA Swimming Winter Nationals in Greensboro, North Carolina.
Because of this opportunity, the meet is being held in a true Olympic-sized pool of 50 m in length. The Winter Nationals are usually held in short-course (25 m) pools, but Trials qualifying requires the real thing. The Trials qualifying standards are here. It's also the last big chance to alter the 2018 world list.
The top collegiate swimmers won't be here, of course, but many of the top U.S. professionals are entered:
Men:
∙ Nathan Adrian ~ 50-100 m Freestyles
∙ Kevin Cordes ~ 100-200 m Breaststroke
∙ Cody Miller ~ 100-200 m Breast
∙ Jordan Wilimovsky ~ 400-800-1,500 m Frees
Women:
∙ Katie Ledecky ~ 100-200-400-800 m Freestyles
∙ Simone Manuel ~ 50-100-200 m Freestyles
∙ Madisyn Cox ~ 200 m Breaststroke, 200-400 m Medley
∙ Hali Flickinger ~ 200-400 m Free, 200 m Back, 100-200 m Fly, 400 m Medley
∙ Micah Sumrall ~ 100-200 m Breaststroke
∙ Ashley Twichell ~ 400-800-1,500 m m Free
∙ Dana Vollmer ~ 100 m Free, 100 m Fly
∙ Kylie Masse (CAN) ~ 100-200 m Backstroke
There are a modest number of foreign entries, especially from Canada. This is allowed because no U.S. team is being selected at this meet.
The last time the Winter Nationals was held in a long-course pool was 2015, in Federal Way, Washington. There are four returning champions from that meet, including Adrian (50 m Free), Manuel (50 m and 100 m Free) and Vollmer (100 m Fly).
USA Swimming will have a live Webcast of the Winter Nationals and the NBC Olympic Channel will have coverage on Thursday (29th) at 5 p.m. Eastern time and Friday (30th) at 5 p.m. Eastern. On Sunday (2nd), NBCSN will have a taped highlights program, beginning at 10 p.m. Eastern time.
Look for results here.