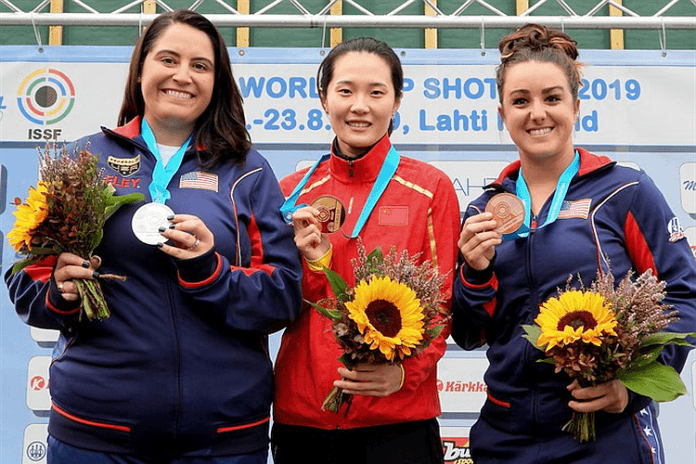 The final ISSF Shotgun World Cup of the 2019 season finished in Lahti (FIN) on Friday with the Skeet competitions, with a noteworthy comeback and two American medals.
In the men's competition, Italy's Luigi Lodde, 39, equaled the world record in the qualifying round with a perfect score of 125/125. But that guaranteed him nothing and he had his hands full in the final, lastly against France's 31-year-old Eric Delaunay.
Lodde hit 19 of his 20 shots, 37 of 40 and 47 of 50. But that was tied with Delaunay and while the Frenchman had a temporary lead after 55 shots, 51-50, they ended up tied after 60 shots at 55 each.
That meant a shoot-off and while Lodde hit his first four in a row, Delaunay missed on his fourth and the victory went to the Italian. It was Lodde's third career World Cup medal and first since he won in Tuscon (USA) back in 2014!
In the women's Skeet final, China's 2019 Worlds silver medalist, Meng Wei, hit 38 of her first 40 shots, eliminating everyone except Americans Caitlin Connor (35) and Amber English (34). Wei hit nine of the next 10 to place English in third, 47-40, with Connor into the final with 44.
Wei missed three of her final 10, but as Connor missed twice, the final was Wei 54 and Connor 52. It's Wei's second World Cup win (also in 2017), while Connor – the 2018 World Champion – settled for her third career World Cup medal, all silvers. It was also English's third career World Cup medal. Summaries:
ISSF Shotgun World Cup
Lahti (FIN) ~ 13-23 August 2019
(Full results here)
Men/Trap: 1. Alexey Alipov (RUS), 43; 2. Joao Azevedo (POR), 43 (shoot-off: Alipov, 2-1); 3. Mauro de Filippis (ITA), 34.
Men/Skeet: 1. Luigi Lodde (ITA), 55; 2. Eric Delaunay (FRA), 55 (shoot-off: Lodde, 4-3); 3. Azmy Mehelba (EGY), 46.
Women/Trap: 1. Penny Smith (AUS), 45; 2. Satu Makela-Nummela (FIN), 40; 3. Laetisha Scanlan (AUS), 33.
Women/Skeet: 1. Meng Wei (CHN), 54; 2. Caitlin Connor (USA), 52; 3. Amber English (USA), 40.
Mixed Trap ~ Final: 1. Alessandra Perilli/Gian Marco Berti (SMR), 40; 2. Selin Ali/Marin Kirilov (BUL), 38. Third: 1. Silvana Stanco/Giovanni Pellielo (ITA), 40; 4. Safiye Sariturk/Murat Ilbigli (TUR), 39.