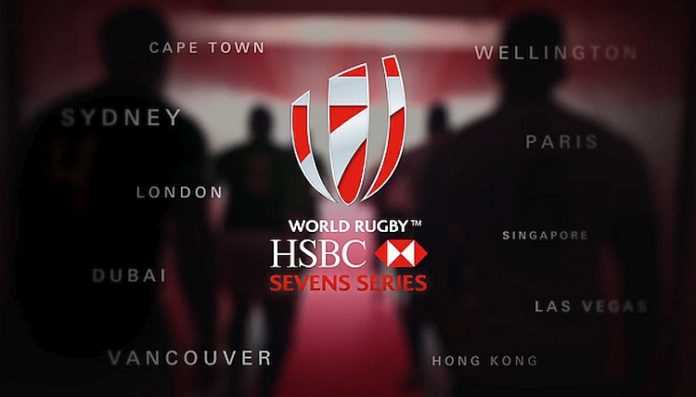 Both the men's and women's Seven Series are in play this week in Australia, with the U.S. men's team – the Eagles – sitting with Fiji at the top of the points table.
In the three men's legs held so far, the U.S. has been second each time, losing to New Zealand in Dubai (UAE), and Fiji in Cape Town (RSA) and Hamilton (NZL). Both Fiji and the U.S. have 57 points, followed by New Zealand (54), South Africa (44) and England (38).
The Sydney pools:
● Pool A: Fiji, Samoa, England, Japan
● Pool B: United States, Canada, Kenya, France
● Pool C: New Zealand, Scotland, Spain, Wales
● Pool D: South Africa, Australia, Argentina, Tonga
The U.S. has never finished higher than fifth in any Sevens Series season and was sixth last season. But the finals losses, by 21-5, 29-15 and 38-0 last week, sting.
However, the schedule should be moving in the U.S.'s favor, with the next two stops in North America: Las Vegas and Vancouver.
The top individual scorer in the series continues to be New Zealand's Andrew Knewstubb, with 119 points, followed by John Porch (AUS: 104) and then Madison Hughes of the U.S. and Fiji's Waisea Nacuqu (97). Look for results here.
¶
The Sydney leg for women is the third of six stops, with New Zealand having won both in Glendale, Colorado and Dubai, for 40 points. Canada has finished third and second, for 34 points and the U.S. stands third with 32 after a second and a fourth.
This week, the pools are:
● Pool A: New Zealand, France, England, Papua-New Guinea
● Pool B: Fiji, Canada, Russia, Ireland
● Pool C: Australia, United States, China, Spain
The top two in each pool, plus the two highest-ranked third-place teams will advance to the championship playoffs.
The Black Ferns have won four of the six seasonal titles in the women's Sevens Series, but Australia won last season, beating New Zealand in the final. The best-ever finish for the U.S. was fourth in the inaugural season in 2012-13.
The top women's scorers are Tyla Nathan-Wong (NZL) with 91, ahead of Ghislaine Landry (CAN: 77) and Bianca Farella (CAN: 70). The top U.S. scorer is Ilona Maher, standing seventh overall, with 50. Look for results here.