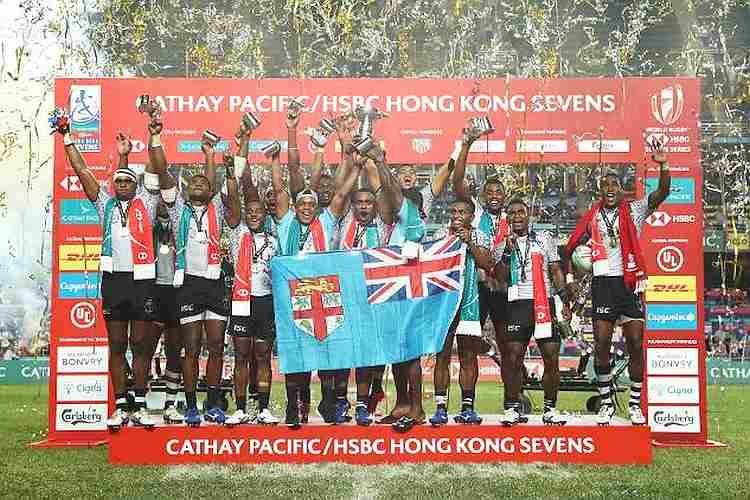 If it's Hong Kong, then give the trophy to Fiji. For the fifth straight year, Fiji won the HSBC Sevens Series round in Hong Kong, defeating France by 21-7 in the final.
However, the U.S. men retained their first-place status with a third-place finish, defeating Samoa, 22-10, in the third-place game against a very competitive semifinal loss to Fiji, 28-19.
South Africa, France and Fiji breezed through group play with 3-0 records, as did England in Group D. The U.S. went 1-2, beating Spain, 36-7, then losing to Wales (21-19) and England (28-22). But the +21 scoring differential got the U.S. through to the playoffs.
Once there, the U.S. knocked off South Africa, 21-12, in the quarterfinals and then ran into Fiji in the semis.
In an otherwise brilliant season for the Eagles, they have lost to Fiji by 29-15 (Cape Town final), 38-0 (Hamilton final) and 24-14 (Vancouver bronze). This time, the match was 7-5 for Fiji at half, but Fiji got out to a 21-5 lead in the second half and held off the U.S. despite two tries for Carlin Isles.
Fiji went on to win in the final over France, and with the U.S. taking the bronze medal, the standings after seven of 10 legs:
1. 130 United States
2. 123 Fiji
3. 118 New Zealand
4. 99 South Africa
5. 90 England
The top four finishers in the seasonal standings will qualify for Tokyo 2020, but nothing has been clinched yet with three legs remaining in Singapore, London and Paris. Summary:
World Rugby Sevens Series
Hong Kong (HKG) ~ 6-7 April 2019
(Full results here)
Final Standings: 1. Fiji; 2. France; 3. United States; 4. France; 5. Argentina; 6. New Zealand; 7. South Africa and England. Semis: Fiji 28, U.S. 19; France 19, Samoa 12. Third: U.S. 22, Samoa 10. Final: Fiji 21, France 7.