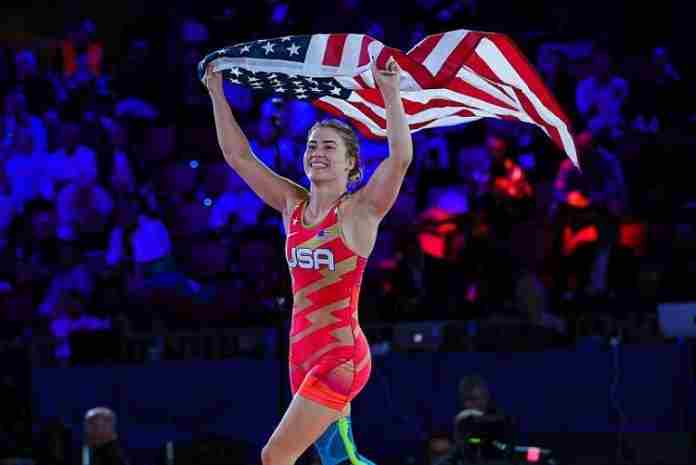 Key status updates on the urgent stories in Olympic sport:
≡ SPOTLIGHT ≡
The third set of recommendations from the U.S. Olympic & Paralympic Committee's Team USA Council on Racial and Social Justice included seven dictates designed to increase "institutional awareness about racial and social justice" and promote "cultural change."
Drafted by the "Institutional Awareness and Cultural Change Steering Committee," the recommendations include the creation and funding of a USOPC office of "Access, Diversity, Equity and Inclusion" to "develop and enforce policies and practices for all USOPC employees" then to be extended to the U.S. National Governing Bodies.
The recommendations outline benchmark metrics, to be measured by external auditors each quadrennial, including:
● "demographic make-up of executive leadership and board of directors";
● "sense of belonging across identity categories, with a particular focus on historically underrepresented, marginalized, oppressed, or minoritized groups";
● "For the USOPC specifically, consider increasing the hiring of leadership and staff from historically underrepresented, marginalized, oppressed, or minoritized groups by 15% and 20%, respectively, by 2025."
The National Governing Bodies are directed to "identify their own access, diversity, equity, and inclusion benchmarks with a focus on hiring and retention at all levels" and that "benchmarks should be based on (a) the demographics of the athlete populations within the sport and (b) the demographics of the U.S. population."
The recommendations further require the USOPC to "Create and implement a plan for moving oversight of Paralympic sports currently managed by the USOPC exclusively to their respective NGBs" and to provide financial support where necessary to implement this change over a five-year period.
The creation of a "ADEI Advisory Council" is included to "Establish an ongoing access, diversity, equity, inclusion and belonging Advisory Council charged specifically with identifying barriers to racial and social justice in their respective sporting context, with a particular focus on barriers at the grassroots level that prevent certain social groups from participating in the sport."
The requirements cite the need to "[i]dentify or establish a permanent means to provide financial resources to sustainably address systemic barriers to access, diversity, equity, and inclusion." However, no definition of "historically underrepresented, marginalized, oppressed, or minoritized groups" is listed.
Published on Thursday (7th), this was the third of four groups of recommendations from the Council on Social and Racial Justice. The statement included: "A final recommendation is expected later this year that will address racism and acts of discrimination and aim to enhance the reporting and dispute here [sic] resolution processes."
≡ THE 5-RING CIRCUS ≡
● International Olympic Committee ● Lots of reaction to Thursday's Lane One column about Zimbabwean Kirsty Coventry's appointment as chair of the Brisbane 2023 Coordination Commission, notably about who was not mentioned as possible candidates as IOC President.
Chief among those suggested as possible candidates was Spain's Juan Antonio Samaranch, Jr., son of the legendary IOC chief from 1980-2001. A skilled operator within the IOC, he is the Coordination Commission chair for the upcoming Beijing 2022 Winter Games. His candidature for IOC President in 2025 would create a generational choice for the membership: he will be 65 at the time of the election and would serve to age 73 in his first term.
What about World Athletics President Sebastian Coe (GBR), the two-time Olympic gold medalist at 1,500 m in 1980 and 1984 and the chair of the London 2012 organizing committee? He's 65 now and will be at least 68 at the time of the vote in 2025.
Also highly regarded, but who is already 75 is Fijian Dr. Robin Mitchell. The IOC has an age limit of 70 for members elected after 1999. Mitchell was elected in 1994 and can serve until age 80; Samaranch (2001) and Coe (2020) are subject to the age-70 rule.
● Games of the XXXIII Olympiad: Paris 2024 ● The Paris organizing committee has expanded the number of possible sites for use by National Olympic Games for pre-Games training to 780. A third group of sites will be added in spring of 2022.
Impressive.
● Games of the XXIII Olympiad: Los Angeles 1984 ● The LA84 Foundation, the living legacy of the Los Angeles Olympic Organizing Committee, is hosting a "Taste of the World" on Monday, 11 October at the famed Riviera Country Club, the venue for equestrian and modern pentathlon at the 1932 Games.
The foundation is continuing its efforts in support of its "Play Equity Fund," which is committed to creating access to sports and play programs for youth. Beyond the event itself, there is also a silent auction with special packages to attend local sporting events, but also for golf at Pebble Beach and first-round attendance at the 2022 Masters in Augusta, Georgia.
A very special commemorative package to auctioned live on-site includes an authentic 1984 Olympic torch, a 1984 Olympic participation medal and a giant Star-in-Motion logo poster by the late Robert Miles Runyan.
● World Anti-Doping Agency ● WADA announced Thursday that five organizations have been declared non-compliant, including the National Anti-Doping Organizations in Indonesia, Thailand and North Korea.
The Thai federation's problem is due to an incomplete integration of the World Anti-Doping Code into the country's legal system. For Indonesia and North Korea, "the non-compliance is a result of non-conformities in implementing an effective testing program."
The sanctions are so far limited to not having national flags flown at world championships and the Indonesia and North Korea will have their anti-doping organizations "subject to supervision by an approved third party, at the Signatories' expense, including up to six site visits per year."
Comment: Good luck with supervising the North Koreans!
● Athletics ● A comprehensive bid for the 2025 World Athletics Championships was filed by Athletics Kenya with the idea to hold the event in Nairobi. Athletics Kenya chief Jackson Tuwei said:
"We organised two very successful world junior championships at the Kasarani stadium in 2017 [U-18] and in August 2021 [U-20], where a number of world records and personal bests were realised. We learnt a lot of lessons in staging both events, and realistically it is our time to bring the biggest event."
Tuwei indicated that the decision will be made prior to the 2022 Worlds in Eugene, Oregon. Other interested nations include Japan (for Tokyo); the event is expected to cost $70-80 million U.S. to stage.
¶
The Athletics Integrity Unit announced Thursday that it has changed Nigeria's four-time Olympian and 2008 Olympic long jumper silver medalist Blessing Okagbare, 32, with (1) possession and use of Human Growth Hormone from a 19 July out-of-competition test, which was what disqualified her from the Tokyo Games; (2) possession and use of recombinant erythropoietin (EPO) in a sample collected on 29 July and (3) "the athlete failed to comply with a formal requirement to produce relevant documents, records and electronic storage devices."
Okagbare has denied all of the charges and the case will be heard by the independent Disciplinary Tribunal. She could face a four-year ban.
¶
WADA's independent Intelligence and Investigations Department reported that it has closed its inquiry into the Nike Oregon Project and possible anti-doping violations. The review indicated that other than coach Alberto Salazar and physician Dr. Jeffrey Brown – both suspended – there was insufficient evidence to warrant proceedings against anyone other than "Witness A," who was not identified. Proceedings concerning "Witness A," who admitted to an anti-doping violation in 2012, are continuing.
● Figure Skating ● Covid has once again scrambled the world skating calendar as the annual ISU Four Continents Championship – created as a balance to the European Championships – will now be held in Europe!
Scheduled for Tianjin, China for 17-22 January – a couple of weeks prior to the start of the Beijing Winter Games – the Chinese Figure Skating Association canceled the event. The ISU decided to (provisionally) hold the event at the site of the 2022 Europeans in Tallinn, Estonia from 18-23 January instead. That would follow immediately after the Europeans on 10-16 January.
This will work for the Four Continents contestants, but it's another worrysome sign for the Beijing 2022 Winter Games.
● Football ● More on the firing of North Carolina Courage coach Paul Riley for past sexual harassment has come in a post from club owner Steve Malik on the team's Web site. Of note:
"Following the news of last week, many of you were left with a key question – what did we know?
"When we bought the Western NY Flash in 2017, we conducted due diligence to continue with Mr. Riley and the coaching staff. We were made aware of an investigation into Mr. Riley's behavior in 2015 and were subsequently assured that he was in good standing. During his employment with the Courage, we had no knowledge of allegations of sexual harassment or coercion. When we learned of the horrific allegations in last week's reporting, we took those seriously and immediately terminated Mr. Riley."
Malik moved the team to Cary, North Carolina in 2017. Riley has denied the allegations.
The NWSL was reported to have conducted an inquiry into accusation against Riley in 2015; an April 2021 request by a former Portland Thorns player to re-open the investigation, but was told by now-resigned NWSL commission Lisa Baird that the matter had been concluded. The league is re-opening the inquest.
On Wednesday, the Portland Thorns tweeted that "Effective immediately, Portland Thorns FC have placed General Manager/President of Soccer Gavin Wilkinson on administrative leave from Thorns duties pending the results of the outside independent investigation, which is ongoing."
Wilkinson (NZL) was the Portland Timbers coach from 2005-10 when it was in the United Soccer Leagues before moving to Major League Soccer in 2011 and was part of the Portland Thorns front office – founded in 2013 – when Riley was coach there. Wilkinson is continuing with his role with the Timbers.
¶
The Russian TASS news agency reported that Qatari officials stated the cost of staging the 2022 FIFA World Cup will be about $6.5 billion U.S., a small part of a $200 billion investment in the country's infrastructure.
That larger figure represents projects such as new roads, a subway, an airport, hotels and other tourist facilities. Qatar has a population of a little more than 2.9 million people, and comprises 4,416 sq. miles, smaller than the state of Connecticut.
● Weightlifting ● Another Russian lifter has been sanctioned due to a doping positive. Sergei Bondarenko was given a four-year ban as of 19 May 2020 by the Russian Anti-Doping Agency; he competed in the +105 kg division and had won bronze medals in national tournaments.
≡ SCOREBOARD ≡
● Football ● The second window of CONCACAF World Cup Qualifying matches opened on Thursday evening, with the U.S. Men's National Team defeating Jamaica, 2-0, before a loud crowd in Austin, Texas.
The game got crazy in the first 20 seconds, as Jamaican midfielder Blair Turgott tackled Paul Arriola on a breakaway shot opportunity and received a yellow card, while fans called for red. In the 34th minute, U.S. striker Brendan Aaronson was tackled on a contested ball just outside the box by defender Damion Lowe and also received a yellow card; that also could have been a red. The half ended 0-0, but with the U.S. holding 67% of the possession.
The U.S. finally broke through in the 49th minute, on a cross by sub Reggie Cannon from the right side of goal to the middle of the field that was headed in by 18-year-old striker Ricardo Pepi for a 1-0 lead.
In the 62nd minute, Aaronson exploded down the left side of the pitch and sent an expert cross toward the middle of the field that was met by a sprinting Pepi for a second goal and a 2-0 lead. An El Paso native, Pepi has now scored three goals in his first games with the U.S. men's team.
The U.S. ended with 62% possession and a 17-5 overall edge in shots.
In the other qualifying games, Mexico and Canada drew, 1-1; Honduras and Costa Rica played to a 0-0 draw and El Salvador defeated Panama, 1-0. The results leave the U.S. and Mexico atop the group with eight points each, followed by Canada (6) and Panama (5).
Next up for the U.S. men is a 10 October game at Panama City and then a 13 October match with Costa Rica in Columbus, Ohio.
¶
The UEFA Champions League semifinals started with a stunning win by Spain, which defeated Italy by 2-1 at the famed San Siro Stadium in Milan. It not only vaulted Spain into the final, but ended Italy's record 37-match unbeaten streak.
Italy had not been beaten since a 1-0 loss to Portugal in September 2018, but made their situation difficult with a red card to defender Leonardo Bonucci in the 42nd minute. Already down 1-0 on a Ferran Torres goal in the 17th minute, Italy had to play with 10 men the rest of the way.
And Torres made them pay with a second goal two minutes into stoppage time at the end of the half for a 2-0 lead. Italy was frustrated during most of the second half, but got an 83rd-minute goal from Lorenzo Pellegrini to cut the deficit to 2-1. But they could not score again.
There was more drama in Thursday's semi in Turin, where Belgium raced out to a 2-0 lead in the first half against World Cup champ France, on goals from Yannick Carrasco in the 37th minute and Romelu Lukaku in the 40th.
But the French came roaring back in the second half, with goals by Karim Benzema (62nd) and Kylian Mbappe on a penalty in the 69th for a 2-2 tie. Lukaku thought he scored in the 87th minute, but was called offside after a video review.
French midfielder Theo Hernandez then launched a left-footed strike from the corner of the box in the 90th minute for the decider in the 3-2 final.
Spain and France will meet on Sunday for the 2021 Nations League title.
● Wrestling ● The U.S. women celebrated victories from superstars Adeline Gray and Helen Maroulis at the UWW World Championships in Oslo, Norway as they won seven medals in the 10 classes and finished second in the women's team standings.
On Wednesday, Gray won her sixth World Championships gold – the most ever by an American – in the 76 kg class with a pinfall in 5:58 over Estonia's Epp Maee. How dominant was Gray? She pinned all four of her opponents, in 1:17, 2:33, 4:00 and 5:58. Wow!
On Thursday, Maroulis, who has battled concussion issues since winning the 2017 Worlds, pinned India's Anshu in 4:00 at 57 kg to win her third world title: also in 2015 (55 kg) and 2017 (58 kg), to go along with her Olympic gold (2016: 53 kg) and a Tokyo bronze at 57 kg.
The U.S. women claimed a silver medal at 50 kg, as Sarah Hildebrandt lost to Japan's Remina Yoshimoto, 5-3, in the final, and bronze medals by Forrest Molinari (65 kg) and Olympic champ Tamyra Mensah-Stock at 68 kg. The U.S. women had previously won a 62 kg silver with Kayla Miracle and a bronze with Jenna Burkert at 55 kg.
Japan won the women's team title at 196 points to 147 for the U.S.
The Worlds conclude on the 10th as the men's Greco-Roman division continues.
≡ THE LAST WORD ≡
The newest sport to be associated with the Global Association of International Sports Federations (GAISF) is World Obstacle.
Known formally as the Federation Internationale de Sports d'Obstacles (FISO), it gained Observer Status on 27 September and is now on the road to becoming a recognized international sport. The federation World Obstacle "was formed in 2014 and formalised in 2018 to unify and develop obstacle sports worldwide. Disciplines include Ninja, Obstacle Course Racing and Adventure Racing."
It lists national federations and contacts in 98 countries so far.
You can receive our exclusive TSX Report by e-mail by clicking here. You can also refer a friend by clicking here, and can donate here to keep this site going.
For our 743-event International Sports Calendar for 2021 and beyond, by date and by sport, click here!